Guide to biking in Door County, Wisconsin, where to find the best bike trails Door County has to offer
The amazing Door County bike trails are popular with visitors who want to explore this region's unique landscapes.
A peninsula on Lake Michigan, Door County is one of the most beautiful destinations in the US.
Every trail will give a different experience while biking in Door County, Wisconsin, from paths through colorful forests in the fall to ones with great views over Lake Michigan.
However, there are too many bike trails in Door County to experience in just one trip.
Therefore, you must ensure the trails you explore are right for your ability and the landscapes you want to see.
I am sharing the top places for finding the best bike trails in Door County, Wisconsin so that you can plan your trip.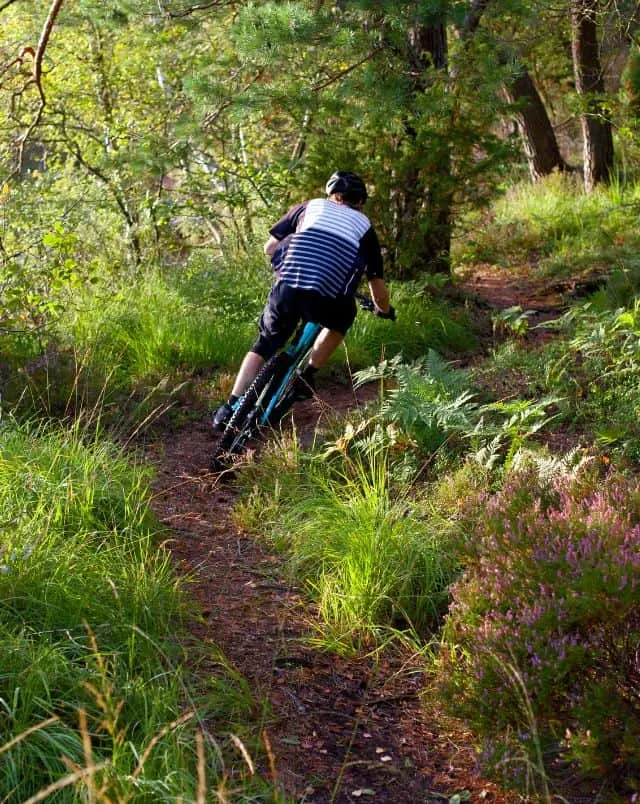 Pssst…! Are you looking for more inspiration about outdoorsy things to do in Wisconsin? Have a look at my other posts:
"Paulina on the Road" is supported by you, dear reader. As you buy through my links, I earn a small commission. As an Amazon Affiliate, I earn from qualifying purchases. Thank you for your support
Top resources to travel Wisconsin
✎ Plan the ultimate Wisconsin road trip (no backtracking!) with the Perfect Wisconsin Road Trip itinerary – Buy now for less than 12$

✈ Find the best hotel deals in Wisconsin with Trivago

➳ Book vacation rentals in Wisconsin with VRBO

✔ Book tours in Wisconsin with Viator

☘ Get the best discounted outdoor gear (outlet) at REI.com

$ Get Wisconsin hiking guides and maps at REI.com

✎ Never leave without travel insurance. I get mine at SafetyWing. It is easy to set up, cheap, and reliable.
1. Ahnapee State Trail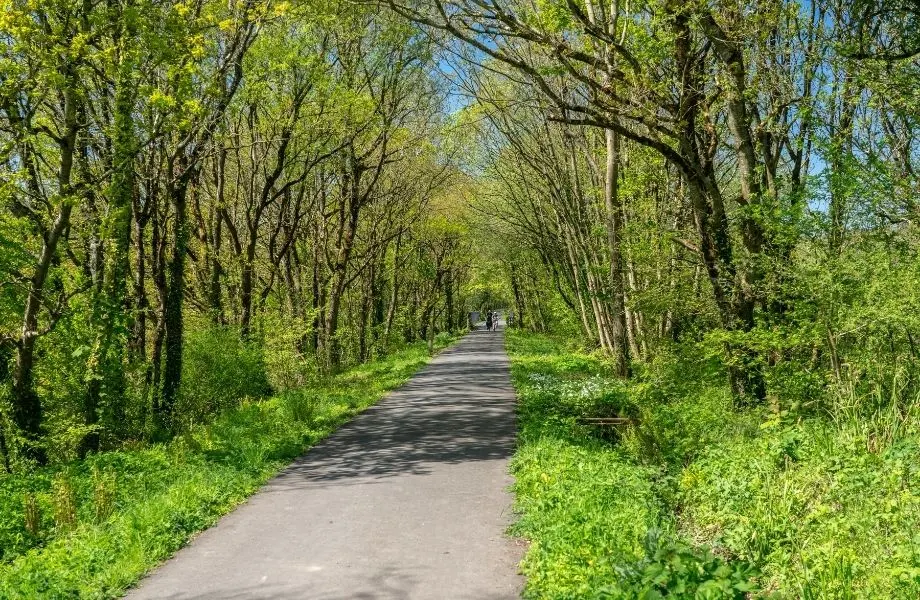 Difficulty: Moderate
Length: 48 miles
Ahnapee is the most iconic of the Sturgeon Bay bike trails, built on the top of historic railroad tracks.
The trail starts in downtown Sturgeon Bay and snakes south for 48 miles, showcasing the best Door County scenery.
You will be guided through a changing landscape of rivers, evergreen glades, meadows, farmlands, prairies, forests, and wetlands.
The Ahnapee Trail also gives you many choices about where you cycle as it runs alongside the Ahnapee and Kewaunee Rivers and branches off in three directions at Sunset Road.
At this turn, you can choose from paths to Luxemburg, Algoma, or Kewaunee.
These are all wonderful Wisconsin towns where you can grab a bite to eat before continuing your adventure.
Despite its length, this trail is considered to be comparatively easy, and having biked it, it's definitely one of the best Door County mountain bike trails.
Mountain bikes are recommended because horses use the trail and can churn the ground, however, it is relatively flat because it used to be a railroad.
Ahnapee Trail remains one of the most popular things to do in Door County in winter.
Once the snow falls, it becomes popular amongst snowmobilers and cross-country skiers.
In fact, this is one of the best Door County trails for those looking for snowmobile trails in Wisconsin.
If you fall in love with Ahnapee Trail, why not return to Door County in the later months to take part in winter sports?
Book here the best Door County Bike Tours
2. Potawatomi State Park Mountain Biking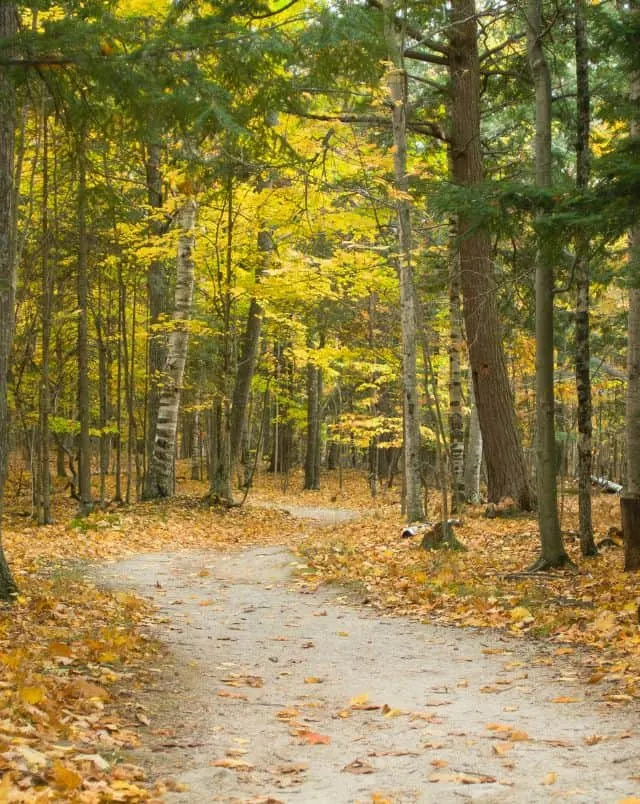 Difficulty: Moderate
Length: 8 miles
Located just to the North of Door County Cherryland Airport, you will find the forests of Potawatomi State Park, one of the best state parks in Wisconsin.
This is a 1200 acres site known for having some of the best hikes in Door County.
However, this site, managed by the Wisconsin Department of Natural Resources, has 8 miles of stunning bike trails that take you through a stunning forest, offering views over limestone cliffs and Lake Michigan.
Mountain bikes are recommended for these trails, and although they are short, experienced riders will enjoy these trails as Potawatomi State Park is known for its steep hills.
These hills are definitely worth the effort, as you will get unforgettable views from the top.
There are few places better to see Lake Michigan than on top of the observation tower which gives a view 225 feet above the bay.
Hiking and biking aren't the only things you can do at Potawatomi State Park – extensive camping facilities make this one of the best places to vacation in Wisconsin in its own right.
Book here the best Door County vacation rentals
3. Newport State Park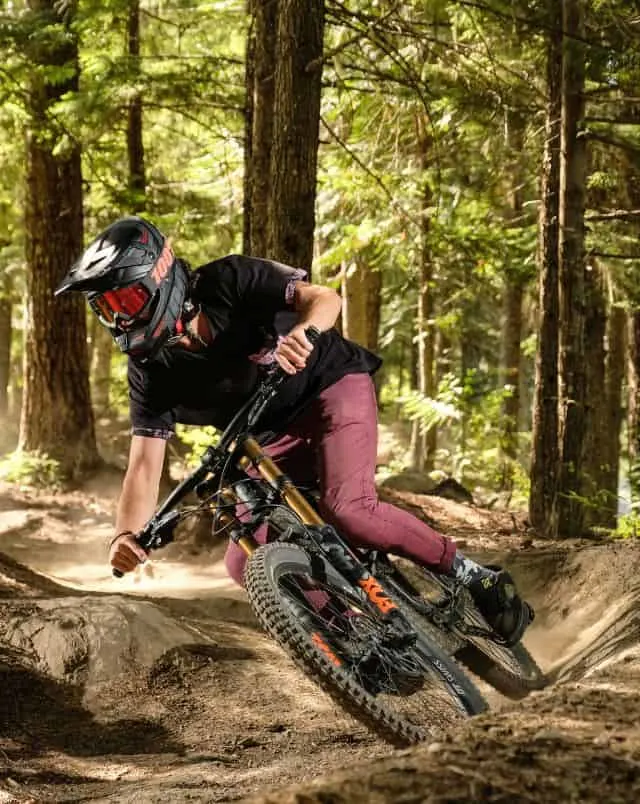 Difficulty: Easy
Length: 17 miles
Newport State Park has 17 miles of Sister Bay bike trails spread between four main trails.
They are considered easy because they are fairly flat, but you will need an off-road bike to negotiate the minor rocks and roots.
These trails are perfect for children who don't have much riding experience as they won't have to ride up any big hills but will enjoy the challenge of bouncing over a slightly uneven surface.
As with the best bike trails Door County can offer, Newport State Park trails take you through a brilliant landscape to explore.
The state park has 11 miles of shoreline along Lake Michigan, boreal forests, wooded uplands, and diverse meadows.
The scenery makes for a charming picnic if you are riding with your family and want a break from the riding.
Ensure you are careful while enjoying the trails at Newport State Park, as they double up as hiking trails, which means you will be sharing the space with walkers.
However, if you enjoy hiking, as well, you'll find some of the best hiking trails in Wisconsin here!
Book here the best sightseeing tours in Door County
4. Whitefish Dunes State Park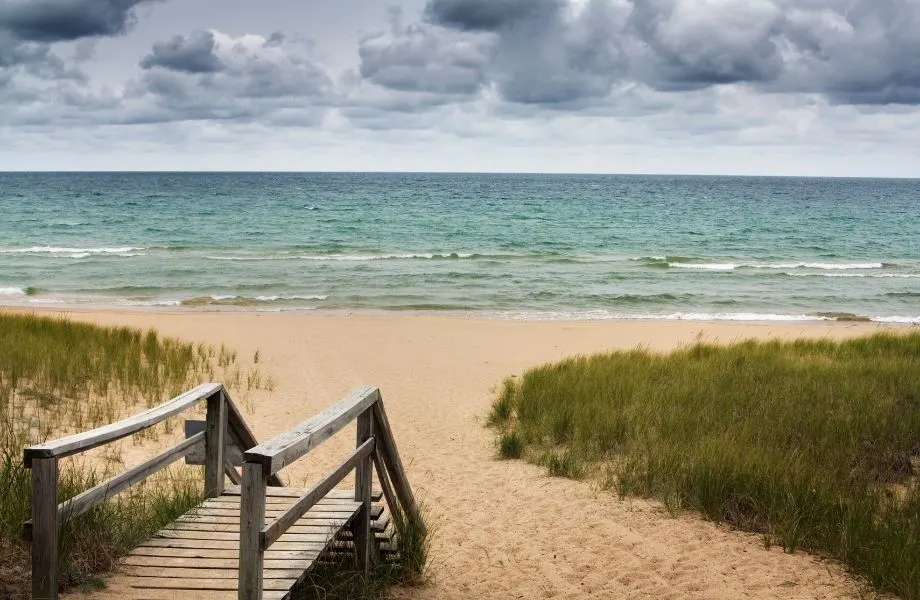 Difficulty: Very Easy
Length: Around 3 miles
Although this State Park is more of a hiking-oriented location, you can find some Door County bike trails, as biking is permitted in certain areas.
This includes the entire red trail and designated sections of the green and black trails.
Even though this is shorter than many other Door County bike trails, many are attracted to them because of how accessible they are.
The entire trail is smooth, hard-packed dirt, which should be manageable for all riders.
There is also plenty to see while riding in Whitefish Dunes State Park, and the location is loved by outdoor enthusiasts.
This is also a popular spot for those interested in visiting some of the lighthouses of Wisconsin as Old Baldy lighthouse is located within.
Park your bikes at the bottom of Old Baldy, the tallest dune in the park, and visit the historic lighthouse that has guided boats away from Whitefish Dunes for over 200 years.
Make sure to remember that biking is not allowed on any of the dunes, so lock your bikes up before exploring them.
Buy here the best trails maps of Wisconsin
5. Peninsula State Park Off-Road Bike Trails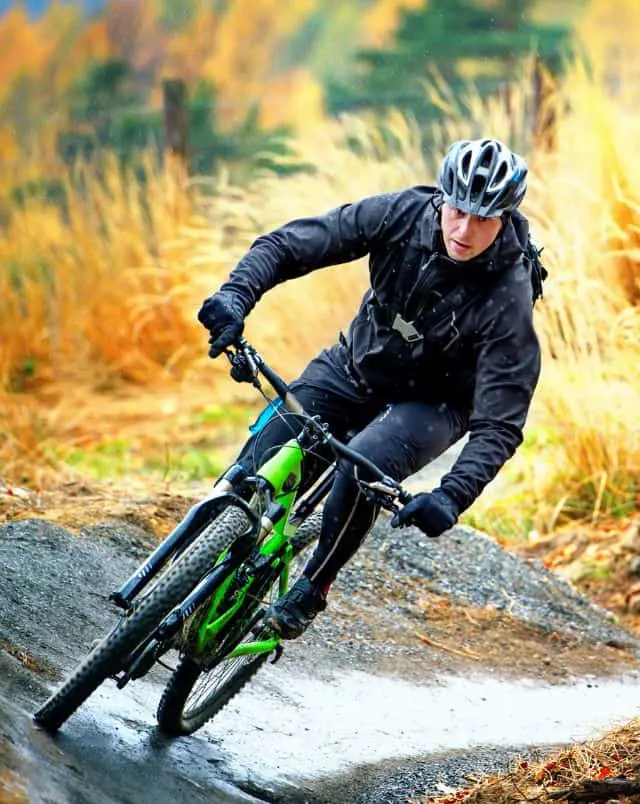 Difficulty: Difficult
Length: 12 miles
The Peninsula State Park was founded in 1909 as a 3,780-acre site with endless recreational opportunities.
Since the start, visitors have hiked, boated, fished, swum, and enjoyed winter sports in the park.
Now, off-road bike trails have been built at its heart and there are 12 miles of trails that are more challenging than most other Door County bike trails.
The majority of this trail features rocky, muddy, and uneven surfaces along singletracks that wind through the forest.
You may struggle on the climbs, but the exhilaration of speeding back down will reward you and might even catch some air over the roots.
Most of the trail is singletrack, so communicate with other bikers to get past them.
All riders over 16 years old will need state trail passes to enjoy them. You must arrange your passes before you ride on the trail.
For those looking for other fun things to do in Door County in October, Peninsula State Park is a great place to visit.
Visitors can enjoy all of the beautiful fall colors in Wisconsin at the park, and nearby you'll find also lots of fun fall activities in Wisconsin.
Book here the best Door County Bike Tours
6. Sunset Bike Route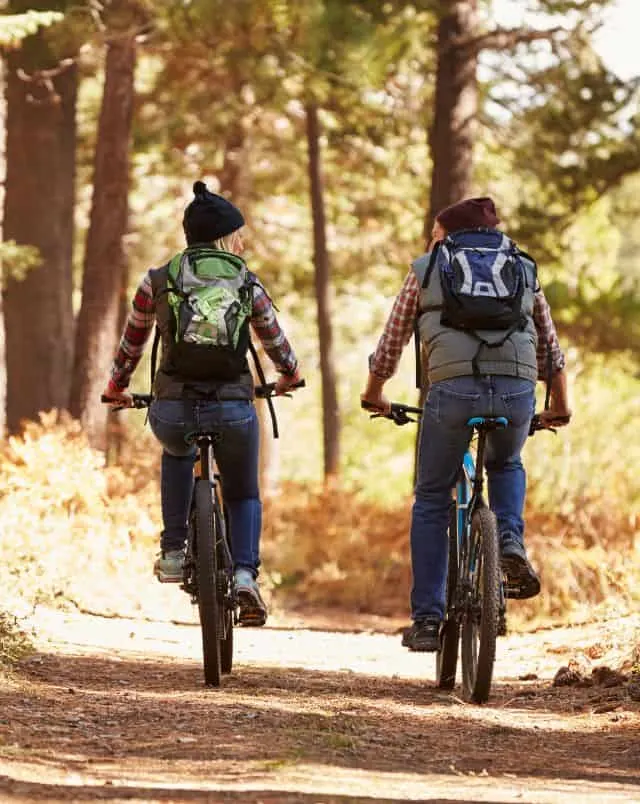 Difficulty: Easy
Length: 9.6 miles with optional 0.75-mile and 4-mile spurs
You don't have to be a hardcore mountain biker to get maximum enjoyment out of Peninsula State Park; you can also explore this site as a novice biker through the Sunset Bike Route.
This is amongst the easiest Door County bike trails because it is flat and on a gravel surface designed for wheelchairs.
Despite being an easy trail, the state park has still managed to build a route that will show you the best sights.
It runs through Weborg Marsh, and you can enjoy cedar and maple trees, and stunning cliffs.
Riding on this trail, you will also experience a lot of freedom and choice.
At Nicolet Beach, you can divert onto the back roads, which are less frequently used.
This option is a chance to escape the crowds and form a deeper connection with the forest.
If you want to encounter the local wildlife, you can ride Hidden Bluff, a 0.75-mile spur that will take you to the nature center.
Book here the best Door County vacation rentals
7. Snowkraft Nordic
Difficulty: Extreme
Length: 10 miles
Snowkraft Nordic is the most substantial area for highly technical singletrack in Door County.
It is loved by locals who are expert mountain bikers over the more popular and touristy Door County bike trails.
These trails are made up of a main singletrack loop that is 11 miles long and has all the features that mountain bikers will love.
For an even more extreme experience, you can find the jump lines and pump track.
The range of bike jumps available here gives you an excellent opportunity to catch some serious airtime. Alongside jumps, this area of the site also has bridges, berms, drops, and a rock garden.
Please remember that these trails are not sanctioned by an official organization.
Therefore, the quality and safety of these trails cannot be guaranteed, so exercise caution when exploring these trails.
Book here the best sightseeing tours in Door County
8. Old Fang Short Course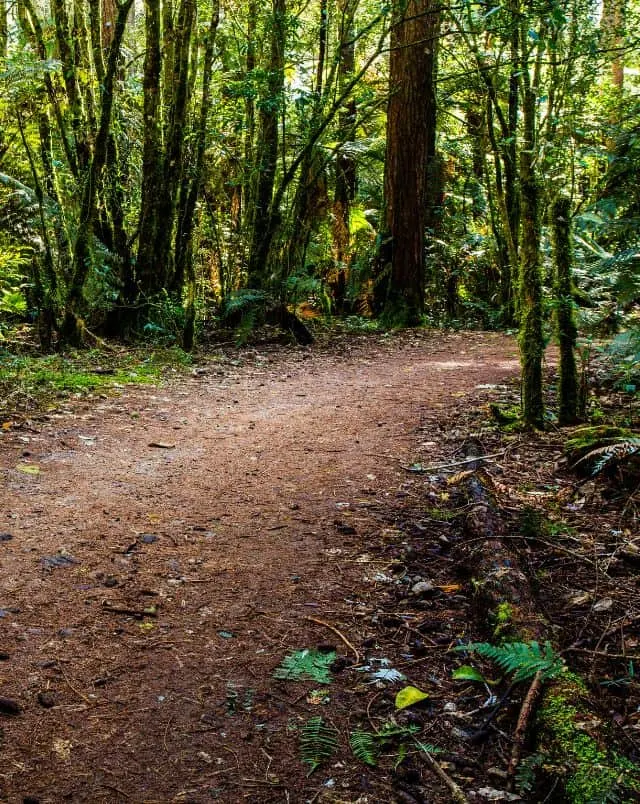 Difficulty: Moderate
Length: Under 1 mile
Getting competitive with your friends at Old Fang Short Course is one of the best things to do in Door County.
You get a unique experience from the more sedate Door County bike rides at this Big Hill Park trail because this trail is a raceable loop.
It is 500 m long, and spectators can see the whole loop from a single spot.
You could spend a brilliant day having a knockout competition to find out which one of your friends is the best rider.
Old Fang also has some of the most exciting features of all Sturgeon Bay, WI bike trails, including rock gardens, exhilarating descents, and jumps.
However, most features are optional, so you can make your Old Fang experience as challenging as you would like.
Old Fang is also loved amongst skilled riders because it is the perfect place to warm up before exploring the more demanding trails at Big Hill Park.
Regardless of how experienced you are, start your day of riding here rather than at the challenging Black Diamond Loop on the park's west side.
Buy here the best trails maps of Wisconsin
---
Why are Bike Trails in Door County, Wisconsin Worthwhile?
Mountain bike trails in Wisconsin are popular amongst residents and visitors alike.
In fact, mountain biking is one of the best outdoor activities in Wisconsin no matter where you visit.
The trails have grown rapidly in recent years, and there are now over 2000 miles of mountain bike trails in the state.
Known for its stunning natural beauty and lakeside setting, the Door County peninsula is becoming a hub for mountain biking.
Wisconsinites who love biking often travel to experience the Door County biking experience.
If you want to cycle in Wisconsin, you must follow what the locals are doing and head over to the best bike trails in Door County, WI.
---
This list of the eight most special biking trails in Door County, Wisconsin, truly has something for everyone.
Skilled mountain bikers will flock to the Snowkraft Nordic trails, while all riders will enjoy the chance to connect with nature on easy trails at Newport State Park.
Whichever Door County bike trails you choose, make sure you come prepared.
When riding, always wear a helmet, ride an appropriate bike for the nature of the trail, and take a fully charged mobile phone.
---
Short FAQs About the Best Door County Bike Trails
How long is the Ahnapee State trail?
In total, the Ahnapee State Trail is 48 miles. However, you can bike or hike parts of it rather than having to commit to the whole thing.
Is Door County bike friendly?
On the whole, Door County is pretty bike-friendly. There are many spots to do biking in Door County for all different levels. However, many popular trails in the area do not allow bikes – only hiking – so double-check before you go!
Where is the best biking in Door County, WI?
It really depends on what kind of biking you want to do. The Ahnapee State Trail is always a safe bet for any biker. But if you are looking for mountain biking or something for more experienced bikers, check out the Peninsula State Park Off-Road Bike Trails or Snowkraft Nordic.
---
Before You Go: Top Tips for your Trip
---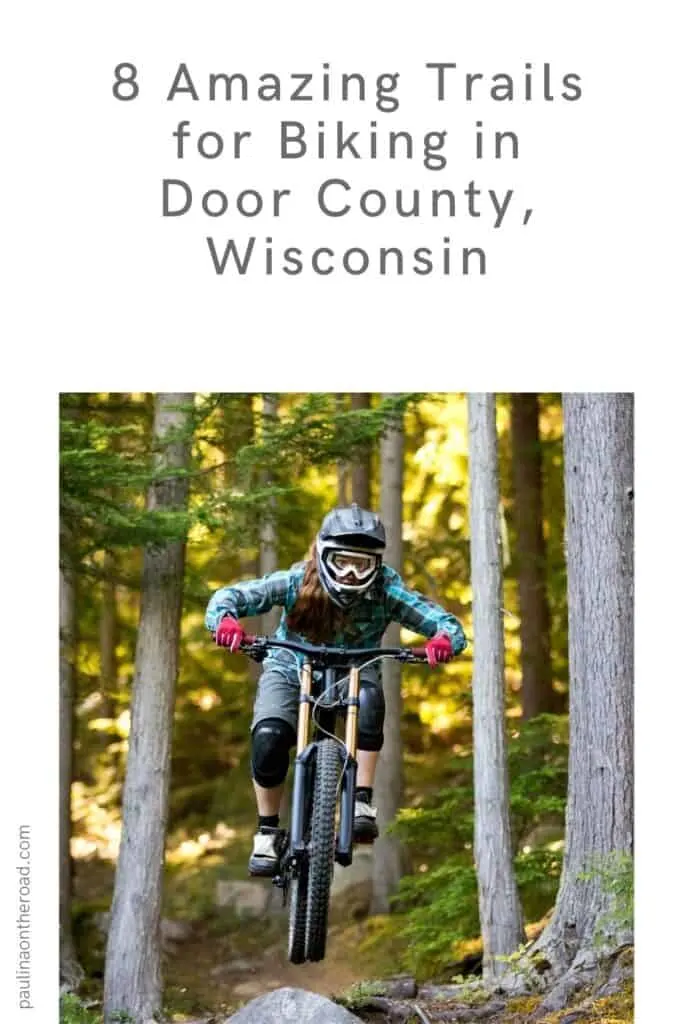 ---
Hola! I am Paulina, a fervent travelette who crossed the Atlantic Ocean by Boat HitchHiking. On my blog, you'll find all the tips to make the most of your holiday. Get ready to enjoy outdoor and sustainable travel like hiking, cycling or sailing. Let's hit the road together!