A guide to the best Airbnbs in Wausau to have a lovely time away from home
Is Wausau on your travel list this year? If so, you're in luck because I've found the accommodations to make your time in Wisconsin unforgettable.
From cozy cabins nestled among abundant evergreens to luxurious getaways with bells and whistles, these properties will surely provide a unique and memorable stay for travelers of any age.
Stay close to town if you plan to explore outdoor activities and local culture or seek out an escape to one of these great places.
So get ready to travel Wisconsin for wanderlust inspiration as I explore the best Airbnbs in Wausau, WI!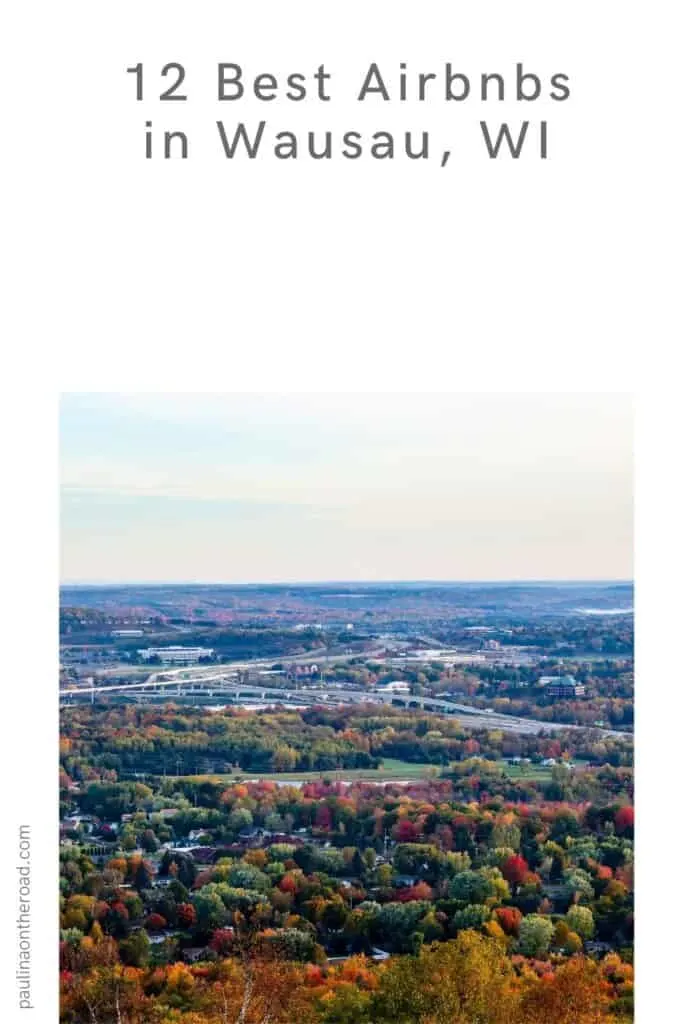 This blog is supported by you, dear reader. If you purchase through a link, I earn a small commission. As an Amazon Affiliate, I earn from qualifying purchases.
Psssst…!!?? You can't get enough of Airbnbs in Wisconsin? Have a look at my other posts:
Best Airbnbs in Wausau, WI
I recently discovered the Wausau Cozy Apartment and it's safe to say that it's my new favorite spot in Wausau, WI.
The location is perfect – not too close to the noise of the city, but not too far off either.
Not to mention, the apartment itself is absolutely stunning. You'll love the cozy atmosphere and attention to detail throughout every room.
From the cute kitchen to the comfortable living room and the spacious bedroom, there are modern amenities to make you feel at home.
One of the notable features that caught my eye is the natural light that floods the apartment, making it feel welcoming and relaxing.
Plus, it's situated close to interesting attractions like Marathon Park, which is perfect for outdoor things to do in Wisconsin.
Overall, I think Wausau Cozy Apartment would make a great home for anyone looking for comfort, convenience, and coziness.
Looking for the perfect 3-bedroom home near Aspirus Hospital? Well, here it is!
This rental property is fully equipped with everything you could want in a home, from a sleek and modern kitchen to an outdoor barbeque grill for those summer nights.
It's even pet-friendly, so you can bring your furry friend along for the adventure. Located just a stone's throw away from Aspirus Hospital, you'll always be close to medical care.
And if you're looking for a little fun, there are plenty of local attractions to enjoy in Wausau, WI in order to have one of the best American outdoor adventures.
I would recommend not letting this opportunity pass you by – check out one of the coziest houses for rent in Wausau today.
This renovated ranch house in Wausau, WI definitely caught my eye! With a stunning view of Granite Peak right outside the large windows overlooking the garden, it truly feels like a slice of paradise.
You'll love all the notable features including the cozy fireplace, laundry facilities, and private heated attached garage.
The one-acre hillside garden lot with waterfalls and ponds is simply breathtaking. Guests will definitely find themselves in awe of the natural beauty surrounding this rental home.
And when you're looking to explore the area, there are plenty of nearby attractions to check out such as museums, Sylvan Hill tubing hill, and the best mountainbiking trails in Wisconsin.
This is definitely one of the best rental homes in Wausau, WI that I've seen yet!
Discover the best Airbnb in Wisconsin and feel right at home in this charming four-bedroom, two-bathroom house located in the heart of Wausau's historic neighborhood.
As soon as you arrive, you'll be mesmerized by the beautiful architecture and the cozy atmosphere of this property.
Take a seat on the outdoor deck and enjoy the fresh air while your kids play in the lovely outdoor area.
But that's not all! This rental also boasts a backyard with a screened porch and grill, making it the perfect place for a family barbecue.
Plus, with nearby events like the Hot Air Balloon Festival, there's always something happening in Wausau.
As someone who has stayed here before, this is one of the best Airbnbs in Wisconsin and an exceptional place where you can find unique things to do in Central Wisconsin.
If you're headed to Wausau, I highly recommend checking out this lovely guest house just a stone's throw away from downtown.
It is surrounded by lush greenery, which provides a secluded and private experience, and it also boasts a fantastic deck where you can sit back and relax with your morning coffee.
The Art in The Park and Granite Peak is just a short distance away and guests can easily enjoy the city's many attractions.
And, if you're a nature enthusiast, you'll love taking a stroll through the nearby best hiking trails in Wisconsin. When it comes to lodging in Wausau WI, this guest house is an absolute must-see!
Nestled in the picturesque town of Wausau, this cozy and secluded log home offers a truly unique experience to its guests.
From my own perspective, I can assure you that this charming cabin is the perfect spot for a tranquil getaway.
Boasting 3 bedrooms and 2 full baths, it provides ample space for families or groups of friends.
While the rustic exterior may evoke feelings of seclusion, the interior is beautifully appointed and provides all the modern conveniences you could need.
And, if you're traveling with furry friends, you'll be pleased to know that this gem is pet-friendly as well!
Take advantage of the two fireplaces to stay warm and cozy, and step outside to enjoy a large yard with complete privacy.
If you're in need of adventure, be sure to visit the nearby Sylvan Tubing Hill for some outdoor fun.
This log cabin in Wausau is one of the best pet-friendly cabins in Wisconsin that truly has it all and it's the perfect spot for a peaceful escape.
Magnolia Home is the perfect spot for anyone looking for rentals in Wausau WI.
I think this cozy log house has so much to offer. First off, the pond view out of the back patio doors is unbeatable.
Not to mention, with 3 bedrooms and 2 baths, there's enough space for everyone.
And the best part? It's pet-friendly! Furry friends are more than welcome to join in on the fun.
Plus, with outdoor recreation and play areas, there's no shortage of activities to enjoy.
And if that's not enough, Rib Mountain State Park is just a 6-minute walk away. The location is prime, being so close to Deopke Park as well. Magnolia Home truly has it all.
Have you been searching for the coolest Airbnb in Wisconsin? The Rib Mountain State Park Home is a great option.
This cozy log house boasts an indoor fireplace and an outdoor fire pit, perfect for warming up after a day on the nearby ski slopes. I mean, what's better than sipping hot cocoa by the fire?
But that's not all – the property also offers a spacious porch overlooking the backyard fire pit, perfect for enjoying the great outdoors.
Inside, you'll find multiple family rooms and a fully-stocked kitchen for whipping up your favorite
meals.
And if you're looking for some entertainment, there are even poker tables and a bar area, plus a scooter for the kids to ride.
Trust me, you won't regret booking a stay at one of the best winter cabins in Wisconsin, the Rib Mountain State Park Home.
When it comes to finding the perfect place for your next winter getaway, this charming log house is located right near Granite Peak Ski Hill.
As someone who is always looking for things to do in winter in Wisconsin, I can attest to the fact that this house is a dream come true for those looking to enjoy winter sports and outdoor adventures.
The location is especially ideal, with snowmobile and hiking trails in close proximity.
And when you're ready to retreat back to the cozy cabin, you'll appreciate the fully remodeled interior and the outdoor back deck complete with a barbecue grill for cookouts with family and friends.
This Airbnb cabin in Wisconsin is definitely worth checking out for your next winter escape.
As an avid traveler and lover of the great outdoors, I can confidently say that the ski lodge tucked away in the heart of Rib Mountain State Park is undoubtedly a one-of-a-kind experience.
The log house embraces all the rustic charm of a classic Northwoods retreat with features such as pet-friendly options, barbeque, and five spacious rooms perfect for friends or family to gather.
The real gem of this place, however, might just be the outdoor firepit and large 8-person hot tub, perfect for soaking after a long day on the nearby hiking trails or even a day of skiing at Granite Peak. Winter Getaways in Wisconsin
And with the added convenience of being so close to retail stores and restaurants, this Airbnb cabin in Wisconsin is a must-stay for anyone looking for cozy and adventurous winter getaways in Wisconsin.
I had the pleasure of staying at the spacious family-friendly home during my recent trip to Wausau, and let me tell you, it did not disappoint.
This spacious family-friendly house is not only pet friendly but offers a mere stone's throw proximity to the Midwest's largest ski resort.
Imagine spending your days hitting the slopes and coming back to a haven that boasts a lovely garden and porch.
Plus, with 5 bedrooms and 2.5 bathrooms, there's plenty of space for the whole family to spread out and relax after a long day of adventure.
I spent countless hours snuggled up on the couch by the wood-burning fireplace, it was truly the epitome of cozy.
It's no wonder this gem is frequently named one of the best airbnbs in Wausau. So what are you waiting for? Book your stay today!
Looking for a pet-friendly charming home during your visit to Wisconsin? Look no further than this delightful abode located just a stone's throw away from the picturesque Rib Mountain.
As someone who has always wanted to explore this beautiful state with my furry friend, this house is the perfect spot to call home.
With its cozy living room and inviting decor, it's hard not to feel at ease here.
The outdoor space and garden are great for enjoying some fresh air and sunshine with your pet.
Not to mention, the close proximity to Granite Peak Ski Hill and Marathon Park makes it an ideal location for those seeking outdoor adventure.
So if you're like me and looking for great airbnbs in Wisconsin, this pet-friendly home is definitely worth considering.
My conclusion on the best Airbnbs in Wausau, Wi
Wausau, Wisconsin is the perfect place to visit for a weekend getaway. With its beautiful views and great accommodation options, finding the ultimate experience is easy.
The ideal escape awaits you in Wausau and the benefits of using an Airbnb far exceed the costs.
From cozy cabins to downtown apartments with endless activities nearby, guests will find something that suits their needs.
Don't wait any longer…now's your chance to explore the best Airbnbs in Wausau and have a genuine vacation in Wisconsin.
Book your next trip today to find out why so many people are talking about these incredible accommodations in Wisconsin's Northwoods.
FAQ about the best Airbnbs in Wausau, WI
What are the best Hotels in Wausau?
Some of the best Hotels in Wausau are Hilton Garden Inn Wausau, Jefferson Street Inn, or Stewart Inn.
What are the best Motels in Wausau, WI?
Some of the best Motels in Wausau, WI are Reliance Inn, Motel 6 Rothschild, or Super 8 by Wyndham Wausau.
What are the best resorts in Wausau?
Some of the best resorts in Wausau are Rib Mountain Inn & Townhouses, Jefferson Street Inn, or Stewart Inn.
---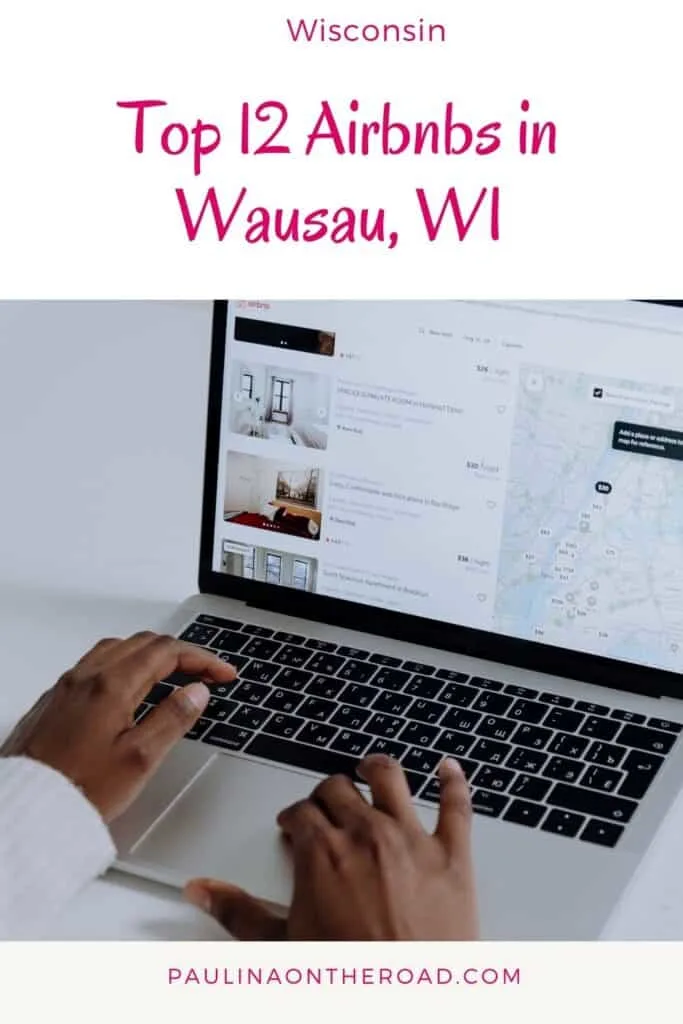 ---
Hola! I am Paulina, a fervent travelette who crossed the Atlantic Ocean by Boat HitchHiking. On my blog, you'll find all the tips to make the most of your holiday. Get ready to enjoy outdoor and sustainable travel like hiking, cycling or sailing. Let's hit the road together!