A guide to some of the best best Airbnbs in Minocqua for an incredible vacation
Have you ever wanted to escape from the hubbub of everyday life, and enjoy the tranquility that comes from being immersed in nature? Minocqua, WI is a perfect destination for doing just that!
With crystal clear lakes, picturesque views, and plenty of outdoor activities – this small town has something for everyone.
If you're planning on getting away and travel Wisconsin for a few days or weeks, why not check out one of these 10 best Airbnbs in Minocqua?
It's the ultimate way to enjoy some peace and serenity while still having access to all the amenities you need.
From cozy cabins tucked away in forest glades to modern lakefront homes with easy access to downtown – there's sure to be something that fits your needs perfectly!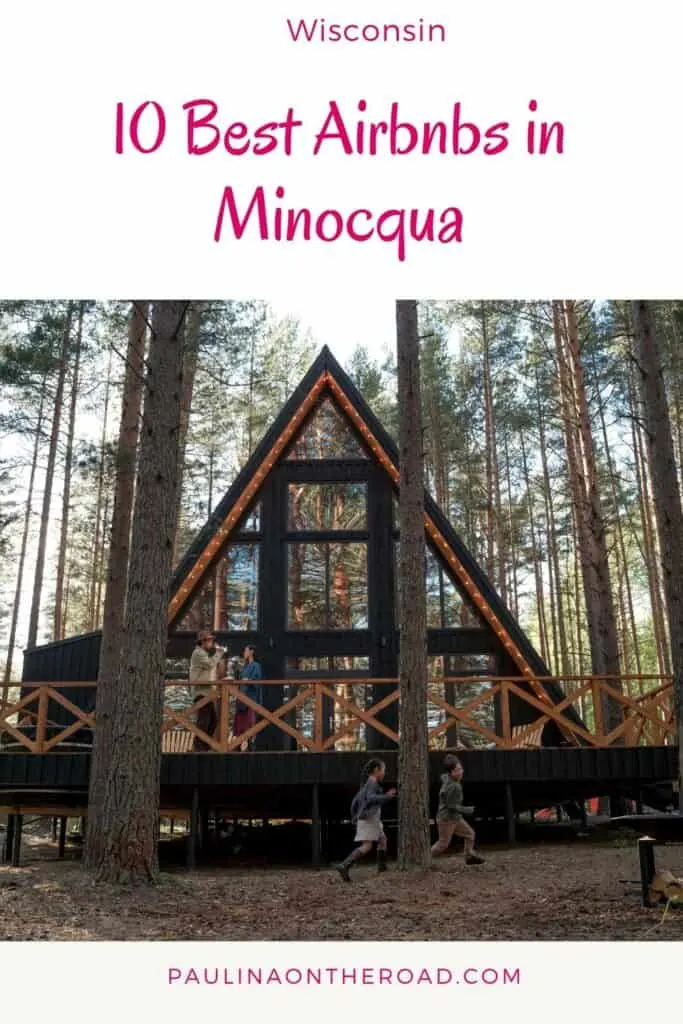 This blog is supported by you, dear reader. If you purchase through a link, I earn a small commission. As an Amazon Affiliate, I earn from qualifying purchases.
Pssst…!!?? You can't get enough of Airbnbs in Wisconsin? Have a look at my other posts:
Best Airbnbs in Minocqua, WI
Imagine waking up to the gentle sound of waves lapping against the shore while enjoying a fresh cup of coffee on your own private balcony, overlooking the crystal-clear waters of Lake Minocqua.
This cozy lakefront condo with balcony offers hotel-style amenities such as free Wi-Fi and air conditioning, as well as a private kitchenette.
But what truly sets this condo apart is its designated pier space for boats, perfect for those looking to explore the many hidden coves and beaches of this picturesque lake.
Minocqua is the perfect place for the best trails for hiking in Northern Wisconsin, apart from other year-round activities, including fishing and water sports. Book now and experience the ultimate lakefront retreat.
Nestled in the heart of the Northwoods, this romantic condo in Minocqua is the perfect escape for those seeking a cozy getaway.
Located just a stone's throw away from Lake Minocqua, guests can enjoy a variety of lakeside activities throughout the day.
After a day of adventure, they can come home to an open concept full kitchen and living room, perfect for making a romantic meal together.
The modern rustic style décor adds a cozy touch to the atmosphere, creating an inviting and relaxing vibe for any couple.
This condo, available on Airbnb in Minocqua WI, offers the ultimate Northwoods experience for those seeking a romantic and peaceful retreat.
For romantic getaways, check out the best Northern Wisconsin resorts on lakes.
I recently had the pleasure of staying at a beautiful four seasons lake house located on the serene Minocqua Chain of Lakes in Wisconsin.
This cozy condo is perfect for fishing, swimming, and other recreational things to do in Minocqua. It boasts a prime location near Lake Minocqua and can comfortably accommodate up to six people.
One of the highlights of my stay was gathering around the fire pit to roast marshmallows while enjoying the stunning views.
In addition to the amazing amenities at the lake house, there are also plenty of things to do nearby like exploring the ATV and snowmobile trails.
If you're looking for a relaxing getaway, I highly recommend checking out this gem among apartments in Minocqua, WI.
This A Frame Chalet on Lake Minocqua is an absolute dream destination for families looking for a fun-filled vacation.
The chalet is situated across 100 feet of shoreline and is perfect for swimming, fishing, and kayaking with the kids.
The beautiful deck overlooking the lake is a great spot to hang out or grill up some delicious meals with the built-in deluxe gas grill.
Parents can sit by the fire pit while the kids roast marshmallows as the sun goes down. The fully equipped kitchen also makes meals easy and convenient for those who want to cook.
The chalet is pet-friendly so furry friends can join in on the fun. If anyone wants to explore around, there are plenty of things to do in Northern Wisconsin.
As I walked through the door of this stunning historical home located on Lake Minocqua, I couldn't help but feel in awe of its beauty.
Originally built for Casey Lambert in 1906, this house has been totally remodeled and now boasts modern amenities while still retaining its classic charm.
Surrounded by forest and 215′ of shoreline with sandy lake bottom, guests can take advantage of the two bicycles and two kayaks available on the property to explore the great outdoors.
With two screened porches overlooking the lake and a permanent dock, there's no shortage of ways to soak up the beautiful views.
And with activities like fishing, swimming, sunning, boating, shopping, and relaxing at your fingertips, this home is the perfect choice for anyone searching for homes for rent in Minocqua, WI.
You'll feel here like you've booked a room at one of the best resorts in Northern Wisconsin.
As I sat here admiring the view of the cozy modern cottage by the lake, I couldn't help but feel my heart warm up.
This guest cottage is more than just a place to stay, it's a peaceful retreat filled with endless opportunities for relaxation.
With a lakeside fire pit, private dock, and a furnished screened gazebo, you can take full advantage of the beauty that surrounds them.
And that's not even the best part – the house comes fully equipped with all the amenities one could desire.
With 166 ft of lakefront and easy access to one of the best lakes in Wisconsin, it's the perfect spot for boating, fishing, or simply lounging by the water.
The garden, surrounded by nature, adds to the already breathtaking scenery.
If you're looking for the best lodging in Minocqua WI, this cozy modern cottage is undoubtedly the way to go.
I am thrilled to introduce you to one of the best Lake Minocqua cabin rentals! This cozy cabin boasts two bedrooms, perfect for accommodating four to five people.
Plus, you'll surely stay comfortable during your stay with the cabin's air conditioning and enjoy some quality entertainment with the provided cable TV and DVD player.
You won't have to worry about a lack of amenities at this place – a fully equipped kitchen lets you cook your own meals if you'd like.
But don't spend your whole trip cooped up indoors when there's so much to explore outside.
The swimming pier with a raft, boat slip, and fishing piers gives you direct access to the beautiful lake.
And if that's not enough, head over to the outdoor recreation area with sun lounges and even a playground for the kids.
Want to get some exercise while enjoying the fresh air? Take advantage of the 17-mile hiking trail, as well as discovering the best waterfalls in Northern Wisconsin.
Your stay at this Lake Minocqua cabin will definitely be memorable, so don't hesitate and book it now.
Alright folks, buckle up and get ready to be wowed. This dream vacation home has everything you could ever want and then some, including a spacious kitchen and a relaxing patio.
This 1,200 sq ft gem is located in the heart of Minocqua, just a hop, skip, and a jump away from Downtown.
And did I mention that the house has not one but three bedrooms and two bathrooms?
It can comfortably house up to six people, making it the perfect spot for families or a group of friends looking to escape reality for a while.
Plus, with rooms that open up to patios, air-conditioning, and free Wi-Fi, you'll never want to leave.
Whether you're in the mood for boating, fishing, hunting, or snowmobiling, this vacation home in Minocqua has you covered. So why wait? Book your stay today and start living your best life.
As someone who loves nothing more than relaxing in the peaceful serenity of nature, Casey's Cozy Cabin on the Minocqua is a dream come true.
This 2 bedroom home is perfect for a small family, with the added perk of a bunk house for the kids.
The best part? The house has trails that lead straight down to the lake, so you can easily take a swim whenever you want.
For those who love being active, there are plenty of hiking and biking trails just minutes away from the vacation rental in Minocqua WI.
And if you need a break, there are shopping options, horseback riding opportunities, and restaurants nearby.
Oh, and let's not forget the 2 paddle boards and a 2021 Misty Harbor Fishing Pontoon Boat that guests can take advantage of during their stay.
Casey's Cozy Cabin is truly the ultimate retreat for anyone looking to escape the hustle and bustle of daily life. Check out some of the best hotels in Minocqua for when you want to have a different experience.
I recently stumbled upon one of the best Airbnbs in Minocqua – a lakeside escape I won't forget anytime soon.
The highlight of my stay was undoubtedly the breathtaking views of the lake from the living room.
The house also has air-conditioned, cozy bedrooms, two bathrooms, and a fully equipped kitchen that will make your stay feel like home.
You can spend most of your days enjoying the outdoor activities that the house offered – fishing, swimming, canoeing, and water skiing.
And if that isn't enough, the proximity to ATV and snowmobile trails will keep you busy all day long.
Spend your evenings relaxing by the fireplace or on the patio – the perfect way to end a day filled with adventure.
My final thoughts on the best Airbnbs in Minocqua, Wi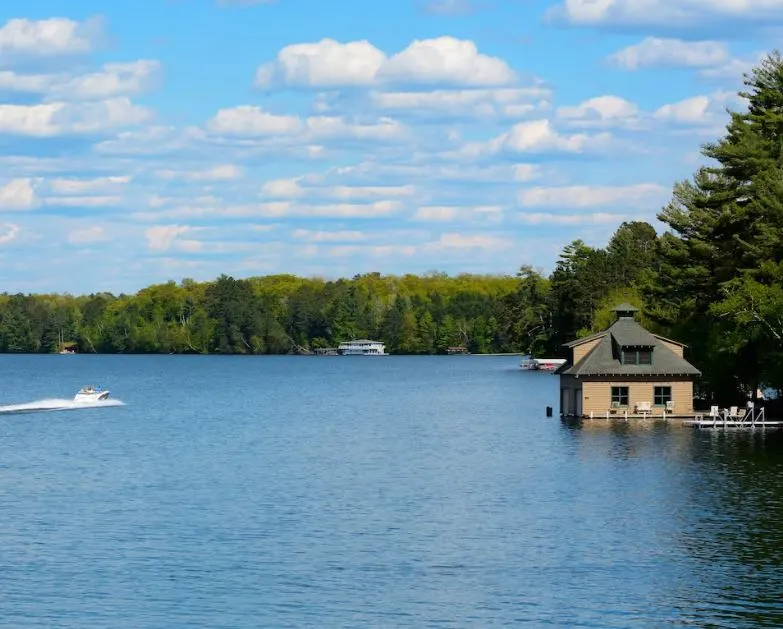 Minocqua is a beautiful town full of adventure and fun, and staying at an Airbnb only adds to the unique atmosphere.
Let yourself relax in total comfort after a long day of exploring all that this Wisconsin gem has to offer.
With the info included in this article, you can make the most out of your vacation with ease.
Whether you choose one of the best Airbnbs in Minocqua mentioned or other properties in the area, you are sure to appreciate the fantastic features available during each stay.
So what are you waiting for? Book your trip today to experience all the wonders that make Minocqua an unforgettable destination!
FAQ about the best Airbnbs in Minocqua, WI
What are the best hotels in Minocqua?
Some of the best hotels in Minocqua are Quality Inn, the Pointe Hotel and Suites, or AmericInn by Wyndham Minocqua.
What are the best cabins in Minocqua?
Some of the best cabins in Minocqua are Lakeside Escape, Lakefront condo with balcony, or Historical Home On Lake Minocqua.
What are the best Minocqua vacation rentals?
Some of the best Minocqua vacation rentals are Lakeview Cabin in the heart of downtown Minocqua, Beautiful 4 Seasons Minocqua Lake House, or A Frame Chalet On Lake Minocqua.
---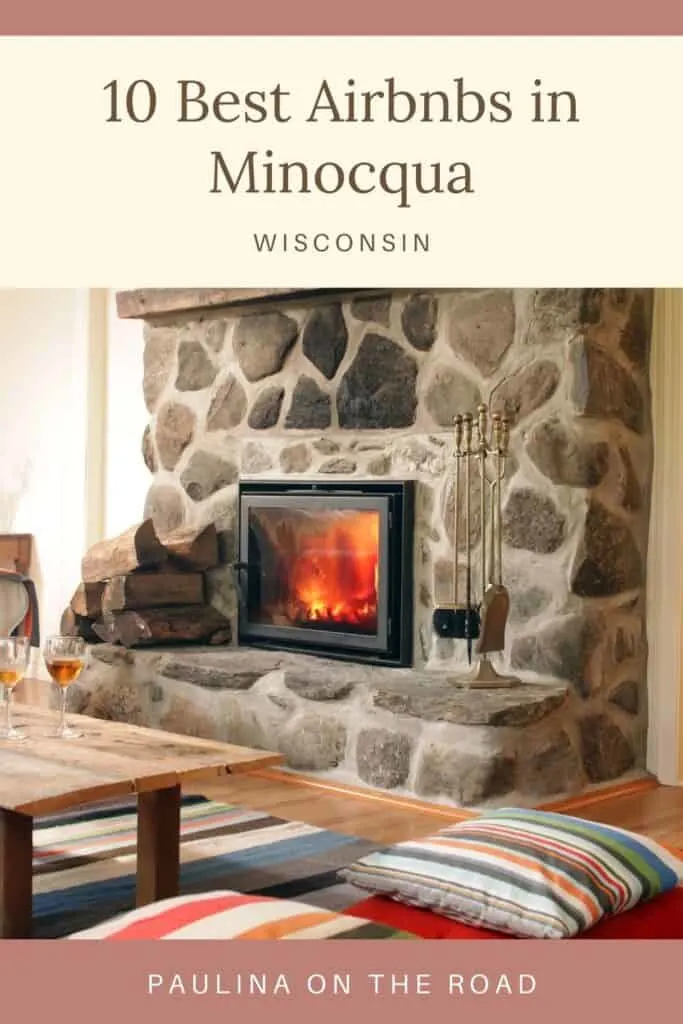 ---
Hola! I am Paulina, a fervent travelette who crossed the Atlantic Ocean by Boat HitchHiking. On my blog, you'll find all the tips to make the most of your holiday. Get ready to enjoy outdoor and sustainable travel like hiking, cycling or sailing. Let's hit the road together!