A guide to the best central Wisconsin resorts for an unforgettable holiday.
Pack your bags and come explore all the amazing resorts that Central Wisconsin has to offer.
Whether you're looking for an outdoor adventure or some much-needed relaxation, there's something here to fit everyone's tastes.
From luxurious beachfront cabins to many family-friendly attractions, these awesome central Wisconsin resorts have everything needed for a perfect vacation getaway.
So forget about reality for a while and prepare yourself to experience the best of what this beautiful part of America can provide and travel Wisconsin to make memories.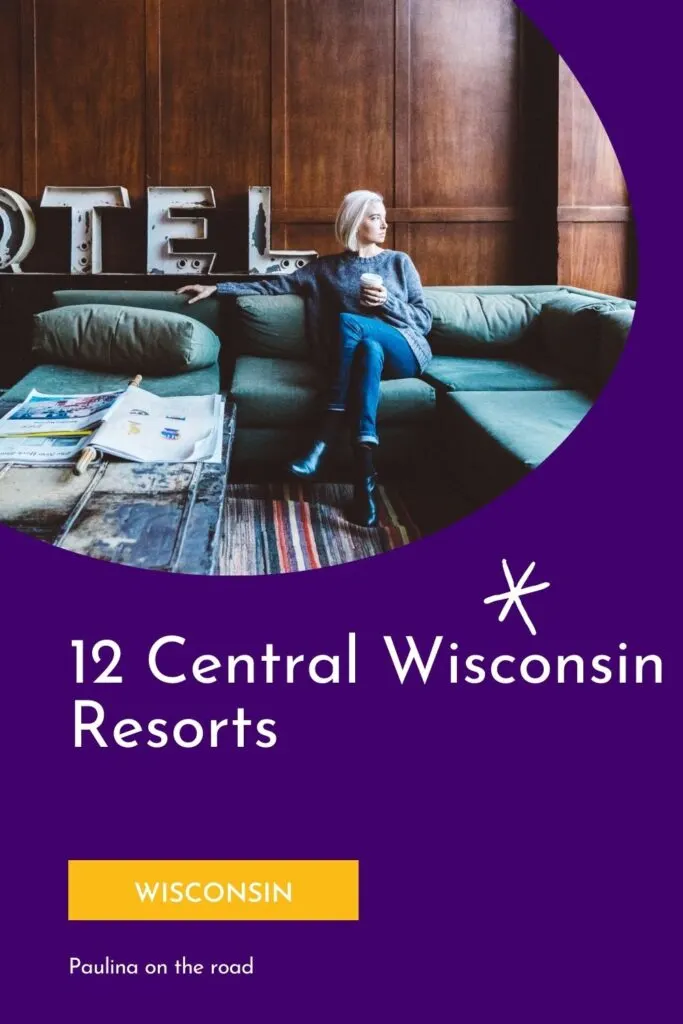 This blog is supported by you, dear reader. If you purchase through a link, I earn a small commission. As an Amazon Affiliate, I earn from qualifying purchases.
Pssst…!!?? You can't get enough of Wisconsin? Have a look at my other posts:
Top Central Wisconsin Resorts
When it comes to resorts in Wisconsin, the Best Western Plover-Stevens Point Hotel & Conference Ctr definitely stands out from the crowd.
Located in a prime spot that's just minutes away from the Stevens Point Brewery and the Wisconsin Dairy State Cheese Company, this resort has everything you could want for a fun and relaxing vacation.
From the swimming pool with sun loungers to the free breakfast buffet and gym, they've got all the amenities you need to feel right at home.
And if you need to do laundry, no problem! They offer convenient laundry services for guests. But don't just take my word for it.
Guests rave about the exceptional service and comfortable rooms in their glowing testimonials.
No wonder it's one of the best resorts in Wisconsin, especially for weekend trips in Wisconsin.
If you're looking for a great resort in Wisconsin, the Hilton Garden Inn Wausau should definitely be on your radar.
Not only does this hotel offer comfortable and modern accommodations, but it also boasts an indoor pool and a children's pool for family-friendly fun.
There's an onsite restaurant called Garden Grille & Bar that serves up delicious meals throughout the day.
If you need to squeeze in a workout or get some work done, the 24-hour gym and business center have got you covered.
And if you're looking for some outdoor activities, Rib Mountain State Park and Lil' Ole Winemaker Shoppe are just a short drive away.
With all of these features and amenities, the Hilton Garden Inn Wausau is a top contender for your the best getaways places to vacation in Wisconsin.
I love to unwind in beautiful surroundings, the modern-style lakefront retreat in central Wisconsin is a perfect choice for a serene getaway.
The resort is nestled immaculately on the peaceful waterfront, providing a tranquil ambiance that will leave every guest feeling exceptionally refreshed.
With numerous accommodation options to choose from, you'll have an opportunity to pick what suits your needs and preferences.
What stands out at one of the best lake resorts in Wisconsin like this lakefront retreat, is the great range of first-class amenities.
You can indulge in some of the services provided, such as a garden with a fire pit and barbeque grill, or engage in fun activities like kayaking, fishing, and hiking along the vast, pristine shoreline.
From the tantalizing dining options to the endless recreational opportunities around, you'll never run out of exciting things to do while staying at one of the best fishing resorts in Wisconsin.
From my perspective, I can say that the Hampton Inn Wausau is one of the best resort hotels in Central Wisconsin.
The setting and ambiance of the hotel are genuinely refreshing, with its modern architecture and friendly staff that will make you feel at home.
Whether you are here for a long stay or just for a night, the 87 rooms are equipped with air conditioning, free WiFi, and safes for your convenience.
What's more, standout amenities like a free breakfast, gym, indoor pool, hot tub, and pet-friendly services are available to ensure you have a memorable and comfortable stay.
The city is home to some of the best Airbnbs in Wausau, so check it out if you want to find more accommodation options.
For those looking for a cozy place to stay in Wisconsin, the Cobblestone Hotel & Suites in Wisconsin Rapids is a hidden gem.
The resort boasts a warm and welcoming ambiance that's perfect for individuals, couples, or even families.
The indoor pool and hot tub are great for a refreshing dip, while the 24-hour front desk ensures that guests' needs are always taken care of.
The best part? The hotel offers an American breakfast each morning and free parking, ensuring that you have a stress-free stay.
And for those with furry friends, pets are allowed as well, and with great Wisconsin road trips nearby, you can spend a lot of time in nature to recharge yourself.
Staying at the Holiday Inn Conference Ctr Marshfield, an IHG Hotel, is truly a treat. The resort's setting and ambiance make for an immersive experience that will feel like a getaway from the hustle and bustle of daily life.
With on-site dining options like the Rivers restaurant and bar, guests can enjoy a delicious meal and drink without having to venture too far away.
Whether you're here for work or play, you can take advantage of the 24-hour gym and business center to stay on top of things.
Plus, if you're traveling with your furry friend, the pet-friendly options ensure they won't get left behind on your vacation. Or check out the best pet-friendly cabins in Wisconsin.
With 91 rooms equipped with pillow menus and family-friendly services, the Holiday Inn Conference Ctr Marshfield is one of the best resorts in central Wisconsin.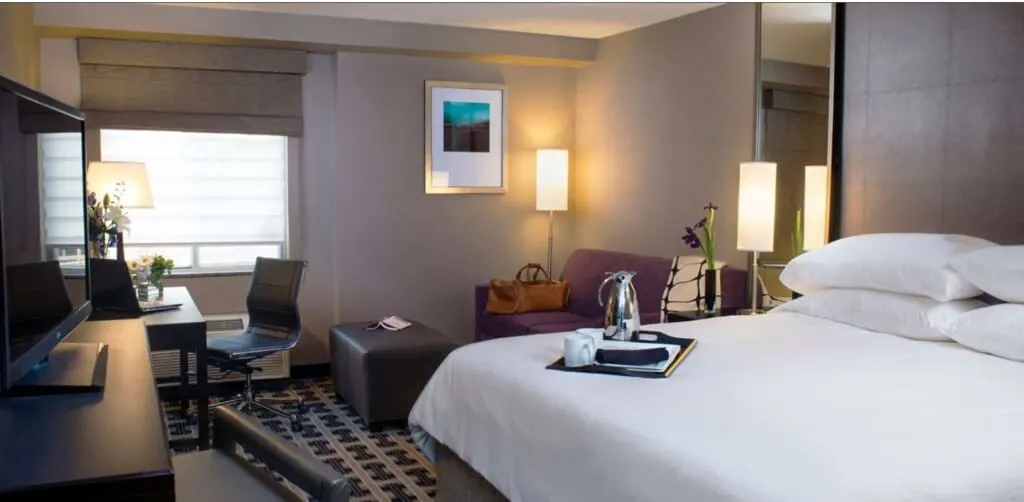 Let me tell you about one of the best central Wisconsin resorts I've come across: Hotel Marshfield.
This pet-friendly resort is situated smack dab in the middle of the business district, making it convenient for travelers who need to be near the action. But don't worry, once you step inside, tranquility awaits.
The hotel offers a variety of amenities including a sauna, two hot tubs, and a seasonal outdoor pool complete with sun loungers.
Foodies will love Libby McNeill, the onsite American restaurant that serves up some delicious dishes.
The hotel offers free parking and bike rentals, perfect for those who want to explore the city at their own pace.
And if you're an animal lover like me, you'll be happy to know that Hotel Marshfield is located near Wildwood Park and Zoo.
But the best part of all? You can start your day off right with a free full breakfast. Overall, Hotel Marshfield is a top choice for those seeking a comfortable and convenient stay in Wisconsin.
After staying at Ramada by Wyndham Waupaca, I can confidently say that this pet-friendly resort located in the heart of Central Wisconsin is a must-visit.
From the delicious free breakfast buffet to sipping on a morning coffee at the onsite cafe, the amenities provided will make any guest feel right at home.
I particularly loved spending time in the arcade room, where I challenged my companions to friendly competitions all night long.
The Mexican cuisine at Reflections Bar & Grill simply cannot be missed.
But perhaps the best part of this resort is its location – it's near the unforgettable Foxfire Golf Club and Waupaca Woods Shopping Mall, making it a perfect home base the best things to do in Central Wisconsin.
Overall, I highly recommend Ramada by Wyndham Waupaca for those seeking a memorable and enjoyable experience in Central Wisconsin Resorts.
Cobblestone Suites in Ripon, one of the best Wisconsin resorts out there, takes the term "homey" to a whole new level.
From the moment you step inside one of their 72 rooms, you're welcomed by a laptop-friendly workspace and refreshing air conditioning that'll keep you feeling cozy and productive.
When it comes to leisure, there's plenty of it to go around thanks to the indoor pool, children's pool, and hot tub.
And don't worry about skipping out on your health routine while on vacation – the 24-hour gym has got you covered. Plus, with a free self-serve breakfast in the morning, you'll start your day off on the right foot.
Oh, and if you've got a furry friend with you, good news – pets are allowed! All in all, Cobblestone Suites is a must-visit for anyone looking for a comfortable and relaxing stay in Ripon.
If you're in search of a top-rated Wisconsin resort, look no further than Boarders Inn & Suites by Cobblestone Hotels in Wautoma.
The indoor pool and hot tub provide the perfect relaxation spot for any weary traveler. You can enjoy a free self-serve breakfast and laundry facilities, which can really come in handy during extended stays.
The 24-hour business center is an added bonus for those who need to stay connected, with free in-room WiFi for all.
Even pets are welcome to join in on the fun. And if you're looking for winter getaways in Wisconsin, Nordic Mountain is just a short distance away.
So what are you waiting for? I encourage you to book your stay at Boarders Inn & Suites and start experiencing the best of Wisconsin resorts.
As someone who loves exploring Wisconsin, I recently came across the Courtyard by Marriott Wausau and was pleasantly surprised by all it has to offer.
This charming resort is located a stone's throw away from Granite Peak Ski Area, making it an ideal place for winter sports enthusiasts.
But what really stood out to me were the indoor pool area and fully-equipped fitness facilities that you can enjoy year-round.
Another great perk is the onsite restaurant, Courtyard Bistro, which serves up delicious meals throughout the day.
And if you're a fan of breakfast, you're in for a treat! The resort offers a fresh hot breakfast every morning to get you energized for a day of exploring.
With 84 rooms featuring premium bedding, air conditioning, and plenty of space for families (including free infant and extra beds), the Courtyard by Marriott Wausau is one of the most romantic getaways in Wisconsin that offers everything you need for an unforgettable stay.
If you're headed to Central Wisconsin and looking for a comfortable place to stay, the La Quinta Inn by Wyndham Wausau is definitely worth checking out.
Located in a prime spot with plenty of popular attractions nearby, this resort has something to offer every type of traveler.
Whether you're traveling solo, in a group, or with your pets, you'll find a range of accommodations that suit your needs.
And let's remember the exceptional features and services that come with staying here. From the complimentary breakfast to the refreshing indoor pool, you won't be disappointed.
So don't lose any time and book your stay at one of the best pet-friendly resorts in Wisconsin.
My conclusion on the best Central Wisconsin resorts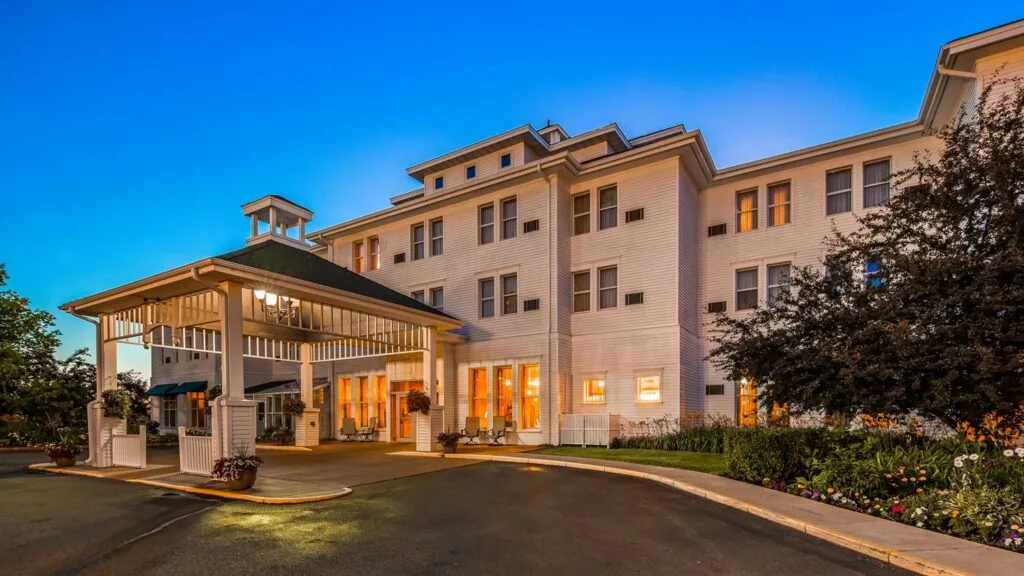 Whether you're looking for a place to relax and recharge, experience adventure and excitement, or simply spend quality time with friends and family, Central Wisconsin is the perfect destination.
With its wide selection of resorts, each boasting unique features and amenities, your visit is guaranteed to be unforgettable.
From cozy lodges to luxury resorts offering modern luxury, there's something for everyone to enjoy in Central Wisconsin – so don't miss out!
Pack your bags and get ready for the vacation of a lifetime – no matter what type of travel experience you have in mind, there's an amazing resort waiting for you in Central Wisconsin.
FAQ about the best central Wisconsin resorts
What are the best Northern Wisconsin resorts on lakes?
Some of the best Northern Wisconsin resorts on lakes are the Pointe Hotel & Suites, Minocqua, the Lodge at Crooked Lake, Siren, or Grand Pines Resort.
What are the best lake resorts in Wisconsin?
Some of the best lake resorts in Wisconsin are Grand Geneva Resort & Spa, Delton Grand Resort & Spa., or the Lake Lawn Resort.
What are the best Wisconsin resorts for couples?
Some of the best Wisconsin resorts for couples are Stout's Island Lodge in Birchwood, Grand Geneva Resort & Spa, or Sundara Inn and Spa, Wisconsin Dells.
---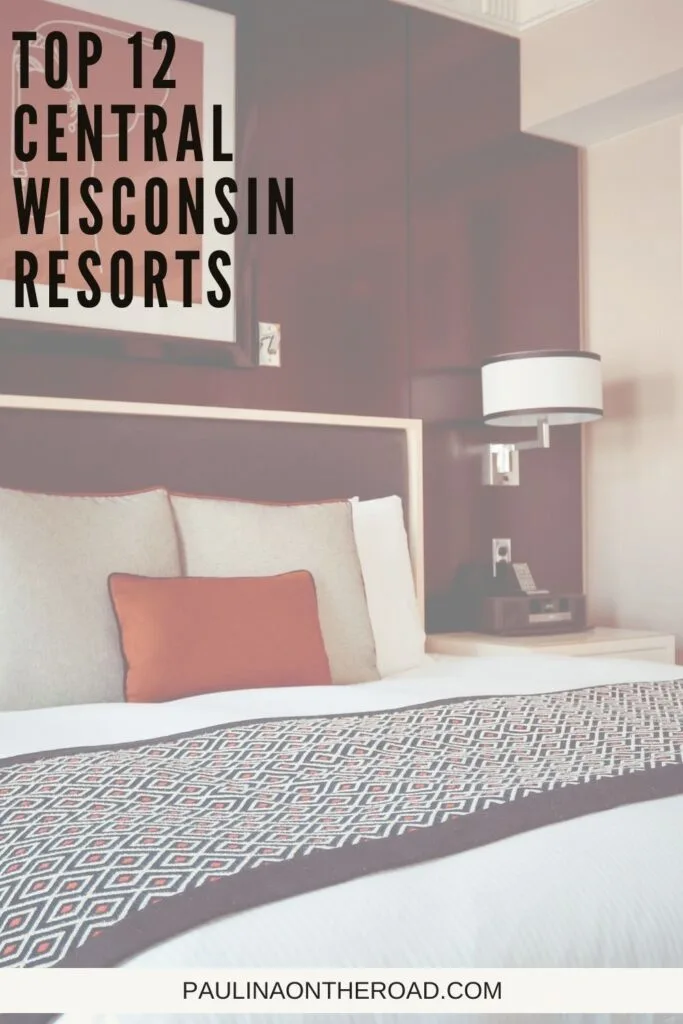 ---
Hola! I am Paulina, a fervent travelette who crossed the Atlantic Ocean by Boat HitchHiking. On my blog, you'll find all the tips to make the most of your holiday. Get ready to enjoy outdoor and sustainable travel like hiking, cycling or sailing. Let's hit the road together!