Are you ready to experience the best of Wisconsin's resorts?
From mountain lodges in picturesque settings to luxurious waterfront escapes, there are plenty of amazing places to get away from it all and find relaxation.
Whether you want a quiet retreat for two or an active family vacation with plenty of activities, these Wisconsin resorts can provide something for everyone.
Travel Wisconsin and take a journey through these stunning resorts that offer up breathtaking views and soothing vibes – perfect for enjoying a special weekend or even just escaping from your regular day-to-day life.
Let me show you why Wisconsin is the premier destination for finding memorable experiences at incredible locations.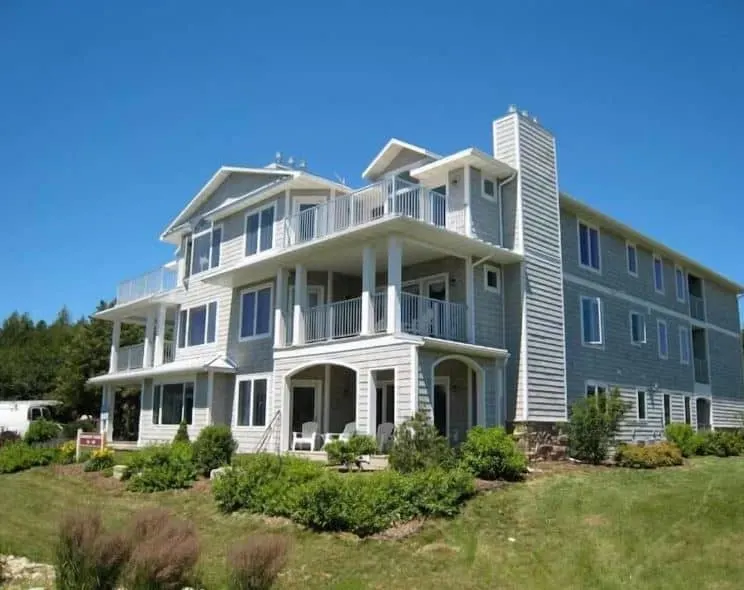 Wisconsin is home to some of the most beautiful resorts in the United States.
From breathtaking lake views, endless outdoor activities, world-class amenities, and amazing hospitality, "The Badger State" has something special awaiting every traveler.
Best Resorts in Wisconsin to visit
Wisconsin may not be the first place you think of for a luxury getaway, but it's worth putting on your travel radar.
The state is home to some of the best resorts in the Midwest, each offering a unique experience for visitors.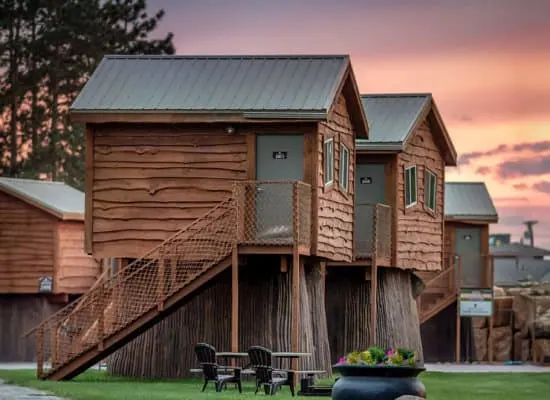 Whether you're looking for a lakeside retreat or a winter wonderland escape, Wisconsin's got you covered. And the best part?
You don't have to travel far to find a hidden gem. So what are you waiting for? Plan your next Wisconsin adventure today and experience all that these top-tier resorts have to offer.
Wisconsin resorts ranked
Wisconsin Dells resorts
When it comes to family-friendly getaways, few places can compare to the Wisconsin Dells resorts.
Nestled amidst verdant landscapes and crystal clear waters, these resorts offer the perfect blend of adventure and relaxation.
From thrilling waterparks and zip lining to tranquil spas and scenic boat tours, there's something for everyone in this picturesque region.
The best part?
These resorts are designed with families in mind, so you can rest easy knowing that your kids are safe and having a blast.
With world-class dining options, luxurious accommodations, and a culture of hospitality that's second to none, a visit to one of these Wisconsin Dells resorts is sure to create memories that last a lifetime.
Door County resorts
If you're looking for an idyllic vacation destination, look no further than the Door County resorts.
Nestled in the heart of Wisconsin, Door County is a place where you can disconnect from the daily grind and enjoy the simple pleasures in life.
With its stunning beaches, charming towns, and lush countryside, this region is a paradise for anyone seeking peace, tranquility, or adventure.
Door County resorts are the perfect base from which to explore all the wonders of this magical land.
From luxurious spas to cozy cabins, these resorts cater to all your vacation needs, whatever your budget or preference.
Lake Geneva resorts
Nestled among the lush forests and rolling hills of southern Wisconsin lies the enchanting wonderland of Lake Geneva resorts.
This is where some of America's wealthiest families like the Wrigleys and the Schwinns have made their summer homes over the years. It's not hard to see why.
The clear water of the lake sparkles in the sunshine, while the quaint downtown area is perfect for strolling, shopping, and dining.
With a variety of luxurious accommodations, from cozy cabins to grand estates, you'll be treated like royalty at a Lake Geneva resort.
The area also offers world-class golf courses, hiking trails, water sports and some of the best spas in the Midwest.
Lake Michigan resorts
Lake Michigan resorts in Wisconsin are a true gem for those seeking a quick getaway to recharge and rejuvenate.
Surrounded by stunning natural landscapes and breathtaking water views, these resorts offer something for everyone.
Whether you're looking for an action-packed adventure or a tranquil escape, Lake Michigan resorts provide endless opportunities to indulge in outdoor activities, including hiking, fishing, boating, and swimming.
And after a day of fun in the sun, you can unwind and recharge in luxurious accommodations, complete with top-notch amenities and unparalleled hospitality.
So, if you're feeling the itch to escape the hustle and bustle of everyday life, head to Lake Michigan resorts and experience the ultimate in relaxation and rejuvenation.
Wisconsin lake resorts
There's just something about Wisconsin Lake Resorts that has always captured my heart.
Perhaps it's the serene beauty of crystal clear waters that surround or the comfortable amenities that await onshore.
Whatever it may be, one thing is for sure: these resorts make for an unforgettable vacation experience.
From charming vintage cabins to modern condo rentals, there's something for everyone seeking relaxation, adventure, or a bit of both.
Whether you're swimming, fishing, boating, or simply lounging with a good book, a Wisconsin lake resort is the perfect place to unwind, recharge, and create cherished memories with friends and family.
Milwaukee hotels
Looking for a fantastic getaway in the Midwest? Look no further than the many fantastic Milwaukee hotels.
From luxurious high-end hotels to budget-friendly accommodations, there's a little something for everyone in this vibrant city.
Whether you're here for a quick weekend getaway or a longer stay to explore all that Milwaukee has to offer, rest assured that you'll find a welcoming and comfortable place to stay.
And with so much to do and see in the city, you'll certainly want to plan an extended visit! So why wait?
What are the best resorts in Northern Wisconsin?
Northern Wisconsin is home to some of the best resorts in the state, offering a perfect combination of luxurious amenities and serene natural surroundings.
Whether you're looking for a weekend getaway or a longer vacation, you won't find a better place to escape the hustle and bustle of everyday life. From cozy cabins to elegant lodges, there are plenty of options to choose from, each with its unique attractions and activities.
So if you're planning on staying at one of the resorts in Wisconsin, be sure to consider all that Northern Wisconsin has to offer; with its breathtaking scenery, friendly locals, and endless outdoor recreation options, it's sure to be an unforgettable experience.