Guide to the best Wisconsin resorts for winter vacations in Wisconsin Dells, Eagle River, Lake Geneva and more!
Are you on the lookout for a perfect place for enjoying the much-awaited winter holidays?
Do you prefer a destination where you can enjoy winter adventures both indoors and outdoors alike?
If you answered yes to both questions, I recommend you visit Wisconsin.
There are amazing Winter resorts in Wisconsin to suit all your vacation needs and desires.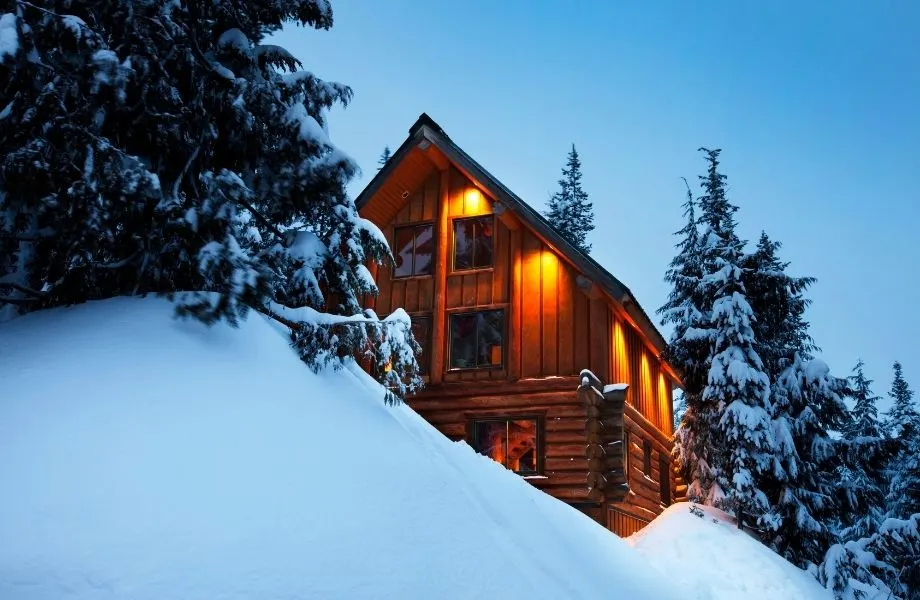 This magical winter destination offers fun activities for visitors of all ages.
With a plethora of trails for hiking, biking, and snow activities, it will make you come back every year for unrivaled winter experiences.
Pick your favorite winter resorts in Wisconsin from the list given below and enjoy winter festivals like never before.
Once you've experienced a Wisconsin winter, you'll want to visit every year.
This blog is supported by you, dear reader. If you purchase through a link, I earn a small commission. As an Amazon Affiliate, I earn from qualifying purchases.
Top resources to travel Wisconsin
✎ Plan the ultimate Wisconsin road trip (no backtracking!) with the Perfect Wisconsin Road Trip itinerary – Buy now for less than 12$

✈ Find the best hotel deals in Wisconsin with Trivago

➳ Book vacation rentals in Wisconsin with VRBO

✔ Book tours in Wisconsin with Viator

☘ Get the best discounted outdoor gear (outlet) at REI.com

$ Get Wisconsin hiking guides and maps at REI.com

✎ Never leave without travel insurance. I get mine at SafetyWing. It is easy to set up, cheap, and reliable.
Overview: Best Winter Resorts in Wisconsin
Best Winter Resorts in Northern Wisconsin
If you are looking for family getaways or romantic hotels in Wisconsin for winter vacations, Northern Wisconsin has plenty to offer.
This scenic destination offers a lot of opportunities for both relaxation and recreation.
Soak up the views of snowy landscapes from the resorts in northern Wisconsin or head out to enjoy ziplining and hiking.
In Northern Wisconsin, ski resorts are a great choice for a thrilling experience in winter.
Where: Minocqua, WI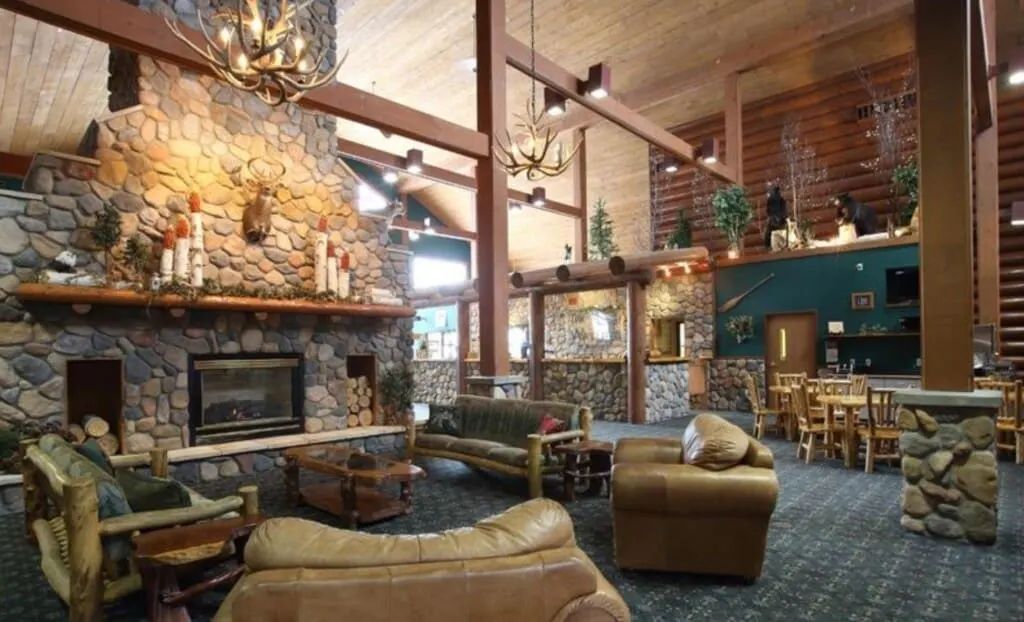 Highlights: Complimentary access to the waterpark
The Waters of Minocqua is one of the best Northern Wisconsin winter resorts as it brings together the charm of Northwoods décor and the comforts of modern amenities.
The guestrooms here come with amenities such as an outdoor deck, fireplace suites, loft suites, and whirlpool suites to choose from.
Plus, this resort has the largest waterpark in Northwoods and guests can access it for free! No wonder it's one of the best hotels in Minocqua for families!
From indoor-outdoor pools, fun slides, kids play areas to a hot tub, The Waters of Minocqua has something special for guests of all ages.
Other facilities include a complimentary breakfast, redemption arcade for exciting games, coffee shop, and restaurant.
Near the resort, you can find some of the best things to do in Minocqua, including hiking and fat bike trails groomed for making winter adventures convenient.
You can also visit the Minocqua winter park for excellent skiing, snowshoeing opportunities.
Where: Eagle River, WI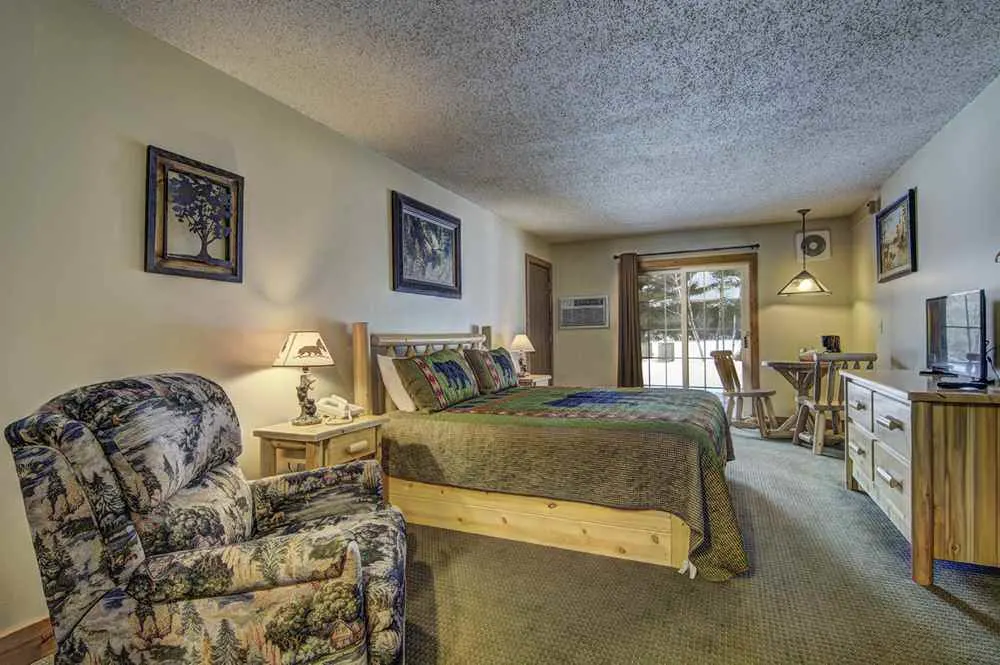 Highlights: Free boat docking
The Eagle River Inn and Resort adorn the shores of the beautiful Watersmeet Lake.
Guests can choose from accommodations ranging from bunk-bed rooms, lakeside patio rooms, rooms with kitchenettes to Jacuzzi suites.
There is even the option of condominium rentals with 3 bedrooms that are great for winter getaways in Wisconsin for families.
The rooms are comfortably furnished and are equipped with amenities like a television, coffee maker.
Guests of this resort can also enjoy a hot and delicious continental breakfast every day.
Whether you seek relaxation or adventures, this resort has plenty to offer.
It features a sauna, indoor pool, and hot tub for taking a rejuvenating dip.
An exciting fact is that it is located on one of the best snowmobile trails in Wisconsin.
You will find many opportunities for indulging in fun winter activities like skiing and snowshoeing nearby.
Where: Cable, WI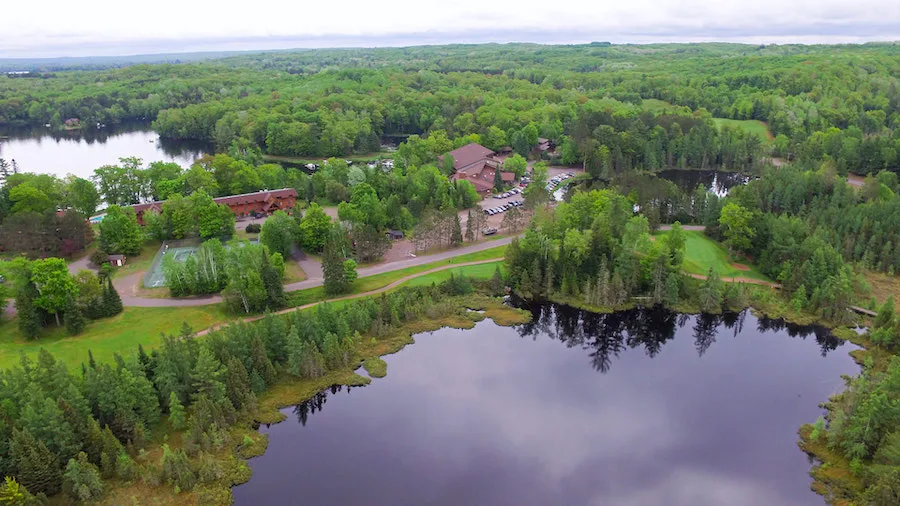 Highlights: Recognised as the number-one snowmobile resort in the nation by SnowGoer Magazine
A great destination to unwind, the Lakewoods Resort and Lodge has been welcoming guests for over 115 years.
Located in Cable, Wisconsin, the resort lets you witness breathtaking views of Lake Namakagon.
The resort features lodge rooms, golf villas, lake homes, and condos to make your Wisconsin winter vacation exceptional.
The rooms either have balconies or patios where you can sit back and relax.

No matter what time of you, Lakewoods Resort and Lodge is one of the best family resorts in Wisconsin as it has something to offer for everyone.
The remarkable amenities of the resort include an indoor and outdoor pool, picnic area, marina, and an arcade room.
It stands ahead of other northern Wisconsin winter resorts in terms of the fun adventures offered.
In winters, you can enjoy activities like snowmobiling, snowshoeing, cross country skiing, ice skating, and mountain biking.
Additionally, Lakewoods is also one of the best Wisconsin ice fishing resorts that arrange special fishing competitions and events.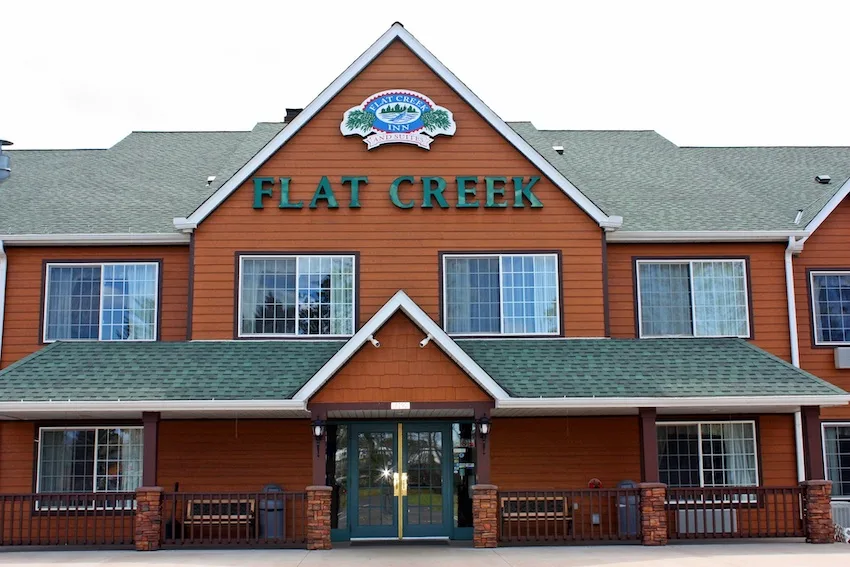 Where: Hayward, WI
Highlights: Heated indoor pool and hot tub
Flat Creek Lodge in Hayward is ideal for memorable winter weekend getaways in Wisconsin.
This is the region's only full-service hotel and boasts comfortable rooms suitable for every vacation need.
Complimentary continental breakfast is served for a delightful start to the day.
Other remarkable amenities include a restaurant, bar with fireplace, saloon, and indoor pool.
The hotel also has a hot tub suitable for eight people where you can relax with your family or friends.
For leisure, the hotel is located close to many golf courses, lakes, beaches, and snowmobile trails.
Nearby you can find opportunities for many amazing outdoor activities in Wisconsin like fishing, biking, skiing, hiking, and boating.
If you love shopping, you will enjoy visiting downtown that has many specialty stores.
Where: Bayfield, WI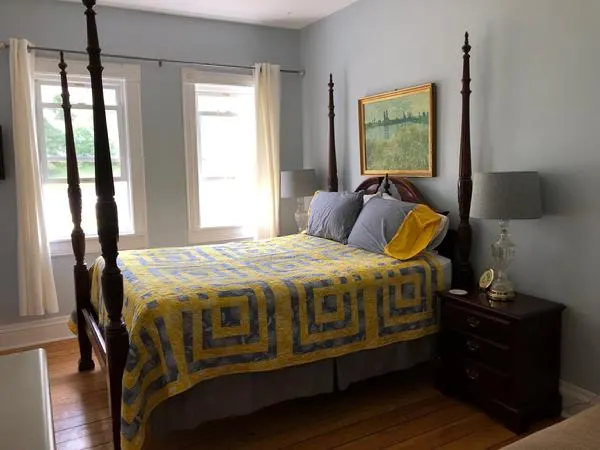 Highlights: Double size whirlpool tub in every room
Lucy's Place is an excellent choice for those who wish to enjoy peaceful winter vacations in Wisconsin.
Located on the south shore of Lake Superior, this bed and breakfast feature cozy rooms.
The resort also has stunning gardens and an apple orchard for enjoying some quiet moments amidst nature.
The rooms have a double-size whirlpool tub for couples to enjoy a romantic soak.
A mini-kitchen with amenities like a microwave, refrigerator, and coffee maker is also a part of every room.
Some of the rooms at Lucy's Place have also got electric fireplaces to keep you warm.
If you wish to enjoy secluded winter camping in Wisconsin, the Apostle Island is near.
The Apostle Islands in winter are extra magical, and it's one of the best times to visit.
There are tons of amazing things to do on the Apostle Islands during the winter such as exploring the ice caves and hiking.
Best Winter Resorts in Central Wisconsin
Whether you wish to enjoy a relaxing winter vacation or an adventurous one, Central Wisconsin is ideal for everyone.
There are lots of unique things to do in Central Wisconsin no matter when you visit, but winter is full of unique experiences like winter camping and brewery tours.
The winter resorts in Central Wisconsin ensures that you have a memorable time with its services
Where: Sheboygan, WI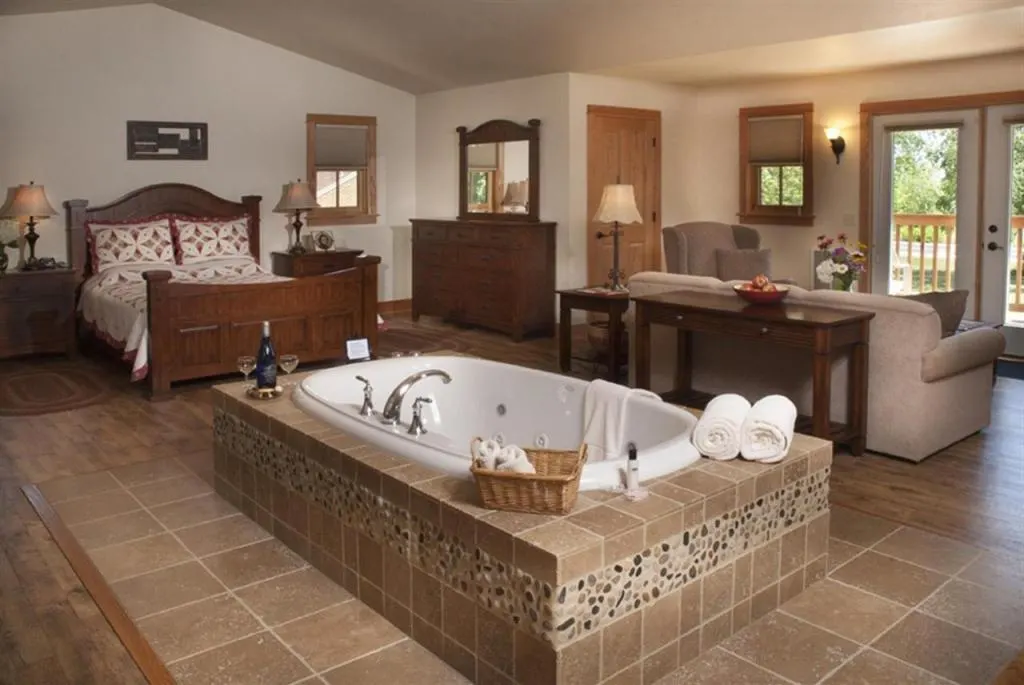 Highlights: Spa with lakeside views, sauna, and cafe.
Lake Orchard Farm Retreat raises the bar of luxury winter resorts with its impressive accommodation and state-of-the-art amenities.
This is one of the best hotels in Sheboygan for couples or families thanks to all its great amenities.
The resort features rooms and suites with private balconies to enjoy spectacular woodland or lake views.
Whether you are planning the most romantic getaways in Wisconsin or a family get-together, this resort won't disappoint.
The features like gas fireplaces, two-person whirlpool tub, and kitchenette in the suites ensure that couples have a great time.
While you are here, enjoy shopping at the Old World Christmas Market at the resort.
Other winter activities here include biking, sledding, and downhill skiing, but there are a lot of other fun things to do in Sheboygan.
Where: Sparta, WI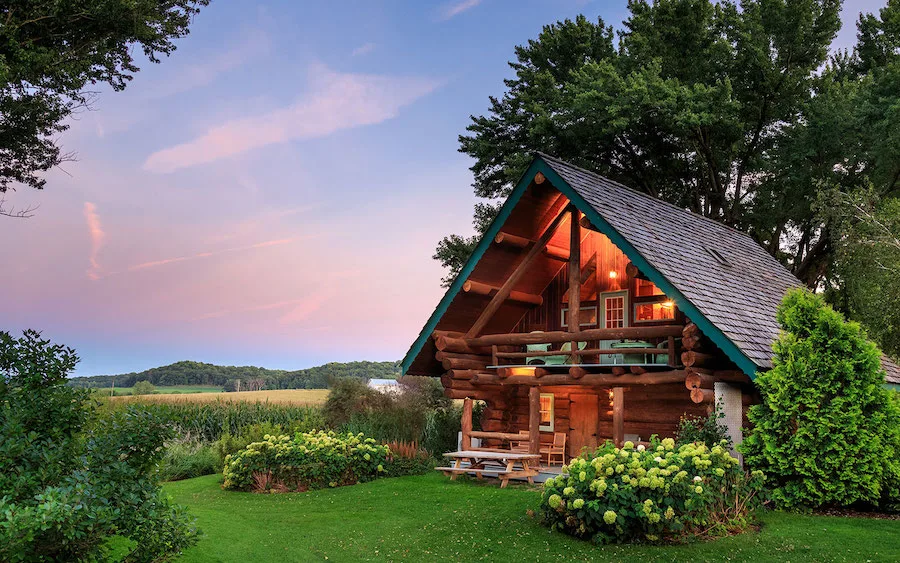 Highlights: Dog-friendly lodging
The beautiful Justin Trails Resort is spread across 200 scenic acres in a tranquil valley in Sparta.
This destination resort lets you unplug from city life and enjoy the beauty of nature.
The resort offers an unforgettable experience for everyone from birdwatchers, stargazers, nature lovers to adventure seekers.
If you're looking for diverse lodging options, the Justin Trails Resort stands ahead of other winter retreats in Wisconsin.
You can find luxury cabins, B&B suites, and glamping cabins here.
Additionally, the Justin Trails Resort has some of the best winter cabins in Wisconsin for honeymooners with a private loft, cozy gas fireplace, and whirlpool tub.
This resort also lets you experience the joy of resort camping in its tent campsites with picnic tables and firepits.
Where: Wausau, WI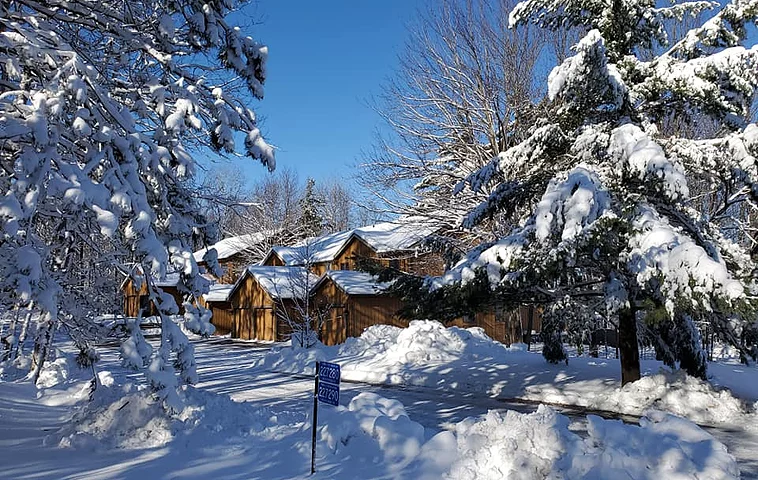 Highlights: Complimentary hot breakfast, hot cocoa, and cappuccino
Rib Mountain Inn is the apt choice for winter getaways in Wisconsin amidst nature.
Tucked away in the serene woods in Wausau, the Rib Mountain Inn is adjacent to the iconic ski area, Granite Peak.
Lodging choices here range from beautifully decorated inn rooms, spacious townhouses, and villas.
All the rooms have a private balcony or patio surrounded by gorgeous birch and pine trees.
Facilities like sauna, hot tub, outdoor fire pit, and barbeque make it rank among the best winter resorts in Wisconsin.
Nearby the resort you can enjoy activities like hiking, biking, and kayaking.
And of course, being near one of the best ski resorts in Wisconsin, you can ski!
It also has unique shops, art galleries and breweries, and restaurants at a close distance.
Be sure to check out Newby's Evergreen Farms, one of the best Christmas tree farms in Wisconsin where you can find and cut your own Christmas tree.
And for an authentic experience, check out the best Airbnbs in Wausau.
Where: Kohler, WI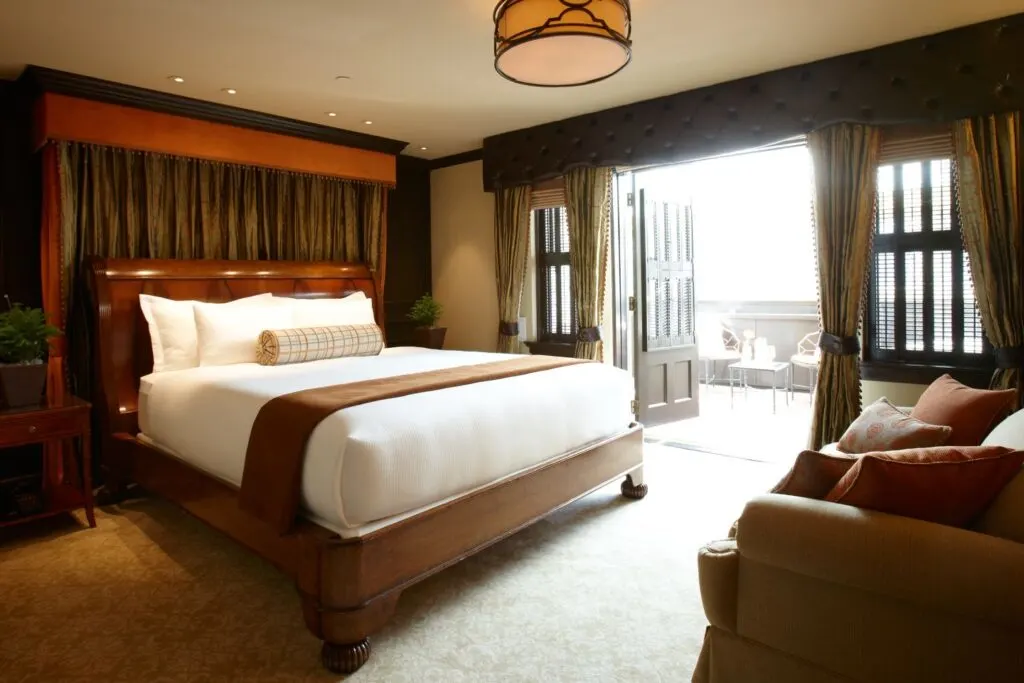 Highlights: Spa services at Kohler Spa

When it comes to elegant winter resorts, Kohler Wisconsin has remarkable choices to offer. The American Club is one such example.
This luxury resort has been impressing guests with its courteous hospitality for over a century.
The rooms and suites here are beautifully furnished and exude an inviting vibe, and allow guests to enjoy the iconic Kohler showering experience even in the standard rooms.
Coffee machines and gaming systems are also part of every room.
Of course, The American Club also offers plenty of rejuvenating experiences for its guests and is one of the best spa resorts in Wisconsin.
The hydrotherapy and nourishing treatments at the five-star Kohler spa redefine the meaning of relaxation.
Guests can also enjoy activities like yoga on the lake and indoor cycling.
Those looking for luxury winter resorts in Wisconsin, definitely can't go wrong with The American Club!
Where: Chippewa Falls, WI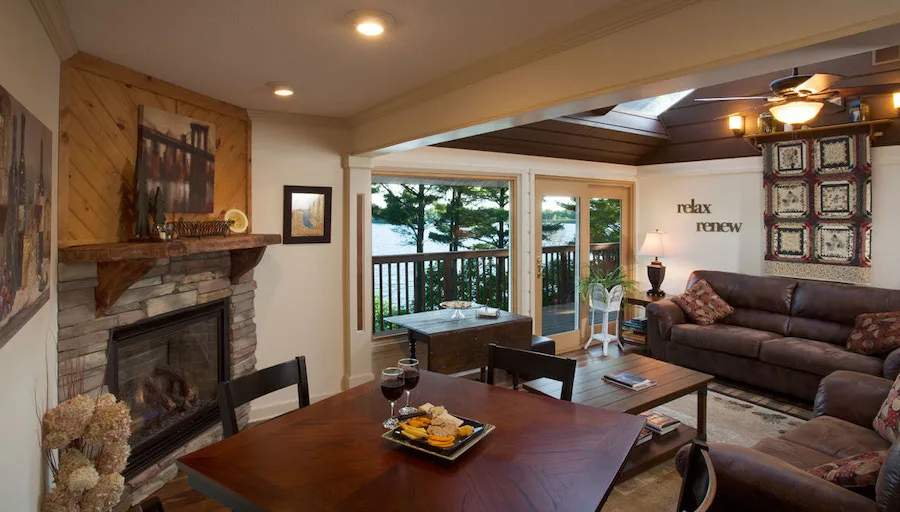 Highlights: Special romance packages for couples
Nestled on the shores of Lake Wissota, The Inn on Lake Wissota boasts luxurious guest rooms with scenic views.
This is one of the best lake resorts in Wisconsin for couples that seek a private and relaxing vacation.
The rooms feature fireplaces, whirlpool tubs, and terraces for relaxing moments with your partner.
Some rooms at the resort even offer direct access to the deck overlooking the lake to enjoy some peaceful moments.
The resort also offers curated romantic packages with services like couple massages and scenic carriage rides.
You can also choose the package with add-ons like roses and chocolates to pamper your loved one.
While you are here, make time to visit the nearby wineries, orchards, and brewpubs.
The resort also has many parks nearby for cool things to do in Wisconsin in winter like skiing and camping.
Best Winter Resorts in Southern Wisconsin
Southern Wisconsin makes winter vacations fantastic with plenty of activities like biking, ice skating, and snowshoeing.
Even in winter, hiking the Southern Wisconsin hiking trails is one of the top activities.
It is a great destination to soak in the festive mood as many holiday events are held here.
In fact, there are lots of fun things to do at Christmas in Wisconsin for families.
This region also has some of the best winter resorts in Wisconsin for both romantic and family getaways.
Where: Fontana, WI
Highlights: Temperature controlled pools and hot tubs
The Abbey Resort is spread across ninety acres of beautiful grounds on the shores of Lake Geneva, one of the best lakes in Wisconsin.
The resort boasts luxurious lake-inspired guestrooms, suites, and villas with a balcony or patio.
Additionally, live music, bonfire facilities, art classes, board games, and movies are available at the resort for guests' enjoyment.
You can book private boat cruise tours for exploring the beauty of Lake Geneva.
Lake Geneva in winter is particularly magical, and there are lots of great seasonal activities and events.
This is also one of the best winter resorts in Wisconsin for enjoying ice skating.
Within the resort is the Avani Spa which offers restorative body treatments and relaxing massages.
Winter is the perfect time for romantic getaways in Lake Geneva.
Where: Green Lake, WI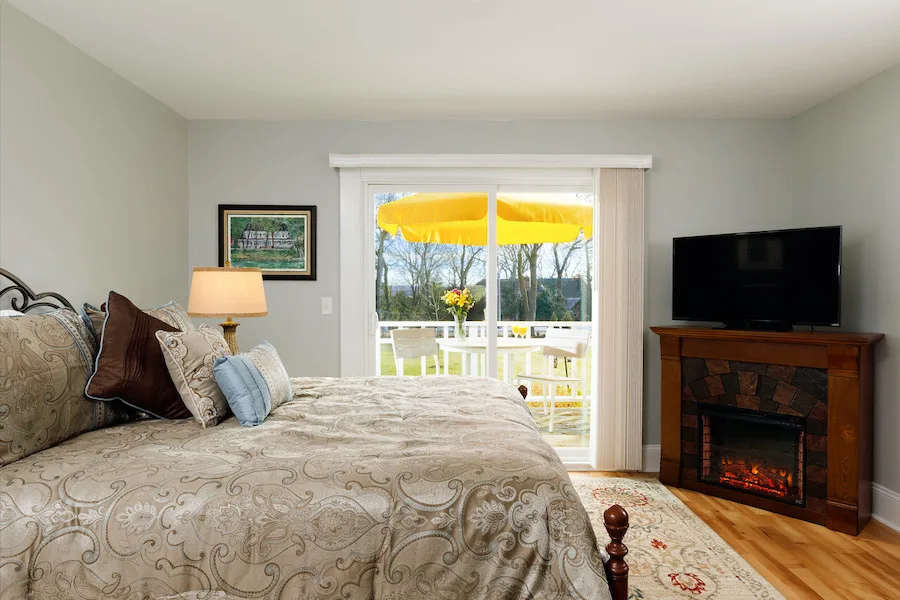 Highlights: Delicious breakfast made with fresh locally sourced ingredients
A charming Bed and breakfast in the heart of Green Lake, Greenway House guarantees a pleasant stay.
Due to its great location, Greenway House is one of the best winter resorts in Wisconsin for a romantic weekend getaway.
All the rooms have ultra-comfortable beds and amenities like television and wifi.
Couples can choose to stay in rooms with a private patio, fireplace, and tub for creating cherished memories.
There are many restaurants nearby for enjoying a romantic date night.
For those visiting the resort your family, the cottage that can accommodate six guests is perfect.
It has a full kitchen, outdoor grill and offers lake views for making a family vacation special.
Make sure to attend the holiday events like parades and concerts that happen throughout the city during winters.
Where: Milwaukee, WI
Highlights: Spa and salon offering relaxing treatments
The Pfister Hotel is located in downtown Milwaukee which is perfect for a fun winter city break.
Operating since 1893, the Pfister Hotel is praised for its impeccable architecture and hospitality.
The hotel features lavish rooms and suites with superior amenities.
Plus, it is even pet-friendly, so you don't have to leave your furry friend behind during your vacations.
For extended stays, this is one of the best winter resorts in Wisconsin
Guests can take a refreshing dip in the swimming pool and head to the café for delicious treats.
The highlight of the hotel is a bar on the 23rd floor that offers incredible views of the city.
A hammam steam shower in the spa is an experience that you shouldn't miss here.
The hotel also offers many cool things to do in Milwaukee in winter like Breakfast with Santa and New year's eve events.
Where: Lake Geneva, WI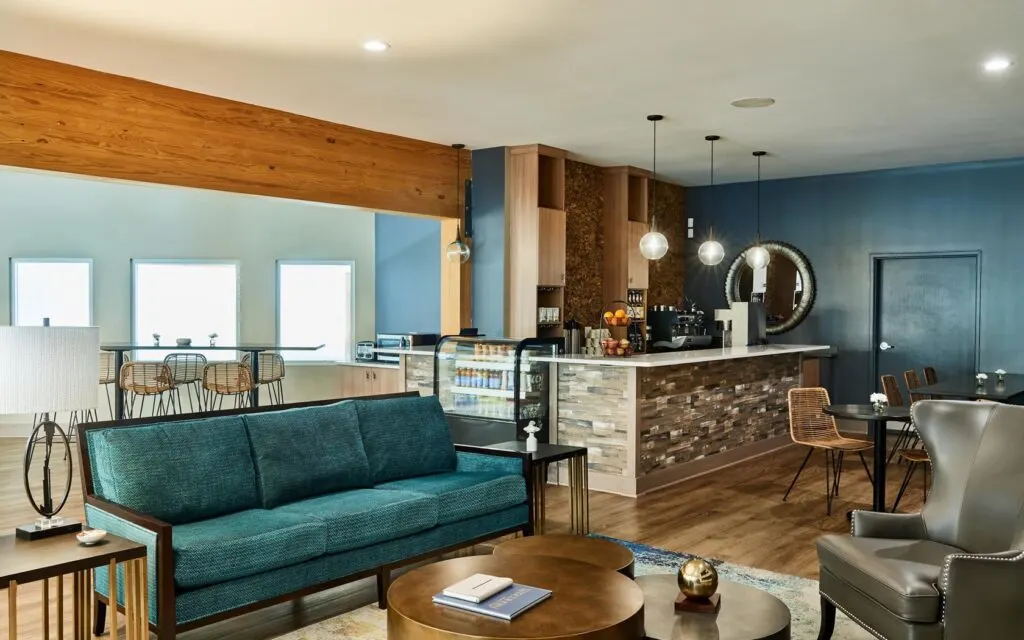 Highlights: Lake Geneva's largest outdoor pool complex
Your search for the best family-friendly winter resorts in Wisconsin ends at The Cove of Lake Geneva.
This resort has everything from swimming pools, arcade rooms, an on-site restaurant to a children's pool area to delight everyone in the family.
All of their suites are thoughtfully designed with their guests in mind, and The Cove strives to provide a superior vacation condo experience.
The resort also features living rooms with fireplaces, a fully-equipped kitchen, and a private patio for enjoying some treasured family moments.
Although located just off the shores of Geneva Lake, the resort is also is close to the vibrant downtown.
You can indulge in some of the most fun things to do in Lake Geneva nearby like ziplining and safari tours.
Best Winter Resorts in Door County
The picturesque Door County covered in snow looks like magic in winters.
It is home to some of the best winter resorts Wisconsin has to offer.
Experiences like cozying up in front of the fireplace in rooms or gathering around outdoor grills make winter vacations here extraordinary
If you wish to venture outside, hiking and ice fishing are the best things to do in Door County during winters.
Where: Sisters Bay, WI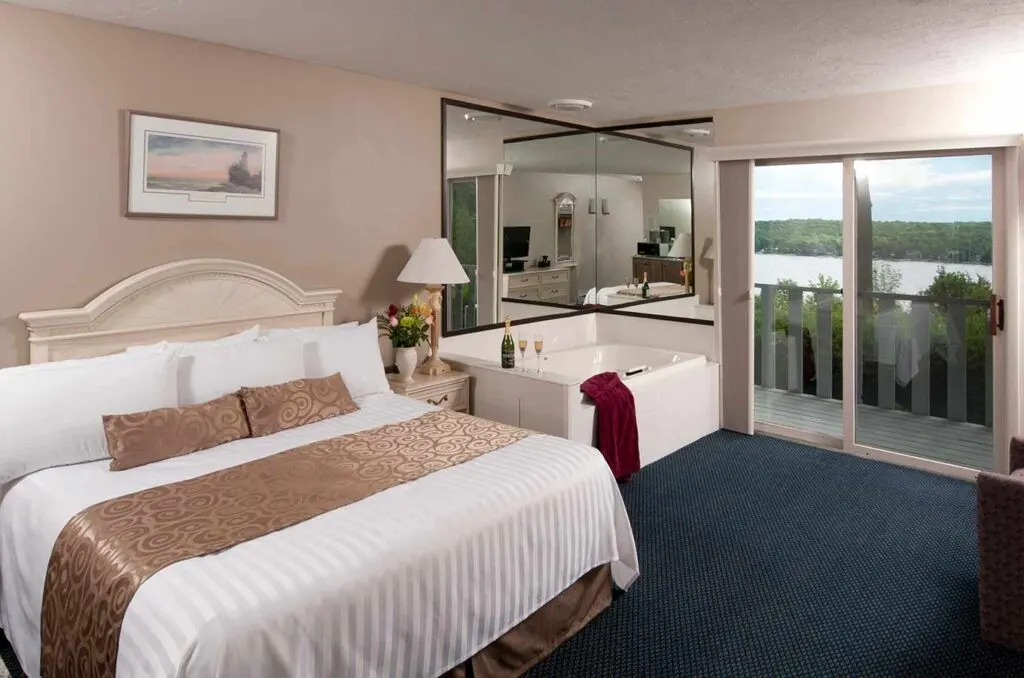 Highlights: 1100 feet of private shoreline
Country House Resort in Sister Bay is a paradise for those who appreciate privacy on their vacation.
Nestled on 27 wooded acres, the resort features 1100 feet of shoreline that guarantees blissful seclusion.
The resort caters specifically to adults and sets the right tone for romance.
Most of the rooms here have private balconies for witnessing breathtaking water views.
Equipped with in-room jacuzzis and fireplaces in the suites, this is one of the best resorts in Door County for couples.
To elevate the romantic experience, the Country House Resort also accepts requests for add-ons like flowers and wine.
Take a romantic walk in the garden with your partner and soak up the tranquil ambiance of the resort.
Where: Ephraim, WI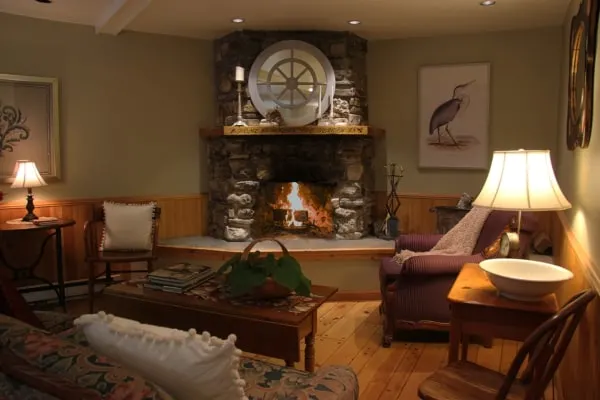 Highlights: Delicious homemade treats available every afternoon
Eagle Harbor Inn showcases the perfect blend of B&B charm and modern resort amenities for a comfortable stay.
Sprawling across 5 acres in Ephraim's historic district, the resort keeps you close to the serene nature.
Having said that, it is also within walking distance of unique shops, galleries, and restaurants.
The resort features whirlpool suites and traditional Inn rooms with best-in-class amenities.
The common amenities include a well-equipped fitness room, sauna, and indoor pool.
There are many picnic areas and outdoor gas grills to enjoy barbeque nights with your friends and family.
Eagle Harbor Inn is also one of the best winter resorts in Wisconsin for elegant wedding ceremonies.
They also arrange a package for making your honeymoon days unforgettable.
Where: Sisters Bay, WI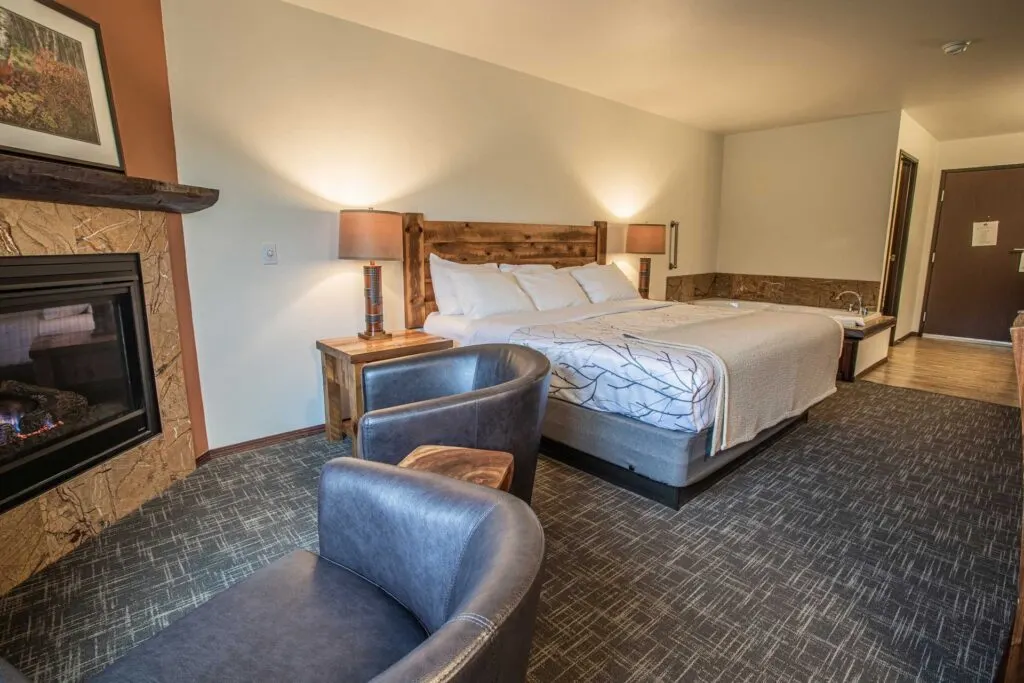 Highlights: Large yard with disc golf area
If you are searching for Wisconsin winter resorts for vacation with a group, book your stay at Open Hearth Lodge.
This gem in Sister Bay is surrounded by nature and has plenty of entertainment options and gathering spaces.
Outside, the hotel has a natural stone patio with a fire pit great for enjoying fun conversations with your friends.
Open Hearth Lodge also has a heated indoor pool and jacuzzi hot tub for relaxation.
The accommodation options range from whirlpool rooms, log-cabin-inspired rooms, and suites.
All the rooms are high in style and have comfortable amenities to make you feel at home.
Peninsula state park filled with fun things to do in Door County in winter is a short drive from this resort.
Best Winter Resorts in Wisconsin Dells
A winter vacation in Wisconsin Dells is a fun affair as it has many amazing indoor waterparks and theme parks.
In fact, many Wisconsin Dells resorts have their own waterparks attached!
There are tons of great things to do in Wisconsin Dells in winter, so it's no surprise it's popular with tourists in winter looking for thrilling seasonal experiences.
The most popular winter activities here are skiing, snowboarding, and tubing.
You can also embark on winery tours or enjoy winter ziplining over snowy landscapes.
Where: Wisconsin Dells, WI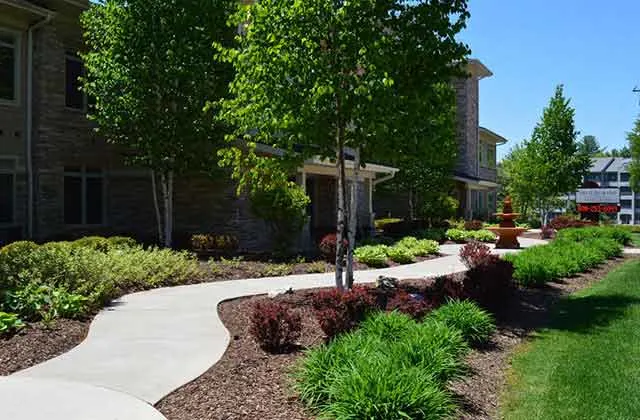 Highlights: Free passes to Noah's Ark Waterpark
Delton Grand Resort and Spa meets the needs of every vacation type with its brilliant lodging choices.
Located on the shores of Lake Delton, this condominium resort features lakefront villas, studios, a penthouse, a cottage, and courtyard villas.
Heated indoor and outdoor pools, whirlpools, sandy beaches, and barbeque facilities ensure the guests are occupied.
Delton Grand Resort is one of the best Wisconsin Dells winter resorts with a lakefront fire pit.
Guests of the resort get complimentary access to the popular Noah's Ark Waterpark.
It is packed with fun things to do in Wisconsin Dells even in winters like thrilling rides, shopping, and dining.
Where: Wisconsin Dells, WI
Highlights: Several picnic areas with barbeque grills
Spread across 12 wooded acres, Meadowbrook Resort is an idyllic destination for incredible Midwest winter getaways.
The resort features cozy suites with handcrafted log furniture, as well as log cabins, both of which are perfect for winter.
All of the rooms at the resort feature Northwoods décor that exudes a warm and rustic vibe and makes the place feel wintery even in the summers.
The amenities like fireplace, whirlpool, and kitchen vary according to the type of accommodation.
However, most of the rooms have picnic tables and barbeque grills nearby for fun family time.
While Meadowbrook is perfect for families, the log cabins are also ideal for couples and can make a stay here one of the most unforgettable romantic getaways in Wisconsin Dells.
In terms of the activities offered, it is one of the best winter resorts in Wisconsin Dells, allowing easy access to winter activities like snowshoeing, hiking, and skiing.
Campfires, marshmallow roasting, family movie nights, are a few of the most popular winter experiences that guests enjoy.
Where: Wisconsin Dells, WI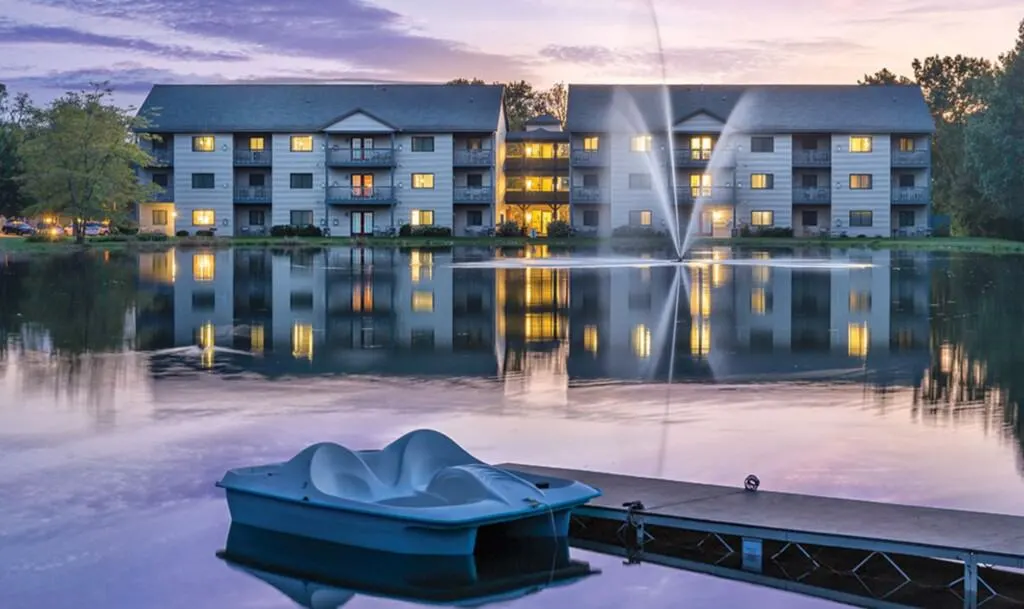 Highlights: Fitness center and tennis court
Club Wyndham Tamarack is conveniently located near the popular Mt. Olympus water and theme park in Wisconsin Dells.
The suites are equipped with facilities like a fireplace and a full kitchen for a joyous family vacation.
You can enjoy a workout session at the gym while the little guests play in the kid's games room.
For ultimate relaxing, the hotel offers a hot tub, indoor and outdoor pools.
The resort also has a picnic area with barbeque grills, tennis courts, and a playground to ensure you never have a dull moment here.
If you are wondering where to ski in Wisconsin Dells, the Mirror Lake State Park is near this hotel.
---
Short FAQ Best Winter Resorts in Wisconsin
1. Where should I vacation in Wisconsin in the winter?
It depends on what kind of winter vacation you are looking for. Milwaukee is perfect for a winter city break, while Eagle River is great if you love snowmobiling, and both Lake Geneva and Wisconsin Dells are fun for families!
2. What is there to do in Wisconsin in the winter?
Tons! But one of the most fun things to do in Wisconsin in winter is to partake in winter sports. Snowmobiling is one of the best winter activities in Wisconsin, with skiing a close second!
3. Are there winter resorts in Wisconsin near snowmobile trails?
Yes! The resorts eagle river Wisconsin offers are ideal for snowmobiling. One of the best resorts there is the Eagle River Inn & Resort.
You can't get enough of winter resorts in Wisconsin? Have a look at my Google Story here.
---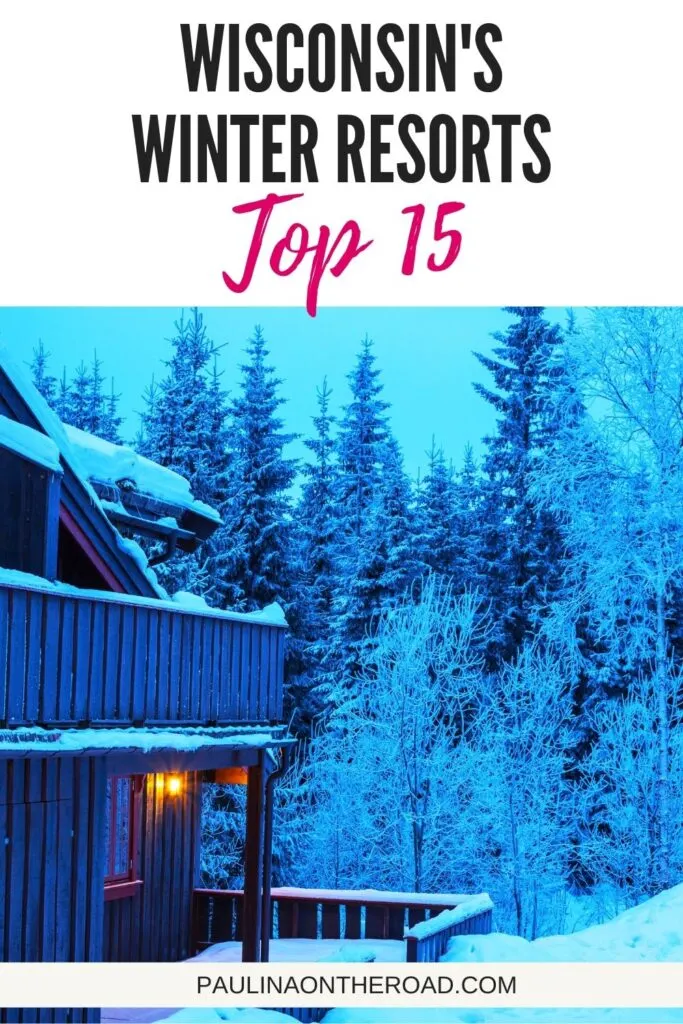 ---
Hola! I am Paulina, a fervent travelette who crossed the Atlantic Ocean by Boat HitchHiking. On my blog, you'll find all the tips to make the most of your holiday. Get ready to enjoy outdoor and sustainable travel like hiking, cycling or sailing. Let's hit the road together!