A guide that will definitely help you choose from the best Northwest Wisconsin resorts for y perfect holiday
Welcome to the beautiful and remote northwest corner of Wisconsin—an outdoor enthusiast's paradise!
With miles upon miles of stunning shorelines, rivers, lakes, and forests, this part of the state is ideal for those looking to take a much-needed vacation away from home.
Here's a collection of my top Northwest Wisconsin resorts; each one offers something unique and perfect for any type of runaway.
Get ready to travel Wisconsin for some unforgettable experiences in this gorgeous region without breaking your budget!
Whether you're searching for a romantic weekend getaway or an exciting family trip full of adventure—Northwest Wisconsin has exactly what you're looking for!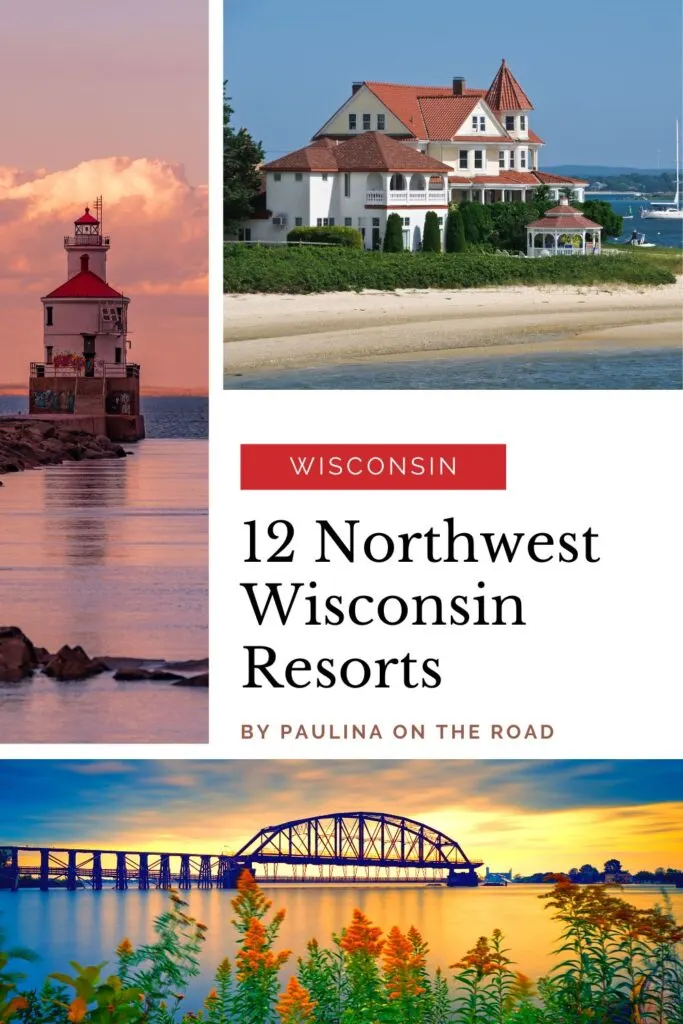 This blog is supported by you, dear reader. If you purchase through a link, I earn a small commission. As an Amazon Affiliate, I earn from qualifying purchases.
Pssst…!!?? You can't get enough of Wisconsin? Have a look at my other posts:
Northwest Wisconsin Resorts
Are you searching for a tranquil and relaxing getaway? Look no further than Stout's Island Lodge in Birchwood, Wisconsin.
This luxurious resort offers rustic cabin suites, complete with a cozy fireplace, a fully equipped kitchenette, and air conditioning to make your stay as comfortable as possible.
Whether it's adventuring outdoors with activities like badminton, canoeing, golfing, or simply lounging by the lake, you will find something to suit your interests here.
With private dining rooms, an outdoor terrace, picnics, and a harvest table in the kitchen garden, the dining experience at Stout's Island Lodge is truly exceptional.
Unwind in the midst of nature at one of the best resorts in Northern Wisconsin, and leave feeling renewed and refreshed.
When it comes to northern Wisconsin cabin resorts, the Lodge at Crooked Lake in Siren stands out above the rest. My recent stay there was incredible, with all the amenities I could ask for.
From the free to-go breakfast and shopping on-site to the sauna and hot tub, there's always something to do here.
The 24-hour gym and indoor pool with sun loungers provided the perfect way to unwind after a day of exploring nearby Straight Lake Wilderness State Park and Crex Meadows Wildlife Area.
To top it all off, there's even a firepit to gather around in the evening. I can't recommend the Lodge at Crooked Lake enough – it truly is the epitome of the best lake resorts in Wisconsin.
As someone who loves exploring resorts in northwest Wisconsin, I can confidently say that Heartwood Conference Center & Retreat in Trego offers an unforgettable vacation experience.
With its private beach, pet-friendly policy, and onsite gym, this resort has something for everyone.
The surrounding area is perfect for outdoor enthusiasts, with opportunities to explore the stunning Big Bass Lake and Trego Lake.
For winter sports enthusiasts, Heartwood is a dream come true, with ski-in/ski-out access, cross-country skiing, and ski equipment rentals available.
The resort also offers basketball, volleyball, and mountain biking for those who want to stay active during the summer months.
With its 69 rooms, all equipped with modern amenities and balconies or patios, Heartwood is the perfect place to relax and unwind while enjoying one of the best Northern Wisconsin Resorts on lakes.
Grand Pines Resort & Motel is one of the best northern Wisconsin resorts, located in Hayward.
With its private beach and lakefront setting, Grand Pines offers a stunning escape for connecting with nature.
There are endless activities to keep you busy during your stay – from fishing on Round Lake to playing golf at the nearby Hayward Golf Club, you'll be entertained.
The resort itself is gorgeous, with 20 cabins and 12 motel rooms available for those wanting more space.
All rooms have fully-equipped kitchens and complimentary Wi-Fi. If you're looking for top-rated Wisconsin resorts or secluded cabins in Wisconsin, Grand Pines Resort & Motel won't disappoint!
Lakewoods Resort in Cable is one of the best Wisconsin resorts you'll ever come across! With 18 holes of golf, a marina, and a terrace, there's never a dull moment here.
And the fun doesn't stop there!
You can also enjoy fishing and beach volleyball during the day, or try your hand at snowshoeing, rowing/canoeing, and sledding if you're visiting during the winter.
Plus, their seasonal outdoor pool and indoor pool offer the perfect way to relax after a day spent exploring the Chequamegon National Forest and Lake Namakagon.
As someone who has personally visited this resort, I can attest to the fact that it truly has something for everyone – from breathtaking scenery to thrilling activities Lakewoods Resort in Cable has the best outdoor things to do in Wisconsin.
I couldn't have been more thrilled when I stumbled across Tagalong Golf Resort & Conference Center in Birchwood.
Located in the heart of northern Wisconsin lake cabin rentals, this resort is the perfect place to kick back and relax.
The condos are stunning – complete with a full kitchen, living room, two fireplaces, and two balconies that overlook the breathtaking Red Cedar Lake.
As someone who loves to stay active, I was thrilled to discover the fitness center and hot tubs.
And let's not forget about the amazing 18-hole Scottish-style golf course that is sure to delight golfers of all skill levels.
Whether you're interested in exploring Ice Age Trail (find here the best trails for hiking in Northern Wisconsin) biking, snowmobiling, ice fishing, or cross-country skiing, you'll never be bored at Tagalong.
The Landing Resort in Hayward is one of the best Wisconsin resorts you'll ever come across.
Located on the shores of Upper Eau Claire Lake, this resort offers a truly remarkable stay to its guests.
The rooms and villas are comfortable and spacious, with stunning views of the lake from every window.
There's plenty to do – from fishing for muskies and trolling walleye to canoeing, tubing, and swimming in the lake.
For those who prefer to stay on dry land during their vacation, the resort also offers a host of activities such as biking or hiking.
With its pristine setting, luxurious accommodations, and wide range of activities available, The Landing Resort is definitely one of the best fishing resorts in Wisconsin.
As someone who loves escaping into nature and finding the perfect lodges in Northern Wisconsin, the St. Croix Inn – Solon Springs definitely caught my attention.
This amazing hotel provides unbeatable lakeside views that set the perfect stage for the enjoyment of waterfront activities like rowing, fishing, and canoeing.
That's just the beginning, however! Between the indoor pool, hot tub, and poolside bar, there's bound to be something to keep every guest entertained.
The firepit and outdoor furniture make it easy to relax and take in the stunning scenery. The cherry on top?
A free breakfast in the morning and bicycles are available for exploring the surrounding area. So pack your bags, folks – the St. Croix Inn is waiting at one of the best Wisconsin cabins with hot tubs.
If you're looking for the ultimate vacation experience in northwest Wisconsin, Metropolis Resort & Conference Center in Eau Claire is a great choice.
Nestled among lush greenery and rolling hills, this resort offers an escape from the hustle and bustle of daily life.
With its modern amenities, spacious rooms, full-service spa, and onsite restaurant and bar, this is the perfect place to relax and unwind.
There are plenty of things to do in Eau Claire – from swimming in the indoor and outdoor pools to exploring the nearby Chippewa River State Trail.
And don't forget about the onsite golf course and driving range for those looking to practice their swing!
With its unbeatable amenities and spectacular scenery, Metropolis Resort surely deserves its place as one of the best Northern Wisconsin spa resorts.
As soon as I walked into the GrandStay Residential Suites Hotel in Eau Claire, I knew I was in for a treat.
From the warm and inviting fireplace in the lobby to the refreshing indoor pool decked out with sun loungers, this northern Wisconsin resort had everything I needed to unwind and relax.
And let's not forget about the free continental breakfast every morning, laundry facilities, and gym for those looking to stay active while away from home.
One of the highlights was the onsite basketball court, perfect for working up a sweat and showing off my skills.
The 53 rooms were equipped with premium bedding and laptop-friendly workspaces, ensuring that I could remain productive while still feeling at home.
And, for those interested in a classic summer BBQ, there were even barbecue grills available for use.
Overall, the GrandStay Residential Suites Hotel was the ideal place for anyone looking for a fun, comfortable, and memorable stay at one of the best hotels in Eau Claire.
If you're searching for things to do in northwest Wisconsin, put Canoe Bay on your list.
This unique resort has a variety of accommodations to choose from, including cottages, duplex-style cottages, and Escape Tiny Homes.
But what really sets it apart is the private glacially carved lake, hiking trail system, 3-acre organic garden, and large A-frame library.
And, of course, the namesake activity: canoeing (along with kayaking and paddleboarding) and make sure you don't miss the best waterfalls in Northern Wisconsin that are found close by.
Plus, there's an onsite restaurant to fuel all your adventures. As for my own experience, I can attest to the beauty and tranquility of Canoe Bay's surroundings – it's the perfect escape from busy city living.
Located in the heart of Northwest Wisconsin Resorts is Timber Bay Resort in Cable, a hidden gem that I recently discovered.
The resort boasts 10 cozy cabins complete with fully-equipped kitchens, making it the ideal destination for families who love to cook and eat together. What's more, pets are more than welcome to join the family fun!
The resort also features a fantastic picnic area that comes with a barbecue grill, perfect for al fresco dining.
If you're into outdoor things to do in Northern Wisconsin, you'll be pleased to know that kayak and canoe rentals are available right on site, making it easy to explore the beautiful surrounding area.
And, for a dose of culture, you can visit the nearby Waswagoning Indian Village or hit the snowy trails at the Minocqua Winter Park.
Trust me, there is something for everyone at Timber Bay Resort!
My final thoughts of the best Northwest Wisconsin resorts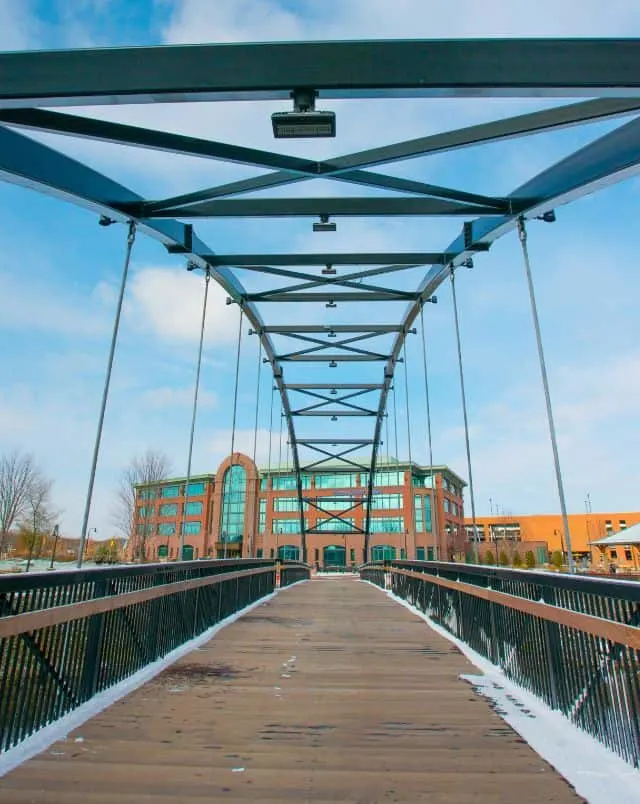 Northwest Wisconsin resorts are vibrant and serene destinations that provide the perfect balance of adventure and relaxation.
From kayaking, skiing, and snowmobiling to dining, relaxing on the beach, and exploring the great outdoors, there is truly something for everyone in this gorgeous part of the world.
No matter what type of getaway you're seeking, I'm absolutely positive you can find it in northwest Wisconsin.
So if you've been searching for your go-to escape from the everyday grind, consider planning your break away to one of the area's unique resorts. You won't be disappointed!
Experience stunning views of immaculate pines and lakes; relish home-cooked meals prepared with love; and make some extraordinary memories along the way.
With so much to offer travelers of all ages and preferences, there's no better time than now to book your trip to northwest Wisconsin.
The journey starts here: pack your bags today and embark on an unforgettable adventure!
FAQ about the best Northwest Wisconsin Resorts
What are the best Northern Wisconsin resorts on lakes?
Some of the best Northern Wisconsin resorts on lakes are the Pointe Hotel & Suites, Eagle Waters Resort, or the Lodge at Crooked Lake.
What are the best luxury resorts in northern Wisconsin?
Some of the best luxury resorts in northern Wisconsin are Gordon Lodge, Bluefin Bay on Lake Superior, or Northernaire Resort
What are the best cabin resorts in Northern Wisconsin?
Some of the best cabin resorts in Northern Wisconsin are Boondoggle Resort — Chetek, Brekke's Fireside Resort, or BJ's Lake House – St. Germain.
---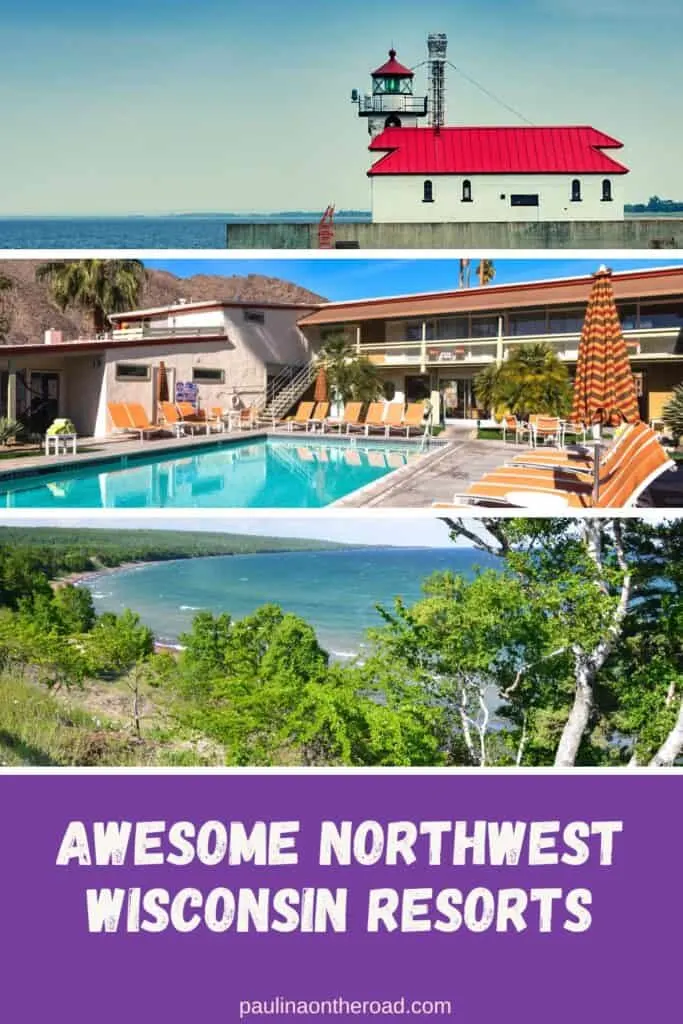 ---
Hola! I am Paulina, a fervent travelette who crossed the Atlantic Ocean by Boat HitchHiking. On my blog, you'll find all the tips to make the most of your holiday. Get ready to enjoy outdoor and sustainable travel like hiking, cycling or sailing. Let's hit the road together!