Ready for an unforgettable adventure?
Travel Luxembourg's picturesque Mullerthal region, known as Petite Suisse Luxembourgeoise (Little Switzerland of the Grand Duchy), the perfect place to explore through rolling hills and lush valleys.
With its hidden gems tucked away in tranquil forests and riverside villages, travelers can experience a truly authentic journey filled with castles, hiking trails, colorful flora and fauna—you simply never run out of magical things to do in Mullerthal.
Whether you seek outdoor activities or cultural experiences that reveal rich history and national heritage, Mullerthal has just what you need to make your journey extraordinary!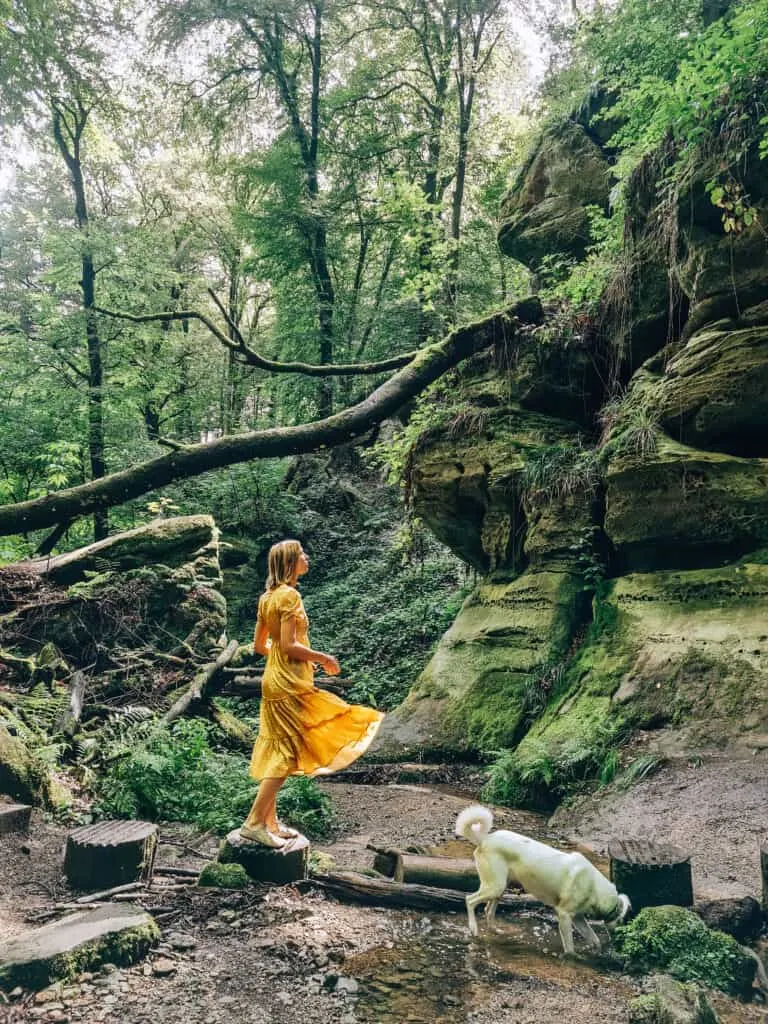 Best things to do in Mullerthal:
Mullerthal Trail
Schiessentümpel Mullerthal Waterfall
Beaufort Castle
Visit Echternach, the oldest town in Luxembourg
This blog is supported by you, dear reader. If you purchase through a link, I earn a small commission. As an Amazon Affiliate, I earn from qualifying purchases.
Top resources to travel Luxembourg
Book cheap flights to Luxembourg with Skyscanner

Get the best hotel deals with Trivago

Get the best tours in Luxembourg with Viator

Rent a car at the best rates with Discovery Cars

Get the best discounted outdoor gear (outlet) at REI.com

Never leave without a travel insurance. I get mine at HeyMondo
Where to stay: Camping Belle-Vue 2000
Finding a suitable base located close to the most popular attractions is key for a successful trip to Mullerthal Luxembourg.
During my stay, I found a home away from home at Camping Belle-Vue 2000, located in Berdorf. The campsite offers a haven of tranquility, close to the main trails and attractions.
This Berdorf camping It comes with different accommodation types such as safari tents, tiny houses and more!
A calming atmosphere, excellent and attentive staff along with its convenient location make it the perfect starting point for your adventure. – Book your stay here
Where to stay in Mullerthal region
Wondering where to stay in Luxembourg? There are so many wonderful options, though my stay was at Camping Belle-Vue 2000, I've included an additional list of recommended Mullerthal hotels and campsites:
1. Hiking Mullerthal Trail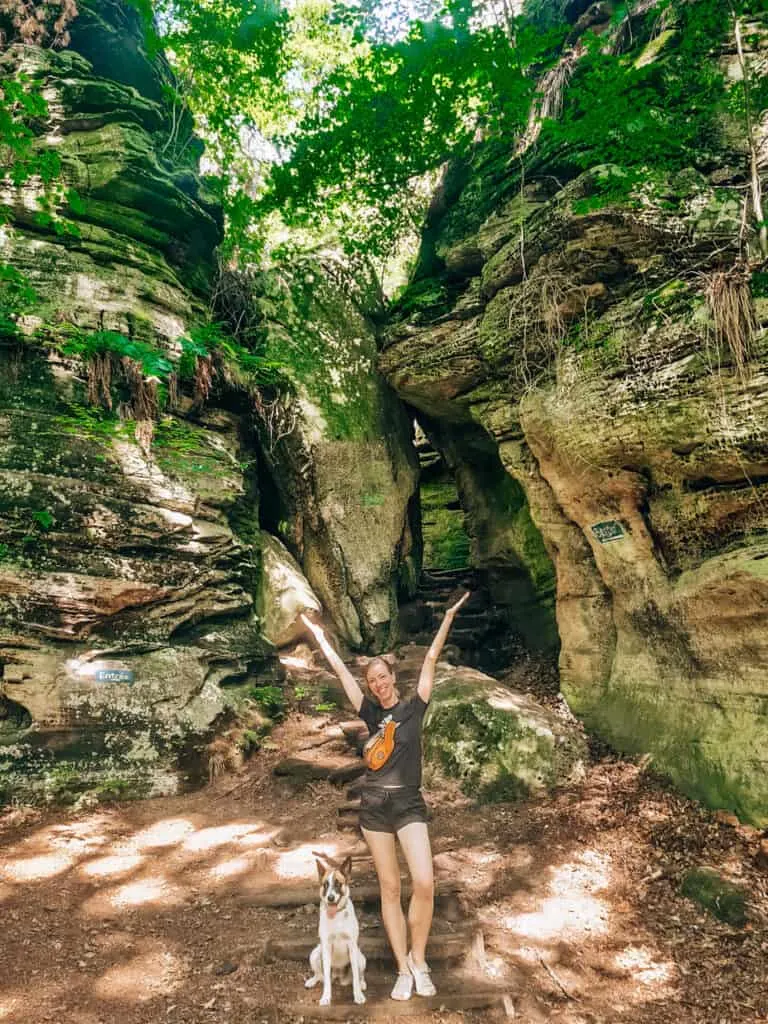 As one of the most popular day trips from Luxembourg, the iconic Mullerthall Luxembourg trail allures many keen hikers who visit the Mullerthal region known as 'Little Switzerland'.
A true testament to nature, this trail offers distinct sections each of which provides a glimpse into Mullerthal's varied beauty.
Though the trail spans 112km, you can choose to walk any section of it, depending on where your adventurer's heart takes you.
Along the Mullethal trail, you are invited to explore dense forest land, take in views at glorious vantage points, and even try a bit of rock climbing which is another popular activity here.
From the romantic aura of Echternach Lake to the ethereal atmosphere of the Black Ernz river, this Mullerthal hiking trail is one of the best I've experienced.
If you're seeking to be at one with nature, you must complete the Mullerthal trail.
2. Exploring Mullerthal's Rock Formations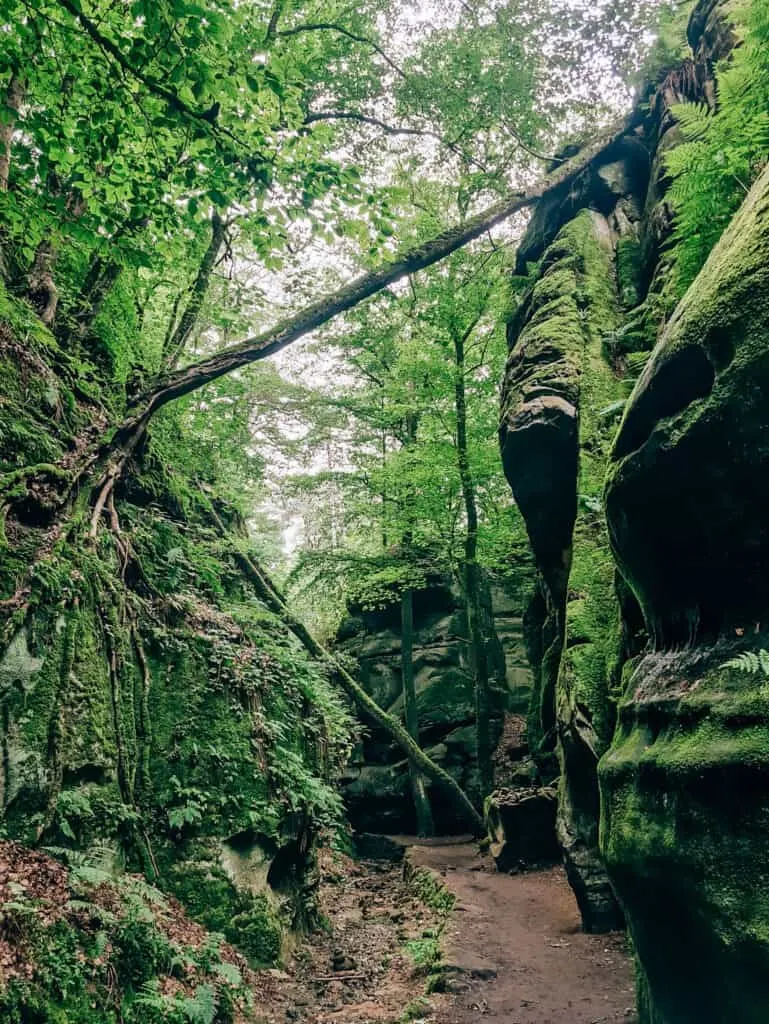 Mullerthal's landscapes are largely dominated by captivating rock formations that visually represent the region's geological evolution.
One of my favorite activities during our trip to Mullerthal was exploring more about these rocks. 'The Wolf Gorge' and 'Schiessentümpel' are strikingly beautiful and reveal intricate shapes carved by nature over centuries.
Other favorites are "Räuberhöhle" and "Devils' Island" (both are on trail B2).
Guided tours of the geological land in and around Mullerthal are easy to come by and certainly something worth doing.
You can safely explore the landscapes as you listen to insightful narratives of the formation's origins.
3. Visiting Mullerthal's Waterfalls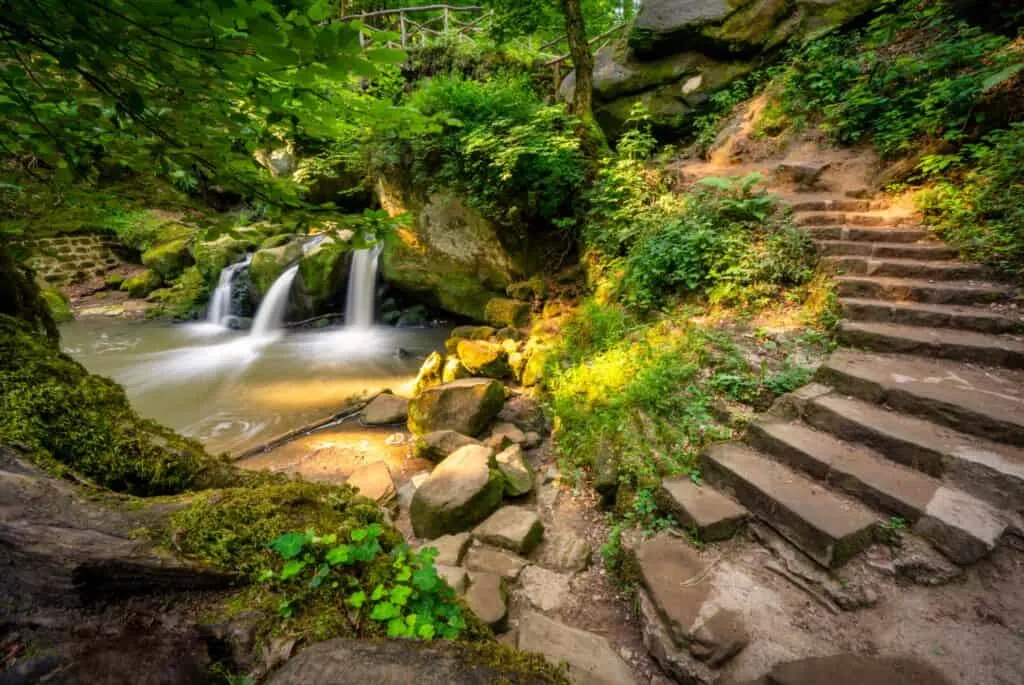 If you're anything like me, waterfalls are one of your favorite natural wonders.
The most famous cascade in the area is Schiessentümpel which is a great reward on the hiking trail from Mullerthal along the Black Ernz stream.
Don't forget to pack your camera, the play of light and water makes for a beautiful snap!
4. Admiring the Mullerthal Viewpoints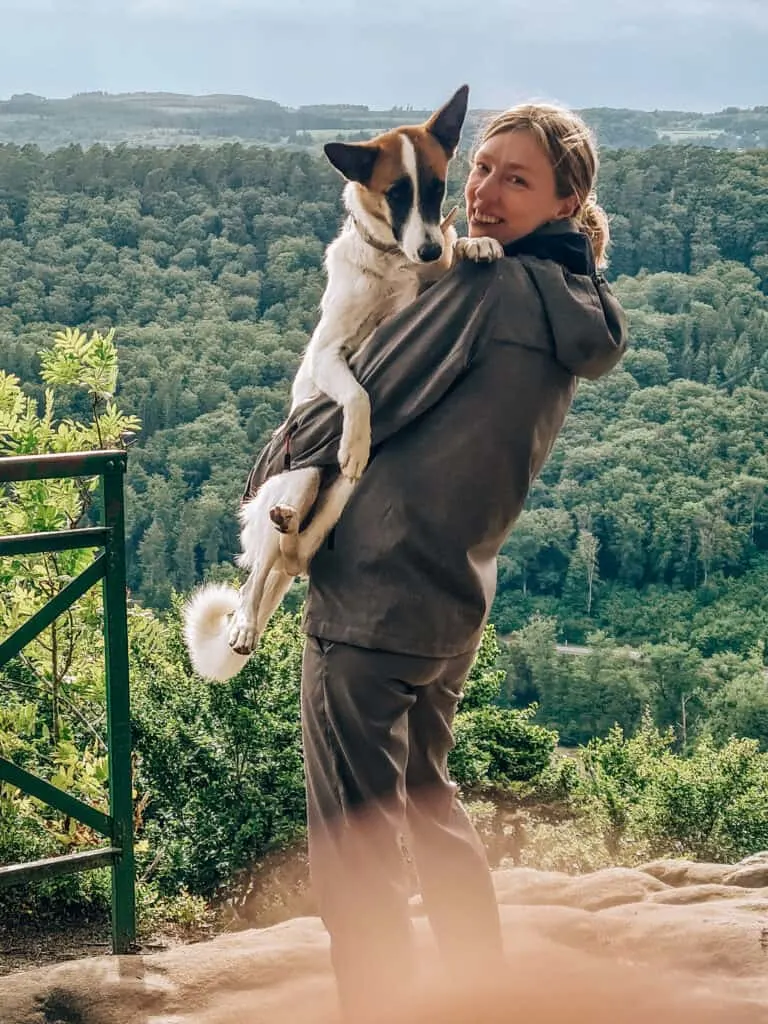 I'm convinced that Mullerthal is home to some of the most stunning viewpoints in the world.
Ok, I might be biased because I was born in the region but you only have to visit to see for yourself.
For a spectacular 360 view of Mullerthal's landscape viewpoint Héikräiz (High Cross) should be added to your list. It stands atop Luxembourgish sandstone dating back 175 million years and is surrounded by lovely, green fields.
Another stunning vantage point is Adlerhorst, which is located behind Camping Martbusch.
For history enthusiasts, there is plenty to take in at this historical site.
And of course, the Aqua Tower in Berdorf for a panoramic view of the gorgeous Mullerthal landscapes. Here you'll also have the opportunity to uncover knowledge about the region's water provider.
5. Caving Adventures in Mullerthal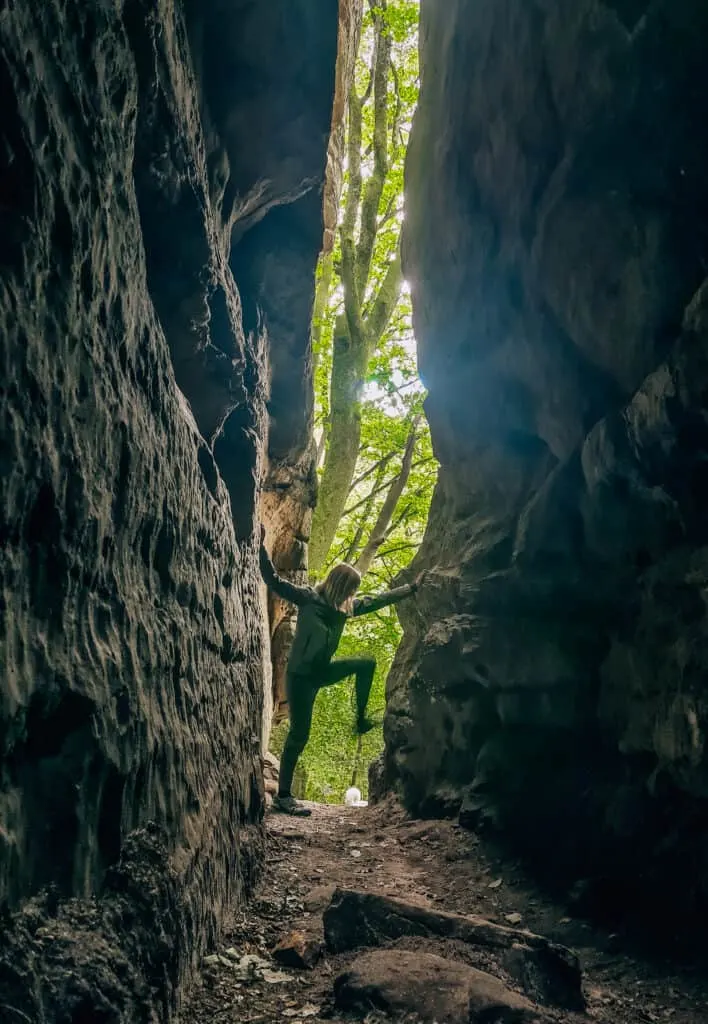 Mullerthal's charm extended beyond its surface with a mesmerizing maze of caves and grottoes to explore beneath.
On my hikes, I uncovered these mysteries of the natural world and was fortunate to visit both 'Hollhay', "Räuberhöhle", "Wolfsschlucht" and "Perekop" which are equally fascinating.
You can find the most beautiful caves on B2 trail or on Route 2 departing from Echternach.
6. Climbing in Berdorf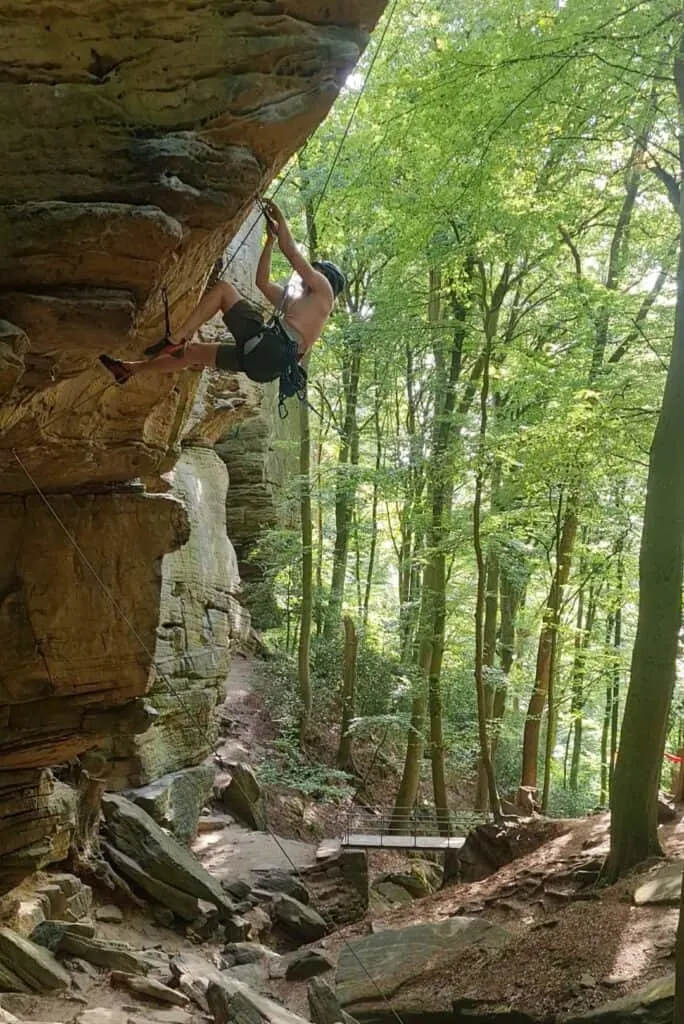 Before embarking on a climbing adventure in Mullerthal, it's important to know about climbing rules here.
Climbing is only permitted in designated areas as the rock formations are old and fragile. Wanterbach is a section of Little Switzerland cliffs that are set up as climbing crags.
Here, you can freely climb outdoors, though you will have to prepare in advance.
To climb the limestone rocks, you will need to be a member of the climbing associations UIAA or IFSC and present a valid ID to verify this.
Though the protocol may seem stringent, it is in the best interest of climbers to follow any guidance related to climbing.
In doing so, you help to preserve the stunning formations that have been present for millennia whilst enjoying an exhilarating climb!
7. Exploring Local Villages and Culture
There is so much to explore in the Mullerthal region thanks to the area's rich local culture and history.
As the heart of Mullerthal Luxemburg's cultural heritage, the charming villages in Mullerthal span Echternach to Beaufort, both of which beckon visitors from all corners of the globe.
From the historic Beaufort Castle which stands as a symbol of the region's historical heritage to the Abbey, there are many landmarks to appreciate and things to do in Echternach and the surrounding areas.
8. Culinary Delights: Trying Local Cuisine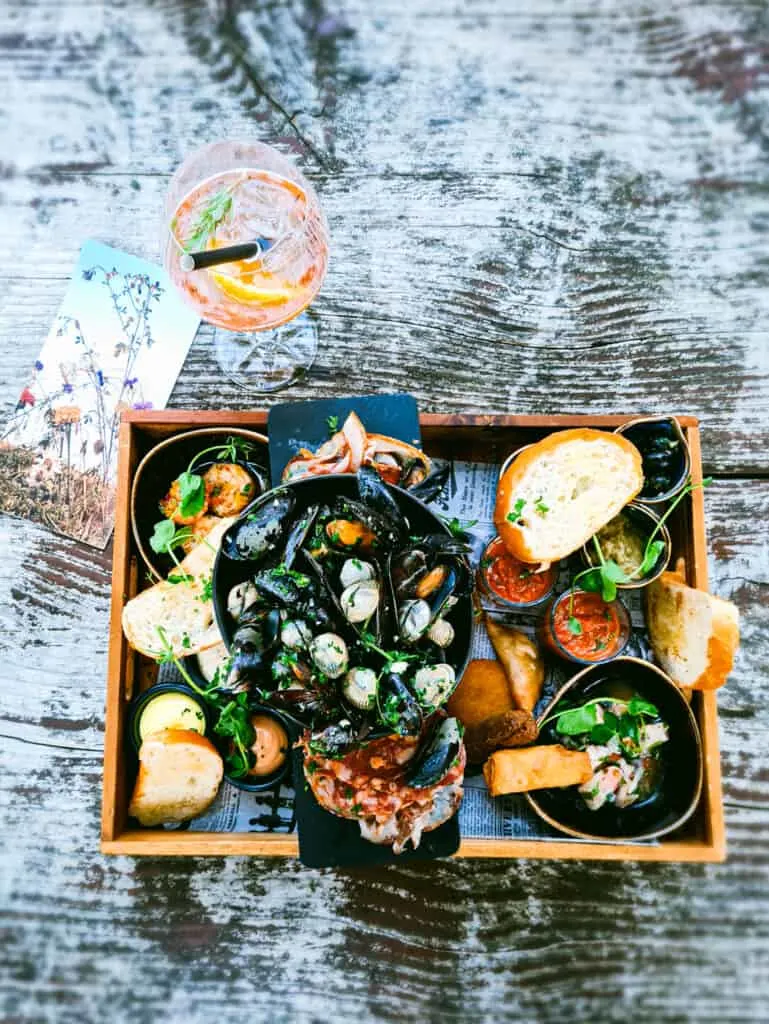 The Mullerthal region offers a true taste of Luxembourgish cuisine and is guaranteed to delight any foodie.
Known for its flavorful and hearty dishes, the area offers a range of specialties to try. Among my personal favorites are paschtéit, a French chicken pastry dish Gromperekichelcher' which is a crispy, moreish potato fritter.
Here are some of the best restaurants in Mullerthal:
Trail-Inn
Brasserie Aal Eechternoach
Another way to sample local goods is the monthly market in Echernach.
The market in Echternach is held every 1st Wednesday of the month and is a treasure trove of artisanal cheeses, fresh produce, and sweet treats.
If you're visiting Mullerthal in fall, make sure to stay for the legendary Haupeschfest.
Haupeschfest is a festival that takes place in Berdorf every November and is a wonderful way to welcome the spirit of Autumn.
Rich with music, crafts, art, food, and drink, the festival is two days long and a wonderful way of experiencing the true culture of the region.
9. Discovering Mullerthal's Castles and Ruins
History lovers are presented with so much to enjoy in the Mullerthal region.
I was amazed by how many medieval castles and ruins were in the area.
The majestic Beaufort Castle is a perfect example of architectural splendor which is set within a rich, lush landscape.
If you want to learn more about the history of Luxembourg, visiting these sites will allow you to do just that.
There are many fortifications to visit in the region and in doing so you will gain a deeper understanding of the culture here just as I did.
10. Cycling Adventures in Mullerthal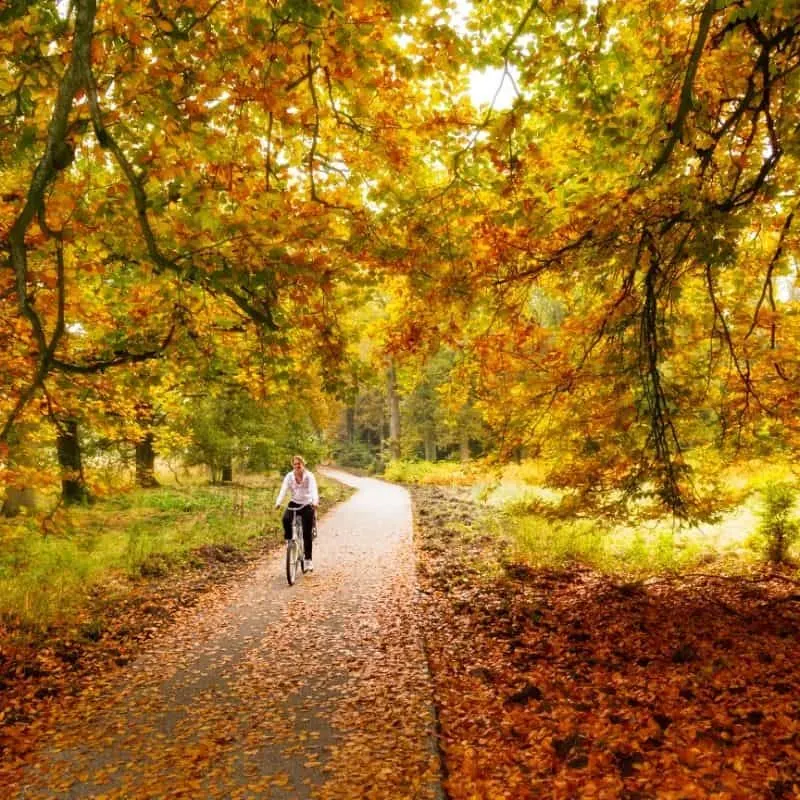 Mullerthal appeals to both hikers and cyclers alike. With its many cycling trails, here it's a pleasure to hop onto a bike and explore.
Some hotels will offer bikes for rental, though when we visited we took our own. Here are some of the cycling trails I recommend:
My final thoughts on things to do in Mullerthal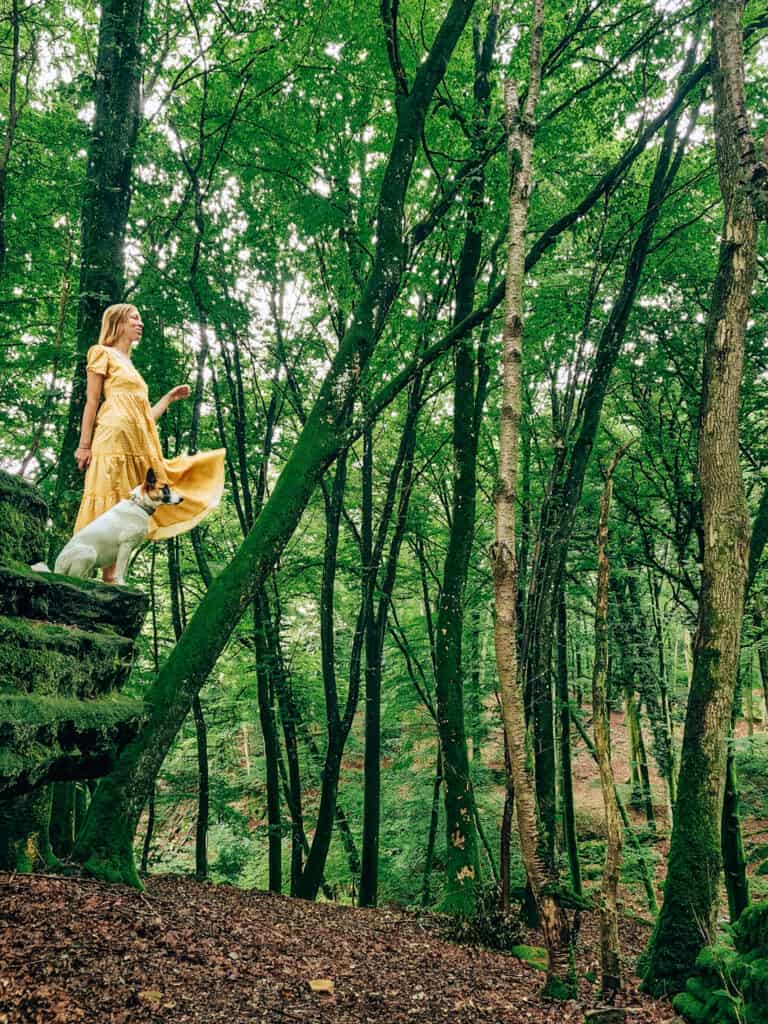 In conclusion, my journey through Mullerthal, Luxembourg, has been an unforgettable adventure.
The breathtaking landscapes, the enchanting trails, and the charming villages have all left an indelible mark on my heart. This verdant region truly is a paradise for eco-friendly travelers.
I've experienced the joy of hiking along the Mullerthal Trail, marveled at the Schiessentümpel waterfall's beauty, and found peace within the walls of Echternach's ancient abbey. These are only a few of the best things to do in Mullerthal.
Let's make our travels not just about seeing new places, but also about preserving them for future generations. Here's to making our next trip an eco-friendly one in beautiful Mullerthal!
Hola! I am Paulina, a fervent travelette who crossed the Atlantic Ocean by Boat HitchHiking. On my blog, you'll find all the tips to make the most of your holiday. Get ready to enjoy outdoor and sustainable travel like hiking, cycling or sailing. Let's hit the road together!