Guide to all the best creepy abandoned and haunted places in Wisconsin.
Do you love a good spooky story? If so, look no further than Wisconsin; the home of winding tunnels, tragic histories, and haunted sites.
From ancient Indian burial grounds to old lighthouses on islands shrouded in fog, Wisconsin is full of mysterious places where the spirits linger.
Visitors come for the unexpected thrills and spine-tingling chills found at some of these most haunted places in Wisconsin.
Intrigued? Read on to find out more!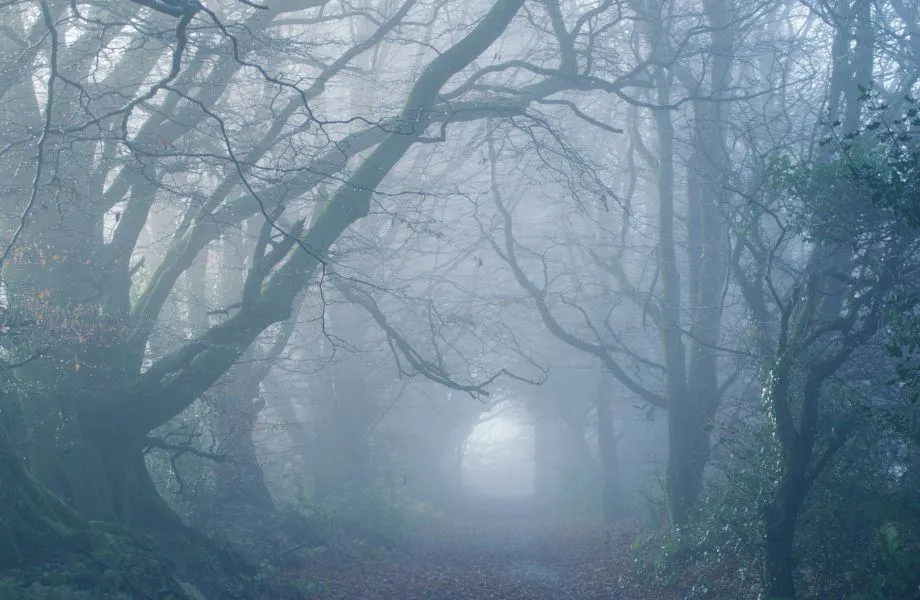 "Paulina on the Road" is supported by you, dear reader. As you buy through my links, I earn a small commission. As an Amazon Affiliate, I earn from qualifying purchases. Thank you for your support
Pssst..!!?? You can't get enough of Wisconsin? Have a look at my other posts I wrote about the Dairy State:
Top Haunted Places in Wisconsin
1. Dartford Cemetery, Green Lake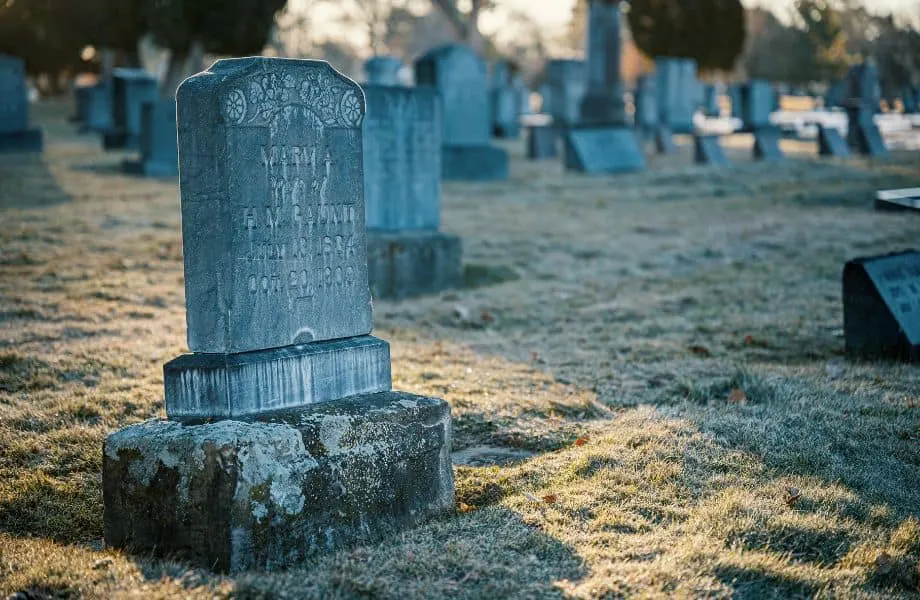 There are so many ghosts in Wisconsin it's difficult to know where to start!
But if you're seeking out haunted Wisconsin places, then they don't come much more haunted than Dartford Cemetery in Green Lake.
Green Lake may seem like an idyllic location but don't be fooled, it's home to one of the scariest places in Wisconsin.
There are ghosts aplenty in this otherwise pretty-looking cemetery…. which is frequently considered one of the best things to do in Central Wisconsin.
The main ghost here is that of Chief Highknocker, a Ho-Chunk who died in 1911 but his spirit refuses to depart.
Several reports have related how a figure in full Native American dress has been seen strolling among the gravestones.
To add to the spooky goings-on, former civil war soldiers can occasionally be seen marching across the cemetery.
It may not be the most haunted place in the state, but Dartford Cemetery is certainly one of the most haunted cemeteries in Wisconsin.
2. Summerwind Mansion, West Bay Lake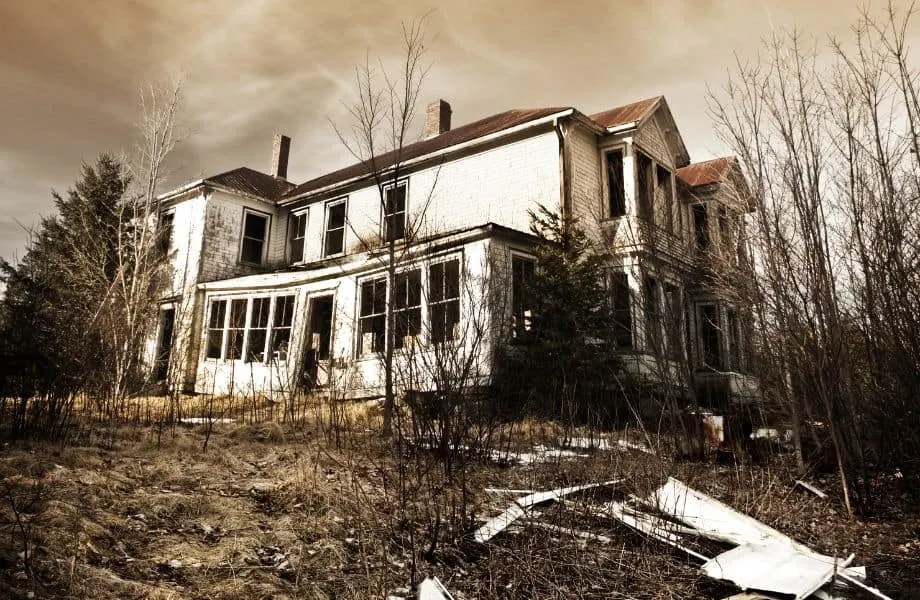 Accommodation Options: Renting out a three–bedroom Beachside Lake House is a great opportunity to kick back and enjoy some amazing views over the lake. Alternatively, this remodeled cabin is perfect for a larger fun-filled family vacation on Fence Lake.
It's impossible to talk about the most haunted places in Wisconsin without mentioning this place.
The Summerwind Mansion, Wisconsin is a hotbed for paranormal activity that has fascinated ghost hunters for decades and is considered one of the best things to do in Northern Wisconsin.
Built in 1914, Summerwind Mansion is undoubtedly one of the most (if not the most) haunted houses in Wisconsin.
The place has been ghoul-infested since construction, with strange events reported by workmen right from the off.
Workers told of equipment unexplainably catching fire, cars starting on their own and rooms changing size during construction.
Later reports centered on apparitions, disembodied voices, and a strange smell of perfume permeating the air (and not from the living inhabitants!).
Only ruins of the mansion remain today after it was hit by lightning in 1988 and burned to the ground.
However, that hasn't stopped the paranormal happenings that occur here on an all too frequent basis.
3. McClintock County Park, Silver Cliff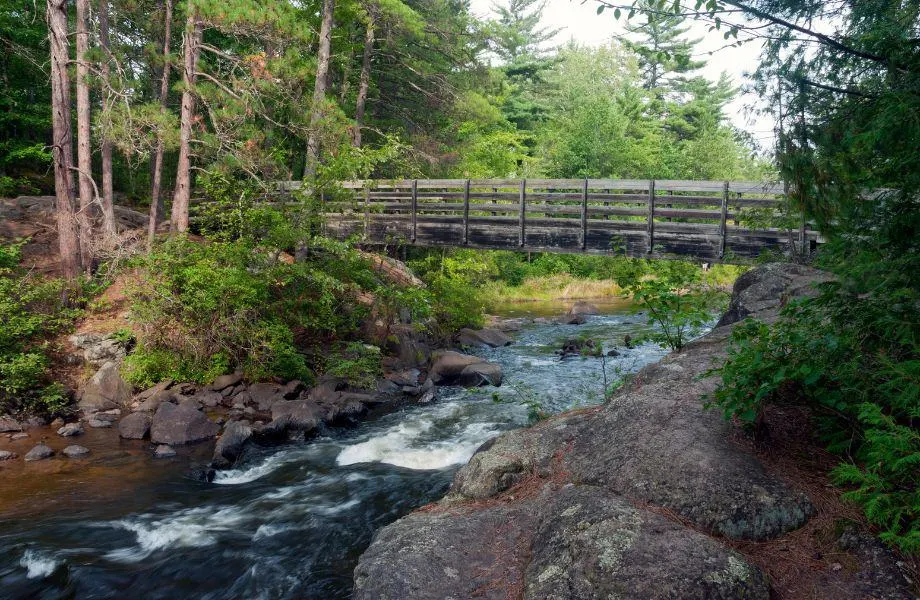 Would you like to hear about a haunted forest in Wisconsin?
Of course you would, that's why you're reading the article!
Ok then, McClintock County Park is one of the most haunted places Wisconsin has to offer and is home to a dark past (aren't they all?).
In 1976 a young couple was brutally murdered while camping here.
There was the great mystery surrounding this crime, largely because the culprit wasn't actually caught until 2019.
Today, the place is haunted by strange noises and orbs of mysterious light that somehow show up in photographs.
People camping out there have told of the feeling of being constantly watched and just generally unsettled by this spooky location.
You can still camp there today if you dare. Be prepared for unsettling silence in these creepy woods though… which are home to some great hiking trails in North Wisconsin!
You'll be in for plenty of goosebumps and constant bad vibes, if that's your thing!
4. Siren Bridge, Siren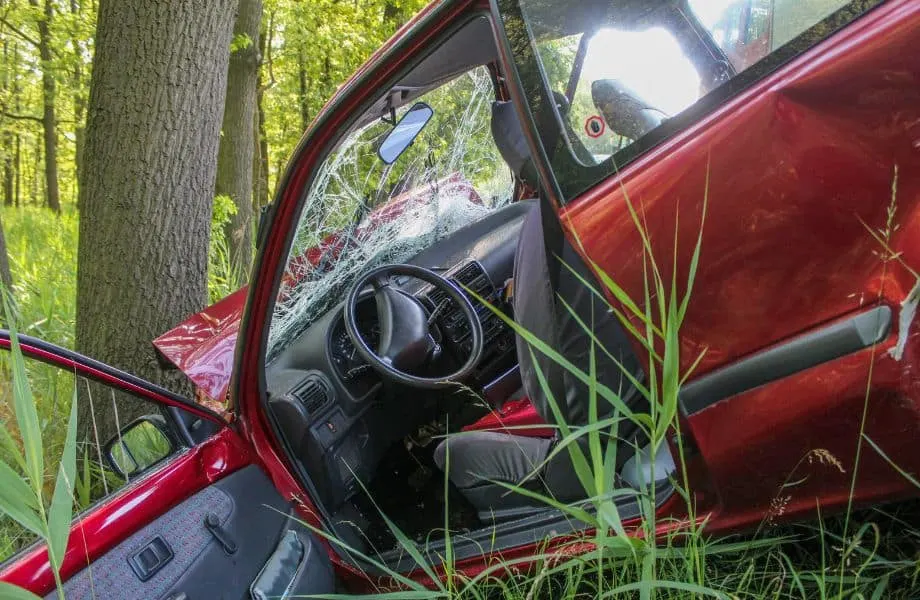 If you're in Wisconsin, haunted places are around every corner.
However, the town of Siren is haunted Wisconsin at its absolute most haunted.
There are so many ghosts around here it's a wonder there's any room for the living.
Siren is often called the most haunted town in Wisconsin, and with good reason.
For example, a horrific accident happened on Siren Bridge in 1985 when a car crashed off the bridge and plunged into the icy waters below.
The family of three inside the car all perished.
Ever since there have been numerous reports from locals of hearing voices from the family as they drive over the bridge.
The most repeated one is that of a young girl screaming and the words from a child's voice saying, 'help me mommy, I can't get out.'
This is also said to have come over drivers' car radios when crossing the bridge.
If that doesn't give you the chills then go and see a doctor!
5. Riverside Cemetery, Appleton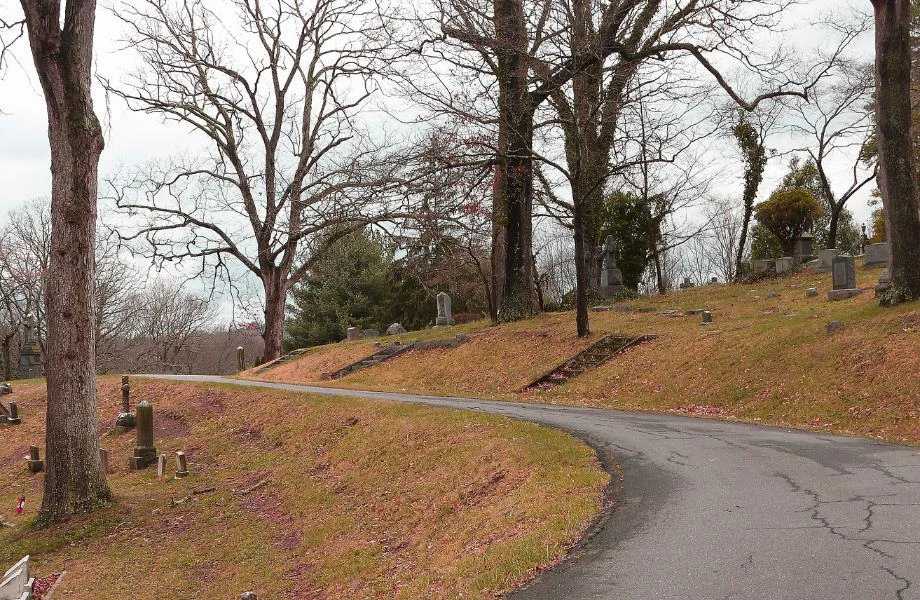 Another cemetery features when talking about the most haunted places in Wisconsin.
Just what is it about those places?
Well, the Riverside Cemetery in Appleton is home to one of the most notorious ghosts of Wisconsin.
The cemetery is home to the grave of the appropriately named Kate Blood.
Various local rumors suggest that Kate was a child killer, a witch, an adulteress and even a murder victim at the hands of her husband.
Anyway, let's not let the sketchy background stories get in the way of a good haunting.
Today, Kate has the habit of chilling the spine of those brave enough to venture down here after dark.
But then again, it's a cemetery and it's after dark. What do you expect?
The Riverside Cemetery takes the biscuit when talking about the most haunted places in Appleton, WI.
While you're in town, be sure to check out all the other amazing things to do in Appleton.
6. Alexander Noble House, Fish Creek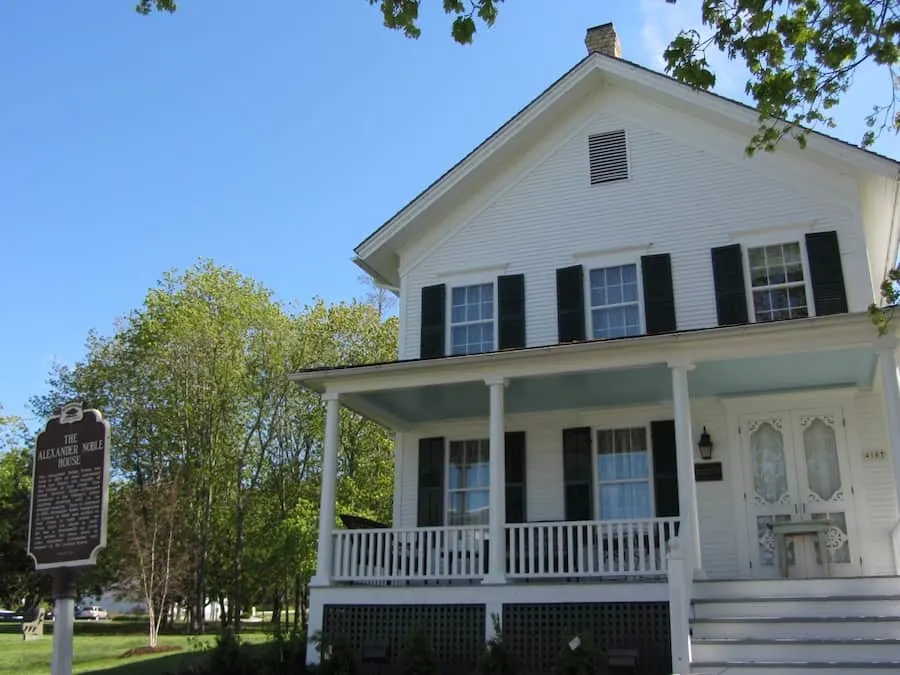 Ever wanted to experience the magnificent fall colors in Wisconsin?
If so, and you're looking for things to do in Door County in October then why not combine this with scaring yourself silly?
If that sounds good to you, then Alexander Noble House in Fish Creek will give you the chills in large amounts.
Not only does this place have the ghosts of residents past roaming the hallways, it's also home to some haunted mirrors.
Haunted mirrors? Yes, the spookiest story to spring from here was of a young girl who took a photograph of herself in the mirror of Noble's bedroom.
Nothing spooky about that? There is when the photo was developed and contained a skeleton's face in place of the girl's.
There have been countless other apparitions and faces in the windows to spook the locals.
So if you're looking for things to do in Wisconsin in October, why not frighten the life out of yourself?
For more festive fall fun, you can also check out the Jack O' Lantern Days, one of the best fall festivals in Wisconsin.
7. Pfister Hotel, Milwaukee
This is one of the most haunted places Wisconsin has to offer.
One of the most unique things to do in Milwaukee is to stay in a haunted hotel.
And haunted hotels in Wisconsin don't come any more haunted than the magnificent (but spook-infested) Pfister Hotel in Milwaukee.
Guests here can get more than they bargained for, with several sightings of famous baseball players from the past.
E even Charles Pfister himself is said to haunt the staircase to the second floor.
The second floor is the most haunted place in the hotel.
So if you choose to stay here expect strange noises such as music being switched on and off, disembodied voices and banging noises coming from the wall.
The stunning Pfister Hotel is actually a great place to stay.
If you're prepared for an encounter with the paranormal, you might even get to see old Charles Pfister himself.
Book here a haunted stay at Pfister Hotel
8. Brumder Mansion, Milwaukee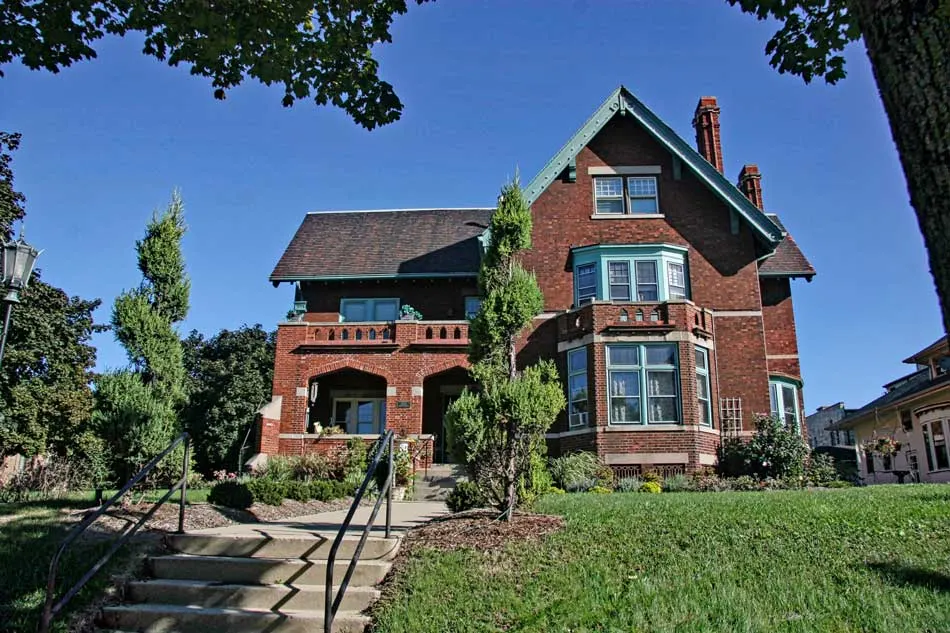 Staying in Milwaukee and another ghost-riddled house of lodging.
The Brumder Mansion is a fully functioning bed and breakfast that's been putting the frighteners on guests since the late 1990s.
During that period, renovation work took place on the building that had originally been built in 1910.
It seems the builders disturbed something that didn't want to be disturbed while they were carrying out this renovation and there have been spooky happenings ever since.
There are now three ghoulies who regularly (very regularly!) torment guests, making this one of the most haunted places in Milwaukee.
If you're looking for unique Wisconsin vacation ideas, then try and book a stay here during Halloween.
If ghosts are not your thing don't worry, there are many great things to do in Milwaukee in October.
So there's no excuse not to book those Wisconsin fall getaways now.
Book here a haunted stay at Brumder Mansion
9. Orpheum Theater, Madison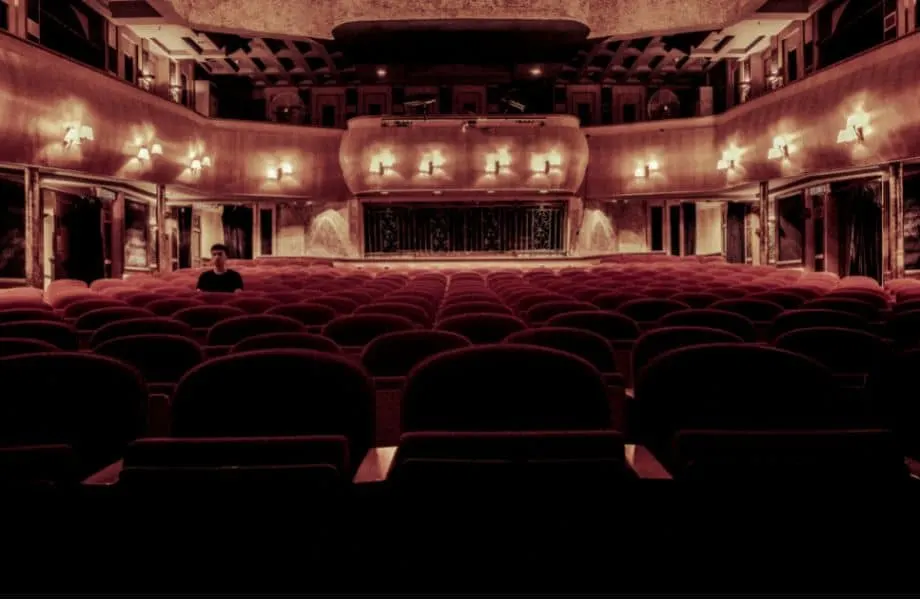 Are you looking for fun and unique things to do in Madison?
Well, why not visit one of the most haunted places in Madison as it's also a beautiful, fully functioning theater.
The Orpheum Theater is home to several ghosts and legends of past performers and staff who refuse to leave the place.
Pete the Projectionist is probably the most notorious of the lot.
Unfortunately for the more ghoulish among you, Pete seems to be quite a benign ghost.
All he does is hide film reels and knock over items. Pah, call that a haunting?
Fortunately, there's also a not-so-benign presence doing the haunting.
Timothy Hergor was a local magician who used to perform at the theater.
After a doomed romance, Timmy hung himself from the lighting rig and continues to haunt the stage to this day.
You never know, if you go to see a performance here, you might even encounter Pete or Timmy yourself.
10. Sanitarium Hill, Madison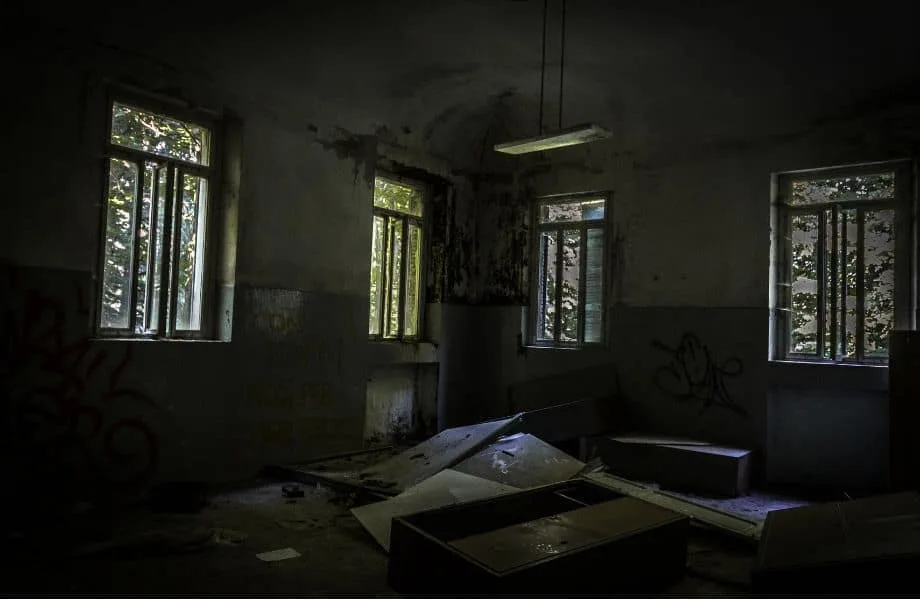 Staying in Madison, as far as spooky abandoned places in Wisconsin go, then Sanitarium Hill takes some beating.
Upon Sanitarium Hill you'll find the abandoned Lakeview Sanitarium (1930-1966) which used to be a tuberculosis treatment center.
You can see where this is heading, can't you?
That's right, the tortured souls who suffered immeasurably within these walls are refusing to go quietly.
Hot spots, cold spots, mists, obligatory apparitions, murmured voices, and someone (or thing) that pulls peoples' hair!
There are also numerous reports of strange glows emanating from within the building.
And guess what, there's a cemetery right next to it housing many former inhabitants – and it's not like a cemetery to have ghosts, is it?
There's even a YouTube video of ghostly happenings at Sanitarium Hill.
So, if you're looking for fun date ideas in Milwaukee, why not take them here and scare the living daylights out of them?
11. Boy Scout Lane, Stevens Point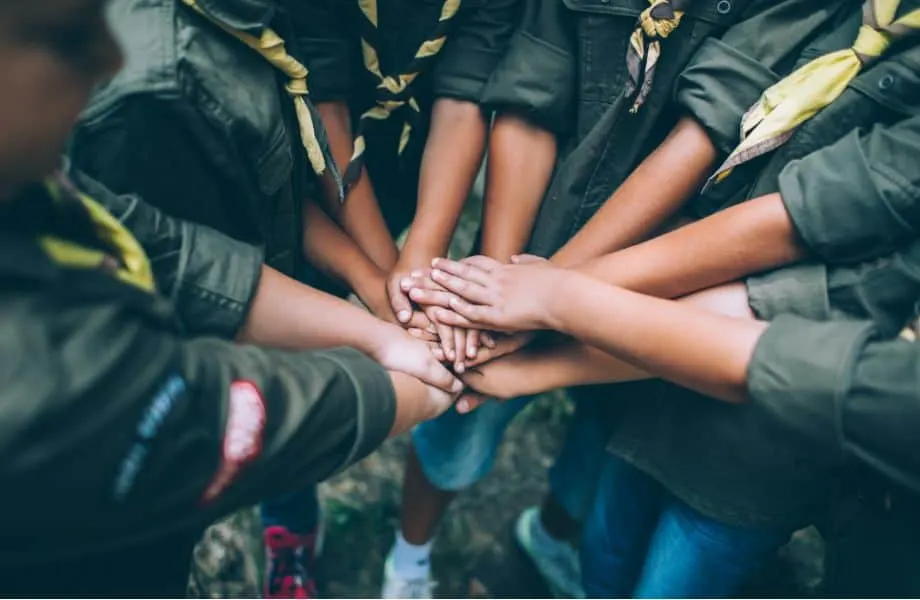 So, what is the most haunted place in Wisconsin?
Well, as we've covered earlier, it's probably Siren – however, Stevens Point runs it a close second.
The town is home to what is without doubt one of the most haunted roads in Wisconsin.
Boy Scout Lane is an isolated road just outside of town.
It's also home to a dark (if entirely false) legend.
The story goes that back in the day a group of boy scouts were killed while out on a camping trip near this torrid lane.
No-one can make their minds up over how they were actually killed (there are too many different theories to possibly cover them all).
The only thing we are certain of is that none of it actually happened!
Why let that get in the way of a good ghost story though?
As you can imagine, the place is now haunted by the spirits of these wretched souls.
Unfortunately, you CANNOT visit this site (or the next one, which is one the same property) without permission as they are on privately owned land.
12. Bloody Bride Bridge, Stevens Point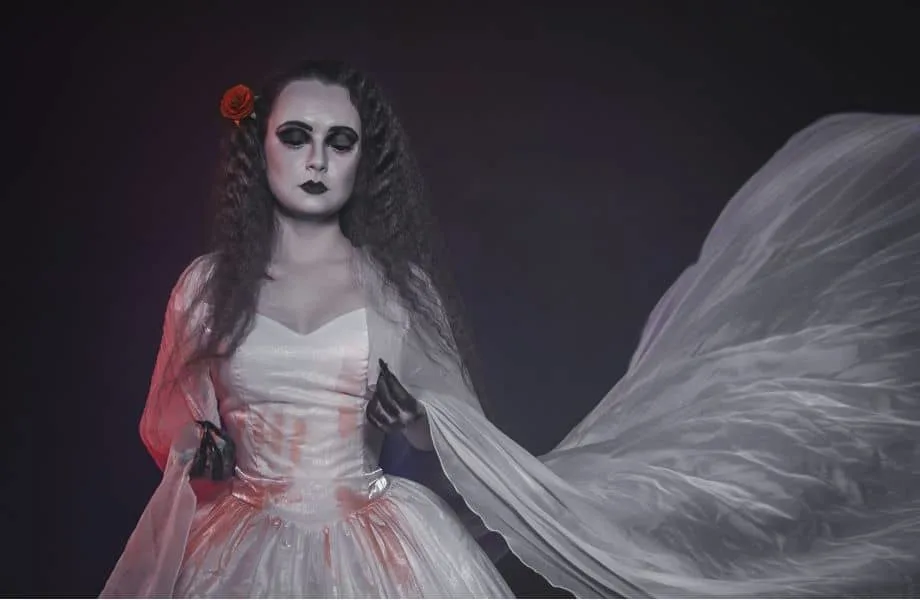 Staying in Stevens Point, the spook-infested place is also home to another of the most haunted locations in Wisconsin.
What did the locals do to deserve this?!
Bloody Bride Bridge, also less romantically known as Highway 66 Bridge, is the setting for one of Wisconsin's most tragic tales.
A bride-to-be is rumored to have met her end in a car crash here the night before her wedding.
Today, the ghost of a woman in a blood-splattered wedding dress makes the occasional appearance.
Not only does the girl like to stand on the bridge, she also has the habit of popping up in the back seat of peoples' cars and making an appearance in the rearview mirrors.
Like the other Stevens Point legend of Boy Scout Lane, there's zero evidence this tragedy actually happened, no police records of an accident, nothing.
I bet you've still got the chills though!
13. Maribel Caves Hotel, Maribel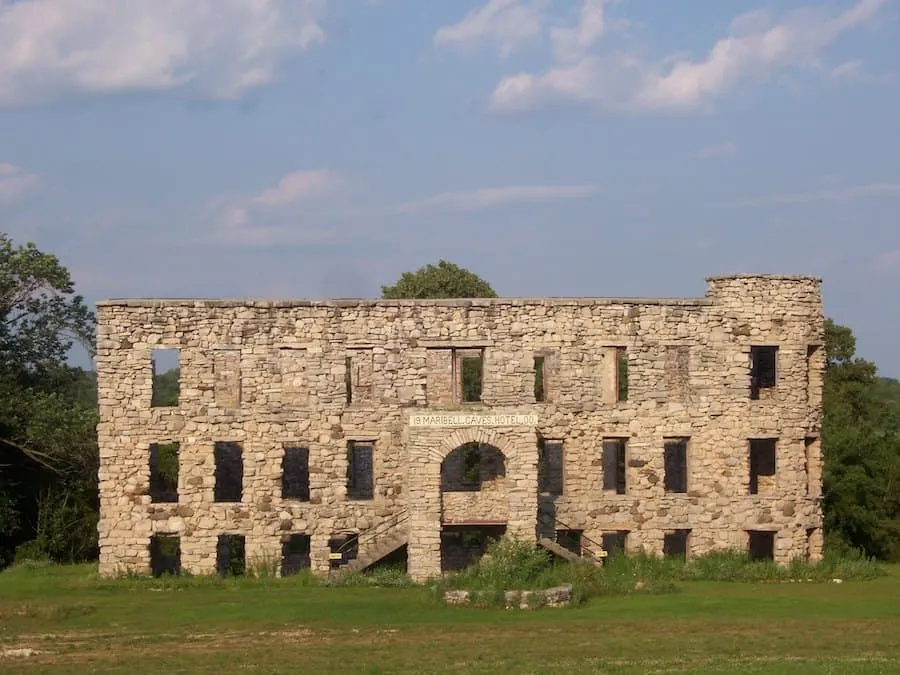 Haunted places in Wisconsin certainly don't come any more notorious than the Maribel Caves Hotel.
This unusual hotel was said not only to have been host to the famed gangster Al Capone, but had actually been owned by him.
Guess who one of the three ghosts that are said to haunt the grounds of the now-abandoned hotel is?
That's right, it's the mobster himself, and he's not alone!
During its lifetime, the hotel burnt to the ground three times.
Whenever a rebuilding project took place, skeletons of former residents were always found.
Today, a couple of these hang around to keep Al company.
The hotel's nickname is actually 'Hotel Hell.'
Wonder if people called it that when it was still a going concern. Unlikely if Al was the proprietor.
14. Bodega Brew Pub, La Crosse
If you fancy a little spooky drink, the Bodega Brew Pub in La Crosse can help you out with that.
The pub is one of the most haunted places in Wisconsin and has been serving up more than one sort of spirit for many a year now.
The original proprietor died on the premises in 1901 and you won't be surprised to learn that he's been making his presence felt ever since.
He's the source attributed with all sorts of strange noises, apparitions, and all the usual ghostly goings-on that frequently occur here.
The basement is alleged to be the center of the spooky happenings.
Staff has reported no end of supernatural events taking place in this spot it's a wonder they still dare to venture down there.
If you're in La Crosse, go and check it out as it's actually a great pub – if you don't mind ghosts, of course.
And if you do, there are plenty of other pubs and breweries here – in fact, they're one of the best things to do in La Crosse!
15. Nelsen's Hall, Washington Island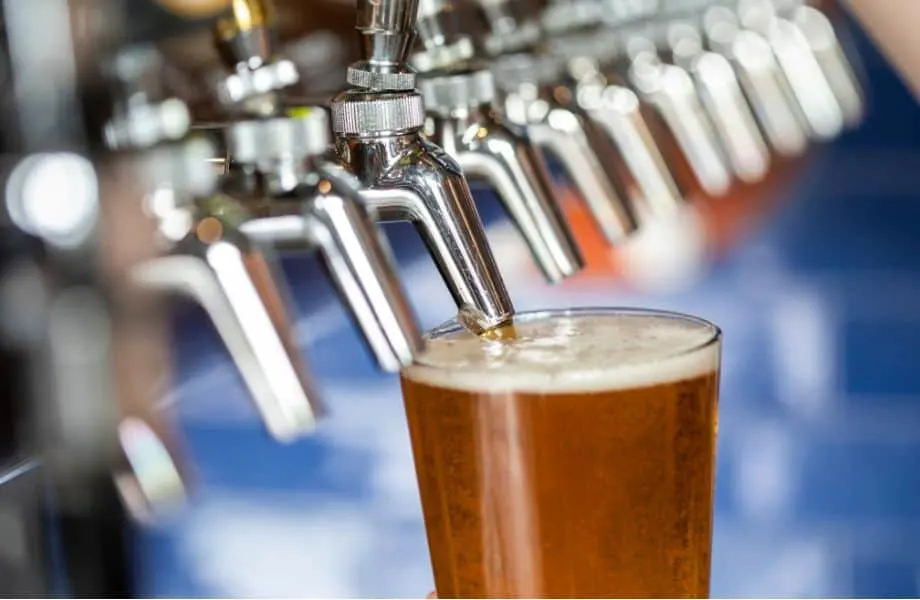 Accommodation Options: Washington Island doesn't have many options for where to stay, which is good because it keeps the foot traffic down! But if you rather stay on the island than head back to mainland Door County, I highly recommend Steffen's Cedar Lodge, which offers privates villas and apartments with balconies overlooking the beach.
No article on haunted places in Wisconsin would be complete without a mention of the notorious Nelsen's Hall on Washington Island.
Another haunted watering hole – are these places prone to supernatural events or is it the drink the guests imbibe that leads to these 'sightings'.
That's one to ponder. What isn't is that the otherworldly inhabitant of this building is another former proprietor who won't simply say goodbye and ride off into the sunset.
This fella likes to mess with the patrons.
He opens and closes doors, sends chill winds across the room, leaves mysterious footprints here and there and loiters near the ladies' restroom where he regularly makes an appearance.
The legend here stems from the prohibition era when the place used to serve up a 'tonic' to the regulars.
These days they continue to serve up a spirit, only of a different type.
---
Wow, as we've just discovered, there are so many haunted places in Wisconsin that if you really want to spook yourself out then plan that trip now!
I'm sure you'll agree that ghostly goings on really do spring up in the most unexpected places.
If you're thinking of going to explore some of these spooky locations, then for added creepiness try and visit during Halloween.
At this time of year, not only will you get to scare yourself witless, but you'll also be able to witness the magnificent fall colors of Wisconsin.
---
A Short FAQ About Haunted Places in Wisconsin
Are there are haunted places in Wisconsin?
Yes, definitely! There are plenty of creepy and reportedly haunted places in Wisconsin.
What are the most haunted places in Milwaukee?
The most haunted Wisconsin places in Milwaukee are the Pfister Hotel and the Brumder Mansion.
What are the most haunted places in Madison?
The most haunted places in Madison are Sanitarium Hill and the Orpheum Theater.
---
Before You Go: Top Tips for your Trip
---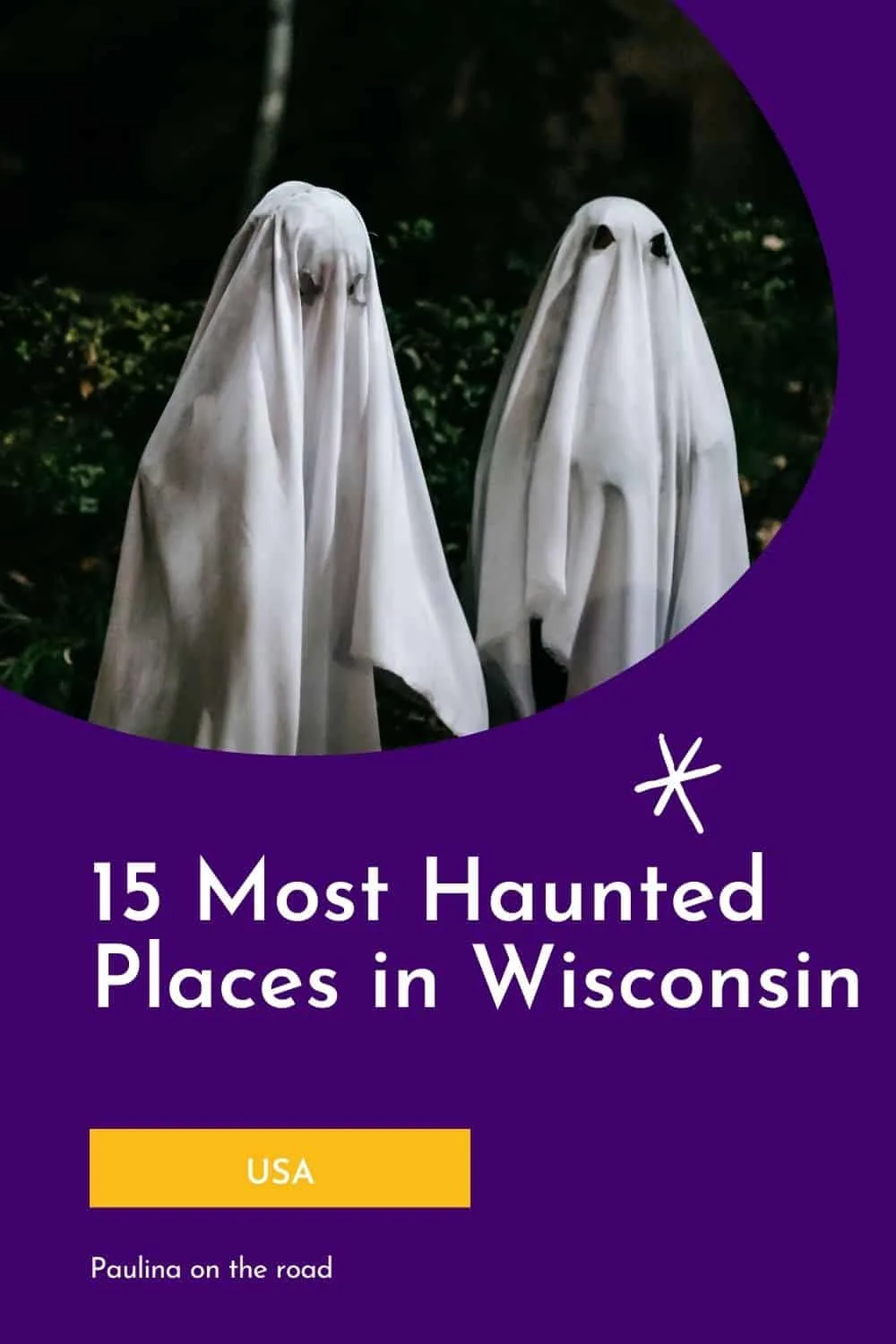 ---
Hola! I am Paulina, a fervent travelette who crossed the Atlantic Ocean by Boat HitchHiking. On my blog, you'll find all the tips to make the most of your holiday. Get ready to enjoy outdoor and sustainable travel like hiking, cycling or sailing. Let's hit the road together!