Guide to the best eco-friendly yoga mat manufacturers using the most sustainable materials to make ethical yoga mats
Thirty-six million yoga mats are produced yearly, enough to circle the Earth 1.6 million times.
It is clear that eco-friendly yoga mats are required to prevent this vast production from ruining our planet.
Non-eco-friendly yoga mats currently utilize the damaging, toxic, and occasionally carcinogenic plastic PVC.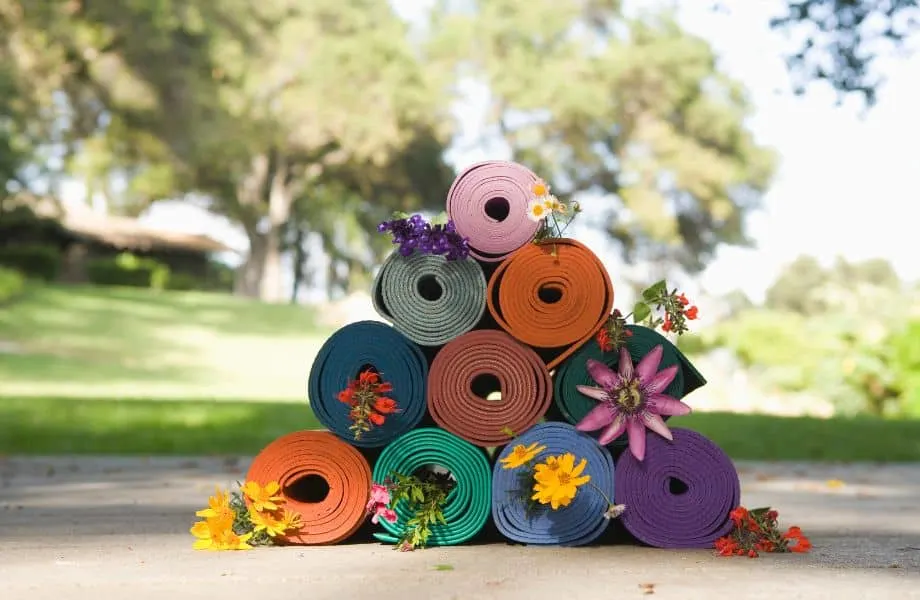 In this post, I will give 10 examples of the best brands that do not use PVC in their yoga mats, helping you to decide how your yoga passion can be exercised without costing the Earth.
I have curated the following list according to quality, affordability, and, most importantly, environmental consciousness.
Nearly all these brands have expanded beyond yoga mats, and if you like any of them particularly strongly they could be a great place to buy your next sustainable yoga pants.
This blog is supported by you, dear reader. If you purchase through a link, I earn a small commission. As an Amazon Affiliate, I earn from qualifying purchases.
Overview: The Top 3 Eco-Friendly Yoga Mat Brands
Highlights
A retailer of sustainable travel yoga Mats and beach towels formed with travel and nature in mind
Founded in Australia but with an online presence in the USA, UK, Europe, and Canada
One of my go-to brands for eco-friendly yoga mats is one that specializes in them: Mikkoa.
They aim to make yoga more mindful of the planet and the new environments we find ourselves in while traveling.
Mikkoa is not only about creating products that are not damaging but also helping to regenerate the environment.
For example, they plant a tree for every purchase made from their store.
Mikkoa offers two types of eco mats on their online store: a travel yoga mat and a 4mm yoga mat.
Their lightweight travel mat is designed to fold neatly and compactly into your luggage.
This clever product allows your everyday yoga routine to easily follow you around the world.
The brand also offers a thicker 4mm yoga mat that is designed for everyday use in the home.
These eco-friendly yoga mats from Mikkoa allows you to practice without feeling concerned about harming the planet.
Highlights
Highly accessible with free shipping and free returns
Aims to make our everyday actions healthier and more sustainable
Grant full transparency so customers know exactly what is in Reprise products
Reprise is a brand built around the core mission of keeping plastics away from humans, avoiding damage to our health and plastic wastage going into ecosystems.
They want to do this by understanding the impact that a reprise, an action we repeat daily, can have over the world.
Reprise eco-friendly yoga mats are all polyester and plastic-free, utilizing natural products that are soft and comfortable instead.
They have developed natural TENCEL fibers from sustainably managed eucalyptus trees as their primary alternative to plastics.
Moreover, all Reprise eco yoga mats are dyed using an ancient herbal process, so you can rest assured you'll be getting the best non-toxic yoga mat.
If you are in the market for plant-based activewear, Reprise is one of the best vegan clothing brands.
Highlights
Two sizes of mats to ensure suitability for all body types
Created by combining three non-plastic materials
prAna is one of my favorite sustainable activewear brands because they are at the height of environmental, cultural, and social consciousness.
And since expanding into yoga clothes and accessories, prAna have begun developed top-quality organic yoga mats.
They have been officially recognized by the Fair Labor Association and are Fair Trade Certified.
The sustainable yoga mat brand also considers its impact at all levels of the supply chain, understanding its impact on the environment and animal welfare.
Materially, prAna's natural yoga mats are constructed from a blend of FSC, recycled rubber, and an organic cotton scrim.
They have been designed to avoid stretching, giving the mat much durability, and making it one of the best best eco-friendly yoga mats.
A huge amount of effort has clearly gone into the ethics of their product, but prAna has still been able to create a highly effective mat.
Users benefit from its anti-slip nature, superb elasticity, and the comfort you can expect from a rubber-based mat.
Highlights
Comes with an endorsement from viral yoga megastar Adrienne, who has her own Manduka range
Constructed from pure natural rubber
Comes in three models: 5mm, lite, and Superlite, and an array of designs
Manduka's founding principle is that the world can be better if the joys of yoga are experienced by all.
They have united with the yoga YouTuber Yoga with Adriene around the idea that education into how to practise yoga should be accessible for all.
And to do this, proper equipment is needed to experience the joys that yoga can offer.
Manduka works with the best yogis in the world to ensure the best sustainable yoga mat range possible.
This brand of eco-friendly yoga mats aims to honor the Earth by taking a self-critical approach to achieve the best results possible for the planet.
Additionally, Manduka has committed to constantly examining its own practices and being public about where they have room to improve.
All Manduka yoga mats are built with both the user and the planet in mind.
If you want a natural rubber yoga mat, Manduka is your brand!
Although their pro mats are PVC based, they have been handcrafted in Germany emissions-free.
They also come with a lifetime guarantee, so you know your mat will always function at its best.
Highlights
Yoga mats free from PVC, phthalates, heavy metals, and flame retardants
Jade Yoga gives back to the planet for every purchase, such as through planting a tree
Jade Yoga makes some of the most innovative sustainable yoga mats currently on the market.
This ethical yoga mat company is also committed to healing the planet as its customer base grows, and they also offer a range of sustainable yoga clothes.
So far, they have planted 2.4 million+ trees and continue to plant more daily, and have also cut out air miles in your product by constructing all their mats within the USA.
Jade Yoga mats come in an array of styles and colors, from thin mats for travel to extra thick mats for maximum comfort.
Regardless of your choice, all Jade Yoga mats are made with sustainable materials and without plastic.
They prefer to use rubber sourced from sustainable plantations for every environmentally friendly yoga mat made with rubber.
They also have eco yoga mats made from Dharba grass, recycled saris and an organic cotton yoga mat range.
If you are looking for the best eco-friendly yoga mat made from alternative materials, you can't go wrong with Jade Yoga.
Jade Yoga also sells a range of plant-based mat wash that keeps your mat smelling fresh, and contains anti-oxidants to ensure that your mat has a long life.
Highlights
20% off sitewide if you sign up for their mailing list
Huge amount of variety with 125 yoga mats on offer, along with a wide range outside of yoga mats
Gaiam borrows their name from two sources: The first half is "Gaia", the Ancient Greek god of the Earth, and the second is "I am."
Together, their name means "I am the Earth."
Gaiam follows its namesake by creating products that help people to feel more connected to the Earth while respecting its resources and protecting it for future generations.
To protect the environment, Gaiam always uses responsible materials in all of their eco-friendly yoga mats.
For example, their eco yoga mats are made with jute and natural rubber, and their yoga blocks are made with 100% recycled cork.
With 8mm thickness, Gaiam has attempted to make this philosophy accessible to everyone.
Although too thick for travel, this thickness provides the comfort required for beginners in yoga.
Highlights
Brand driven by recycled plastic and natural rubber based in the UK
Planet Warrior has been awarded the Eco-Age Brandmark
All products are free from toxic and harmful chemicals
Planet Warrior's eco-friendly yoga mat comes in a colorful tropical pattern made from 100% recycled rubber.
This natural rubber yoga mat has been built with all kinds of yoga in mind.
Its natural base provides a strong enough grip for even the most energetic practitioners.
The company has ensured that their non-toxic yoga mats have no chemicals that could harm the user.
Therefore, they have guaranteed there is no latex, silicone, glue, phthalates, PVC, or chlorine.
But Planet Warrior doesn't just make an amazing sustainable yoga mat, they also sell sustainable swimwear, leggings and sports bras.
Additionally, you can get involved with their mission and invite customers to email them, asking to become a "Planet Warrior."
Highlights
Only use suppliers firmly committed to protecting the environment and human rights.
20% off your first purchase if you sign up for their newsletter.
Next on our list of the best sustainable yoga mat brands is the California-based, Vuori.
They have constructed a range of organic yoga mats that uses 90% natural rubber.
The remaining 10% is eco-polyurethane, which is widely considered the most environmentally friendly form of plastic because it doesn't lead to hormonal or pH changes for living beings in ecosystems.
Vuori acknowledges that they have a complex supply chain, and they work hard to ensure that everyone that supplies to them follows proper environmental standards.
They ensure all manufacturers have written environmental commitments in line with local regulations and moral obligations.
Additionaly, Vuori goes further than helping the environment by helping those involved in making their yoga mats.
They require all supply chain vendors and operatives to strictly abide by their Vendor Code of Conduct.
Therefore, you can practice yoga with a Vuori mat feeling comfortable that you are not complicit in exploitation.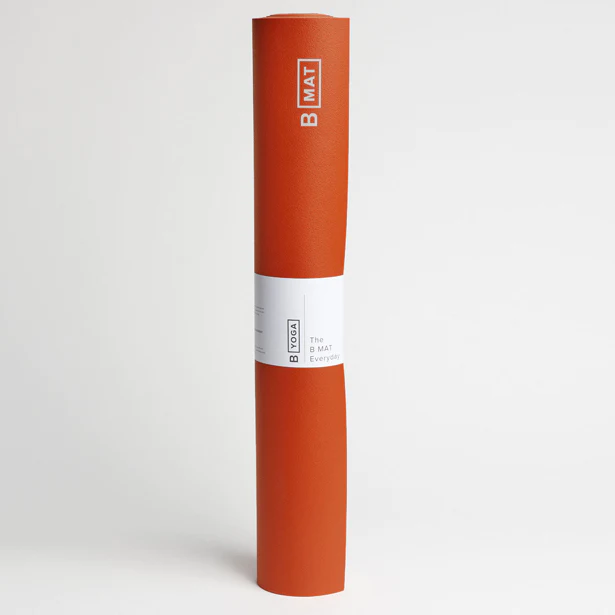 Highlights
High-end boutique yoga class experience for the home
B Yoga mats have been designed around grip, durability, and sustainability
Mats have a lifespan of up to three years if looked after and kept out of direct sunlight
B Yoga offers a premium experience that does not sacrifice any sustainability in its eco-friendly yoga mats.
All B Yoga's environmentally friendly yoga mats are made from 100% natural and synthetic rubber.
Moreover, all latex components have been made hypoallergenic, making them usable for some people with latex allergies.
This aspect of B Yoga's mats is crucial as whoever you are, you will not find their product to be harmful.
Addtionally, all of their mats are 100% azodicarbonamide free.
Their ecologically-minded approach does not stop with their yoga mat!
Many B Mat owners like to carry it by using the B Strap, which is equally eco-friendly!
This handy backpack-like device is made from repurposed and recycled leather scraps from Mexico.
These are treated with vegetable rather than chemical tanning, making the B Strap better for the environment than ordinary leather products.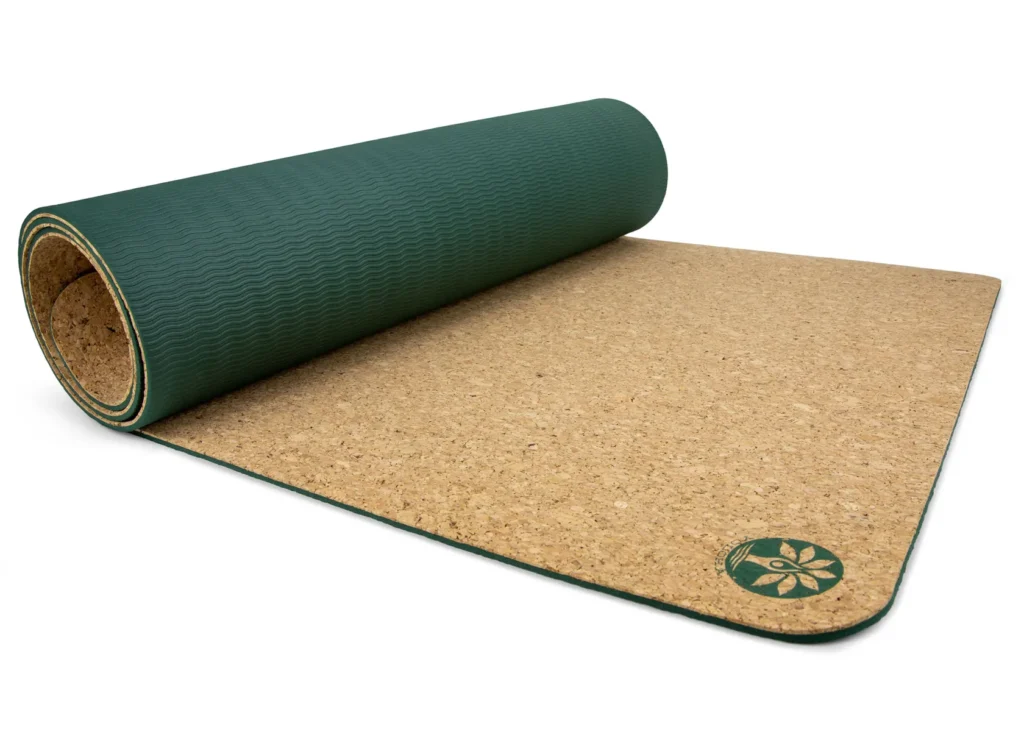 Highlights
Unique material choice from the Mediterranean
Ship using 100% recycled and recyclable cardboard
Yoloha's ethical yoga mat is unique because it is made from cork, a sustainable form of wood best known in the wine industry.
This soft, flexible wood makes it the perfect material for comfort and convenience.
The inside of the Yoloha yoga mats are filled with sugarcane based plant foam which moulds to the shape of your body.
Cork is especially environmentally friendly because it can be taken from the bark of a cork tree without having to cut it down.
Once extracted, it takes a few years for the cork to grow back, and during this time, the tree will absorb five times as much carbon as usual.
If you love cork yoga mats, Yoloha makes some of the best ones!
---
What to look out for when buying Eco-Friendly Yoga Mats?
Materials
The clearest important aspect to consider when you buy an eco-friendly yoga mat is that it must be made from sustainably-sourced natural materials.
Natural rubber, cork, jute, and cotton are popular choices as these materials are recyclable and biodegradable.
However, material choice is not just about looking for sustainability but for quality as well.
These sustainable materials are naturally non-slip, and comfortable.
Durability
Whatever material it uses, no yoga mat will be sustainable if you have to constantly replace it.
This will cost you a lot of money and also require far more materials to be extracted.
Therefore, you should find a material that has the durability and sturdiness to survive the most intense yoga workouts.
Furthermore, choosing a mat with good density will mean you can feel secure that your mat won't lose its comfort over time.
Design
People love yoga mats with interesting designs, but far too often, these designs are created with toxic and non-natural dyes.
So to ensure you are getting the best non-toxic yoga mats, make sure the brand uses natural dyes.
You should also make sure that your mat does not use any industrial glues to connect the foamy inner with the grippy outer.
This will prevent dangerous chemicals leaking into your skin when it gets in contact with the mat.
Also, when you have to dispose of the mat it will ensure you are not responsible for these chemicals going into the ecosystem.
Packaging
An element of eco mats that people always forget to consider is the packaging.
Buying a non-plastic yoga mat can feel somewhat futile if it comes in a huge plastic packaging.
Such material is always single use and will have to be sent to landfill once you have your yoga mat.
All the best eco-friendly yoga mat companies will provide assurances that there packaging is formed entirely with recycled products, usually cardboard.
Once you have this material it can easily be recycled again, or you can find a use for it in the home.
---
Short FAQ about Eco-Friendly Yoga Mats
Are yoga mats toxic?
Many yoga mats are made with non-natural dyes that are harmful to the environment. For non-toxic yoga mats, you need to look for brands that use natural dyes as well as eco-friendly materials and processes.
What are eco-friendly yoga mats made of?
Eco-friendly yoga mats are made from a variety of materials, many of which are plant-based. Comon materials include natural and recycled rubber, organic cotton, cork, TENCEL and polyester.
Are yoga mats biodegradable?
Unfortunately, most yoga mats – even sustainable ones – are not 100% biodegradable. However, sustainable yoga mats are made with materials that can be easily recycled without harming the environment.
---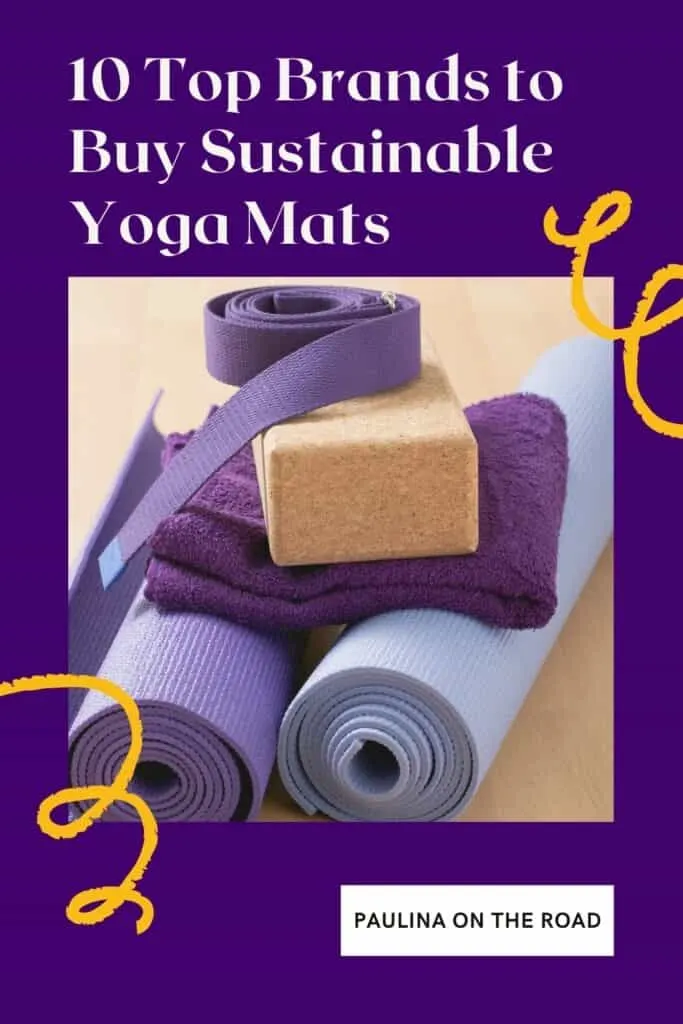 ---
Hola! I am Paulina, a fervent travelette who crossed the Atlantic Ocean by Boat HitchHiking. On my blog, you'll find all the tips to make the most of your holiday. Get ready to enjoy outdoor and sustainable travel like hiking, cycling or sailing. Let's hit the road together!