Guide to the best brands for eco-friendly and ethical activewear, including leggings, yoga clothes and sportswear
As activewear is expected to have high-performance qualities, most workout clothes are made from synthetic materials that do more harm than good to the planet and you.
As sustainability is becoming a part of mainstream fashion conversations, the athleisure industry is also catching up.
A slew of labels producing eco-friendly workout clothes has cropped up in recent years.
These sustainable and ethical activewear brands use natural fabrics like organic cotton to make their exercise wear.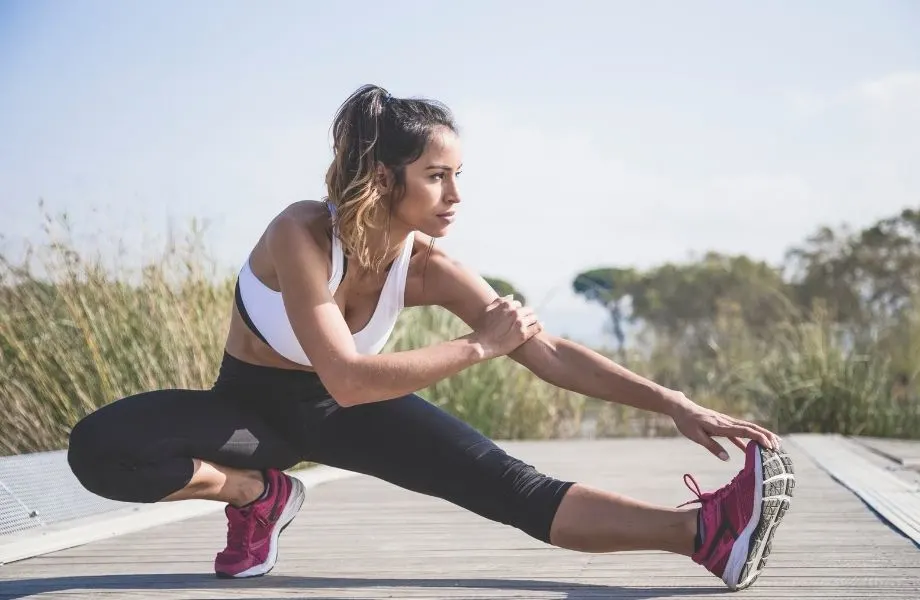 Also, many sustainable sportswear brands experiment with materials made from recycled, upcycled, or regenerated content like recycled polyester or ECONYL (regenerated nylon) to make comfortable eco-friendly activewear.
With ethical labor practices, fair trade, natural and recycled fabrics, and local, limited, and conscious production, these ethical and sustainable activewear brands are doing their part to protect the planet.
If you are on the lookout to update your fitness routine, then switching to sustainable athletic wear is the best move.
Alternatively, make you are looking for sustainable Christmas gifts, or year-round gifts for national park lovers – these brands offer great options.
However, if it is hard for you to find an eco activewear brand, then no worries.
I have done all the hard work and found the best sustainable activewear brands that make ethical workout clothes that are gentle to the people and the planet.
"Paulina on the Road" is supported by you, dear reader. As you buy through my links, I earn a small commission. As an Amazon Affiliate, I earn from qualifying purchases. Thank you for your support
Overview: The Top 5 Sustainable Activewear Brands
One of the leading players in the ethical athletic wear category, LEONISA is famous for its sustainable leggings.
The brand has over 60 years of experience creating high-tech activewear that offers comfort, durability, and built-in confidence.
100% of their garments are produced in-house, in 44 manufacturing plants in America, so you can be sure to find the highest quality clothing.
What I like about LEONISA is that they are committed to sustainability using eco-friendly practices to manufacture their sustainable activewear.
Also, they respect the dignity and work-life balance of its employees, providing them the best labor conditions and encouraging constant growth.
REI is best known for its outdoor gear, but it also designs a selection of eco-friendly sportswear under its name.
Whether you are camping, cycling, or hitting the slopes, you can turn to REI for both new and used ethical sportswear.
The sustainable activewear brand is committed to sourcing sustainable materials like organically grown cotton and cellulose fibers made from trees.
In addition to sportswear, you'll find amazing sustainable running shoes here.
The company aggressively tracks its environmental footprint and offers a host of recycled and fair-trade products.
Their products labeled as Bluesign are crafted using approved chemicals and resource-conserving manufacturing practices.
When you buy sustainable sportswear, you are supporting other nature lovers as 70% of the annual profits by REI are invested in the outdoor community.
If you are looking for cool gifts for outdoor lovers under $20, then you can buy them at REI!
REi is also ideal if you are in need of new workout shoes and looking for sustainable shoe brands or vegan hiking books.
Girlfriend Collective is known for its size-inclusive and sustainable activewear made using recycled materials like polyester, old fishing nets, and recycled plastic bottles and they use OEKO-TEX certified safe dyes.
To further cut their impact, the brand also uses cupro, a fabric made from cotton waste.
In addition to using recycled materials, what I love about Girlfriend Collective is that they take back your old Girlfriend pieces and turn them into new helping you reduce your carbon footprint.
All the clothing including ethical gym wear is made in SA8000 certified facility where workers are given fair wages and safe and healthy working conditions.
This fully transparent brand packs and ships its products in 100% recycled and recyclable materials.
Girlfriend Collective is also one of the best sustainable swimwear brands, all of which are also size-inclusive.
BOODY is one of the best vegan clothing brands, which specializes in making comfortable activewear and loungewear made from eco-friendly materials.
They create the most comfortable clothing essentials, including sports bras, underwear, and sustainable gym wear for women, men, and kids.
To be eco-friendly, BOODY uses viscose fabric made from eco-certified Bamboo in their products, which is then blended with nylon and elastane to produce activewear.
As they use bamboo in all of their products, BOODY is one of the best bamboo clothing brands out there.
All of their ethical workout clothes are breathable and thermo-regulating ranging from leggings, sports bras, shorts, tanks, tees, and more.
Moreover, the brand believes in giving back to the environment.
This is why they use an eco-friendly processing system, zero-waste manufacturing, and donate a large part of their sales for the betterment of the world.
Those looking to help the planet and commit to zero waste fashion will love this brand.
Each step towards sustainability is an opportunity to better ourselves is what Frank & Oak believes in.
It is one of the most affordable eco-friendly clothing brands for workout clothes.
Frank & Oak always uses mindfully sourced fabrics and materials like recycled cotton, hemp, SeaCell, and LENZING ECOVERO Viscose.
This Canadian eco-friendly sportswear brand is a Certified B Corporation with ethical goals and is actively involved in supporting their community and the planet.
All the products from Frank & Oak are shipped in 100% post-consumer recycled cardboard and polybag mailers are made of 50% recycled materials.
A leader in sustainability and one of the top organic cotton clothing brands, Patagonia offers a wide variety of activewear for women and men.
Whether you are going for a yoga class, climbing, riding, or a hike, you are sure to find the best quality sustainable activewear.
The clothes are made of recycled and natural materials and sewn together in fair trade certified manufacturing units.
The materials used to make eco activewear include hemp, recycled cotton, recycled nylon, organic cotton, lyocell, recycled spandex, and more.
All of their ethical activewear is made with added breathability, comfort, and support.
You will find a range of activewear, including accessories like sustainable socks and hats.
And one of the best things about Patagonia is that they take back the used pieces under their Worn Wear program and repair or recycle them for future use.
This includes their sustainable backpacks, as well as their clothing.
I also love that I can get sustainable workout clothes from them year-round so I can always be on the go.
They also sell great vegan winter coats for active people.
If you're planning on taking an active, outdoorsy trip, Patagonia also has some of the best, most durable sustainable luggage.
The sustainable fashion-forward company, Reformation, presents its cool activewear line Ref Active.
Their sustainable activewear collection is made with Repreve (material made of 100% recycled PET bottles) and is GRS and OEKO-TEX certified.
The brand offers two fabric choices, the EcoMove and EcoStretch.
EcoMove is a sleek performance fabric for high-impact activities while EcoStretch is a velvety performance fabric for low-impact activities.
If you are looking for ethical gym wear that is also fashionable, Reformation is a great choice, they even offer multiple workout dresses and skirts.
Reformation is also one of the best recycled clothing brands.
To be 100% transparent, Reformation calculates the number of bottles recycled and the savings in greenhouse gas emissions, water, and energy for each item.
You'll also find a lot of cute organic cotton dresses to slip on after a good workout.
Summersalt designs and supplies comfortable and stylish activewear for the modern woman.
Sustainable activewear is designed to go places and keep up with you, and Summersalt products do just that.
Its activewear pieces are comfortable, chic, and made of recycled polyester that comes from recycled plastic bottles to offer the best designer quality at the best price.
What I love about Summersalt is that they offer size-inclusive clothes, perfect for every body shape and size allowing you to feel confident.
They are also one of the best sustainable underwear brands, and their intimates are just as breathable as their workout clothes.
Additionally, Summersalt is committed to numerous strategic initiatives for diversity and is passionate about spreading love and kindness.
Outdoor Voices is a sustainable activewear brand that makes its products from a selection of eco-friendly materials.
Some of the materials used to manufacture the line include recycled polyester made from PET bottles that are melted down and turned into a lightweight breathable fabric and responsibly sourced merino wool.
The brand offers a range of both men's and women's eco-friendly gym wear and their clothes are carefully designed to look good in any casual environment.
You can choose from sustainable leggings, shorts pants, sports bras, tops and tanks, sweatshirts, and more.
In addition to this, Outdoor Voices is committed to fair trade prioritizing fair working conditions and ethical labor practices.
TenTree is a small but sustainable activewear brand that makes vegan workout clothes, running clothes, and outdoor wear for all seasons.
Their activewear is made from sustainable and vegan materials like Tencel, recycled polyester, organic cotton, and hemp.
The pieces contain eco-friendly drirelease and zinc-based additives to control odor, moisture, and bacteria.
In their commitment to the planet, TenTree is constantly looking at innovative ways to make apparel with the smallest possible footprint and create more circular supply chains.
Tentree is committed to making the environment better and sustainable, which is why for every piece you purchase, they plant 10 trees.
They have already planted over 51 million trees worldwide.
You can even ensure you stay active in the colder weather with this brand with one of their sustainable winter coats.
Reprise is an eco-friendly activewear brand that creates polyester-free activewear made from plant-based fabric, Tencel.
Tencel is a great eco-friendly material as it is clean, non-toxic, requires 80% less water to produce than organic cotton, and reduces CO2 emissions.
Additionally, all of Reprise's sustainable workout clothes are super soft, stretchy, and breathable.
Their incredibly comfy and sustainable yoga pants and leggings currently have 7% of spandex.
They are even working towards sourcing this portion of their fabric from plant-based sources too.
The brand is working towards becoming 100% water and carbon-neutral in the near future.
Reprise also sells some fitness accessories like eco-friendly yoga mats.
DAY/WON is a size-inclusive performance-driven activewear brand that makes everything with both the environment and the modern consumer in mind.
This conscious athleticwear brand uses recycled polyester deadstock synthetic to make the collection.
They provide a great variety of activewear with unique designs for every body type, as well as a selection of gender-neutral items.
The fabric used in their ethical athletic wear is not water-dyed to prevent the over-use of precious resources and polluting the oceans.
DAY/WON uses recycled materials to make sustainable yoga clothes and manufacture on-demand to reduce up to 26 billion tons of wasted clothing that fills our landfills every year.
All of their clothes are designed to empower you to do absolutely anything that makes you feel strong and unstoppable.
Say goodbye to boring sustainable yoga wear with Wolven as the brand creates beautiful and bold geometric pieces.
This sustainable activewear brand provides sports bras, leggings, and shorts made of OEKO-TEX certified rPET from recycled plastic bottles.
Wolven creates ethical sportswear designed to support your active lifestyle, and that is produced in small batches to reduce waste.
Additionally, the brand also helps remove plastic waste from oceans with every purchase you make.
Outerknown is a clothing label making effortless sustainable activewear for women and men.
They create versatile essentials with 100% recycled ocean plastic fibers.
To be as eco-friendly as possible, the brand keeps strict sustainability rules and intends to raise the standard for sustainable design in the global fashion industry.
They use organic, upcycled, recycled, and regenerated materials to design and embrace the circularity of their products.
If you want sustainable or organic clothing made in the USA with top-notch quality and eco-friendly production, Outerknown is the company for you.
Additionally, Outerknown is accredited by the Fair Labor Association (FLA, therefore investing in the livelihoods of over 5K workers.
If you are on the lookout for cool gifts for outdoorsy people under $50, then Outerknown is a great place to source them.
Pangaia is one of the leading eco-friendly brands that has now expanded its range to include bright and functional sustainable gym clothes and workout clothes.
They are on a mission to save the environment, thus their eco-friendly activewear is made from a mix of natural and biodegradable materials like castor beans, eucalyptus, and seaweed.
All of the clothes at Pangaia are 100% plant-based, including their vegan workout clothes, while the vegan backpacks are also made from recycled nylon.
Additionally, all of their eco activewear is accompanied by high-performance moisture-wicking technology made from 100% bio-based microalgae.
---
Buying Guide: What to look out for when buying Sustainable Activewear
Natural Fibers
When looking to buy sustainable activewear, you can find various brands that make stylish activewear with a blend of organic cotton and hemp with a little synthetic fiber for stretch.
Organic natural fibers are better for the environment and help release odor better.
Look for sweat-wicking and odor-fighting materials as you do not have to wash them frequently.
Recycled Synthetics
If you want high-performance sustainable activewear, then choose the ones made of recycled synthetics. Various brands create their activewear using recycled materials like PET bottles.
Moreover, it is non-toxic and saves the environment.
Non-Toxic Dyes
The dyes used to color your traditional pair of activewear leggings are not good for the planet or you.
Therefore, look for sustainable activewear made with natural and OKEO-TEX certified dyes.
Fair Labor and Transparency
As with everything you buy, including activewear, check for fair labor practices of the brand.
Various sustainable activewear brands prioritize transparency and have Fair Trade and SA8000 certifications.
---
Short FAQ about Sustainable Activewear
---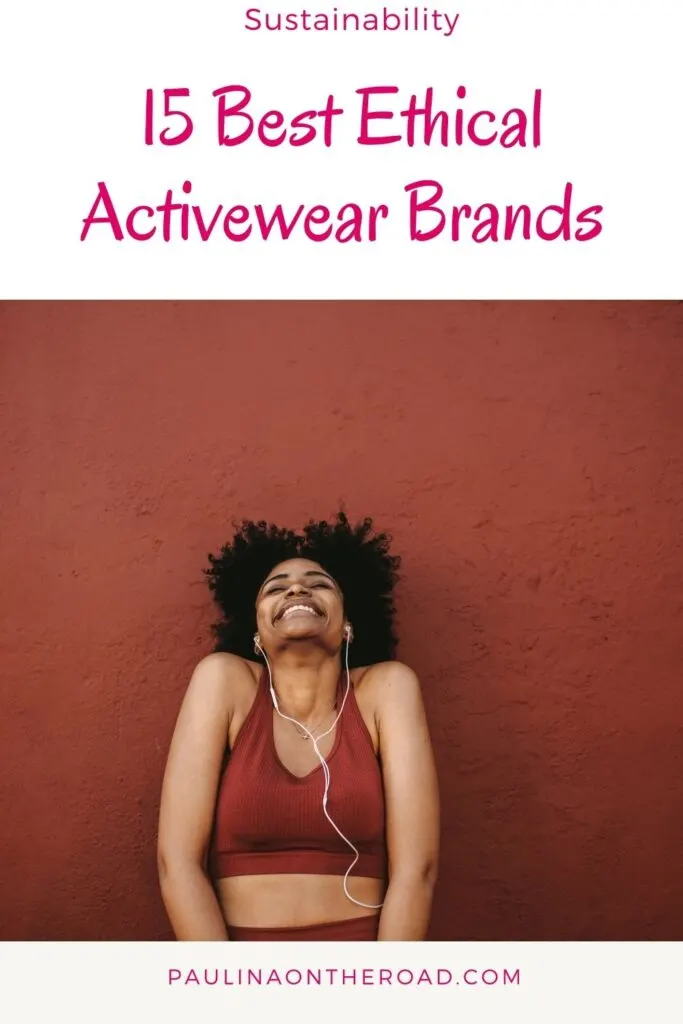 ---