Guide to the best sustainable backpack brands, includes eco-friendly backpacks for hiking, laptops and kids
If you consider yourself a conscious traveler, wanting to explore the world while keeping sustainability in mind, then buying a backpack is an obvious must.
There's no better way to carry all your belongings without having a huge plastic bag of stuff!
Not only that, but when you invest in an ethical and sustainable backpack made out of eco-friendly materials, it also allows you to reduce your environmental footprint both on-the-go as well as at home.
So if you're looking for good quality backpacks that are friendly for both people and the planet alike, read on — I've rounded up some amazing brands for sustainable backpacks worth checking out!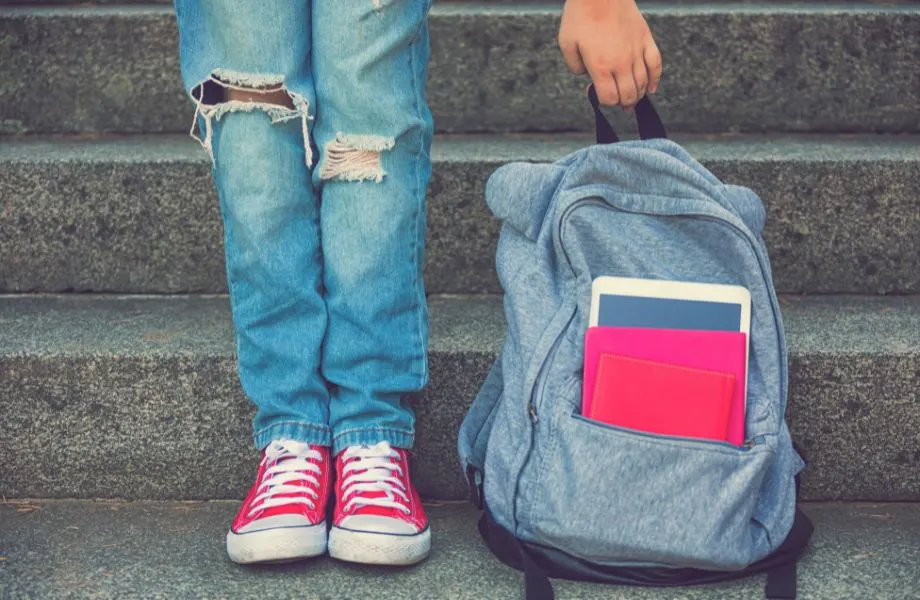 This blog is supported by you, dear reader. If you purchase through a link, I earn a small commission. As an Amazon Affiliate, I earn from qualifying purchases.
Overview: The Top Brands for Sustainable Backpacks
Stubble & Co is all about sustainability and has got you covered with their eco-friendly backpacks. They're big on giving back too – 1% of sales go to help the environment.
And, they're Climate Neutral Certified, which means they're doing their part for the planet. These backpacks are perfect for outdoor adventures, like cycling, and are built to last.
Their Roll Top backpack is their current bestseller and is sure to be your go-to for all your adventures.
United By Blue proves that you can be fashionable without being harsh on the environment.
This brand's mission is to keep plastics out of landfills and oceans, and it focuses on creating less wastage and inspires its consumers to choose a sustainable way of life.
They offer backpacks made from recycled materials like the signature (R)evolution Fabric.
Old plastic water bottles are transformed into versatile yarn to make these durable and vegan backpacks.
The eco-friendly backpacks from United By Blue are perfect for your everyday travels as they are water-resistant and stain-resistant.
All of their bags are thoughtfully designed with padded laptop sleeves, front pockets and adjustable shoulder straps.
United By Blue uses every scrap of recycled fabric in their limited-edition deadstock collection.
These sustainable backpacks are made from leftover fabrics in a patchwork design and come with a lifetime guarantee.
You can opt for GOTS-certified organic cotton backpacks for the days when you want to travel light.
Check out the United By Blue collection of hats and bandanas if you are looking for gifts for outdoor lovers under $20.
Established in 1995, Matt + Nat is a vegan and cruelty-free brand that makes high-quality, timeless, and ethical backpacks for every occasion.
Matt + Nat uses responsibly sourced materials like nylon, cardboard, rubber, cork and recycled plastic bottles for its bags.
You can also find eco backpacks made with innovative materials like windshield resins and fruit skin.
Their classy vegan backpacks with laptop and smartphone pockets are perfect to carry to your workplace.
If you are fond of small bags, Matt + Nat also has some beautiful choices to offer in pretty colors.
These all come with convenient features like a zipper pocket and magnetic closure.
For parents, Matt + Nat even has a versatile diaper backpack with a shoulder strap and top handle that can be worn in different ways and is a brilliant choice for new parents.
The bag is designed with elastic and zipper compartments to keep baby clothes, diapers and bottles.
Matt + Nat are also one of the best vegan clothing brands and makes great quality clothes that are 100% cruelty-free.
They even have fantastic vegan winter boots and coats so you can stay stylish year-round!
Patagonia is one of the best sustainable backpacks, outdoor gear, and recycled clothing brands.
With its ethical products, this brand does its best to address climate change and reduce carbon emissions to a great extent.
To show their respect for the planet and its people, Patagonia offers sustainable, fair trade certified sewn products that last.
They have a vast range of sustainable backpacks made from organic cotton, recycled nylon and recycled polyester.
You will get everything from travel and technical to daypacks and laptop backpacks from Patagonia.
There are plenty of styles, sizes and colors to choose from, and most of the backpacks are waterproof and work well in all weather.
All Patagonia products are built to last and come with an Ironclad guarantee that means that you can return, replace or get a refund for the products if not satisfied.
There is also the provision to repair your favorite Patagonia bags that get damaged due to wear and tear.
This brand is a one-stop shop for all your outdoor adventure needs and sustainable activewear.
Check out their collection of water bottles for hiking, wetsuits, sleeping bags, vegan winter coats, and more.
Terra Thread is a brand determined to make a positive impact on the earth with its long-lasting products.
The brand is recognised by Forbes, NBC, TreeHugger and The Good Trade for making the best sustainable backpacks.
The bags are made with natural and biodegradable fairtrade organic cotton and manufactured in fairtrade certified factories, its products are free from toxic chemicals and synthetic fibers.
You can find backpacks from Terra Thread that you can carry to work every day or use for short trips.
If you are looking for a sustainable mini backpack for your outdoor adventures, Terra Thread won't disappoint you.
They also have semi-mini backpacks that are the right size for kids to carry to school.
When you order a Terra Thread fairtrade backpack, it is shipped to you without plastic bags and excessive packaging.
They also donate $1 from every purchase to support the Feeding America Campaign.
Mystery Ranch has been offering planet-friendly backpacks made in the USA to its customers since its opening in 2000.
Their sustainable backpacks are synonymous with durability as its raw materials go through excessive testing.
The brand aims to achieve maximum efficiency and minimum waste with its innovative construction method.
Their eco-friendly backpacks are made with ultra-durable CORDURA® fabrics made from reclaimed pre-consumer waste materials.
The sustainably made backpacks from Mystery Ranch are breathable, strong, water repellent and abrasion resistant.
You can trust Mystery Ranch for your outdoor adventures even in tough and extreme weather conditions.
They also have great choices of bags in various sizes and colors specially designed for travel that can be carried as a suitcase, shoulder or backpack as per your convenience.
At Mystery Ranch, you will also find designs inspired by military assault rucksacks.
If you are looking for outdoor gifts for women, you will find some exceptional choices here.
They have women-specific backpacks for women who love hiking, hunting and exploring.
These are also ideal as gifts for national park lovers who need a sturdy bag while hiking.
Pangaia is a sustainable fashion brand talented designers, technologists and scientists work together.
The team share a passion to create an environmentally friendly and earth-positive future.
This brand makes all of its products with innovative technology and bio-engineered materials.
The backpacks from Pangaia are made with ECONYL® regenerated nylon which is recyclable and eco-conscious.
Additionally, they use specially formulated biodegradable nylon for backpacks, as well as eucalyptus lyocell, recycled and organic cotton.
Pangaia's waterproof mini backpack features an adjustable strap and can be worn across the body or the waist.
These bags are available in bright and beautiful colors inspired by nature.
You can match it with your outfits and create a planet-friendly style statement every day.
Pangaia also creates comfy environmentally-friendly clothes and are one of my go-to's for sustainable yoga clothes – and especially sustainable yoga pants.
As the name suggests, Gulu Made is a brand that makes its bags in Gulu, Uganda.
The brand was created with a mission to empower the people of Gulu and offer them sustainable jobs.
Many skilled women of this town where civil conflicts raged for decades now proudly work at the Gulu Made factory.
The bags designed in Colorado are then turned into masterpieces with the brilliant sewing skills of these women.
The backpacks from Gulu Made are handmade and are of the ideal size to be carried to school or the workplace.
All the backpacks feature padded laptop sleeves and lux comfort back panels.
They also offer stylish and innovative tote packs, which can be used as a tote or snug-fitting backpack.
Gulu Made has sturdy expandable bags that are excellent for your travels when you need that extra space.
Along with high-quality and comfort, there are many reasons to be happy about your purchase of Gulu Made backpacks.
After all, you are contributing to the livelihood of the brand's dedicated team in Uganda.
Monarc lives by its mission of doing better for the planet by making better products.
That's why they worked hard to be recognized as the world's first plastic negative bag brand.
Additionally, Monarc has been successful in removing thousands of plastics from oceans and landfills and turning them into sustainable backpacks.
Their signature duffle backpack is innovative, functional, versatile, and super stylish.
It is also perfect for those needing sustainable luggage that lasts and doesn't hurt the planet.
This backpack made of recycled materials (around 50 plastic bottles) is the perfect travel partner.
Its TSA-approved carry-on size allows you to carry it as a duffel bag or backpack on your flights.
Additionally, this water-resistant Monarc backpack even has a removable shoe compartment and laptop pockets.
You can even buy Monarc's sustainable accessories like a camera cube and travel set that perfectly fits in the bag.
Basically, this sustainable backpack is all that you need for a long hike or a weekend away with friends.
Monarc encourages you to return the bags after you have used them to promote a circular life cycle.
Once received, they will recycle the bags, and also give you discounts for your next purchases.
Day Owl is tirelessly working towards becoming a completely circular bag company by recycling and reducing waste.
The bags are made from recycled landfill-bound materials like post-consumer water bottles.
All of Day Owl's sustainably made backpacks are ultra-durable and they also offer life-long repair services.
These high-quality bags feel extremely soft and come in gorgeous colors.
Some of the noteworthy features of their sustainable backpacks include organized interiors, a laptop pocket, and a spill-resistant bottle pocket.
Day Owl offers the option to its consumers to return old bags after use so they can find a new home for them.
Additionally, they accept bags of any brand to be recycled for free as they are dedicated to helping make an impact.
You can also contribute towards waste reduction by purchasing from Day Owl's second-hand bags collection.
Established in 1988, Komodo has always worked towards making ethical fashion a successful reality.
Sustainably made backpacks by Komodo stand out owing to their contemporary yet minimalist designs.
The brand uses GOTS–certified organic cotton for its impressive range of backpacks.
The bags feature separate compartments for your laptop, mobile and keys, making them great for everyday use.
The roll-top design on many Komodo backpacks allows you to adjust its volume according to your needs.
The comfortable back cushions, wide shoulder straps and natural water resistance feature lets you carry Komodo backpacks with ease.
These sustainable backpacks are also available in many attractive colors – pick out one for different moods or destinations.
If you are looking for durable kids' backpacks, you can opt for their fairtrade mini backpacks.
Komodo is also one of the best organic cotton clothing brands.
Whether you are looking for organic cotton dresses or winter coats, you will be spoilt for choice here.
Created in 2010, Lo & Sons is a direct-to-consumer e-commerce bag brand that offers fashionable, yet sustainable backpacks..
The idea of this brand originated from its owner's need to find a comfortable travel backpack.
They use high-quality materials like recycled poly, recycled nylon and organic cotton to meet their sustainability goals.
Lo & Sons' sustainable backpacks feature a sleek design yet has space to accommodate all your travel essentials.
The luggage sleeve to fit onto suitcase handles makes it very convenient to carry, and the bags also come with a removable insert, multiple pockets, and an inner shoe pouch.
Additionally, there is a laptop pocket with a water-resistant zipper to keep your valuables protected.
If you are unable to decide whether you want a tote or backpack for your next trip, opt for Lo & Sons' versatile tote backpacks.
The shoulder straps have memory foam padding that provides superior comfort.
The ethos of Finisterre is that they make bags for the people that love the planet and outdoor adventures alike.
Their tough, durable and waterproof bags are designed to make your travels hassle-free.
Finisterre has a splendid collection of high-quality rolltop and duffle backpacks that are made from materials like 100% recycled polyester with PVC-free coating.
The features include a removable laptop case, zip security pocket and keyholders that make it very functional.
The waterproof dry bag from Finisterre is one of a kind and a must-have for aquatic adventurers.
It is excellent for carrying your wet outfits and will also keep your belongings dry and safe.
Additionally, the shoulder straps are removable and can convert it into a hand-held bag.
Their small 5L Dry Bag is perfect if you're in search of gifts for outdoorsy people under $50.
Finisterre is also one of the best sustainable swimwear brands.
Their sustainable winter coats are just as waterproof, and are also made to be water-friendly.
GOT BAG turns trash into treasure by making backpacks with discarded plastics from oceans and mangrove areas.
Their sustainable backpacks are trendy and comfortable with soft padded shoulder straps.
All GOT BAG bags have interiors with a water-proof coating while the exteriors feature a water and dirt-repellent finish.
This protects your valuables from wind and weather while you explore the outdoors.
The range of roll-top backpacks from GOT BAG is perfect for everyday use, gives more storage space when you need it, and also has laptop sleeves.
For your travels, you can opt for the compact size backpacks with zippers or roll-top designs.
These backpacks are lightweight and make organizing very easy with accessible pockets.
The backpacks from GOT BAG are shipped to you in reusable and recyclable packaging to reduce waste.
Founded in 2004, Parker Clay is one of the best sustainable backpack brands offering high-quality products.
The brand's Nordic heritage inspires it to care for the environment without compromising aesthetics.
All Parker Clay products are great examples of sustainability, durability and functionality, all at once.
Materials like organic cotton, recycled polyester and nylon are used to make environmentally friendly backpacks.
Parker Clay offers a fantastic range of water-resistant backpacks for your everyday travel to school or work.
The practical features like roll-top closure and laptop compartments make these ethically made backpacks a must-have.
They also have an impressive sustainable rucksack collection in gorgeous colors which are ideal for traveling, hiking, and even running.
Additionally, Parker Clay has other products that match perfectly with their sustainable hiking backpacks.
You'll find a range of stylish and sustainable wallets and cardholders, pencil cases, laptop sleeves and more!
ABLE is one of my favorite affordable eco-friendly clothing brands, but they also make fantastic sustainable backpacks.
With more than 90% of its staff comprising women, ABLE a brand that was created to empower and inspire women to feel their best every day, and takes its social responsibility very seriously.
Their sustainable backpack collection with a lifetime guarantee reflects perfection.
All the leather bags from ABLE are made with leather upcycled from discarded animal hides.
These spacious bags feature minimal designs and are great for everyday use.
You can also take these sustainable leather backpacks for weekend trips away as they offer maximum comfort with features like padded shoulder support and adjustable straps.
ABLE creates different styles that use deadstock and scraps to minimize waste.
They also have convertible backpacks that you can use as handbags or shoulder bags.
You can also pair your ethical backpack with cute shoes as ABLE is one of the best sustainable shoe brands.
They make some of my favorite sustainable boots.
---
Buying Guide: What to look out for when buying Sustainable Backpacks?
Buy according to the intended use of the bag
Before you get a sustainable backpack, find an answer to how you plan on using the bag – it could be for hiking, school, work, travels or even grocery shopping.
Based on this, you can decide whether you need a mini backpack, a flexible one or a large one.
If you want to use it for all, I suggest you opt for expandable or roll-top backpacks as these can be adjusted according to your needs and is a great companion everywhere
Look for specific features
Sustainable and non-toxic backpacks come with plenty of useful features.
You can look for waterproof bags if you plan to go for outdoor adventures.
For carrying to work, it's better to opt for backpacks with pockets to keep your laptop safe.
Seek durable bags with a warranty
All sustainable backpacks are created to last long to reduce waste.
You must thus look for high-quality bags that are durable and come with a warranty.
Brands also offer the option to repair the bags at a nominal fee if damaged due to wear and tear.
---
Short FAQ about Sustainable Backpacks
---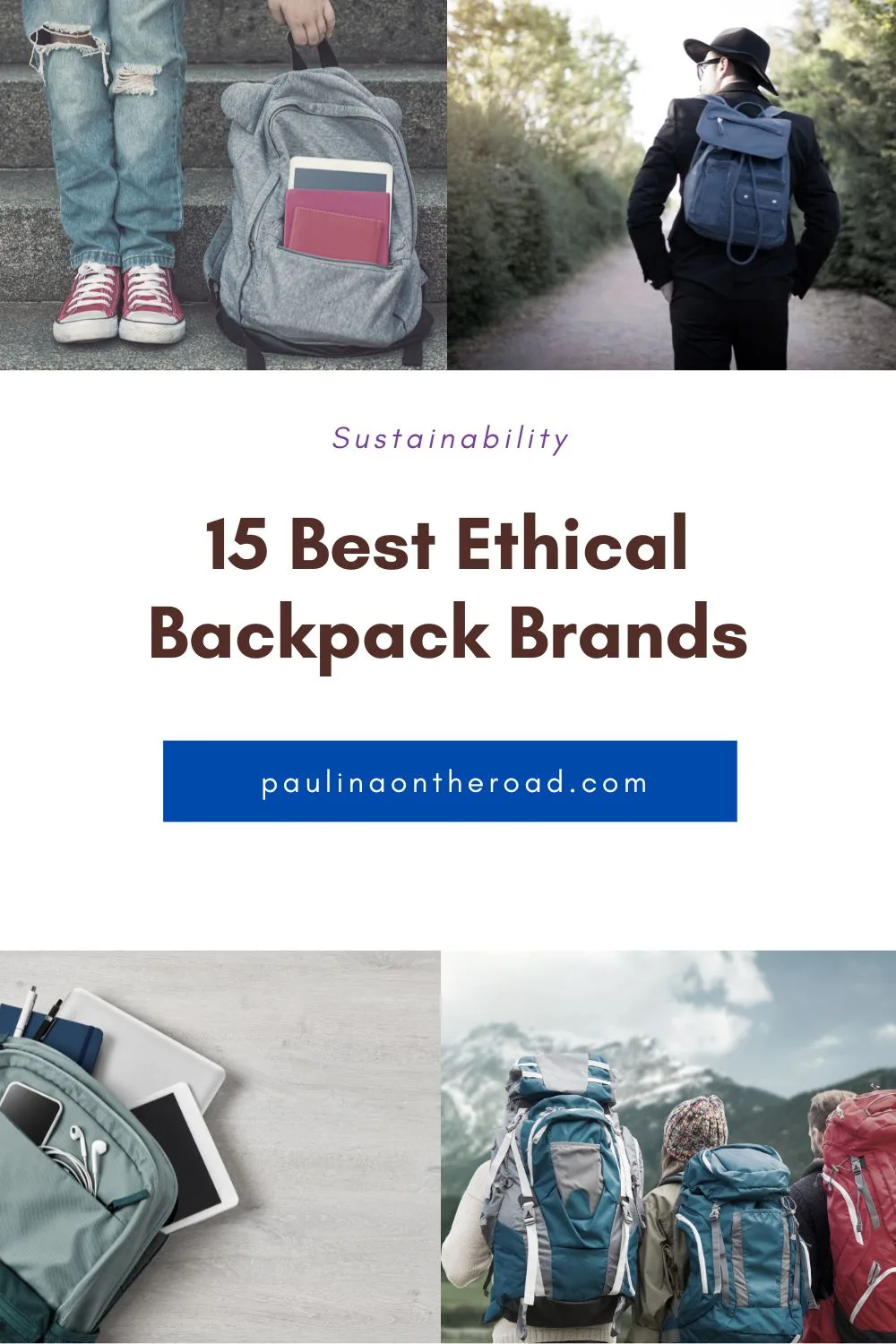 ---