Guide to finding the best ethically made winter coats, including sustainable wool coats, ethical down jackets and more!
Are you ready to brave the elements this winter? If so, then having a sustainable coat that can keep up with your busy life is surely on your shopping list!
We all know how important it is to make sure our clothing purchases are ethical and good for the environment.
But sometimes finding a great product that meets these criteria isn't easy – especially when we're looking for sustainable fashion.
Don't worry though – I'm here to help! In today's blog post, I'll be featuring some of my favorite brands that offer amazing and sustainable winter coats perfect for keeping warm through the cold winter months ahead! So let's get started…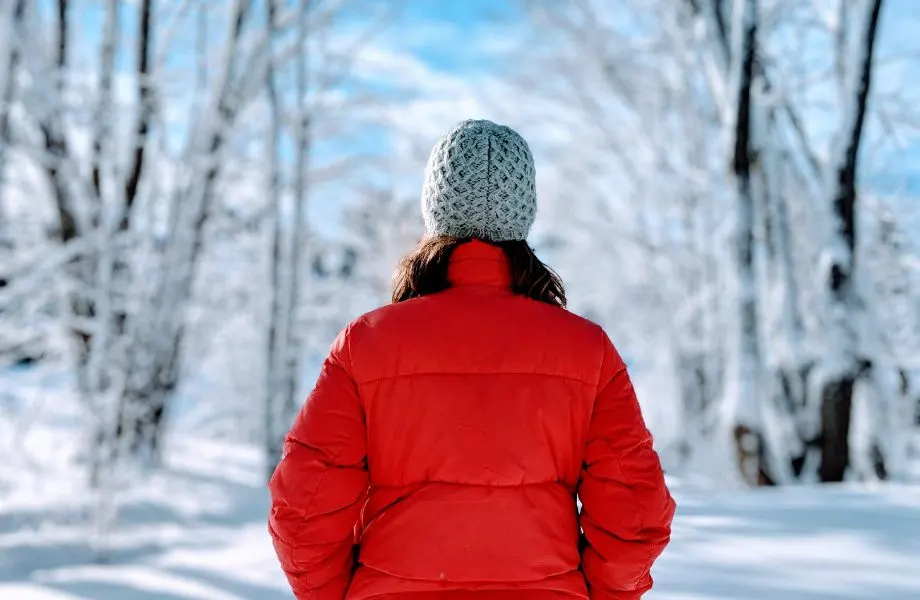 Pssst…!!?? You can't get enough of sustainable winter fashion? Have a look at the other posts I wrote:
This blog is supported by you, dear reader. If you purchase through a link, I earn a small commission. As an Amazon Affiliate, I earn from qualifying purchases.
Overview: 5 Best Sustainable Winter Coat Brands
Apricoat is a young, up-and-coming company that specializes in sustainable adventure clothing.
The brand was created by a group of international explorers who love to travel and love our planet.
Because of this love, they started a company that produces clothing that is perfect for harsh weather and made of 100% recycled materials.
All the sustainable winter jackets at Apricoat are made of recycled plastic bottles, which means less ocean plastic.
To show their dedication to the planet, Apricoat also frequently participates in donation programs, where a part of the sales of each product are contributed towards a sustainability cause.
The warm clothing from Apricoat is always my first choice when planning an adventure trip.
Askov Finlayson is a brand of comfy and practical winter apparel that is climate positive.
The company invests in ways to address the climate crisis and regularly assesses how its operations affect the environment and how to reduce it.
In terms of winter apparel, you'll find both men's and women's high-quality, sustainable parkas and accessories from this brand.
The winter parkas from Askov Finlayson are tough and breathable; the outer shell is made of 100% recycled material.
Although the "scuba design" hood can reduce a bit of peripheral vision when done up completely, it is one of the coziest sustainable outwear you will ever wear!
If you love vegan clothing brands that create sustainable and cruelty-free winter coats, Noize is the brand for you!
In fact, Noize loves animals so much they have their own line of vegan winter coats for dogs!
Noize works to protect the environment by filling its parkas with 100% recycled water bottles that have been processed to simulate the warmth of animal goods.
They have perfected their own synthetic PETA-approved vegan wool made from recycled materials that looks and feels the same as real wool.
However, unlike regular wool, these stylish recycled wool coats are even itch-free!
The brand offers incredibly affordable clothing and accessories that are trendy and stylish, and they constantly seek to expand their product categories, shop space, and community.
When searching for new sustainable organic coats and vegan winter wear, Noize is always one of my top choices.
In addition to sustainable winter clothing, you'll find clothes for every season at Noize.
Wuxly is a Canadian lifestyle company that creates sustainable outerwear that is completely animal-free and made to withstand the coldest weather.
This vegan coat brand is proud to not only design but also make all of its products in Canada and they consistently work to boost the Canadian economy by providing jobs.
All of Wuxly's sustainable winter coats are made with modern materials to produce tech-based, vegan, extra warm outerwear for both men and women.
You'll find amazing eco-friendly winter coats from Wuxly that are made from sustainable materials like Sorona, recycled polyester and Primaloft, and various biodegradable materials.
Additionally, if you have any old winter coats you no longer wear, you can use Wuxly's trade-in program!
No matter the condition, they will offer $100 towards one of their own warm, sustainable parkas and use the materials to create a new coat for someone else!
I love the Wuxly brand because it offers highly sustainable outwear products for everyone with a wide range of options and colors.
Matt + Nat is a vegan clothing brand with collections emphasizing originality, usefulness, color, and environmental consciousness.
This Montreal-based business creates stylish sustainable winter coats using recyclable fabrics, including polyurethane and polyvinyl chloride, rubber, and plastic water bottles.
They are committed to creating cruelty-free designs with a modern look, and have always strongly emphasized sustainability, dependability, and quality in every item that they make.
So even though they like the look of leather, Matt + Nat only used PETA-approved vegan leathers and the linings of all their sustainable coats and bags are made with 100% recycled materials.
Matt + Nat also offers a great collection of raincoats and puffers, as well as ethical wool winter coats that are also made from 100% vegan materials.
In addition to sustainable winter coats, Matt + Nat also makes minimalist accessories like vegan backpacks and wallets that are safe for the environment.
Although they initially got their name as a sustainable surf company, Outerknown has grown to make eco-friendly clothing for all types of active lifestyles.
In addition to surf wear, you'll now find a wide selection of sustainable winter coats and ethical jackets available from Outerknown.
They offer warm, sustainable wool coats made from recycled wool and TENCEL™ Lyocell that are both stylish and eco-friendly.
You'll also find ethical coats for both men and women made from other recycled materials such as polyester and water bottles, polyamide, and spandex.
Outerknown was founded with an eco-friendly, fair-trade principle as its foundation and plan to be 100% circular by 2030.
They always emphasize quality and craftsmanship in all their products and ensure supply chain fairness throughout their manufacturing process.
If you're feeling a bit blue and want to get a jump start on shopping for the summer, their incredibly popular blanket shirt dress is one of the cutest organic cotton dresses!
Sharp cuts and crisp lines, striking and minimal, ThokkThokk is a sustainable clothing company with headquarters in Munich that prioritizes ethics and ecology.
ThokkThokk is constantly looking for methods to improve technology and discover more sustainable and ethical manufacturing processes while keeping the costs of their items low.
All of their products are made using sustainable materials like organic cotton, TENCEL™ lyocell, Kapok, and various recycled materials.
Most of ThokkThokk's sustainable winter coats are made from Kapok, a silky smooth plant-based down material.
These ethical down jackets are incredibly warm, antimicrobial and hypoallergenic, as well as water repellant.
But ThokkThokk also offers a few sustainable coats made from 100% organic cotton.
These GOTS-certified organic coats are made using cotton from organic cotton farmers.
To ensure that cotton farmers receive a fair wage, the price of ThokkThokk's organic cotton products are kept reasonable, and no child labor is ever used.
In addition to sustainable winter wear, ThokkThokk also offers other cotton wears like t-shirts, lingerie, and socks.
And they are one of my favorite sustainable underwear brands.
Kings of Indigo has made a place for itself as a leader in the rapidly evolving field of sustainable fashion.
They have achieved this by experimenting with new materials and production techniques, constantly looking for ways to reduce their impact on the environment.
The entire collection from Kings of Indigo is made using 98% sustainable materials, with the remaining 2% being from materials like elastane in stretch denim.
The sustainable materials they use in their sustainable winter coats are all planet-friendly and include organic cotton, TENCEL (lyocell and refibra), modal, hemp, linen, and recycled materials.
Kings of Indigo is also working towards being a 100% circular fashion brand and many of their products are made using 100% recycled materials.
Every effort is made to use less water and create less during production.
In order to be climate-friendly and ethical, their eco-friendly coats and other products are made without hazardous chemicals in fair working conditions.
Kings of Indigo is also one of the most popular hemp clothing brands with a whole line of lightweight hemp and linen apparel.
They also make some of the best sustainable jeans and denim jackets available on the market.
Patagonia is a sustainable outdoorsy clothing brand known for its high-end outdoor clothes and various environmental sustainability initiatives.
Founded in 1973 in Ventura, California, Patagonia has been offering products made to last for over 50 years and they've gotten pretty good at it!
A Patagonia winter coat is a cut above many other brands, and will last for many winters to come through many winter sports and hikes.
They offer ethical coats made from recycled materials such as wool, polyester, nylon, fleece and fishing nets.
These recycled coats also use planet-friendly materials like hemp, PrimaLoft® Gold Insulation Eco, and organic cotton.
At Patagonia, you'll find everything from sustainable puffer jackets, ethical wool coats, recycled fleece Sherpa coats and more.
Many Patagonia winter coats also use P.U.R.E.™ (Produced Using Reduced Emissions) technology to ensure extra climate-friendly production.
Patagonia also makes some of my favorite sustainable activewear for year-round sports, yoga and hiking.
Finisterre is an outdoor clothing brand focusing on practical and environmentally friendly products.
For those who share a passion for water, Finisterre produces useful and environmentally-friendly products that are reef-safe and waterproof.
The company provides a wide range of eco-friendly coats, from waterproof raincoats to synthetically insulated sustainable parkas
Their ethical down jackets from Finisterre are made using 100% recycled GRS-certified down-free polyester that is made to mimic the heft and warmth of real down.
Finisterre is also proud of its Leave No Trace garment bags, which are 100% water soluble, ocean-friendly and biodegradable.
These bags also use 70% less paper than their previous packaging.
And speaking of bags(!), Finisterre makes some of the most durable and sustainable backpacks for outdoorsy people.
Another Tomorrow is a luxury brand that is reinventing the fashion industry for a more sustainable future.
They are a B-Corp accredited business and provide a percentage of every single sale to a charitable cause that supports sustainability.
All of their stylish, but sustainable winter coats are made using the best, most eco-friendly materials.
Some of the typical sustainable materials that go into these ethically made winter coats include TENCEL, organic linen and cotton, ethical wool and recycled cashmere.
But Another Tomorrow likes to be innovative in their designs, and they also used materials like recycled polyester buttons and corozo buttons!
They definitely push the limits of what materials made from ethically produced, sustainably cultivated materials can accomplish.
Their entire selection of sustainable winter coats at Another Tomorrow is unique, vibrant, and made for people full of life.
Founded by two MIT graduates in 2012, the Ministry of Supply is a sustainable fashion brand committed to creating innovative and comfortable clothing for everyday life.
Their goal is to design clothes that can be classified as "workleisure" so that you can be comfortable while you work and stylish while you play.
This ethos is fulfilled in their sustainable winter coats, which are made from some of the best eco-friendly materials.
You'll find a range of ethical winter coats made from recycled polyester and ethical Merino wool.
Since the founders attended MIT, it's no surprise that Ministry of Supply is dedicated to "sustainability through science" initiatives.
Two of of these initiatives are a waterless dyeing method and an on-demand 3D Print-Knit production kit that they created in 2015 order to cut down on waste.
This 3D printer allows them zero waste production on certain products and this zero-waste method accounted for 25% of their production in 2020.
Ministry of Supply is also a certified climate neutral company that has offset all of its carbon emissions since 2019, and is always trying to improve.
In addition to ethical jackets, they sell a wide range of apparel for both men and women, including some of the best sustainable yoga pants.
TenTree, is an eco-friendly, plant-based Canadian clothing manufacturer that has been carbon neutral since 2020.
This brand is all about sustainable and exceptionally well-crafted clothing, and their sustainable winter coats are no exception.
At TenTree you'll find a wide range of jackets, including sustainable puffer jackets and parkas.
These ethically made winter coats are all constructed with 100% recycled polyester that was itself made from water bottles diverted from landfills.
Like their eco-friendly coats, all TenTree products are made with an Earth-First philosophy.
This means that they are manufactured using only responsibly-sourced and recycled materials and are always manufactured in a safe working environment with fair labor laws.
To further show their commitment to the planet, TenTree automatically grows ten trees for each item sold.
You can also sign up for a monthly subscription plan through TenTree to offset your family's carbon emissions without having to do the legwork and research yourself.
The prAna ethos is "clothing for positive change" which means they are doing their part in the fashion industry to create sustainable clothing that protects the environment.
How are they doing this?
All of the products from prAna are made using eco-friendly and responsibly-sourced materials under fair working conditions.
As a company, prAna is committed to its social responsibility to consumers, employees and those operating within its supply chain.
Their preferred materials include organic fabrics like hemp and cotton and forest fibers like TENCEL (Lyocell and Modal).
Most prAna products, including their sustainable jackets, are also made with recycled materials such as polyester, wool, nylon and cotton.
In their winter coat collection, prAna also offers ethical wool coats and ethical down jackets made from responsibly-sourced textiles that ensure animal welfare.
In addition to selling great winter coats, prAna is known for being one of the best brands for sustainable yoga clothes and accessories.
They sell sustainable yoga mats, tops, leggings and even headbands!
Toad&Co is an eco-conscious designer of both socially and environmentally responsible clothes that fit almost all occasions.
Although Toad&Co care about fashion, their first priority is the planet, which is why they are committed to a circular economy.
They reuse, repair and recycle materials and garments as much as possible and even offer a special vintage range of clothing.
In 2021 alone, Toad&Co recycled 37 tons of fiber!
For reference, that equates to saving more than 27 million gallons of water, 400,000 miles of car-related emissions, and 55,000 oz of pesticides.
So it's no surprise they have sustainable coats made from recycled materials like polyester, nylon and wool, as well as organic (and sometimes recycled) cotton.
---
Buying Guide: What to look out for when buying Sustainable Winter Coats
When the temperature drops, the sustainable winter coats from these brands will not only protect you from the harsh weather but will also allow you to flex your style.
However, to add oomph to your style, it is vital that your sustainable winter coat should not only be stylish but also protect you from the freezing temperatures.
Below are essential things to consider and look out for when purchasing winter apparel like recycled coats or sustainable parkas.
Why do you need it?
Before buying a winter coat, ask yourself why you need it.
You should opt for a heavy coat if you want it for snow, or plan on spending a long time outdoors in low temperatures.
However, if you want something to wear in the cold breeze, a light jacket might be perfect for you.
You might also decide whether you want the outerwear for office parties or brunch with friends.
Responsibly Sourced Materials
If you care for the environment, you should buy sustainable winter coats that use eco-friendly products and reduce waste and carbon emissions.
These coats are made from recycled and organic materials without sacrificing on quality.
A sustainable winter coat will keep you warm while simultaneously giving you the satisfaction of doing your bit for the environment.
Good Working Conditions
It doesn't matter if your winter apparel is made from the most sustainable material on the planet if the people making it are being mistreated.
Buy from brands that are as committed to people as they are to the planet.
This means you should look for brands with transparent supply chains who ensure fair and safe working conditions.
---
Short FAQ about Sustainable Winter Coats
You can't get enough of sustainable winter coats? Have a look at my Google Story here.
---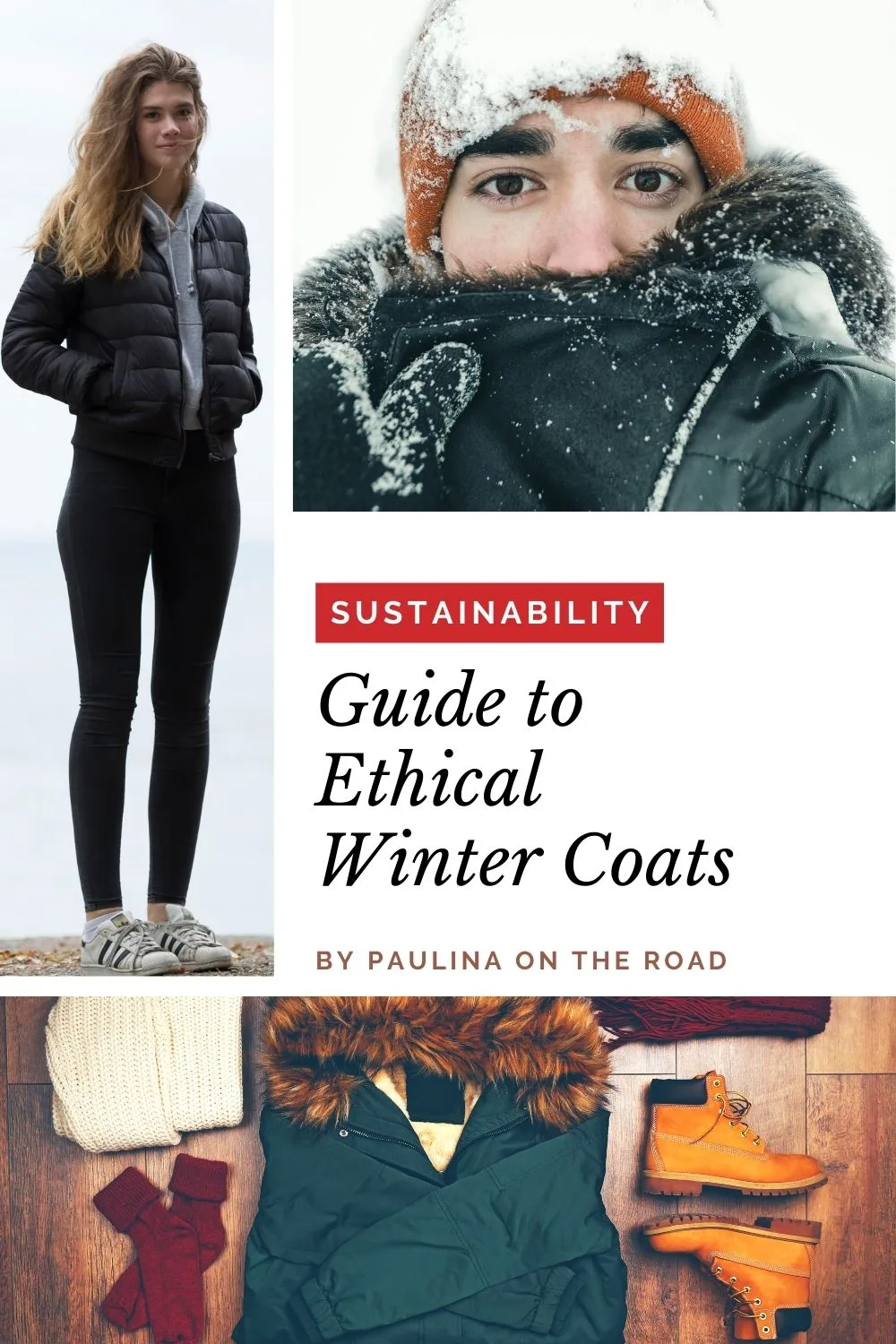 ---