Guide to the best ethical yoga wear, including organic and sustainable yoga pants with pockets and brands with yoga mats
With the times changing so swiftly, the morning regime of rolling out the yoga mats is the fuel for the whole day – and for the soul.
After all, with the practice of physical, mental, and spiritual peace, yoga can connect one with inner calm.
But yoga is also about connecting with the world around you, and it's hard to do that when the very clothes we buy are hurting the earth.
That's why it's so important to invest in sustainable yoga clothes from eco-friendly brands that are doing their part to be more thoughtful and help protect the planet.
It's easy to forget or overlook the impact of our clothing on the environment.
But the reality is that most clothing is not eco-friendly and is full of plastics and other toxins that are harmful to our surroundings.
Since it can be overwhelming knowing where to start when trying to be mindful of your purchasing choices, I have put together a list of the best places to buy ethical yoga wear.
Whether you're after sustainable yoga pants or durable yoga mats, this guide has something for you.
Shoping the best brands for sustainable yoga clothes will have you doing the downward dog with true inner peace.
This blog is supported by you, dear reader. If you purchase through a link, I earn a small commission. As an Amazon Affiliate, I earn from qualifying purchases.
Overview: 5 Best Sustainable Yoga Clothing Brands
When I think about sustainable yoga clothes, Wolven is one of the most stand-out brands due to its bold colors and designs.
Founded by Kiran Jade, this brand creates sustainable yoga wear for men and women.
In addition to a diverse collection of canvas prints, Wolven cares about the planet and takes steps to protect it.
The company works with programs to balance its emissions and also uses recycled materials to create incredibly comfy and sustainable yoga clothes.
You will find items made using both recycled fabrics and recycled plastics, and all of them are soft and durable. The textile created with recycling of plastic is also certified OEKO-Tex Certified.
Wolven's fun eco yoga clothes are a must-have for anyone who likes to make a statement without sacrificing comfort.
In the search for sustainable and organic yoga wear, Reprise found its solution in plants.
Reprise is a plant-based clothing store that has built its store with the planet in mind, and they've managed to create soft and durable clothes in the process.
From its colorful eco-friendly yoga mats to sustainable yoga leggings, Reprise ensures no plastic is in its products – including being 100% polyester-free.
Instead, the company uses TENCEL™, organic cotton and dyes, and natural rubber.
While their products do currently contain 7% spandex, Reprise hopes to eliminate this in the future and make a stretchy plant-based alternative.
In addition to great eco-friendly yoga clothes, you'll find yoga accessories like the Chakra Energy Yoga Mat to allow the alignment of the energy.
Manduka is a one-stop-shop for any yoga lover looking for the best yoga clothing brands.
From sustainable yoga mats to eco-friendly men's and women's yoga wear, Manduka really has the market covered on top-notch yoga products.
All of the eco yoga clothing is made using a combination of recycled polyester, organic cotton, and other plant-based materials. If you want soft cotton yoga clothes, Manduka is a great option!
But the sustainability doesn't stop at their yoga clothes.
Manduka's extensive collection of yoga mats are created using certified PVC and they are 100% latex-free.
To make them extra eco-friendly, all of their mats except for the PRO Extra Large have a lifetime guarantee.
Additionally, many of their accessories, such as their yogitoes (towels) are made with no fewer than 4 recycled water bottles.
On top of its eco-friendly materials, Manduka does its part to offset the rest of its environmental footprint.
The Manduka ethos is that comfortable and durable organic yoga clothes should be accessible and affordable, so it also does its best to keep all products at wallet-friendly prices.
Hinduism defines prana as a life-granting force, and that's how I can define this sustainable yoga clothes brand to you.
Founded in Carlsbad, California, prAna is dedicated to both social and environmental sustainability in everything they do.
This means all of the brand's materials are fair trade, eco-friendly, and responsibly sourced, and they only work with companies that meet these standards.
Additionally, all manufacturing factories must ensure safe working environments for employees (including both physical and mental health) and fair wages.
The preferred fibers that prAna utilizes in its sustainable yoga clothes are organic and recycled materials and hemp. In fact, it is one of the best recycled clothing brands.
At prAna you'll find ethical yoga clothing that lasts, including yoga leggings with pockets and fun colors and durable yoga mats.
From organic yoga clothing to sweaters and hoodies, you can shop without worrying about the impact it will make on the environment.
prAna also has cute headbands, bandanas, and chalk bags if you're looking for useful gifts for outdoor lovers under $20.
When it comes to sustainable activewear brands, there's no denying that BOODY is one of the best out there for both men and women.
They sell a little bit of everything from babywear to sleepwear. BOODY even has cute scarves and socks, and is one of my favorite sustainable underwear brands.
And, of course, they have sustainable yoga clothes and other great activewear.
The brand intends to bring comfort, soft, and eco-friendly fabrics closer to the wearer's skin.
The main fabric used in the products is Bamboo viscose that is organically grown with absolutely no pesticide in use.
Bamboo is an eco-friendly alternative to other fabrics as it uses less water to grow and even produces 30% more oxygen than other trees.
Additionally, they are actively involved with various eco-friendly initiatives, donate part of their profits to environmental causes, and ensure fair wages and working conditions for all workers.
When it comes to eco yoga clothes, BOODY is a solid choice – they even use 100% recyclable and biodegradable packaging.
As the name says, People Tree is a brand promoting people and passion, and of course, preventing harm to the environment.
People Tree only uses natural fibers, or those in a closed-looped system, and prioritizes plant-based, biodegradable materials. In their products, you'll mostly find TENCEL™ and organic cotton.
They are one of the best organic cotton clothing brands also doing sustainable yoga clothes.
You can also get some cute organic cotton dresses to wear over your yoga leggings for a cute, casual look after your workout.
Additionally, all of the products are hand-woven, hand-embroidered, and hand-dyed, and employees are guaranteed safe conditions and fair wages.
They follow strict ethical methods from start to end and only work with companies that meet these standards.
In addition to the enticing collection of sustainable yoga clothes, People Tree offers a lot of different clothing options as well as accessories.
If you are searching for amazing outdoor gifts for women, there are many great options.
People Tree is also one of the best vegan clothing brands. However, they do use wool in some products, so make sure to double-check!
TenTree is one of the most popular sustainable yoga brands for a reason.
They use sustainable materials, follow ethical manufacturing, and here comes the most different part: they plant trees!
For every one purchase, TenTree will plant ten trees.
The brand is 100% vegan and only uses organic, plant-based materials like TENCEL™, organic cotton, hemp, and recycled polyester.
If you are looking for the best hemp clothing brands, you won't be disappointed with TenTree.
They are on track to have completely eliminated virgin plastics from their shipping process by 2023.
From their eco-friendly yoga pants to their vegan backpacks, everything at TenTree is made with both the Earth and comfort in mind.
Additionally, you will not only contribute to planting trees, but you can also track the progress of your trees!
So you can buy sustainable yoga clothing from TenTree with peace of mind.
TenTree also allows you to stay fit year-round with their sustainable winter coats.
With its roots in Australia, Dharma Bums is a fantastic eco-friendly brand where you can buy sustainable yoga clothes.
What separates this brand from others are its all-inclusive efforts for reducing its carbon footprint while never sacrificing comfort and style in its designs.
All Dharma Bums products are made using Supima cotton, Lenzing Modal, and recycled fabrics.
Everything is 100% plastic-free, including the packaging, which is compostable and biodegradable.
When it comes to Dharma Bums' selection of sustainable yoga leggings, they offer everything from flare bottoms to exciting color prints.
If you are looking for size-inclusive, affordable sustainable yoga clothes, Girlfriend Collective is one of the best brands!
The brand's commitment to inclusivity and the environment is a part of everything they do.
For the environment, Girlfriend Collective uses sustainable measures such as eco-friendly dyes, recycled fabrics, and 100% recyclable packaging
On the social side of things, they are committed to diversity and inclusivity, safe working conditions, fair wages – AND fair prices.
Girlfriend Collective does its best to keep its prices low without sacrificing ethical manufacturing, and they are one of the most affordable eco-friendly clothing brands.
They are also one of my favorite sustainable swimwear brands, all of which are offered in sizes XXS to 6XL like the rest of their clothing.
Buying from their range of organic yoga clothes, means you are also contributing to protecting the planet and supporting diversity.
Join the collective and get a new pair of comfy organic yoga pants!
As the name suggests, Bamboo Clothing (BAM) uses the bamboo plant in the production of all its products and is one of the best bamboo clothing brands for yoga clothes.
With ethically-run factories across the globe in Turkey, China, and Portugal, BAM saves on carbon emissions by transporting 95% of their shipments via sea and road rather than by air.
The company is committed to being impact positive by 2030 and is currently on track to do so.
Bamboo is a wonderfully eco-friendly material as it needs less water and can absorb carbon up to five times more than hardwood trees.
It is also incredibly soft and breathable! Once you try some of their sustainable yoga clothes, you'll never want to wear anything else.
One thing that makes BAM'S sustainable leggings and yoga pants stand out is that they offer loose-fitting options.
If you're looking for unique gifts for outdoorsy people under $50, check out their awesome range of hats, socks, and scarves.
Bamboo is very durable, and a pair of sustainable socks made of bamboo could last you years!
This Danish-based brand is an eco yoga store that puts sustainability and the environment at the forefront of everything they do.
They even offer a stripped-down, low emissions website that uses less electricity.
Organic Basics' goal is to make clothes that last longer while doing better for the planet in the process.
This is why they are committed to providing durable basics to everyone.
All of their sustainable yoga clothes and other products are made from eco-friendly materials like recycled wool and nylon, TENCEL™, Polygiene®, and SilverTech™.
In addition, everything is produced in ethical factories around the world, and available in all-inclusive sizes.
If you are looking for the best sustainable yoga wear Europe has to offer, Organic Basics is a great option.
If you're looking for sustainable yoga clothes and everything yoga-related, then you've come to the right place!
Beyond Yoga boasts a wide range of yoga apparel, including sustainable yoga pants, bras, tanks, even sweatpants.
Additionally, they offer an exclusive maternity-friendly yoga line which includes maternity leggings and tanks, as well as nursing tops/
While yoga is their focus, the brand is also great for outdoor lovers as they offer eco-friendly biker shorts and joggers.
This woman-owned brand aims to smash the boundaries set to define industry-specific beauty standards and be more inclusive.
Beyond Yoga reduces its carbon footprint by using recycled materials, waterless printing and is a Bluesign® Certified brand.
All of their products are shipped in 100% recycled and biodegradable Polybags.
Made Trade is a woman-owned company that works with sustainable brands from around the world to curate the best products for you.
They sell a little bit of everything from sustainable yoga clothing and vegan winter coats to hand-carved furniture and sustainable jewelry.
The website is easy to navigate, allowing you to choose products and brands that are Fair Trade, vegan, woman or BIPOC owned, made in the USA, handcrafted, or made with sustainable materials.
Of course, many of the brands and products fall into more than one of these categories, and their range of organic yoga clothing comes from eco-conscious brands.
As of April 2021, Made Trade has been able to offset 100% of carbon emissions for the entire company.
Yoga Democracy is one of the best places to buy sustainable yoga clothes if you are looking for fun, bold designs.
This female-owned brand has one of the most extensive collections of ethical yoga wear available with dozens of different designs, colors, and styles to choose from.
My favorite collection of theirs is the Frida Kahlo printed yoga clothes, which come in a few different designs as both tops and leggings.
These eco-friendly yoga clothes are made from post-consumer recycled plastic bottles and fishing nets and use a no-water dyeing method.
The company also reuses or recycles all of its scraps so that none of it goes to waste and winds up in landfills.
As a member of 1% for the Planet, a portion of all of their profits goes towards organizations that help protect the planet.
Additionally, if you are searching for organic clothing "Made in the USA," all of Yoga Democracy's products are designed and created in the US.
In fact, co-founder and lead seamstress Haley Byfield still starts the sewing process on every single item sold!
Threads 4 Thought was created in 2006 in order to be the change they wanted to see in the world!
Their goal was to help change the ethical standards within the fashion industry by trying to leave as small a footprint as possible while helping out impoverished communities.
To do this, Threads 4 Thought only works with suppliers and factories that meet strict accreditation standards and can prove it.
All of the factories they work with are able to ensure fair wages and working conditions for all employees.
When it comes to sustainable yoga clothes (and all their other clothing), Threads 4 Thought uses only the best materials, such as organic cotton, Lenzing modal, and recycled polyester.
I love that their website tells you the impact of each product (good or bad) and whether or not it is carbon neutral – including any offsets Threads 4 Thought has done to make it so.
This means you can shop their awesome selection of sustainable leggings and organic yoga wear guilt-free!
---
Buying Guide: What to look out for when buying Sustainable Yoga Clothes
In addition to knowing great sustainable brands to buy from, there are also some things to look out for when looking for more sustainable companies in the future.
1. Transparency
A company that claims to be sustainable should be transparent and open about its processes, materials, shipping, and anything else.
After all, if they really are doing all that they claim to protect the environment, they should be happy to prove it!
2. Responsibly-Sourced Materials
Always look for where the materials come from, and if the suppliers are certified organic, fair trade, vegan, or who can guarantee animal welfare.
3. Ethical Factories.
Wherever possible, you should do your best to ensure that products are made in ethical factories that ensure safe working conditions and fair wages from employees.
This goes for the company selling the products, as well as their suppliers.
4. Just Say No to Plastics
Plastic is one of the least sustainable materials out there. It cannot be composted or biodegraded, so it stays around for hundreds of years.
On top of that, it leaks toxins into the earth, and into water streams, which we then consume.
However, it is not always possible to avoid plastic completely, in which case never buy virgin plastics (also called new plastic), always buy recycled (also called post-consumer plastics).
Post-consumer plastics are less toxic and more eco-friendly because they do not add more plastics to the planet.
Short FAQ about Sustainable Yoga Clothes
---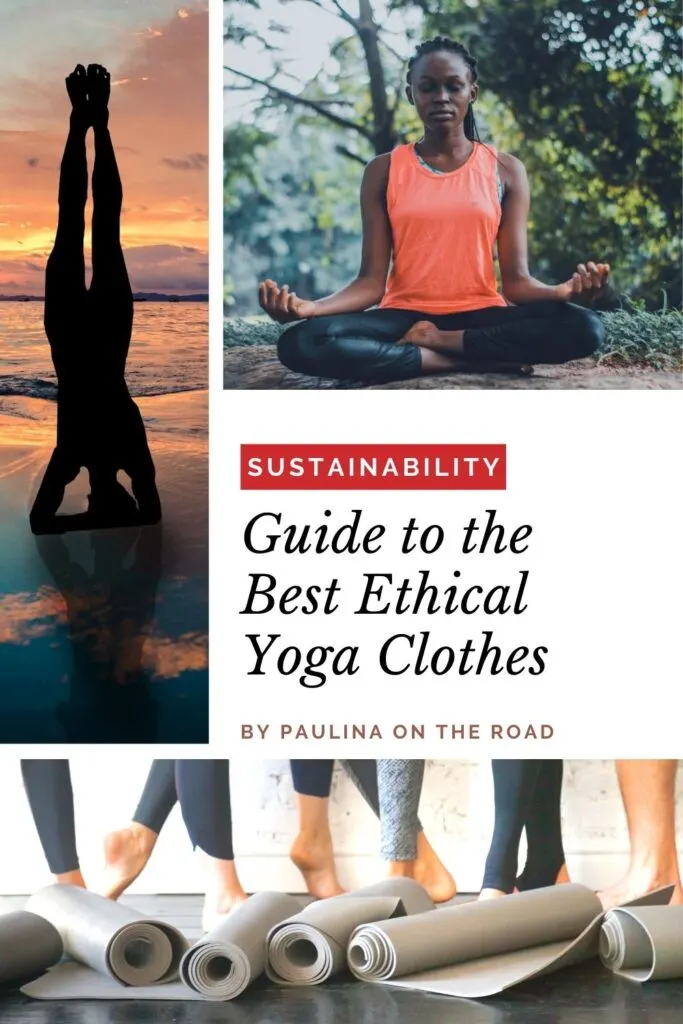 ---