Guide to the best eco-friendly luggage brands for sustainable weekend bags, non-toxic check-in bags and more!
Sustainable luggage is something that you can always take pride in owning because it depicts your mindful choices and your love for travel and the planet.
Buying eco-friendly luggage is the best one-time investment as it will offer the best returns.
It will not only stay with you for years, but it will also have positive impacts on the environment.
It's the best way you can contribute towards solving the problem of waste generation and plastic pollution.
Many brands have worked towards making sustainable luggage affordable and easily available.
You can now find numerous chic designs, styles, and functional luggage that are made ethically.
Here is a curated list of the best sustainable luggage so you can select your lifetime travel companion.
This blog is supported by you, dear reader. If you purchase through a link, I earn a small commission. As an Amazon Affiliate, I earn from qualifying purchases.
Overview: The Top 5 Sustainable Luggage Brands
Although Patagonia is better known for its sustainable activewear, the brand also makes eco-friendly bags.
Patagonia's wide range of sustainable luggage lets you travel in comfort and style.
This range features weather and abrasion-resistant duffel bags made from sustainable materials like recycled polyester.
The popular Black Hole® duffel bags are thoughtfully designed with side pockets to organize your essentials.
You will find eco-friendly travel bags available from Patagonia in various sizes with a volume between 40 to 100 liters.
Many of the bags have removable shoulder straps that allow you to conveniently turn them into a backpack for easy transport.
Their wheeled duffels are the best sustainable luggage for easily carrying any heavy outdoor gear.
Patagonia encourages durability and its sustainable luggage also comes with an ironclad guarantee that allows you to get the used products repaired at its store for a reasonable price.
This is a fantastic step to save water and reduce wastage that results from the need for a new product.
Patagonia is also the perfect spot to find some outdoor gifts for women and men any time of year.
The mission of Monarc is to make better products in a better way for a better planet.
This is why Monarch makes all its products with RPET using recycled plastic bottles.
The brand has been successful in removing about 1.25 million single-use plastics from the oceans and landfills.
Monarc's duffel bags have features like a removable shoe compartment and laptop sleeves to make your travel easier.
All of the bags are water-resistant and can also be converted into sustainable backpacks, which makes these carry-on-size bags easy to transport.
Additionally, there is even an option to easily and securely affix the bag to your rolling luggage.
The eco-friendly luggage collection by Monarc redefines durability as it is made to last for years.
This is because the brand believes in a circular life cycle for its products and encourages you to return the bags after use.
Doing so allows Monarc to recycle their sustainable travel bags and they will even reward you with discounts.
Solgaard is fighting against plastic pollution with its eco luggage made from recycled ocean-bound plastic.
The whole team is enthusiastic about both traveling and protecting the planet, and believe it is possible to do both.
Which is why they have created some of the best sustainable luggage on the market.
In fact, the environmentally friendly luggage made by Solgaard will make you fall in love with travel even more.
With each of their sustainable travel bags, Solgaard saves 229 plastic bottles from the ocean.
Solgaard's award-winning sustainable suitcases feature a patented built-in shelving system, which is a wonderful invention that allows easy packing and unpacking anywhere.
These water-proof closet suitcases are available in two carry-on sizes and one check-in size.
All Solgaard suitcases feature a TSA-approved three-digit lock and are backed by a lifetime guarantee.
Additionally, the carry-on size sustainable luggage also has an easily accessible USB charging port.
If you prefer something smaller while you travel, Solgaard also has great backpacks, including one with a built-in "closet" option.
The Solgaard backpacks are equally awesome for everyday use and weekend trips when you want to travel light.
These eoc-friendly travel bags would also be one of the best sustainable Christmas gifts that you can give anyone.
Horizn Studios is working towards a greener future by making smart and sustainable travel products.
That's why the brand responsibly designs and produces all of its luggage and other products in a way that is 99% waste free.
All of their premium quality eco luggage uses innovative materials like recycled polyester and polycarbonate.
The sustainable luggage from Horizn Studios goes through rigorous testing methods to ensure that it stands the test of time.
All the cases are available in gorgeous colors and come in cabin and check-in sizes.
Horizn Studios is the ideal choice if you want a vegan, lightweight, and sustainable suitcase.
In fact, their Circle One collection is the world's most sustainable luxury luggage.
Made in Europe, this eco-friendly suitcase is 100% plant-based, biodegradable, and promotes circularity.
Horizn Studios also collaborate with various artists and brands for their special edition collections.
For example, they offer a special edition NASA luggage with a removable charging function and optional GPS tracking.
As the name suggests, Lo & Sons is a family-run business, and they are dedicated to making reliable bags for every occasion.
Their bags let you travel smartly without negatively impacting the planet.
All Lo & Sons bags are made using the highest quality sustainable materials such as plant-based fibers, recycled nylon, and recycled polyester.
The versatile weekender bags that Lo & Sons offers are designed for making your travel easier and lighter.
They even have a built-in bottom pocket to keep your shoes and dirty clothes separate.
This sustainable weekender bag is super comfortable to carry with padded straps that can be easily stored by folding.
When you're not traveling, you can use it as your work bag, gym bag, diaper bag, or even grocery bag.
Lo & Sons also offers an upcycled tote collection that is 100% handmade from returned bags.
Started in 2003, Finisterre brings together sustainability, functionality, and style with its incredible products.
Finisterre is one of the best eco-friendly luggage brands you can trust for your adventure travel needs.
They offer a great collection of sustainable travel bags like rucksacks, roll-top backpacks, and duffles.
These waterproof, tough, and versatile pieces are made from materials like 100% recycled heavy-duty polyester.
The dry bag from Finisterre is the perfect choice for the days when you want to enjoy some fun water activities.
This eco-friendly travel bag keeps your belongings dry and is ideal for taking your wetsuits.
Finisterre's duffle bag with roll-top construction is also an outstanding travel companion.
The bag comes in a carry-on approved size and features a removable shoulder strap for added convenience.
These incredibly durable bags are the perfect gifts for national park lovers and explorers.
They also have sustainable socks that make fun gifts for outdoor lovers under $20.
Cotopaxi focuses on promoting sustainability while empowering communities in need.
To do this, the brand ethically makes travel gear from repurposed, recycled, and responsible materials.
Whether it is for your weekend trips, extended trips, or your adventure travels, Cotopaxi has plenty of sustainable options.
You can get backpacks, duffel bags, and bucket packs in pretty designs and colors, some of which are one-of-a-kind.
The bags come with a lifetime warranty and offer a repair option to extend the life of the products.
All of the sustainable luggage from Cotopaxi is manufactured in a factory in the Philippines that ensures workers are treated well and paid fair wages.
Additionally, Cotopaxi uses environmentally sound practices and actively works towards reducing fabric waste.
Cotopaxi's innovative idea to make its Del día collection bags from other brands' unused fabric is praiseworthy.
The Del día is a great sustainable weekend bag that is carry-on-compatible and includes laptop sleeves.
They even offer sustainably made packing cubes, including a bundle option, which make great gifts for outdoorsy people under $50.
Paravel is a travel-inspired brand that offers something for every type of journey and traveler.
Every bag is made to both prioritize the needs of the user and to preserve the environment by keeping sustainability at its core.
All of Paravel's products are made from upcycled materials like Ecocraft canvas, negative nylon, and recycled vegan leather.
This is the best place to find eco-friendly luggage sets as they offer specially designed bags for families, extended stays, weekend trips, and more.
The multi-functional luggage collection from Paravel is ultra-stylish, strong, and spacious, and you can select from suitcases and duffel bags in different sizes.
They also offer cabana tote bags that are excellent for short work trips, or even beach days.
Paravel even offers water-resistant packing cubes which make storage and organization easy.
Roam is a travel bag company that believes that you don't need to compromise on style for sustainability.
And they demonstrate this ethos through their sustainable luggage options, all of which are completely customizable.
The idea behind Roam's fun customizable luggage is that your bags will match your personality.
There are lots of color combinations to choose from to create your totally unique sustainable travel bag.
All the products by Roam are made from high-quality recycled materials.
Roam offer a great range of suitcases with an expandable option to add even more space when you need it.
These expandable suitcases are made from 100% virgin polycarbonate and boast a luxurious antimicrobial lining.
Other features like ultra-quiet wheels and adjustable handles make this recycled luggage stand out among its competitors.
Additionally, Roam offers a range of handcrafted backpacks, duffels and totes for your short trips.
Like the hardshell suitcases, all of these bags are completely customizable to fit you.
Terra Thread is an affordable bag brand that aims to have a long-lasting positive impact on the planet.
At every stage of production starting from organic farms, the brand emphasizes the importance of sustainability.
The duffel bags from Terra Thread are made from certified organic cotton reflecting simplicity at its best.
These bags feature shoulder straps, internal pockets, and an outside drop-in pocket for easy access to small essentials.
It works perfectly as an eco-friendly weekend bag, and is ethically made in a Fair Trade Certified™ Factory in India.
All of the sustainable backpacks are designed with travelers, adventure seekers, and hikers in mind.
You'll love the extra features like two water bottle pockets, zippered exterior, and a laptop compartment.
Monos is a sustainable luggage brand that believes in the philosophy of quality over quantity.
To achieve this, Monos makes ultra-durable and affordable travel goods in minimalist and timeless designs.
All of the suitcases by Monos feature an unbreakable polycarbonate shell and it goes through rigorous quality testing.
The refined metallic finish and color-matched components give these suitcases an elegant look.
Whisper-quiet 360º spinner wheels and luxury soft interiors are some of its other amazing feature, as well as plenty of different sizes available in the luggage collection.
Besides carry-on and check-in sizes, you can also get a hybrid trunk for a long journey of up to 21 days.
All the luggage from Monos comes with a lifetime warranty and a 100-day free trial option.
With the expertise of more than 100 years, Samsonite is one of the best luggage companies in the world.
Sustainability and innovation are a way of life at Samsonite with products made to last forever.
And now they offer several eco-friendly collections that repurpose waste and use recycled yogurt cups and PET bottles to make high-quality luggage.
There is a wide range of hard side, soft side, and spinner luggage to choose from.
You can also get spinners specifically designed to fit under airline seats for a comfortable travel experience.
The wheeled luggage selection from Samsonite with exterior pockets and interior packing compartments is all you require for any trip.
These are water-repellent and work excellently in any weather making them extra durable and sustainable.
The brand has repair centers in more than 65 countries to repair the luggage and make it as new as ever.
Eagle Creek makes versatile travel gear to make every journey memorable and sustainable.
Many of the products in their sustainable luggage line are made using recycled materials and Bluesign® approved fabrics.
There is a splendid collection of eco-friendly wheeled luggage that will let you roam around stress-free.
You can select from different styles like a hard shell, trunk, hard side spinner, or soft wheeled bags.
These eco-friendly suitcases offer cool features like an equipment keeper at the top and a Porter Key bottle opener.
All of the sustainable luggage from Eagle Creek is backed by the company's "No Matter What" Warranty, which helps to keep the bags out of the landfill for years.
In addition to wheeled luggage, Eagle Creek also offers other eco-friendly travel bags like durable duffel bags and backpacks.
These abrasion-resistant and water-repellent bags are perfect for carrying your outdoor gear.
Dagne Dover is a woman-founded brand that specializes in bags that will make your life easier.
They rightly call them the problem-solving bags that help to keep you organized while protecting the environment.
This brand uses eco-conscious materials like recycled plastic bottles in all its linings, and you can also find 100% vegan luggage in gorgeous colors and designs.
Dagne Dover is one of the best non-toxic luggage brands as they do not use any hazardous chemicals in its dyes.
If you need a sustainable weekender bag, then Dagne Dover will not disappoint you as they offer everything from vegan backpacks, and totes to carry all bags that are easy to carry and pack.
These bags are carefully crafted to accommodate your clothes, tech, toiletries, and even your shoes.
Additionally, Dagne Dover has also launched its Almost Vintage program which lets you buy and sell their used products and is an excellent initiative directed toward reducing waste.
Pakt encourages its customers to travel consciously by opting for sustainable luggage.
The brand uses animal-friendly materials with the lowest environmental impact for all of its products.
These bags are designed to be versatile and last a lifetime to minimize the need for new products.
The duffel bags from Pakt allow various packing styles to suit different trips and travelers.
For example, you can use them like a large bag for your outdoor gear, or pack them like a suitcase using dividers.
This versatile and sustainable travel bag is made from recycled single-use plastic and can convert into a backpack.
Alternatively, for overnight travels, business, and weekend trips, you can opt for the Pakt travel backpack.
This bag makes a great travel companion with features like an anti-theft pocket and a removable hip belt.
Pakt also features a large gear hauler that can carry large amounts of equipment and also transforms into a zippered tote.
You can use the gear hauler for your camping gear or even for your groceries.
---
What to Look Out for When Buying Sustainable Luggage
Check the size and capacity
The first thing to consider while buying sustainable luggage is its size and the capacity it can hold.
You must look for TSA-approved carry-on or check-in sizes if you plan to travel by flight.
It is also a great idea to buy expandable luggage that can carry more when weight restrictions are not applicable.
Look for versatile options
The purpose of sustainable luggage has to be to reduce the need for different bags.
You can look for luggage that serves multiple purposes – for example, duffel bags that can be carried as backpacks are a great option.
Similarly, suitcases with-in built pockets and internal storage eliminates the need to carry an extra bag.
Check the materials
It is important to see what goes into the making of sustainable luggage.
You should look not just at the outer shell, but also see if maximum elements are made from eco-materials.
For example, look for luggage that has zippers, wheels, handles, and inner lining made from sustainable materials.
---
Short FAQ about Sustainable Luggage
---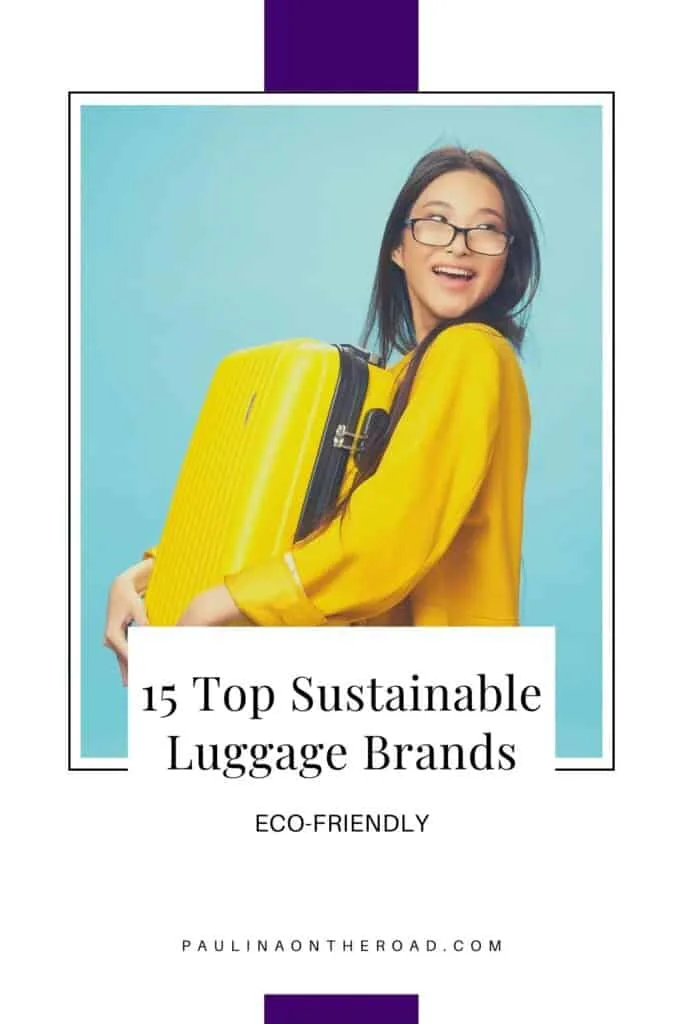 ---