Guide to the best national park gifts, including national park-themed gifts, souvenirs and useful outdoorsy gift ideas for national park lovers
US national parks receive almost 300 million visitors a year, so chances are that you know somebody who loves national parks.
However, short of buying them a trip, finding the perfect gifts for national park lovers can be difficult.
There is a vast range of national park presents available, and in this post, we have provided a range of amazing national park-themed gifts.
You'll find many affordable options, including several gifts for outdoorsy people under $50 – all of which are perfect as gifts for the national park lover in your life.
Within these national park gift ideas, you will surely be able to find something relevant for them at Christmas.
You can find this full list of 25 of the best gifts for national park lovers below to help them enjoy the NPS from their own home!
Overview: The Top 5 Gifts for National Park Lovers
"Paulina on the Road" is supported by you, dear reader. As you buy through my links, I earn a small commission. As an Amazon Affiliate, I earn from qualifying purchases. Thank you for your support
One of my top gift ideas for national park lovers is a pair of Icebreaker socks for women.
These comfortable and stylish walking socks come in three varieties of thicknesses: fine-gauge, light, and ultralight.
Additionally, these fun outdoor gifts for women come in various colors and designs.
This adaptability makes them perfect for a partner or family member who loves walking, no matter what their stylistic or thickness preferences are.
The other aspect of these socks that make them perfect for national park goers is that they have been built from premium wool.
This guarantees their durability and means the user can enjoy many tough hikes with them.
While I can personally vouch for the women's socks from Icebreaker, they also offer many styles for men.
So if you need national park gifts for a special man in your life, these socks might still do the trick!
No matter what national park souvenirs your national park lover may have, they will need information about the national parks so they can get the best enjoyment possible out of their trips.
This is where the Passport Regional Notebook Set comes in.
The product is a collection of pocketbooks holding information on over 400 National Park sites across the US.
The notebooks are organized into regions and contain a wealth of information and room to make notes and collect stamps.
These are undoubtedly one of the top gifts for national park lovers of all ages and will be something they always treasure.
It is perfectly normal to worry about our close ones when they go hiking in the wilderness of America's national parks.
You can help keep them safe by giving them an adventure medical kit for their national park gift.
These highly portable kits are designed to be lightweight while still containing all the essentials that can keep your family member safe if anything goes wrong.
You can expect the bag to be waterproof, and to contain bandages, sterile dressings, gauze, and plasters.
These wound dressings can be used alongside antibiotic ointments and painkillers to ensure your loved one can get home safely.
Choosing a great national park gift is not just about giving something useful but also meaningful.
And the National Park Geek Hiking Medallion has this aspect in droves.
This is because proceeds from all sales of this medallion will be donated to national park charities, helping to preserve the environments that your loved one enjoys spending time in.
This medallion can be attached to your loved one's hat, hiking pole, or bag so that they can show their support for the national parks.
These are some of the best national park gifts for the hiking enthusiast in your life.
Campsites get dark at night, and this can make it impossible for campers to properly enjoy themselves once the sun has gone down.
This worry disappears with the Goal Zero Crush Light Lantern, which ensures reliable light throughout a camping trip.
Get one of the top gifts for national park enthusiasts and help your loved one travel more easily.
This lantern is solar charging, so your loved one won't need to worry about it fading away halfway through the trip.
Moreover, it has three brightness settings, including a flickering candle mode that makes sure the light is never intrusively bright.
These are also incredibly affordable and are some of the best gifts for outdoor lovers under $20.
The America the Beautiful Pass is a great national park gift, particularly if they have a lot of traveling time on their hands.
Entrance to national parks is an expense on every trip, and these can soon add up.
The America the Beautiful Pass covers all entrances to national park sites with up to four adults for one year.
This pass effectively gives your loved one the freedom to explore as many national parks as they can in a year, and it will definitely be appreciated.
The America's National Parks Coffee Table Book is a cool national park gift, allowing the receiver to constantly engage with national parks.
As one of the best travel coffee table books, this eye-catching book is full of beautiful pictures of national parks that can inspire their next trip.
These pictures are accompanied by text that will help them to learn everything they need to know about any national park before they go there.
This gift could also be great for your children if you are taking a trip to a national park and they can look at it and get truly excited about the upcoming trip!
If they already have this one, I have a whole post on the best national park coffee table books to choose from!
The Passport to Your National Parks is one of the best US national parks gifts for any young family members.
The book contains a wide variety of images and information on historic national park sites and a stamp.
It also contains a foldable pull-out map in stunning color so they can learn exactly where they will be going.
The goal of this handbook is to stamp as many locations as possible and it will especially get kids excited about visiting new places and getting more stamps.
They might even start picking out sites they want to visit and check off!
All of this makes it one of the best entry-level gifts for national park lovers.
A great pair of sustainable boots are a must for national park lovers who will be walking high distances on their trips.
The Astral TR1 Merge Boots are a great place to start for men as the boot has been designed for quality, durability, and traction.
They have been constructed with fast-drying uppers, Top-Shank midsoles, and G Rubber outsoles so your loved one can confidently walk.
The quality of the build ensures that the boots will perform very well in wet and dry weather and on any surface.
Finally, these boots are highly ethically made and they do not use any animal products or animal-tested products.
This makes it one of the top vegan hiking boots, as well as one of the best national parks Christmas gifts for vegans.
National park goers love bandanas, making them a great national park gift.
They keep out files and the hot sun guaranteeing a high level of comfort regardless of the conditions.
Microfiber is the perfect light material for these functions.
This survival bandana provides this comfort and does much more. When folded out, the bandana is a square full of useful survival information.
Suppose your loved one gets lost or finds themselves in a range of compromising situations.
In that case, the bandana will help them to get back to the campsite safely.
Moreover, this bandana is sold via the official America's National Parks store.
All purchases contribute to the upkeep of national parks, and the store has already contributed over $170 million.
That means these gifts for national park lovers are extra special as it helps while visiting, AND maintains the spaces they love.
Taking long hikes in hot weather is thirsty work, so you'll want to invest in high-quality water bottles for hiking.
Staying hydrated is paramount to keeping safe and allowing our bodies to perform well.
Super Sparrow's Sports Water bottle is a great choice, quickly changing between watertight and fast-flowing so that hydration can be gained whenever needed.
Super Sparrow has created a water bottle that is entirely BPA and toxin-free.
Your loved one can stay healthy when using the water bottle, and will feel comfortable that they are not harming the environment.
The other noteworthy aspect of this water bottle is the variety of options you can choose when purchasing it.
The water bottle is available in a seemingly endless range of colors, and sizes from 12oz to 50 oz.
Having used one myself for years, I consider the Super Sparrow to be the best backpacking water bottle.
Robert Decker runs a small business creating framed and old-style national park posters.
These are perfect national park gifts for older national park visitors and history enthusiasts.
The style sparks nostalgia for bygone advertisements of national parks.
You will doubtless be able to find your family member's favorite iconic national park landmark within this selection.
There are multiple poster designs available from a range of national parks, so you can even get more than one stunning national park souvenir!
Nobody wants to get hot and sweaty while walking in a national park, and Boody's Active Muscle Tank Top is the perfect top to be wearing on summer visits.
Since it comes from one of the top bamboo clothing brands, it is made from a bamboo fabric that is ultra-breathable, soft, and light.
This sustainable activewear is even more ideal because it is designed with a slightly lower armpit than usual.
A greater range of motion is excellent for hiking on challenging terrain.
These tanks are one of the best national park related gifts for an active friend or family member.
One of the best national parks Christmas gifts is a calendar since the new year will be fast approaching.
And the person in your life who treasures national parks will need a calendar to help them plan their trips.
Following the standard calendar format, this product contains a stunning photograph of a national park landmark every month.
This is a superb combination for national park lovers, and they will be able to organize themselves effectively while also receiving inspiration.
They might see a picture of a national park site they haven't even heard of and be inspired to take a trip to a new corner of the nation.
Get one of these national park gifts and make someone's year extra special!
National parks are most popular in the summer months, but some visitors prefer to make their trips out of season.
This is because will find quieter trails, and the wildlife is less likely to have been scared off.
If this is how they love to visit national parks, you can help your family member keep warm with the Taylor Stitch Lodge Beanie Hat.
These beanies are sustainably made with baby yak wool, are incredibly warm, and can withstand rough wear on hikes.
For winter parks visitors, a durable beanie is definitely one of the best national parks gift ideas.
For the vegan national park lovers in your life, Taylor Stitch is one of the best vegan clothing brands and makes lots of durable outdoorsy clothes.
The Trekking The National Parks: Trivia Game is one of the perfect national parks themed gifts for families.
Playing this game, children can learn about national parks' origins, age, size, and wildlife that can be found there.
The game has been designed with all levels of knowledge in mind.
Most questions are about guestimation, and players can have a great time trying to get as close as possible to the answer.
Finally, the game was created by a small business founded by a couple who love national parks.
Therefore, all the questions are on subjects that mean the most to national park lovers.
A cozy winter parka is an absolute must for winter hikers making it one of the best gifts for national park lovers.
Their thick padding is perfect protection from cold and wet conditions.
Askov Finlayson's parkas combine premium warmth with a stylish appearance that will make the receiver of this gift feel confident meeting other travelers.
The high-end clothing brand sells sustainable winter coats for men and women, and are available in five colors.
You could even buy this as a matching gift if you know a couple that enjoys traveling to national parks together.
There are 63 national parks in America, and everyone who likes nature wants to visit all of them so they can view the best nature that the USA offers.
The US National Parks Scratch-Off Map is the perfect place to start on this mission.
This map of the USA has a tree on the location of all of these national parks.
When your loved one visits a national park, they can scratch the top layer of the tree off.
This is a charming way for them to reflect and reminisce on past travels, and plan which national parks they still need to visit.
If you are looking for the gifts for national park lovers, these scratch maps are an absolute must!
When your gift receiver goes hiking in a national park, they will take countless things, including water, food, a first aid kit, and warm and waterproof layers.
And that means they need a sturdy and comfortable backpack to feel secure carrying all of this weight.
The Gallagator backpack combines capacity, durability, and versatility, which makes carrying this heavy load easy.
It has been designed to be flexible and cushioned, meaning it will mold well to the wearer's back.
Moreover, these sustainable backpacks have been designed to fit with the latest urban style.
So a Gallagator backpack is not only great as national parks gifts to use on the trails, but something to use in everyday life as well.
Whether you're going on a day hike, a weekend getaway or a longer excursion, these make the ideal sustainable luggage option.
Love of national parks is not just for when you can visit them; it is for every day of your life.
This collection of national park-themed stickers means your loved one can take their passion with them wherever they go.
They can stick them to their laptop or water bottle, so everybody can appreciate their interest at school, college, or work.
The National Parks Sticker Set has 100 stickers inspired by old-fashioned advertising posters.
There is a sticker for every national park and almost every iconic landmark.
If shopping for gifts for national parks lovers who are kids, you can't go wrong with one of these sticker packs.
Yahtzee is an iconic game that has been popular since its invention in 1956.
There are now wide varieties of Yahtzee, and the National Parks edition is a tremendous national park-themed gift.
It is a game for any number of players and is captivating while taking only 30 minutes to play.
This game is travel sized and contains a lot to learn about national parks.
It means that the receiver of this gift can find out fascinating information about the place they are staying while enjoying a familiar game.
The National Parks Travel Edition Yahtzee is also another gift that has a closer connection to national parks.
A proportion of proceeds are donated to the National Park Foundation.
Whenever your loved one rolls a dice, they will feel like they are contributing to the upkeep of these special places.
No camping trip is complete without a warming cup of tea every morning, brewed over a gas burner or a campfire.
Your gift receiver can enjoy their morning drink even more with these national park-branded teas.
The National Park Loose Leaf Tea collection comes in three varieties: Yosemite, Grand Teton, and Rocky Mountain.
The Yosemite tea is flavored with jasmine and wildflower; the Grand Teton is inspired by the berries that grow in Wyoming; finally, the Rocky Mountain tea is minty and smooth.
All of these green teas are handcrafted and organic.
As the tea is loose-leaf rather than tea bags, it is a great idea to pair the gift with a tea brewing set.
Perhaps you can even inspire your loved one to take their taste for tea to the next step.
A hoodie is a crucial piece of clothing to take while walking since whatever the season, the weather can change quickly in the wilderness.
Despite packing down tightly, a hoodie can be the difference between coziness and shivering.
The handmade National Park Compass Adventure Hoodie is a fantastic option for all sexes.
Its 55% cotton and 45% polyester construction, alongside a kangaroo pocket, will keep their body and hands nice and warm.
On the front of the hoodie is a compass with a stunning mountain vista in the middle.
The hoodie is available in four colors: red, green, grey, and navy blue.
With a shipping time of 3-5 days, if your loved one is taking an impromptu trip to the national parks, you will be able to get the hoodie to them in time.
Returning from a trip to the national parks can be bittersweet.
Your family members will want to carry their new memories with them as much as possible.
If they went to Yosemite, you can even bring the smells of that wonderful national park into their home.
The Paddywax National Parks Inspired Candle combines the smells of a national park using ginger, cinnamon bark, and cedar to create a striking aroma.
This unique candle vessel has also been designed to reflect the flame to get your loved one reminiscing about sitting around a campfire.
This candle contains 11 ounces of pure soy-blend wax that will burn for a long time on the wooden wick.
Once the wax is gone, the vessel has been designed to be converted for flowers or storage.
The final item on our list of national park Christmas gifts is the National Park Service Logo Cap.
It is a fairly standard cap, but the national park service logo will mean your loved one can show their support to the workers that keep our national parks open.
The cap is handmade with a fully adjustable strap, which means it can fit all head sizes.
The hat can also fit most styles, coming in green and a stylish off-white.
If you are looking for unique national park service gifts, these caps are the perfect gift!
The national park enthusiast in your life can show off their love for the parks while hiking, and also be protected from the sun!
---
Short FAQ about Gifts for National Park Lovers
---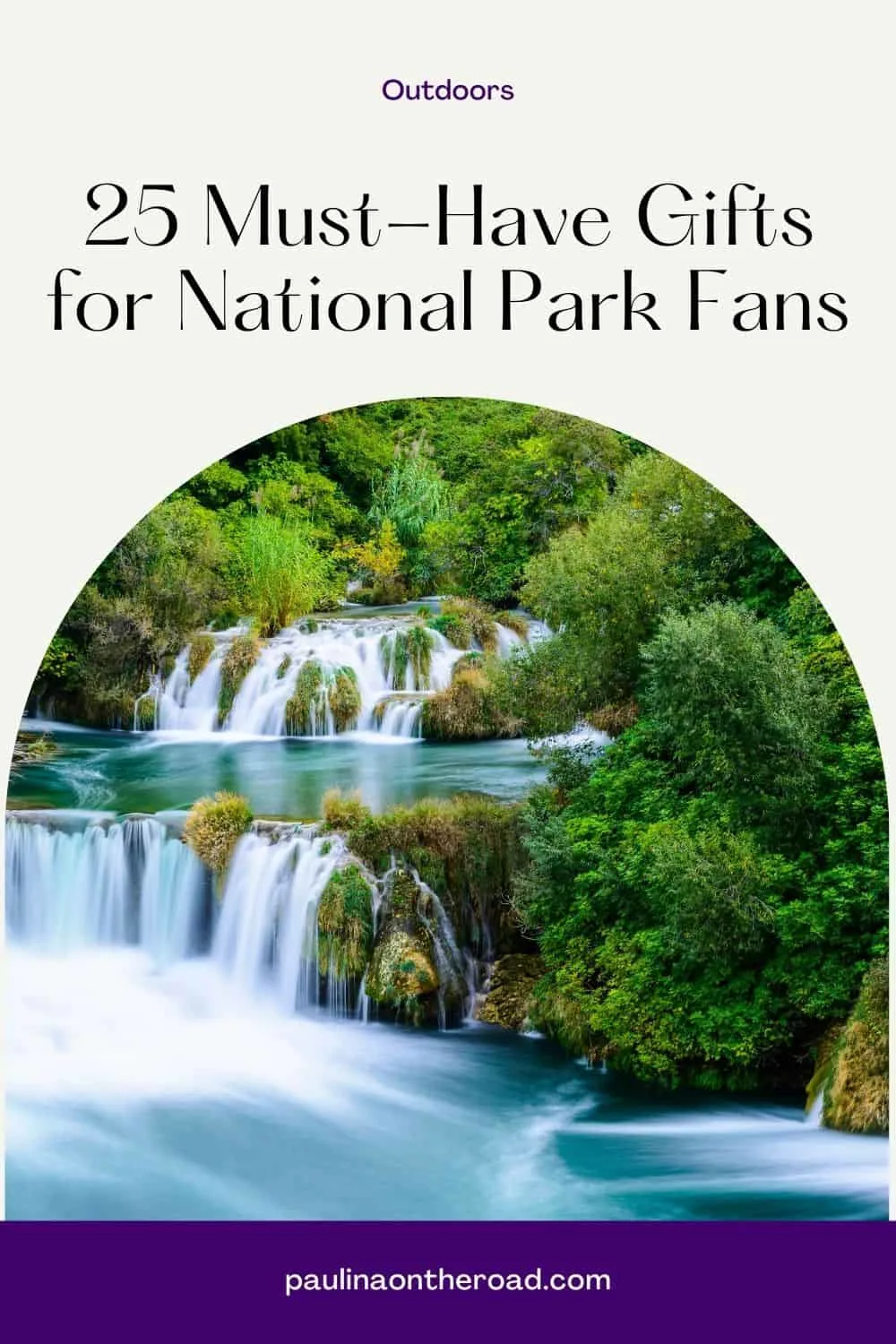 ---