Everything to know about visiting during November in Wisconsin, including the best places to visit, what to do, and the weather
Wisconsin in November is when the state transitions from fall to winter, and this means the ground will crunch underfoot as the trees shed their leaves.
In fact, if you travel Wisconsin in November, you might even start to see some frost or snow on the ground.
Although less popular than September or October, there is still plenty to do in November in Wisconsin.
With the weather being less predictable in November's colder climate, your Wisconsin November vacation must combine indoor and outdoor activities.
In my guide to visiting Wisconsin in November, I have given a great diversity of activities and places to visit, starting with the top five things to do in Wisconsin November has to offer.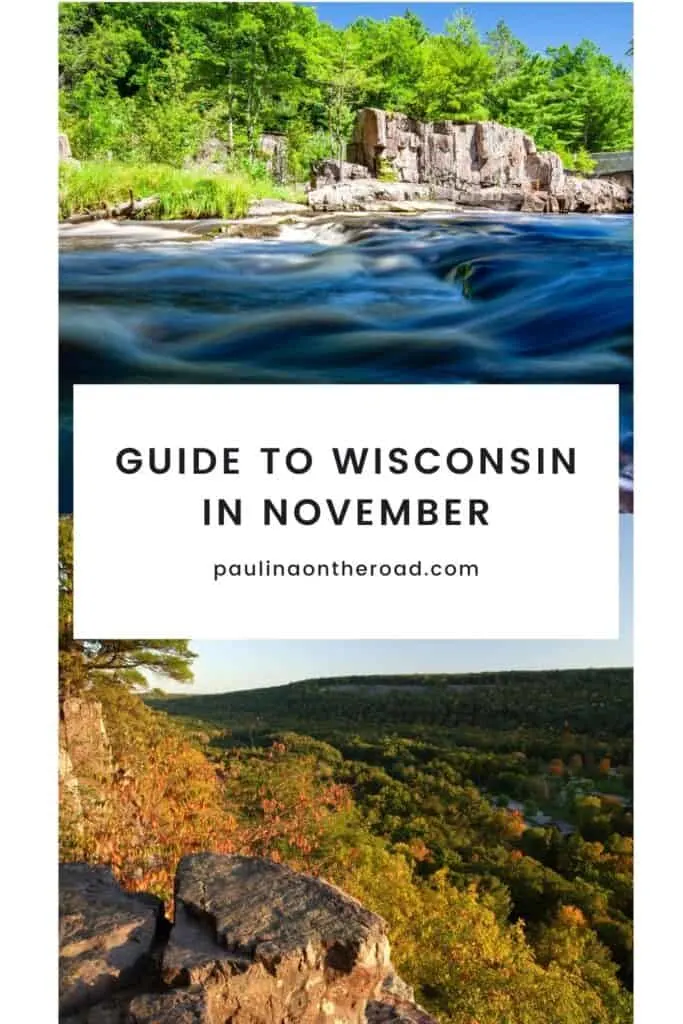 Psssst…!!?? You can't get enough of Wisconsin? Have a look at my other posts:
This blog is supported by you, dear reader. If you purchase through a link, I earn a small commission. As an Amazon Affiliate, I earn from qualifying purchases.
Top resources to travel Wisconsin
✎ Plan the ultimate Wisconsin road trip (no backtracking!) with the Perfect Wisconsin Road Trip itinerary – Buy now for less than 12$

✈ Find the best hotel deals in Wisconsin with Trivago

➳ Book vacation rentals in Wisconsin with VRBO

✔ Book tours in Wisconsin with Viator

☘ Get the best discounted outdoor gear (outlet) at REI.com

$ Get Wisconsin hiking guides and maps at REI.com

✎ Never leave without travel insurance. I get mine at SafetyWing. It is easy to set up, cheap, and reliable.
Overview: Top 3 Reasons to Visit Wisconsin in November
It is less crowded, so you will often have activities and attractions for yourself
Although the weather is colder, it is not yet freezing and ideal for those who love jacket weather
Perfect time to start enjoying festive activities and events
Top 5 Things to Do in Wisconsin in November
1. Take a November Hike
Wisconsin is known for having some of the best hikes in the country because of its expansive forests.
So, of course, one of the best things to do in Wisconsin in fall is to go for a walk through these stunning forests.
November in Wisconsin has cool weather, and if no rain is forecast, there are plenty of stunning areas to walk through.
One great example is Stevens Point Sculpture Park; a stroll through here is one of my favorite fall activities in Wisconsin.
This is a wooded trail through a 20-acre sculpture park featuring work from some of the best local artists.
All the sculptures have environmental themes, an excellent opportunity to teach your kids about the importance of protecting our natural world.
If you want a longer hike in the cooler weather that November in Wisconsin brings, the sculpture park is well connected with over 70 miles of trails through forests, parks, and wetlands.
These trails facilitate adventures through the Green Circle, Schmeeckle Reserve, and Stevens Point.
2. Enjoy a Free Trip to the Zoo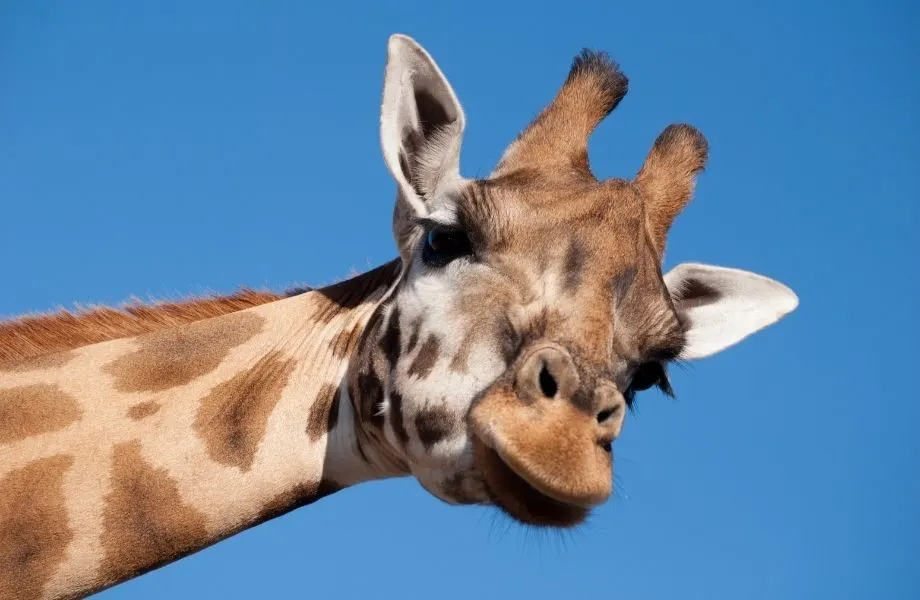 As fall in Wisconsin comes to a close, Milwaukee County Zoo has a free entry day for all families on a selected day from October to December.
Even if you can't come on a free day, the 10th-best zoo in the USA is still great to visit as part of your Wisconsin getaways in November.
Across its 190 acres, you can find 2,000 animals across 300 species.
The most recent addition to their collection was the Hippo Haven area, which includes a 60,000-gallon underwater area to view these giant mammals.
The zoo has multiple similar underwater viewing areas, adding to the wide range of indoor activities at Milwaukee County Zoo.
This makes the zoo perfect if the weather turns on you when you visit Wisconsin in November.
3. Attend Green Bay Parade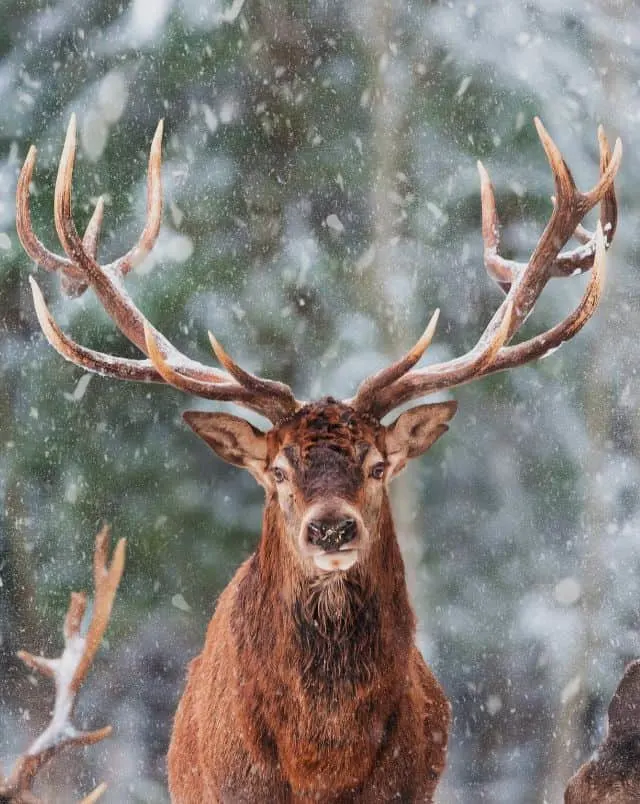 Every November in Wisconsin, Green Bay hosts the Prevea Green Bay Holiday Parade, which celebrates the coming of the holiday season.
Its theme is always "A Taste of the Holidays," and you can watch balloons, local marching bands, dancers and singers, and Santa with his Reindeer marching through the city.
The parade takes place in the attractive downtown Jefferson, Cherry, and Washington streets, near to some of the best things to do in Green Bay.
If you can't make it to the parade in person, this is one of the only Wisconsin November events broadcast live; you can watch the parade on the local TV channel NBC26.
4. Help the Community at a Turkey Trot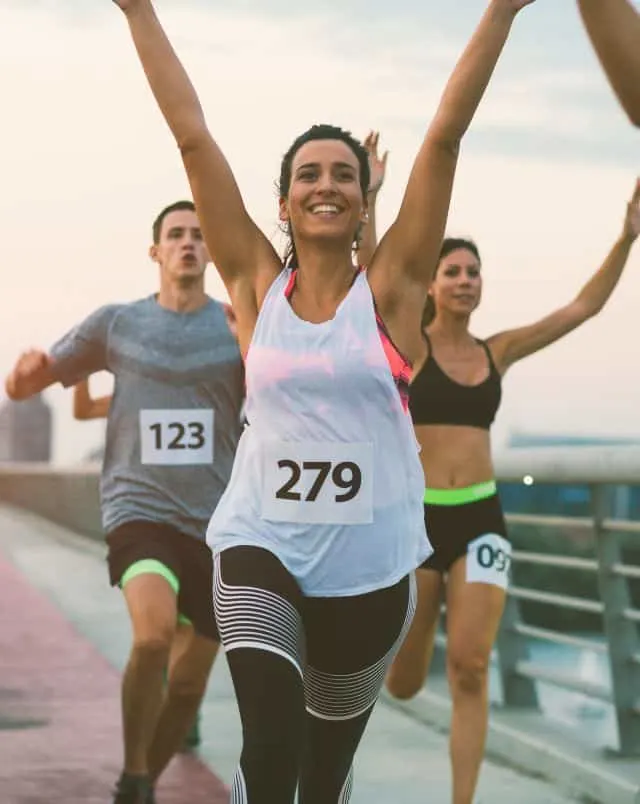 November in Wisconsin means Thanksgiving and a turkey trot if you love running, or just want to get active.
These running events are held all over America in the morning before the Thanksgiving meal.
The annual Festival Foods Turkey Trot is held in locations throughout Wisconsin, and you can choose between a five-mile race, or a 2-mile fun walk or run.
After completing the race, you will receive a turkey trot shirt, a pumpkin pie, and a coffee.
The Festival Foods Turkey Trot is unique amongst the activities in Wisconsin November offers because of how much good it does in the local community.
The event has been running for 13 years and has raised over $3 million for community youth organizations such as the Boys & Girls Club and the YMCA.
5. Watch Christmas Lights Turn On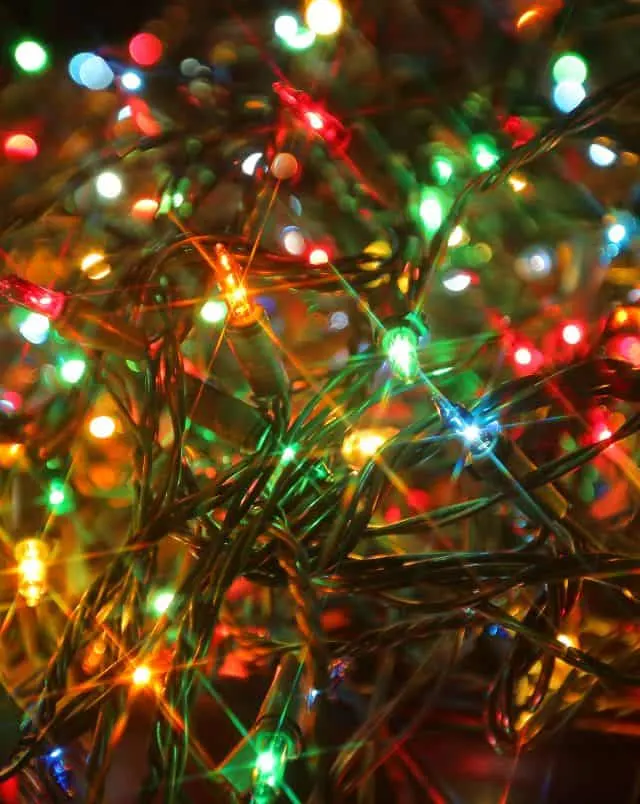 One of the most iconic Wisconsin fall activities is the turning on of Christmas lights, marking the transition from fall into the holiday season.
In Wisconsin, many of these Christmas light events are run by locals with a passion for putting lights up on their homes.
These local people go above and beyond to impress, often including music and programming the lights to change in time with the beat.
In late November, one of the best events is at Dale Pynenberg's setup on Mulholland Lane, Appleton.
Dale's setup gets more complex each year, and his most recent display included 13,000 lights on his home and a 25-foot-tall tree.
Dale's lights move to nine different songs, and it's well worth staying until the end so you can see his work in full.
While here, make sure to enjoy all the other amazing things to do in Appleton and nearby.
Top 5 Places to Visit in Wisconsin in November
Whatever kinds of November activities in Wisconsin you decide to enjoy, all visitors should attend my top 5 places to visit in Wisconsin in November.
These are the most popular locations in Wisconsin and are totally unmissable and ideal for fall weekend getaways in Wisconsin.
1. Wisconsin Dells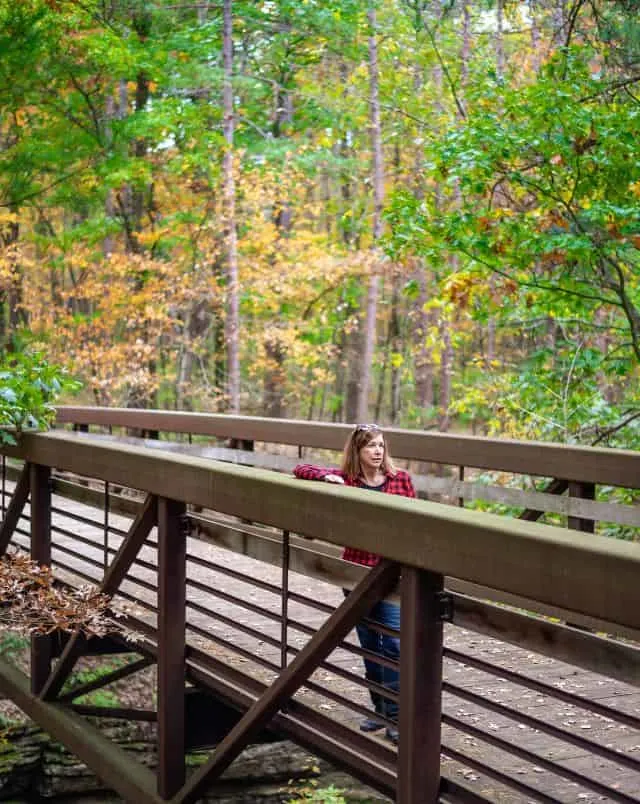 The top of any of the best places to visit in Wisconsin in November has to be the iconic Wisconsin Dells.
This is because the city is packed to the rafters during the summer months, but Wisconsin Dells in November is far quieter and usually has good enough weather to enjoy all the attractions.
The Dells first came onto the map because of its scenic beauty. Unique sandstone rock formations bank its rivers, and most of the best river cruises still run during November in Wisconsin.
Alternatively, November is a much cooler setting if you want to enjoy more physically demanding forms of exploration like hiking or kayaking.
More recently, the city has become famous for its waterparks, which are some of the best things to do in Wisconsin Dells.
Most of these sites in the waterpark capital of the world are essential places to visit in Wisconsin in November.
Giant waterpark resorts like Wilderness Resort, the biggest in America, have extensive indoor sections, so most rides can be enjoyed whatever the weather.
After your thrills in the waterpark, there are plenty of indoor activities to enjoy during your November in Wisconsin Dells.
Ripley's Believe It or Not art exhibition is a truly unique option. Here, you will find an eclectic collection of art and illusions spread throughout 13,000 mind-bending square feet.
Book the best accommodation in Wisconsin Dells
2. Door County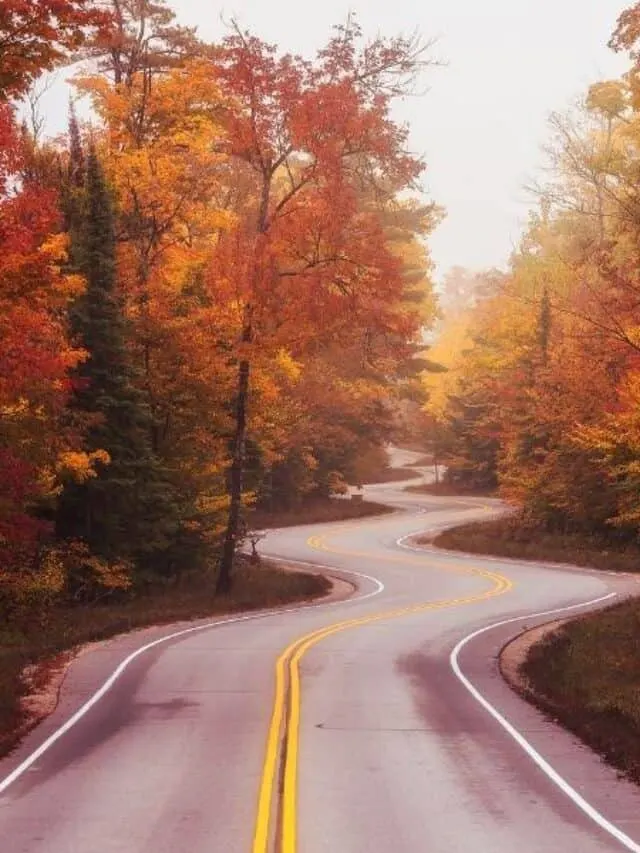 Just North of Green Bay, you can find Door County, a peninsula that breaks out into Lake Michigan and offers some of the best fall colors in Wisconsin.
Door County is one of my favorite spots for Wisconsin fall getaways as there is so much to do and explore.
This county holds some of the best natural beauty in the state, and the weather in Wisconsin in November should be cool enough for you to explore all of it.
Sturgeon Bay and the surrounding area in central Door County offer the best in the County for natural beauty.
You'll also find some of the best hikes in Door County in this part of the state.
Popular sites include the Cave Point County Park and Whitefish Dunes State Park, where you can enjoy the diverse coastline of Door County.
Here, you can hike along rugged cliffs or sand dunes, enjoying the unrivaled scenery in cooler weather and without the usual crowds.
There is also plenty to do inside if the Wisconsin weather in November doesn't hold – in fact, some of the best things to do in Door County are indoors.
Door County has a long maritime and fishing history where the local people have lived off of the fruits of Lake Michigan, and you can explore this history by visiting Door County Maritime Museum.
This site's most exciting extraction is the beautifully restored tugboat John Purves, which will help you to understand how the people of Door County's ancestors traveled on Lake Michigan.
Book the best tours in Door County
3. Milwaukee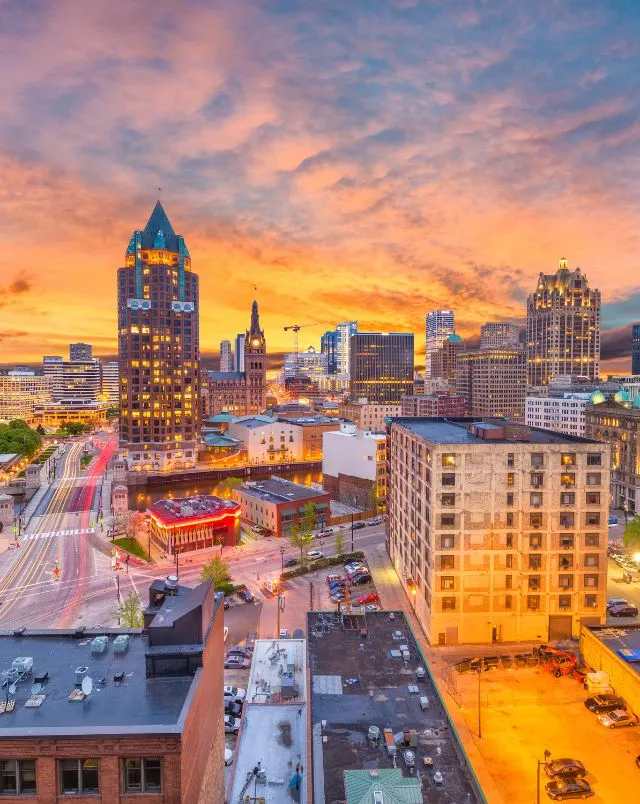 Things to do in Wisconsin in the fall are more than just outdoor adventures. There are also great cities to be found in the state, and where better to start than the largest city in Wisconsin.
Milwaukee has a population of over 500,000, and it is big enough for there to always be things to do whenever you visit in November.
The biggest reason to visit Milwaukee in November is that it is always changing, with new buildings, street art, and culture always popping up.
That means every visit to the city will be different, and you can enjoy a truly unique experience.
Many visitors in November will love seeing the Milwaukee Bucks, a leading NBA team. November means the start of the season, where fans will be getting to know their team for the next year.
In November 2023, you can see them play the Knicks, Pistons, Bulls, Mavericks, Wizards, or Trail Blazers at the Fiserv Forum stadium.
Make sure to get your tickets in advance because the Bucks almost always sell out.
Book the best sightseeing tours of Milwaukee
4. Eau Claire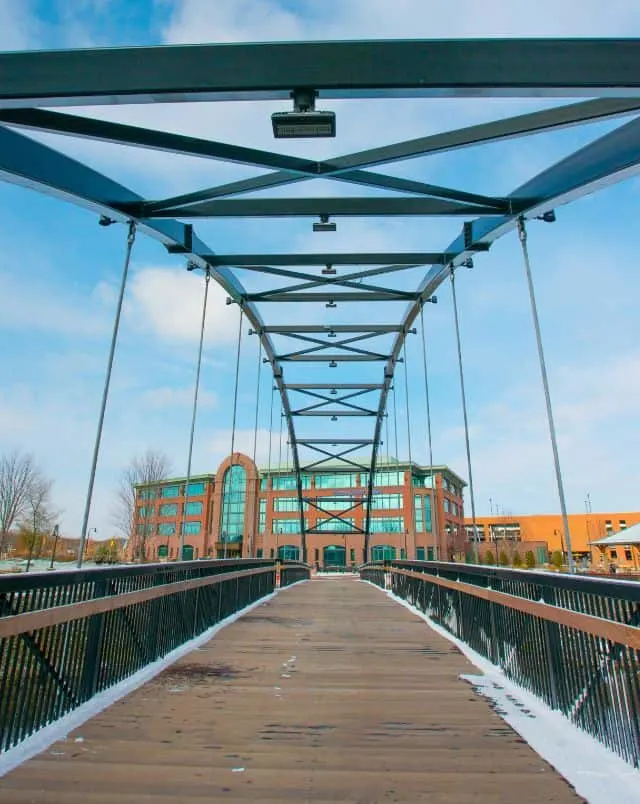 If you have come to Wisconsin to enjoy nature, then Milwaukee may be a little big for you. I strongly recommend Eau Claire if you want your Wisconsin in November to be calm.
Eau Claire (clear water) is named because of the stunning Chippewa River that flows through the city.
It has a population of 69,000 and is busy in the summer because of the folk music events that draw travelers from far around.
However, Eau Claire is one of the best places to visit in Wisconsin in November because it sees far less tourism, and you can properly relax in this beautiful city.
If the Wisconsin weather in November is good during your trip, Eau Claire is the perfect place to join the Chippewa River State Trail.
Surfaced with asphalt, you can walk or cycle on the 30-mile trail. It starts at Phoenix Park and extends far out of the city along the river, taking in stunning vistas and natural landscapes.
Meanwhile, bad November weather won't spoil your trip because there are so many fantastic indoor cultural sights to explore.
Eau Claire hosts many fantastic museums that tell Wisconsin's story over history. You will surely love the Chippewa Valley Museum or the Wisconsin Logging Museum.
Meanwhile, if you have kids with you, then you can't miss the Children's Museum of Eau Claire, it's one of the best things to do in Eau Claire.
Rent the best vacation rentals in Eau Claire
5. Copper Falls State Park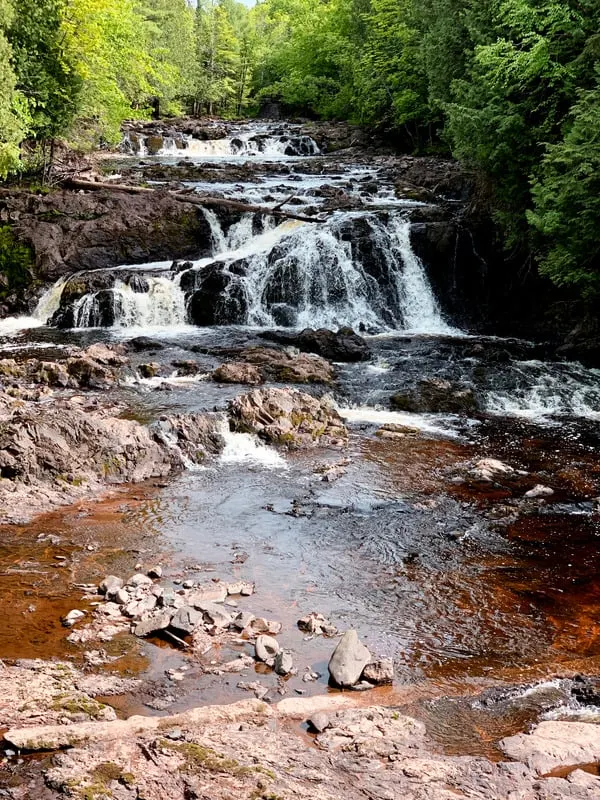 Most travelers to Wisconsin are there to experience breathtaking views, and there is no better to see than Copper Falls State Park towards the North of the state.
This is a November essential because while the weather may be unpredictable, there will always be something to do, including seeing some of the best waterfalls in Wisconsin.
In good weather, you should enjoy the hiking trails, which offer views of the most beautiful waterfalls in Wisconsin.
Meanwhile, if snow comes early, there are plenty of opportunities for snowshoeing, cross-country skiing, and even ice fishing.
Visiting the state park is also very affordable in November. You pay per vehicle, and non-Wisconsin residents are charged just $11, while over 65s are charged $3.
Rent the best cabin rentals in Northern Wisconsin
Weather in Wisconsin in November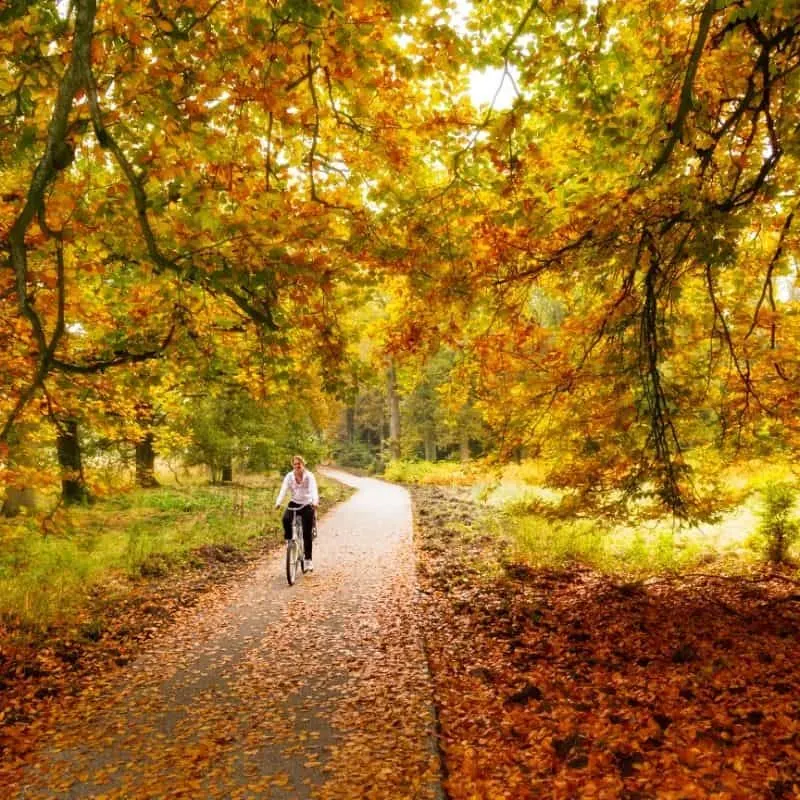 This month is a time of change for the state's climate. The temperature in Wisconsin in November drops to daily highs of 40 °F and lows of 29 °F.
This is still warm enough for most November Wisconsin events you might want to attend, but you must bring warm clothes.
The November weather Wisconsin can offer also brings the first snow of the season.
Towards the middle of the month, you should get some snow towards the North of the state and on the banks of Lake Michigan.
Although it may not be enough for skiing, it should make the landscape even more stunning.
---
You shouldn't take long trying to figure out what to do in Wisconsin in November because there are so many options.
Although it is coming to a close, there will still be beautiful fall colors in Wisconsin.
Meanwhile, despite being a less busy season, there is a whole host of November events in Wisconsin to choose from wherever you are staying.
Whenever you decide to plan a trip to the state, look carefully at my list for all the best recommendations for places to visit and events in Wisconsin in November to attend.
---
Short FAQs About Wisconsin in November
Is November a good time to visit Wisconsin?
November is a great time to visit Wisconsin if you don't mind the cooler weather. It is less crowded during November and a great time to enjoy both indoor and outdoor activities, as well as start attending festive events.
Does it snow in November in Wisconsin?
Yes, it does sometimes snow in Wisconsin in November. In fact, it can start snowing in parts of the state around mid-October onwards.
How cold is Wisconsin in November?
The temperature in Wisconsin in November is starting to get chilly with lows of 29 °F and highs of 40 °F.
---
Before You Go: Top Tips for your Trip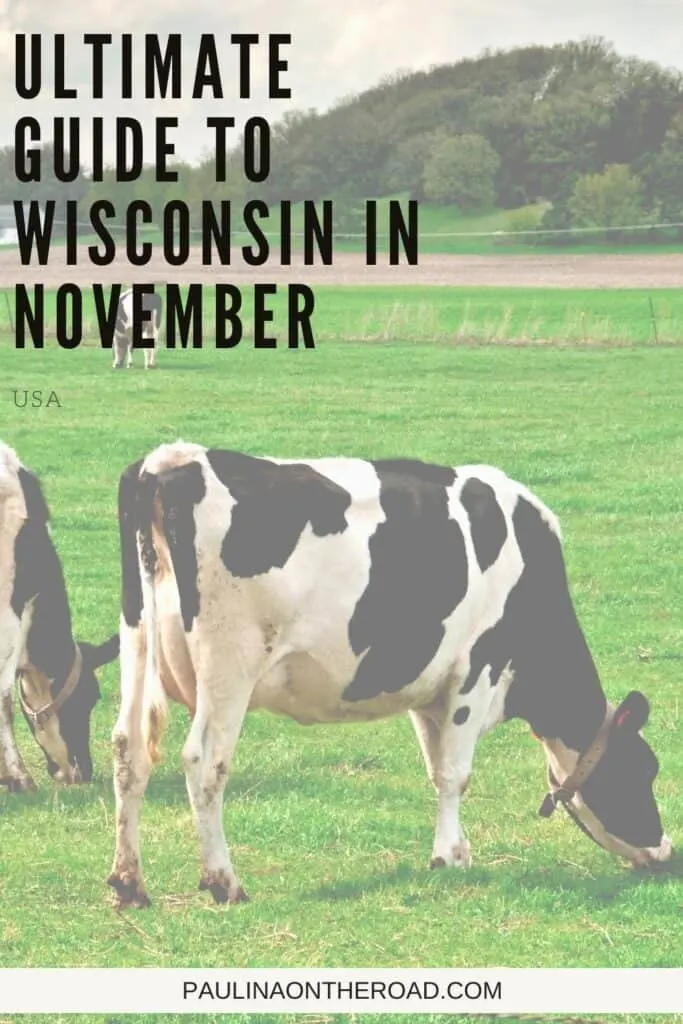 Hola! I am Paulina, a fervent travelette who crossed the Atlantic Ocean by Boat HitchHiking. On my blog, you'll find all the tips to make the most of your holiday. Get ready to enjoy outdoor and sustainable travel like hiking, cycling or sailing. Let's hit the road together!