A guide to the best sights and beaches in Folegandros island, Greece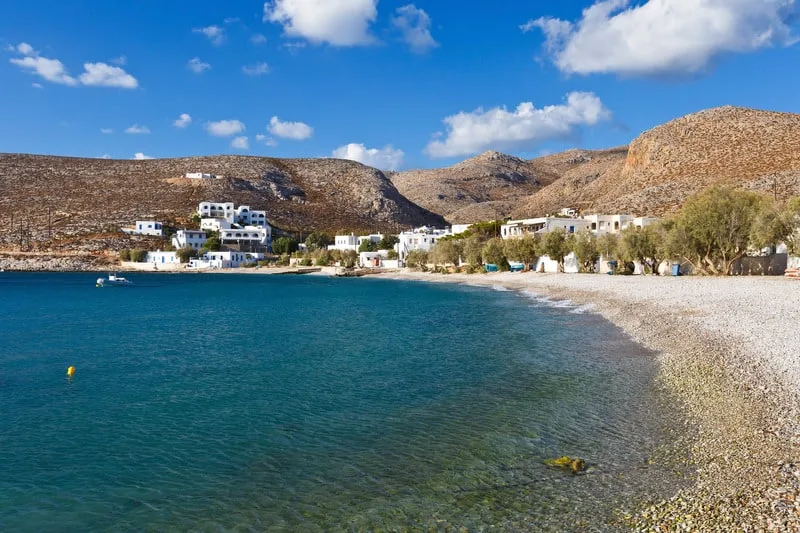 Folegandros is a tiny Greek island in the Aegean Sea. It's a member of the Cyclades, a group of islands that counts holiday giants such as Santorini, Paros and Mykonos within its ranks.
Unlike its popular neighbors, Folegandros is relatively unknown to tourists, although it won't be long before the secret's out. (That having been said, the beaches in Paros are unforgettable!)
Characterised by jagged cliffs and rocky hills, the island is a wilderness retreat for those wanting a holiday steeped in tranquility.
Offering ancient history, sleepy tavernas, breathtaking views and secluded beaches, there is an abundance of things to do in Folegandros.
Practical Information about Folegandros island:
Ferries from/to Folegandros
Where to stay in Folegandros:
Budget Hotels:
Anemousa Hotel **
Aegeo Hotel **
Solaris **
Hotel Odysseus **
Mid-Range Hotels:
Polikandia Hotel ***
Blue Sand Boutique Hotel & Suites ***
Vrahos Boutique Hotel ***
Aeri ***
Luxury Hotels:
Anemi Hotel *****
Aspalathras White Hotel ****
Chora Resort Hotel & Spa ****
Most importantly, the island is a destination that allows slow and meaningful travel experiences, whether it's through its culture or within its wild landscape. Inspired? Here's what to do in Folegandros:
1. Visit Chora, Folegandros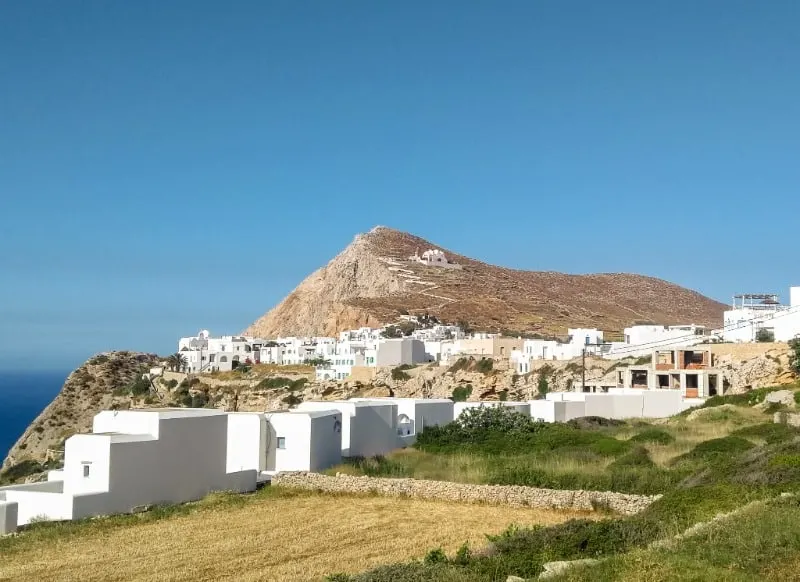 Chora (pronounced "hora") is the capital of Folegandros. It's a traditional Cycladic-style town, complete with narrow alleyways and pretty whitewashed buildings adorned with blue shutters and bright cascading flowers.
What makes Chora particularly unique is that its centre is pedestrian only. No motorised vehicles of any kind are allowed down its cobblestone streets to protect the town from pollution and damage.
This restriction allows a tranquil space and invites the natural bustle of Chora's inhabitants. Seeing it makes you feel like you've wandered back through time.
Better still, it offers a perfect way to curb the island's carbon footprint, making it an ideal eco-destination for any traveler wanting to go green.
Chora may be small but it has a buzzing social life. Everywhere you look, there are shops selling artisanal wares and things to eat. The town has three squares, each with shaded areas that offer respite from the heat of the sun.
Charming tavernas are found on every corner, lining streets with tables, chairs and waiters wafting menus.
2. Wander through Kastro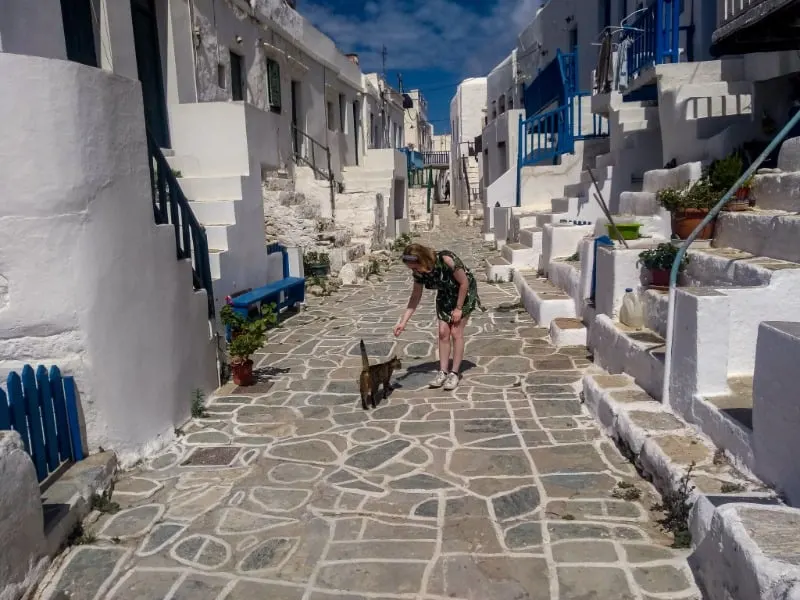 Kastro, meaning "fortress", is Chora's oldest quarter. In fact, it dates back to the 13th century, making it one of the oldest towns in the whole of the Cyclades.
Here, the squat whitewashed buildings have been built close together to form a tight exterior wall, hence its name. This architectural style was used to protect Kastro's inhabitants from marauding pirates and invaders that targeted small and defenseless islands.
Kastro's northern side is built precariously on the edge of a cliff and despite its dizzying heights, visitors can admire the dramatic views that stretch across the island and across the Aegean Sea.
Some of the houses in this ancient fortress are over a thousand years old and are still still inhabited to this day.
3. Hire a Moped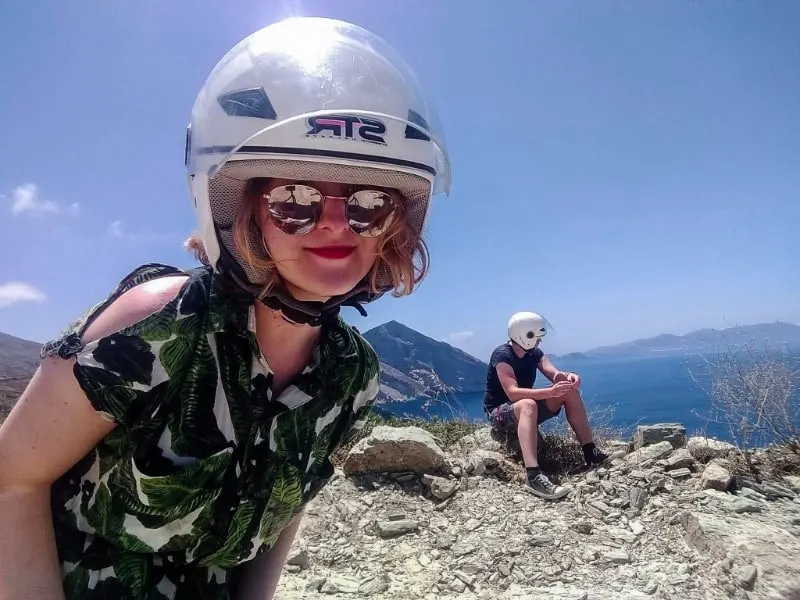 Folegandros is about 32 km in length so you don't need to hire a car to get around. In fact, you can make use of the abundance of beautiful hiking trails that crisscross the island.
If you want to save time and add a little more freedom to your holidays, the easiest way is to hire a moped. It will allow you to explore the length and breadth of the island, and find hidden beaches and quiet, sleepy villages, completely at your leisure.
There are several places to hire a moped but I recommend Baja Bikes. Prices start from 20 € a day, and you can choose different weights and sizes to suit your needs. One moped between two people should easily suffice.
If you want a more eco-friendly alternative, you can hire e-bikes via Baja Bikes too in Chora. You can explore at your own pace or opt for an e-bike tour of the island.
You don't have to be a particular level of fitness to ride them. Although Folegandros is hilly, the e-bikes give you that extra push for an effortless adventure.
Check best scooter rentals here
4. Drink at Wine Bar Merkouri
If nightlife is your scene, make sure you head over to Wine Bar Merkouri in the evening.
Just a 10-minute stroll from the centre of Chora, this picturesque winery has a large outdoor terrace surrounded by vineyards. Better still, it has spectacular views out towards the highest point of the island where the Church of Panagia sits.
Here, you can relax in a romantic setting accompanied by the soft glow of candlelight, excellent bar snacks, and a selection of exquisite wines from all over Greece. Bliss.
5. Walk up to the Church of Panagia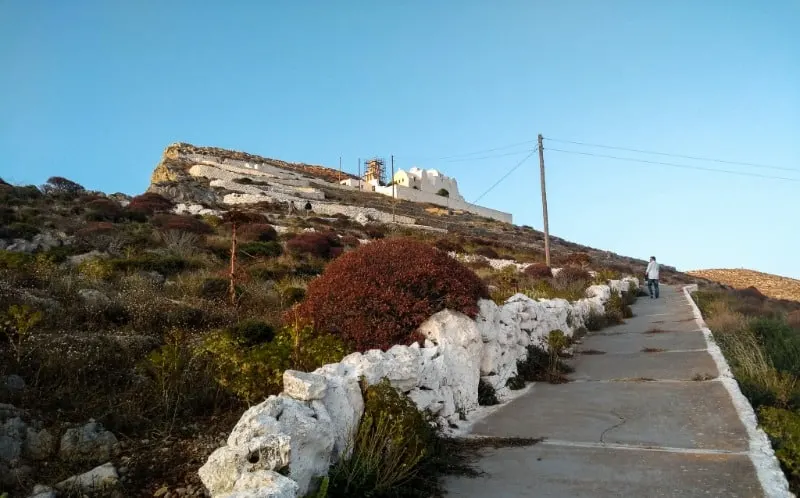 Like many Greek islands, Folegandros has plenty of churches dotted all over but the Church of Panagia is the most famous one. It sits on the edge of a cliff that juts high above the island, and its whitewashed facade cuts a dramatic shape against the dark, rocky terrain.
The Church of Panagia overlooks Chora like a gleaming protector. Every evening, crowds follow the winding path up to watch the sunset over the island.
It's a stunning sight and one to rival even the likes of Santorini in my opinion! Do this activity on the last night for a perfect end to your stay on Folegandros.
Trust me; it's well worth the walk and it's one of the prettiest sights in Folegandros.
6. Have a Lazy Lunch at a Taverna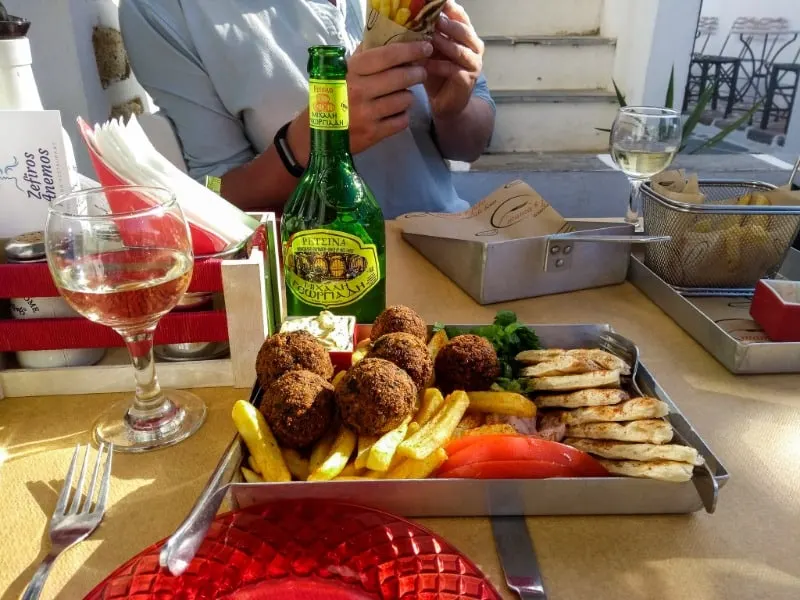 One of the best things about being on holiday is that there's no pressure to be anywhere by a certain time.
You get to make your own rules, and if you want to spend a long luxurious afternoon over wine and lunch, then absolutely no judgement! It's actually one of my favorite things to do!
Folegandros is well-equipped for this type of activity, and there are plenty of picturesque tavernas to choose from. I recommend that you try Pounta, a beautiful eatery with a garden terrace at the back.
They have an exquisite menu and a wide selection of herbal teas. If you don't make it there for lunch, you can't go wrong with one of their hearty breakfasts.
Pounta is a tranquil spot but if you prefer to watch the world go by, head to one of Chora's squares or a beachside cafe in Karavostasi.
7. Relax at Kartego Beach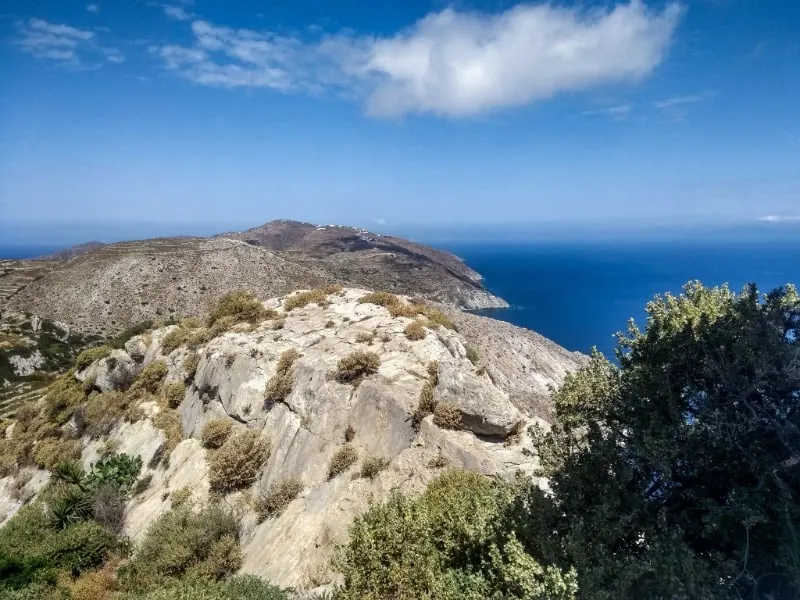 Folegandros has a wealth of stunning beaches but it's most beautiful ones are not so easy to get to, which is perhaps part of the reward.
The coastline is made up of rocky cliffs and steep hills that descend into the sea but here and there, after a bit of a climb, you can find hidden oases to relax in.
Kartego Beach is one such beach. It's only accessible on foot or by boat from Karavostasi. You do have to negotiate a bit of a climb down but once you make it, you're treated to clear blue waters and hardly any people so there's plenty of space to put your towel down.
I recommend that you bring sun protection as there isn't any shade here for most of the day.
8. Walk to Livadaki Beach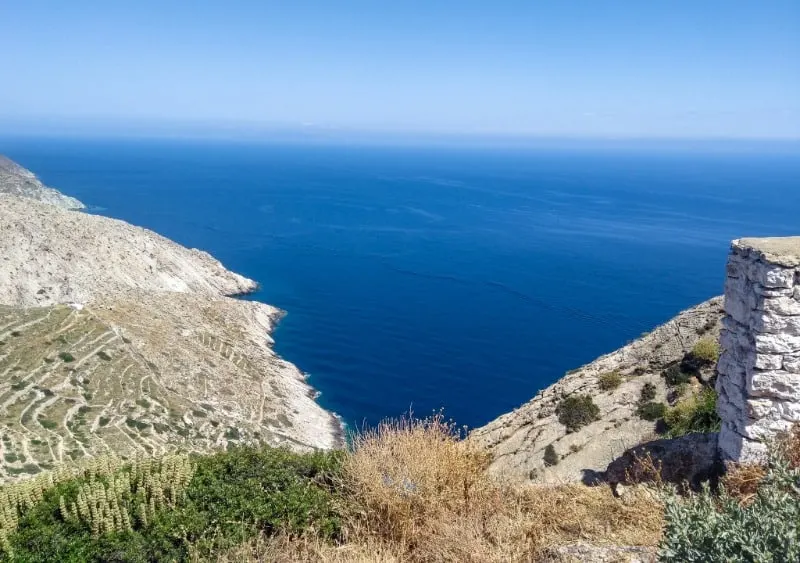 Livadaki Beach is another beautiful beach that requires a bit of work to get to, but it's absolutely worth it for the sheltered cove, shade and gorgeous scenery.
You have about a half-hour walk over rough terrain, along the island's characteristic jagged coastline. Luckily, there is a path to follow so you don't feel like you're wandering through the wilderness.
About three quarters of the way into your journey, the path will lead you straight through the terrace of a delightful taverna. Here, you can stop for refreshments, cool off or tuck into lunch and watch their deliveries come in by boat.
Once you're ready, you can wander along the last leg until you reach the beach and your afternoon of sunbathing.
Despite being secluded, the beach can get busy so it's something to bear in mind, depending on the time of day and season you go.
9. Go Beach-Hopping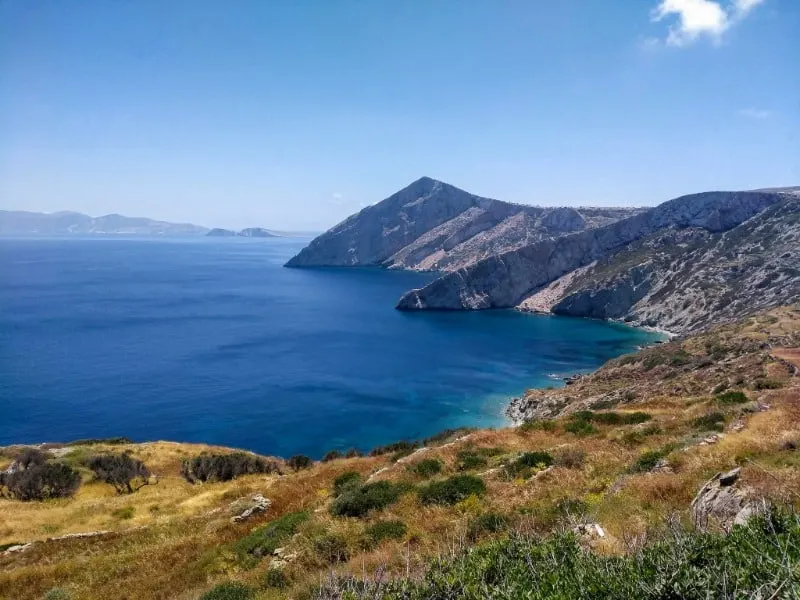 You don't have to confine yourself to one or two beaches during your visit. The reality is that there are hundreds of beaches of all shapes and sizes along the coast of Folegandros.
You could spend all your time beach-hopping and still not see them all!
Hike or hire a bike and meander along until you spot a beach that takes your fancy.
Some are well-developed and fringed with cafes and tavernas, like Karavostasi, and others are secluded, a challenge to get to and have no shade.
It all depends on what type of beach you like, whether it's adventure or something with a few more creature comforts.
Other beaches you shouldn't miss are:
Agios Nikolaos beach
Agali Beach
Katergo Beach
10. Explore the Ecological and Folklore Museum of Folegandros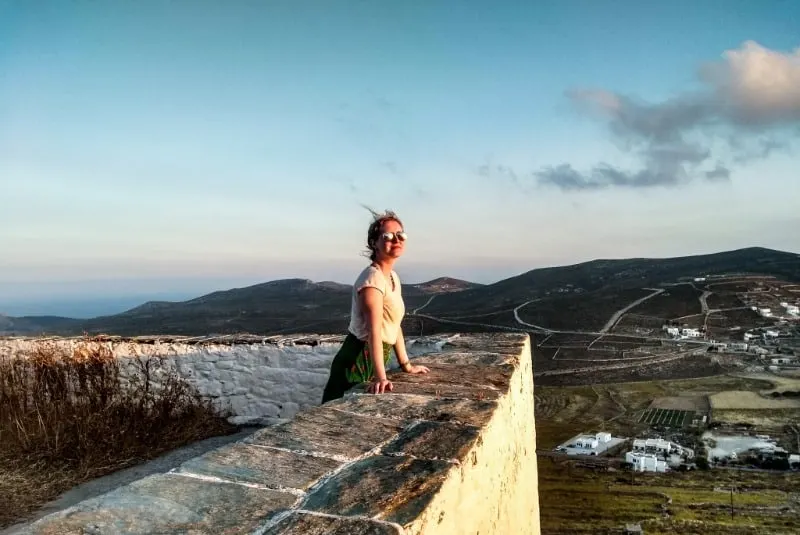 If you're interested in learning a bit more about the culture of this tiny island, you can pay a visit to the Ecological and Folklore Museum of Folegandros.
Located in the village of Ano Meria, the museum gives a fascinating insight into the island's history.
The museum itself is housed in a building made from stone and mud. This was traditional for island villages as the dark exterior allowed them to hide in plain sight, and they couldn't easily be spotted by pirates.
Inside the museum, visitors can see ancient wine and olive presses, utensils, accessories and traditional clothing. On top of that, you can wander over to the open-air theatre for panoramic views of the island and surrounding sea.
Final Thoughts on Folegandros
Whether you're a nature lover, adventurer or just enjoying a quiet holiday, there are plenty of things to do in Folegandros. It's an island that just keeps giving.
Folegandros has a wildness about it, perhaps because of its jagged terrain, towering cliffs and rocky coastline but don't let that put you off! Within this wildness is an electrifying atmosphere brimming with life and raw beauty.
It feels untouched, frozen in time, unlike its other busier neighbors in the Cyclades. In 2004, Conde Nast Traveller called it "Greece's best-kept secret", and it's well worth a visit before the rest of the world catches on.
---
How to get to Folegandros
By Ferry
---
About the Author
Francesca Brooking is a freelance writer and sustainable travel blogger. Her mission is to show you how sustainable travel can be empowering, meaningful and affordable.
She loves writing about ecolodges, ecotourism destinations and people doing their bit for the environment in any way they can. You can see what she gets up to at littlelosttravel.com.
---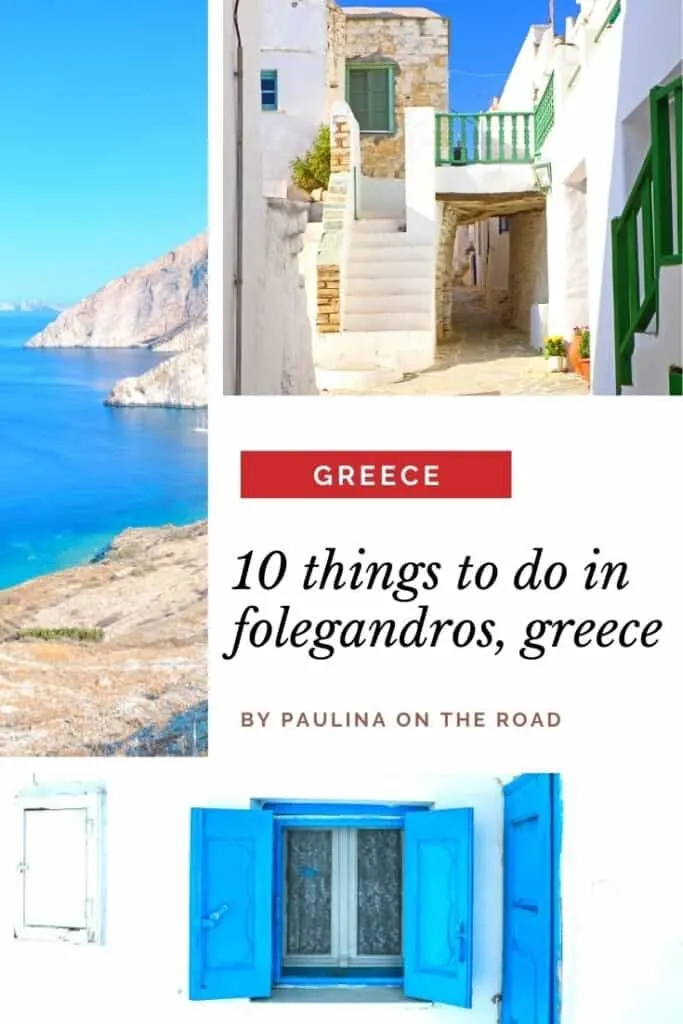 ---
Hola! I am Paulina, a fervent travelette who crossed the Atlantic Ocean by Boat HitchHiking. On my blog, you'll find all the tips to make the most of your holiday. Get ready to enjoy outdoor and sustainable travel like hiking, cycling or sailing. Let's hit the road together!