If you're looking for an amazing Mediterranean vacation spot that will offer both relaxation and exploration: travel Paros, Greece!
With its whitewashed buildings gleaming in the sun and rolling hills peppered with cypress trees, it's the perfect place to spend your next getaway.
From stunning beaches to fascinating historical sites, there is something for everyone on this lovely Greek island.
Whether you're a beach bum or a culture enthusiast like me, Paulina on the Road, you'll find plenty of activities to enjoy! Paros has some delectable restaurants serving fresh seafood dishes and local specialties such as traditional Moussaka.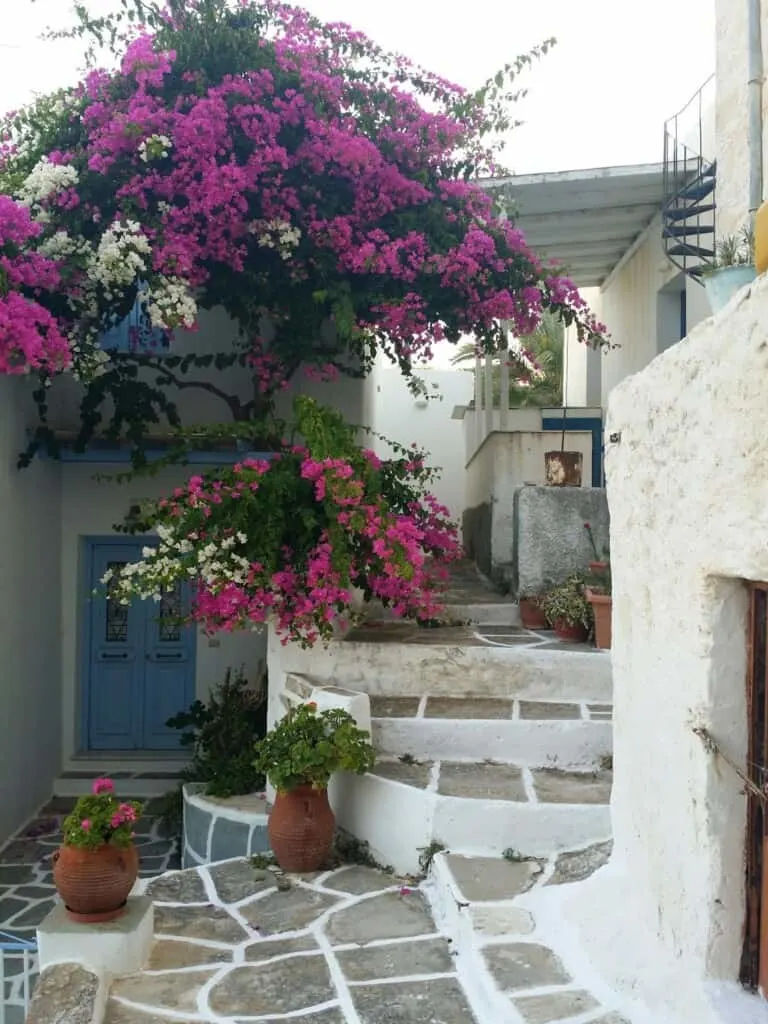 Plus, what vacation would be complete without sampling some mouth-watering Greek wines?
Whether you're craving a fun night out on the town or an immersive adventure into nature's beauty – Paros' promise of unique cultural experiences and excellent amenities won't disappoint.
Read on to learn more about why Paros should be your next destination!
Top resources to travel Paros, Greece
✈ Book cheap flights to Paros, Greece with Skyscanner

☘ Book ferries to Paros with Ferries in Greece

❖ Best hotel deals with Trivago

$ Get the best tours and activities in Paros, Greece with GetYourGuide

➳ Rent a car at the best rates with DiscoverCars

✎ Never leave without travel insurance. I get mine at HeyMondo. It is reliable and easy to set up.
Hotels in Paros, Greece
Traveling to Paros is a journey that any adventurous wanderer should undertake.
This alluring island, situated in the Aegean Sea, boasts mesmerizing crystal-clear waters and idyllic sandy shores that instantly make you fall in love with it.
From the picturesque traditional villages, such as the famous Naoussa, to the breathtaking sunset at the charming bay of Parikia, every corner of Paros is a feast for the eyes.
Boutique Hotels
Mrs. Armelina by Mr & Mrs White Hotels
Zefi Hotel & Suites
Calme Boutique Hotel
Amaryllis Beach Hotel
Luxury & Resort
Astir of Paros
Cove Paros
Parilio, a Member of Design Hotels
Poseidon of Paros Hotel & Spa
Summer Senses Luxury Resort
From the picturesque traditional villages, such as the famous Naoussa, to the breathtaking sunset at the charming bay of Parikia, every corner of Paros is a feast for the eyes.
Paros will most certainly appeal to your senses and create memories that will last a lifetime, whether it's the romantic sunset, the tasty local food, or the stunning beaches.
Visit Paros, Greece
Paros embodies the Mediterranean charm that Greece is famous for, with its white-washed buildings and stunning landscapes, but it also offers a unique experience that sets itself apart from popular destinations like Santorini or Mykonos.
Paros boasts a more relaxed atmosphere, without compromising on beauty or culture.
It's the perfect mix of tradition and modernity that'll leave you eager to explore every corner.
Whether it's the breathtaking beaches, the delicious food, or the warm-hearted locals, Paros has something for everyone.
Where to stay in Paros
With a plethora of accommodation options ranging from luxurious hotels and resorts to charming villas and cozy Airbnbs, there's something for every traveler's taste and budget.
Want to be close to all the action?
Best areas to stay in are Naoussa and Parikia where you'll be greeted by endless options for dining, drinking, and shopping.
If you're in search of a more secluded experience, consider staying near the crystal-clear waters of Paros best beaches or the windsurfer's paradise in the south.
Have a look at my posts about accommodation and hotels in Paros, Greece:
How to get to Paros?
Getting to Paros, Greece may seem like a daunting task, but trust me, it's worth the effort.
The easiest way to reach Paros is by plane to Athens, followed by a ferry from Piraeus port.
During the summer months, there are also direct flights to Paros from several European cities.
But let me share a personal tip – take the slow boat from Athens. – Buy ferry tickets here
The journey may take a bit longer, but it's an opportunity to relax, soak up the sun, and start embracing the laidback island lifestyle before you even arrive.
Plus, the scenic views of the Aegean Sea and the Cyclades islands are truly breathtaking.
Ready to travel Paros? Grab your travel sandals and get ready to discover the magic of Paros.
What is the best area to stay in Paros?
If you're planning a trip to Paros, you might be wondering which part of the island is the best to stay in.
In my personal experience, the best area to stay on Paros is Naoussa.
It's a charming fishing village located on the northern coast of the island and it has everything you need for a perfect vacation – from sandy beaches and crystal-clear waters to great restaurants and vibrant nightlife.
Naoussa is also a great base for exploring the rest of the island, as it's conveniently located close to many of Paros' top attractions.
Whether you're a solo traveler, a couple, or a family, Naoussa is the ideal spot to stay on your next adventure to Paros!