The ultimate guide to Luxury Hotels in Paros, Greece with Spa and top-rated 5-star hotels in Paros island
Greece has the world's most beautiful and luxurious islands and hotels. These things give us a strong reason to visit Greece. When we talk about luxury hotels in Greece, you can't ignore Paros.
Paros is one of the beautiful Greek islands in the Aegean Sea that never stops to astonish its visitors.
Paros' villages are filled with history and around these villages, you will find some of the world's most luxurious hotels and resorts.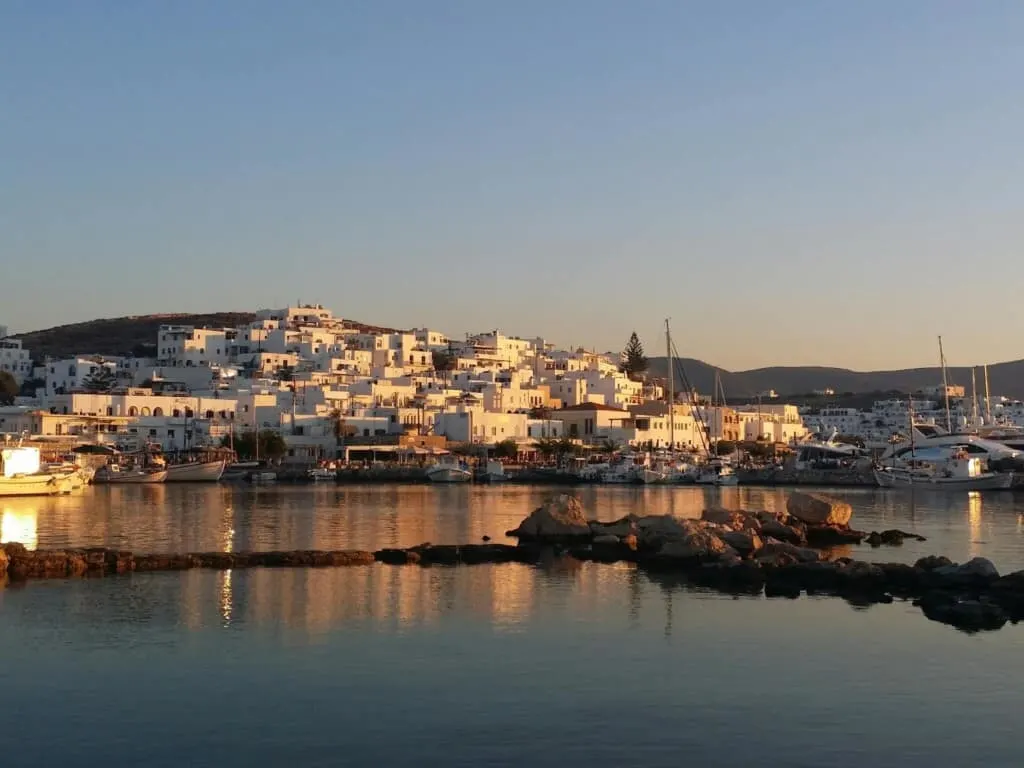 These luxury hotels provide outclass dining and villa services that you can only imagine in modern cities around the world. If you visit Paros, you will experience the real, Greek charm.
It's a place where you can enjoy your life away and enjoy the beauty of a Greek island that's truly en vogue right now!
No wonder that it is considered one of the best travel destinations in Europe. Today, I'll take you to some of the best Luxury Hotels in Paros, Greece.
If these seem a little out of your price range, you can also check out my guide on the best resorts in Paros for every budget!
This blog is supported by you, dear reader. If you purchase through a link, I earn a small commission. As an Amazon Affiliate, I earn from qualifying purchases.
Top resources to travel Paros, Greece
✈ Book cheap flights to Paros, Greece with Skyscanner

☘ Book ferries to Paros with Ferries in Greece

❖ Best hotel deals with Trivago

$ Get the best tours and activities in Paros, Greece with GetYourGuide

➳ Rent a car at the best rates with DiscoverCars

✎ Never leave without travel insurance. I get mine at HeyMondo. It is reliable and easy to set up.
Comparison Of The Best 5-Star Hotels in Paros Island, Greece
Where to find the best luxury hotels in Paros?
Many of Paros' luxury hotels can be found in the scenic, former fisherman village of Naoussa. Naoussa is a beautiful village on this Greek island of Paros, and it's famous for its nightlife. However, still, it's not as busy as Mykonos!
Lefkes is another town in Paros and famous for its whitewashed building, handmade pottery, jewelry, crafts, and organic honey. You can experience the authentic side of Cyclades in Paros.
It has a mix of architecture to modern and historical buildings that attract visitors.
Entertaining activities such as windsurfing, magnificent beaches, unique architecture, and kitesurfing makes it an excellent place for tourists from all over the world to spend their holidays.
Being that much famous and busy doesn't make Paros an expensive holiday destination compared to other Greek islands such as Mykonos and Santorini.
If you are willing to travel and wonder where to stay in Paros, don't worry; I have prepared for you a list with the best 5-star hotels in Paros.
How to get to Paros, Greece
How to get from Athens to Paros
By flight: By flight, it will take around 45 min from Athens International Airport to Paros National Airport. – Check flights
By ferry: You can book a boat from Port of Piraeus, Athens, to Parikia port, Paros, and it takes 3-4 hours. – Check ferries
How to get from Mykonos to Paros
By flight: Book a flight from Mykonos International Airport to Paros National Airport. It takes around 2 hours. – Check flights
By ferry: Take an affordable ferry from Mykonos Port to Parikia port, Paros. It takes 1-3 hours. – Check ferries
How to get from Santorini to Paros
By flight: Flights are available from Santorini International Airport to Paros National Airport and it takes around 2 hours. – Check flights
By ferry: You can book a boat from Athinios port to Parikia port, Paros, It will take 3-4 hours. – Check ferries
Read my full guide on how to get to Paros for info on traveling from other islands and from abroad.
Best Luxury Hotels in Naoussa, Paros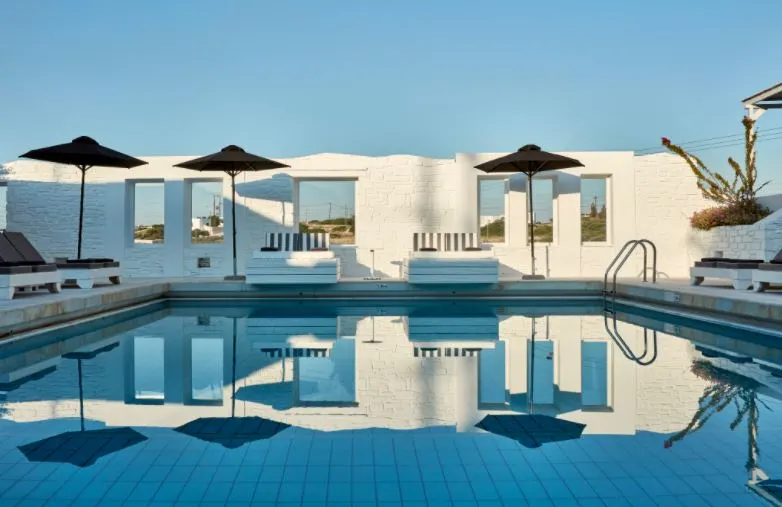 Highlights:
Cool shisha Bar
Motorbike and car rental
Fabulous swimming pool
Great outdoor dining
The Mrs. Armelina by Mr & Mrs White Hotels is a luxury boutique hotel situated in the beautiful area of Naoussa. It provides a natural but yet luxurious environment. One of the best beaches in Paros is accessible from walking distance.
The amazon suites offer magnificent views such as garden view and front beach view.
It offers every modern facility that you can expect from luxury hotels in Paros.
It offers rooms and suites ranging from a single bed to king-size beds. You can visit the village of Naoussa for nightlife, and there are famous restaurants renowned for their fish dishes.
My favorite part:
It has unique facilities such as two-floor residence and single residence garden view. On top, it's only a short drive to Santa Maria beach.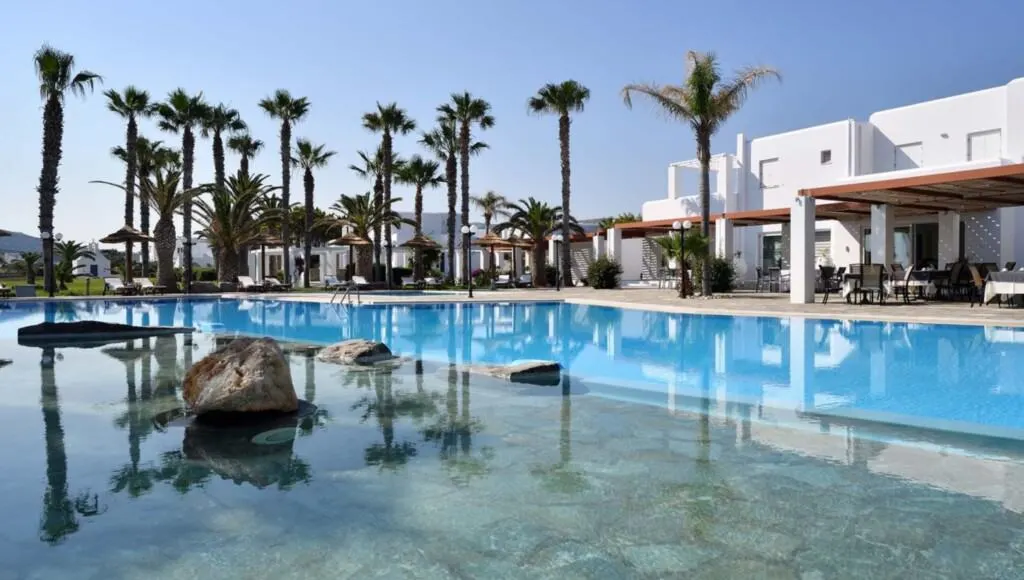 Highlights:
Private beach
Poseidon restaurant
Two bars
Privileged position west of Naxos and east of Antiparos
The Astir of Paros ***** is a 5-star luxury hotel in Paros. It owns a private beach. The hotel has one of the best restaurants that offer exceptional Asian and Aegean cuisines.
The great thing is that the restaurants use freshly produced vegetables from the owners' farms close to the hotel.
You can go swimming on its private beach. Other activities are doing boat surfing and tasting different foods.
It's offering executive, sea-view, premium, garden-view, and interconnecting junior suites.
My favorite part:
The owner's farm produces its own vegetables for the hotel's restaurants, making it unique among other hotels in Paros. You can have a fantastic candle dinner in a truly romantic environment.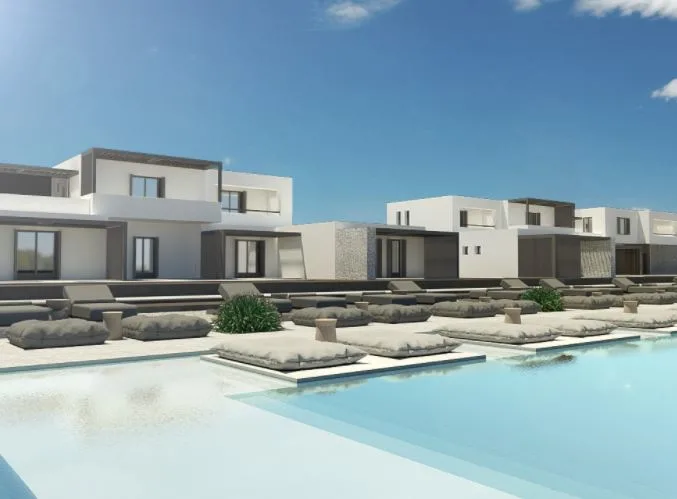 Highlights:
Private swimming pool
Cyclades architecture
Seafront location
Beach bar
The Cove Paros ***** is situated on the beach of Aioi Anargyroi. It's one of the most sophisticated luxury resorts in Paros!
You can hear the relaxing sounds of the ocean waves from this luxury hotel. All suites have separate pools and can accommodate 2 to 3 persons.
It has a beach bar where you can enjoy fresh smoothies, cocktails, and drinks from fresh local ingredients, just before admiring the sun's natural beauty.
Another activity to do is exploring the center of Naoussa that's only 700 meters away.
My favorite part:
The beach bar is a highlight! On top, this hotel is perfect for honeymoons in Paros due to its romantic vibe.
Highlights:
Private and adults only swimming pool
Cycladic style architecture
Sauna
Fine dining
The Hotel Senia – Onar Hotels Collection is located in the desirable settlement of Naoussa, Paros. It's a combination of suites, studios, rooms, and apartments designed with Cycladic architecture, and the whole building is whitewashed.
The hotel offers a lot of entertaining activities such as sailing. There are mountains around that are best for hiking.
You can also see the harvesting process of grapes for making wine. Scuba diving, cycling, and wind-surfing are only a few of the amazing things to do in Paros.
A unique feature that can make it a great place for luxury travelers to stay is a premium sauna suite with a sea view and hot tub.
My favorite part:
The premium sauna makes it unique among other hotels in Paros, Greece. The pool views are to die for!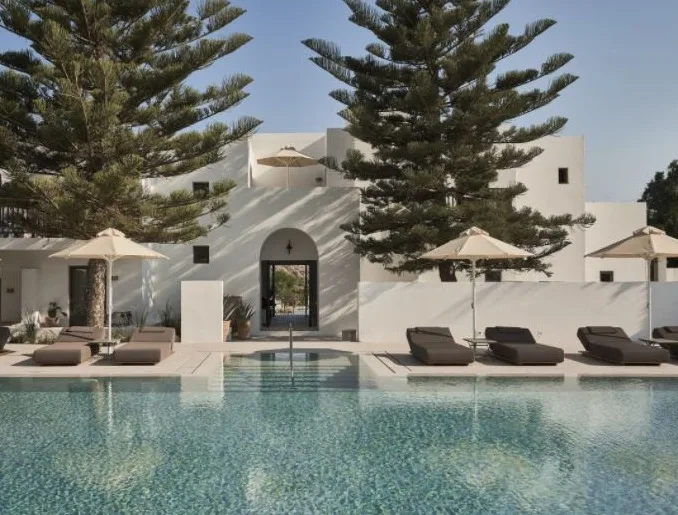 Highlights:
Top restaurant
Beautiful pool bar
Fabulous spa
Top-notch swimming pool
The fantastic Parilio, a Member of Design Hotels ***** is in the center of the whitewashed fishing village of Naoussa.
It has 33 luxury suites that are perfect for travelers, families, or couples. Seasonal and fresh Mediterranean cuisine is served in the restaurant.
You can enjoy your drink from the pool bar along with sunbathing. It has a great swimming pool with crystal clear water.
The outside view is very charming, with green fields all around it. The sea view from the pool bar is absolutely to die for.
My favorite part:
The landscape views and natural beauty around this hotel provide a spectacular sense to spend holidays here.
Best Luxury Hotels in Paros with Spa
Highlights:
Tennis court
Spa and gym
Library lounge
Gallery shop
The Yria Island Boutique Hotel & Spa ***** is on the west coast of the beautiful island of Paros.
It's just 3 km away from Parikia, the main town and port of Paros. The trees and vineyards around this luxury hotel make it a fantastic place.
The hotel is mostly surrounded by fruit trees. You can explore Paros from a new perspective with traditional magical boats through the blue waters of the Aegean Sea.
Paros is enriched with hiking and trekking routes, and you can choose one according to your age and interest.
The beautiful village of Lefkes has marble-paved streets, and they are a true reflection of the cycladic village architecture. It's a great day trip when staying at the hotel.
My favorite part:
The extraordinary spa facilities in the hotel will refresh your mind, body, and soul. It's an oasis of peace and perfect to relax and unwind.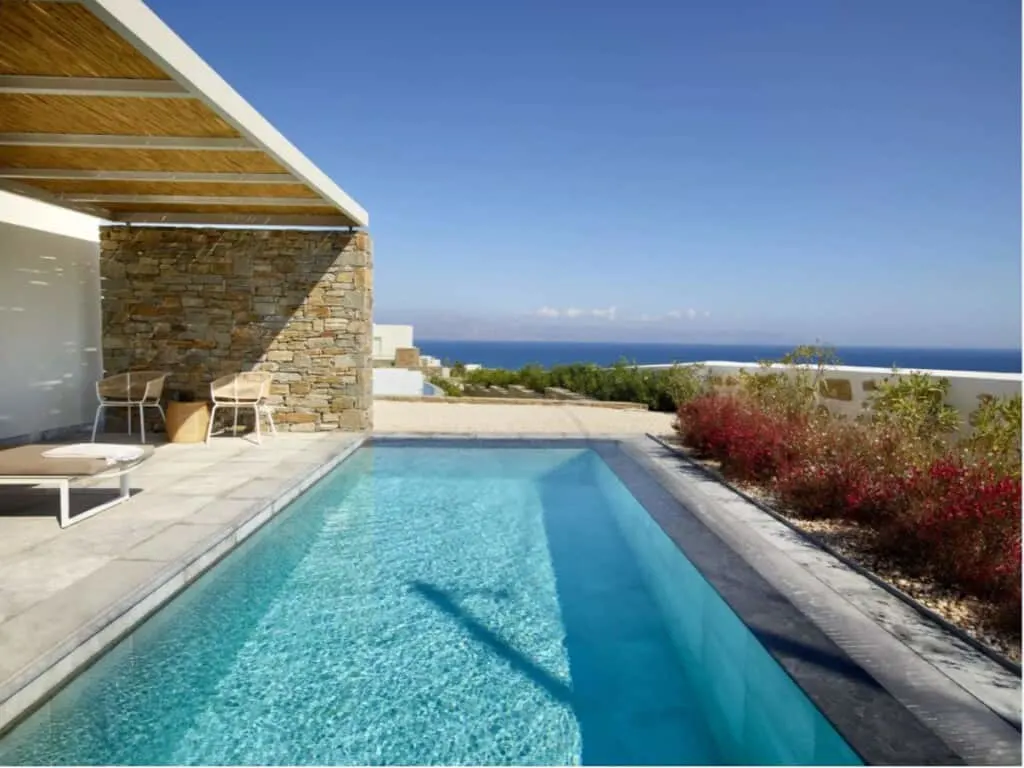 Highlights:
Gym
Pool for kids
Poor bar
The Summer Senses Luxury Resort ***** is very close to the beautiful resort town known as Piso Livadi. Relax at sandy Punda beach at the best hotel in Paros which is just a 2 minutes' walk away.
Enjoy the crystal clear blue waters perfect for both swimming and sunbathing.
The hotel offers different kinds of junior, premium, sense, summer, and family suites. It's perfect for enjoying a honeymoon with a private suite and pool with jacuzzi.
You can relax with a spa, and later you can go for swimming in its large pools.
The hotel has 100 luxurious rooms and suites perfect for tourists, solo travelers, families, and couples.
My favorite part:
It is the largest 5-star luxury hotel in Paros. I love its sophisticated designed rooms, some of them with private pools!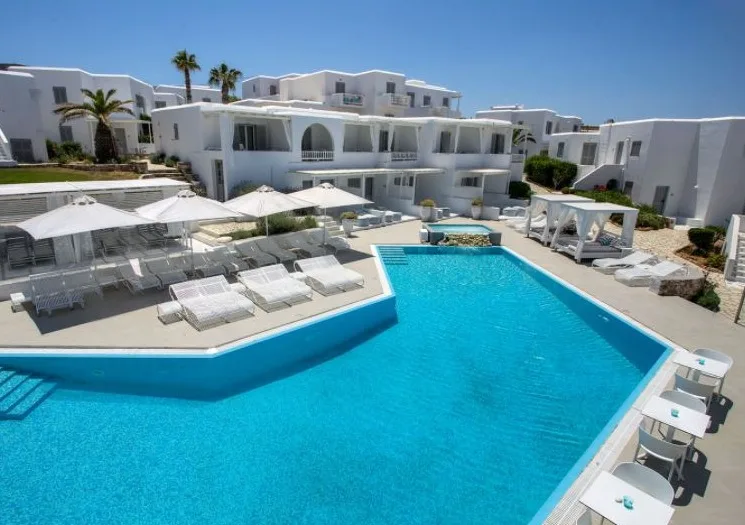 Highlights:
Pool bar
Restaurant with Mediterranean-flavored food
Thalassa spa
Gym
The luxury Minois Village Boutique Suites & Spa ***** is situated in the center of Paros. From here, it is only a few meters from where you will find the beautiful beach of Parasporos.
You can do a bunch of activities such as horse riding, windsurfing, kitesurfing, water sports, and sea diving. There is a relaxation room and hammam in the hotel with heating reclining sofas and chairs.
My favorite part:
The hotel has a special place inside that's known as "thalassa". It's equipped with the latest, modern and relaxing jacuzzi, foot bath, massage, skin tightening, and beauty treatments.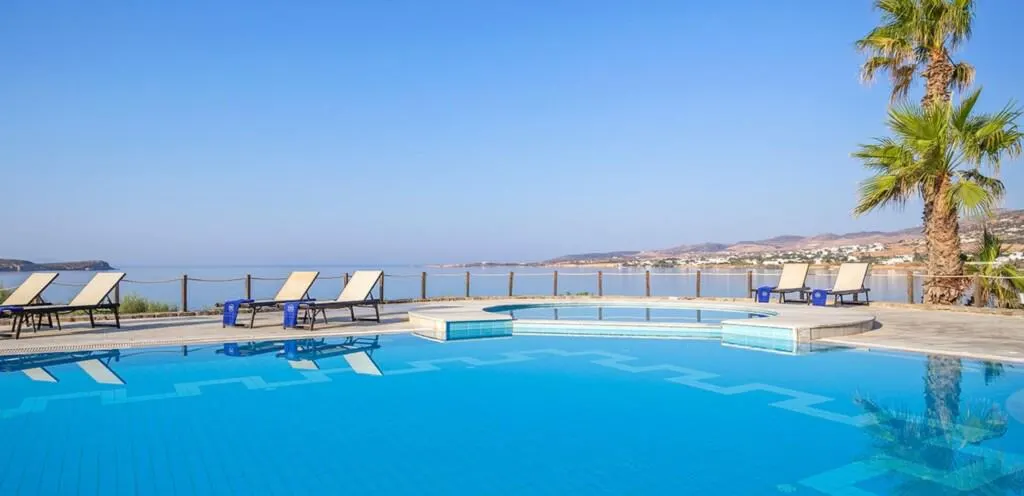 Highlights:
Restaurant with sea view
45.000 m2 of unspoiled beauty
Spa
Very close to Golden Beach
The Poseidon of Paros Hotel & Spa ***** is situated on the unique Golden Beach known as Chrissi Akti which is 25 km away from the port and 10 km away from the airport. It's providing resort-style amenities and comforts.
The 5-star hotel is providing world-class facilities at the Golden Beach, including a playground and two separate pools for kids. It has a chapel, and you can do your wedding ceremonies that will be engraved in everyone's heart forever.
Experience the crystal-clear blue water of the Aegean Sea while having a spa.
My favorite part:
It's great for restaurants as it has four restaurants offering delicious local and international cuisines. I love the close location to the legendary Golden Beach of Paros!
Best Luxury Hotels near Parikia, Paros island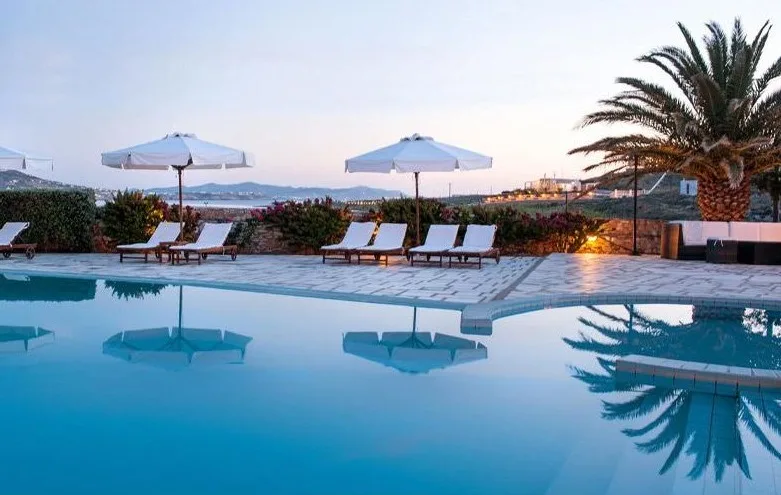 Highlights:
Interior design inspired by the cycladic architecture
Cruise tours
Outdoor crossfit gym
Boat and helicopter rental service
The Paros Agnanti Hotel ***** is a great place to spend holidays and for conferences. Krios Beach, one of the best beaches of Paros, is only a few steps away.
It has outclassed dining facilities in the outdoors, and delicious local foods can be tasted in restaurants inside the hotel.
Indulge in the luxury activities offered by hotels such as cruise tours, underwater sports, and boat and helicopter rental services. It offers luxury suites with extraordinary facilities and sea views.
My favorite part:
The night view of this hotel is very charming as you can see the reflections of the city lights inside the seawater.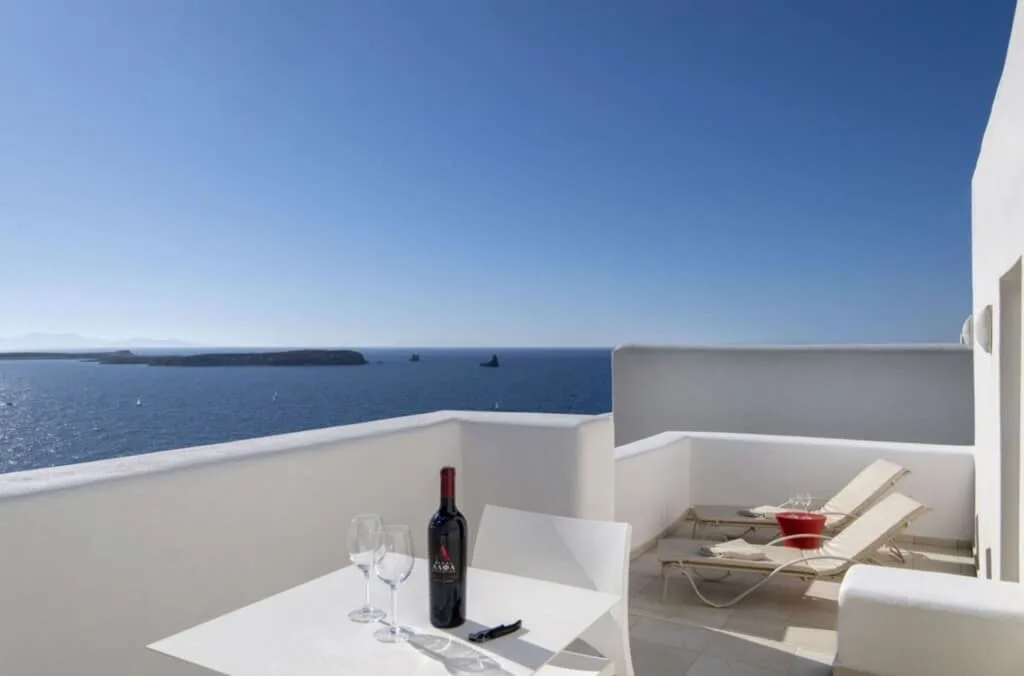 Highlights:
Swimming pool
Authentic and refined Greek gastronomy
Ocean views
Basketball, tennis and volleyball courts
Experience the magnificent views of the Aegean sea from this 5-star boutique hotel in Paros. The Archipelagos Resort Hotel & Villas ***** has 30 luxurious suites and three exclusive family villas designed by local architects.
You can enjoy your holidays participating in activities such as mountain biking, sea sports, and swimming in the natural beauty of this peaceful island.
You can even plan your wedding event here if you want to make it more memorable.
My favorite part:
The hotel offers an astonishing view of the Aegean Sea, and the resort itself is surrounded by natural beauty.
The guests can have a great experience sailing boats in the clear blue waters of the sea, and enjoy the beautiful sunsets and sunrises while enjoying their breakfast and dinner outside, on the edge of the sea.
---
Map: 5-Star Hotels in Paros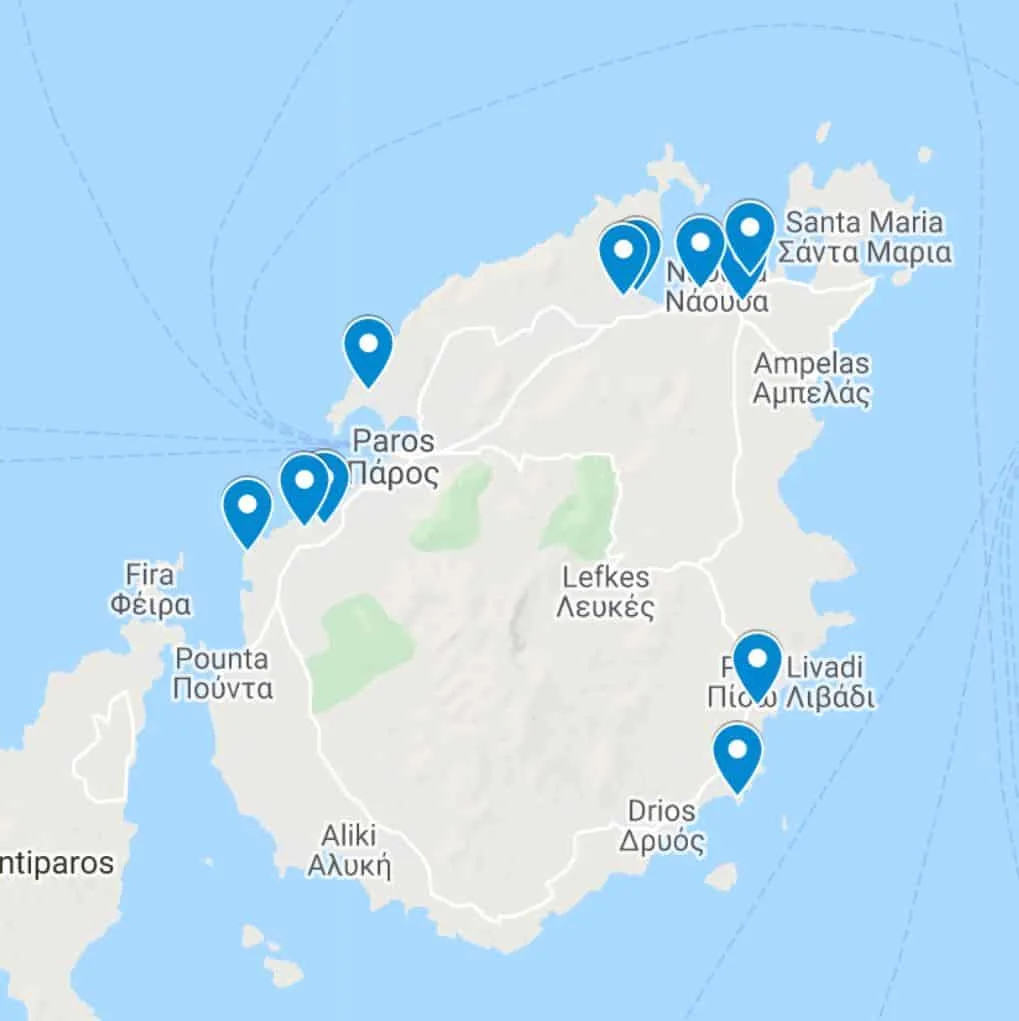 ---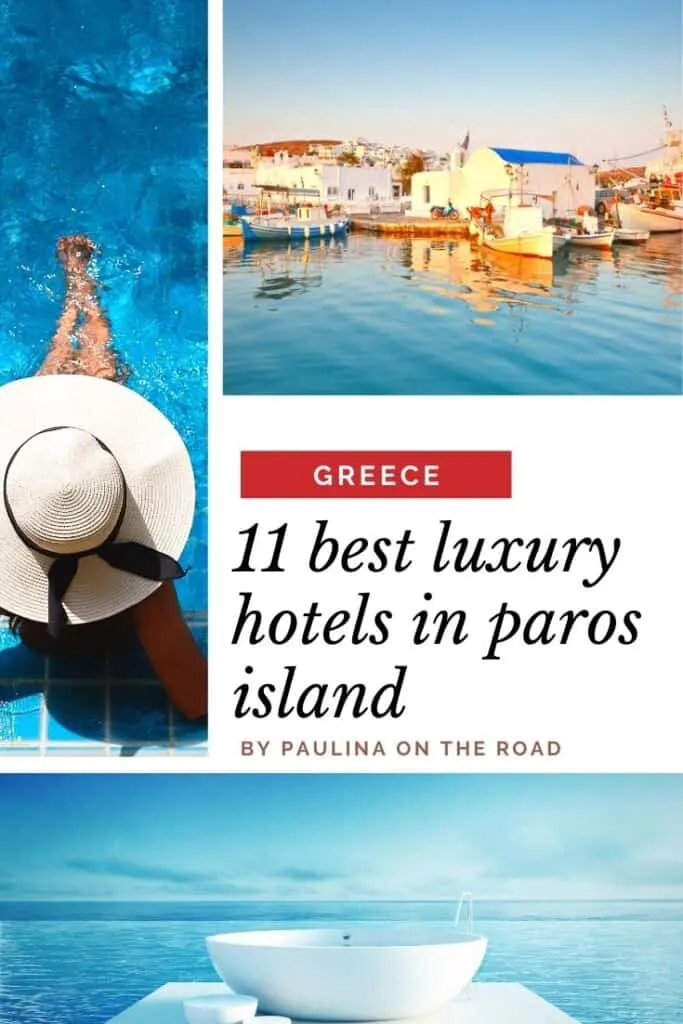 ---
Hola! I am Paulina, a fervent travelette who crossed the Atlantic Ocean by Boat HitchHiking. On my blog, you'll find all the tips to make the most of your holiday. Get ready to enjoy outdoor and sustainable travel like hiking, cycling or sailing. Let's hit the road together!