A visual guide to the best things to do in Jordan, Middle East
If you're looking for an awe-inspiring and unforgettable adventure, look no further than Jordan!
This diverse country is packed full of incredible attractions to explore, stunning vistas, rich culture, and some of the friendliest people you'll ever meet.
From the Dead Sea to Petra and beyond, it's no wonder that Jordan is becoming one of the hottest tourist destinations in the world since there are soooo many things to do in Jordan.
Get ready for a journey unlike any other as we take you through an epic list of top things to do in this amazing country!

Practical Information for travel to Jordan
✈ Book cheap flights to Jordan with Skyscanner

✔ Book your tours in Jordan with GetYourGuide

➳ Find the best hotel deals in Jordan with Trivago

❖ Get the best car rental deals with DiscoverCars

☘ The best discounted outdoor gear (outlet) at REI.com

✎ Never leave without travel insurance. I get mine at HeyMondo. It's easy to set up, cheap, and reliable.

$ I withdraw money without hidden fees and avoid exchange rates with Wise (you'll get a free card on top)

⚘ Get a travel guide in order to prepare your trip. I recommend the Lonely Planet Guide – Jordan
1. Watch the Sunrise in Amman Citadel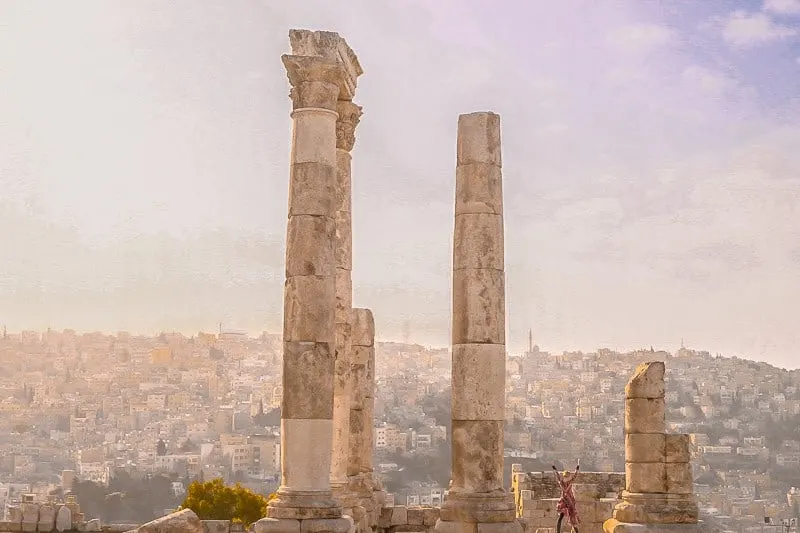 Many don't see the capital of Jordan, Amman as a place that's worth to be visited. However, the city should be a must on any Jordan itinerary for those who want to explore the less-touristy side of Jordan.
The most important sight of Amman is its Roman citadel from which you'll enjoy breathtaking views over several neighborhoods of Amman.
The citadel is composed of several impressive historical buildings. All of them are witnesses of Jordan's rich and multicultural past.
The Roman temple and the Umayyad Palace are only two of the most striking monuments and considered top places to visit in Jordan, Amman.
READ: Things To Do in Amman
I recommend visiting the Amman Citadel in the early morning at sunrise in order to enjoy the wake-up of Jordan's capital at the chant of the mosques. The Amman citadel was one of my favorite places to visit in Jordan.
Book here your Amman City Tour
2. Eat a Shawarma in Amman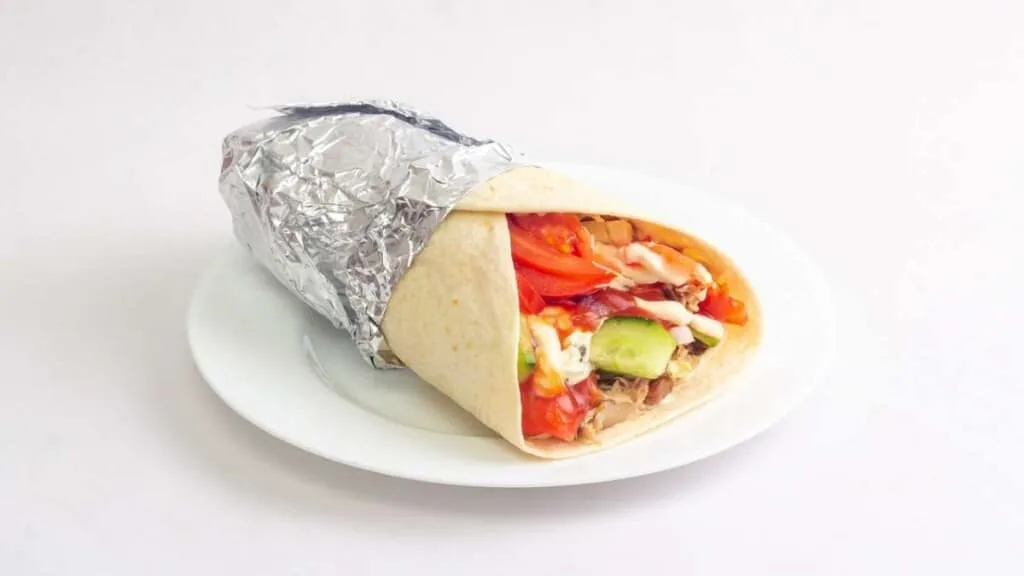 The food in Jordan is some of the best you can get in the Middle East. There are plenty of dishes to choose from such as mansaf, hummus, kunafa pastry and all the fresh fruit juices you can buy at the food stalls in the streets of Aqaba and Amman.
When in Amman, you can't leave without having tried mouth-watering shawarma. As a legacy of the Ottoman empire, shawarmas consist of rotating spits of sliced lamb, chicken or beef.
The meat is then served in warm pockets of pita bread and topped with everything from raw onions to za'atar and thick yogurt.
Other things to taste in Amman include falafel and Jordanian coffee. It's a must and you can't leave without having done these things to do in Amman Jordan.
Book here your Amman Food Tour
3. Mingle in bustling Amman Downtown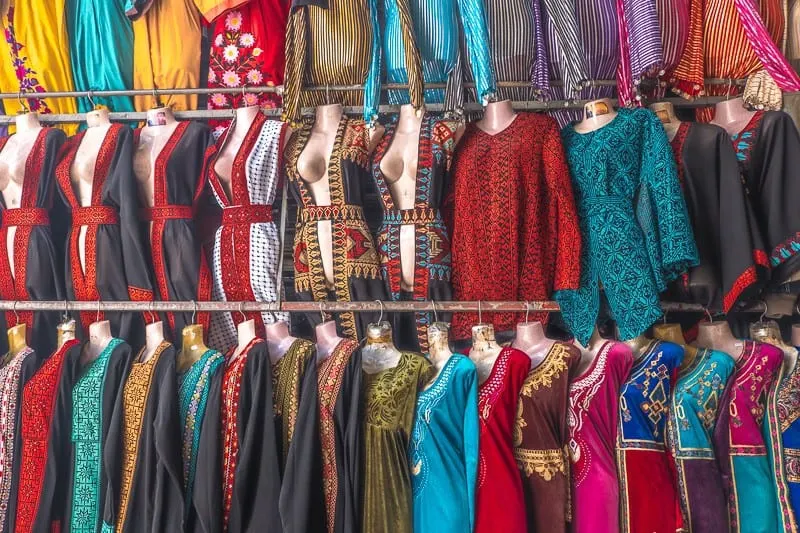 One of my favorite things to do in Amman was strolling to the vibrant downtown of the Jordanian capital.
It's full of life and there are plenty of shops selling the most curious things and almost everything ranging from food, to gold, antiquities and colorful clothes.
Downtown Amman is composed by the following main streets: Prince Mohammad, King Talal, Quraysh, Al-Salt, Al-Hashemi, and Basman.
When in Amman downtown, you should definitely have a walk to Rainbow Street which is famous for its Bohemian vibe and food stalls. When looking for what to do in Amman Jordan, a walk downtown should definitely be included.
Book here your Amman City Tour
4. Travel to Roman Times in Jerash, North Jordan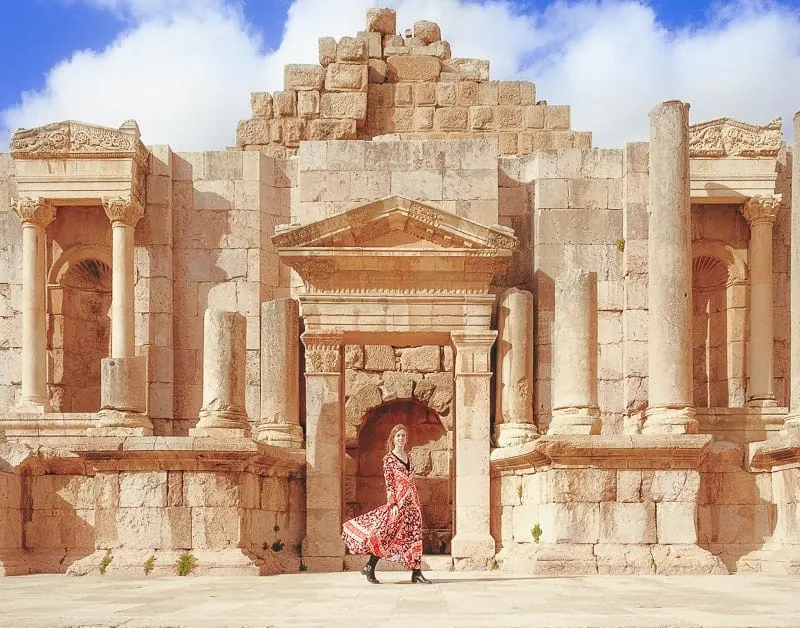 Jerash was one of the most surprising things I visited in Jordan. Located in the North of Jordan, Jerash boasts one of the most well-preserved citadels in the Middle-East. Visiting this surprising place was like traveling back to Roman times and like feeling on a movie set of "Gladiator" or "Ben Hur".
Can you imagine that you can see an almost integrate hippodrome and Forum Romanum? They figure among the most spectacular things to see in Jordan.
The ruined city is packed with columns, arches, theaters, a magnificent forum, several temples, an authentic Roman street and much more. You can easily spend up to 4 hours (and more!) here.
All of the sights are in an amazing condition and it feels like the Romans just left yesterday. If you are wondering what to see in Jordan, then Jerash is a must!
Book here your day trip from Amman to Jerash
5. Take a Mud Bath in Dead Sea
Visiting the Dead Sea in Jordan without taking a mud bath wouldn't be a visit to the Dead Sea. Not only do you want to get that funny photo where you are all covered in dark brown mud, but on top, the mud of the Dead Sea, Jordan has plenty of health benefits that you can't ignore.
Indeed, even the Egyptian queens traveled to the Dead Sea in order to take advantage of the health benefits of the mud. And still, nowadays, it's considered one of the top things to do in Jordan's Dead Sea.
READ: Best Things To Do in Dead Sea, Jordan
Nowadays, the mud is sold via coveted Dead Sea beauty products that are shipped throughout the world. But when you're already in Jordan, a mud bath is a must. However, it shouldn't exceed 10-15 minutes.
When looking for Jordan top attractions, the Dead Sea should be very high on your list. On top, every time of the year is great to visit Jordan, Dead Sea.
Book here your tour to the Dead Sea
6. Float in Dead Sea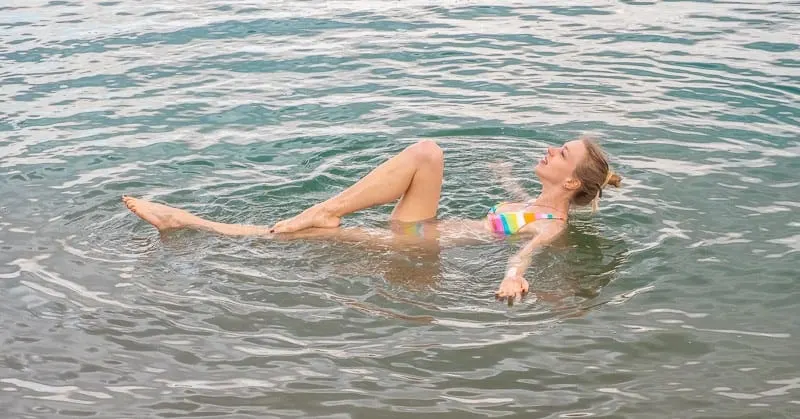 After and before taking a mud bath in the Dead Sea, you should always take a bath in the extremely salty lake.
Not only is it great fun to feel like a floating feather but you can also get one of the most coveted photos for travelers visiting Jordan, Middle East: reading the newspaper in the Dead Sea.
Taking a bath in the Dead Sea is part of any Dead Sea treatment but it shouldn't take longer than 15 minutes. After putting on the bud, you'll scrub it away with the salt of the Dead Sea.
Your skin will be as soft as it's ever been and it's definitely one of the best things to do in Jordan.
READ: Best Resorts and Hotels in Dead Sea, Jordan
7. Hike in Wadi Mujib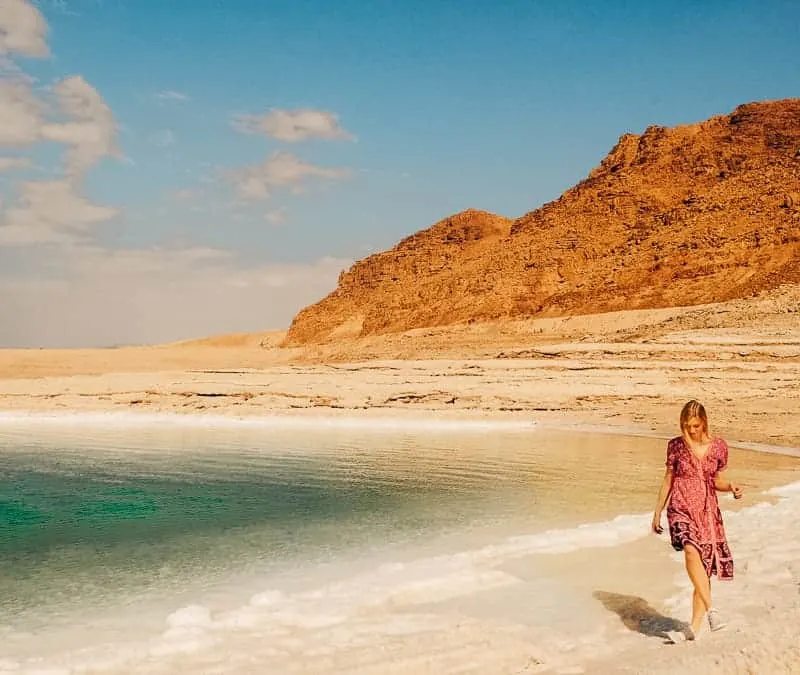 Wadi Mujib is not one of the most known attractions in Jordan. However, this natural sight is one of the reasons why Jordan is one of the most gorgeous places to visit on this planet.
The wadi is an awe-striking canyon that's 70 km long and that has been shaped by the Mujib river floating into the Dead Sea.
The best way to explore Wadi Mujib is by hiking through the river. You'll enjoy the unique flora and fauna and come across the Ma'an Hot Springs. There are several trails and all vary according to their difficulty and length. But without any doubt, the area hosts some of the best hiking trails in Jordan.
READ: 20 Photos That Will Make You Want To Visit Jordan
All these hikes need to be booked in advance. If you want to hike through the water, you should visit between April – October. During winter, there is only one trail open.
When looking for off-the-beaten-track Jordan places to visit, you should consider Wadi Mujib.
Book here your guided Wadi Mujib Hike
8. Crusader's Castle Hopping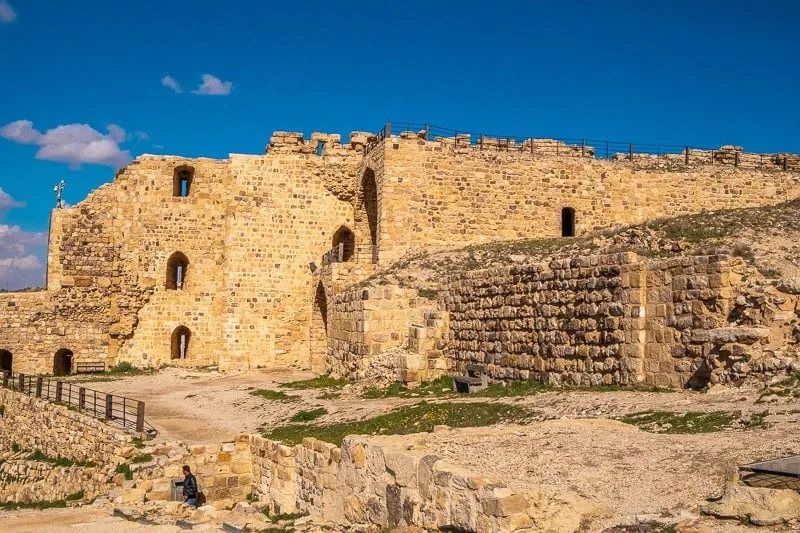 If you are wondering what to see in Jordan and you're looking for something off the beaten track, I recommend hopping to crusader's castles. Indeed, there are plenty of them in Jordan.
Even if in some cases only ruins of the castles are left, their locations are often strategic and offer fabulous views. The crusaders' castles were often built in order to guard the important trade routes.
In case you wonder where to go in Jordan for crusader castle hopping:
Karak – the most famous one and offering breathtaking views
Shobak – its remote location and strategic position will make you feel like lost in time and space
Aljoun Castle
Qasr Al Azraq
Vaux Moise near Petra
Al-Habis near Petra
When looking for things to do in Jordan, Crusader's castles are a great idea!
9. Soak up history and legends at Mount Nebo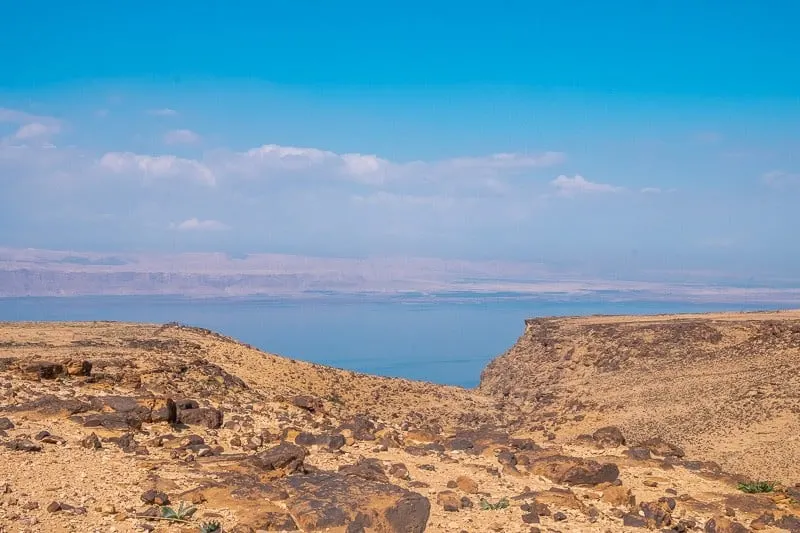 The region around the Dead Sea, Jordan is full of breathtaking places that will make you fall in love with Jordan.
One of them is the legendary Mount Nebo. It is not only one of the highest mountains in Jordan, but it is also a place with a unique historic, biblical and symbolic value. It is said that it is from Mount Nebo where Moses saw the "Promised Land" for the first time.
From here, you'll have a breathtaking panorama view and on clear days you can see Jericho in the West Bank and Jerusalem. There are several monuments at Mount Nebo with a large religious importance that can be visited such as Moses Spring, the Church of SS Lot & Procopius and the Moses Memorial Church. These monuments are considered as top Jordan points of interest.
It's one of the top historical places in Jordan that you shouldn't miss.
10. Be the First at Petra Treasury
Do you want to feel like the real Indiana Jones for a while? In Jordan, it's perfectly possible!
Indeed, Petra also known as Pink City was the movie location of Indiana Jones. And who doesn't remember the epic scene when our hero spots the Treasury for the first time?
Unfortunately, Petra is nowadays one of the most famous places to visit in Jordan. Visit Petra, Jordan basically stands on top of every visitor's list. This means that you'll be confronted with tons of people while visiting the historic city of the Nabateans.
In order to get the most intense experience and appreciate the Treasury in its full glory, I recommend being the first to enter the historical complex. I entered at 6am in the morning, it was snowing and freezing but the moment when I stood alone in front of the Treasury will stick with me forever.
Petra is on the top of any list of things to see in Jordan. Most tourists arrive at 8-10 am, thus I recommend booking a hotel in Wadi Musa, the village next to the historic complex.
11. Have a scenic tea time in Petra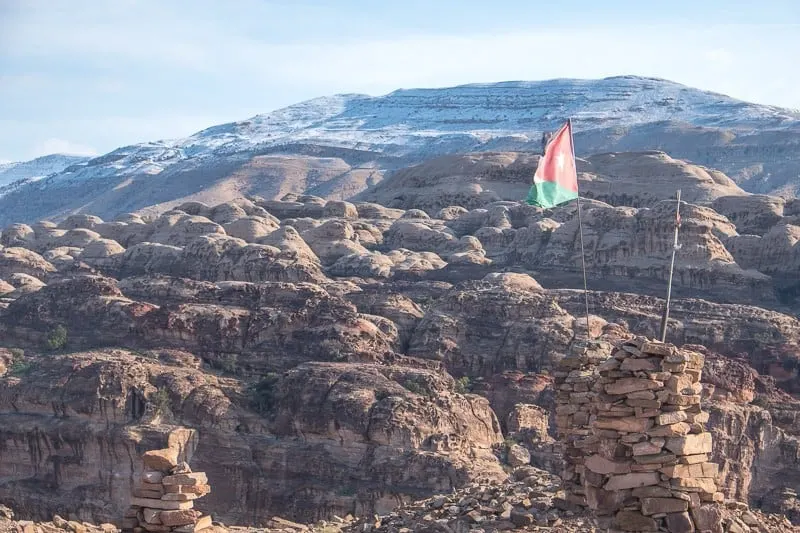 Some think that Petra is only about one monument: the Treasury! Well no, Petra is actually an entire city consisting of epic, historic monuments, several hiking trails, and restaurants.
I recommend taking at least a full day to explore the city of Petra. The must-see sights are the Treasury, several viewpoints, the monastery, the high place of Sacrifice and the Roman theatre.
If you want to make your visit to Petra unforgettable, I recommend having a tea-time at the highest bar of the Pink City. Follow the path to the High Place of Sacrifice, but instead of turning right, just continue straight ahead and climb up.
You'll land at a wooden hut where they serve refreshing mint tea in summer and warming sage tea in winter. The bar is located on the plateau of the Pink City, thus you'll have the town below you and enjoy amazing vistas over the mountains. It's one of the best places in Jordan for nature and mountain lovers.
During our visit, they were snow-copped, thus it was particularly scenic. From here, you continue the trail and make a round-trip that finishes in front of the Treasury.
Buy here your Petra Tickets and Tours
12. Ride a Camel in Wadi Rum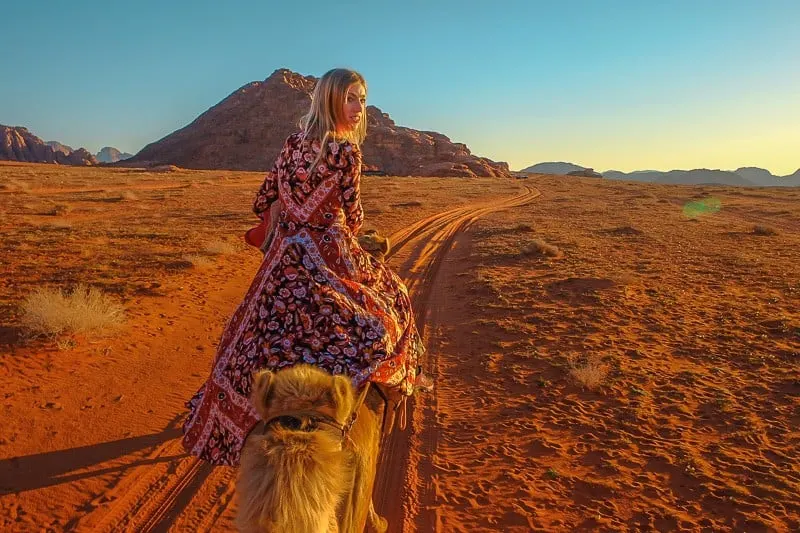 The desert of Wadi Rum is a must on every Jordan travel itinerary. It's completely different from all the other landscapes you can enjoy in Jordan.
The Wadi Rum has been a movie set for several legendary movies such as Aladdin, Lawrence of Arabia, the Martian and many more.
If you are, like me, a fan of slow travel, I recommend taking a camel ride. You can either depart from Wadi Rum village or from the Bedouin camp you're staying at.
You can opt between a sunset or sunrise camel ride during which you'll be taken to the most scenic spot to enjoy this natural highlight. The colors were so intense and it was pure bliss. When looking for things to do Jordan, a camel ride in Wadi Rum should be on the top of your list!
13. Sleep in a Bedouin Camp in Wadi Rum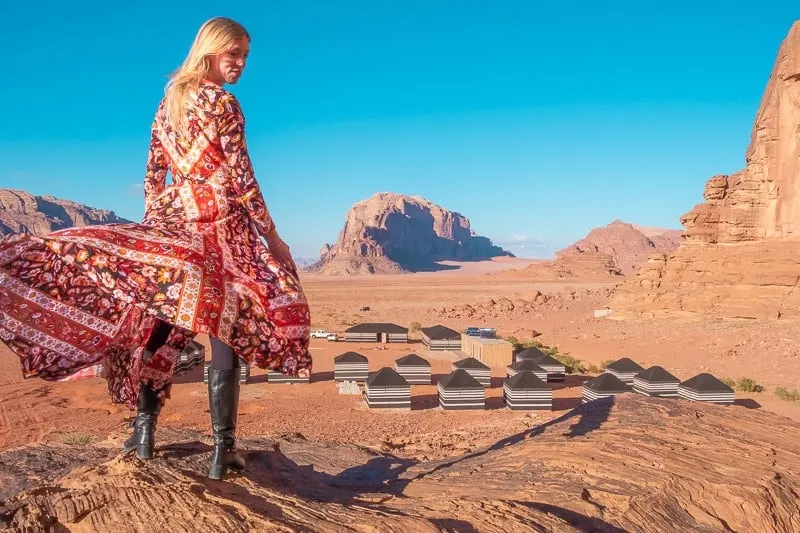 If I would need to narrow down my trip to Jordan to one single experience that marked me the most, I would probably say the stay in a Bedouin Camp in Wadi Rum.
Of course, you can stay in Wadi Rum village or just visit Wadi Rum with a day trip from Petra or an excursion from Aqaba. However, you'll miss an extraordinary experience.
The camps are managed by Bedouin families that have been living in the area for many generations. Their hospitality is simply legendary and during your stay, you'll learn a lot about Bedouin culture.
READ: Things To Do in a Bedouin Camp, Wadi Rum
There are several types of camps in Wadi Rum. Some are very luxurious and can be considered as glamping experiences and others are managed by families that have been living in the desert for many generations and you'll enjoy a unique insight in their nomadic lifestyle.
14. Take a Hike in Wadi Rum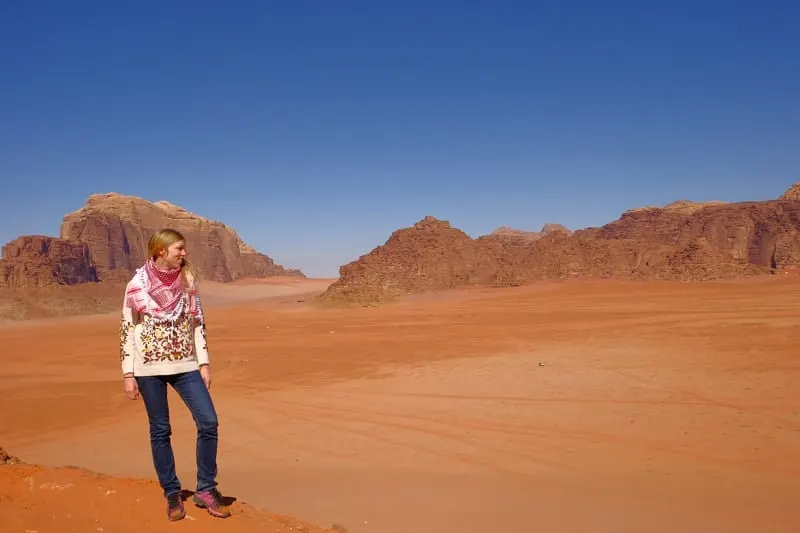 Wadi Rum is a paradise for outdoor lovers. Whether you enjoy hiking or climbing, there will be something for you, dear nature lover.
People travel from all over the world to climb on the spectacular rocks of Wadi Rum. The landscapes are often just surreal and will let you feel like on planet Mars.
If you don't want to climb up to the dazzling high rocks of Wadi Rum, I highly recommend opting for a hiking tour in Wadi Rum. There are plenty to choose from and they all vary according to their difficulty and length.
Some of the most popular treks are the "Makharas Canyon Hike", the "Jebel Rum Round Trip" or the "Rakhabat Canyon". When looking for unique places to go in Jordan, hiking in Wadi Rum is definitely a great idea!
15. Have a Bedouin Dinner in Wadi Rum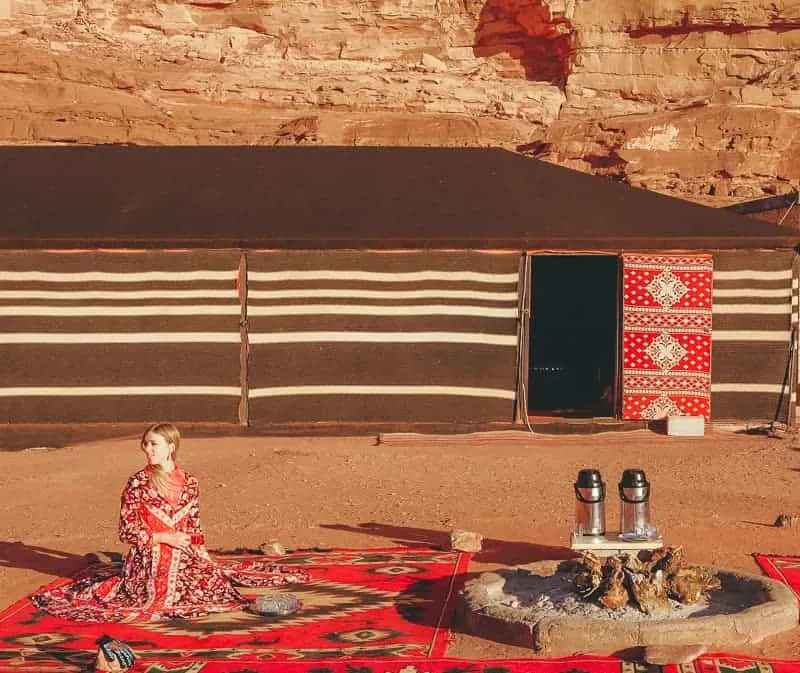 One of the highlights of visiting Wadi Rum is spending time in the main tent of any traditional, authentic Bedouin camp. It's here where you'll learn everything about Bedouin culture. That's why I really recommend engaging conversation with the managing team of the camp…even if there's WiFi!
A great occasion to live the Bedouin culture to the fullest is during dinner time.
The food is being prepared based upon traditional Bedouin recipes and methods. It's slow-cooked for two hours under the earth. The chicken will melt in your mouth like butter and I can't remember when I ate vegetables with such intense flavors.
I also want to make a big shout out to the food served at Wadi Rum Quiet Village. It was the best I've eaten on the entire Jordan trip. The guides really took care to explain to us the process in every detail and how the cooking methods changed over time. Book here your stay in Wadi Rum Quiet Village.
Another great experience in a Wadi Rum camp is tea-time. Basically, any time is tea time and thus a great opportunity to connect and learn about the Bedouin lifestyle and history. Gather in the main tent around a warming sage tea in winter (mint tea in summer) and make friendships that will make your stay unforgettable.
It's definitely one of the best things to do in Jordan.
16. Go Stargazing in Wadi Rum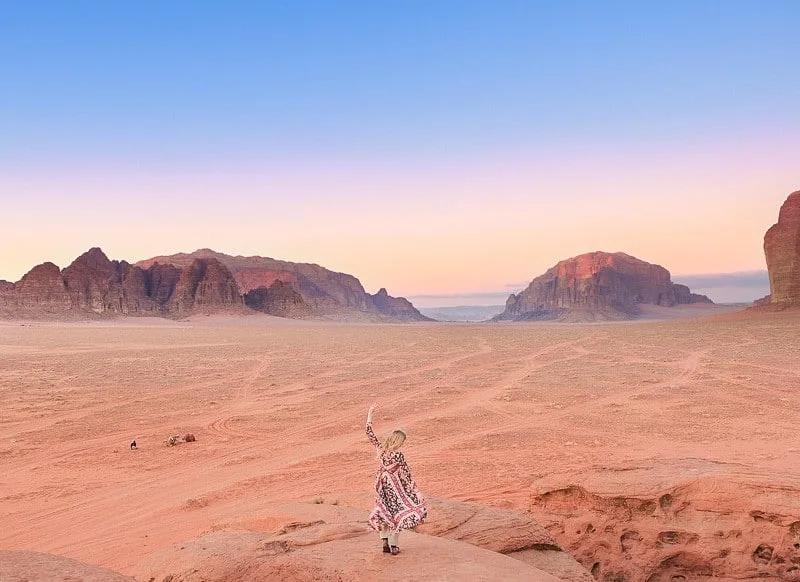 One of the most romantic things to do Jordan is definitely going on a stargazing tour in Wadi Rum.
Thanks to the extremely low light pollution, the milky way and major star constellations are clearly visible. The majestic rocks and the vast planes that separate them create a unique framing whose atmosphere you won't forget.
The stargazing tours are often offered by the Bedouin camps but you can also book your tour at the entrance of Wadi Rum village.
17. Go Snorkeling and Diving in Aqaba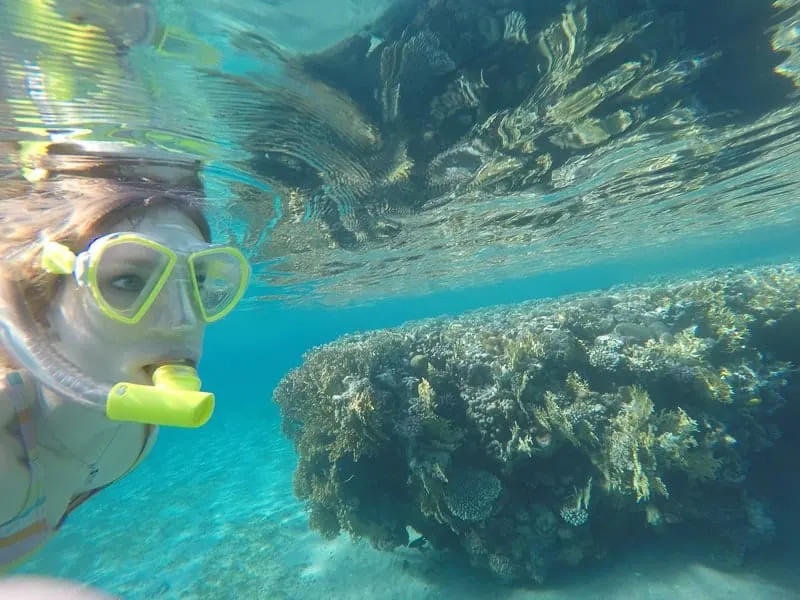 Did you know that Jordan is home to one of the best diving sites in the world? Aqaba, located at the shores of the Red Sea, is famous around the globe for its colorful underwater world. When looking for activities in Jordan, snorkeling in the Red Sea is a fabulous idea!
There are plenty of diving sites from which you can explore tanks, ships, and … planes! All of them underwater. However, it's the gorgeous fauna and flora of the Red Sea that attracts diving aficionados. Let's name only a few of them: the Hawksbill turtle, the Yellow-mouthed moray, cabbage coral, the Napoleon wrasse, and frogfishes! Many more are waiting for you!
READ: Things To Do in Aqaba
There are plenty of diving clubs located on the shore of the Red Sea in Aqaba Gulf. The choice is yours! For me, the reefs of the Aqaba Gulf were one of the prettiest places to see in Jordan.
18. Enjoy a Night out in Aqaba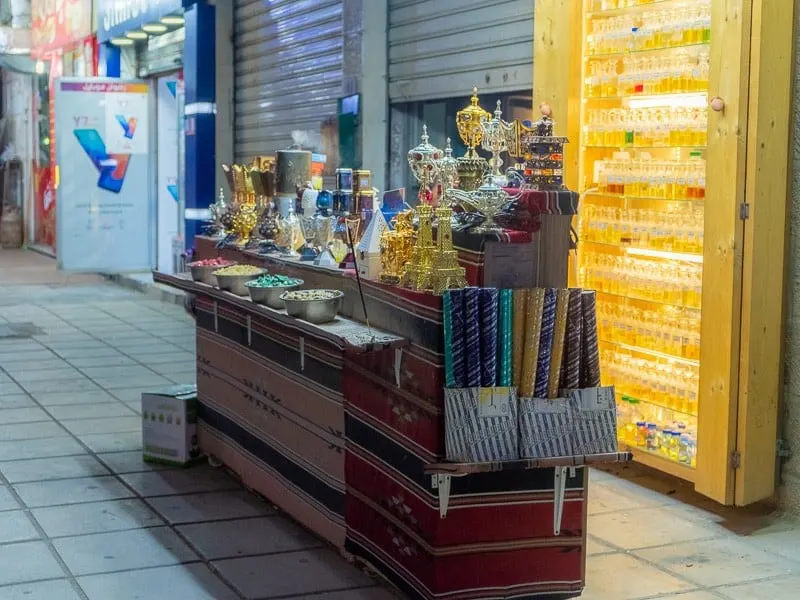 Aqaba has this cosmopolitan vibe that is so characterizing for cities with a large port. It seems like the locals of such towns are used to new influences and visitors. That's why I felt absolutely relaxed while visiting Aqaba. Sometimes, you could think that you're almost in a European town.
The nights in Aqaba are extremely lively. People gather in the numerous bars and restaurants to celebrate life.
There is also the Souk by the Sea in the main street of Aqaba where you can buy artisan goods made by small, local producers. I loved to stock up here on Jordanian tea, spices, and hand-made jewelry.
If you are wondering what to do in Jordan, a night out in Aqaba is a must!
19. Go Shopping in Aqaba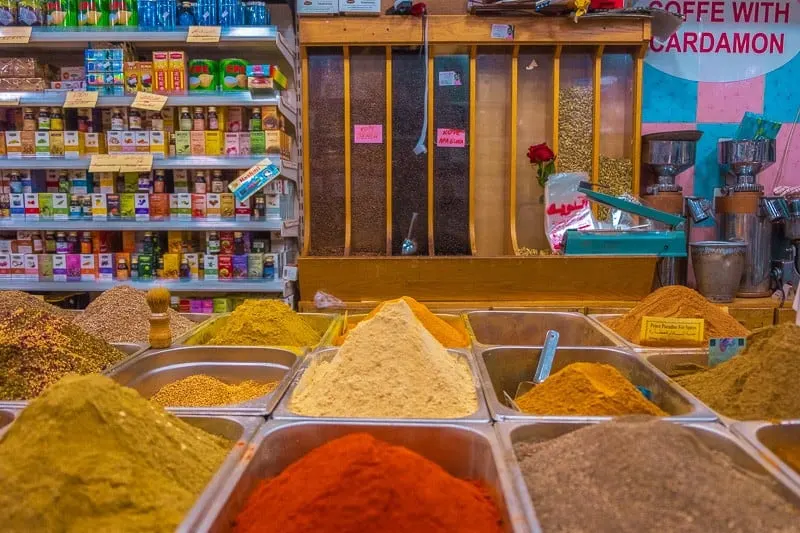 I guess you didn't think of Aqaba as a shopping paradise. Well, let me convince you of the opposite!
Not only does Aqaba benefit from special tax regulations which makes food, beverages, and many other items much cheaper than in Amman or the rest of Jordan. But on top, the city boasts a large variety of shops.
Whether you're looking for traditional souvenirs, international brands, spices, herbs, shoes or jewelry, you'll find it in Aqaba downtown!
READ: Things To Do in Aqaba
My favorite thing to shop in Aqaba is the sweet pastries though! I recommend hopping from one shop to another and find your favorite Arab pastry. There are plenty of shops with things to buy in Jordan and it will be hard to make a choice. Indulging in sweet Arab pastry is thus one of the best things to do in Jordan.
Some of the most coveted spots for traditional sweets are Abu Gharbiya Sweets and Pistachio Sweets & Café. They are some of the top Jordan tourist places!
20. Get pampered in Aqaba or Dead Sea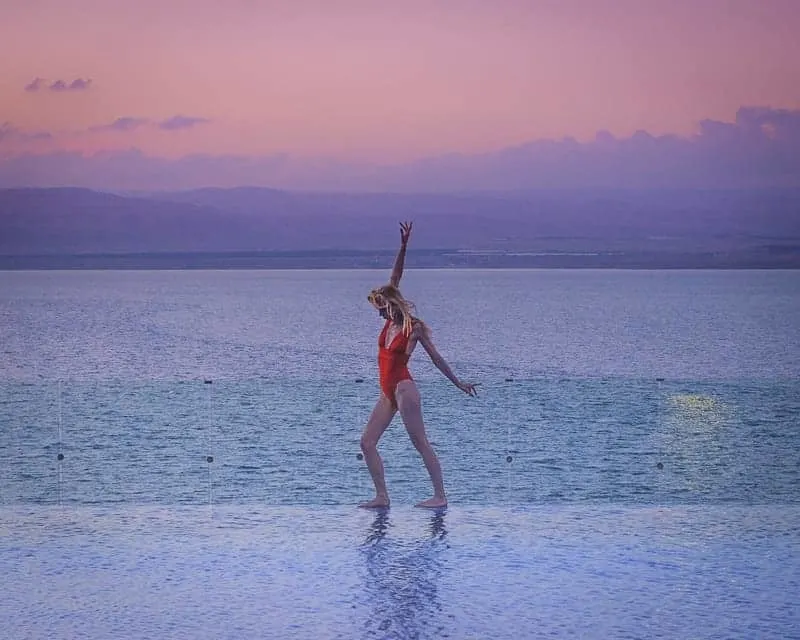 If you want to add a luxurious touch to your holiday in Jordan or if you fancy adding some wellness experiences to your one week in Jordan, I recommend taking a look at the fabulous resorts in the Dead Sea and in Aqaba.
Only the best international brands have opened jaw-dropping resorts where you can get pampered and just relax. Whether you opt for a Dead Sea salt and mud massage or an afternoon on the golf court, you can do so in Aqaba or at the Dead Sea.
READ: The Best Dead Sea Resorts in Jordan
It's thus absolutely worth spending more than only one night at these destinations. On top, they are great bases to explore Jordan tourist attractions by day trips.
If you are more of a luxury traveler, the spectacular resorts of Aqaba and the Dead Sea will be the best places to visit in Jordan for you.
Where to Stay in Jordan: The best Hotels
Jordan Tourist Map and Tourist Spots
---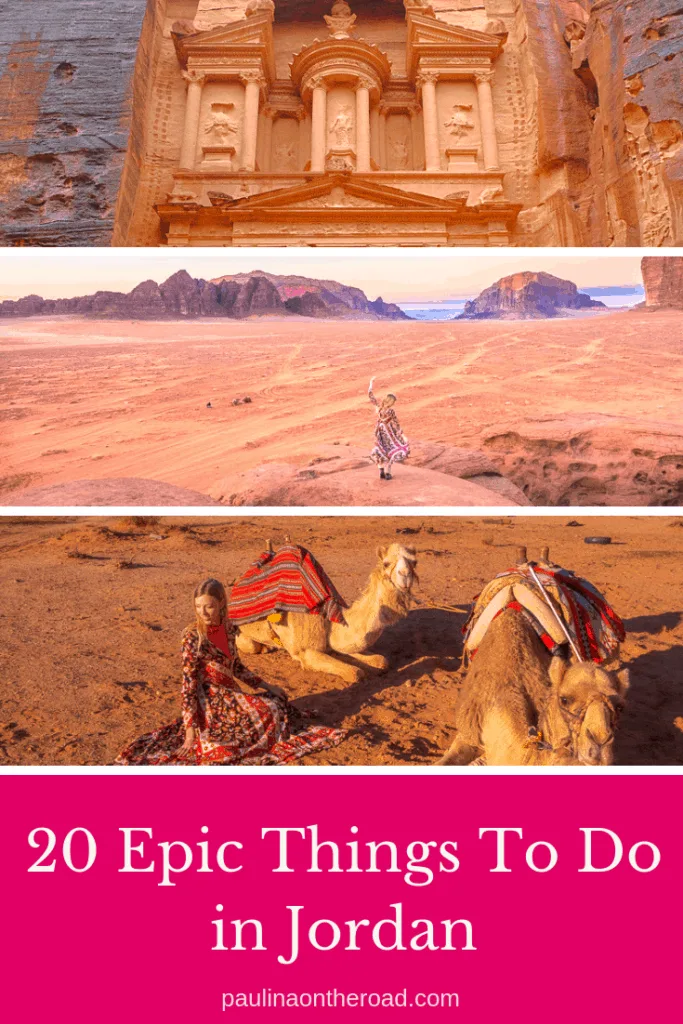 ---
Before You Go: Top Tips for your Trip
To make the most of your Jordan trip, I recommend Lonely Planet Jordan
---
---
Hola! I am Paulina, a fervent travelette who crossed the Atlantic Ocean by Boat HitchHiking. On my blog, you'll find all the tips to make the most of your holiday. Get ready to enjoy outdoor and sustainable travel like hiking, cycling or sailing. Let's hit the road together!