A guide to the best trekking trails in Jordan including Petra Trail and hikes in Wadi Rum
Hiking in Jordan is just awesome! It is not the most popular activity among locals, for sure! But it is definitely something you should consider if you love the desert, olive trees, and water-filled canyons alike. Make sure to include some hikes in Jordan in your itinerary.
Even if it is just for one or two days of your whole visit.
Jordan is a very diverse country, despite it being mainly known for a few touristic highlights. The top three are Petra, Wadi Rum, and the Dead Sea.
However, this small kingdom in the Middle East has plenty more to offer, especially when it comes to hiking.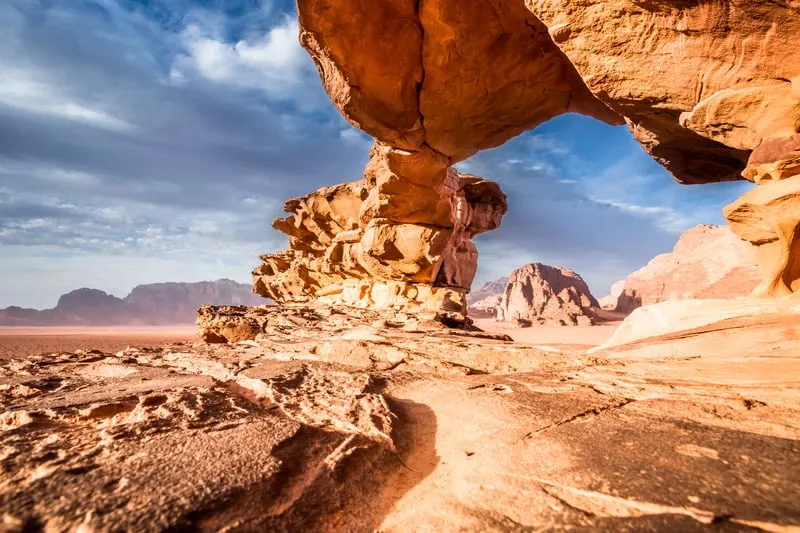 While some of the best hikes in Jordan include a visit to Petra, Little Petra, or the legendary Siq Trail to the Treasury, you can find equally stunning scenery elsewhere.
That includes the green North of Jordan, refreshment in one of the valleys near the Dead Sea, or barren landscapes to the East.
Practical Information for travel to Jordan
✈ Book cheap flights to Jordan with Skyscanner

✔ Book your tours in Jordan with GetYourGuide

➳ Find the best hotel deals in Jordan with Trivago

❖ Get the best car rental deals with DiscoverCars

☘ The best discounted outdoor gear (outlet) at REI.com

✎ Never leave without travel insurance. I get mine at HeyMondo. It's easy to set up, cheap, and reliable.

$ I withdraw money without hidden fees and avoid exchange rates with Wise (you'll get a free card on top)

⚘ Get a travel guide in order to prepare your trip. I recommend the Lonely Planet Guide – Jordan
What to consider when hiking in Jordan
You can do some of these hikes self-guided. However, it is important to consider the weather condition at all times and never go unprepared on a hike. This is especially true if you are on your own.
Some of the areas are very remote, dangerous, have no mobile coverage and limited water resources. In the summer temperatures in Jordan can get extremely hot, especially in the desert or at the Dead Sea. During winter, flash floods are common and they have been occasions where tourists had to be evacuated.
Even places like Petra or Wadi Rum receive snowfall sometimes. Also, transportation back from the end of a hike becomes an issue when you don't want to or can't go back the same way.
However, trekking in Jordan is absolutely worth it and considered one of the best things to do in Jordan.
Don't forget to bring your vegan hiking boots or backpacks made from recycled material.
If you are short in time, you should have a look at guided hiking trails in Jordan. – Check guided tours here
If you are a woman traveling solo to Jordan, make sure to read first about travel planning as a solo female traveller.
A must: the epic Jordan Trail
With the implementation of the Jordan Trail a few years back, Jordan has seen an increase in the alternative- and eco-tourism. The trail runs throughout the entire country from north to south over 8 regions on a length of about 670 km.
One of the most cited sections of the trail is the one from the Dana Biosphere Reserve to Petra. It has been highly praised by hikers across the world and even in the National Geographic!
On a 3-4 day hike, you hike through different eco-systems along with magical landscapes and ever-changing vegetation.
So let's jump right into one of the best hikes in Jordan.
1. Dana to Petra – Hiking through a Biosphere Reserve to one of the Seven World Wonders
Where to stay: Feynan Ecolodge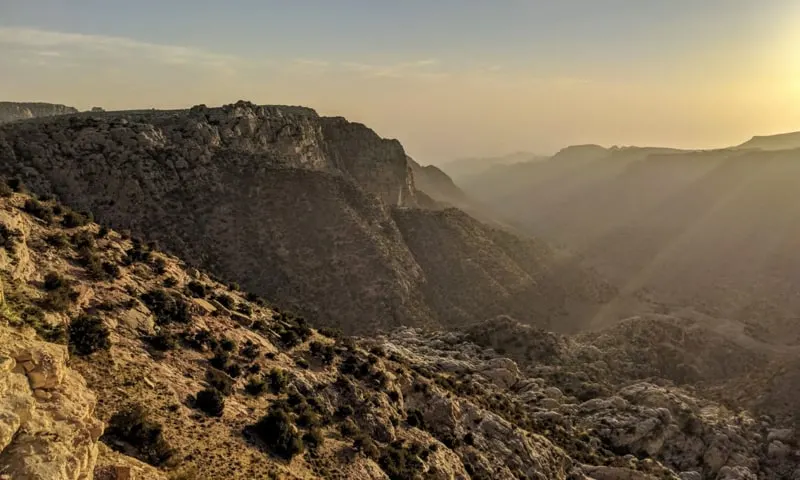 As mentioned above, this is the top section of the Jordan Trail. It is just loaded with diversity, the difference in elevation, stunning landscapes, and different biospheres.
Usually, you will embark on this 3-4 day journey on a guided hike. There are different routes and you walk through rough unmarked terrain with no mobile reception, water, or shelter.
Different tour operators provide options where you will carry all the needs or they take care of everything for you.
Hiking through Dana Nature Reserve
The journey starts at Dana, which is located beautifully at the top of a canyon. You will then descend for about 900 meters on the first day into the valley. The next few days, you pass by different climate zones, extraordinary scenery, valleys, and rough terrain.
This hike offers you the complete spectrum of Jordan's diversity. After passing through some small villages and the Wadi Araba Desert, you can finally enter Petra from the backside.
From there you reach the monastery, a stunning highlight apart from the Treasury. The best thing is probably that it allows you to connect with nature and the locals in that area.
You are truly on your own with very few people in an amazing setting for a couple of days and it ends with a true highlight. No wonder that it is considered one of the best hiking trails in Jordan!
Hiking Petra from the back door
The hike to Petra from the back door is wonderful and you avoid the large crowds in Petra. Additionally, you can go down instead of climbing up hundreds of steps until you reach the monastery.
Most of the visitors will arrive at the monastery in the heat of the day, only to go back all the way again. You can enjoy the stunning views of the monuments and the Wadi Araba Desert with only a few people. Then you make your way down through the ancient city of Petra.
Everyone else is climbing up the stairs while you descend. You still have enough time to wander around and gaze at this incredible world wonder built by the Nabataeans (an Arab people who inhabited northern Arabia and the Southern Levant in antiquity).
All in all, you should have a moderate level of fitness to complete this section.
2. Have an Adventure Hike at Wadi Mujib
Where to stay: Ma'In Hot Springs *****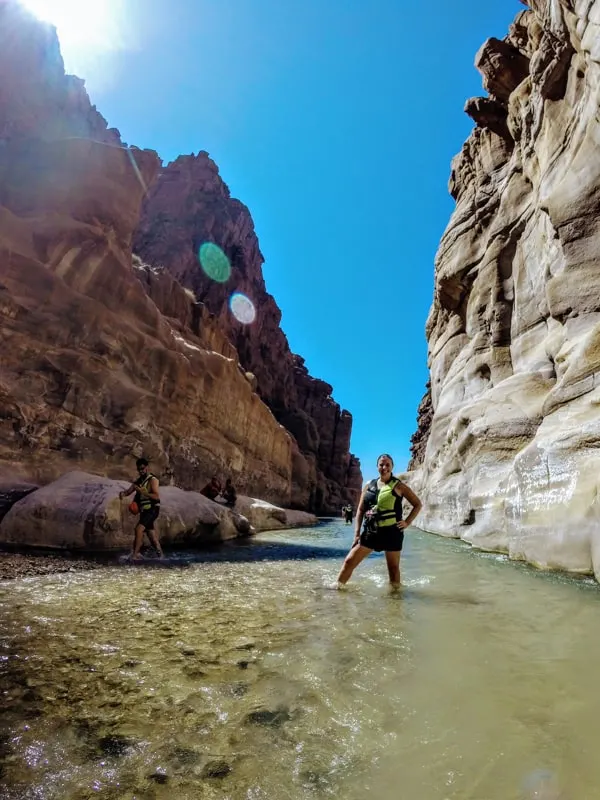 Wadi Mujib is one of the most popular hiking destinations starting from the Dead Sea, and that's for a reason. Wadi Mujib Siq Trail, part of the Wadi Mujib Biosphere Reserve, is packed with adrenaline-pumping action. Prepare to get wet up to the chin!
You will depart from the Wadi Mujib Adventure Center. It is located a few minutes from the hotel area at the Dead Sea, the lowest point on Earth!
If you come on your own, you can park your car there and get prepared for your hike, or better, swim.
It's considered one of the top hiking trails in Jordan and absolute a must-do!
Wadi Mujib is strictly 18+, requires swimming ability, and is subject to an entrance fee of currently 18 JOD (25 USD).
Prepare to Hike Wadi Mujib Biosphere Reserve
Better leave everything in the car, or better in Amman, or your hotel if you can. You won't need anything other than swimwear and shoes, not even sunglasses or a hat!
From the beginning of the canyon, you will descend deeper and deeper into the water. You will swim against the current and some passages might be demanding, but there are people to help as well as ropes and ladders.
Make sure to stick to the indicated route and observe the signs. If you do so, you shall be safe.
Hiking and Swimming a stunning canyon in Jordan
The hike itself will probably take around 2-3 hours return, depending on your speed and how long you will rest at the waterfall, which is the final turning point. It's thus perfect to bring your sustainable swimwear along.
You will then return the same way and going back most likely will be faster as you go with the current. You can then just relax and float in the stream, gazing at the steep rocky walls surrounding you in the canyon.
The landscape is stunning and it is an adventure very different from any other in Jordan. Wadi Mujib is only open from the beginning of April to the end of October.
Related: Best Things to do in Dead Sea, Jordan
3. Experience the lush Greens in the North: Hiking to King Talal Dam
Where to stay: W Amman *****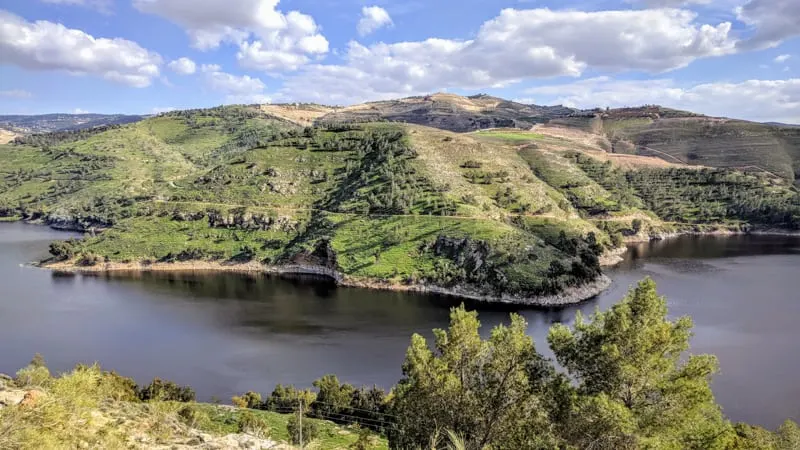 Jordan is one of the most water-scarce countries in the world, so it is fair when expecting the majority of the country to be desert-like.
However, Jordan also has a few dams to collect and preserve water, especially in the northern area. One of these is King Talal Dam about a 45-minute drive from Amman.
You can hike to or from the dam as one of the routes on the Jordan Trail. It will lead you through beautiful open green landscapes, areas covered with trees while finally reaching the huge dam.
In springtime, it will be filled with lots of water from the winter, and plants are green all around. You can walk over the dam wall and have a stunning look over the surroundings from the top of the hills.
It is a lovely picnic spot as well and you might even see some families having a BBQ nearby.
The views are fabulous and if the weather conditions allow, you'll also overlook the Jordan valley and even spot Palestine! It's a real must on any Jordan itinerary!
4. Explore Jordan's highest mountain while Climbing Jebel Um Adaami, Wadi Rum
Where to stay: Wadi Rum Quiet Village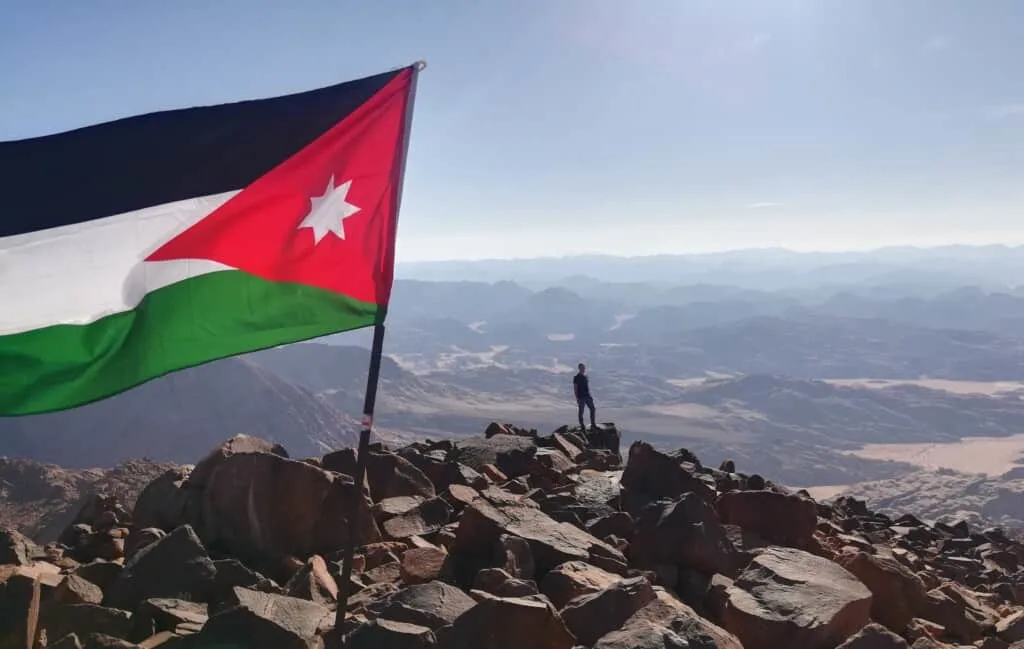 Wadi Rum itself is for sure a highlight of Jordan and probably one of the most stunning places I have ever seen in the world! The absence of civilization, the massive rock formations, and an endless sea of yellow or red sand make Wadi Rum an awesome place!
You won't find many animals, and apart from the Bedouin camps and the tourists visiting the desert. There is no life, no cars. It is amazingly quiet so that you will have the luxury to enjoy pure silence!
That together with pretty much no lights also give you the chance to watch a stunning sky filled with stars and shooting stars. While most of the people opt for just one night and do the obligatory camel- or jeep tour, you can experience much more in Wadi Rum!
Activities in Wadi Rum
Despite some 1-2 day tours, sandboarding, hot air balloon flights, quad biking or horse riding, Wadi Rum offers a couple of climbing possibilities on its mountains. These include Jebel Rum, Jebel Khazali, and Jebel Um Adaami (Wadi Rum's highest mountain).
You will need to do this with a guide, as pretty much anything in Wadi Rum, to avoid getting lost in the desert!
Keep in mind that Wadi Rum stretches over an unbelievably large area, with no mobile reception and limited water resources, so you need to know where you go! – Book here trips to Wadi Rum
Hiking and Climbing in Wadi Rum
Many of the Bedouin camps that offer overnight stays also offer other experiences and tours. Usually, these will be offered for small groups at a price between 125 to 170 USD, depending on the group size.
The hike is reasonably easy to moderate and does not require difficult climbing. It is a 3-4 hour journey back and forth.
However, you can, of course, take your time and also have lunch there if you wish to arrange that. On top of the mountain, you will have a stunning view over Wadi Rum and even parts of Saudi Arabia.
Related: Things to do in Wadi Rum, Jordan
5. Hike near Oak and Pine Trees at Ajloun Forest Reserve
Where to stay: Mountain Breeze Lodge & Resort ****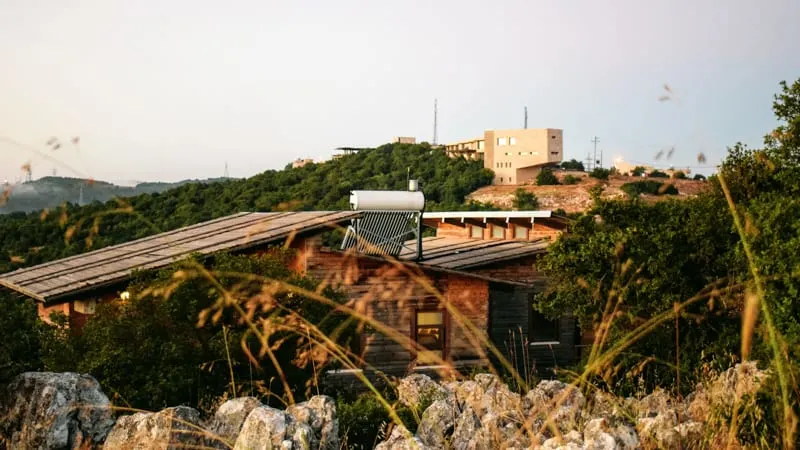 Ajloun Forest Reserve is one of several protected nature reserves managed by the Royal Society for Nature Conservation (RSCN). It is located about a 1-hour drive north of Amman.
The visitor center features a restaurant with stunning views of the reserve and shops that offer products created by the local community.
That includes the biscuit house, the soap house, the nature shop, and also a place where you can learn to write Arabic calligraphy.
Next to the visitor center are the wooden cabins, where you can stay overnight. They are beautifully located right next to the forest of oak and pine trees as well as wild strawberry and wild pistachio.
From there you can embark on several hikes. There is a variety from an easy 1-2 hour walk around the site to more elaborate hikes within the reserve. One of these is a hike to Ajloun Castle, which was built as a stronghold against the crusaders on ruins of an old monastery.
Most of these are offered as guided hikes by Wild Jordan that manages all the adventures and tours in Jordan's other nature reserves. It is a pleasant change to the deserts in the east or the south.
6. Refresh at Wadi Al-Hasa near the Southern Dead Sea
Where to stay: Kempinski Hotel Ishtar Dead Sea *****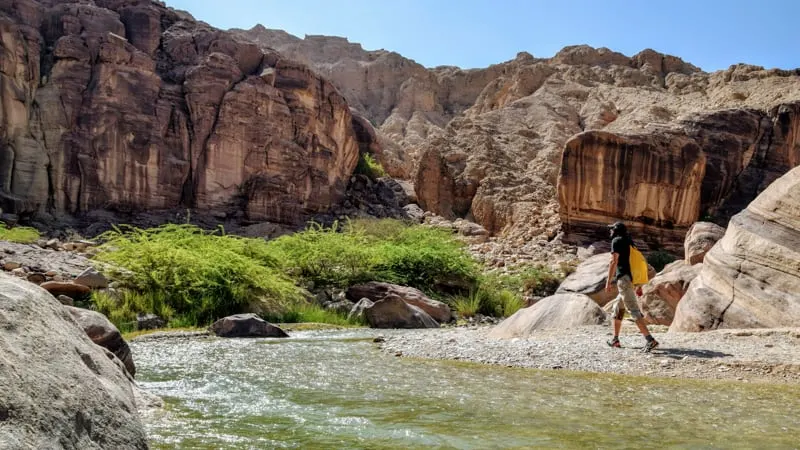 Apart from the famous Wadi Mujib, there are several other valleys that you can access from the Dead Sea.
Wadi Al-Hasa is close to the southern tip of the Dead Sea, a bit remote and therefore not very frequented. That is also because it is a 2-hour drive from Amman and less action loaded than Wadi Mujib.
However, it is not less interesting and that's why it is on this list. There is no entrance fee and you can do it self-guided if you know where to start.
Make the most of your time and visit the area with a guided tour. – Check rates here
Hiking the Valley near the Dead Sea
You will start a few hundred meters below sea level, so it might be extremely warm! Once you reach the wadi (Arabic for "valley"), you should be prepared to get your feet wet!
Like anywhere, water levels will depend on the season. Even in summer, I experienced a nice, rather strong water flow in Wadi Al-Hasa. You will walk through a canyon that narrows, the further you will go.
There are plenty of shadows and the sun won't hit you all the time.
I still recommend going as early as possible, to avoid too hot weather. It also allows you to go further inside the valley before you need to return unless you opt for a 2-day hike with overnight camping.
While you go through the wadi, you will walk in waist-deep water at some point or even deeper, if you like to. It is really fun and enjoyable, as you splash through warm waters.
To the left and the right, you see beautiful steep rock formations painted with yellow and red lines.
Related: The Best Hotels in Jordan
7. Hike Wadi Al-Rayan being Surrounded by Thousand-year-old Olive Trees
Where to stay: Fairmont Amman *****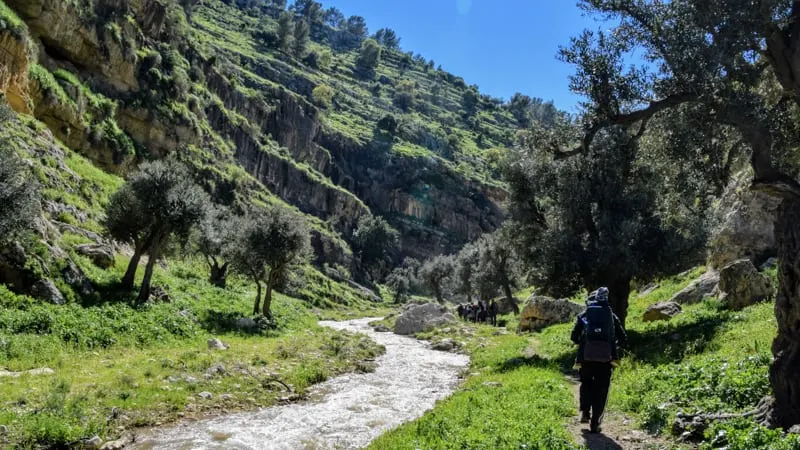 Wadi Al-Rayan is a lovely valley located about a 1-hour drive north of Amman. It is one of my favorite destinations in Jordan. When you go hiking in March, you will see blooming flowers, green grass, and maybe some shepherds with their goats.
You will walk along a small creek that you might have to cross a few times. That being said, water levels depend on the season and the rainfall during the warmer months.
The best about this hike though, is that you will see a large amount of very old, huge olive trees.
Some of the trees date back a few hundred or even more than a thousand years! To the left and right, you will see stone walls until the valley opens up more to the end.
It is an easy walk of around 7 km. In the end, there are some wonderful picnic spots. When hiking unguided, which is possible, then usually transportation becomes an issue unless you want to go the same way back.
However, you can arrange tours for many of these or similar hikes in Jordan. – Check rates & reviews here
---
About the author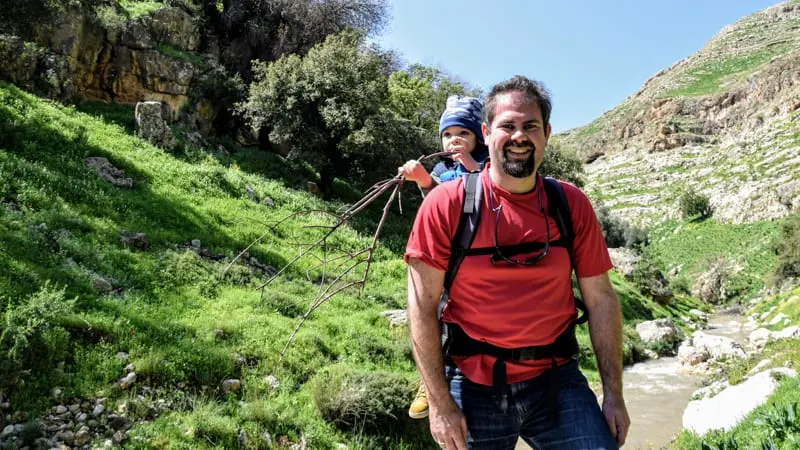 Bastian is a nature lover, hiker, and blogger living in Amman, Jordan. He is an expat living and working in the capital of Jordan and sharing his experiences about life in Jordan on his blog https://livinginjordanasexpat.com/.
He reviews restaurants, family-friendly activities, experiences of all kinds, and foremost writes about discovering the outdoors of Jordan. He traveled the country extensively and has seen nearly all corners, while there is still always more to discover.
He also shares his insight on how to navigate life in Jordan as a foreigner on his social media channels.
---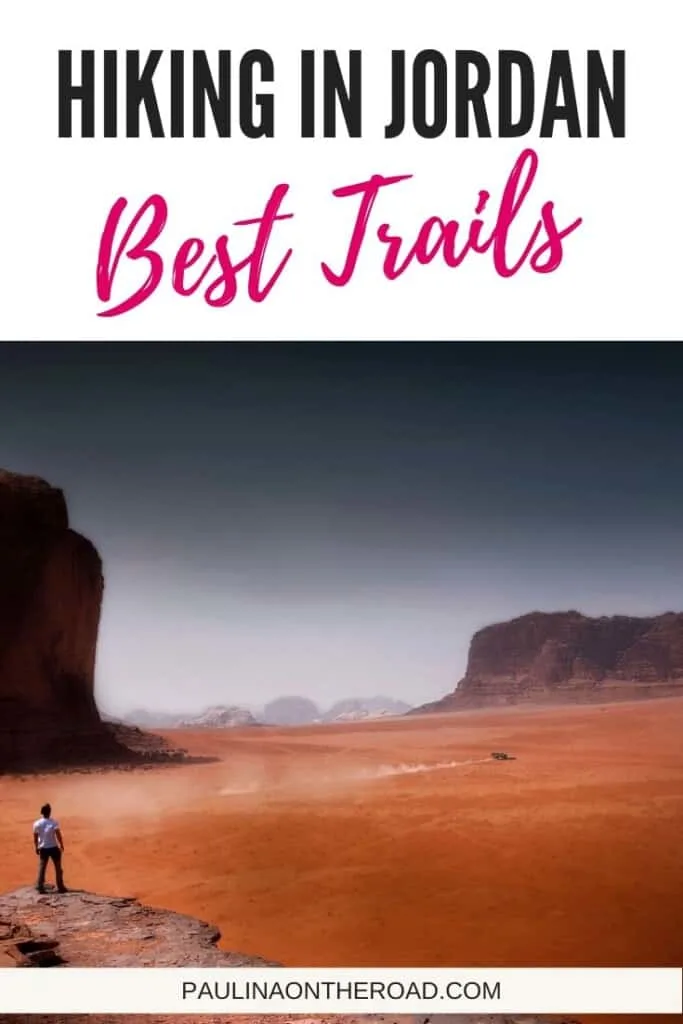 ---
Hola! I am Paulina, a fervent travelette who crossed the Atlantic Ocean by Boat HitchHiking. On my blog, you'll find all the tips to make the most of your holiday. Get ready to enjoy outdoor and sustainable travel like hiking, cycling or sailing. Let's hit the road together!