The Best Hotels in Jordan – A Guide on Where to Stay in Jordan
Jordan has been one of the most coveted travel destinations in the last years. Thanks to its spectacular nature, breathtaking historical sites like Petra and its safety, tourists are visiting Jordan more than ever. To me personally, the biggest attraction of Jordan is its diversity.
Despite its limited size, the country offers multiple leisure options for history buffs, hikers and wellness fans alike. Of course, with such a wide range of things to do in Jordan, it can be quickly overwhelming to find the best place to stay in Jordan for your holidays.
That's why I created this in-depth guide on the best hotels in Jordan and where to stay in Jordan according to your holiday plans. I traveled Jordan from north to south for 10 days. During my stay, I experienced a wide range of accommodation types. During these 10 days, I stayed in 5-star hotels, wellness resorts, Bedouin camps, and budget hotels.
My trip included a lot of planning and in this post, I want to share with you my favorite places to stay in Jordan and which accommodation is the best for you according to your needs and travel profile. Accommodation places are categorized location-wise and budget-wise.
So, before you head to Jordan, first decide if you want wellness resorts, luxury experiences or enjoy its amazing hiking trails. There are plenty of things to do in Jordan and I am sure that with this guide, you'll make the most of your Jordan vacation. Find a Jordan map at the end of the post.
1. Where to stay in Amman, Jordan
Amman, the city with 4 million inhabitants, is one of the oldest cities in the world. One can see its grandeur in the elegant architecture of its ages old mosques and temples. Amman is well connected via roads, bus routes, and airports.
The nearest airport to Amman is Queen Alia International Airport, 30 kilometers south of Amman. Book here your transfer from the airport to Amman center.
The Citadel is a must-see attraction in Amman, best visited at the time of sunset. You can check out the amazing street art in downtown and visit Abu Darwish Mosque, which sits atop one of the seven hills of Amman. Take a deep dive in the culture and tradition of the city by taking a Turkish bath and exploring the local shops in downtown. Your trip to Amman will be incomplete without trying some local cuisine like knafeh, falafel, fatteh, and waraq enab. Book here your activities in Amman.
You can find all kinds of budget: 3-star hotels, 4-star hotels, and luxury 5-stars in Amman. You can choose hotels based on their nearby places, surroundings, specialties, and price. There are many hotels in Amman near the airport. Famous all over the world for its low-priced boutique hotels, the best hotels in Amman can be easily booked online.
It is advised to book in advance and be safe so that you come across no surprises and easily get cheap hotels in Amman. Calculate at least 1 day in Amman.
For activities, guided tours and day trips from Amman, I recommend GetYourGuide and Viator. Both have very competitive prices.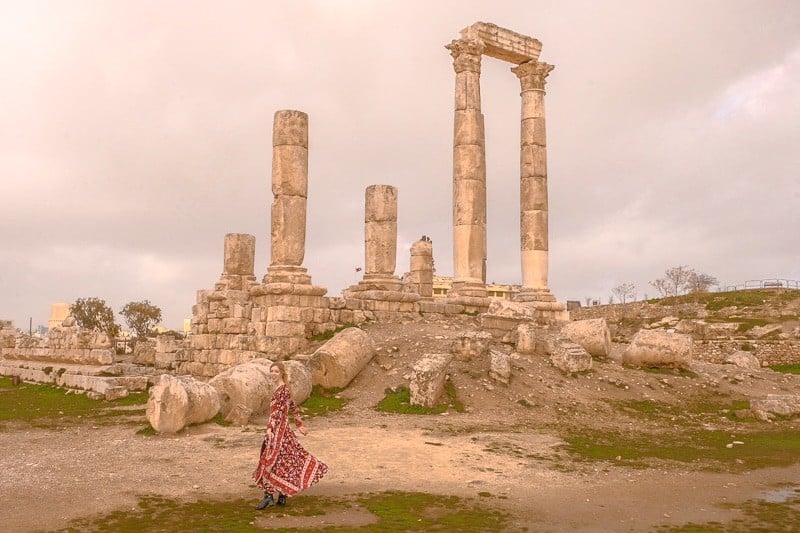 Best Hotels in Amman, Jordan
Budget Hotels
Rayshan Hotel***
Virgina Hotel Suites***
Mid-Range Hotels
Amman International Hotel****
The Sanrock By LeReve Hotels****
City Rose Hotel Suites****
Luxury Hotels
Four Seasons Hotel Amman*****
Fairmont Amman*****
W Amman*****
InterContinental Jordan*****
2. Where to stay in Dead Sea, Jordan
The Dead Sea in Jordan is the most famous water body in the world. People go there to take advantage of the highly salty waters and simply float in the calm sea. The sand and the clay on the beach of the Dead Sea are known to have beautifying and healing properties for the skin.
You can easily reach the Dead Sea from Amman, either as a part of a tour or, alternatively, you can also get there by a rented car at your own convenience. It will take you less than an hour to reach the Dead Sea from Amman.
Book here your day trip from Amman to the Dead Sea
The visit to the Dead Sea is all about enjoying the unique water body. The water is extremely salty and hence, it is advised not to enter the water with any open wounds, or even after a fresh shave. The must-do here is to apply the mud by the sea on your skin and make the best of its nourishing properties.
There are many hotels in Jordan near the Dead Sea to choose from. You can get hotels ranging from $60 to $300 a night and also find hotels of some of the most renowned hotel brands. From spacious rooms with excellent outside views to delicious local cuisine, hotels in Jordan will never disappoint you.
Book a luxury hotel to get the best views of the sea where you can have morning tea while watching the sea waves. On the whole, the hotels in this area are cheaper than many other places in the world. However, there are no budget options at Dead Sea, Jordan. For budget accommodation near Dead Sea, you need to stay in Amman or near-by Madaba. In order to fully relax, I recommend staying at least 2 days at the Dead Sea, Jordan.
I stayed at the Hilton Dead Sea Resort & Spa *****. The Hilton Dead Sea Resort & Spa ***** was the best place to stay in Dead Sea, Jordan. Besides the staff going always the extra-mile, I loved the direct access to the beach and the heated pool.
Best Dead Sea Hotels, Jordan
Mid-Range Hotels
Dead Sea Spa Hotel****
Ramada Resort Dead Sea****
Luxury Hotels and Wellness Resorts
Kempinski Hotel Ishtar Dead Sea*****
Hilton Dead Sea Resort & Spa*****
Dead Sea Marriott Resort & Spa*****
Mövenpick Resort & Spa Dead Sea*****
Ma'in Hot Springs*****
READ: The Best Dead Sea Resort and Hotels in Jordan
3. Where to stay in Petra, Jordan
Petra and Wadi Musa are far more than popular shooting sites for movies like Indiana Jones. There's a lot more to it than scenic beauty. In Petra, you can find places whose history dates back to 312 BC and make sure to visit its massive sandstone carvings famous all over the world. Petra itself is not inhabited, except by a few Bedouins. All the accommodation is located in Wadi Musa, the town next to Petra.
Book here your day trip to Petra
Reaching Petra from Amman by car will take about 3 hours. You pick the route called King's Highway to catch some scenic spots on the way and click Instagram perfect pictures. Petra is bigger than you might think. In order to see the heritage site without stress, I recommend at least 2 days.
In Petra and Wadi Musa, you'll enjoy one of the new seven wonders of the world, which was not known to the world until the 19th century. Here, you will discover the place where once thrived the Nabataean dynasty and Bedouin tribes. The buildings carved out of sandstone are extremely beautiful and almost out of this world.
Petra by Night is a famous performance that is a must-watch for visitors. In addition, check out the treasury and the majestic sandstone monastery which is located a 40 min walk away from the Treasury. It is definitely one of the best things to do in Jordan.
Hotels in Petra, thus in Wadi Musa are abundant in number and can also be booked in advance online. There are all kinds of budget, economic and 5-star hotels available here. Most hotels in Wadi Musa will be equipped with in-house restaurants and bars where you can have a drink or two.
If you search for it, you can even find some of the best hotels in Petra with stunning views to ancient Bedouin caves. Please notice that often restaurants don't serve alcohol.
I stayed at the Amra Palace International Hotel*** which has a cute spa and a buffet with local meals. It also offers a shuttle to the Petra Heritage site.
Best Petra Hotels, Jordan
Budget Hotels near Petra
Town Season Hotel***
La Maison Hotel***
Mid-Range Hotels near Petra
Petra Moon Hotel****
Petra Guest House Hotel****
Petra Moon Hotel****
Luxury Hotels near Petra
Petra Marriott Hotel*****
The Old Village Hotel & Resort*****
Mövenpick Resort Petra*****
4. Where to Stay in Wadi Rum Desert
Wadi Rum, also known as "the valley of the moon", is the place that will make you feel as if you are on a different planet. The key attractions in Wadi Rum are not only the breathtaking desert landscapes and the local Bedouin camps but also the hot air balloons and camel rides. This is a paradise for nature lovers and I recommend to stay at least 2 days in order to absorb the relaxing vibe.
You can reach Wadi Rum by traveling to Aqaba first by air and then drive to Wadi Rum by taxi. You can also book your seat in JETT bus from Amman to Wadi Rum, which will get you there in 4 hours.
Read more about things to do in Wadi Rum
In Wadi Rum, the movies "The Martian" and "Aladdin" were shot. Don't miss the chance to see this place from a hot air balloon. The hot air balloon ride is 1 hour long and offers the incredible glimpses of this unique place. Further, you can enjoy a camel ride in the evening and watch the sunset while you ride.
At night, camp in traditional style in Bedouin camps and experience unique traditions of Bedouin people living in the Wadi Rum desert. Most tourists prefer to stay in camps because it is the most authentic way to visit Wadi Rum. However, you can easily find hotels in Aqaba which is close to Wadi Rum. Luxury hotels in Aqaba appease their guests with their quality service that reflects the culture of Jordan.
At the Wadi Rum hotels and camps, you can also get help to book and plan tours to famous tourist places. This can be beneficial because being locals; they will know what works best for tourists and they will give you relevant advice.
I stayed in Wadi Rum Quiet Village and it was probably the most memorable stay of my entire Jordan trip. Saleem, the manager, and his staff are Bedouins who care about their traditions and are eager to show you the Bedouin lifestyle. It was a unique and very personal experience. Book here your stay in Wadi Rum Quiet Village
Best Bedouin camps in Wadi Rum Desert
My all-time favorite Bedouin camp in Wadi Rum:
Budget Camps in Wadi Rum
Wadi Rum Sky Tours & Camp
Wadi Rum Fire Camp
Wadi Rum 7 Pillars Camp
Mid-Range Camps in Wadi Rum
Um Sabatah Camp
Magic Bedouin Star
StardustCamp
Luxury Camps in Wadi Rum
Memories Aicha Luxury Camp
Bedouin Hala Rum Luxury Camp
Space Village Luxury Camp
Wadi Rum Night Luxury Camp
5. Where to stay in Aqaba, Jordan
Aqaba is the only port city of Jordan. Located in the south of Jordan, Aqaba is of historic importance with its name mentioned in the Bible. Always alive and bustling with activities, Aqaba's shores touch the Red Sea. Most tourist places like Wadi Rum, Petra, Madaba and Dead Sea are easily approachable from Aqaba. Together with Wadi Rum and Petra, Aqaba is part of the Golden Triangle. I loved Aqaba's bars and food. It's a great place to relax on the beach too.
You can easily reach Aqaba by car, taxi, bus or flight from Amman. Amman can be easily reached via flights from all over the world. Aqaba is also highly accessible from Amman. From Aqaba, you can visit Petra with a day trip or have a jeep tour to Wadi Rum.
Aqaba is famous it's for beautiful desert landscapes and pristine views of the Red Sea. Sports enthusiasts can enjoy many water sports such as snorkeling or sailing. Aqaba is also ideal for shopping for jewelry and precious unique gemstones that cannot be not found anywhere else.
Some other popular tourist attractions in Aqaba include the Mamluk Fort and ruins of Ayla. You can explore coral reefs while you snorkel in the clear waters of the sea.
Aqaba, being a famous tourist spot, Aqaba is home to many luxurious and budget hotels. Most hotels in Aqaba can be found near the local markets, where you can stay close to the bustling city day and night. Regardless of the time of the year, you can expect to get the highest quality service at Aqaba Jordan hotels.
With pristinely clean surfaces, luxury linens, and range of free recreations like gym and spa, you will find some of the most world-class hotels and resorts in Aqaba, Jordan. You can also pick your favorite hotel by the beach so that the sunbath is just a walk away.
I stayed at the fabulous Hyatt Regency Aqaba Ayla Resort***** and enjoyed my stay from the first second! The staff is lovely and knows how to treat you like a queen! The bathroom and the cozy beds are to die for! Book here your stay in Hyatt Regency Aqaba Ayla Resort*****.
Best Hotels in Aqaba, Jordan
Budget Hotels in Aqaba
Mid-Range Hotels in Aqaba
Lacosta Hotel ****
Dweik Hotel 3 ****
CityTowerHotel ****
Luxury hotels and resorts in Aqaba
Al Manara, a Luxury Collection Hotel *****
Kempinski Hotel Aqaba *****
Hyatt Regency Aqaba Ayla Resort *****
Mövenpick Resort & Spa Tala Aqaba *****
6. Best Hotels in Jordan for Nature Lovers
Dana Reserve
Dana Reserve, Jordan's largest nature reserve, is the 15th century stone village known for its exquisite village-like surroundings. Civilizations have lived in Dana reserve since 4000 BC, thrived on the fertile soils of the place and took advantage of its strategic location. Known for its riveting landscape, Dana Reserve is a must visit place for tourists and particularly hikers.
Dana Reserve is about 190 kilometers from Amman. There is no direct transport to Dana Reserve, but you can book a taxi or rent a car to get to Dana Reserve. Check here the best rental car deals in Jordan.
Dana Reserve in Jordan presents spectacular scenery for the viewer. Situated at the height of 1600 meters, it is an ideal place for bird watching and hiking. Most of Jordan is desert and Dana Reserve has the most diverse plants. Some of them cannot be found anywhere else in the world.
Tourists can visit Wadi Ghuweir, which is a narrow gauge with a stream flowing through it. Hiking and trekking are the most popular tourist activities and allow you to enjoy the impressive biodiversity of this place.
Hotels in Dana Reserve range from 3 stars to 5 stars. Visiting tourists are advised to book a hotel in Dana Reserve in advance to make sure they find a comfortable place to stay. Most hotels in Dana Jordan are accustomed to hosting a variety of travelers. Whether you are a young quirky person or someone who likes things plain and simple, you can be sure your hotel will adjust themselves to your likes.
Best Hotels in Dana Reserve
Ein Lahda Camp-site
Rummana Campsite
Wadi Dana Eco-Camp
Dana Guesthouse
7. Best Luxury Hotels in Jordan
Jordan is the one-stop destination for tourists who want to experience city life, calm beach, and tradition all at one place. Also when it comes to luxury travel, Jordan is famous for the Dead Sea, camel rides in Petra and the exotic desert landscape of Wadi Rum and its luxury camps.
So, where to enjoy luxury holidays in Jordan?
Luxury Hotels in Aqaba
Al Manara, a Luxury Collection Hotel *****
Kempinski Hotel Aqaba *****
Hyatt Regency Aqaba Ayla Resort *****
InterContinental Aqaba *****
Amman: Amman is the heart of Jordan and the top spot for tourists. The most famous attractions in Amman are the Amman Citadel, the Roman Theatre, the King Abdullah Mosque, the legendary Rainbow Street, and Jordan Museum. It's also the perfect starting point to organize day trips to Jerash, Mount Nebo, Madaba or the Dead Sea.
Luxury Hotels in Amman
Fairmont Amman *****
W Amman *****
Amman Rotana *****
Four Seasons Hotel *****
InterContinental Jordan Hotel Amman ****
Dead Sea, Jordan: Jordan is most famous among tourists for its access to the Dead Sea. The Dead Sea is coveted for its saltiness that makes it easy to float and its nourishing black soil that is excellent for the skin. There are many (almost only) luxury hotels in Dead Sea, the Middle East where you can savor the exceptional service and wake up to great views on the mountains and the sea. They all have excellent spa treatments!
Luxury Hotels in Dead Sea, Jordan
Kempinski Hotel Ishtar Dead Sea *****
Ma'In Hot Springs *****
Dead Sea Marriott Resort & Spa *****
Hilton Dead Sea Resort & Spa *****
Mövenpick Resort & Spa Dead Sea *****
Amman, Aqaba and Dead Sea luxury hotels will make you feel truly special during your entire stay. Many luxury hotels in Jordan have special offers. Don't hesitate to ask about the treatment or spa package of the month.
8. Best Beach Resorts in Jordan
Beach Resorts in Jordan are the place where you can take the edge off and get rid of stress. Beach resorts in Jordan are either located at the Dead Sea or in Aqaba at the Red Sea shore.
Jordan has such magnificent beach resorts that they will take your hotel experience to a new level. From stunning interior design to getting a royal treatment, at Jordan's beach resorts, you will be enjoying the best holiday of your life. Jordan is home to many luxury and beach resorts that offer classy service and give you a lifetime of a holiday experience.
Located by the Arabian Dead Sea, the lowest point on earth, at beach resorts you will get some of the most rejuvenating and therapeutic experiences. Wake up to the pristine fresh views of the Dead Sea in your luxurious beach resort and make the best of the day by enjoying fine dining experiences.
At Aqaba beach resorts, you will experience the luxury of revitalizing sights and fresh air from the Red Sea. Give yourself the relaxation you deserve and get therapeutic spa massage from a skilled masseuse.
When it comes to customer satisfaction, these world-class beach resorts in Jordan promise high quality in everything, be it giving an extra cozy room to their guests, or pleasing aesthetics. The best beach resorts of Jordan are unsurpassed in customer satisfaction. So don't be surprised if your beach resort already knows your preferences on your next visit to the resort.
Best Beach Resorts in Jordan
Beach Resorts in Dead Sea
Hilton Dead Sea Resort & Spa *****
Dead Sea Marriott Resort & Spa *****
Kempinski Hotel Ishtar Dead Sea *****
Beach Resorts in Aqaba, Red Sea
Al Manara, a Luxury Collection Hotel *****
Kempinski Hotel Aqaba *****
Hyatt Regency Aqaba Ayla Resort *****
InterContinental Aqaba *****
9. Best Spa Hotels in Jordan
If you are in Jordan and miss out on getting a spa treatment, your trip will be incomplete. Spa hotels in Jordan not only offer refreshing and soothing massage therapies, but they also come in most cases with stunning views of the Dead Sea.
Some of these top-notch boutique hotels in Jordan will pamper you to the core and make you feel refreshed with their luxurious food service, soothing pools and some of the most amazing cocktails. Spa hotels also have unique massage therapies that are their specialties and you can't find them anywhere else. Each will also serve a unique, authentic and high-quality cuisine that reflects brilliantly of Jordan's cuisine.
Jordan is a country whose culture was influenced by both the west and the Middle East. Tourist cities of Jordan are infused with world-class hotels. Recently, Jordan also boasts several quaint boutique hotels which are characterized by a smaller and lesser number of rooms than ordinary hotels.
Don't end your trip to Jordan without getting a spa therapy. Enjoy your holidays like never before by spending your time in one of the best spa hotels of Jordan.
Best Spa Hotels in Jordan
Kempinski Hotel Aqaba Red Sea *****
Kempinski Hotel Ishtar Dead Sea *****
Four Seasons Hotel Amman *****
Ma'In Hot Springs *****
Petra Marriott Hotel *****
10. Best Hotels in Jordan for History Lovers
Jordan has history imbibed deep in it and many hotels do a brilliant job of reflecting it. Almost every city in Jordan is of historic importance. You can find Jordan's historic hotels in historic places like Jerash, Madaba, and Irbid.
Hotels in Jerash
Jerash is an ancient city, famous for the ruins of walled Greco-Roman settlement of Gerasa. A museum located in Jerash also displays exclusive artifacts that were found in the ruins of Jerash. A one to two day stay in a Jerash hotel is sufficient to explore the place. Accommodation is limited.
Sindyan Resort ****
Olive Branch Hotel **
Hotels in Madaba
Madaba is a famous tourist spot that attracts tourists for its 6th-century mosaic. It is one of the best maintained in the region. The most arresting thing about Madaba is the artifacts collected from Roman, Islamic and Byzantine eras. Easy availability of hotels in Madaba makes it a popular spot among the tourists.
Mosaic City Hotel ***
Saint John Hotel ***
Hotels in Irbid
Irbid in Jordan is famous for its 19th century Ottoman castle. Its Dar Al-Saraya Museum stores amazing antiquities extracted locally. Each item represents something unique and a story that is hundreds of centuries old. Nature around Irbid is great for hiking. However, you should check the current security situation due to its closeness to the Syrian border.
Hotels in Irbid range from economic to more luxurious. Most hotels in Irbid are very affordable and provide the best services. Serving delicious cuisine of Jordan, Irbid hotels are promising on hospitality and will be the perfect base to explore its surroundings.
Ajnadeen Hotel
Murshed Motel
Ajloun Forest Reserve
Jordan Map
---
Before You Go: Top Tips for your Trip
To make the most of your Jordan trip, I recommend Lonely Planet Jordan
---
---
---