Guide to the best Algarve towns and where to go in Algarve on your next visit
Looking for the best places in Algarve to include in your Portugal vacation itinerary? You have reached the right place!
Algarve has plenty of choices with pristine beaches, dramatic cliffs, coastal towns, and islands.
Whether you wish to travel Portugal for relaxation, romance, family time, or adventures, you will cherish each in Algarve
This gorgeous destination delights visitors of all age groups with wonderful leisure activities, heritage, and beautiful nature.
With so many incredible options, finding the best places in Algarve for your trip can be overwhelming.
I have curated a list of the must-visit places in the region to make the most of your visit.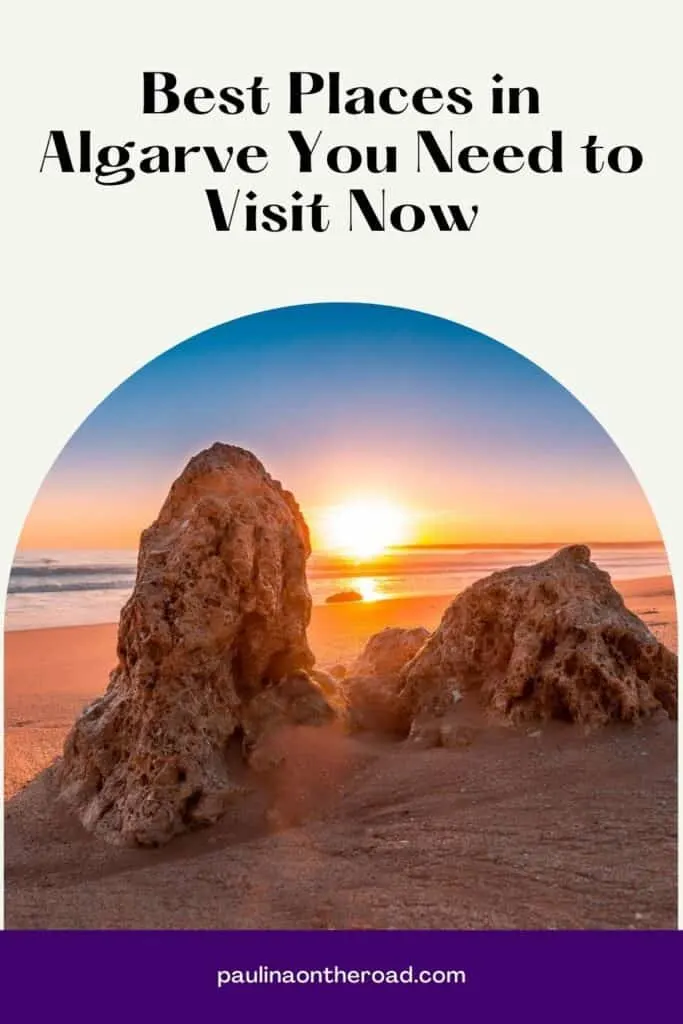 Pssst…!!?? You can't get enough of Algarve? Have a look at my other posts:
This blog is supported by you, dear reader. If you purchase through a link, I earn a small commission. As an Amazon Affiliate, I earn from qualifying purchases.
Top resources to travel Algarve, Portugal
⚘ Avoid tourist traps with the customizable "Algarve Like a Local" itinerary. – Buy here for less than 10€

✈ Book cheap flights to Algarve with Skyscanner

✔ Book tours in Algarve with GetYourGuide

➳ Find the best hotels in Algarve with Trivago

❖ Rent a car with the best discounts at Discover Cars

✎ Never leave without travel insurance. I got mine at HeyMondo. It is cheap and easy to set up.

$ Withdraw money without hidden fees and avoid exchange rates with Wise (you'll get a free card on top!)
Overview: Top 3 Places in Algarve
Faro
Albufeira
Benagil Cave
1. Lagos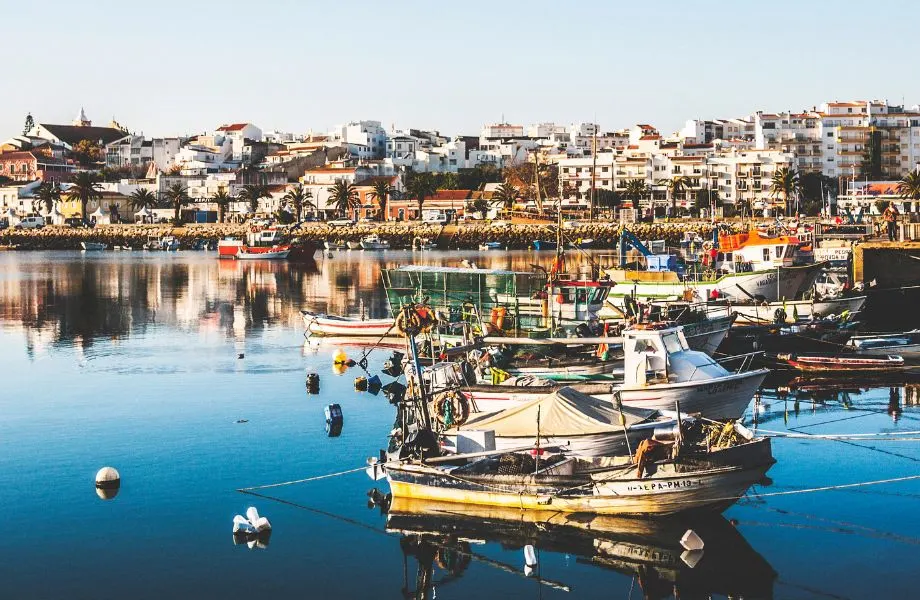 Lagos is a popular holiday destination on the scenic Western Algarve coastline.
It's ranked among the best places in the Algarve for a relaxing beach vacation for families and couples alike.
This gorgeous city is also famous for its historical sights and vibrant nightlife.
The most impressive attraction in Lagos is the Ponta de Piedade headland with dramatic limestone cliffs.
The best way to witness these beautiful rock structures is to take a boat tour through the turquoise-clear waters.
If you love adventures, you can experience this by taking kayaks and stand-up paddleboard guided tours.
Other exciting things to do in Lagos, Portugal are visiting the water parks and scuba diving.
I also adored taking peaceful and long beach walks along the Meia Praia beach, especially at sunset.
It is one of the best cities in Algarve that has kept the authentic Portuguese charm alive with its historic center, narrow cobbled streets and architectural gems that will give you a peak into Algarve's heritage.
You can explore historical buildings like Mercado de Escravos, Saint Antonio Church, and 17th-century Bandeira Fort.
Lagos is also one of the best places to visit in the Algarve in October as it's less crowded.
Buy here the best itinerary for Algarve, Portugal
2. Albufeira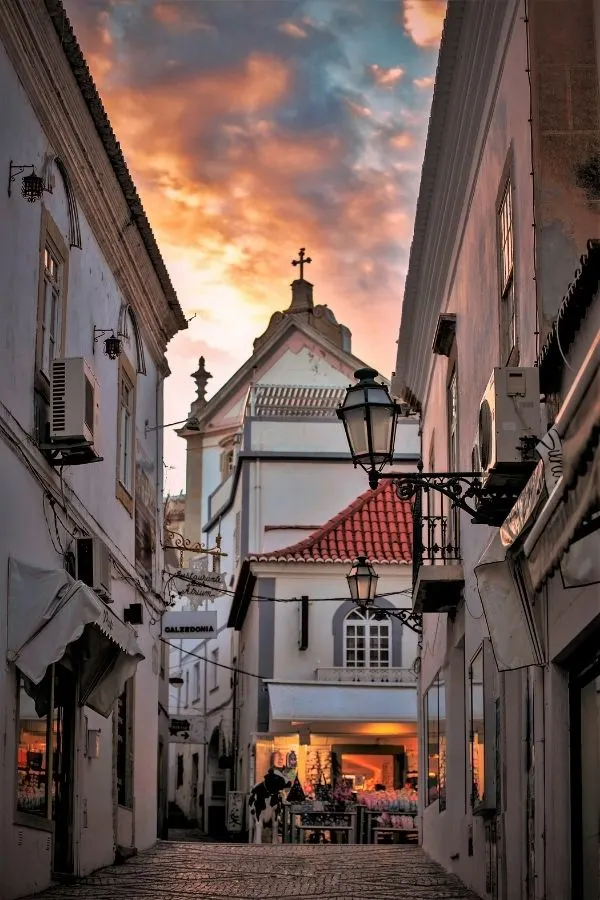 The journey of Albufeira from a fishing village to the liveliest resort towns in Algarve is exceptional.
This charming village impresses visitors with its stunning beaches, buzzing nightlife, and outdoor activities.
It's the ideal destination if you are wondering where to visit in Algarve for an exciting vacation.
Alufeira's New Town has a party street known as the Strip with plenty of themed bars and clubs.
It is popular among youngsters and is one of the best places to stay in Algarve Portugal with your friends.
The old town is the perfect choice for families and couples. Its cobblestone streets, family-friendly restaurants, bars with live music, and shops ensure a memorable time.
You can soak up the sun and enjoy delicious seafood at the Praia dos Pescadores or the Fisherman's Beach.
Praia da Oura is another charming beach with a laid-back vibe perfect for relaxation.
Kayak trips, caves and dolphin watching boat tours, and golfing are other fantastic things to do in Albufeira.
Book here the best tours in Algarve, Portugal
3. Faro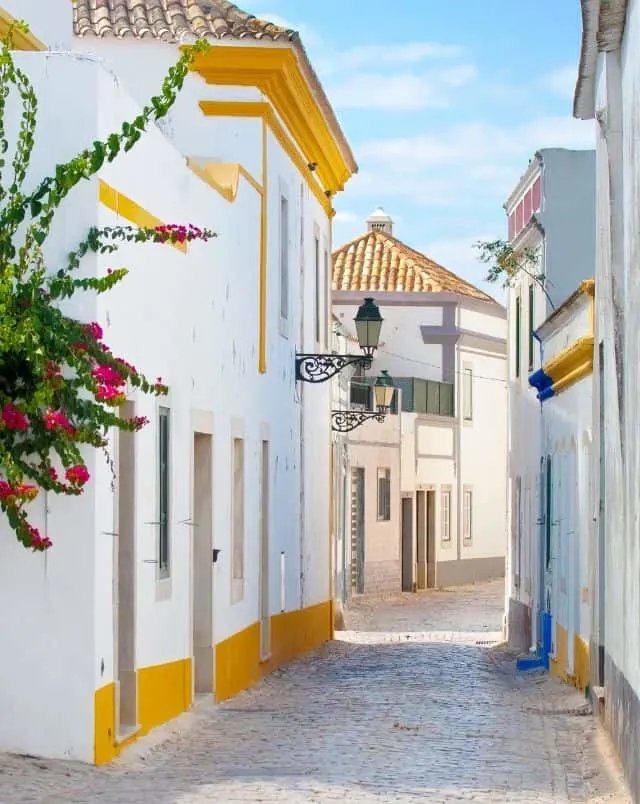 Faro is a wonderful city to soak in the traditional Portuguese ambiance and is the largest city of the Algarve with fascinating historical monuments.
If you are a culturally curious traveler, Cidade Velha or the old town will astonish you as you walk along the cobbled streets and explore the gothic cathedrals and museums with artifacts.
The mild temperature makes Faro a brilliant destination to enjoy your winter in Algarve.
The reason I love visiting Faro is that it's a shopper's paradise. Its lively street Rua de Santo António is excellent for shopping and socializing.
There are plenty of cute cafes and you can also watch street performances here.
Book here the best family tours in Algarve
4. Tavira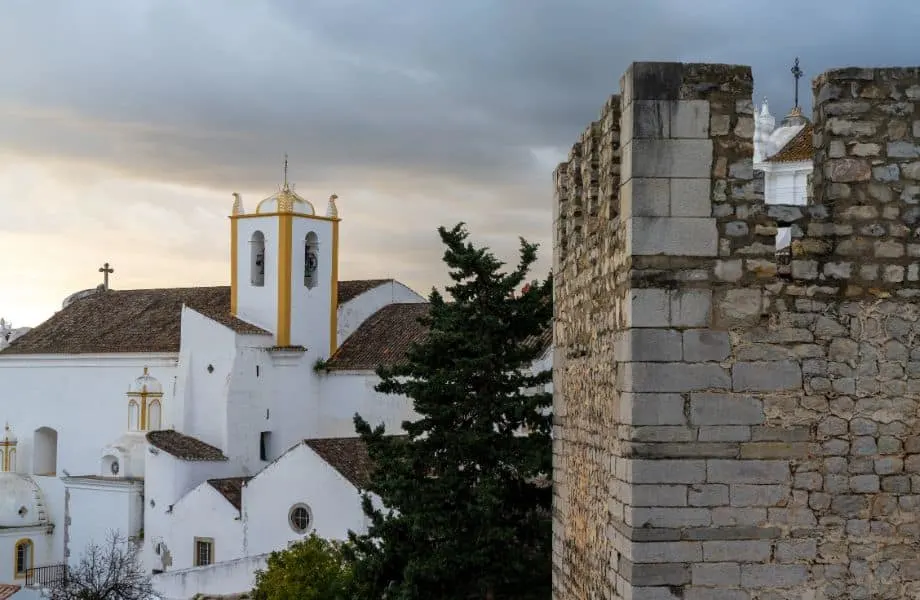 Tavira is an impressive town in the eastern Algarve where history, nature, and culture come together.
The town offers an enchanting vacation with plenty of things to do and see.
One of the top things to do in Tavira is to wander along its historic town and marvel at the splendid architecture.
There are 37 impressive churches, including the 13th-century Santiago Church. Its adjacent castle from the medieval era is a popular attraction that impresses visitors with panoramic views of the town.
The beautiful cobbled streets make it one of the best places in Algarve to explore on foot, but do not miss out on enjoying a scenic boat ride on the Gilao River that flows through the town's center.
Tavira's peaceful beaches are perfect for families and are accessible through a short ferry ride from the center.
Additionally, the dining scene is delightful with many waterfront restaurants and cafes serving local and international cuisines.
I recommend you go for a tapas and wine-tasting tour for a fascinating experience.
Book here the best wine tours in Algarve, Portugal
5. Sagres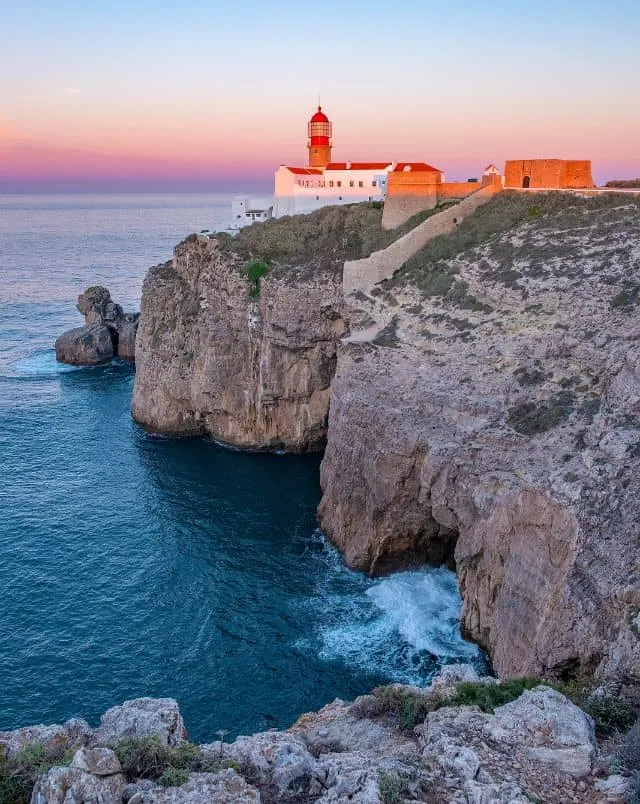 You will love Sagres if you are searching for Algarve best towns to escape the tourist crowd. It has some of the most serene beaches in Algarve for a quiet vacation to unwind.
This unspoiled town is located in the Algarve's southwest corner and is adored by surfers. The region has surf schools and allows equipment rentals for surfers.
The waves offer ample opportunities for surfing for beginners to experienced surfers.
Sagres also has challenging hiking trails along the cliffs and deserted roads to explore on a cycle.
The town is the best place to stay in Algarve for couples who seek privacy and some romance.
Couples can take a walk along the beach and enjoy incredible sunsets with their partner for an experience they'll cherish forever.
The barren headland Cabo de São Vicente with dramatic views is another must-visit attraction.
Buy here the best itinerary for Algarve, Portugal
6. Loulé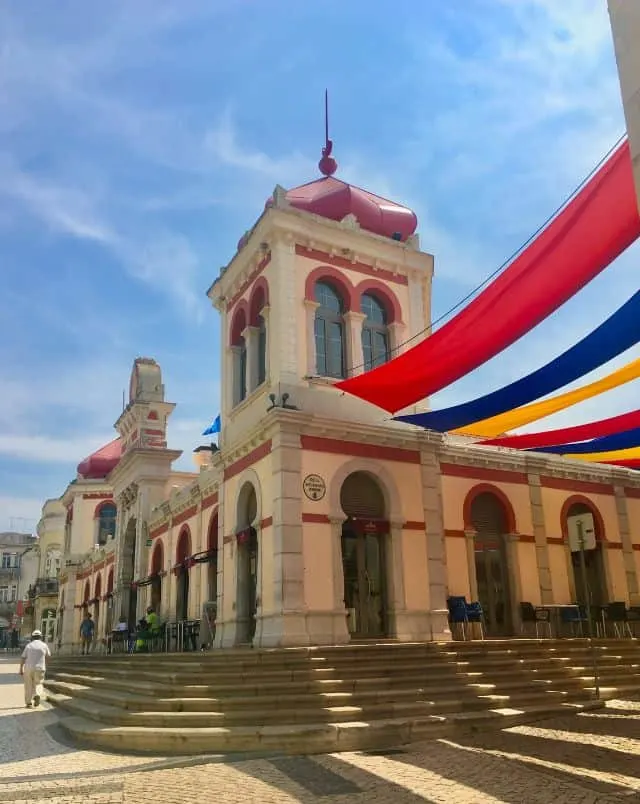 If you are seeking the best places in Algarve to discover the real essence of Portugal, you must visit Loulé.
The major highlights of this lovely town are historic sights and vibrant markets.
Loulé's historic center deserves the top spot in the list of Algarve best places for a culturally-relevant experience.
You can witness also glimpses of the Moorish legacy throughout the town and its archetecture.
There is an ancient castle that traces its history to the 2nd century and a 13th-century Gothic church.
The municipal museum here has archaeological collections from the prehistoric era that will astonish you.
Visit the markets to shop for local handicrafts and fresh produce. The region's lively Saturday market is famous for its local street foods.
However, if you wish to avoid the touristy crowd, the best days to visit are Tuesday to Friday.
I adore Loule as it's one of the best places to stay in Algarve like a local, but it's also a great place to stock up on some treasured souvenirs.
Book here the best family tours in Algarve
7. Monchique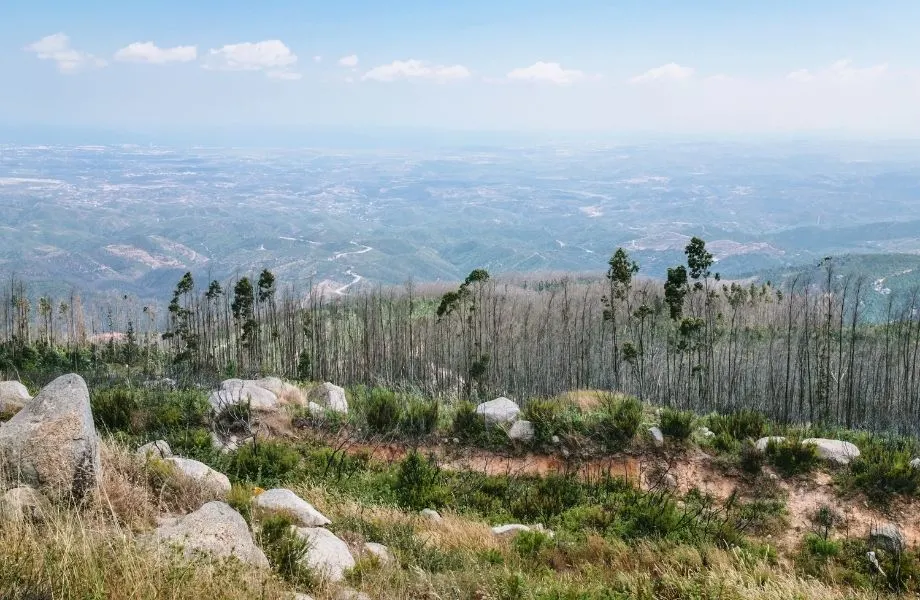 Monchique is a gem in Northern Algarve brimming with nature and history.
Surrounded by the mountain range of Serra de Monchique, it's one of the best Algarve towns for scenic hikes.
You can take a walk or ride a bike to Fóia, the highest point in the Algarve for phenomenal views.
Serra da Picota is another exceptional viewpoint that rewards hikers with splendid sights.
The town has colorful houses, cobbled narrow streets, and little shops you'll admire.
Its primary church Igreja Matriz de Monchique is a stunning example of marvelous 16th-century architecture.
The spa town Caldas de Monchique with waterfalls and hot springs is another must-visit attraction and is one of the best places to visit in the Algarve for healing and relaxing in nature's lap.
Monchique is also among the best towns in Algarve for relishing regional cuisines like ham and sausages.
Book here the best tours in Algarve, Portugal
8. Carvoeiro
Carvoeiro is the perfect option if you are searching for the best towns in Algarve for families.
The beautiful resort town showcases the flawless blend of Portuguese heritage and modern tourist facilities.
The beautiful gold sand beaches, sandstone cliffs, and traditional whitewashed Mediterranean houses add to the charm of this destination.
The pristine Praia de Carvoeiro is its most popular beach and is excellent for a calm family vacation.
Boat trips and visiting water parks are fun activities to enjoy with your family in this region.
Carvoiero is not only one of the best beach towns in Algarve but also a paradise for hikers.
Adventurous visitors can take the boardwalk along the cliffs to witness the mesmerizing Algar Seco rock formation.
Summer months are usually busier, so I prefer visiting here in autumn for an even more relaxing experience.
Book here the best boat tours in Algarve
9. Ria Formosa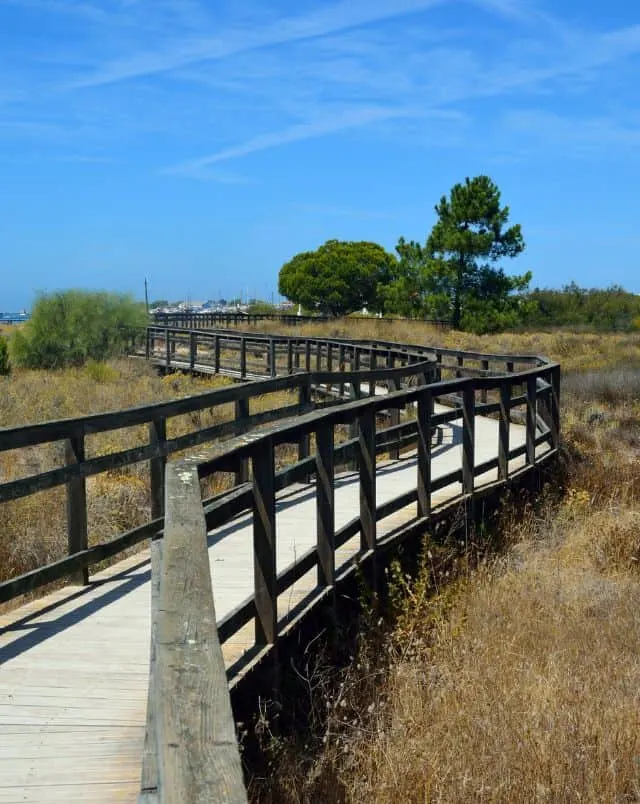 The natural wonder Ria Formosa is counted among the best places to visit in Algarve for a relaxing vacation.
This coastal lagoon connects to the sea through barrier islands and has peaceful white sand beaches.
It stretches for 60 km from some of the nicest towns in Algarve like Faro, Olhão, and Tavira to Cacela Velha.
The islands are accessible by boats and ferries and provide ample opportunities for appreciating nature.
You can also head to deserted islands like Barreta Island for some romantic and private moments.
You can spot diverse flora and fauna including migratory birds at this protected natural park, which also happens to have some of the best trails surrounded by serene nature for hiking in Algarve.
Kayaking, stand-up paddle boarding, and swimming are the most popular activities here.
Having local cuisines in the quaint cafes and restaurants surrounding Ria Formosa is an experience you shouldn't miss here.
Book here the best water sports in Algarve
10. Benagil Cave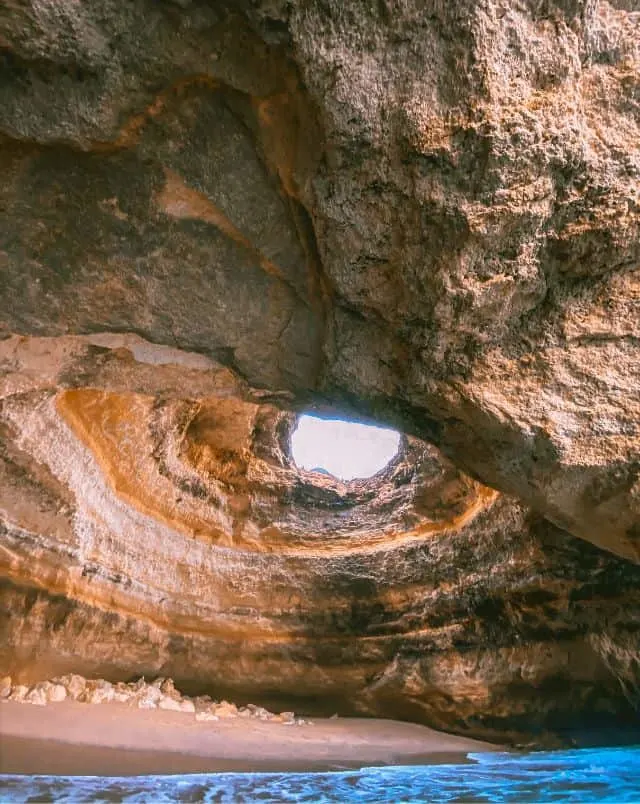 Benagil is a lovely fishing village located on the Algarve's southern coast, and this picturesque destination is admired for its iconic cave around the corner of the beach.
Benagil Cave is one of the most beautiful places to visit in the Algarve. This remarkable natural cave is illuminated by sunlight through an opening in its dome.
The clear water and the golden, soft sand let you immerse in nature's magic.
Visitors can easily reach the cave by boat trips, kayaks, or stand-up paddleboards, alternatively, guided day trips are also available.
You can also look down from the cliffs and witness magnificent views through the eye of the Bengali cave.
If you are wondering where to go in Algarve for cliff jumping, this beach has excellent spots.
I recommend you to visit this postcard-perfect destination in the early morning to avoid the crowds.
Benagil Cave is also one of the best places in Algarve to catch the incredible sunrise, so try to arrive as early as possible.
Book here the best tours to Benagil Cave
---
Algarve is indeed an unmissable destination for every traveler's bucket list.
From immersing yourself in its rich culture to basking in the sun, this place will always offer a rewarding experience.
It is now time to plan your trip, pack your bags and head to the marvelous Algarve!
---
Short FAQs About the Best Places in Algarve
What is the most beautiful part of Algarve?
While this depends on personal taste, I personally think Tavira, Benagil Cave and Ria Formosa are the most beautiful places in Algarve to visit.
What is the prettiest town on the Algarve coast?
Tavira is often considered the prettiest town in the Algarve, and I would agree!
Where should I go for the first time in the Algarve?
Almost anywhere in the Algarve is perfect for first time visitors, but some of the best places in Algarve to start in are Albufeira, Tavira, and Lagos.
---
Before You Go: Top Tips for your Trip
---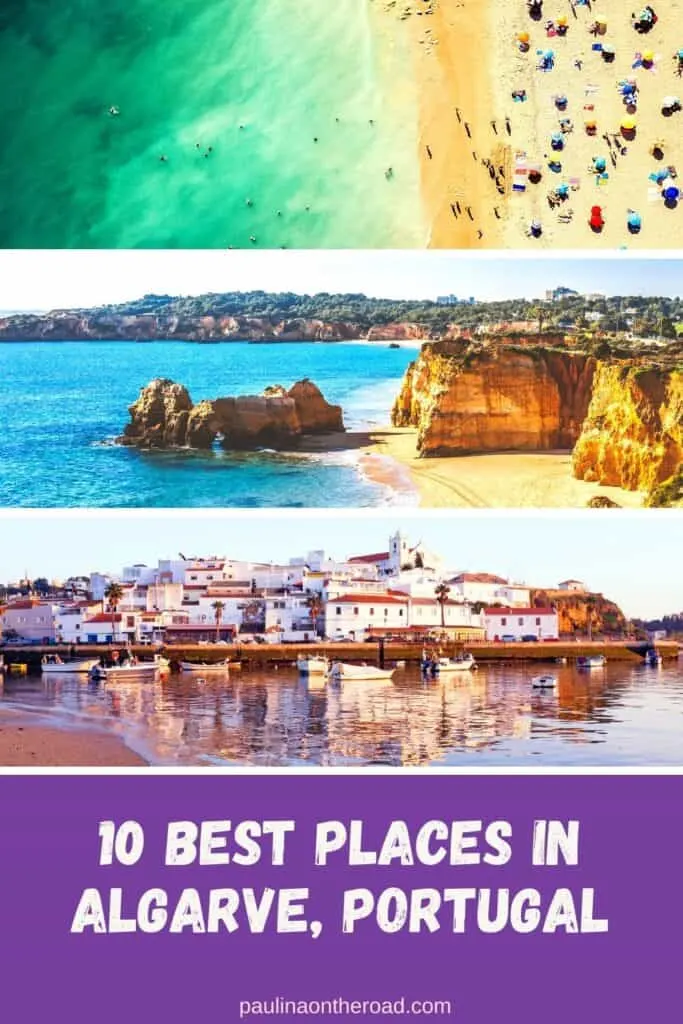 ---
Hola! I am Paulina, a fervent travelette who crossed the Atlantic Ocean by Boat HitchHiking. On my blog, you'll find all the tips to make the most of your holiday. Get ready to enjoy outdoor and sustainable travel like hiking, cycling or sailing. Let's hit the road together!