Guide to the best 5-star Algarve hotels for an unforgettable luxury stay
The Algarve region is the most-sought after destination for a relaxing holiday as this region in Southern Portugal is admired for its gorgeous beaches, nature reserves, golf courses, and beautiful towns.
The 5-star hotels in Algarve promise incredible experiences with many luxurious accommodation options to level up your dream holiday.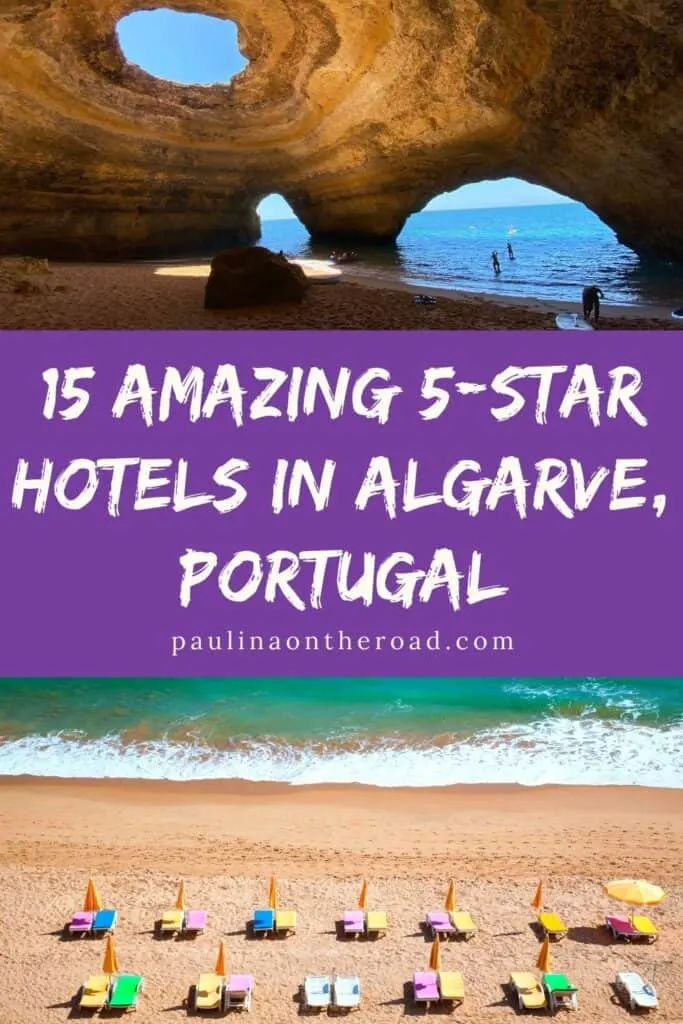 Pssst…!!?? You can't get enough of Portugal? Have a look at my other posts:
Whether you plan to travel Portugal with your partner, entire family, friends, or solo, these luxury Algarve hotels have something for everyone.
From beachfront hotels to secluded escapes within natural parks, this region will spoil you for choice.
I also really love the fact that many 5-star hotels in Algarve support responsible and sustainable tourism.
Let's have a look at some of the best 5-star hotels in Algarve and help you find the right one for your holiday!
This blog is supported by you, dear reader. If you purchase through a link, I earn a small commission. As an Amazon Affiliate, I earn from qualifying purchases.
Top resources to travel Algarve, Portugal
⚘ Avoid tourist traps with the customizable "Algarve Like a Local" itinerary. – Buy here for less than 10€

✈ Book cheap flights to Algarve with Skyscanner

✔ Book tours in Algarve with GetYourGuide

➳ Find the best hotels in Algarve with Trivago

❖ Rent a car with the best discounts at Discover Cars

✎ Never leave without travel insurance. I got mine at HeyMondo. It is cheap and easy to set up.

$ Withdraw money without hidden fees and avoid exchange rates with Wise (you'll get a free card on top!)
Overview: 5 Best 5-Star Hotels in Algarve, Portugal
Best hotel for couples: Bela Vista Hotel & Spa – Relais & Chateaux *****
Best hotel for families: Jupiter Albufeira Hotel – Family & Fun – All Inclusive *****
Best hotel for sustainable travelers: Praia do Canal Nature Resort *****
Best hotel for spa treatments: Vilalara Thalassa Resort *****
Best hotel for active travelers: Monchique Resort – Activities Included *****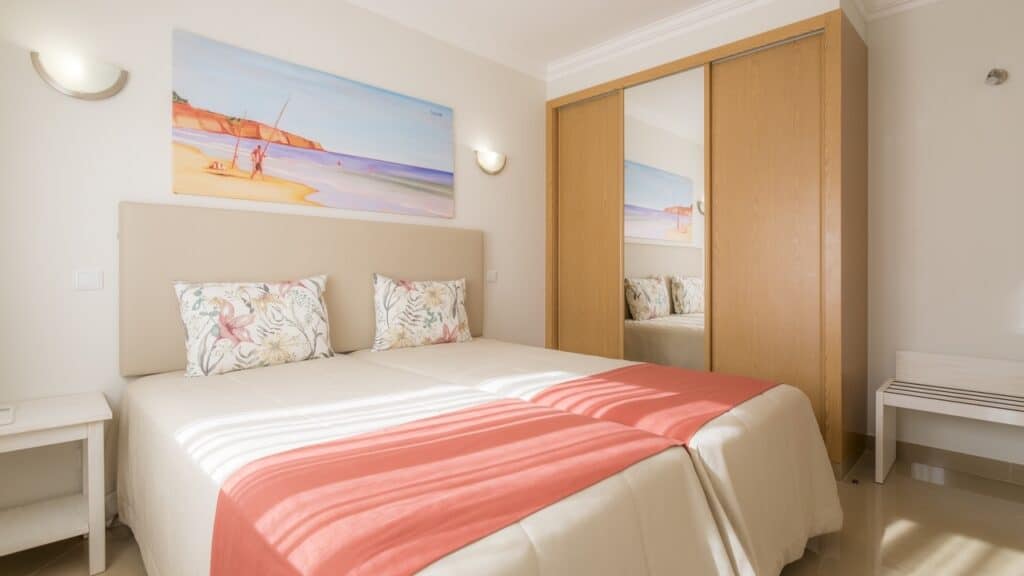 Where: Lagos, Portugal
Highlights: Health club with heated indoor pool, 18-hole golf course
Located in the scenic Lagos, Bela Colina Village is undoubtedly the pride of the western Algarve.
This stunning resort offers luxury accommodations with picturesque views of the Monchique mountains and the Atlantic Ocean.
The elegantly furnished townhouses with state-of-the-art amenities make it one of the best 5-star resorts Algarve has to offer.
Each unit features at least two bedrooms, a spacious seating area, and a balcony to sit back and relax.
It also boasts facilities like a modern kitchen, washing machine, flat-screen TV, and much more.
You'll also find many of the best things to do in Lagos, Portugal near the hotel that families, couples, or solo adventurers can enjoy.
But since this resort is nestled within the Boavista Golf & Spa, there is no shortage of activities to indulge in without ever leaving the resort.
You can enjoy a unique experience on the golf course or head to the fitness center for a workout. The spa is also a relaxing paradise with a heated indoor pool, jacuzzi, sauna, and steam room.
Opt for their aromatherapy massages and body treatments and enjoy calmness like never before.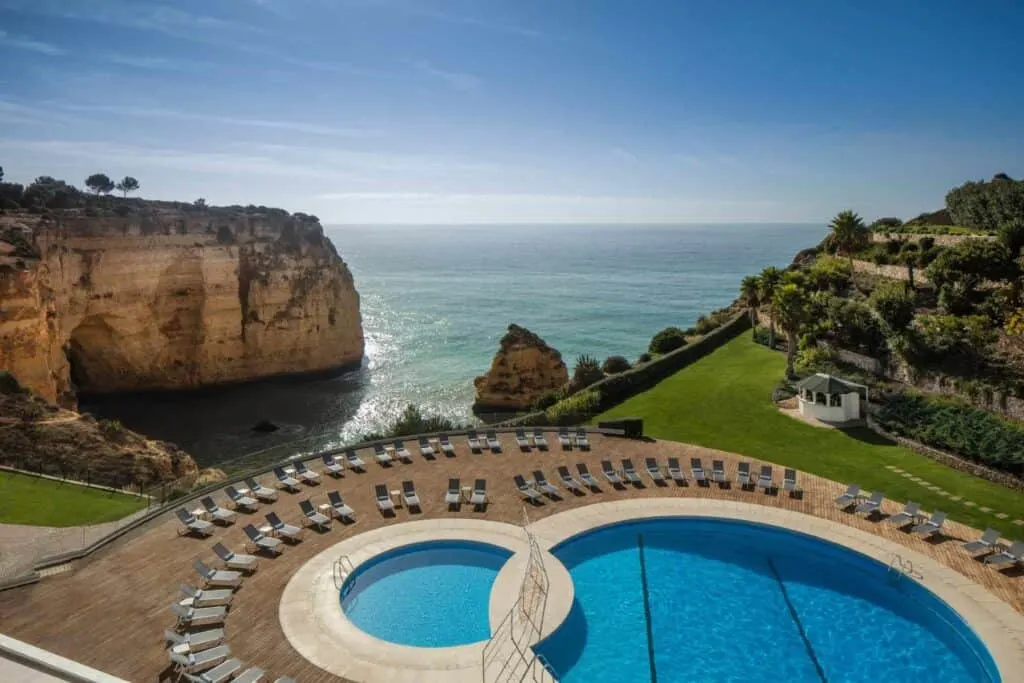 Where: Carvoeiro, Portugal
Highlights: Summer terrace bar with panoramic sea views, suites with ocean views and a jacuzzi
Tivoli Carvoeiro is a luxurious property that overlooks the mesmerizing Atlantic Ocean.
Situated in Carvoeiro, it is only a few minutes away from some of the best sandy beaches in Algarve.
It boasts 248 spacious rooms that are crafted to offer superior comfort. Most rooms feature a balcony or terrace to enjoy magnificent sea views.
The modern amenities at Tivoli Carvoeiro like air-conditioning, a Nespresso machine, and LCD TV will make you feel at home.
This is the perfect choice if you are looking for family-friendly 5-star resorts in Algarve. There are plenty of thoughtful choices here like family interconnecting and adjoining rooms.
The spa lets you step into complete relaxation with massages and replenishing treatments. You can also relax on the sundecks after a swim in the outdoor pools.
In terms of dining options, this is one of the best 5-star hotels in Algarve, Portugal. The American-style breakfast buffet with pastries, fruit juices, cheeses, and more will brighten your day.
Within Tivoli Carvoeiro, there are also fine dining restaurants, bars, and a bistro here for devouring fresh meals and cocktails.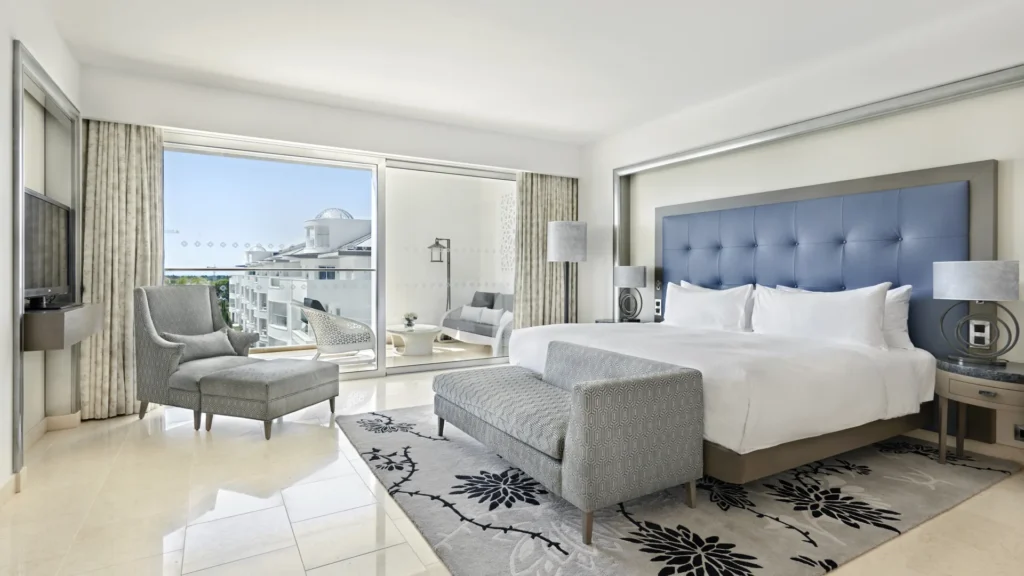 Where: Quinta do Lago, Portugal
Highlights: Offers curated experiences to explore the local culture, spa with private cabana and wellness programs
Situated in Quinta do Lago, Conrad Algarve is an enticing destination that combines luxury and comfort.
It offers naturally lit rooms and suites with contemporary décor for an unforgettable stay. The facilities like a private balcony, minibar, and TV make each moment here worthwhile.
For an ultra-lavish experience, you can opt for the infinity penthouse with a private terrace and butler service.
Conrad Algarve also features a private infinity pool, whirlpool spa, private sauna, and steam bath to enhance your stay.
As one of the best 5-star hotels in Algarve, Portugal that lets you immerse yourself in the local culture.
You can enjoy unique experiences like preparing local cuisines with a chef, clam picking, and oyster tasting.
You can also play golf here which ranks among the top things to do in Algarve, Portugal. Or try going for a bike ride in the scenic Ria Formosa Nature Park near this property.
This hotel is home to a Michelin-star restaurant where you can relish Mediterranean cuisine. There are other restaurants, lounges, and pool bars for delicious snacks and drinks.
Conrad Algarve is also one of the best 5-star hotels in Portugal that allow pets.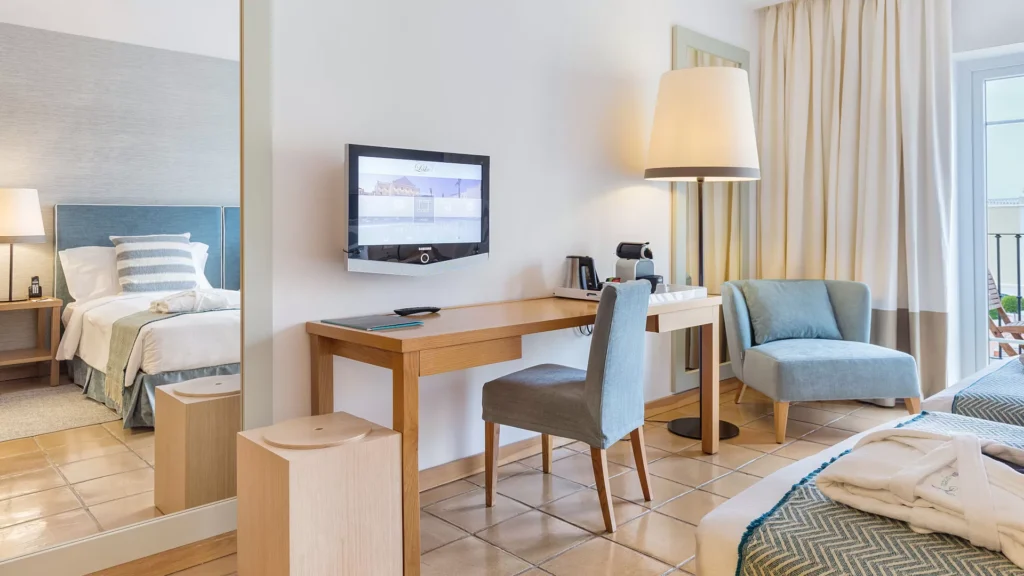 Where: Vilamoura, Portugal
Highlights: Private seawater lake surrounded by beautiful gardens, standard Maxi-bars in every room
Domes Lake Algarve is a paradise for nature lovers and luxury seekers as it is among the best 5-star hotels on the Algarve for its iconic hospitality and world-class amenities.
This is the only property with access to Praia de Falesia Beach and also has a private lake.
The accommodation type ranges from luxury villas and superior suites to residences. You can witness serene views of the lake or gardens from these gorgeously decorated units.
The residences at Domes Lake Algarve with fully-equipped kitchens are excellent for family getaways.
You can opt for its haute living selection which redefines the meaning of luxe living. This concept treats you with elevated service, and ultimate comfort and offers the utmost privacy.
You can also enjoy extras like access to a members-only living room with unlimited wine, snacks, and more.
The Domes Lake Algarve offers signature experiences like mixology events, picnics, cooking classes, and cuisine explorations.
Near the hotel, you can enjoy activities like golf, clam picking, wine tasting, and exploring local markets.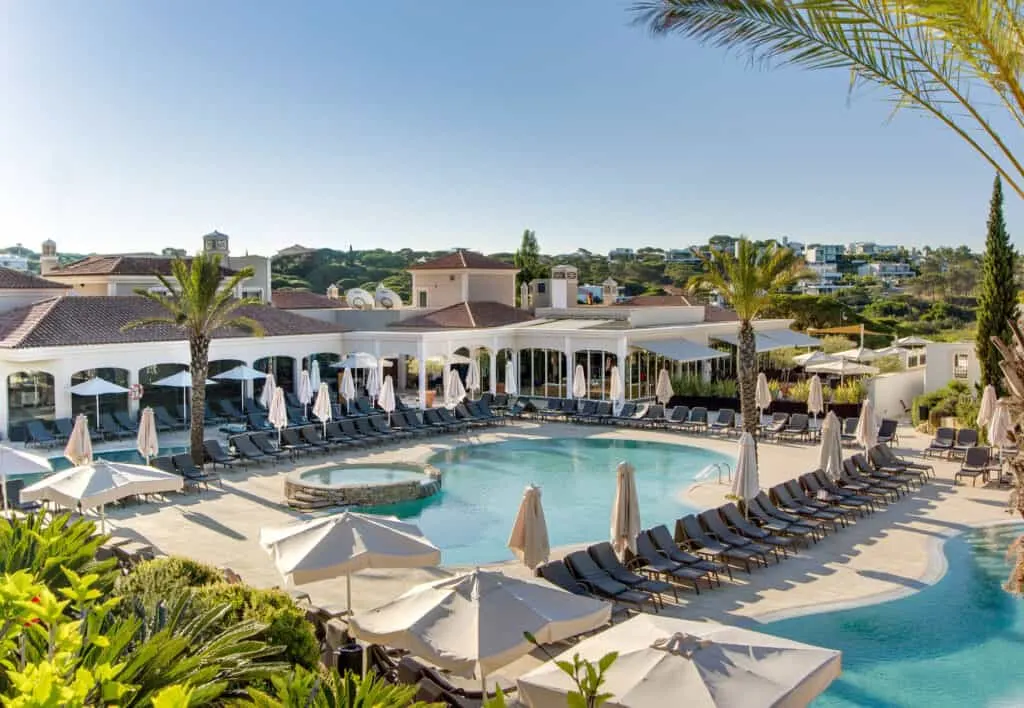 Where: Vale do Lobo, Portugal
Highlights: Private beach area
Dunas Douradas Beach Club stands among the best beachfront 5-star hotels in Algarve. This stunning property is in the heart of the Algarve's Golden Triangle.
This is an apt choice whether you are seeking 5-star Algarve hotels for romantic or family holidays.
It offers upscale villas and apartments with high-end furnishing and amenities, and all the units have a private terrace with barbeque facilities for a memorable time with your loved ones.
Fully-equipped kitchen, floor-heating, and bathtubs are some other remarkable features of the accommodation units.
The one-bedroom apartment with a whirlpool and fireplace is great for couples to rekindle their romance. The three-bedroom unit is excellent for a family or friends get-together.
The brilliant facilities at Dunas Douradas Beach Club for guests include a sauna, gym, and outdoor and indoor pools.
There are also some great options for golfing and water activities near this property.
The hotel promises a blissful dining experience with its restaurant serving fusion cuisines and Portuguese wines.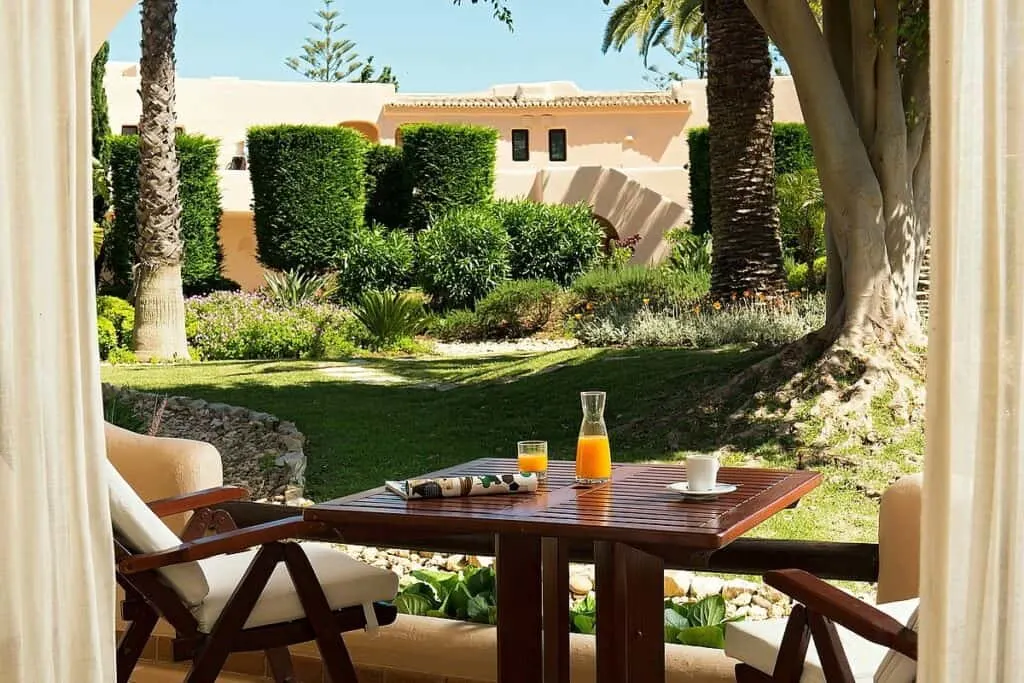 Where: Armação de Pêra, Portugal
Highlights: Biosphere certified for promoting sustainable tourism, gardens spread across 11 hectares
When it comes to promoting sustainable travel, the 5-star hotels Algarve offers set a great example.
And Vilalara Thalassa Resort is one such property committed to protecting the environment while providing a lavish experience.
Surrounded by picturesque hills, it offers direct access to the Praia das Gaivotas beach.
You can choose from rooms or apartments with views of the lovely gardens, sea, or pool. The premium amenities and spacious balcony make every room a masterpiece.
Families can have a delightful time at the 3-bedroom apartments at Vilalara Thalassa Resort which come equipped with a kitchen and jacuzzi.
You can witness the magic of Thalassotherapy at the medical spa here. The resort also has 5 swimming pools for taking a refreshing dip.
Some fun activities to enjoy nearby are hiking, wine tasting, boat trips, and diving.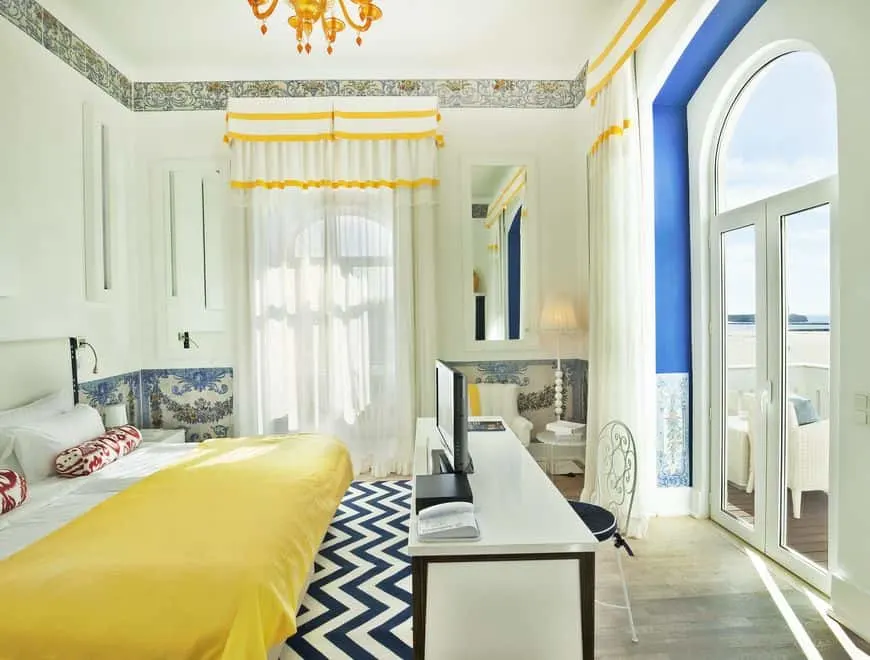 Where: Portimão, Portugal
Highlights: Spa by the French brand L'Occitane
Bela Vista Hotel takes pride in being the first hotel in the Algarve with its history tracing back to 1918.
It is located on the Praia da Rocha cliff and offers direct access to the beach so you can enjoy a relaxing holiday.
The artistically decorated rooms and suites boast a chic vibe, and most of the units have a balcony to witness the marvelous ocean views.
You can order delicious drinks to sip by the pool and admire the majestic sky.
The Bela Vista Hotel is the best 5-star hotel Algarve has for precious moments with your partner – do not miss taking a romantic walk on the beach or bathing in the ocean.
There are two dedicated treatment rooms for couples at the spa for relaxing massages. You can also opt for special packages designed for romantic getaways.
For an exceptional dining experience, Bela Vista Hotel is one of the best 5-star Algarve hotels. The restaurant here led by a Michelin-star chef serves delectable Mediterranean cuisine.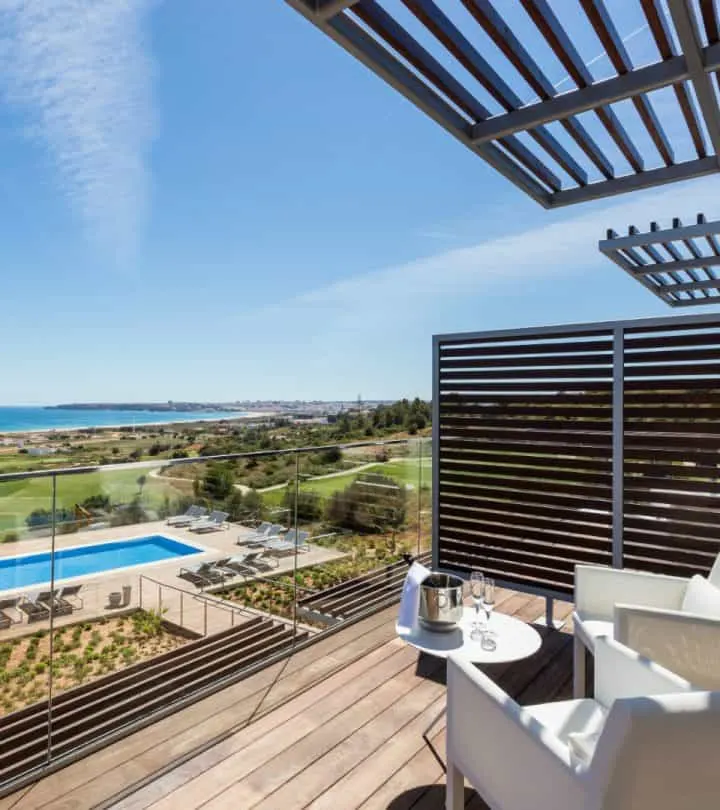 Where: Lagos, Portugal
Highlights: Walking distance to the beach
Palmares Beach House Hotel is an ideal choice for those seeking adults-only 5-star Algarve hotels.
This peaceful destination lets you enjoy the best of the Algarve including golf, beach, and nature.
The rooms and suites with luxurious amenities like a mini-bar and bathrobe offer supreme privacy, and you can wake up to the views of Meia Praia beach or the charming Lagos Bay.
The spacious private balconies allow you to watch live golf and enjoy the serene surroundings. The 27-hole golf course makes it one of the best 5-star hotels in the Algarve for golf lovers.
The restaurant at Palmares Beach House Hotel serves lip-smacking national and international dishes. Sip on some classic cocktails at the terrace and soak up tranquil ocean views.
Lagos is just a few drive minutes away from this gorgeous property. Besides pristine beaches, it is also popular for bicycling, kayaking, jogging, and hiking in Algarve.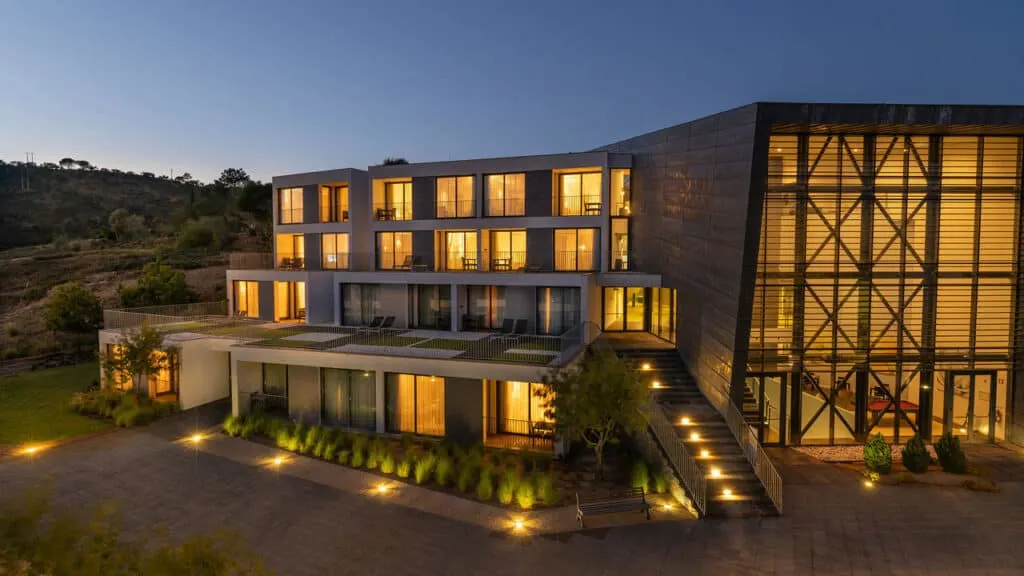 Where: Monchique, Portugal
Highlights: Variety of whirlpools and sun loungers, on-site culinary market
Monchique Resort is the ultimate destination to escape the hustle of the city and rejuvenate yourself while being surrounded by mountains and overlooking the beautiful Algarve Coast.
This is one of the best 5-star hotels in the Algarve that promotes sustainable travel.
The Monchique Resort offers a range of suites with balconies or terraces that are filled with natural light.
The charming décor is in sync with the tranquil surrounding and boasts a relaxing ambiance.
The accommodation units offer all the luxuries like Lcd tv, microwave, and more to make the stay comfortable.
Plenty of activities are included with the stay that focuses on your overall well-being. It has everything from yoga, aerobics, and sports, to nature walks.
Kids can enjoy fun activities like painting workshops, nature exploration, treasure hunts, and more.
Monchique Resort is also one of the best 5-star hotels Algarve offers for cyclists as they can use facilities like outdoor bicycle parking, complimentary laundry, a wash station, and more.
Take time to pamper your mind and body by indulging in the luxurious treatments at the spa.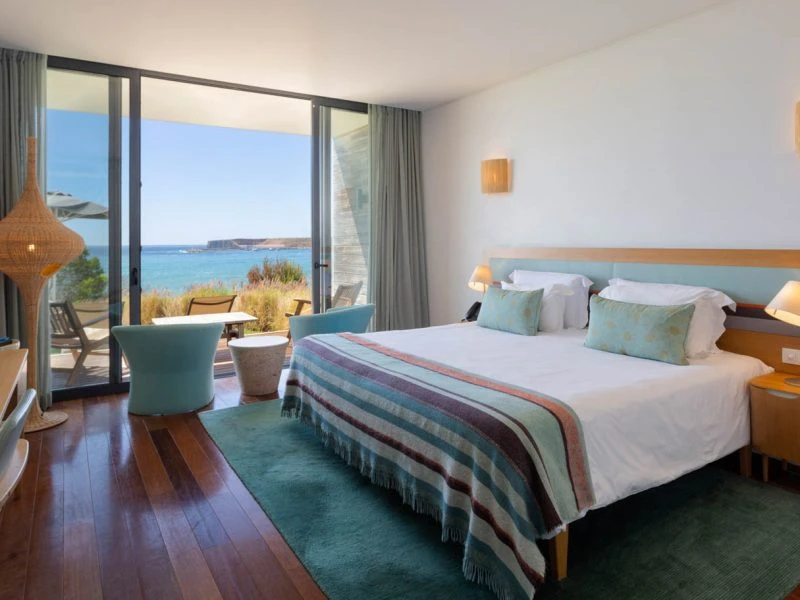 Where: Sagres, Portugal
Highlights: Certified with the Green Key eco-label for sustainable practices, child-friendly hotel with Kids club and crèche
Martinhal Sagres takes your vacation to the next level with its luxury hotel rooms and villas.
Surrounded by a protected natural park, this stylish property overlooks Martinhal Beach where you can enjoy relaxing and swimming during the day.
This is among the most remarkable 5-star hotels Algarve Portugal offers for a memorable family holiday.
All of the rooms at Martinhal Sagres have private balconies or terraces offering spectacular ocean views.
Larger families can opt for luxury villas with up to 6 bedrooms. The modern décor, excellent furnishing, and top-notch amenities let it stand among the best luxury hotels in Algarve.
There are facilities like beach hangout zones to spend quality time with your family. It also offers activities like kayaking, windsurfing, and stand-up paddling for adventure seekers.
You can also rent bikes to explore the gorgeous surroundings with your whole family or try one of the curated holiday packages with complimentary facilities to make the most of your stay.
The Martinhal Sagres also has a spa with treatments with 100% organic products for guests of all ages.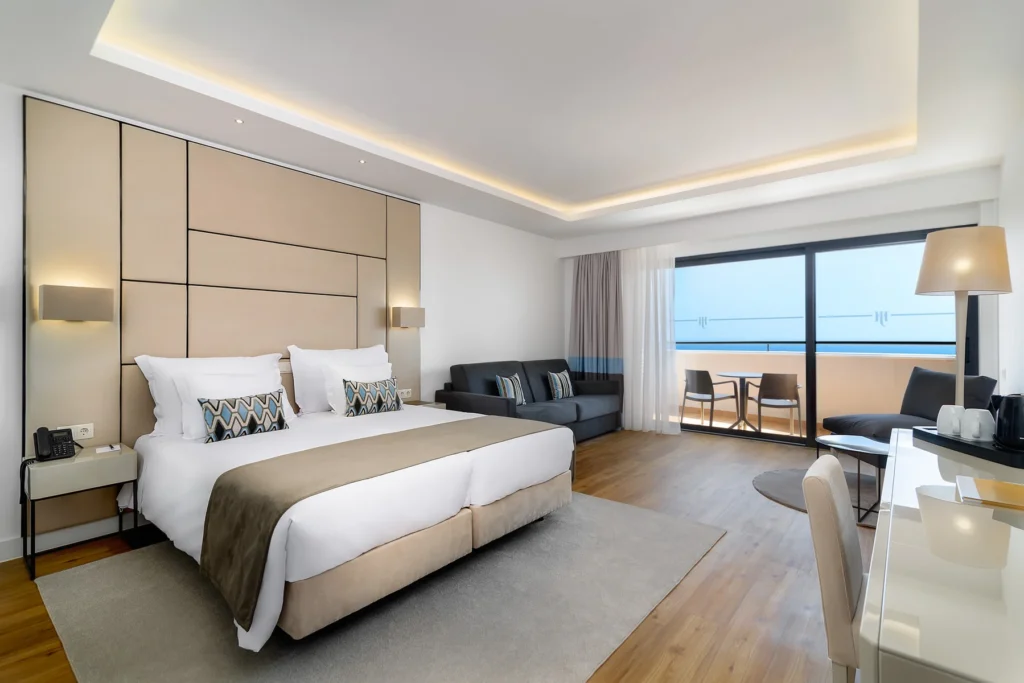 Where: Albufeira, Portugal
Highlights: Waterpark with slides and extensive pool area
Jupiter Albufeira Hotel is designed to create treasured memories with your family.
This 5-star all-inclusive Algarve hotel has everything from a children's water park, kids club, and pools, to a games room.
Its beautiful rooms and suites have thoughtful amenities to offer you all the comforts of home. You can choose from rooms with views of land, waterpark, pool, or the sea.
They also offer rooms with children's themed décor and special rooms suitable for single-parent families.
In terms of leisure activities and entertainment, this is one of the best Algarve 5-star hotels and guests can enjoy fun activities like aqua fitness, archery, karaoke, live music, and the mini-disco.
While the kids play at the on-site waterpark, adults can head to the spa for an indulgent escape.
Even the dining scene at Jupiter Albufeira Hotel is extraordinary with a range of national and international cuisines.
Watching mesmerizing sunsets from the rooftop bar is an experience you shouldn't miss here.
Visiting the beach Praia dos Pescadores and downtown are the most popular things to do in Albufeira.
Additionally, the Jupiter Albufeira Hotel offers a free shuttle service for easy access to these places.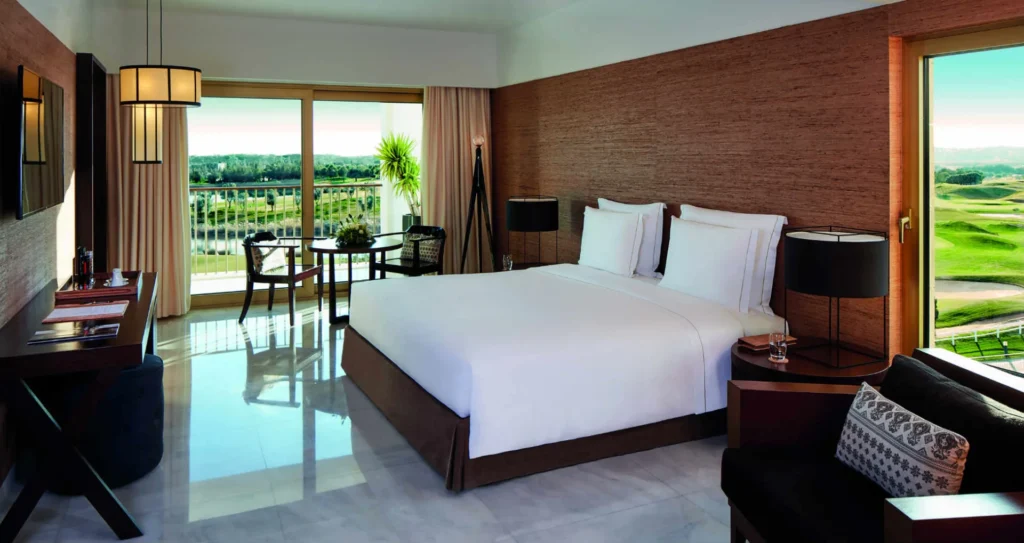 Where: Vilamoura, Portugal
Highlights: Pet-friendly resort, a dedicated area for families and adults
The Anantara Vilamoura Resort amazes its guests with its exciting concept of two escapes in one destination.
The hotel features two distinct areas, one designed for adults and the other for families.
It's counted as one of the best 5-star hotels in the Algarve, Portugal for a peaceful and private holiday.
This property is located close to the renowned Victoria Golf Course. Its rooms and suites offer spectacular views of the lush garden, pool, or golf greens.
The units at Anantara Vilamoura Resort have private balconies with daybeds, a lounge space, and private bars for a cozy stay.
There are plenty of activities to do here like taking yoga classes, swimming, and sunbathing in the pool. One of the pools is reserved for adults whereas one is only for children.
You must consider this property if you are looking for the best 5-star family hotels Algarve offers. Children will have a memorable time here at the Kids and teens club.
Anantara Vilamoura Resort has a curated "Dine-around" experience that takes you on a culinary journey through its various restaurants.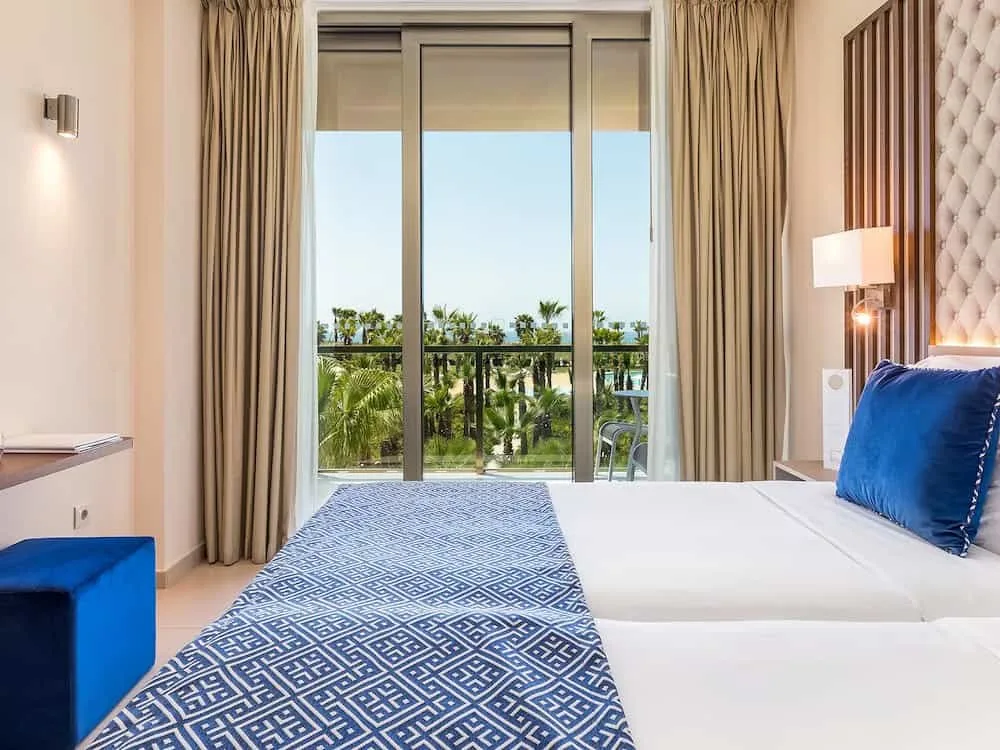 Where: Albufeira, Portugal
Highlights: 6 outdoor pools and Mediterranean-inspired gardens, kids club and babysitting services
NAU Salgados Dunas Suites is easily one of the best hotels in Albufeira that offers direct access to a beach.
A beautiful wooden walkway over the dunes connects this property to the Salgados beach.
The modern architecture and elegant décor make it stand out among the most beautiful 5-star hotels in Portugal.
The NAU Salgados Dunas Suites offers spacious rooms and suites that can accommodate 2 to 6 guests.
All the units feature contemporary amenities and a balcony to enjoy superb views of the sea or pool.
Whether you are looking for romantic 5-star Algarve hotels or family hotels, this property won't disappoint.
There is also an on-site kids club with many games and entertainment to keep the little guests busy.
The spa with panoramic views, sauna, and relaxation zones offers a peaceful escape from all the stress and has a dedicated massage room for couples for some extra special moments.
NAU Salgados Dunas Suites has 2 exceptional restaurants and bars for memorable culinary experiences.
Additionally, boat trips, jeep safaris, and visiting theme parks are some activities guests can enjoy nearby.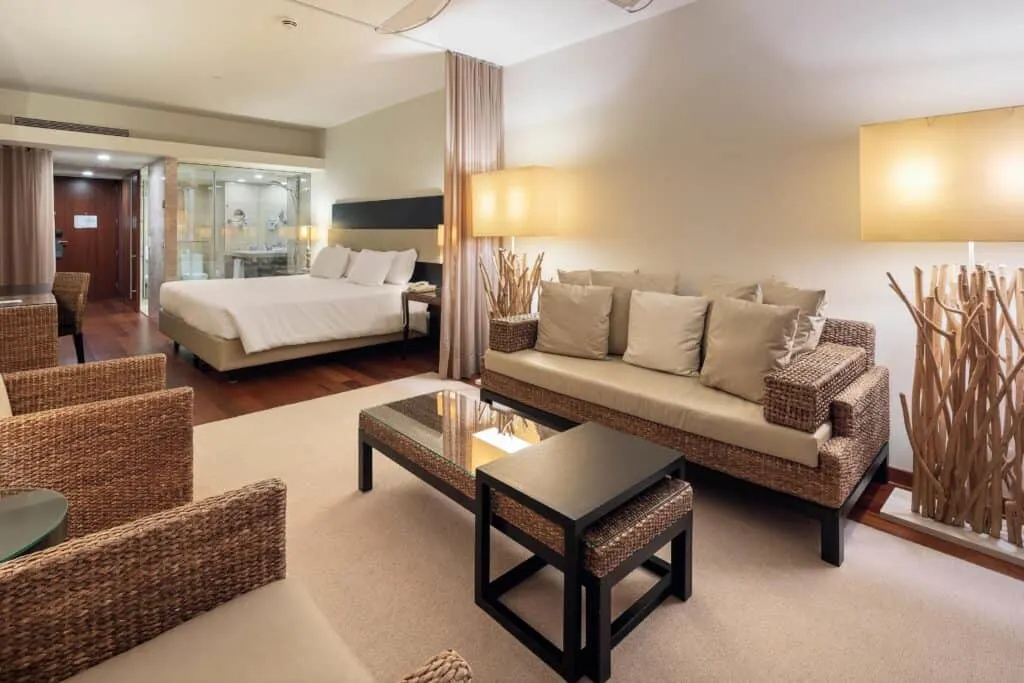 Where: Alvor, Portugal
Highlights: Seasonal seafront pool bar and grill, ultilingual staff
Crowne Plaza is one of the most beautiful 5-star Algarve hotels along the beachfront.
Located in the gorgeous resort town Vilamoura, this hotel has a marina, many golf courses & casinos nearby.
The hotel features spacious rooms and suites with a balcony offering breathtaking sea views and the large windows bring in the sunlight to give an energizing start to your day.
The facilities in the room like a mini fridge, tv, and comfortable beds make the stay pleasant. The hotel also has a wellness spa with a vitality pool to let you relax and rejuvenate.
An impressive outdoor pool, fitness center, children's recreation area, and kids' room are some other amenities of this hotel.
Crowne Plaza is counted among the best luxury hotels in the Algarve for family vacations and business tours alike. It has amazing spaces and facilities for meetings and events.
The dining option in the hotel is exceptional with a restaurant that serves Portuguese specialties and international dishes.
The scenic views of the pools and garden elevate the dining experience here making it perfect whether you are spending your summer or winter in Algarve.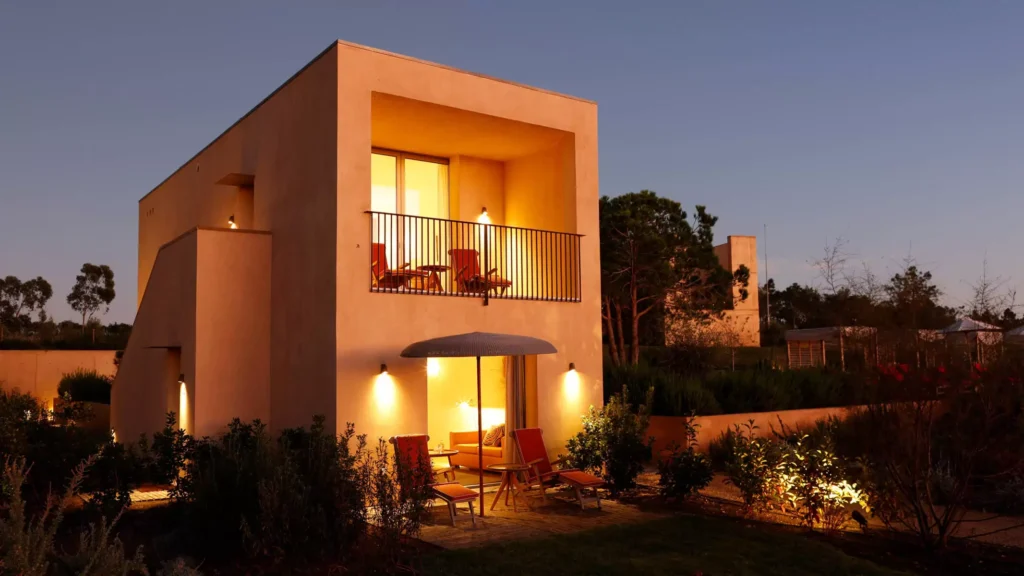 Where: Aljezur, Portugal
Highlights: Unique culinary experiences and nature activities
Wondering where to stay in Algarve for a secluded vacation surrounded by nature?
The Praia do Canal Nature Resort on the Vicentine Coast is your best bet – and it's a great sustainable destination!
Spread across 220 acres, this is one of the best 5-star hotels in Algarve to take a break from city life.
The suites at Praia do Canal Nature Resort feature minimalist décor and maintain a laid-back ambiance while the private balcony with sun loungers is excellent for appreciating the tranquillity of nature.
The facilities like air-conditioning, minibar, and soundproofing ensure a comfortable stay. You can opt for the suites with a soaking tub on the rooftop for an unparalleled experience.
The spa at Praia do Canal Nature Resort has an extensive menu of massages and beauty treatments. You can also work out at the gym or practice yoga and Pilates.
Those looking for fun and sustainable things to do in Northern Portugal can enjoy activities at the resort, or ask the staff for the top recommendations nearby.
---
Short FAQs About 5-Star Hotels in Algarve, Portugal
Is Algarve a good luxury destination?
Absolutely! The Algarve region of Portugal is perfect for a luxury holiday, offering many 5-star hotels, Michelin star dining opportunities and many fun luxury activities.
Which 5-star hotels in Algarve are romantic?
What are the best 5-star hotels in Algarve for sustainable travelers?
---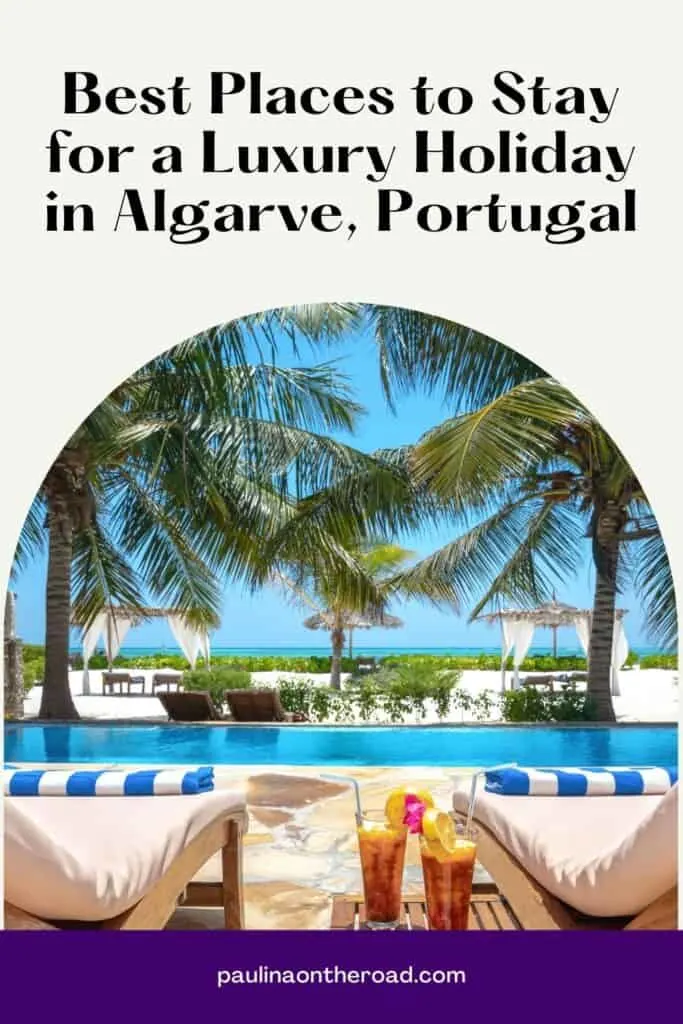 ---
Hola! I am Paulina, a fervent travelette who crossed the Atlantic Ocean by Boat HitchHiking. On my blog, you'll find all the tips to make the most of your holiday. Get ready to enjoy outdoor and sustainable travel like hiking, cycling or sailing. Let's hit the road together!