Guide to all the best attractions and activities in Albufeira, Portugal for families, couples and outdoorsy people
If you're looking to travel to Portugal and want the perfect destination to explore and relax, Albufeira should be at the top of your list.
There are many amazing things to do in Albufeira that will make your visit there an unforgettable experience.
With plenty of incredible activities to suit all kinds of travelers – from cultural immersion to world-class beaches – Albufeira in the Algarve is sure to offer something special for each and every visitor.
Stroll along stunning cliffsides overlooking deep blue waters or explore quiet fishing villages; whatever type of experience you're seeking, it can certainly be found in this captivating corner of Europe.
Keep reading to discover some wonderful things to do in Albufeira that can make your next trip a truly unforgettable one!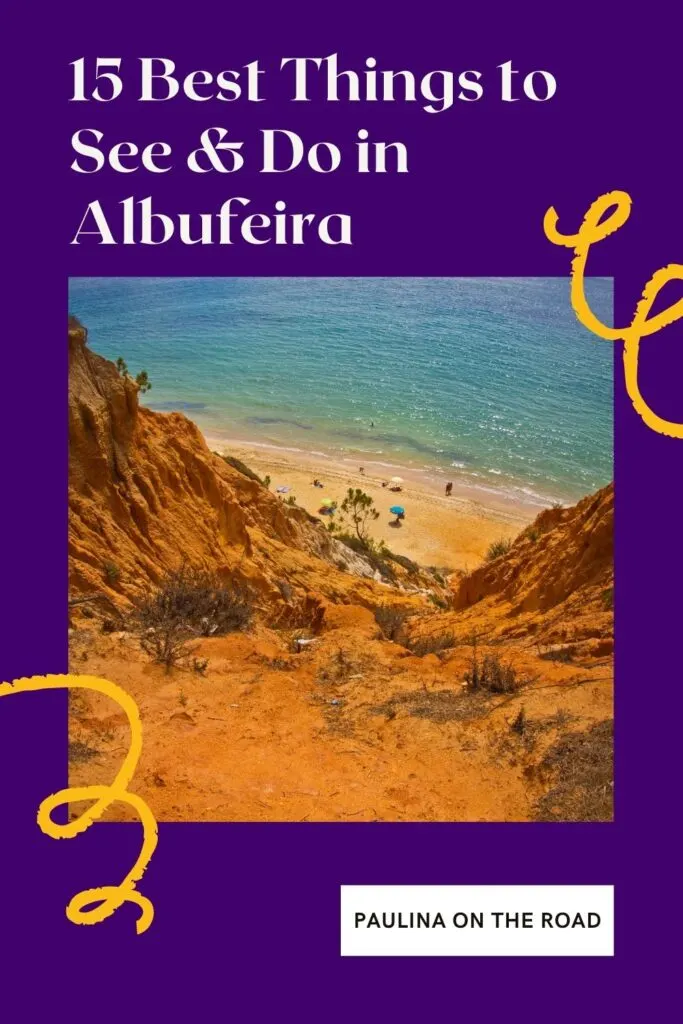 Pssst…!!?? You can't get enough of the Algarve? Have a look at my other posts:
This blog is supported by you, dear reader. If you purchase through a link, I earn a small commission. As an Amazon Affiliate, I earn from qualifying purchases.
Top resources to travel Algarve, Portugal
⚘ Avoid tourist traps with the customizable "Algarve Like a Local" itinerary. – Buy here for less than 10€

✈ Book cheap flights to Algarve with Skyscanner

✔ Book tours in Algarve with GetYourGuide

➳ Find the best hotels in Algarve with Trivago

❖ Rent a car with the best discounts at Discover Cars

✎ Never leave without travel insurance. I got mine at HeyMondo. It is cheap and easy to set up.

$ Withdraw money without hidden fees and avoid exchange rates with Wise (you'll get a free card on top!)
Where to Stay in Albufeira, Portugal
If these don't work for you, or you are traveling around the Algarve region, you can also read my guides on the best hotels in Albufeira, where to stay in Algarve and the best AirBnbs in Algarve.
For a luxury visit, be sure to read my guide on the best 5-star hotels in Algarve, Portugal.
Dive into the best things to do in Albufeira, Portugal
1. Go for a hike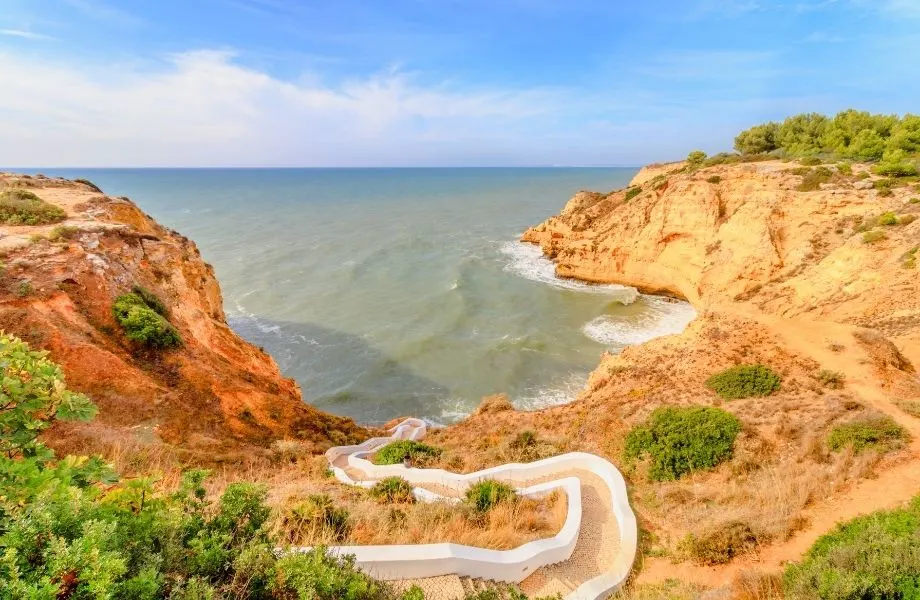 If you want to go hiking in Algarve, then Albufeira makes a great base from which to do this.
There are so many options available that it's easy to find one to suit both your likes and ability level, keeping you fit and providing one of the best things to do in Albufeira.
Whether you like long, flat walks along the coast, hiking in the hills, or trekking through the beautiful old villages that surround Albufeira, then with a little planning, all of these options are within easy reach.
Some of the best hiking trails are the Praia da Coelha Loop from Sesmarias (Easy) and the Paderne Loop from Paderne (Intermediate).
So if you like an active holiday and are looking for things to do in Albufeira, then you could do a lot worse than taking those hiking boots.
2. Enjoy relaxing on the beach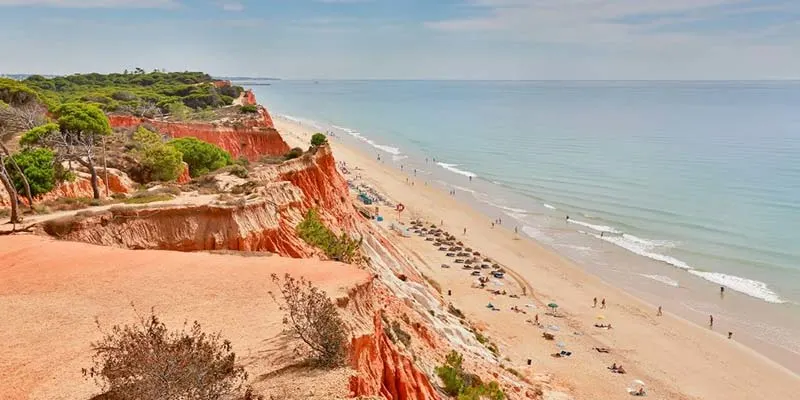 One of the greatest Albufeira attractions is its stunning array of beaches. Quite simply, the beaches here are among the best beaches in Algarve.
Be aware though, that as it is the Algarve, the main beaches can get quite crowded in the summer months.
Despite this, there are so many beaches in the vicinity that you'll always find somewhere to escape the crowds.
Of course, if you want to avoid the crowds, consider a visit to the Algarve in October or another off-peak month.
And as a year-round destination with a climate to match, even if you're spending winter in Algarve, daytime temperatures are such that you can still hit the beach.
Some of the main beaches are:
Praia dos Pescadores (Fisherman's Beach – this is Albufeira's main beach)
Praia da Falésia (stunning setting at the foot of a cliff)
Praia da Galé (escape the crowds!)
The beautiful beaches really are high on the top things to do in Albufeira, and part of what makes the city one of the best places in Algarve.
3. Have a night out on The Strip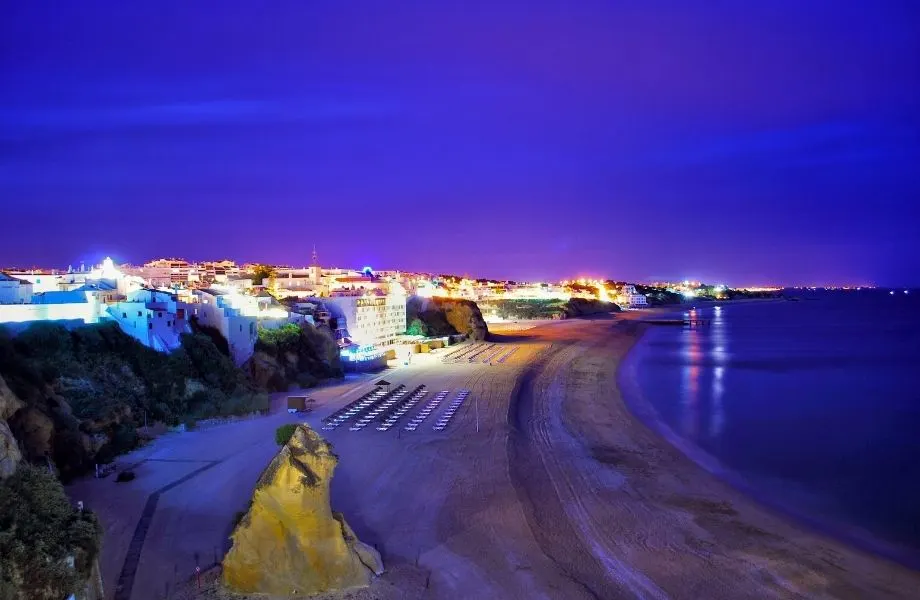 It's nighttime and you're looking for things to do in Albufeira, Portugal. Time to hit the notorious 'Strip'.
Depending on your tastes (or lack of!), this will either prove to be heaven or hell.
Rowdy? Yes. Tacky? Yes. Fun? Whatever floats your boat!
The infamous Albufeira nightlife centers on the Avenida Sá Carneiro in the Montechoro area of town.
Here, you'll find a half-mile strip of boisterous clubs and bars. The nightlife is contained to this zone, so if this isn't your thing, it's very easy to avoid the shenanigans that take place here.
In the summer months, The Strip is swarmed with predominantly young (and very drunk!) Northern Europeans, with many stag and hen parties making this their party destination of choice.
If this sounds like a good time to you, then go ahead and dive straight in!
4. Explore Albufeira's old town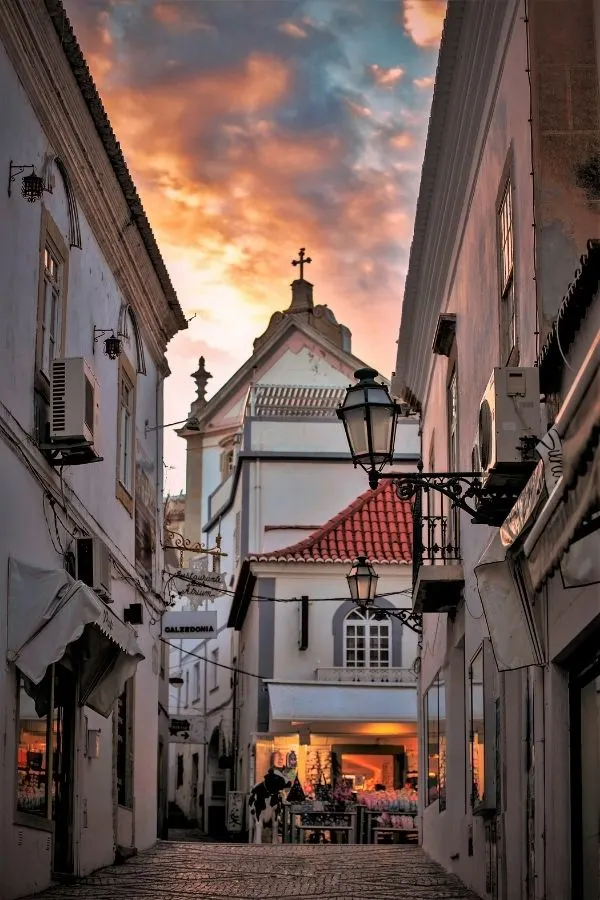 As Albufeira tourist attractions go, the old town has to be near the top of your list. This beautiful area is one of the best places to visit in Albufeira.
If you want to spend some time in Albufeira sightseeing, then make this your first port of call.
One of the best things to do in Albufeira old town is to simply wander the narrow, cobbled streets, marveling at the mosaic patterns and soaking in the atmosphere.
You'll find something to delight you around every turn in this charming area.
Among the old town's whitewashed buildings and breezy plazas, you'll find many great options for dining, drinking, and shopping.
Several art galleries are immersed in the labyrinth streets, but the main attraction is the area itself.
5. Go camping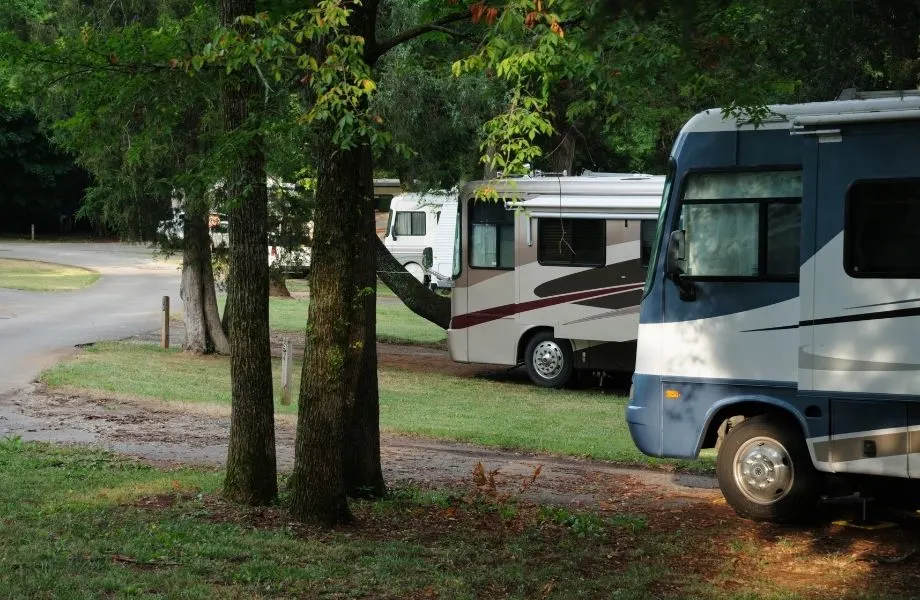 If the outdoor life is for you, then in and around Albufeira camping options abound.
You'll find everything from basic pitches with little more than a shower block to offer, to sites containing swimming pools, tennis courts, soundproofed nightclubs, and excellent restaurants.
The popular Albufeira Camping is located in the north of town (there's a frequent bus service to town that departs from near the entrance) and offers excellent facilities.
There's a choice of restaurants, a huge swimming pool, nightclub, supermarket, and spa.
If wild camping is your thing, bear in mind that this is actually illegal in the Algarve. The economy here relies on those tourist dollars so they want people who pay to stay.
However, in the quieter winter months, the authorities generally turn a blind eye to this.
6. Go to a waterpark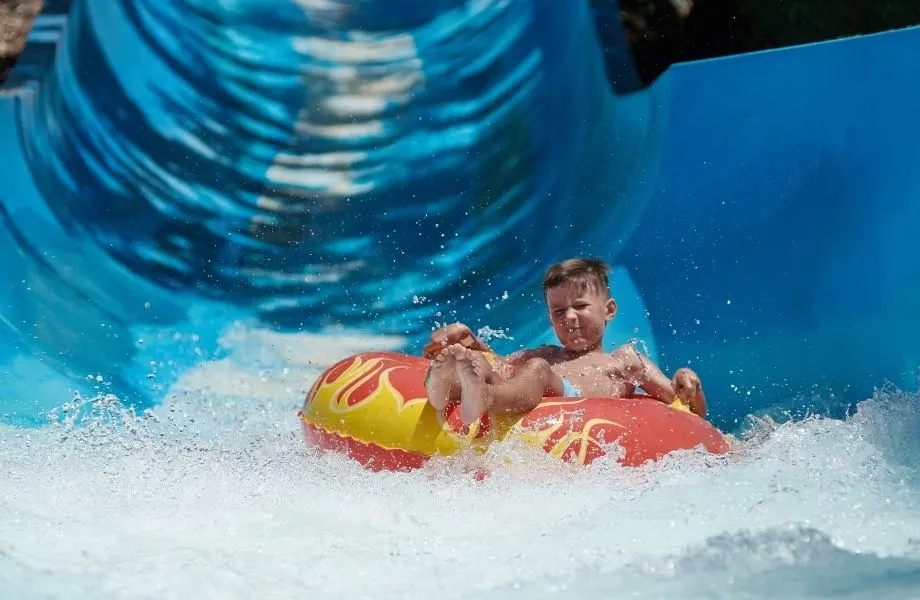 If you're looking for things to do with kids in Albufeira, the attractions at Zoomarine Algarve are amongst the most fun things to do in Algarve.
There are waterslides, a beach, an amusement park, plus several shops and restaurants.
The park is located in Guia, just a few miles out of Albufeira, and easily accessible.
There are even pirate shows, a 4D cinema, a butterfly garden, and a wave pool boasting the biggest artificial wave in the country, making this one of the best things to do in Albufeira with kids.
Please don't attend the dolphin shows though, keeping these beautiful creatures in captivity and having them perform for people is questionable in the extreme.
If you love playful dolphins and hidden caves, then a guided caves and dolphin watching boat trip is definitely a fun activity to do. – Get tickets here.
7. Visit the Benagil Caves
With the rugged, limestone-bedrock environment that surrounds Albufeira, caves throughout the region are plentiful.
However, if you're seeking truly memorable things to see in Albufeira, then don't miss the stunning Benagil Caves.
Located west along the coast from Albufeira, these sensational caves contain rock formations that defy belief.
The main cave here is distinctive due to its hole in the roof, through which the blazing Algarve sun casts its beams.
You can take a boat trip to the Benagil Caves from Albufeira Marina.
Alternatively, one of the most fun things to do in Albufeira is to make your own way there.
Once there, you can select from several ways to access the caves, including boat, paddleboard, and kayak.
Book here day trips to Benagil Cave
8. Go Scuba Diving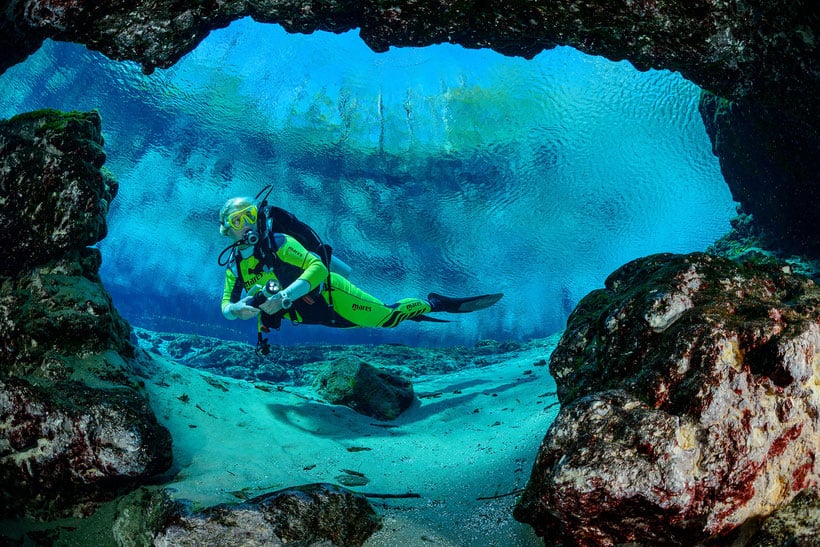 If you prefer life under the waves to on the land, then you find plenty of things to do in Portugal.
Albufeira offers great opportunities for diving, with shipwrecks, reefs, wall diving, and artificial reefs all located offshore.
In central Albufeira, diving can be arranged through EasyDivers.
They are conveniently located in Albufeira Marina and offer a range of options for all ability levels from beginner through to expert.
So if you simply want to go out snorkeling, they can accommodate this.
However, if you're looking for a full diving experience, they offer 'Try Dives', where you dive in a controlled environment, accompanied by an instructor.
They also offer diving courses and boat trips to deeper waters.
Book here a dive with EasyDivers
9. Take a Jeep Safari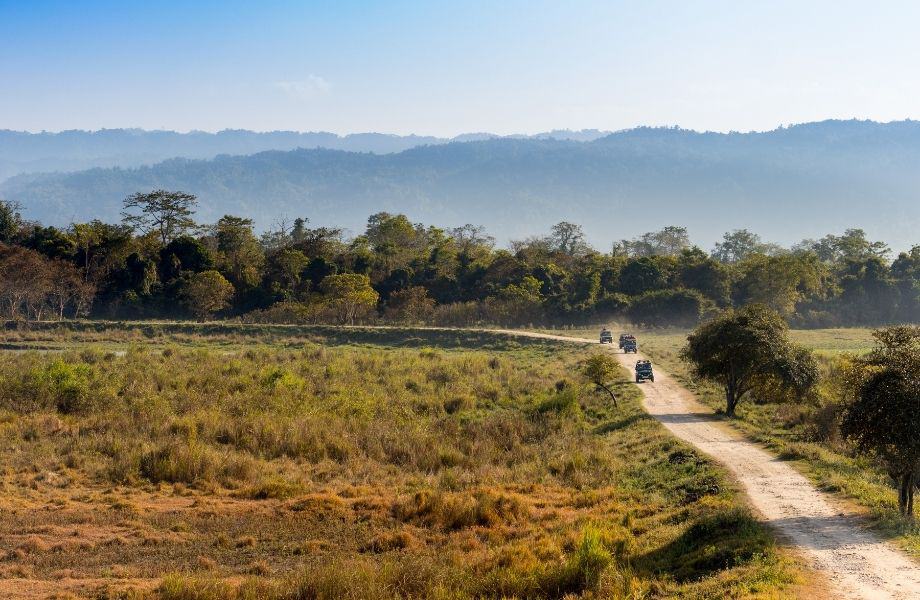 If you're looking for things to do in Albufeira that are a little bit different, then a Jeep Safari is a fantastic alternative to the more mainstream activities.
This is a great way to explore the beautiful mountains that provide such a dramatic backdrop to the Algarve coast.
Coast and Country Tours do a marvelous range of Jeep Safaris, with half-day options (4 hours) departing twice a day, in the morning and afternoon.
This option costs around 30 Euros per person, so it's quite a bargain. A more comprehensive full-day tour is also available.
The full-day tour departs each morning and is highly recommended as one of the most fun activities in Albufeira that you could possibly do.
It costs around 65 Euros, lunch included. In addition to the off-road fun, you'll visit beautiful villages, wineries, waterfalls, and ruins.
Book here a Jeep Safar in Albufeira
10. Go on an Off-road Buggy Adventure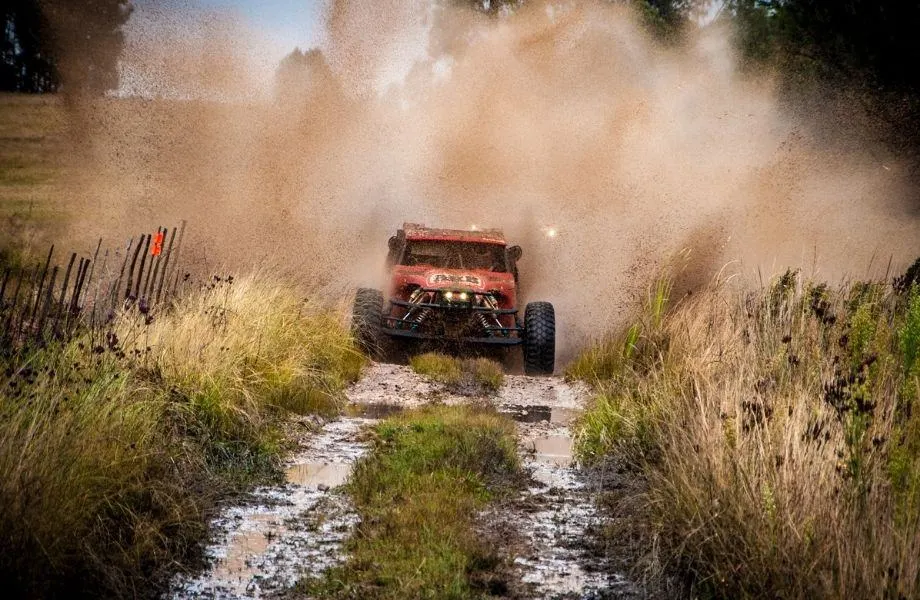 Another of the great fun Albufeira activities for you to try is an off-road buggy adventure.
If you're looking for fun, this is one of the best things to do in Albufeira!
Ticket Shop's excursions depart from their office in downtown Albufeira, from where you'll be taken to the starting point of the trip.
This starting point is the amazing Paderne Castle (see below) which is worth the trip all on its own.
You can select either a 1.5-hour or 3-hour excursion. From Paderne Castle, you will set out on a route that takes in some stunning Algarve scenery.
It's all low speed so anyone can do it. They have either one seat or two-seat buggies to choose from.
Book here an off-road buggy adventure in Albufeira
11. Visit Albufeira Marina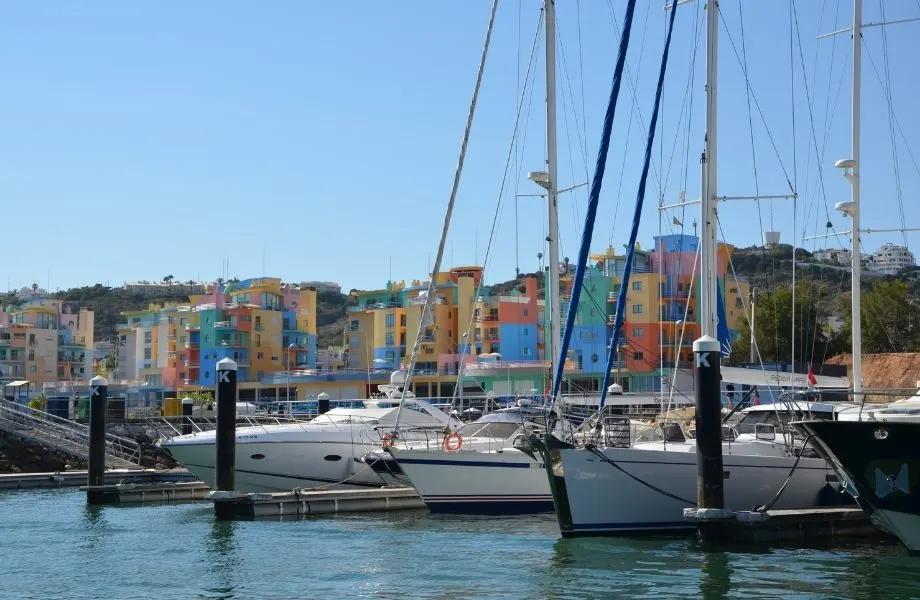 If you're not feeling energetic and would rather just stay in Albufeira sightseeing, then there are a whole host of things to see in Albufeira.
Part of any sightseeing itinerary must include a trip to the marina.
The marina is more than just a launching point for the many boat trips and diving excursions that depart from here, it's one of the best places to visit in Albufeira.
In recent times, the marina has become something of a cultural hub.
There's an array of wonderful bars and restaurants, you can while away an afternoon or evening sitting in the sun with a warm breeze gently drifting over you, watching the comings and goings of marina life with a couple of cool drinks for company.
12. Go Shopping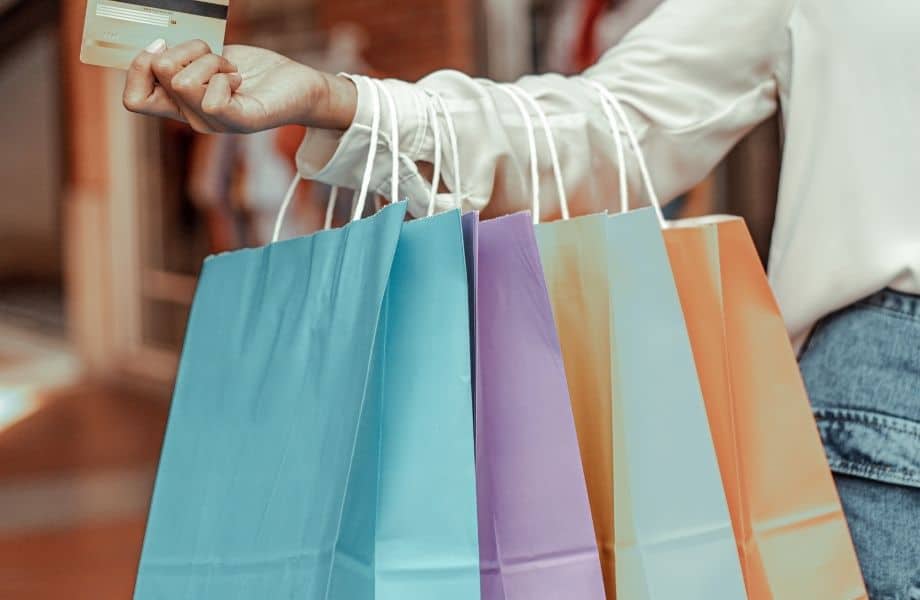 Staying in town and wondering what to do in Albufeira? Then go shopping!
Head down to Rua 5 de Outubro for Portuguese pottery and fashion stores.
Or, if you're looking for a mall, at Albufeira Shopping (located downtown) you'll find more typical mall stores inside.
Avenida da Liberdade is Albufeira's main shopping street.
Here you'll find all the usual high street culprits, including clothing, sunglasses, handbags, and footwear stores.
There's also a small supermarket and several off-licenses.
For a shopping excursion that is slightly out town, get yourself along to the fantastic Flea Market in the town of Olhos de Água, just to the east of Albufeira.
The market runs every 2nd and 3rd Saturday of the month. You'll find it on Rua da Escolas.
13. Take a High Rope Course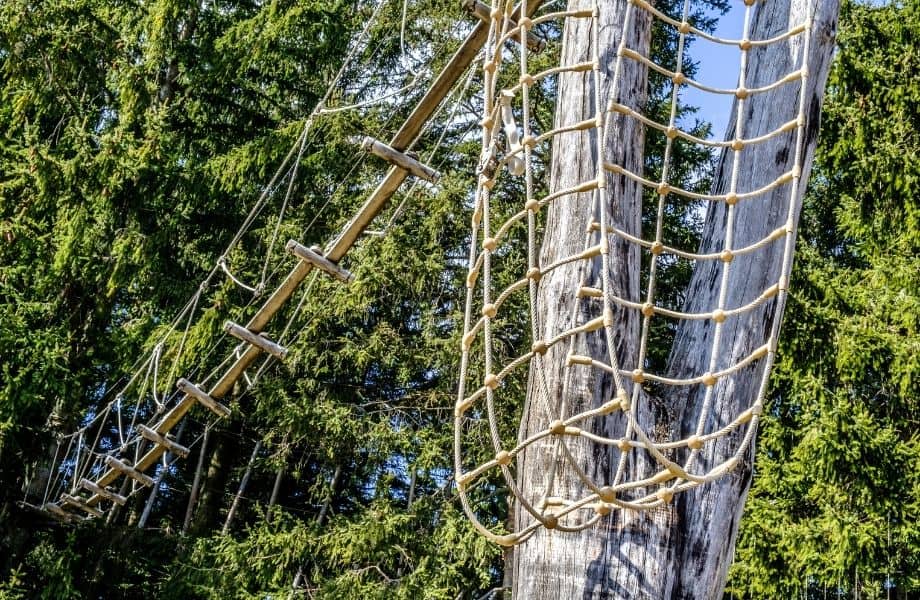 If you want to challenge yourself whilst on your trip, then one of the most fun things to do in Albufeira is to take a high rope course.
Here you can venture from tree to tree while tackling a variety of obstacles such as bridges, rope nets and giant zip lines.
For those wanting to take to the trees, Parque Aventura offers a range of high rope courses to suit all ages and levels.
Their standard courses are named Curious, Adventurous and Fearless (!!!), depending on height and difficulty level.
Safety here is top-notch, despite how scary it may seem. Each course takes around 3 hours to negotiate. Costs range from 13 Euros to 19 Euros.
This is great for a group of friends, but it's also one of the best things to do in Albufeira with kids.
You'll find their office at Estrada de Santa Eulália 215, 8200-381 Albufeira.
14. Visit the Castelo de Paderne (Castle of Paderne)
If you're seeking cultural things to do in Albufeira, then take a trip to the Castelo de Paderne (Castle of Paderne).
Just a few miles north of Albufeira these magnificent ruins have great cultural significance within Portugal.
The Castle of Paderne is said to be one of the seven castles that sit around the shield on the Portuguese national flag.
Today, the castle is little more than a ruin. Hardly surprising considering that it was built by the Berbers in the 12th century.
What makes this a truly special place to visit is the location. Set upon the top of a hill overlooking Albufeira and surrounded by beautiful countryside.
The charming village of Paderne is also worth a look around.
15. Take a day trip to Alentejo Region
Although quite a trip from Albufeira, there are so many wonderful reasons to visit Alentejo that it's well worth the journey.
It's worth hiring a car and doing a Costa Vicentina road trip before looping inland and making sure to visit the unmissable historic city of Evora.
Stretching along the Atlantic coast, the Costa Vincenza is an area of outstanding natural beauty.
If you're looking to get away from the crowds of the more touristy Algarve, then this is the place for you. Here you'll find sensational deserted beaches and world-class surfing.
This world heritage site of Evora is an absolute must-see for anyone visiting this region.
Dating back to Roman times (and with ruins to prove it!), the history and architecture of Evora will take your breath away.
---
There are so many things to do in Albufeira that whatever floats your boat, you'll find something to suit.
In this article, I've provided you with an overview of the many opportunities available in this marvelous setting.
Albufeira really does have something for everyone.
So if you're looking for adventure, outdoor activities, culture, history, great food, vibrant nightlife, beautiful beaches, or stunning countryside, then Albufeira's got it all.
---
Short FAQs About Things to do in Albufeira
What are the best things to do in Albufeira for families?
Fortunately, there are many kid-friendly activities in Albufeira. But some of the best things to do with kids in Albufeira are hiking, waterparks, and the high rope course at Parque Aventura.
What is Albufeira known for?
Albufeira is a popular coastal town in Algarve, Portugal due to its wild nightlife and club scene. But it's also renowned for its beautiful beaches.
What are the best outdoor activities in Albufeira?
The top things to do in Albufeira for outdoorsy people are hiking, high rope courses, camping, and visiting Benagil Cave. Of course, you can also spend time just soaking up the sun on the stunning beaches.
---
Before You Go: Top Tips for your Trip
---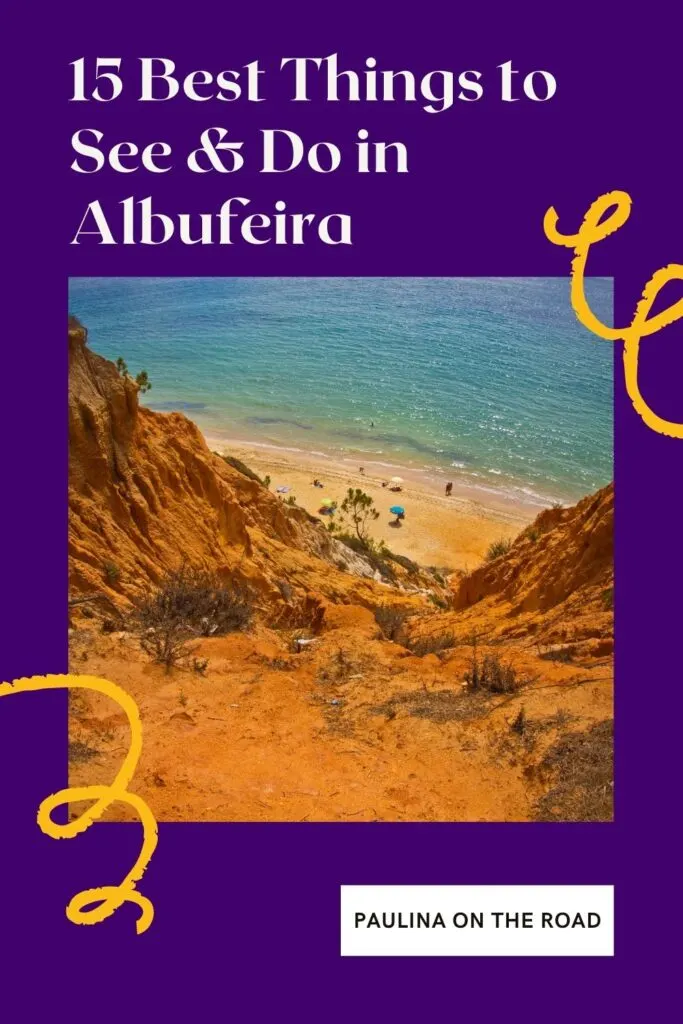 ---
Hola! I am Paulina, a fervent travelette who crossed the Atlantic Ocean by Boat HitchHiking. On my blog, you'll find all the tips to make the most of your holiday. Get ready to enjoy outdoor and sustainable travel like hiking, cycling or sailing. Let's hit the road together!