The ultimate guide to the best Airbnbs in Algarve, Portugal with luxury Airbnbs, cheap Airbnbs, and Airbnb for families in Algarve
If you plan to travel Portugal's south, the Algarve prepares for some seriously stunning scenery and memorable experiences!
With its glorious beaches, charming towns and villages, and delicious seafood restaurants – not to mention the breathtaking coastal cliffs.
And what better way to experience all this vibrant region has to offer than by staying at a comfortable Airbnb?
From luxurious beachfront villas with private pools to cozy apartments in picturesque neighborhoods, I've compiled a list of the best Airbnbs in Algarve.
Whether you're looking for an unforgettable adventure in nature or want some relaxing R&R away from home – these amazing Airbnbs have something for everyone!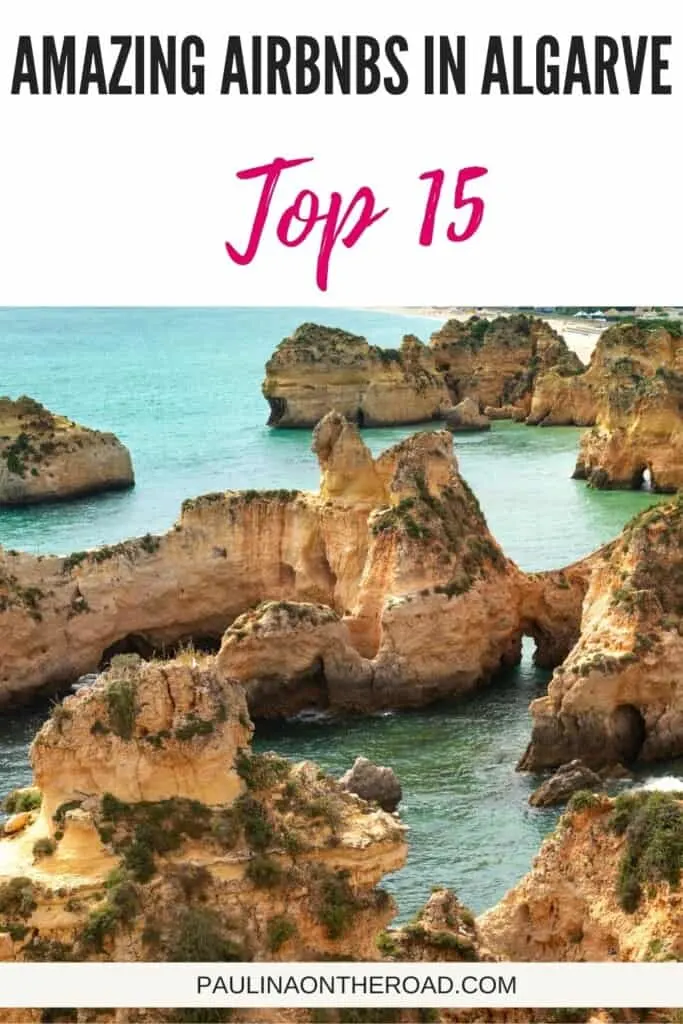 This blog is supported by you, dear reader. If you purchase through a link, I earn a small commission. As an Amazon Affiliate, I earn from qualifying purchases.
Top resources to travel Algarve, Portugal
⚘ Avoid tourist traps with the customizable "Algarve Like a Local" itinerary. – Buy here for less than 10€

✈ Book cheap flights to Algarve with Skyscanner

✔ Book tours in Algarve with GetYourGuide

➳ Find the best hotels in Algarve with Trivago

❖ Rent a car with the best discounts at Discover Cars

✎ Never leave without travel insurance. I got mine at HeyMondo. It is cheap and easy to set up.

$ Withdraw money without hidden fees and avoid exchange rates with Wise (you'll get a free card on top!)
Overview: The Top 5 Airbnbs in Algarve, Portugal
Map: Best vacation rentals in Algarve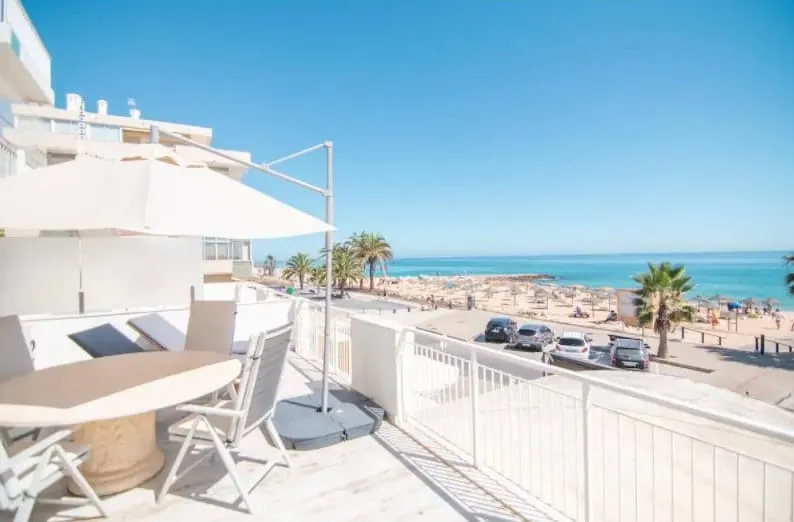 $
4 Guests
Marvelous views of the beach
Just a short drive away from Villanova Marina
Seafront Quarteira as its name suggests, is a mesmerizing apartment overlooking the beach.
Visitors admire this gem in the Faro district for its splendid location and proximity to great restaurants and supermarkets.
The spacious apartment is perfect for four guests, and it boasts two bedrooms, a lovely terrace, and an equipped kitchen.
The incredible views of the beach and the opportunity to witness marvelous sunsets take this apartment to the next level. A coffee shop is right below the apartment for you to grab some quick bites.
Wake up to the sound of waves and enjoy a quintessential seafront vacation you will forever cherish.
From here it is only a short walk to Ria Formosa Natural Park, a must-visit Algarve destination.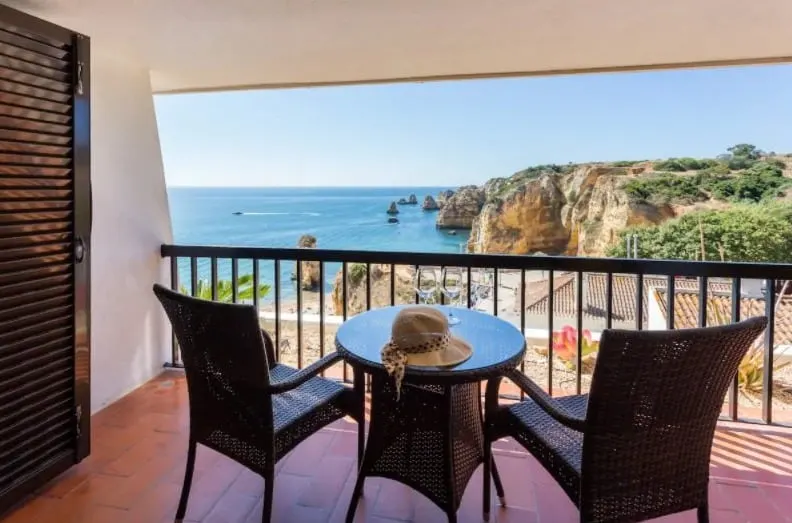 $
4 Guests
Impressive ocean views
Access to private parking
Located next to Dona Ana Beach, this apartment is a paradise with spectacular ocean views, and allows you easy access to all the top things to do in Lagos Portugal.
This one-bedroom apartment with a spacious balcony is a perfect romantic getaway for couples.
Spend your evenings here enjoying a glass of wine, listening to the waves, and treating your eyes to excellent views.
This apartment is within walking distance of the old town, and there are many supermarkets nearby.
From AC, dedicated workspace, and a fully-equipped kitchen to private parking, it has everything to make your stay comfortable.
With brilliant views and elegant décor, it can be rightly mentioned as one of the most beautiful places to stay in Lagos.
$
4 Guests
Best budget-friendly room for rent in Algarve
Perfect for long stays
The unanimous answer to where to stay in Algarve at an affordable price is Apartamento Praia da Rocha.
This stylish apartment In Portimão is just 2 minutes from the beautiful Praia da Rocha beach.
With amazing bars, vibrant restaurants, and shops at a walking distance, the location will leave you in awe. You can also see winter in Algarve, which will be a mesmerizing experience.
This one-bedroom apartment has all essential amenities like air conditioning, washing machine, coffee maker, and TV. The kitchen possesses all the cooking basics for you to make a delicious meal.
The house accommodates 4 guests; however, it is unsuitable for children under 12.
Make your visit to Algarve extra special by booking your stay at the beautiful and budget-friendly Airbnb.
4. Best Luxury Airbnb In Algarve: Haus am Meer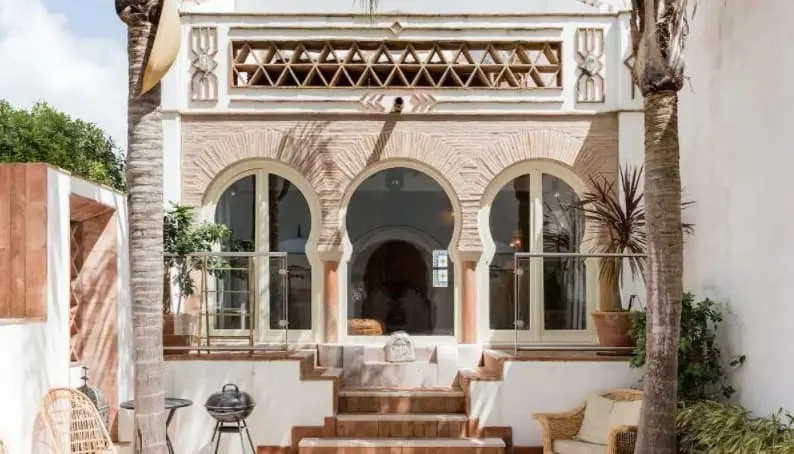 $
4 Guests
Great destination to unwind
Enchanting architecture and interiors
The Haus am Meer (house by the sea) is located in the charming Salema region. This gorgeous Airbnb redefines style and luxury with its exceptional interiors, cozy ambiance, and amenities.
The cottage that can accommodate 4 guests is a perfect space to enjoy a relaxing vacation.
This stunning Airbnb is just 50 m from one of the most beautiful beaches in the world.
Besides, Salema has a lot to offer to its guests like amazing boat trips, jet skiing, sailing, and much more.
The best part is that everything from restaurants bars to water parks is easily accessible from this Airbnb.
5. Best Mansion Airbnb in Algarve: Beach Cottage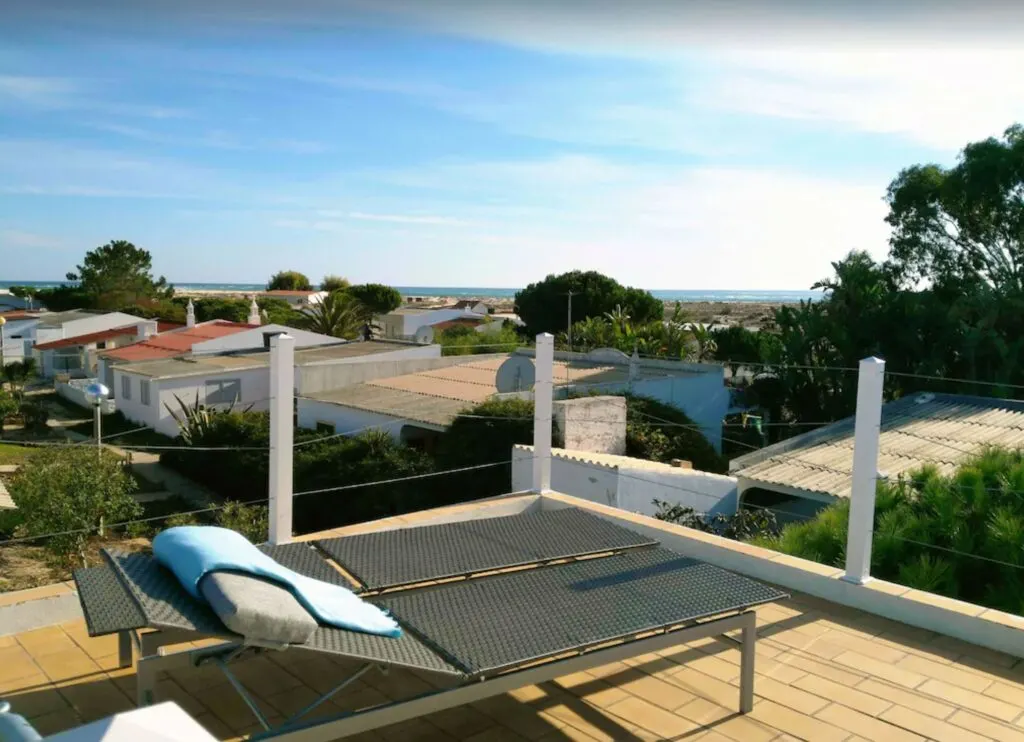 $
7 Guests
Exceptional décor
Access to a beautiful garden
An epitome of vibrancy and skillful décor, Beach Cottage is located 10 minutes away from Olhao.
The beautiful home has features like vaulted ceilings, designer furniture, a stone sink that adds to its charm.
The Beach Cottage is perfect for up to 7 guests and promises a unique and unforgettable stay.
The fully functional external kitchen has everything you need to cook a great meal. You can also enjoy a delightful dining experience in the shaded outdoor patio.
You also get access to a lovely garden and swimming pool shared with guests from a nearby cottage.
Spend your day relaxing in the hammocks, watching the chicken in the garden, or dipping in the pool.
6. Best Airbnb in Algarve for a Group of Friends: Luxury Beach House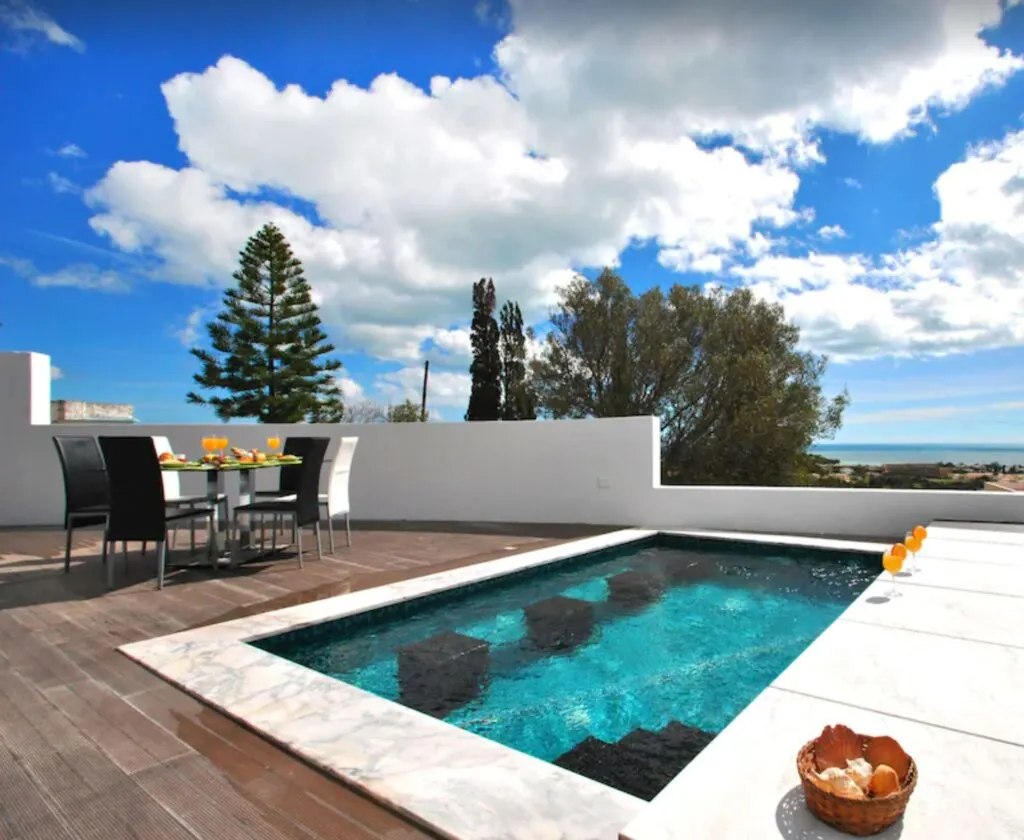 $$
14 Guests
Best-in-class amenities
Stunning art and designs throughout the house
This luxury beach house is one of the best places to stay in Algarve while travelling with friends.
This beautiful villa with 4 bedrooms showcases a creative blend of modern and vintage designs.
Throughout the home, you can find contemporary art pieces made by the owner and design items like Moroccan lamps.
Some of the most enchanting features of this Airbnb are the jacuzzi, heated pool, garden, alfresco dining area, barbecue and lounge.
You can find all modern appliances and Portuguese ceramic utensils in the kitchen. It has 5 bedrooms and can accommodate 14 guests.
Guests keep returning to this Airbnb for its inviting vibe and remarkable location.
Many beaches are within a 5km radius, with the closest being just 900m away. These are some of the best beaches in Algarve.
Further, the stunning Praia de Falesia beach is just 2.5 km away from the luxury beach house.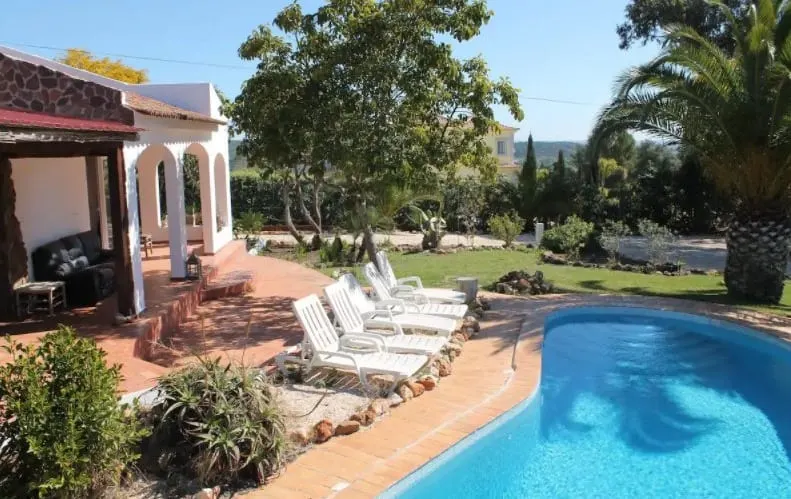 $
6 Guests
Peaceful stay amidst the nature
Great family-friendly destination
This charming Airbnb located 9.2km from the touristic town of Lagos, Villa Alegria is ideal for reconnecting with nature.
The traditional villa can house 6 guests and is perfect for a relaxing and peaceful family holiday.
It is perched on a hill and has insulation which makes it equally amazing during every season.
The villa boasts a private pool and a spectacular Mediterranean-style garden.
The villa has many books and games and even a ping-pong table in the garden to keep you entertained.
You can also plan several other fun things to do in Algarve. The kitchen here is well-equipped for all your cooking needs.
Immerse yourself into the calmness and beauty of nature by taking a walk around the villa or enjoying some of the amazing nearby hiking in Algarve.
8. Best Algarve Airbnb for Solo Travelers: Be Happy Paradise
$
1 Guest
Great location just 500m from Portimão
Access to a swimming pool
If you identify happiness with solo traveling, Be Happy Paradise in Portimão is a brilliant choice.
This cute one-bedroom flat is part of a private condominium, just 500m from Praia de Rocha.
Here, guests will access two amazing shared swimming pools and parking spaces.
The apartment has a balcony to enjoy morning coffee and soak up the sunshine.
The kitchen has appliances like a microwave, toaster, coffee machine for your convenience.
The house is just perfect if you're looking for a vacation rental for 1 person.
9. Best Algarve Short Term Rental for Couples: Orange Tree House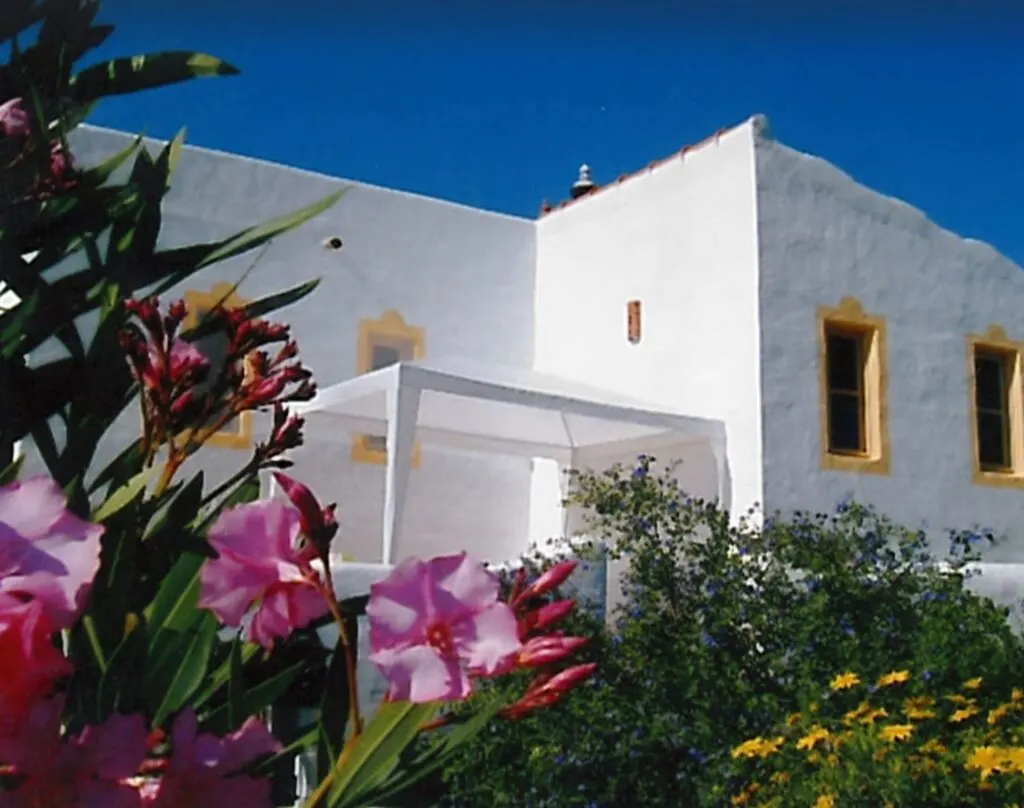 $
2 Guests
Perfect romantic getaway for couples
Amazing views of citrus farm
Orange Tree House is one of the prettiest rentals in Algarve for a couple. Nestled in a citrus farm with incredible views, it is just a short drive from Silves.
The two-bedroom apartment guarantees superior comfort and privacy.
The aesthetically pleasing interior is the major highlight of tthis Airbnb.
It boasts all modern amenities and a fully-equipped kitchen to prepare palatable dishes for your loved one.
It's perfect for those looking for a couples getaway in Algarve surrounded by nature and only a short drive from the sea.
10. Best Algarve Airbnb in Albufeira: Sea View Apartment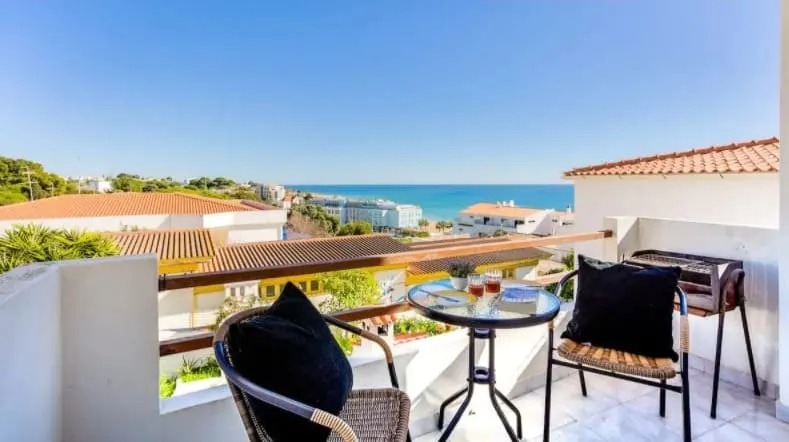 $
4 Guests
Walking distance to 5 beaches
Great restaurants nearby
Take a step closer to the best of everything that Oldtown has to offer by booking this sea view apartment.
From beaches, restaurants, pubs, and churches to spectacular events, everything is effortlessly accessible from this apartment.
Explore all the best things to do in Albufeira during the day and then come back and relax in the evenings.
You can witness impeccable views of Albufeira Downtown and Fisherman's Beach from just one street away.
This two-bedroom apartment has 2 balconies, a fully-stocked kitchen and is great for 4 guests. You can also enjoy a memorable backyard barbecue experience with your family.
The host here always impresses visitors with his suggestions for the best dining options and party places.
11. Best Algarve Airbnb for Nature Lovers: Casa do Planalto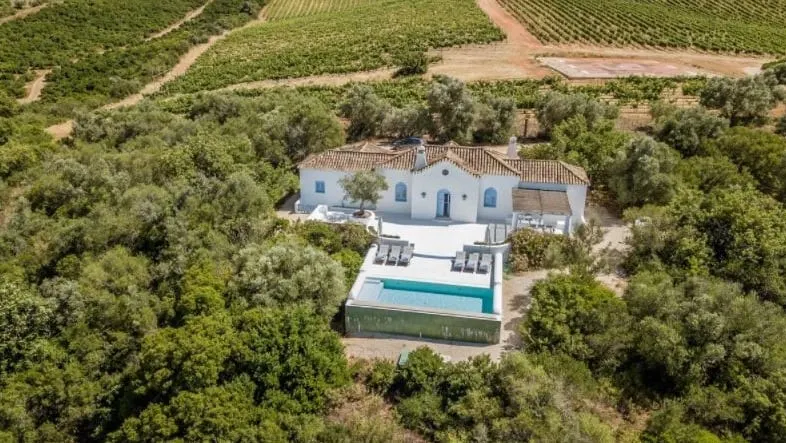 $$$
6 Guests
Surrounded by nature and vineyards
Modern amenities in a rural setting
Casa do Planalto brings together the best of everything that makes a vacation special. From excellent wines, nature, sublime architecture, comfort to privacy, it checks every box in the list of a perfect vacation.
This tranquil 3-bedroom house is surrounded by vineyards and wine tasting is arranged here on request.
The house is in a rural setting in Silves, yet it boasts all modern amenities including a modern kitchen. The guests are welcomed here with fresh fruits, 2 bottles of wine and essentials like milk and bread.
Another interesting fact is that it's just a few kilometers from Algarve's most popular golf courses.
$
10 Guests
Excellent views of Carrapateira village
Many fun activities nearby
A hidden gem in Carrapateira offering incredible views of the village, this cabana is the perfect accommodation for couples.
From a small pool, sunbeds, and barbeque to an outdoor dining table, it has got everything for a delightful vacation.
This home also has an indoor fireplace, beach essentials, and a fully-stocked kitchen, among other great amenities.
There are a lot of fun activities to indulge in nearby this house that's near the best of Carrapateira has to offer.
You can take surf lessons in Amado or Bordeira beach that's just a short drive from here.
A hike in the Fisherman Trail of Rota Vicentina is another popular activity near this Airbnb.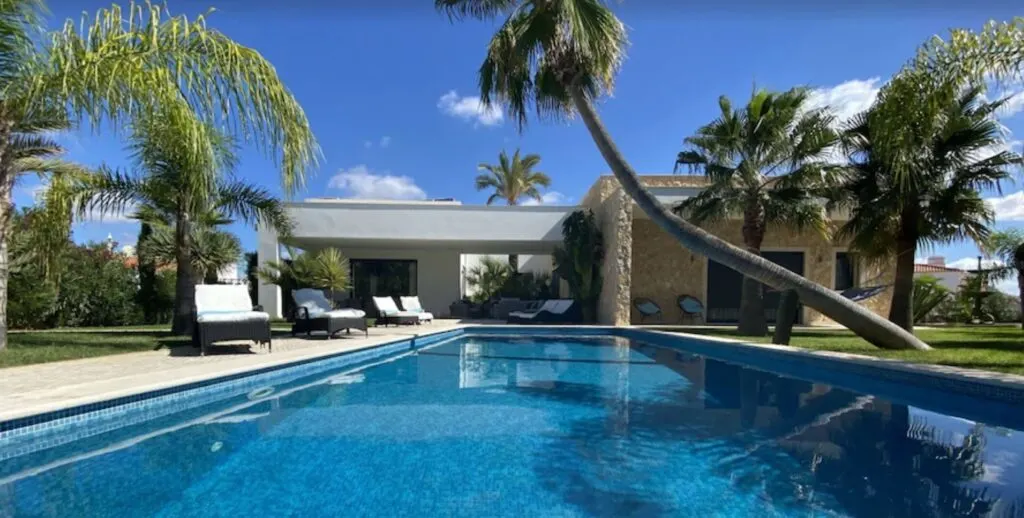 $$
8 Guests
Stylish decor
Child-friendly apartment
Located in Portimão, this stellar apartment is only 8 minutes from the splendid Praia da Rocha beach. Featuring one spacious bedroom, it accommodates three guests and is child-friendly.
Guests get free access to the swimming pool, tennis courts, football fields, and kids' playground.
The best feature about this Airbnb is its stylish, bright, and modern décor. The kitchen is well-stocked with all essential appliances and even a baby chair.
There is also an adorable balcony for you to sit back and relax.
$$
12 Guests
Amazing location in Vilamoura village center
Splendid design and architecture
This rustic townhouse is a visual delight located in the heart of the charming Vilamoura village. The impressive design and architecture of this house set it a class apart.
Featuring 4 bedrooms, the house can accommodate 12 guests, making it a perfect family getaway.
The highlight of the house is the infinity pool with splendid views. The interior design makes this one of the prettiest Airbnbs in Vilamoura.
The house boasts amenities like a TV, washing machine, AC, WiFi, and much more to make your stay comfortable.
The kitchen is also fully equipped with silverware, dishes, and appliances like a microwave and refrigerator.
Comporta, a popular destination among beach lovers is less than 5 minutes from this gorgeous townhouse.
15. Best Airbnb in Algarve for Cabin Lovers: Villa Pocilgo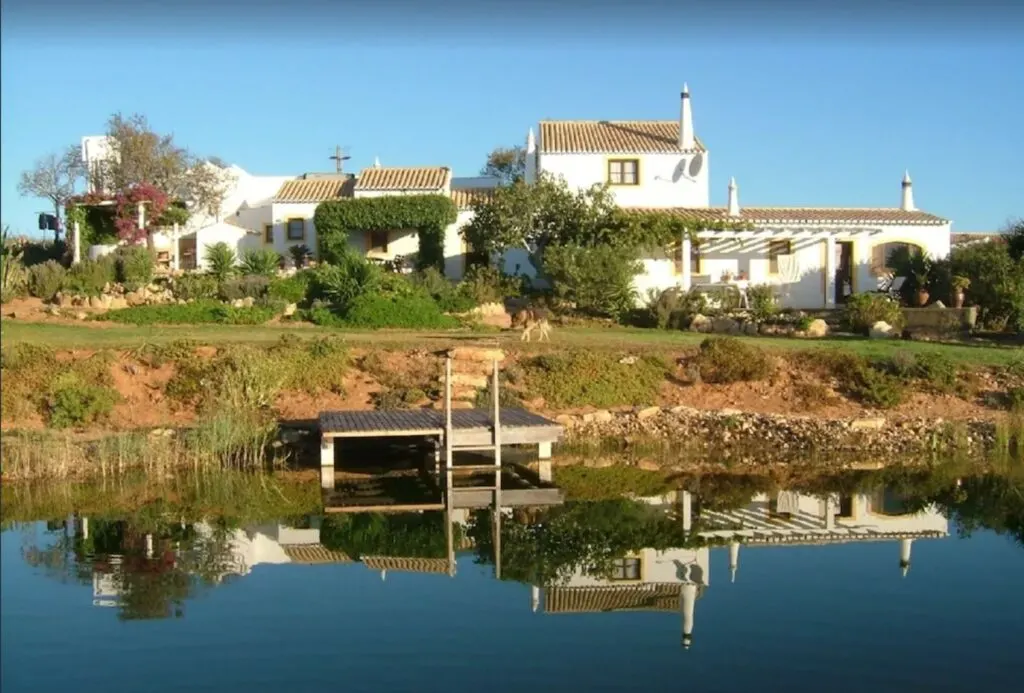 $
4 Guests
Peaceful stay amidst nature
Amazing swimming pool and lounge area
A perfect escape from city life, Villa Pocilgo is a one-bedroom wooden house in a tranquil setting. It lets you stay amidst nature and is just a short drive from the beautiful beaches in the south.
The swimming pool with sun loungers is great for sunbathing here.
You can also spend your day relaxing on the hammocks and reading your favorite book in the lounge area.
The terrace has a small kitchen and comfortable seating to make your stay exceptional.
Enjoy seeing eucalyptus trees around you and experience its aroma filling the air.
---
Why Stay in an Algarve Airbnb?
Local Experience
To live like a local is the best way to make the most of your vacation at Algarve. Staying close to the locals is one of the most amazing benefits of Airbnb.
You can also explore Algarve Like a Local while you stay here. – Get the guide here.
It also lets you get closer to their culture, traditions, enjoy unique landscapes and experiences.
Safety
Safety is an unbeatable feature of Airbnb that makes it one of the best places to stay in the Algarve.
With enhanced cleaning processes to features like smoke alarms, Algarve vacation rentals are sure to offer you a safe stay.
Moreover, you can always find Airbnb that are hosted by super hosts who are known to provide secure and comfortable accommodation.
Affordability
When it comes to affordable rentals, Algarve has got splendid choices and all the credit goes to Airbnbs. It is the prime reason I opt for a house for rent in Algarve during my vacation.
With Airbnb, getting an entire flat for yourself not just guarantees privacy and comfort, but affordability too.
---
Best Airbnbs in Algarve: Districts Map
---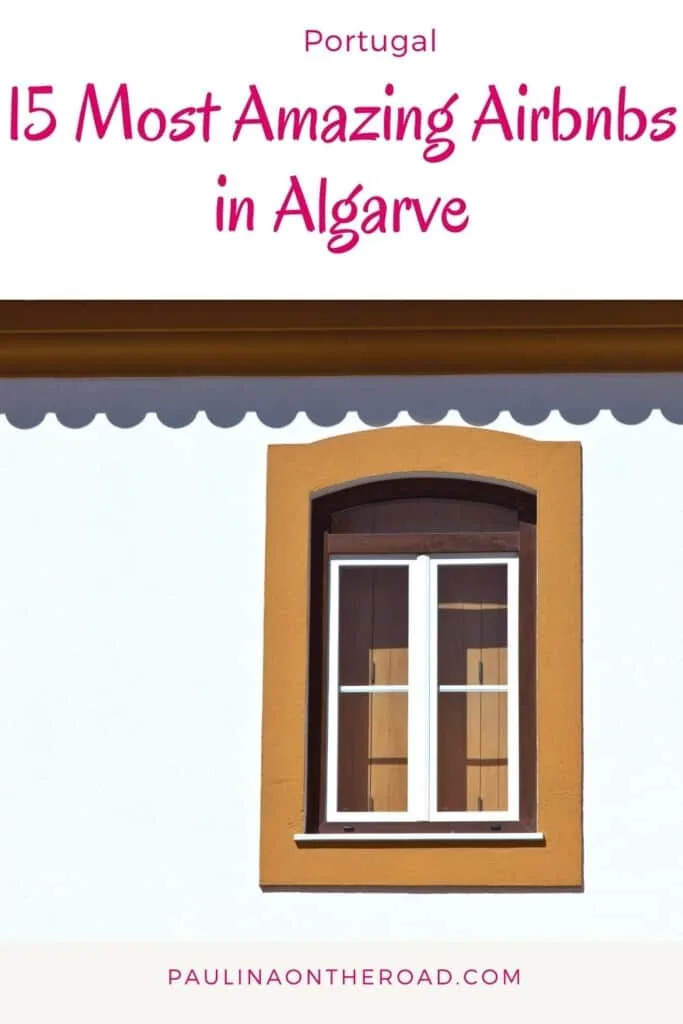 ---
Hola! I am Paulina, a fervent travelette who crossed the Atlantic Ocean by Boat HitchHiking. On my blog, you'll find all the tips to make the most of your holiday. Get ready to enjoy outdoor and sustainable travel like hiking, cycling or sailing. Let's hit the road together!