Guide to visiting the Algarve in October, including what to do in the Algarve in October and the weather in the Algarve in October
Does the thought of an autumn vacation with sunshine and peaceful beaches excite you? If yes, you must visit the beautiful Algarve in October.
This destination in Portugal mesmerizes visitors with stunning views of nature and is also popular among adventurers and outdoor enthusiasts.
Tourists flock here during the summer months, hence it's always better to visit Algarve during the fall.
The weather is delightfully warm in October and the beaches are quieter, plus you don't have to wait in long queues while visiting the popular attractions.
As the summer tourist season fades, you get great discounts on flights and accommodation making it the perfect time to travel Portugal.
Here is a list of the best things to do in the Algarve in October for a blissful vacation.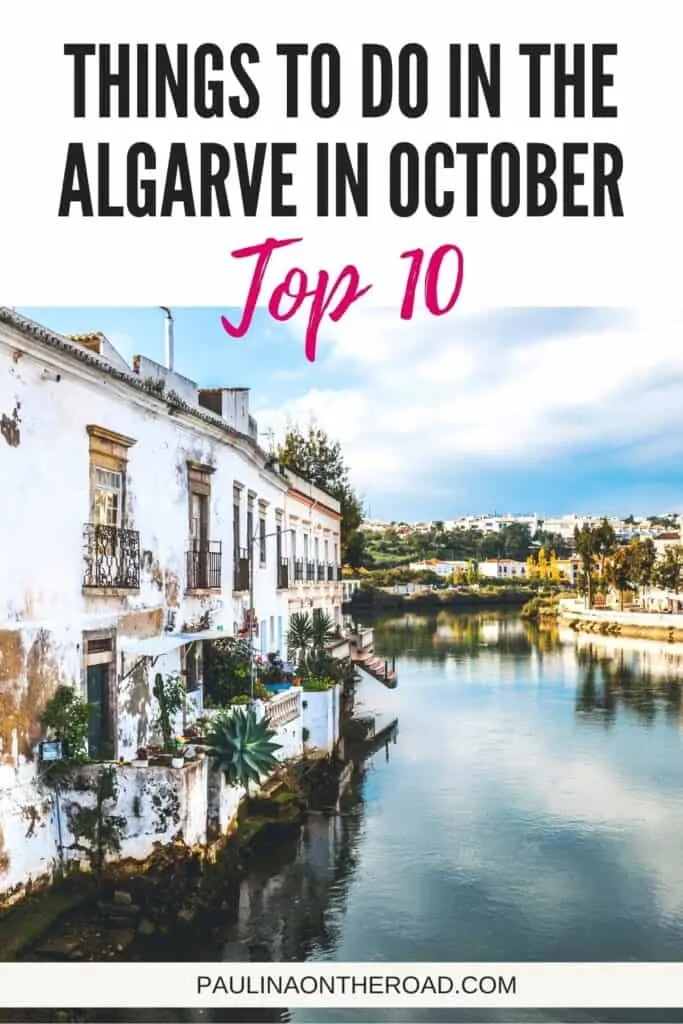 Pssst…!!?? You can't get enough of the Algarve? Have a look at my other posts:
This blog is supported by you, dear reader. If you purchase through a link, I earn a small commission. As an Amazon Affiliate, I earn from qualifying purchases.
Top resources to travel Algarve, Portugal
⚘ Avoid tourist traps with the customizable "Algarve Like a Local" itinerary. – Buy here for less than 10€

✈ Book cheap flights to Algarve with Skyscanner

✔ Book tours in Algarve with GetYourGuide

➳ Find the best hotels in Algarve with Trivago

❖ Rent a car with the best discounts at Discover Cars

✎ Never leave without travel insurance. I got mine at HeyMondo. It is cheap and easy to set up.

$ Withdraw money without hidden fees and avoid exchange rates with Wise (you'll get a free card on top!)
Overview: Top 3 Things to do in Algarve in October
Bird Watching Tour
Embark on a wine-tasting journey
Relax on the beaches
Top 10 Things to do in Algarve in October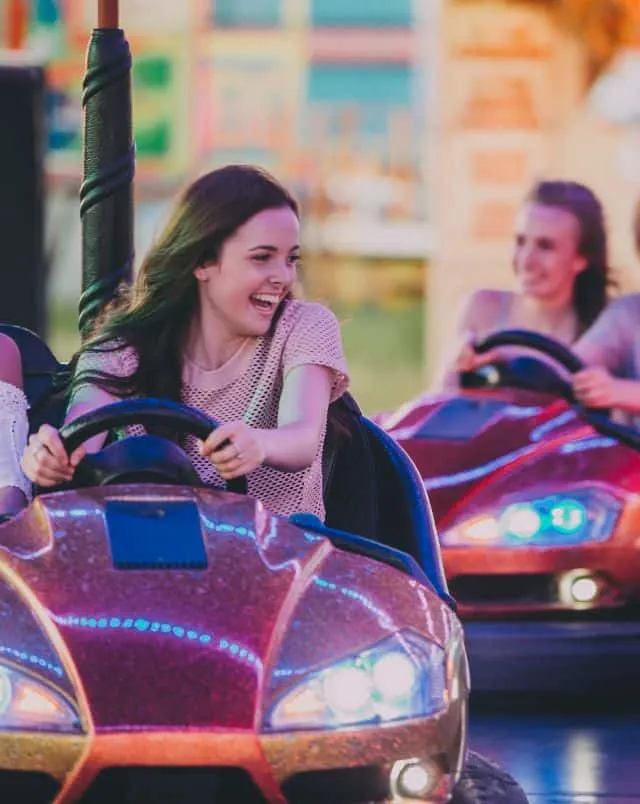 1. Enjoy Faro's traditional annual fest
Feira de Santa Iría is an annual fest that started more than 400 years ago. It is held every year in Faro in October and promotes local talents.
It has everything from exhibitions, live entertainment to gastronomy pavilions.
The festival takes place in the Largo de São Francisco square in the third week of October and lasts 10 days.
This vibrant event gives a glimpse of the local culture, handicrafts, and local produce. The lively performances by local musicians and artists will keep you entertained throughout.
You also can savor some delicious Portugal cuisines and street foods from the food stalls.
It features plenty of fun activities and fairground rides like bumper cars and carousels. Do not miss going on the Ferris wheel to enjoy the panoramic views of Faro.
You must visit this fest if you are in Algarve Portugal in October with your family.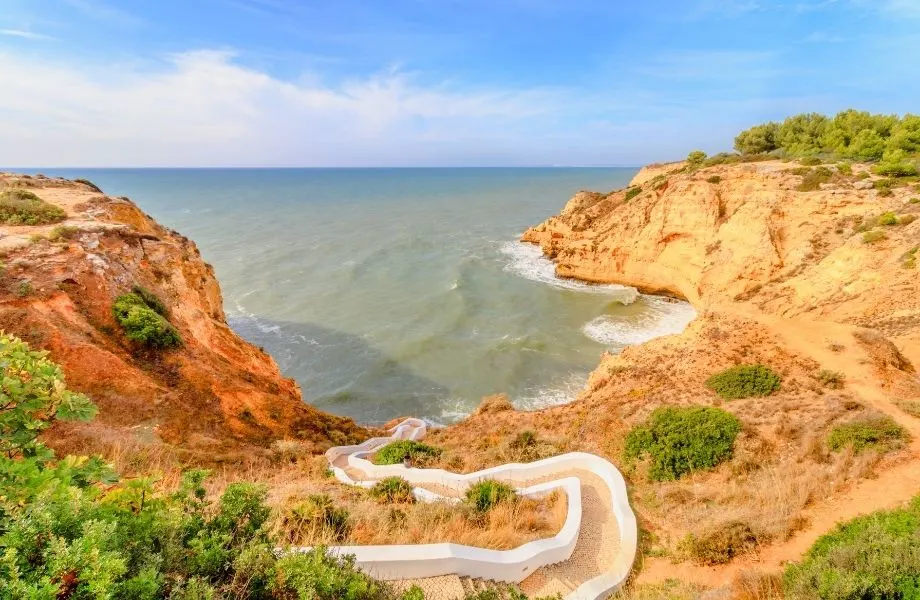 2. Hiking
The best way to explore the scenic Algarve in October is on foot as the hiking in Algarve is fantastic.
The region offers many diverse hiking experiences with picturesque trails along the coastlines, cliffs, mountains, countryside, and more.
The pleasant weather in the Algarve in October makes it the most ideal season for hiking. You can escape the scorching heat and also the tourist crowds of peak summer seasons.
The Seven Hanging Valleys trail is one of its most impressive and popular hikes with breathtaking views of cave formations, limestone cliffs, and stunning beaches.
The Ria Formosa natural park also has many hiking trails to enjoy beautiful landscapes and spot wildlife.
The trails in Monchique let you immerse in the lap of nature. I recommend the hike towards Algarve's highest point Fóia, to enjoy the most surreal autumn views.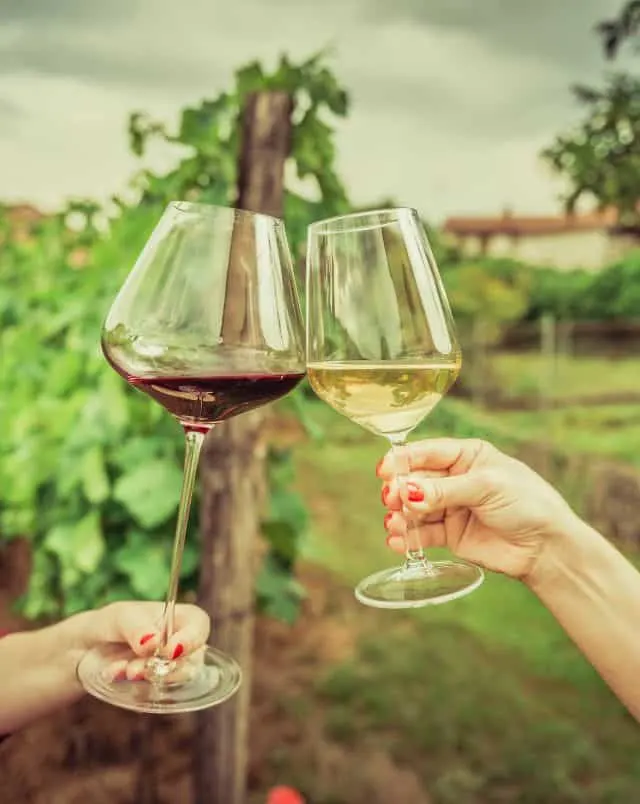 3. Embark on a wine-tasting journey
Algarve is renowned internationally for its delicious and high-quality wines. Taking a scenic stroll along the vineyards is one of the best things to do in Algarve in October.
There are many vineyards from Tavira to Portimão and Lagos where excellent white and red grapes are grown.
The most popular grape varieties include Arinto, Negra Mole, and Castelão.
There are plenty of guided tours and tastings that offer unforgettable wine experiences. The pleasant weather in the Algarve in October makes this journey even more delightful.
You can head to the Quinta dos Vales winery in Lagoa to savor award-winning wines.
Here you can also learn about phenomenal wine-making techniques while enjoying the scenic surroundings.
Quinta da Vinha in Silves is also a great choice for a premium wine-tasting experience. You can taste delicious Carbrita wines and enjoy tapas from local producers.
Quinta do Francês is another family-owned winery in Silves that deserves a visit.
Book the best wine tours in the Algarve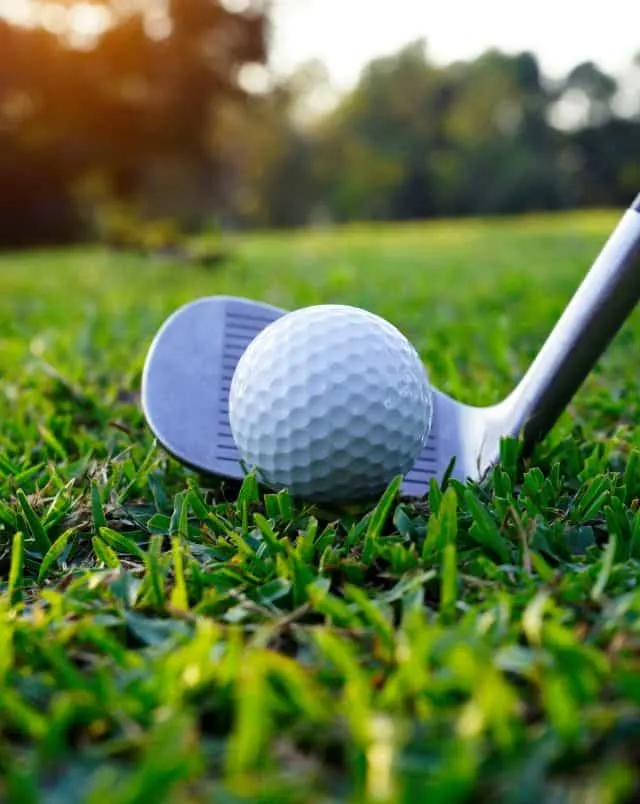 4. Golfing
Algarve is one of the world's leading golf destinations with plenty of outstanding golf courses. The pleasant Algarve weather in October is perfect for enjoying this incredible sport.
The golf courses here offer a treat to the eyes with beautiful landscapes. Some of them even offer spectacular views of the coastline.
Vilamoura is one of the most popular destinations among golfers of all skill levels. It has some of the most acclaimed golf courses like Dom Pedro and many luxurious golf resorts.
Quinta do Lago in Ria Formosa Natural Park is another sought-after golf destination. It has 3 courses and is brilliant for a family golf vacation in Portugal in October.
You can opt for its golf and spa package that includes a premier stay in its hotel.
Vale do Lobo is another destination admired by golfers for its 18-hole championship courses and ocean views.
Its golf packages are designed to make holidays to the Algarve in October an unforgettable experience.
Since October is a peak golf season, I suggest booking your reservations at the golf courses and resorts in advance.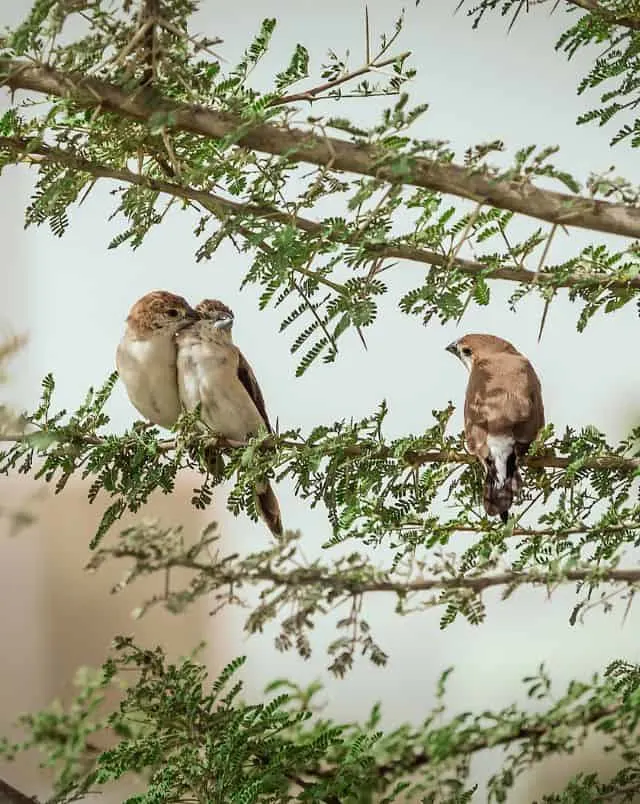 5. Bird Watching Tour
Bird Watching is a must-do activity when you visit Algarve in October. It's the peak season when diverse species of migratory birds cross through southern Portugal.
You can spot a variety of raptors like sparrowhawks, kites, vultures, and falcons in abundance here.
October in Algarve is also the best time to watch seabirds like the Balearic Shearwaters.
Sagres is considered one of the best areas to spot migratory birds. It also hosts an annual bird-watching festival in October with plenty of nature activities.
The Ria Formosa Natural Park is another exciting destination flocked by birdwatchers.
You can take a walk or a boat trip here for a rewarding bird-watching experience. It also provides ample opportunities for bird photography.
Castro Marim Natural Reserve in Eastern Algarve is another bird-watching hotspot to view beautiful flamingos.
It's a good idea to book a bird-watching tour with expert local guides to learn about birds. Carry your binoculars to enjoy this experience to the fullest.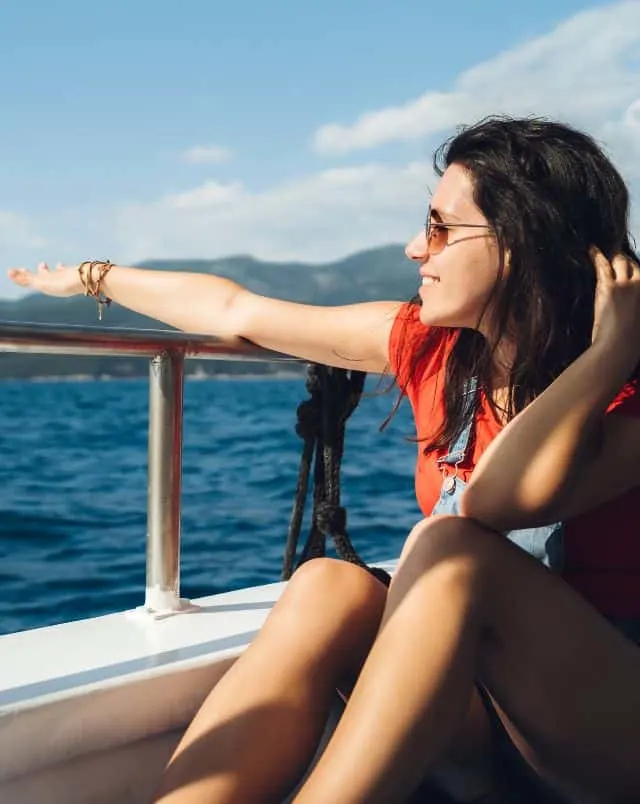 6. Take a boat tour in Albufeira
Exploring the beautiful resort town Albufeira in October is a fantastic way to avoid crowds.
This picturesque destination offers plenty of choices for boat trips, and it is one of the best things to do in Albufeira.
You can choose from guided tours, dolphin-watching cruises, and speed boat tours to deep-sea fishing trips.
One of the best things to do in Albufeira in October is to sail to the iconic Benagil cave.
This natural rock formation with sunlight shining through a hole in its ceiling will mesmerize you.
On your trip, you will also be treated to views of other beautiful caves and glorious hidden beaches. Some of the tours will also allow you to enjoy swimming.
Albufeira is also popular for its vibrant nightlife and you can enjoy boat parties here. With music, drinks, and dance, this is a fun experience that you wouldn't want to miss.
Book the best boat tours in Algarve, Portugal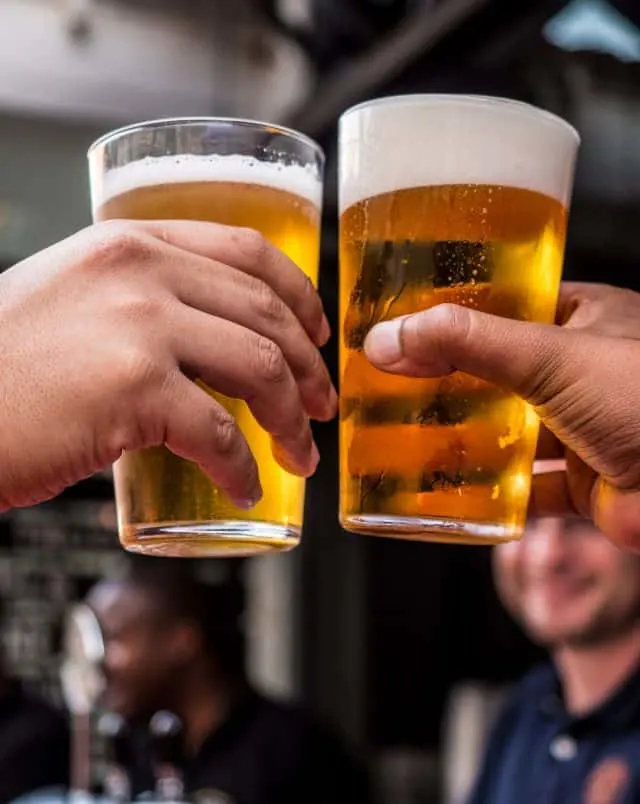 7. Attend Oktoberfest at Vila Vita Biergarten
The annual beer festival Oktoberfest brings German beer garden vibes to Algarve. This lively event is held in Vila Vita Biergarten in Porches and gives a glimpse of Bavarian culture.
A great selection of beers, food, and live entertainment makes the Oktoberfest extremely popular.
The colorful murals featuring Bavarian scenes and the employees in traditional costumes add to the charm of this festival.
The menu includes lip-smacking Bavarian delicacies like schnitzel, sausages, and the traditional apfelstrudel.
It's a great choice if you are searching for some free events in October in Portugal. You can visit with your family as there is a garden for the kids to play.
Make sure to book your tables in advance for a delightful dining experience.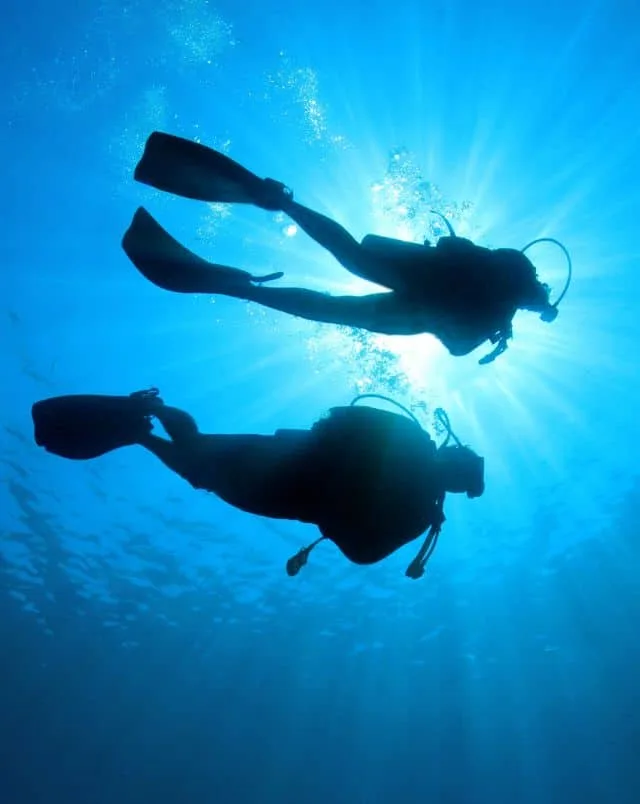 8. Enjoy Water sports
Algarve offers thrilling experiences throughout the year with different kinds of water sports.
From surfing, jet-skiing, stand-up paddleboarding, and kayaking to scuba diving, adventure-seekers have great options here.
The mild temperatures in the Algarve in October make these outdoor activities even more enjoyable.
Surfers of all skill levels can have a great time here as it has many amazing surf spots. The most popular ones include Praia do Amado and Praia de Arrifana.
October in the Algarve also comes with the benefit of smaller crowds, so equipment rentals are easier.
Stand-up paddleboarding and kayaking are also some of the best things to do in the Algarve in October.
You can take guided tours to explore the spectacular beaches, cliffs, and hidden caves.
Book the best water sports activities in the Algarve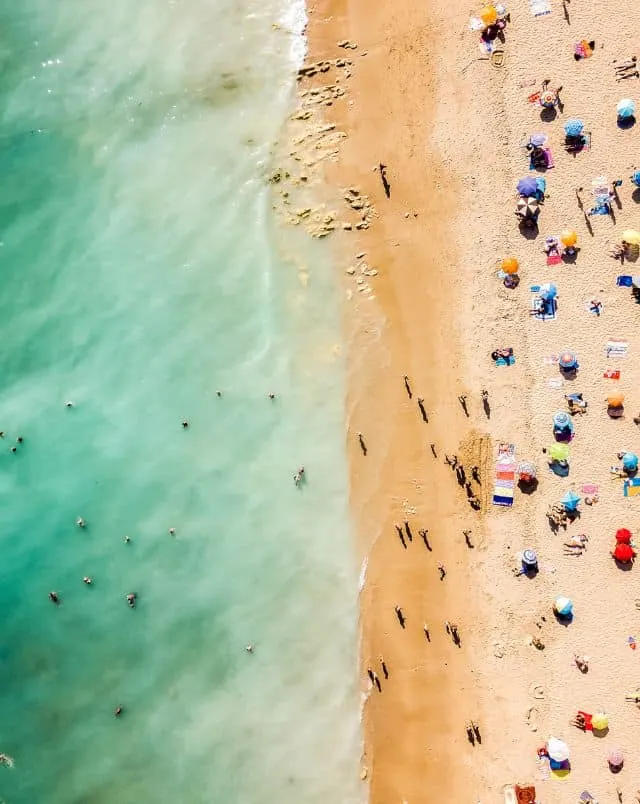 9. Relax on the beaches
If you want to enjoy a relaxing beach vacation, you must visit Algarve in October.
The days are warm, and the atmosphere is peaceful with the end of the peak tourist season.
There are many beautiful beaches in Algarve with dramatic cliffs, golden sand, and clear waters.
I recommend visiting Lagos Portugal in October to explore some of the most beautiful beaches – Praia de Dona Ana, Praia do Camilo, and Praia dos Estudantes are a few examples.
Albufeira and Portimão are other popular destinations with gorgeous beaches.
For those seeking privacy for a romantic holiday in Algarve, October is the perfect month, and you can unwind on the beach by listening to the waves and watching the majestic sunrise.
10. Explore the beauty of Tavira
Tavira is one of the best places in Algarve to soak up the local Portuguese ambiance. This charming city proves that Algarve is not just about the beaches but also about history and culture.
The charming cobbled streets, ornate churches, and castles will take you back in time as you explore all the top things to do in Tavira.
The colorful houses look out of a fairy tale and are the perfect backdrop for Instagram-worthy pictures.
You can take self-guided walking tours or tuk-tuk tours to explore every hidden gem of this city.
It is also an excellent destination for cycling through scenic routes in October.
The cafes and restaurants here are perfect to enjoy delicious Portuguese cuisine and converse with the locals.
Visiting this place in Eastern Algarve in October is a great idea to enjoy the calmness. You can also go on a yoga retreat here for a rejuvenating experience.
Book the best tours in the Algarve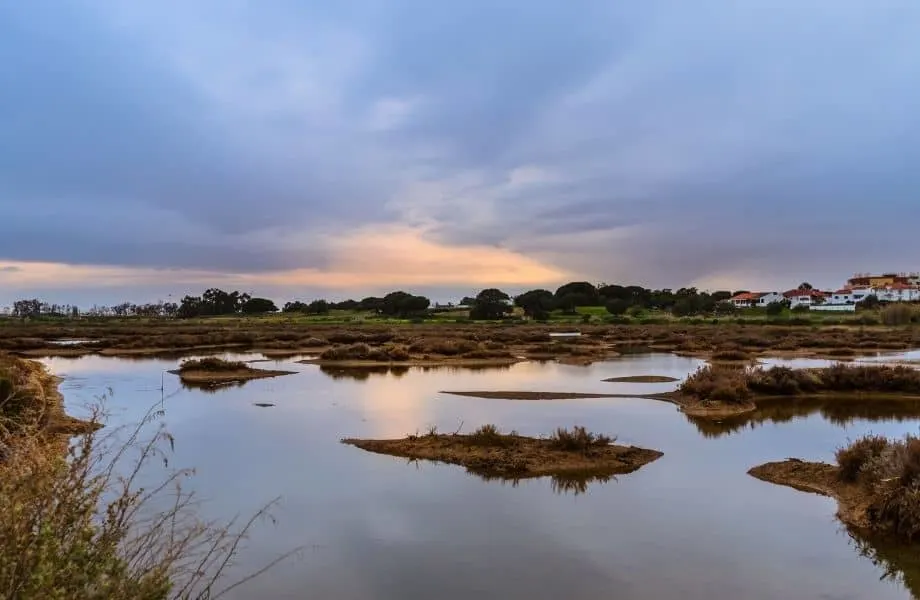 Weather in Algarve in October
Algarve is blessed with 300 days of sunshine a year making it a fabulous holiday destination.
So, is Algarve hot in October? The answer is no, but it is warm enough for your beach days.
The weather in Algarve in October is pleasant and mild with average daytime temperature going up to 23ºC.
With 11 hours of daylight, It is ideal for outdoor adventures. This weather is also perfect for escaping the scorching summer sun.
You would need some extra layers of clothing in the evening as the temperature drops a little.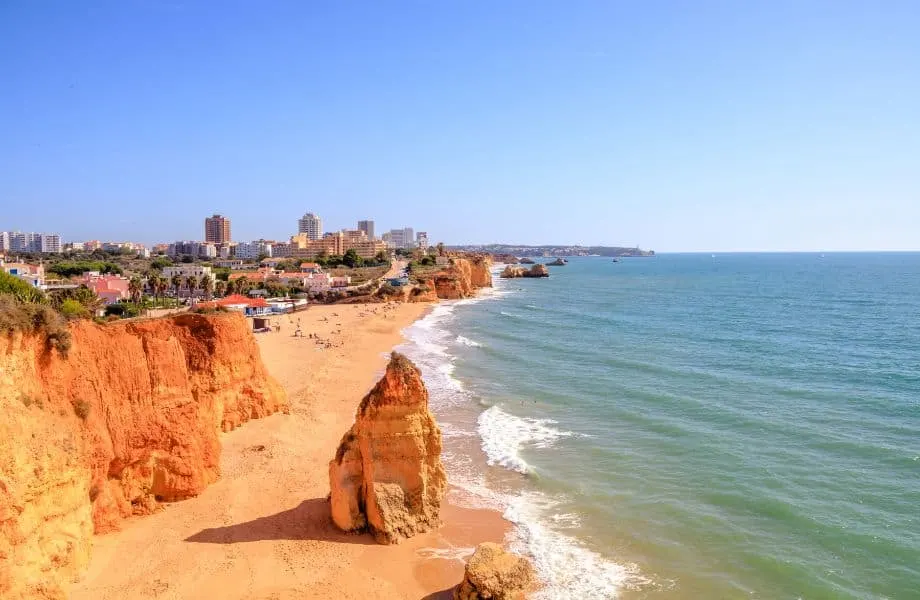 Algarve in October: Best Places to Visit
Algarve in October offers incredible opportunities for basking in the autumn sunshine. Lesser crowds and a quieter atmosphere will let you explore the famous attractions at a slower pace.
It's a great idea to stay in popular towns like Albufeira and Vilamoura during the fall.
The accommodation tends to be cheaper than summer and you can easily find many outdoor activities and tours.
Nature lovers must include Lagos in their bucket list while visiting Algarve in October.
The best things to do in Lagos, Portugal like visiting Ponta de Piedade become even more enjoyable with fewer tourists.
Sagres is another must-visit place in October in Portugal for its birdwatching festival.
Book your vacation rental in the Algarve
---
Algarve's pleasant climate and fun-filled activities will make your October visit unforgettable.
The diverse experiences, empty beaches, and the wonders of nature would make you want to come here every year.
Now that you know what to do in the Algarve in October, it's time to start planning your trip.
Make all reservations in advance, and do not forget to carry your sunscreen and an extra jacket.
---
Short FAQs About Algarve in October
What is the Algarve like in October
During October Algarve is cooler than in the summer months. It is also less crowded as there are fewer tourists.
Is October a good time to visit the Algarve
Absolutely. Algarve in October still has great weather and just as many fun things to do, but with fewer people.
Is Algarve hot in October?
Although it is hotter than in some European countries in October, Algarve in October is significantly cooler than in the summer months with average temperatures of 23ºC.
---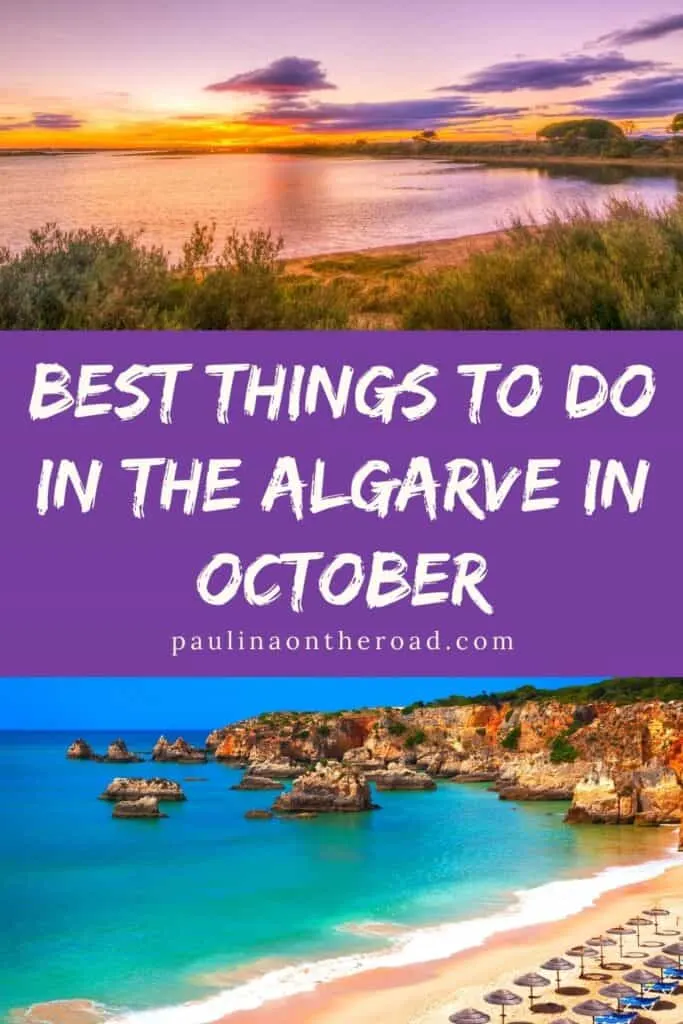 ---
Hola! I am Paulina, a fervent travelette who crossed the Atlantic Ocean by Boat HitchHiking. On my blog, you'll find all the tips to make the most of your holiday. Get ready to enjoy outdoor and sustainable travel like hiking, cycling or sailing. Let's hit the road together!