Boat HitchHiking:
How To Get Started
Even crazy ideas like crossing the Atlantic ocean by boat hitchhiking require some preparation and organization. Here I list you some of the most elementary steps you should think of before going on the adventure of a lifetime. On a boat. For hitchhiking by car, follow these tips.
I you are already more advanced in your plans, you can head straight toe ABC of Boat HitchHiking or FAQ of Boat HitchHiking.
1. Get Sailing Experience
If you really want to get on a boat and you're absolutely passionate about the sea, then you should get some basic sailing experience. This might happen via your (lucky) friends owning a boat or taking sailing lessons during your holidays or weekends. I took mine after work in Tenerife at the Escuela de Deportes Nauticos in Guía de Isora. Studying the basic nautical vocabulary is a must as well.
Develop an interest for the different boat types, some name-dropping will always increase your chances. ?
Put yourself in the captain's position. If you had to choose between somebody who advertises himself with "I can play the guitar" or somebody who can support you during a tropical storm, who would you'd take on your boat?
---
2. Sailing Seasons
Your chances to get on a boat increase tremendously with the ability to be on the right place during the right sailing season. Many boats spend summer in the Mediterranean (Croatia, Greece, Italy…) before they head to Morocco or Canary Islands in September/October.
If you're planning to cross the Atlantic, be sure to be on the Canary Islands between October – December. Las Palmas de Gran Canaria and Santa Cruz de Tenerife are the places to be. That is the time when the large majority gets prepared for the crossing. The winter months are usually spent in the Caribbean.
Also Lanzarote is an option in September-December since it is the incoming harbor for boats arriving from the Mediterranean.

---
3. Regattas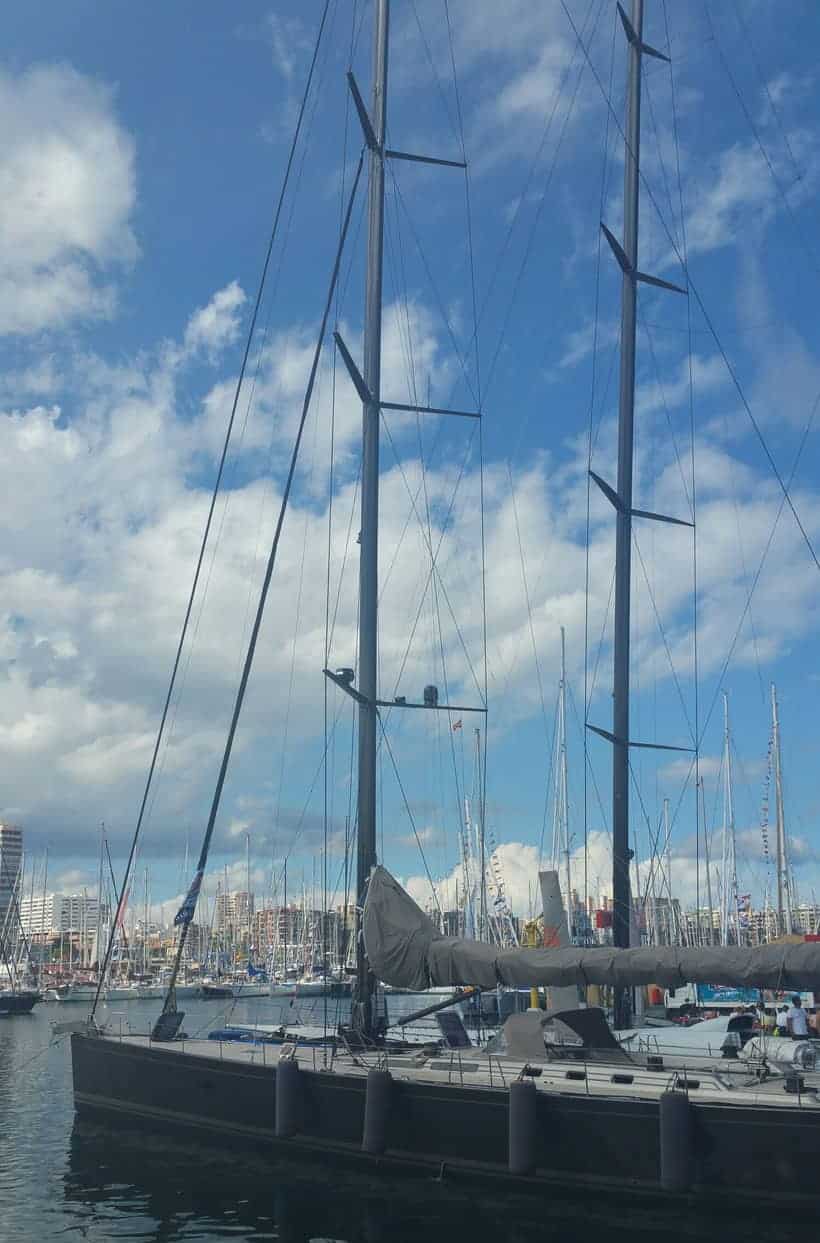 Check online the schedules of the big regattas and from which harbor they depart. Contact the participants in advance (at least 1-2 months) by mail asking whether they are looking for crew. You might also straightly contact with the organizers of the boat race.
The Atlantic Rally for Cruisers (ARC) is one of the most famous regattas of its kind. Every year it attracts over 200 boats to sail from Las Palmas de Gran Canaria to Saint Lucia.
I heard that this year (2016) more boat hitchhikers than ever tried to get on a boat during the ARC. Finally many of them decided to relocate to Lanzarote or Tenerife in order to increase their chances. Additionally the participation fees for the ARC soared a lot and many captains are trying to compensate them by taking crew on boat.
Make sure you also check out smaller regattas like Cornell Sailing.
---
4. Boat HitchHiking Websites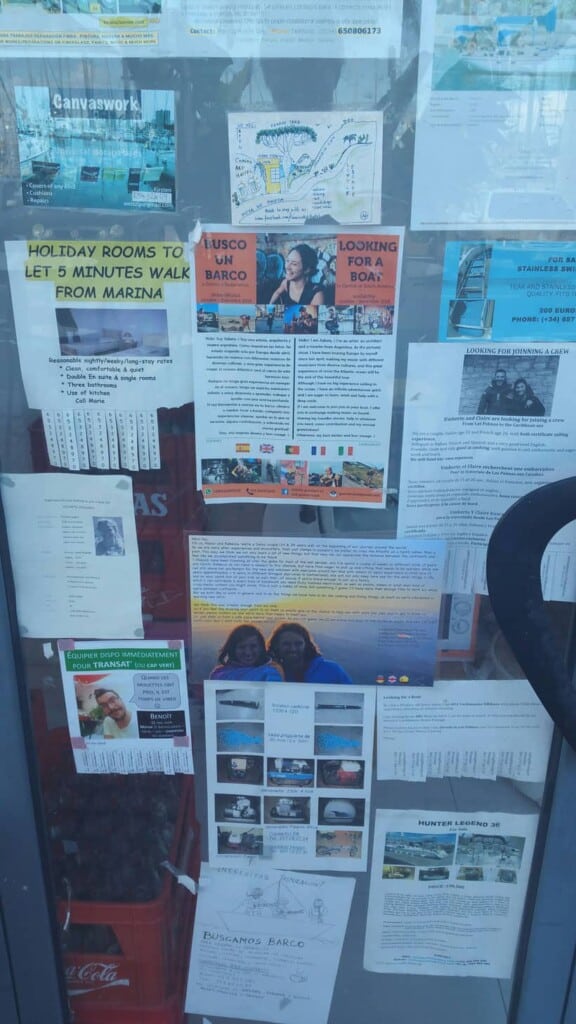 Set up your profile with all your sailing experience on every webpage on hitchhiking you might find. Since captains are looking for crew weeks or even months before they sail out, you better do this in advance.
Some pages are free, others are not.
I can especially recommend:
Make sure that you check your profiles regularly. Every day we sent out mails. Although it can become frustrating at some time, you have to internalize: it will all be worth it!
There are also some boat hitchhiking groups on Couchsurfing.com and on Facebook like "Atlantic Ocean Crew" managed by TheOceanpreneur.com
Subscriber form??
---
5. Reach Out & Speak Up!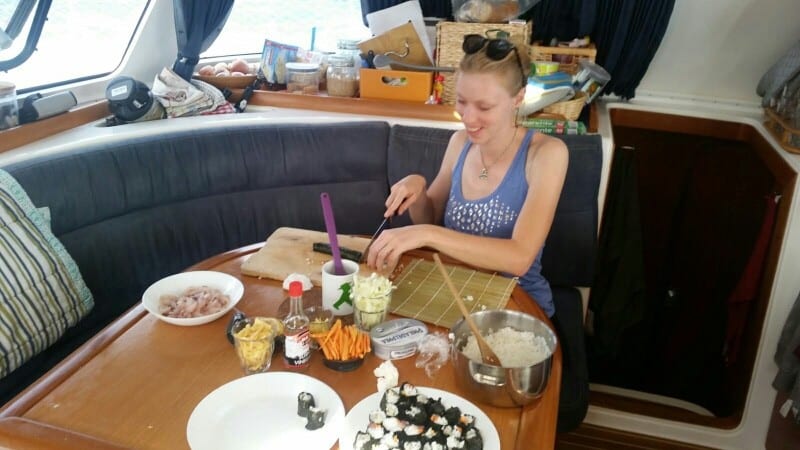 Every single day we went to the harbour, some days even twice, to talk to people asking them how they are, if they need any help etc.
Do it genuinely, develop an interest for sailing people and the nautic world.
Everybody we talked to, brought us a little closer to our final goal: crossing the Atlantic by boat. The sailing and boating world is very small, everybody knows each other.
Maybe they'll not tell you to sail away with them, but they'll let you know that they have a friend on another Canary island looking for crew. Or tell you about a new webpage where you could find a boat.
After some time we exactly knew which dog or which kids belonged to what boat. We knew their destination and when they'd sail out. Some invited us for a drink on their boat just out of curiosity for this "boat hitchhiking" thing.
Although at first I was really stressed out that we wouldn't make it or that we would never find our boat, with the time I learned to enjoy this new world of catamarans, ketches and schooners. I really appreciate their kindness and willingness to help us.
When talking to boat owners, be respectful, honest and humble. This might be self-evident, but these are the values that the oceans have taught the captains over the years. Many adapted them as their own. And after all, you're asking them to open the doors of their homes to you!
We also pinned our CVs (focusing on our sailing experience) on the board of the marinas. Make sure that it has a nice picture (in color is a big plus!) and a passionate text that enthusiasms captains to get to know you.
---
6. Be ready to spend money. A lot.
Sailing is an expensive sport. Small spare parts can easily cost up to 1000€. Add the fees of docking in the marine (est.40€ per day) or gasoline. You'll be surprised how much a passion for sailing might cost.
And I am not even talking about the participation fees of the regattas. Just recently (2016) the fees for participating in the ARC or ARC+ (passing via Cape Verde) rose to a few thousand €uros.
This explains why many boat owners or regatta participants started chartering or charge you in order to do what they love: sail the oceans of this planet. But some exaggerated a bit. We were contacted by ARC participants asking us 2500-5000€ to cross the ocean with them. Obviously that was out of our budget.
Anyway you shouldn't expect to get a ride for free. Normally costs for food (and gasoline) are shared. To increase your chances, put on your CV that you are willing to participate in the costs of the crossing.
Other costs that you should foresee are:
local SIM Card (you'll need to make international calls to contact boat owners)
Hostels (Couchsurfing was not an option since Las Palmas was fully booked due to the ARC)
Airbnb (get here a 35€ discount off on your first booking)
Food
Contact making (beers, cookies, CV copies, tape…)
I recommend to have a financial reserve since you'll never know exactly you'll head out. Networking with boat people requires time and you'll need to adapt to their departing schedules. Which depends again on the weather conditions.
In Tenerife we were looking 3 weeks for a boat. In Cape Verde it took us almost a month. Luckily we had enough financial reserves. But we never thought giving up, even when we were spending too much.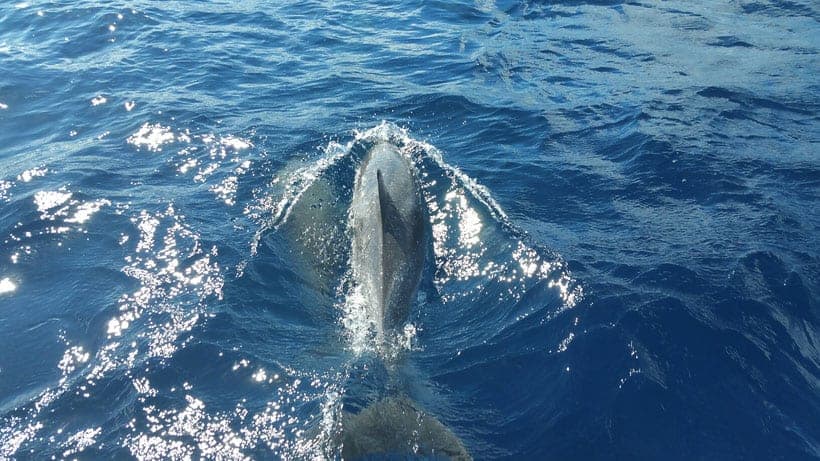 All in all…
Do anything it might need to get on a boat. And yes, the early bird catches the worm!
Don't loose any opportunity to network, even if it gets tiring after a few days.
Don't let yourself down! You'll hear many "NO's" but those will only bring you closer to the final "Yes, you are welcome on our boat!"
Don't overdo it! Some days we just needed to switch off and have a day at the beach. Or a rum or 2 in the bar.
This is a challenge of your resilience. After you finally found your boat, everything that comes after will seem super easy and void.
The main thing I've learned of the boat hitchhiking experience is that everything will be okay… Somehow everything will be alright at the end.
---
You might also like…
---
Subscribe form??