How To Cross Oceans Without Owning a Boat
Did you decide to start your own boat hitchhiking adventure? Congratulations! It will be the best decision you have ever made!
As it will not be an easy ride, I recommend reading first how to get started in boat hitchhiking.
Personally, I admit that crossing the Atlantic ocean from Tenerife via Cape Verde to Barbados has been a life-changing experience in many senses.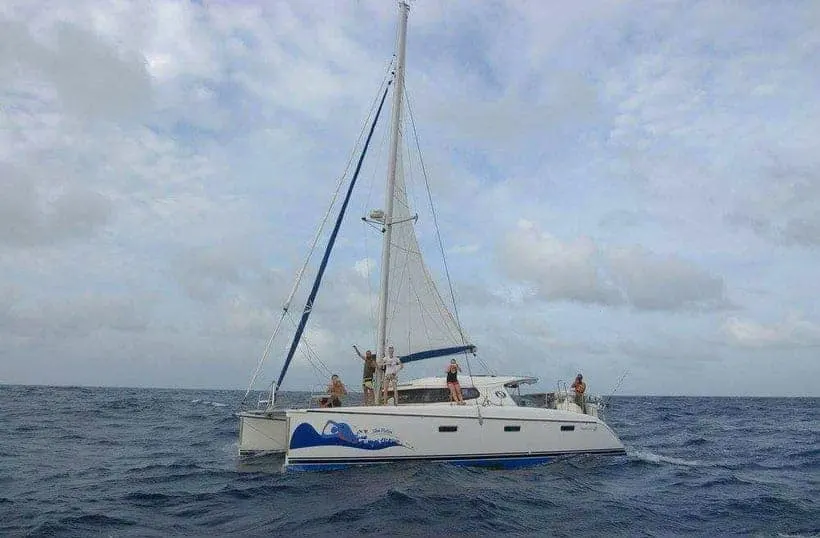 Not only did I get to see foreign landscapes, and met lovely people, but on top, I also learned a lot about sailing and myself as a person with a nomad soul.
In this section, I want to share with you the most essential parts; the ABC of Boat Hitchhiking.
---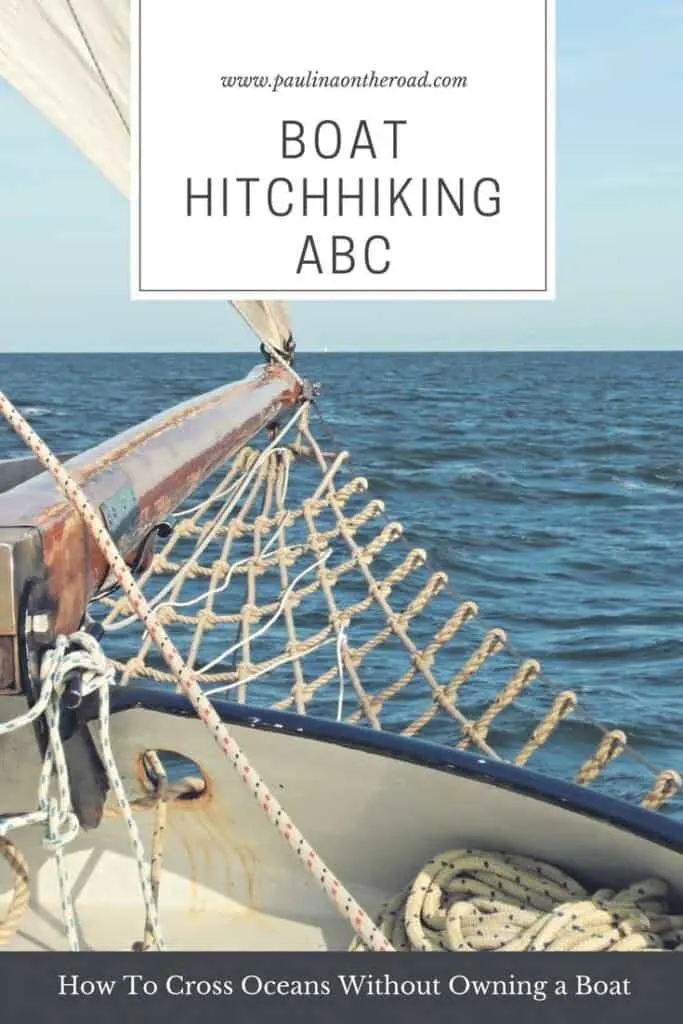 ---
A
Atlantic Ocean
The second-largest ocean of the world is a popular destination for hitchhikers that want to take boat hitchhiking to the next level.
In the autumn and winter months, boats usually depart from the Canary Islands and/or Cape Verde to the Caribbean. In spring and summer, most boats come back from the Caribbean via the Azores to the Mediterranean. Unless they are intending to do the ultimate crossing: the Pacific Ocean.
ARC
It is one of the world's most popular sailing races.
It attracts each year more than 200 boats and over 1,200 people to cross the Atlantic ocean from Las Palmas de Gran Canaria to St. Lucia. It is an excellent opportunity for boat hitchhikers to find a boat to take them across the ocean.
Since participation fees for the ARC have increased a lot, some captains may charge you a considerable amount of money. I did not go to the marina of Las Palmas de Gran Canaria on purpose since I knew that the city would be overcrowded with hitchhikers trying to get on a boat. I decided to rather try my luck in Tenerife.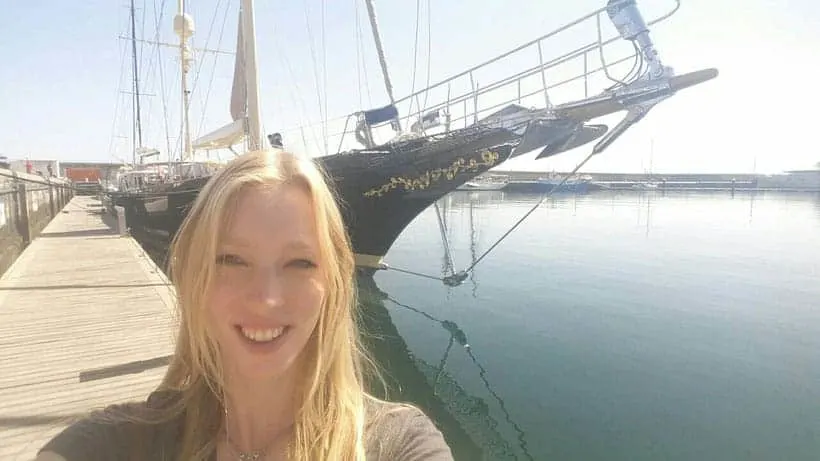 B
Boat
The holy grail for boat hitchhikers!
Types of boats:
There are so many boat types out there! There are skiffs, cabin cruisers, steamboats, etc. In order to increase your chances to find a boat that will give you a lift, you should be well versed in boat types.
At least, you should know the differences between catamarans, pedalos, and monohulls.
Alternatives to sailing boats that can be hitchhiked:
Fishing Boats: Much simpler procedure as they are usually doing shorter distances. Go to the docks, talk with the fishermen, and ask who is going in your direction;
Ferries: Ask car or truck drivers to take you with them. The price of the ticket is the same, no matter how many passengers are in the vehicle;
Cruisers: You can always try to find a job on a cruiser. Not only will you get a free ride, but you can make some money in the meantime. In most cases, some previous experience is required;
Cargo ships: Some cargo ships offer a ride but usually, they charge for accommodation. You can rent a room on the cargo ship, and enjoy with the crew across the ocean. It is a more comfortable way of crossing the ocean. I know 2 hitchhikers that came from Santiago (Cape Verde) to Sao Vicente (Cape Verde) by cargo ship. They did not like the food in the canteen though.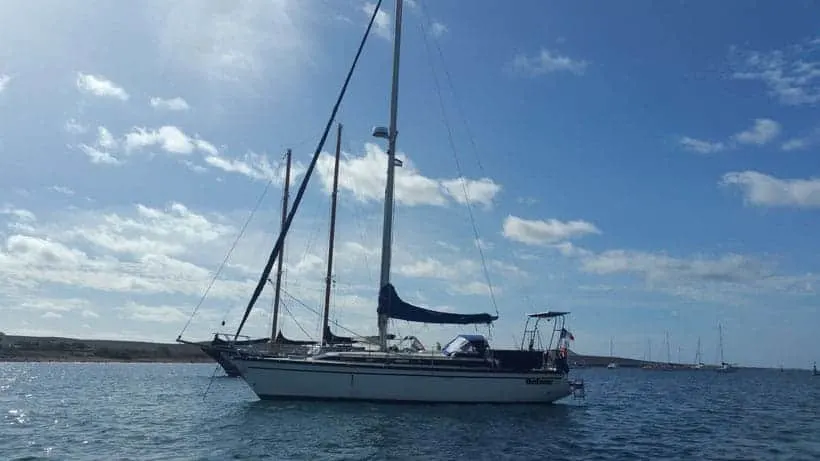 C
Canary Islands
Paradise for boat hitchhikers!
You can easily get a ride from the Spanish Peninsula to the Canary Islands and continue your Atlantic boat hitchhiking adventure from here. You can also decide to do boat hitchhiking only between the Canary Islands themselves. All of them have a very particular flair and very well equipped marinas.
One of my favorites was La Gomera with its very laid-back but still rough atmosphere. I decided to try my luck in Tenerife in order to avoid the tumult of the ARC in Gran Canaria. I was told that many sailors do the Atlantic crossing departing from Lanzarote since it is the first harbor when they come from the Spanish peninsula.
Captain
Total obedience to the captain! Always!
The captain is God onboard! He is responsible for the crew and the boat, and your life depends on him! Literally!
So; never question his decisions! Never!
D
Dream
If boat hitchhiking your way over the Atlantic Ocean is your dream, then you should do everything that is in your power to fulfill it!
Although it will not be easy! Many people will tell you that it is dangerous or impossible to be done. There definitely is the uncertainty of finding a boat. And when you finally found it, will you feel at ease and get on with the captain? But dreams are there to come true! If you never try it, you will never know if it would have worked out.
The only thing you can lose is the recognition that the reality did not correspond to your dream. And that is not even a loss, but rather a profound insight.
Duty
Boat hitchhiking is not about lounging around lazily once that you have found a boat!
Sailors mostly take hitchhikers as crew on board and they expect you to come with a "hands-on" attitude. Everybody on the boat is part of the "family" and you are expected to help, wherever you can. If you do not like this concept, you better get on a holiday cruise with the Club Med II!
That means that you should always offer your help when it comes to meal preparation of midnight snacks. When there is a sail that needs to be sewn together, you should not be afraid to try. There are so many things you can learn on a boat that you should always ask if you can help with something. One of the most important duties of boat hitchhikers is usually doing night shifts.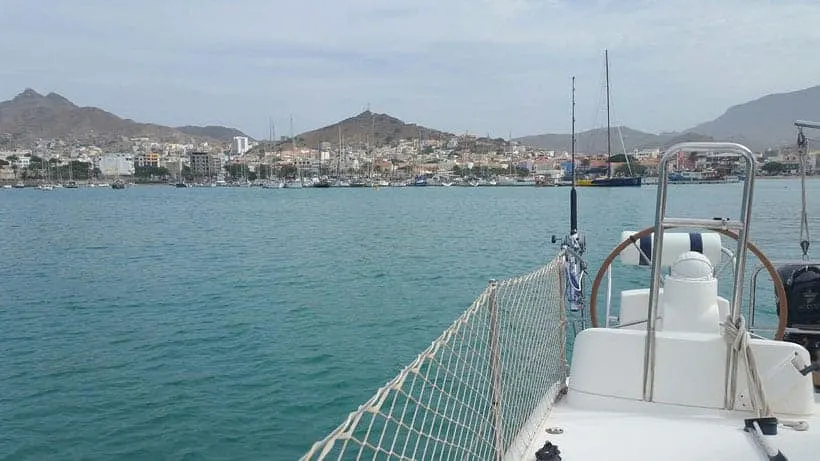 E
Empathy
If a captain tells you "No", do not take it personally!
For many sailors out there, crossing the Atlantic ocean with their boat is a project that they have planned a very long time ahead. Or even a project of a lifetime!
Some of them are dreaming to do this crossing alone or with their children. I even met a couple in their 70's that wanted to do the crossing alone "to get each other to know better"! You should show understanding for their plans, respect it and not insist.
F
Friendship
I remain bounded in a great friendship with the couple that took me from Cape Verde to Barbados.
After spending so many days in a limited space, you get to know the people that you are sailing with very well. You will see each other during your highs and lows. Additionally, I was very glad to travel with highly inspirational people. The captain was a former CTO of a large IT company, and his wife works as a digital nomad at Julius Communication. Both have an impressive knowledge about life on the sea, and it was very fulfilling to see how they realize their dream of sailing the world, step by step.
Feeling
Always trust your gut!
Finding a boat involves talking to loads of people. Including sailors, waiters at the marina bar, other boat hitchhikers, etc.
You will be confronted with a lot of input: information about other boats, their departures, other sailors, marinas and other hitchhikers difficulties. With so much information, and being surrounded by a foreign culture, you can easily lose your head! But you should always be able to discern good intentions from bad ones. If needed, take a break to clear your head.
Never do no matter what to get on a boat! Especially women traveling alone should be aware of lonesome captains!
Fishing
The first thing that you will do in the morning when you get up on the sailing boat is throwing out the fishing rope.
In that sense, my sailing adventure was also a kind of "back to basics" trip. After a few days, you will not have any fresh meat or fish left. And you will start craving for something fresh that is not vegetables or lentils.
It took me a few days to catch my first fish, but when I finally caught one, it was a feast! I have to mention though that you should be prepared to see blood, and taking a massive dolphinfish out of the sea requires a considerable physical effort!
G
Greece
Greece is a very popular destination for people that want to try out "that boat hitchhiking thing".
Due to its many islands, you have an almost infinite amount of marinas where you can make contact with boat owners. Ask them kindly if they are willing to take you to the next island.
As distances between islands are usually not very long, Greece is also a good place to find out if you are sea-sick or not.
Most boats are in Greece during the summer months.
H
HitchHiking
Also known as "thumbing", "hitching" or "autostop". In this case, "boatstop".
A way of traveling slowly. Perfect for those who are traveling on a budget and/or want to get in touch with the local culture. And a great way to make connections to fellow travelers as well. A bit of caution though never does any harm, especially when you are a girl traveling alone!
And remember: always trust your gut!
Hygiene
Hygiene on board is obviously very important!
Not only when you are on firm earth, but especially when you are on a boat! Please remember that you will share very limited space with a minimum of two people for a longer time. It is thus extremely important that you get along, and a nice smell is a fundamental basis to do so!
On a boat though, this might become a difficult task. You are all day long in the sun, and working on the boat, and on the other hand, (sweet) water is a scarce resource. On top, all shampoos or soaps should be eco-friendly.
I loved to use refreshing and cleansing tissues that are 100% bio-degradable. A small flacon of refreshing Eau de Cologne was definitely one of the most helpful items to smell nice during the Atlantic crossing.
I
Investment
Crossing the ocean, be it the Pacific or the Atlantic, will always be a once-in-a-lifetime experience!
If you are 100 % convinced that you want to make your dream come true, you should be ready to spend and to invest in this dream.
As already mentioned in the How To Get Started, boat hitchhiking will come with a price tag. Some costs are foreseeable while others are not.
During your quest for a boat, the cost may depend on the following:
Where will you look for a boat? For example, the Caribbean is much more expensive than the Canary Islands;
Accommodation: will you sleep under the sun or do you prefer to stay in a hostel;
How long will it take to find a boat? I needed at least one month in Tenerife to find my boat. Check hostel rates or couch sleeping before heading out;
Traveling: you do not want to spend all day long in the marina, walking the pontons. You also want to discover the culture and the sights of the place you are staying. Always take into consideration a budget for excursions, eating out and enjoying the process, while you are looking for a boat to hitchhike;
Socializing: looking for a boat might be a draining experience as many will tell you "No". You might want to unwind and connect with other travelers and hitchhikers. This means that you will spend on drinks and food. I recommend bringing a little present, a bottle of wine or some cookies when you visit people on their boat. They might be the ones that will help you to fulfill your dream. Thus, you should make a good impression from the first moment you step onto their deck.
During the sailing trip or the crossing:
Make sure that you discuss the price for the trip with the captain before you sail out;
The price that you will pay will heavily depend on the captain and the boat;
Ask whether you are supposed to participate in gasoline, docking, food supply, daily rate, etc.;
The more you agree upon before heading out, the fewer disagreements and (bad) surprises will you have during the trip. Fewer disagreements mean enjoying your trip more.
Always make sure to have some reserve to get a flight in case you might realize that boat hitchhiking is not your thing!
Internet
The internet will be your best friend while looking for a boat!
Make sure to purchase a local SIM card so that boat owners can reach you anytime. It is also vital to check your emails several times a week.
You will also need internet to register as available crew on the following pages:
Most of these pages include an internal messaging service which you should check regularly during the day. Being responsive and quick is a decisive quality whether you will find a boat to hitchhike or not.
Internet during the crossing:
Crossing the ocean will be all about digital detox!
Some very sophisticated boats have an emailing service that they can switch on for a few minutes each day. But this can only be used in emergencies! During the crossing, it is all about socializing in real life (no social media!) and enjoying nature's magnitude without any (Instagram) filter.
Be also ready to miss important political or social news!
I had friends that crossed in November and their shock could not be greater when they arrived in the Caribbean and Donald Trump got elected as President of the United States! And Leonard Cohen died in the meantime too. Just imagine how your world can crumble all of a sudden!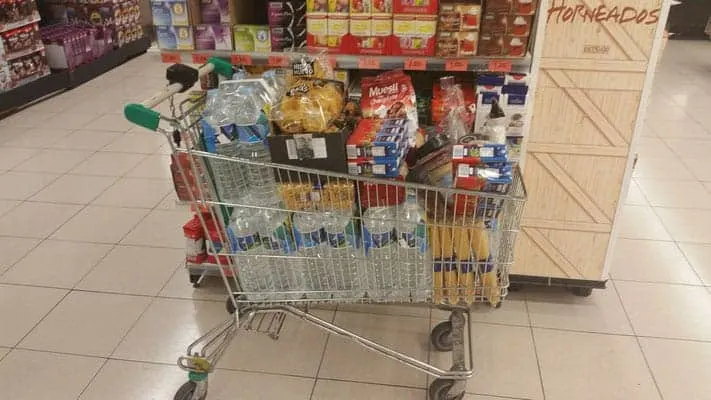 J
Jokes
Jokes are vital in order to maintain a good atmosphere onboard!
Be ready to laugh about yourself and that people will make jokes about your habits. During the long crossing, no secrets can be kept!
Sometimes, climate or unforeseen events will press the mood. In such situations, it is very important to be conscious of the negative spiral that might start. A good joke and a sunny spirit will cheer everybody up.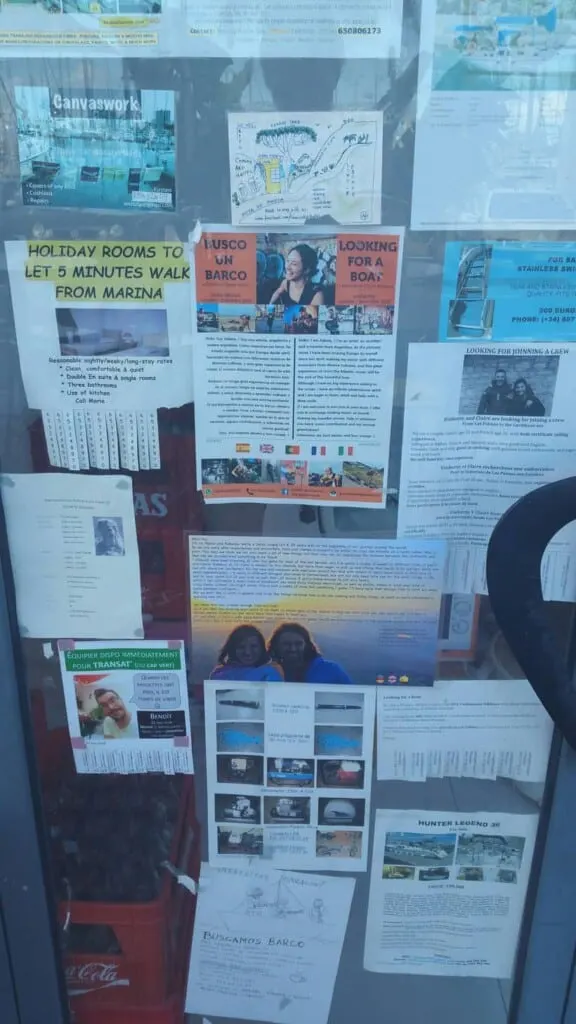 K
Kitchen Chef
Knowing how to cook might actually help you to get on a boat!
Crossing an ocean can take much longer than foreseen and sometimes, people's moods might deteriorate. What else could cheer them more up than some tasty, delicious food? And sometimes, the only distraction you might get (remember: no internet and no TV!) is a tasty meal. At least for me, it was one of my favorite moments on the boat.
That is why a captain might attach importance to your cooking skills.
Do not think that cooking is easy halfway of the ocean! Cooking on a rocking sailing boat is extremely time-consuming. I often needed one or two hours for dishes that I would have prepared in 30 minutes on land.! First, you need to get to recover all the ingredients that are somewhere hidden inside the galley. Then, you need to secure every instrument that you might use. For example, you can never leave a knife on the table! Imagine that there is a bigger wave as expected and that you hurt yourself?! There is no ambulance in the middle of the ocean!
The kitchen chef is thus usually a crucial figure on the boat because he has the potential to make the captain and his crew extremely happy.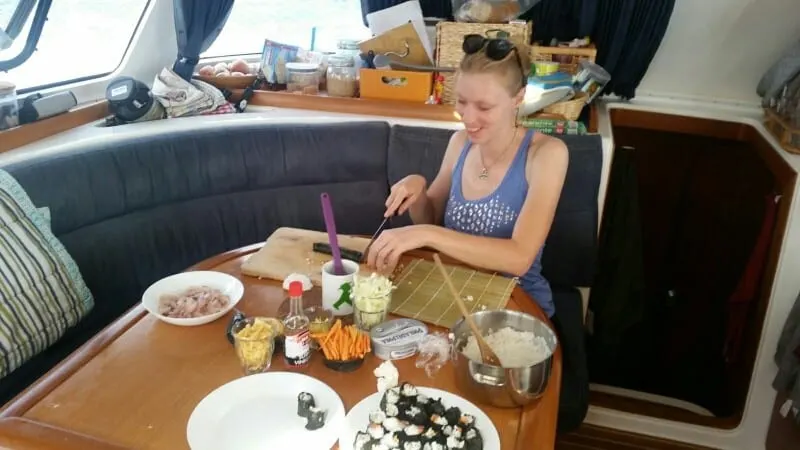 L
Loneliness
Let me warn you in advance! When on your quest for a boat, you might feel lonely sometimes!
You will question everything! Why are you looking for a boat? Why do you absolutely want to cross the ocean? Maybe it was just a crazy idea and not meant to be?
All these negative thoughts especially come up when you are alone, sitting on the edge of your hostel bedroom. During these moments, it might be so easy and tempting to quit. But you need to work on your dreams in order to make them come true!
You can easily prevent such a situation by just going out and socializing with other fellow hitchhikers and travelers. I met a lot along the road, and it was a great way to find moral support by supporting each other.
I even ended up recommending these friends to other boat owners. Thus, it is extremely important to network with other hitchhikers who can potentially pass your contact with sailing people.
Make it a rule of thumb that you never stay more than two nights at home during the week, in order to prevent loneliness, and enjoy the town where you are seeking your boat.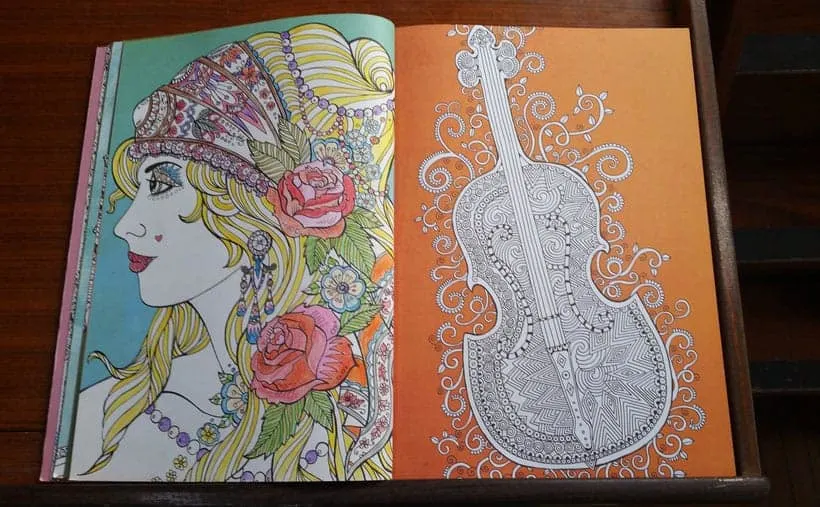 M
Marina
The marina is like paradise and hell at the same time!
If you really want to find a boat to cross the ocean, you will need to walk down to the marina at least once per day. Because it is here where you will find your holy grail, aka your boat.
In the beginning, it is great fun because you will get an intriguing insight into boating life, and some boats are similar to prestigious villas. All that bling! But at a certain point, it might also get very tiring as you will hear many "No's". And it takes a considerable effort to approach sailors with a large smile and a positive attitude.
But keep telling yourself that every "No" brings you closer to the definite "Yes"!
When in the marina, I would take care of the following:
Hang up your sailing CV (included your contact data);
Get in touch with the management of the marina in order to be up to date about races, regattas, new arrivals, etc. Indeed, every boat needs to get registered at the desk as soon as they arrive in a new marina;
Spend some time in the bar of the marina to get in touch with sailors;
Dress properly;
Avoid bringing your enormous backpack or luggage! Boatmen are always afraid that their boat will be too heavy.
N
Night Shifts
One of the main tasks as a crew!
The boat needs to be watched 24 hours a day! That is the main reason why captains agree to take crew on board, especially during long crossings. Otherwise, they could not stand the crossing physically. There are always exceptions though of sailors doing the crossing alone or with their couple.
Depending on the number of people on the boat, shifts are rotating every two hours. Two hours that you will be fully responsible for the boat and the people that are resting inside! And two hours that you will be entirely alone on the ocean!
You can read during your shift but every now and then, you should have a look around to see whether boats or cargos are approaching. Sometimes, you need to adapt the course to changing wind directions.
In the beginning, I was afraid of doing night shifts alone. But after a few nights, I started liking being all alone in the dark, listening only to the waves, and watching the luminescent krill swimming behind the boat.
Never and nowhere else have I seen brighter stars than in the middle of the ocean!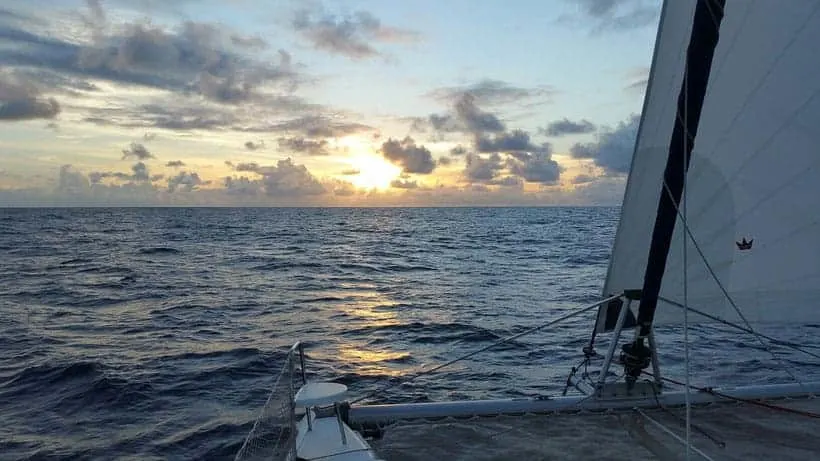 O
Opportunities
Opportunities do not present themselves out of the blue!
You will need to talk to as many people as possible in order to assure that you will find a boat to cross the ocean. Every person can be the key to your ride!
I saw hitchhikers recommending other hitchhikers to sailors, as they had might only need one crew instead of two.
I talked equally to yacht owners, cargo sailors, regatta sailors and hippie sailors traveling in eight meters long boats (with a piano, an accordion, and a guitar!). Never judge people! They all have in common their love for the ocean and sailing! And that should be your main purpose too!
Once on the boat, you will realize that you have a once in a lifetime opportunity! Thus, make the best out of the ride! Help onboard, be gentle and funny, stay positive, and look for solutions, not for problems!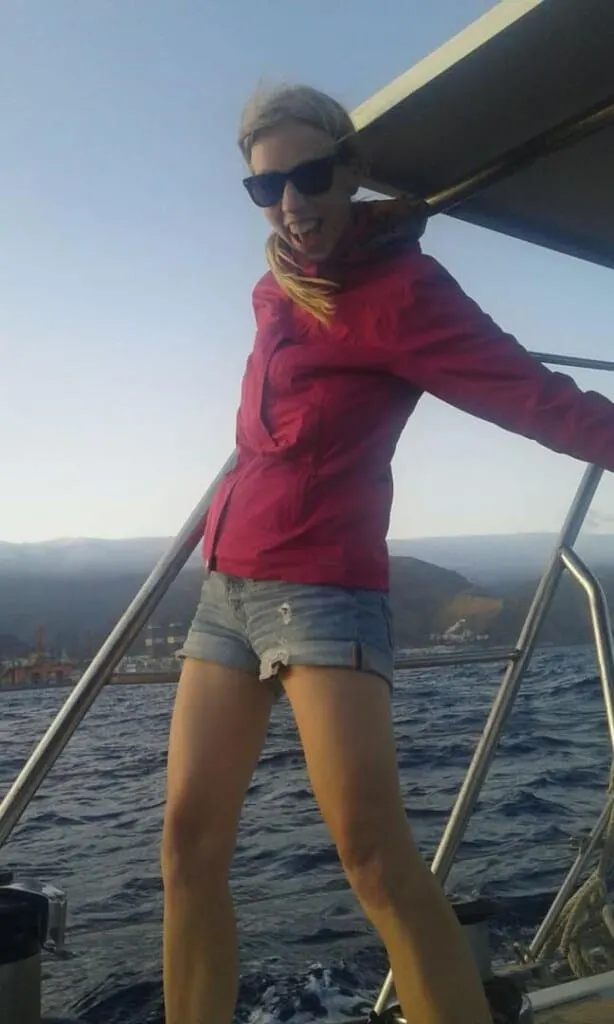 P
Perseverance & Patience
Patience and perseverance will be the key to whether you will be able to hitchhike a boat or not!
Many hitchhikers quit because they can not stand the uncertainty while they see other hitchhikers leave the harbors. Knowing that there are seasons for sailing, and that boats need to leave at a certain time, the pressure might become real.
But you need to continue your quest. Continue talking to people, get out every day, and never lose faith! That is one of the main lessons I learned during this adventure. Never lose your goal out of sight!
With perseverance and patience, everything will work out!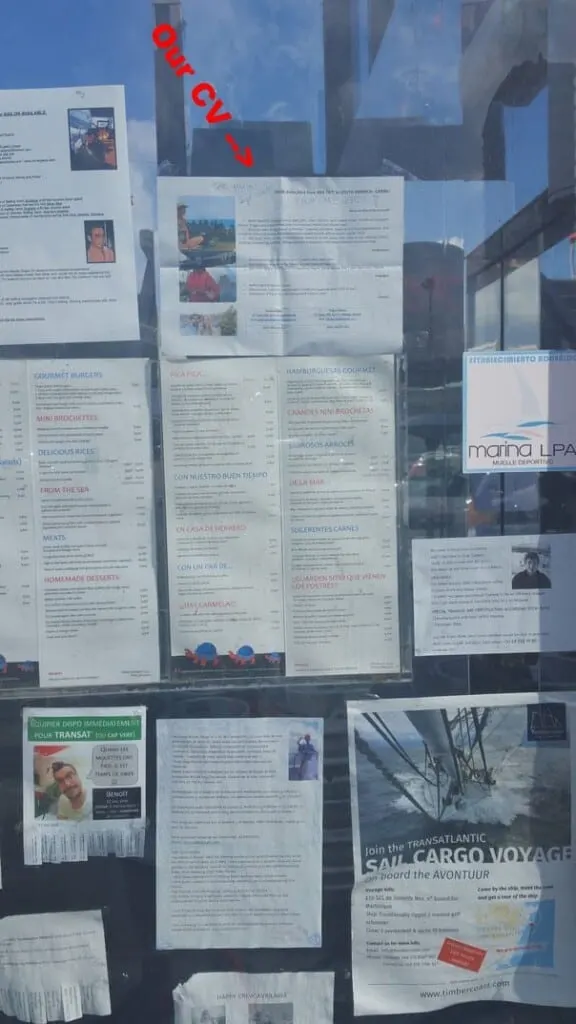 Q
Quality ( Time )
Once you met with a captain that agreed to take you onboard as crew, do yourself a favor: check the quality of the boat and discuss the details on your stay!
Ask where you are going to sleep;
Ask whether you can have a look at your future cabin;
Ask whether you can stay a few nights on the boat before departing. Luckily, I did that and found out that oil was leaking out of the motor and polluting my cabin! Needless to mention that I did not do the trip with them;
Can the communal area be used by everybody? This one is no joke! I experienced that a couple living on their boat regularly closed the living room and the kitchen for the crew on board;
Do they want you to take over certain parts like cooking and cleaning;
Do they want rotations for cooking, cleaning, etc.
When agreeing with the captain whether you will sail out with him or not, always trust your gut! Especially when you are a girl traveling alone!
Also when you are on the boat, make sure that everybody has a good time. Crossing an ocean is often a major dream come true for many captains. You should contribute that he is not too worried or stressed all the time.
Offer your helping hand, and assure the good vibe on the boat.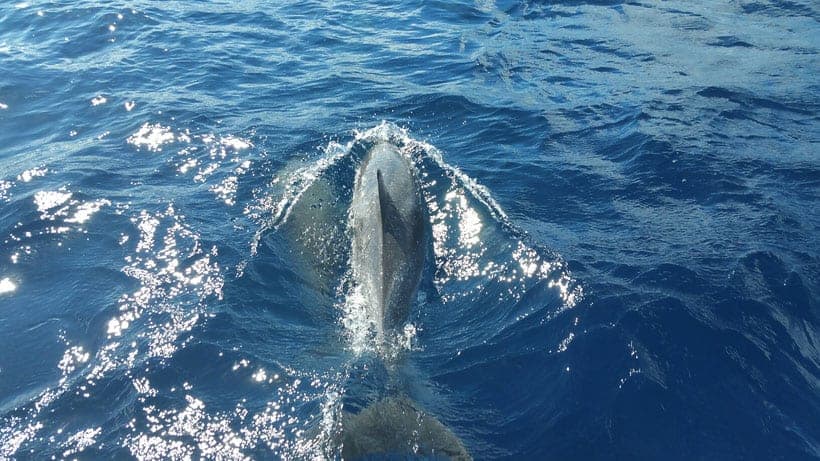 R
Regatta, Rallye
Checking out sailing regatta and seasonal sailing calendars will be your best ally.
Many participants are seeking a crew to help them with the tasks. Thus, there is a high demand for crew. The downside is that you should already have some sailing experience in order to be a valuable asset to the already existing crew.
On top, regatta participation fees have risen a lot during the last years. That is why many captains will ask you for a daily contribution or a full price to pay in case they take you onboard.
Those fees can be sometimes over the moon! I had captains participating in the ARC (one of the most important regattas) that asked me for 2000 € to cross the Atlantic with them! Sill helping them with the tasks, of course!
But if you absolutely want to make your dream come true, I recommend checking out the regatta calendars, and head to the departure marinas.
Here are two of the most important regattas that might take crew: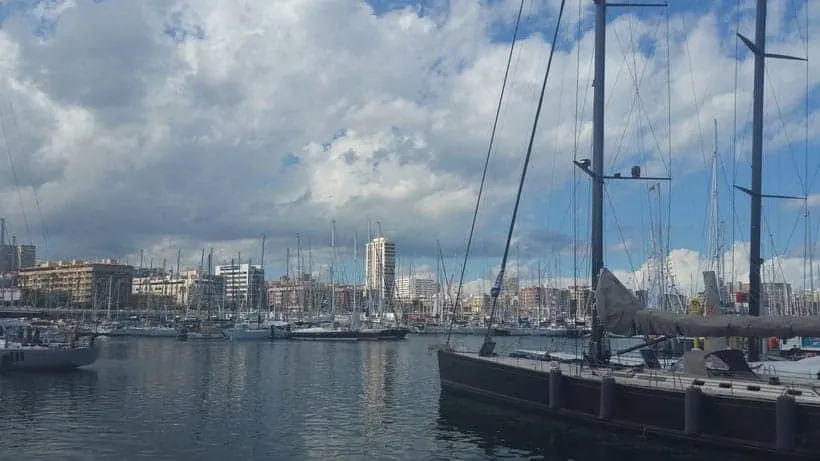 S
Seasons
Before you start looking for a boat, you have to know that most of the boats sail on certain routes in certain periods of the year. That allows them to use certain sea currents and winds, and avoid hurricane seasons.
This is a rough guide and schedule of sailing yachts movement during the year: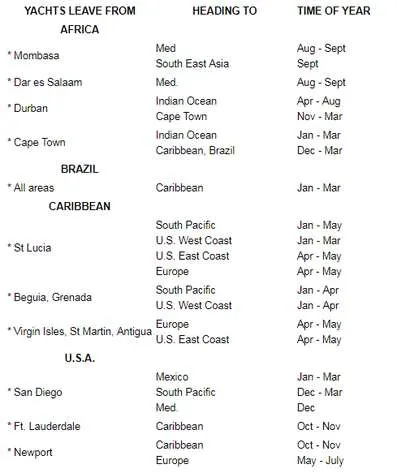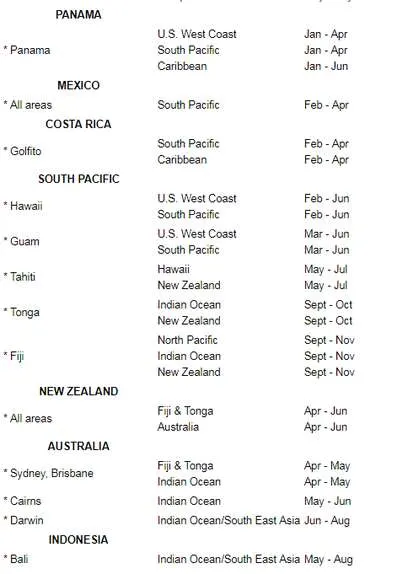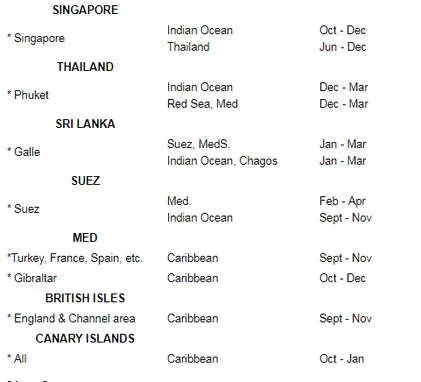 Source: World Cruising Wiki
Sailing Lessons
I recommend taking sailing lessons before you head to the port and ask for a ride.
First, it will help you to realize whether you really like being on a boat, and if you feel comfortable being constantly surrounded by water.
It will also increase your chance to find a boat. Captains always value if the crew knows what they are doing and when they can rely on them.
Finally, it will make the ride more enjoyable for everybody. You will get to improve your sailing skills, and the sailing vocabulary of the captain will not sound like Chinese to you. It will also enhance your feeling of safety.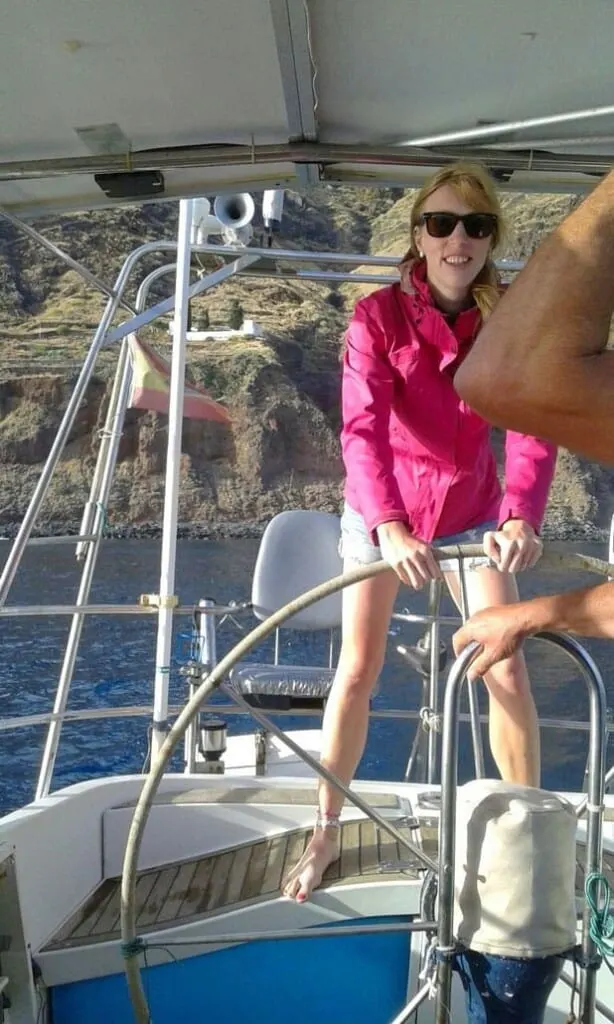 T
Traveling Slow & Eco-Friendly
For me, sailing is the slow and eco-friendly mean of transport per excellence!
I think that it was also during my sailing adventure across the Atlantic that I got hooked to this way of traveling. No internet connection and just watching the ocean for hours and hours.
Sailing can be an alternative to cruise ships or travel by car which are threatening the environment and precious ecosystems. By sailing, you will see some of the most remote places but you will also realize how fragile our planet really is! From gorgeous beaches strewn with garbage to dying coral reefs, our carelessness is making a big impact on the health of the oceans.
Sailing is eco-friendly because you will hardly use any gasoline to move on. You will entirely rely on natural energy: wind, currents and maybe waves. In order to keep sailing an eco-friendly way of traveling, you should consider the following points:
Use bio-degradable soaps, shampoos, tissues, etc.;
Buy low impact laundry detergent;
Use no plastic bottles. Pack your own reusable water bottle;
Shop local while purchasing supplies. Visit the local market like the one in Mindelo and do not forget to bring along your reusable shopping bags;
Eat local;
Use no plastic bags, avoid excess packaging, recycle whenever possible, and never throw plastic or any other trash overboard;
Re-use whatever you can;
Keep your distance to wildlife on the water, do not touch and do not approach suddenly.
U
Unity
Do you want to arrive quickly? Then, go alone!
Do you want to go far? Then, go together with other people!
It would be very limited to think and see other hitchhikers as competition. Of course, everybody wants to find "his" boat as soon as possible. But if you just see the others as enemies instead of friends, your journey will not be very enjoyable.
Not only can they recommend you to other sailing people, and provide moral support, but it is also a great way to hear other travel stories, and learn through their experiences. I met so many different profiles and stories during my quest for a boat. From people that wanted to cross the African continent but accidentally landed in Cape Verde, girls working as "au-pairs" on luxury yachts, a boy visiting his father in the Brazilian jungle, a Luxembourgish-Capeverdean couple planning to open a camp to heal patients with alternative medicine, etc.
It would be a pity if you would only see "the boat" and not all the enriching experiences that are along the path.
That is another lesson that I learned during my adventure. Sometimes, you are too focused on reaching your final goal and forget to have a look around and appreciate what you have.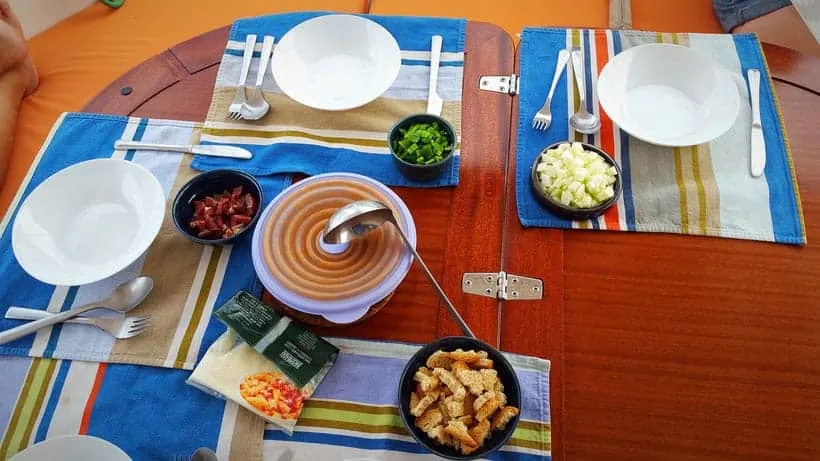 V
Vocabulary
I recommend to study the basics of sailing vocabulary.
Many items have a very specific designation in the sailing world, and you should at least dominate the basics in order to be able to follow the captain's orders. Communication with the correct designations is crucial when doing manœuvres!
In case you will sail with a French or Spanish captain (which is much more probable than you might think!), download a brief offline version of the most important sailing terms in their language.
Here some basic terminology that you should know:
Port: Facing forward, this is anything to the left of the boat. When you are on board, you can use this term pretty much any time you would normally say "left";
Starboard: Facing forward, this is anything to the right of the boat. Same deal as "port", only the opposite;
Point of sail: The boat's direction, relative to the wind. For example, if you're going straight into the wind, your point of sail is called "in irons" (should be avoided, though!). If the wind is blowing straight over the side of the boat, it is called a "beam reach". There are about eight used points of sail, and you should familiarize yourself with them before going out;
Tack: This designation has two distinct meanings, and both of them are very important. As a verb, "to tack" is to change direction by turning the bow of the boat through the wind. As a noun, your "tack" is the course you are on, relative to the wind;
Jibe: A jibe is another way of changing direction, and in which you bring the stern of the boat through the wind. Whether you choose to tack or jibe entirely depends on the situation. Mostly on the direction of the wind;
Jib: This is the next most common sail on any boat. The jib can always be found forward of the mast, and unlike the mainsail, does not have a boom.
Vaccination
Make sure to get your vaccines done before heading out in order to travel safely!
Of course, they need to be adapted to the destination that you are sailing to. Try to get them done in your home country four to six weeks before starting your boat hitchhiking trip.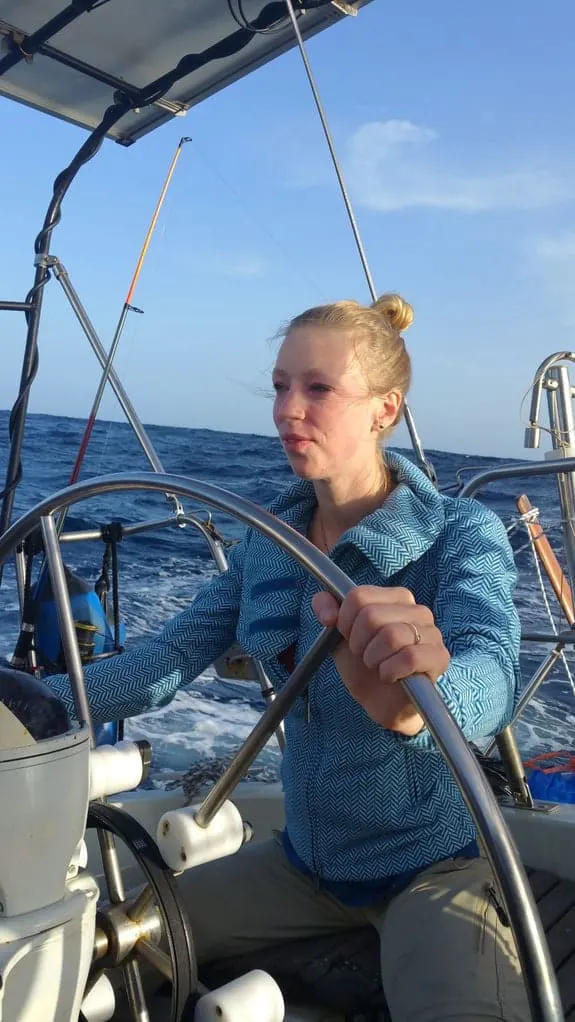 W
Wine
Although alcohol is allowed onboard, it is not very well seen if you drink too much!
You still need to be able to carry out your duties! On top, I realized, that I did not really fancy beer or wine. The boat is rocking all the time, and the sea breeze can make you very tired. Thus, there was not really a desire to drink alcohol.
But I did have champagne (the real one, as I was traveling with French-Canadian people!) when I finished my crossing in Barbados.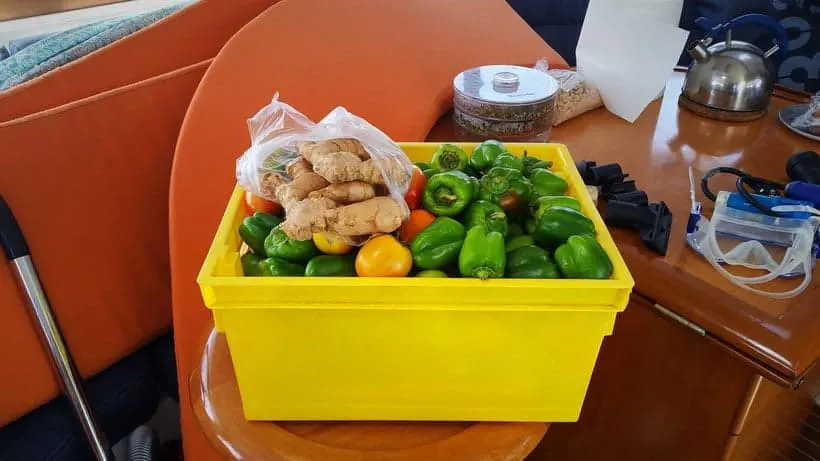 X
Xenophobia
That is the first thing that you should drop when traveling!
Isn't traveling the best remedy against xenophobia anyway? You have to be aware that the sailing world is very international, and that you will meet people from all over the world. Just leave all your prejudices at home, and be willing to learn about foreign cultures.
I also recommend to tune up your language skills, especially your French. France has the highest percentage of sailors per head and I guarantee you that you will meet many French in the marinas!
It is also great to know the basic words of the language that is used in your local port. You never know how long it is going to take until you find "your" boat. In order to make the quest more enjoyable, interacting with the local population is definitely a valuable asset.
I stayed more than one month in Cape Verde, and I easily picked up some words in Cape Verdean Kriol. It was a great help when doing the supply purchasing on the local market in Mindelo.
Y
Yacht
A yacht is a recreational boat that was originally defined as a light fast sailing vessel, and later meant a vessel used to convey important persons.
In modern use of the term, yachts differ from working ships, mainly by their leisure purpose. There are two different classes of yachts: sailing and powerboats.
Most boats crossing the ocean will be sailing yachts. Among sailing yachts, you can distinguish several types: day sailing yachts, weekender yachts, cruising yachts, luxury sailing yachts, and racing yachts.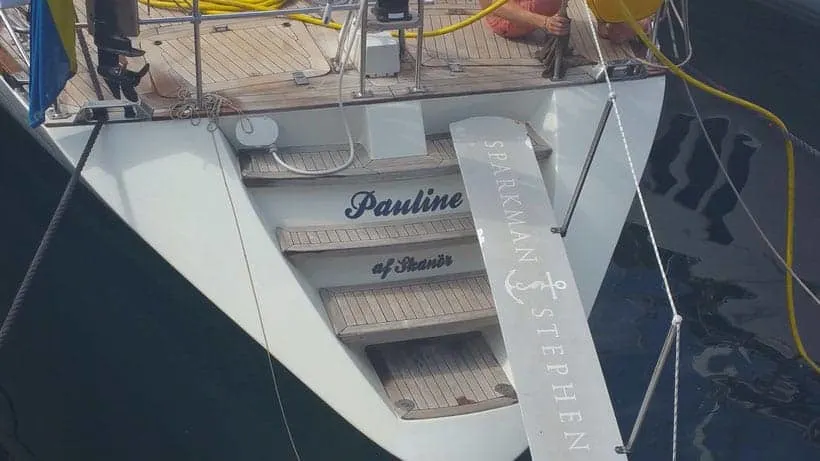 Z
Zen
Never lose your inner peace in case things do not work out as planned!
Sometimes, an inconvenience apparently ruins your perfect plan, but you will realize later on that that is how "it was meant to be".
I am aware that this might sound very esoteric but let me give you an example.
In Mindelo, I was supposed to sail out to Brazil with a French couple. During one week, I helped them out on the boat (repairing toilets, food supply, cleaning the boat, etc.) while still staying in the hostel, paying expensively for my room. Finally, I "was allowed" to stay a night onboard, before heading out the day after.
I could not sleep a bit! They had engine trouble and it was smelling very badly of petrol in my cabin! I woke up with a massive headache, and the captain reprimanded me for opening the portholes! I really wanted to cross that ocean, and therefore, I did not complain! But the captain had a different view on the situation and threw me out of the boat because I had apparently criticized his boat!
They head out without me and I was massively disappointed. Especially after working so much on their boat.
But guess what?!
They ran aground in a bay when in Brazil! They could not even recover their boat!
That is when I ultimately realized that everything happens for a reason, and that karma definitely is a bitch!
---
Are you planning a boat hitchhiking adventure? Or have you already done the Atlantic crossing? I would love to hear about it in the comment form!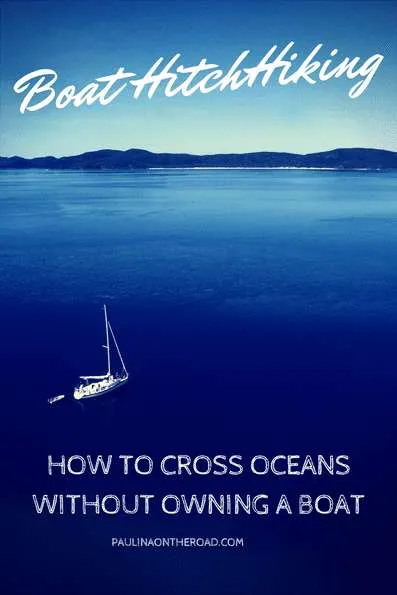 ---
You might also like…