Guide to forest hiking, camping, bison tracking and more in the primeval Bialowieża Forest, Poland
I am just back from the farthest end of the European Union: the Podlaskie region in Poland near the Belarus border. What initially might seem like a trip back in time to cherished cultural traditions in Eastern Poland, is actually for me a must-do for every nature lover.
Indeed, Podlaskie region is home to the last primeval forest in Europe, and because I read a lot of wilderness survival books, I was excited to explore and discover all the best things to do in Bialowieza Forest, Poland.
However, even without being a specialist in forestation, there are plenty of things to do near the Bialowieza Forest, Poland.
Besides, obviously, enjoying the last, untouched, green lung of Europe which has been declared a UNESCO World Heritage.
This guide will provide you information on Bialowieza accommodation, how to visit the Bialowieza National Park Poland, and what to do in the near surroundings of the Bialowieza village.
Indeed, forest hiking and trekking are not the only way to enjoy this pristine region.
The Bialowieza village and its surroundings are home to a unique cultural mix, where traditions are cherished and where you can reconnect with nature. It's thus the perfect place for those who love slow and sustainable travel.
Disclaimer: I have been a guest of Podlaskie Travel and Polish Tourist Board in exchange for an honest review. This post contains affiliate links. If you buy through them, I will earn a small commission that will help me run this blog. All opinions are always mine. Thanks a lot!
Practical Information for travel to Podlasie Region, Eastern Poland
✈ Book cheap flights to Poland with Skyscanner

✔ Book your tours with GetYourGuide

➳ Find the best hotel deals with Trivago

❖ Get the best car rental deals with DiscoverCars

☘ Get the best discounted outdoor gear (outlet) at REI.com

✎ Never leave without travel insurance. I get mine at HeyMondo. It's easy to set up, cheap, and reliable.

$ Withdraw money without hidden fees and avoid exchange rates with Wise (you'll get a free card on top!)

⚘ Get a travel guide in order to prepare your trip. I recommend the Lonely Planet Guide – Poland
How to visit Bialowieza National Forest in Poland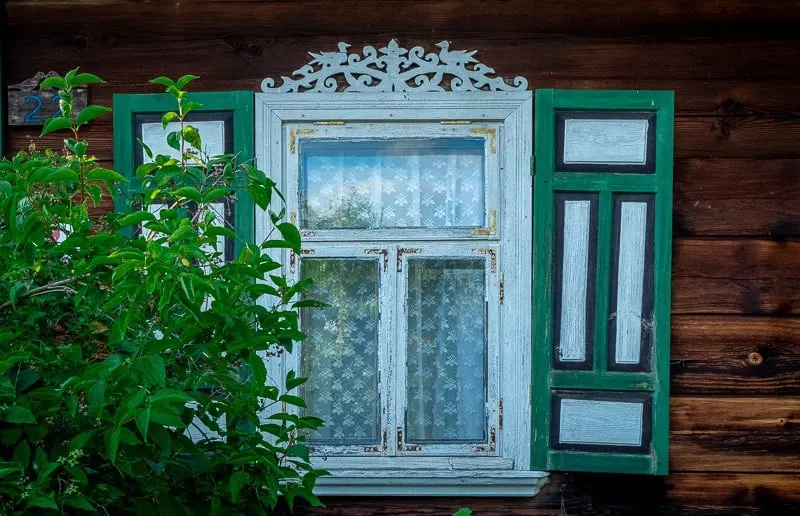 The Bialowieza State Forest is open to the public. However, for the strictly preserved area of Bialowieza National Park, you'll need a permit (6 PLN = 1,41 €) and go with a guide.
All the locations mentioned can be found in a Białowieża Forest map at the end of the post.
The Polish forest of Białowieża can be visited year round, but keep in mind that the Bialowieza Forest winter temperatures are below freezing and summers are the busiest!
Book here your Bialowieza Forest tours from Warsaw
How to get there
Most people come via Warsaw. So once you fly into Warsaw, here are the best ways to get to beautiful Poland Bialowieza forest.
By car
The fastest way to get from Warsaw to Bialowieza is by car. It takes about 3 hours to reach the National Park. – Get here the best rental car deals.
By Bus
Warsaw – Bialowieza: There is a direct bus service from Warsaw (near the West Train Station-Warszawa Zachodnia) to Bialowieza (267 km, +/- 5 hours). – Buy here your bus tickets in advance.
By Train
Warsaw – Bialystok – Bialowieza
The train from Warsaw to Bialystok takes about 2.5 hours. From Bialystok to Bialowieza (often with a change in Hajnówka), you can take the public bus service. The journey takes approximately 2-3 hours. – Buy here your train tickets.
Book here your Bialowieza Forest tours from Warsaw.
Warsaw – Siedlce – Hajnówka – Bialowieza
The most scenic route: Travelling by train from Warsaw to Hajnówka takes +/- 4 hours. From Hajnówka to Bialowieza, you can get by public or private bus service (30 min). – Buy here your train tickets.
By Tour
If you don't want to go by yourself and get lost in the Polish forest, there are also several Bialowieza Forest tours from Warsaw available. These make great day trips and the guides are very helpful and knowledgeable! – Book here a tour to Bialowieza Forest, Poland.
Accommodation Near Bialowieża Forest, Poland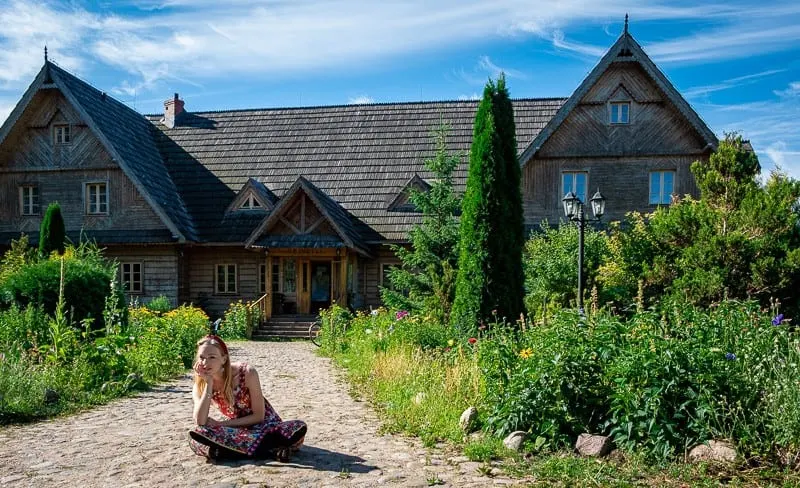 Bialowieza Camping
Camping in Bialowieza National Park is not allowed, and you can be fined if caught wild camping. There are a few camping spots near Bialowieza National Park that are licensed, so if this is your preferred accommodation, please book a spot at one of these!
Camping U Michala
Bierozka Karczma
Budget Bialowieza Forest Hotels
Unikat
Miodowa Kolonia
Bliżej Natury
Mid-Range Bialowieza Forest Hotels
Stoczek 1929
W Starym Sadzie
Wejmutka (I loved the hotel for its central location and rural charm)
Luxury Bialowieza Forest Hotels
Hotel Zubrowka Spa & Wellness ****
Hotel Białowieski Conference, Wellness & Spa ***
Apartamenty Carskie (sleep in former trains!)
---
15 Best Things to do in Bialowieza
1. Hike in Bialowieza Primeval Forest, Poland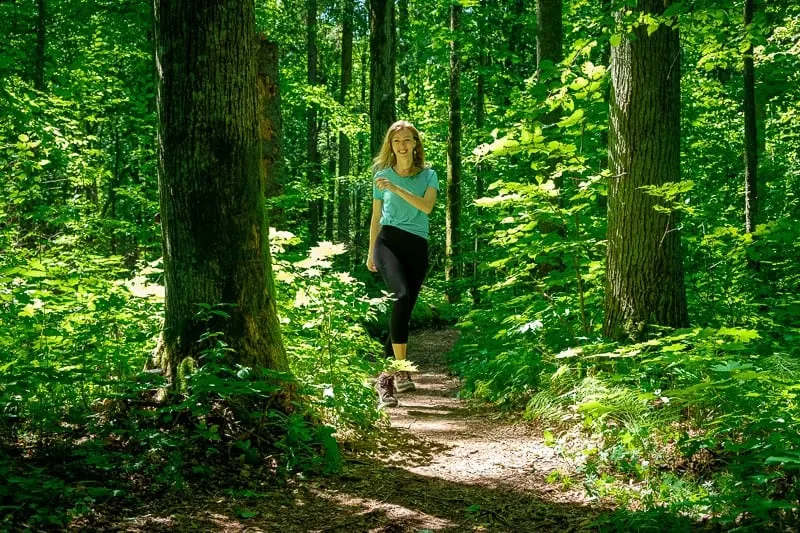 The main reason why people travel to Bialowieza at the Eastern border of Poland is obviously its primeval forest. Poland is one of only two places in Europe it still exists, and hiking through it is naturally one of the best things to do in Bialowieza Forest.
There are plenty of forest hiking trails and I guess that you can spend months exploring this pristine area without getting to know all the trails of the area. It is one of the main reasons to visit Eastern Poland.
When it comes to choosing your forest hiking trail, you need to know that there is a difference between the State Forest of Bialowieza and the Bialowieza National Park. The State Forest is managed by humans, whereas the Bialowieza National Park doesn't have any human interference at all!
That means that you'll find a pristine forest that has been living without human intervention for more than 800 years. That's one of the most important Bialowieza Forest facts.
Another difference between the two is that you'll need a permit and a licensed guide for the Bialowieza National Park, whereas the State Forest is open for the public.
The Bialowieza Forest is divided by the border to Belarus since the end of WWII. Nowadays one-third of the forest is on Polish territory, whereas 2/3 are in Belarus.
The Bialowieza Forest has a tumultuous history, with many regimes and interest groups wanting to have the forest for its own. The area also suffered particularly during WWI and WWII due to its strategic location between Russia and Western Europe.
Even though the Forest was threatened many times during history, there were several key figures that recognized the importance and unique character of the Bialowieza Forest. It's thanks to these key figures that ambitions and projects to protect the Bialowieza Forest started relatively early. Indeed, the preservation and protection go back to the Russian tsars who came to hunt here and in 1921, the Bialowieza Forest was declared a natural reserve.
I highly recommend going with a licensed guide to the Bialowieza Forest as he will exactly explain to you "how to read the forest" and showcase you what makes it so unique.
Visiting the Bialowieza Forest without a guide is like attending a concert with earplugs. You'll get a much deeper insight and understanding of the cultural, natural and historic value of the Bialowieza Forest.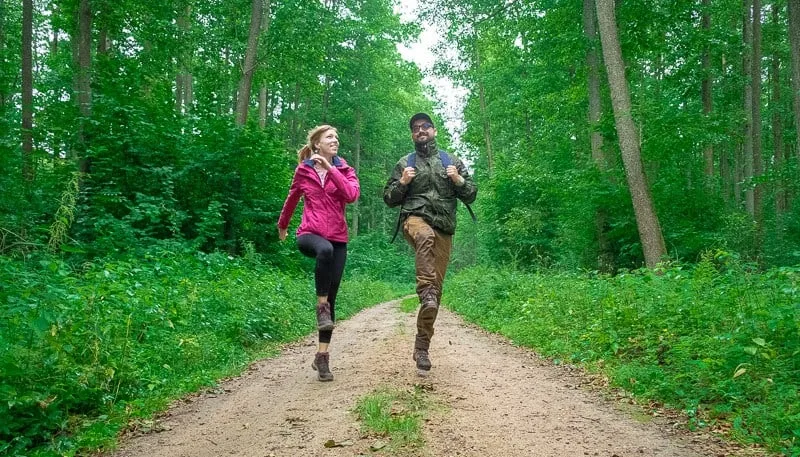 I went with 2 guides. Once with the State Forest with forester Lukasz Lswyraz who is the happy guide on my previous pic. We had a great time and he taught me a lot.
He actually lives in the forest (300 m from the Belarus border) and the Bialowieza Forest is his passion. You can contact him here.
I also went with Barbara Banka and thanks to her passionate and comprehensive way of guiding us through the primeval part of the Bialowieza Forest. I learned more about forests than ever in school.
You can contact her here. Both speak perfect English.
Entering the strictly protected area of Bialowieza is like entering a magical garden. You'll only hear the noise of some birds, and the wood and the light are simply magical. It's a natural wonder that you can experience nowhere else.
Bialowieza is home to several mammals that can not be spotted anywhere else in Europe unless you go to the zoo. Lynx, wolves, deers and wild boars are only a few of the mammals that live freely in Bialowieza.
However, the star and king of the forest is the bison. Which leads us to the next thing to do in the Bialowieza Forest.
You can purchase the tickets at the Bialowieza Natural Park Visitor's Center (which used to be Bialowieza a palace for the Russian tsars) and costs 6 PLN (1,41 €) and you need to visit with a guide.
Book here your Bialowieza Forest tours from Warsaw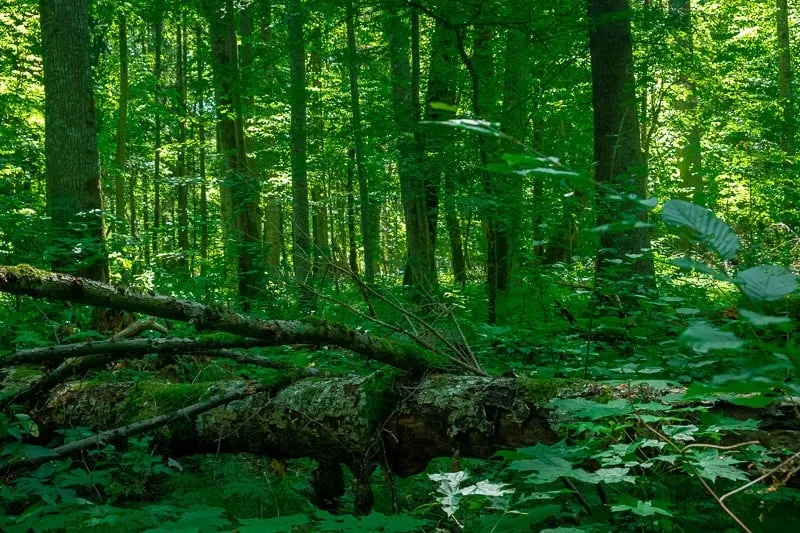 2. Bison Tracking in Bialowieza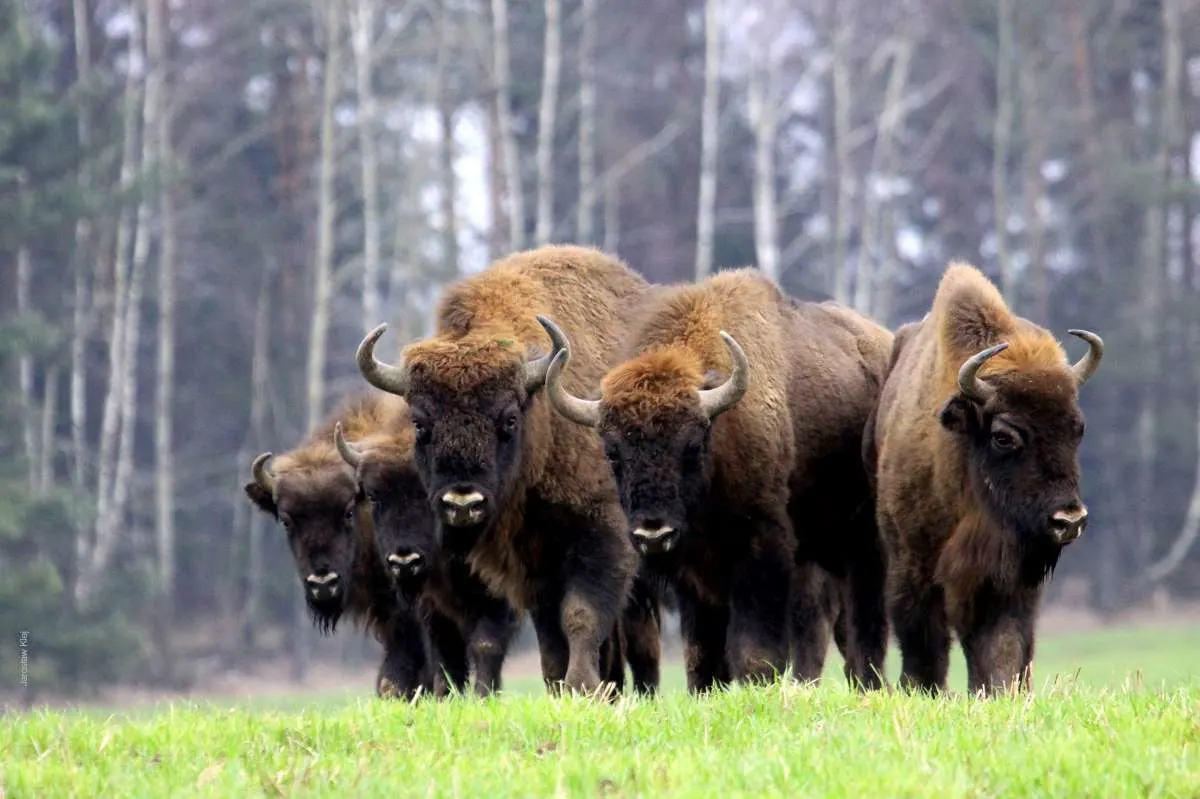 Many of those who travel to the Bialowieza Forest hope to see the king of the forest: the bison! The European bison (not to be confused with the American bison) is the largest mammal living in Europe. The Bialowieza Forest is one of the last places where you can spot this impressive animal in its natural habitat.
However, bison had to be extinguished in Europe until people recognized that they need to be protected. But the story of how the bison returned to Europe is fascinating.
Bison used to live all over the European continent but the last bison in Bialowieza was killed in 1919. Scientists were then registering pure-blood bison from all over Poland and Europe in order to re-introduce them in the natural reserve.
"Luckily" bison were sent as gifts all over Europe from Russian and Polish rulers. This helped to recreate the population of pure-blood bison in Poland.
There were no bison in the Bialowieza Forest from 1920 until 1928. After a special bison reserve was created in 1929, bison were re-introduced in Bialowieza. There were already 44 bison in the reserve after WWII.
But it took until the 50s until the first bison were let free in the Forest. Nowadays, there are over 900 free-living bison in Bialowieza.
It was my dream to spot a bison. However, this is easier said than done.
The bison are easier to spot in the Bialowieza Forest winter (where they are being fed) than in summer. If you want to spot bison, you'll need to wake up before sunrise, at around 3 am.
Although it is difficult to spot bison in the wild, it was still one of my favourite things to do in Bialowieza Forest. If you have more time or come during the Bialowieza Forest winter, it is worth the time – and early morning wake up!
But in order to make sure to spot bison when visiting the Bialowieza Forest, I recommend the "Bison's Show Reserve".
It was recreated in 1937 and consists of a large fenced area where you can see the most prominent mammals of the Bialowieza Forest in semi-natural conditions such as bison (zubr), the zubron (a hybrid of a cow and a bison), wolves, deer, lynx,…
The area is quite large in order to recreate the original living conditions of the Bialowieza Forest animals.
European Bison Show Reserve
On the road from Bialowieza to Hajnowska.
8 PLN (+/- 1,79 €) and opening schedules vary according to seasons.
Book here your Bialowieza Forest tours from Warsaw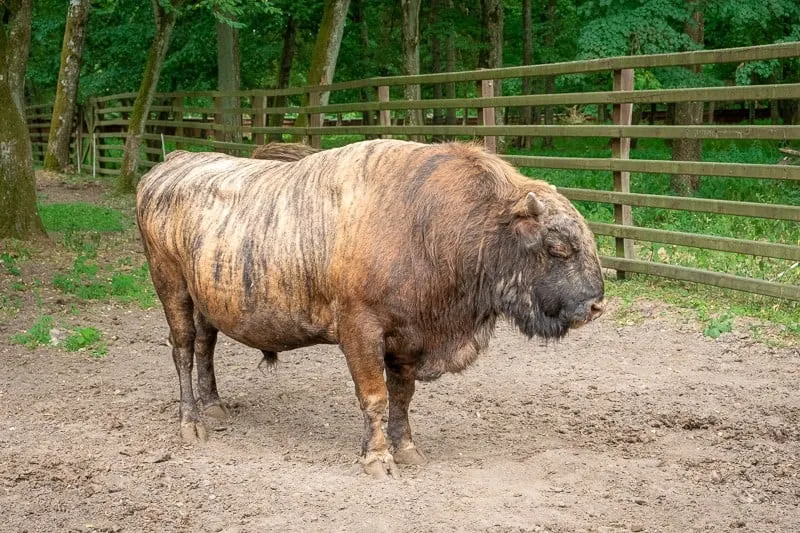 3. Birding in Bialowieza Forest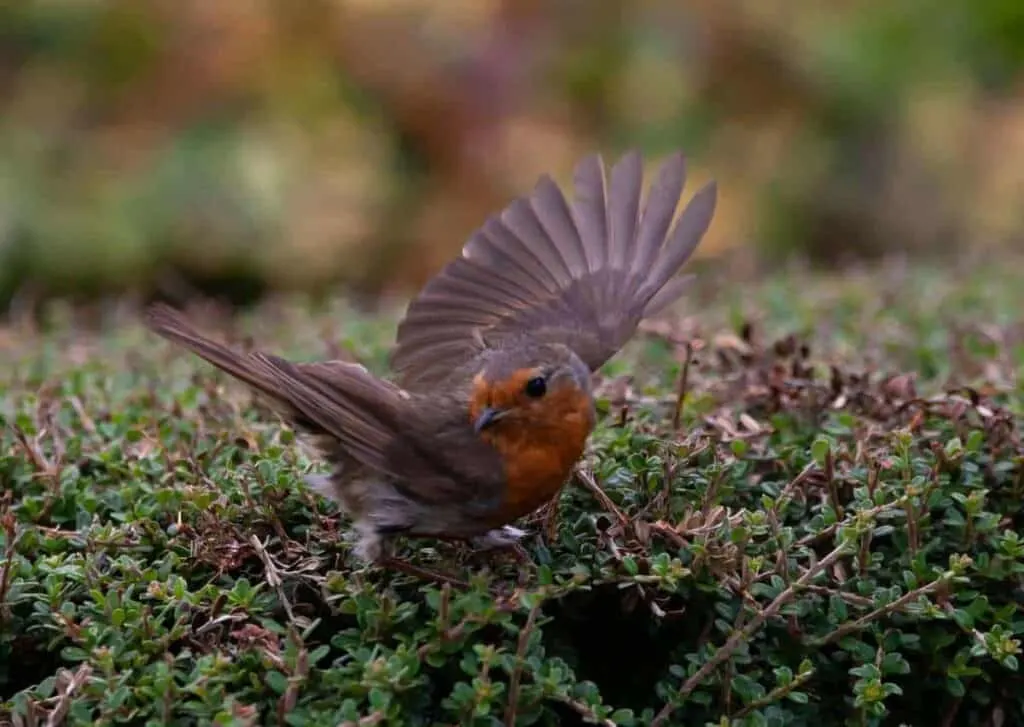 The Bialowieza Forest is one of the best places in Europe to go birding. Indeed, many bird species that became rare in Europe can still be seen a lot in the Bialowieza primeval Forest, Poland.
It's thus particularly suited for beginners in birdwatching.
Together with the Biebzra marshes, the Bialowieza Forest is the most important breeding site in Poland and among the most important ones in Central and Western Europe.
The Forest is home to all kinds of European woodpeckers, owls, flycatchers and many more. You can even give a list to some tour operators and they will try to find the bird that you want to see.
My favorite bird to spot was the stork! You could see loads of them and I loved to see their big nests on top of the poles.
During spring, you can even spot their babies! The landscapes of the Bialowieza village and surroundings are particularly suited for storks as the agriculture is not too intense.
Many tour operators dedicate themselves to organize the perfect birding excursion in Bialowieza. I highly recommend going with an experienced guide in order to make the most of your time.
I recommend as guides forester Lukasz Lswyraz (llawrysz@gmail.com) and Barbara Banka (You can contact her here). Both speak English perfectly.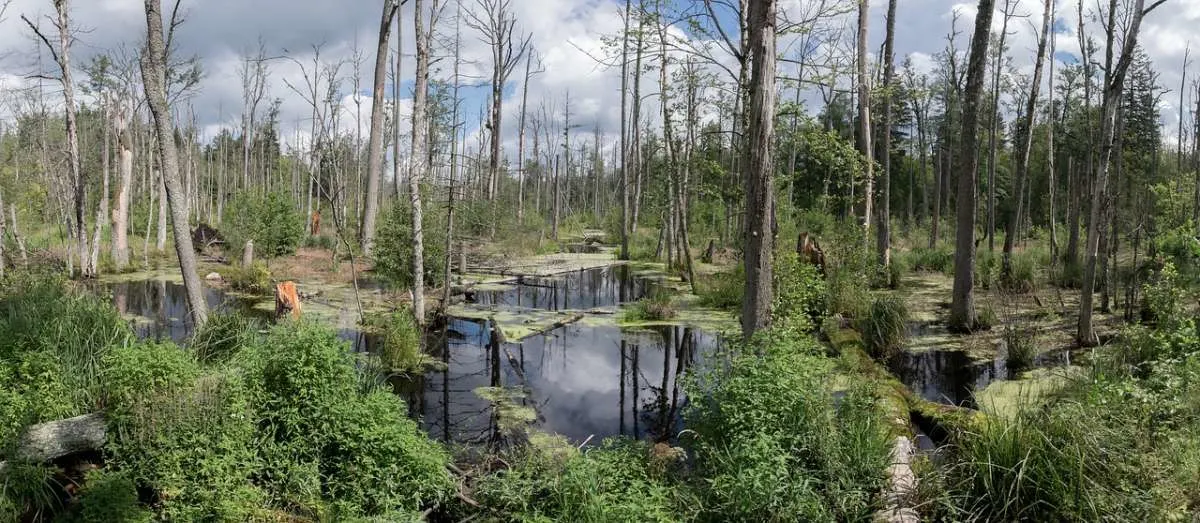 4. Cycling in Bialowieza Forest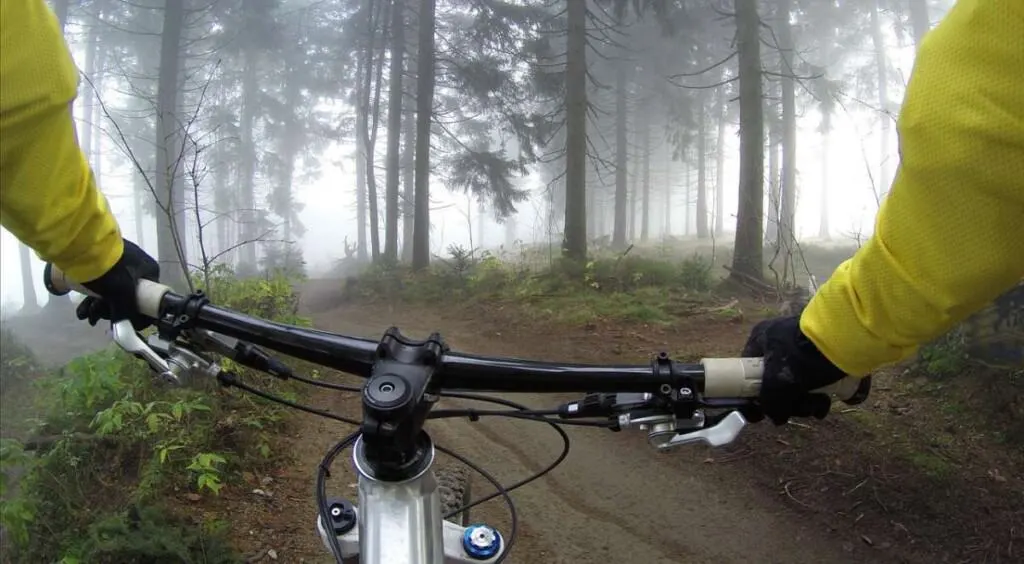 The Bialowieza Forest seems to be a paradise for bikers! Whereas I have to honestly admit that I didn't have the chance to do a bike tour by myself, I found it lovely to see how many people are enjoying this beautiful region by bike.
Cycling certainly seems to be one of the most popular things to do in Bialowieza Forest.
But it's only one of many reasons why you should travel to Eastern Poland.
There is a big advantage of Bialowieza: it is mostly flat! That means that you can ride your bike for hours without getting tired. On top, I am convinced that the bike is the perfect way to really experience the wide dimensions of Bialowieza.
You'll ride your bike for hours and suddenly, a cute, picturesque village shows up. It's by slow travel that you realize how big the distances between villages in the Bialowieza Forest really are.
Did you know that dialects even differ from one village to another? That's how they were cut off by the immense Bialowieza Forest. Difficulty and length of the cycling tours vary and there is a bike excursion for every type of biker.
There are plenty of bike rentals in the Podlasie region and specifically in the Bialowieza village.
Bike Rentals in Bialowieza:
Bike Cafe
Read: How to go slow Travel in Poland
4. Canoeing the Narewka River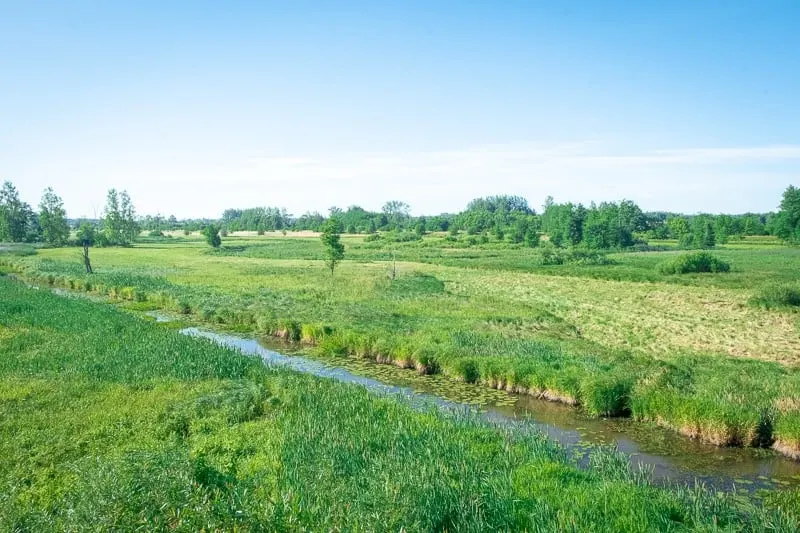 The Bialowieza village and its surroundings are a paradise for those who love to travel sustainable and slow. Whether it is by bike, by hiking or, why not, by canoeing!
Indeed, there is not only a large wood to be explored but also a river. The river Narewka flows through a major part (61 km) of Bialowieza, Poland and goes on for 21 km more in Belarus.
The Narewka river was used to transport wood but nowadays, it's the perfect place for canoeing!
To me, kayaking is one of the best ways to travel slowly as you'll have all the time to enjoy the beautiful surroundings without any noise.
Kayaking tours through the Bialowieza Forest can start at many places throughout the Podlasie region. If you are lucky enough, you'll even spot one of the Bialowieza animals such as wolves, deers, or even maybe bison.
Read more here about where to do kayaking in Bialowieza forest.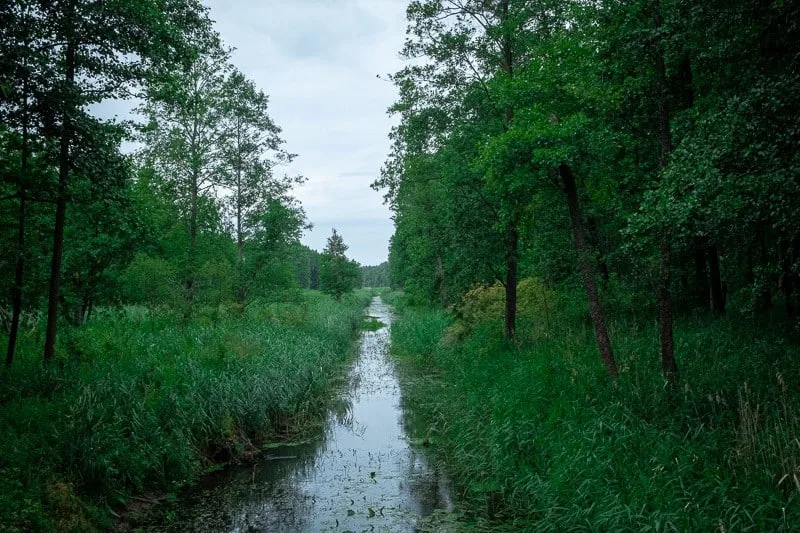 5. Indulge in Polish food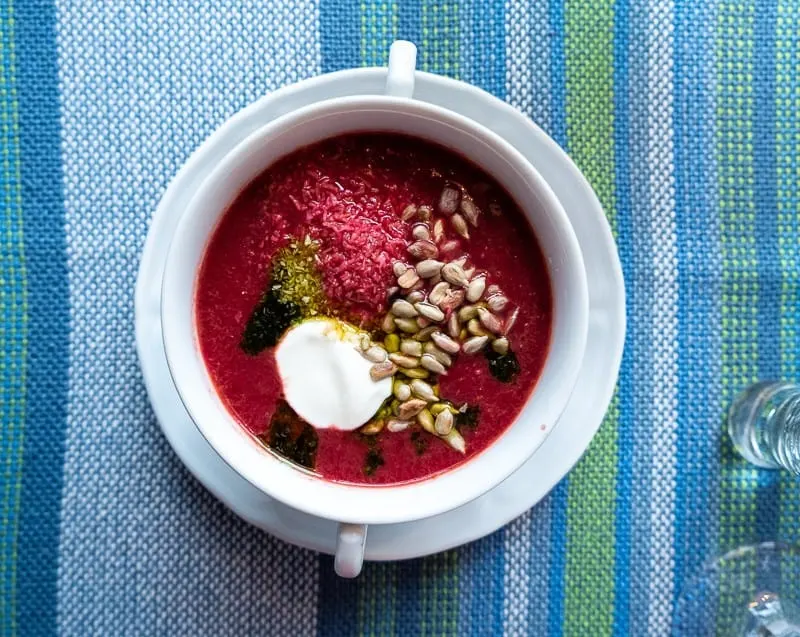 When looking for things to do in Bialowieza and its surroundings, enjoying the local food is definitely a must! And for those of you that think that Polish food is limited to potatoes and sausages, you couldn't be more wrong!
I visited in summer and I was amazed by how many fresh and healthy meals I could find on any restaurant's menu cards. All the meals I tried were intense in taste and prepared with seasonal ingredients.
As the forest is omnipresent in the Bialowieza region, it's no wonder that you can find it also on the menu card. That's why plenty of dishes contain wild game or wild berries.
The rivers of Bialowieza carry plenty of fish which you'll enjoy in tasty variations.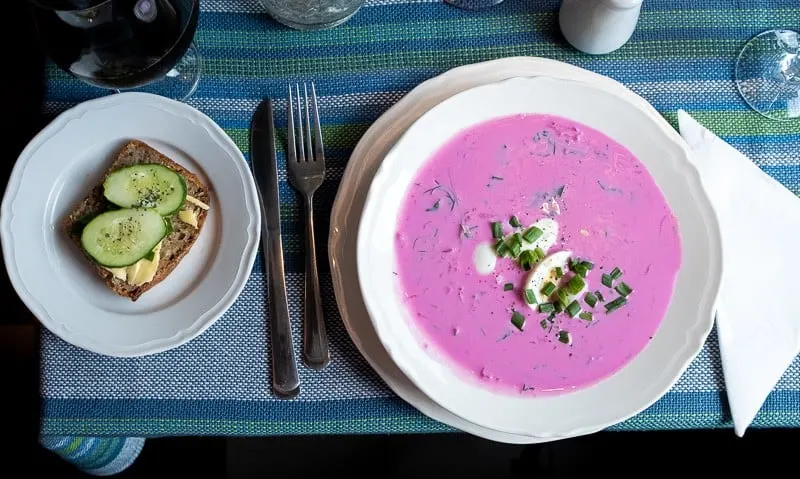 My favorite part, however, was the large variety of vegetables and fruits. Beetroot-berry juices and cold (pink) beet soup, cold cucumber soup,… I loved them all!
However, you cannot leave Bialowieza, Poland without having tried the famous pierogi (dumplings)! They exist with all imaginable filling and they were some of my favorite food. After my trip to Gdansk and Pomerania, I had a serious craving of pierogi!
Here, some of the most typical dishes to try in Bialowieza in the Podlasie region:
Babka ziemniaczana: a potato cake with bacon bits
Cepeliny, kartacze sejneńskie: long, oval potato dumplings stuffed with meat
Chołodziec litewski: cold soup made with soured milk, beet leaves, beets, cucumbers and chopped fresh dill (one of my favorite dishes during summer)
Pierogi ruskie (Ruthenian pierogi): quark cheese and potato dumplings (the favorite of our guide)
Pierogi in all forms
Kompot: juice prepared with strawberries and wild berries
Sękacz: pyramid cake, made of many layers. It takes hours to prepare it by painting layers of dough onto a rotating spit over an open fire
Zubrowka vodka: vodka with bison grass
Podlaski Koryciński: fresh goat cheese often with black caraway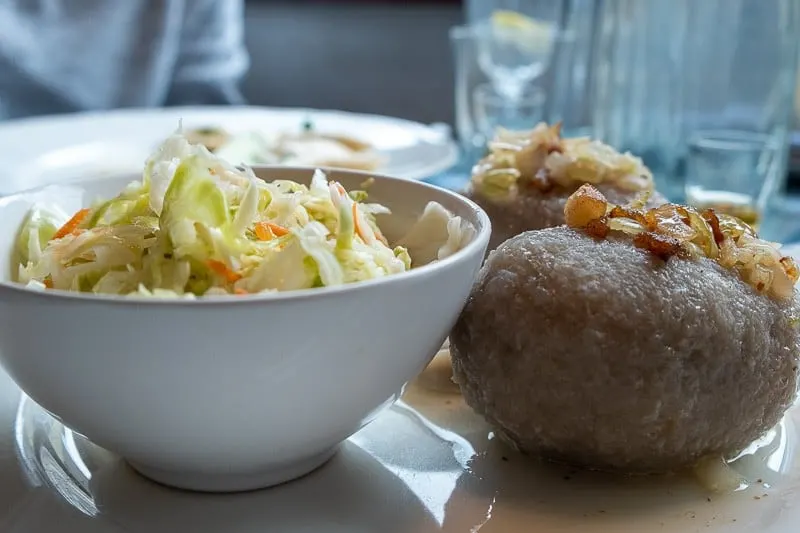 Where to enjoy typical and good Polish food in the Bialowieza region: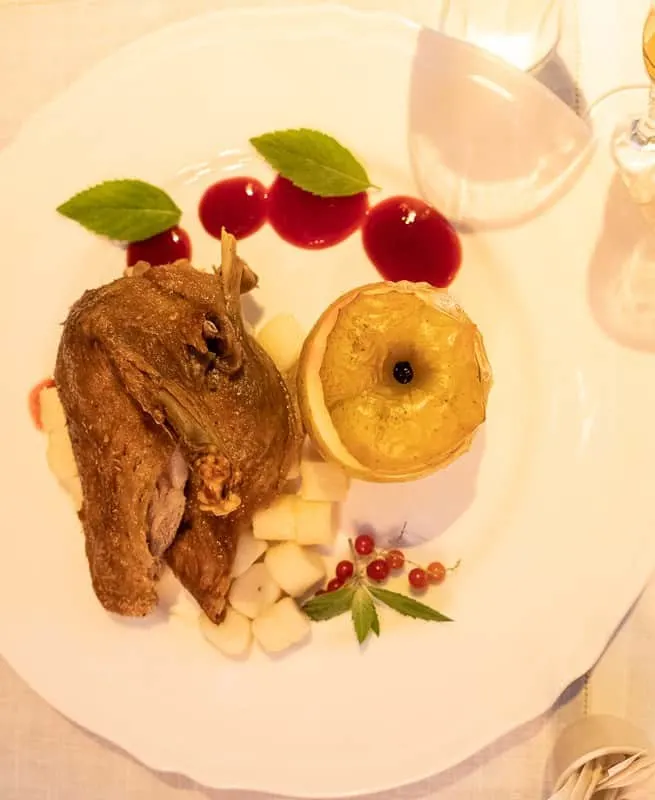 6. Visit the Art Gallery of Barbara Banka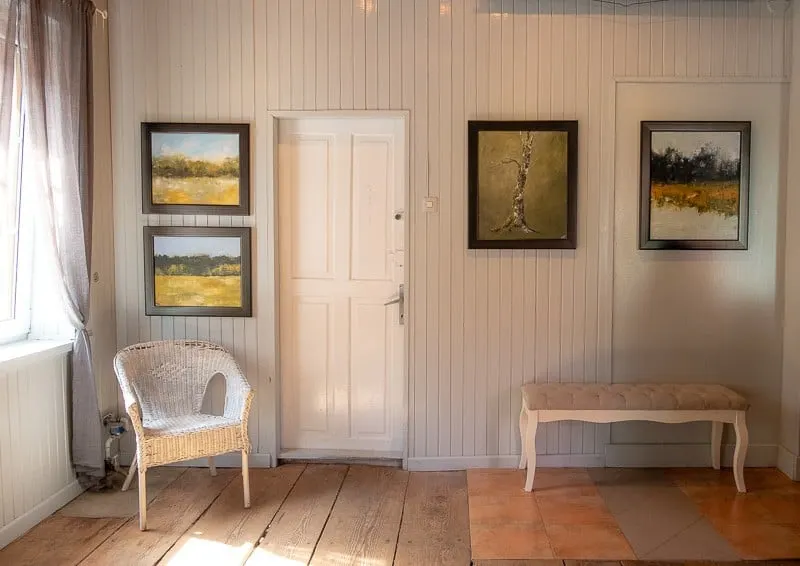 If you are looking for a unique souvenir from the Bialowieza Forest and you love art, you should definitely visit the art gallery of Barbara Banka, Bialowieza.
Located in one of the oldest houses in Bialowieza village, all her paintings are themed around the forest, its animals and plants.
Barbara's paintings are full of details, she even illustrates for scientific magazines! Her illustrations of Bialowieza's birds will leave you in awe.
Other paintings are inspired by impressionism and showcase the playful light in the Bialowieza Forest.
The story of Barbara is unique.
She was born in the Bialowieza village and she always knew that this is her happy place. Thus she became a forester and thought she would spend most of her time in the forest. However, as she raised on her career ladder, she had to spend more and more time in an office.
She started painting and quickly became very successful. Successful enough to leave her office job, become a full-time painter and forest guide. I visited the strictly protected part of the primeval forest with Barbara and it was a delight to learn from her.
You can meet Barbara and visit her gallery upon appointment.
Address: Stoczek 148
Tel.: +48 726 486 000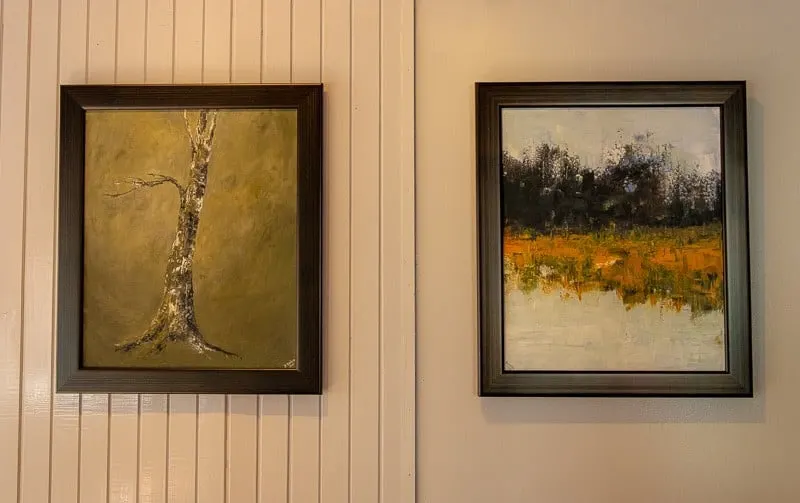 7. Take Polish Food Workshops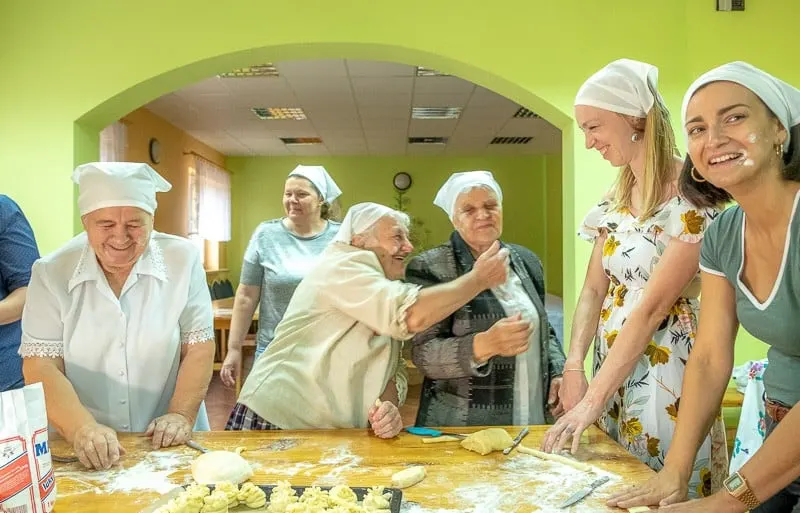 After so much forest hiking, trekking and biking, you must certainly be hungry!
Well, besides just eating all that tasty Polish food, why not get a glimpse behind the scenes and see how it is prepared?
Indeed, food workshops are a great way to get in touch with the local community (most of them speak great English) and to learn about recipes that are centuries old.
It's thus the ideal way of slow travel as you learn about the region you're visiting and on top, you get the unique chance to make friendships in the place you are visiting.
There are plenty of food workshops you can do during your stay in Bialowieza. Because I loved all the Polish food in Podlasie that I ate, I was excited to try a few out!
I went for the dumpling workshop in Polana Zubra and the wedding cake workshop in Dobrowoda.
At Polana Zubra, we were warmly welcomed and we really had a good time while learning about the infinite variations of dumplings. However, the best thing about this workshop was the kindness of our hosts. They really made us feel at home even though we stayed there for less than 2 hours.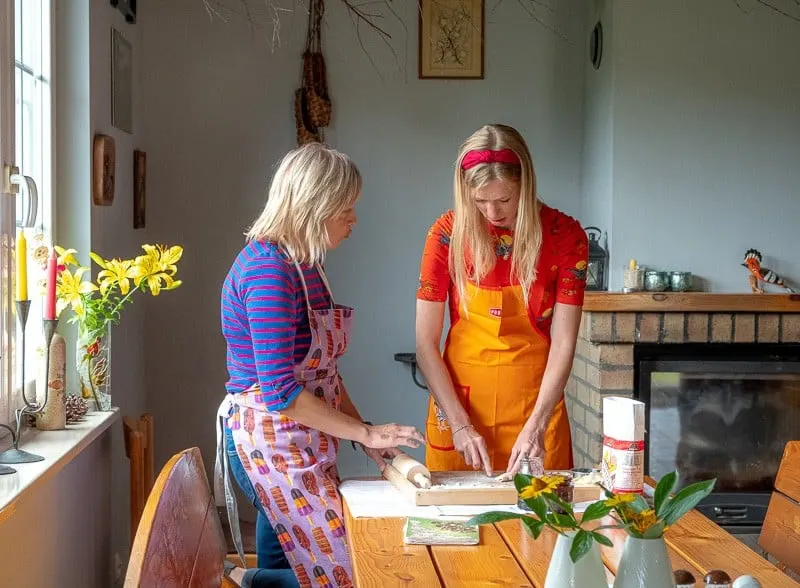 One of my very personal highlights of the trip to the Podlaskie region was the wedding cake workshop (korowaj) in Dobrowoda. The wedding cake from Dobrowoda is particularly famous and it is prepared according to a very special ceremony and ritual.
Indeed, the dough is prepared only by the godmothers of the bride and the groom. The cake itself is prepared by the female guests attending the wedding.
During the preparation of the cake, they sing a particular song at every stage of preparation.
It really was a very unique experience to prepare the wedding cake with the singing, baking ladies from Dobrowoda.
The music, the sense of being in a community, the cherished traditions, enjoying the cake together at the end of the ritual, all this made the wedding cake baking one of my highlights of this trip. Watch this video to see how korowaj, the elaborate wedding cake is made.
Feel free to reach out to the tourist board of Podlaskie in order to make your food workshop booking.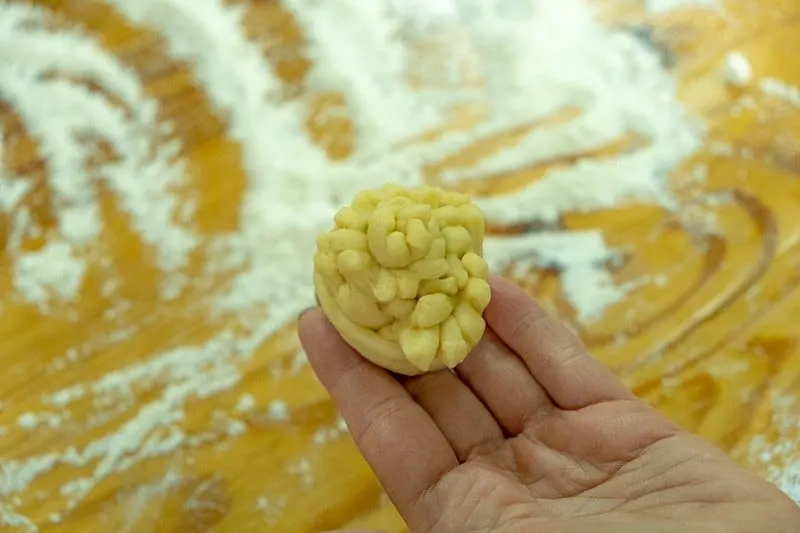 8. Attend a folklore festival and cherish traditions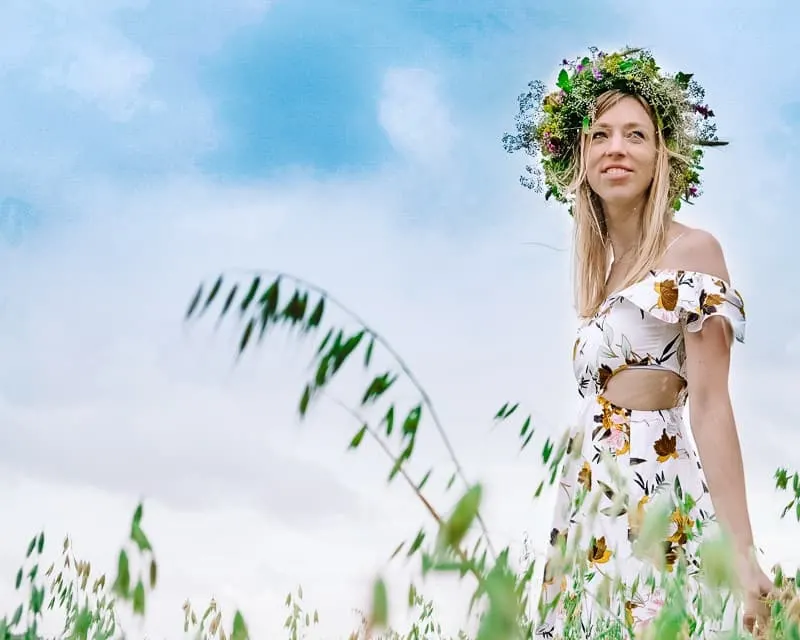 Traditions are alive in Bialowieza, Podlaskie region! Even though it might not be the same as it used to be 30 or 40 years ago, you can still notice and experience how the Polish cherish their traditions nowadays.
On top, Podlasie is home to a unique cultural mix: Poles, Belarus, Ukrainian, Russian, Jews, and Tartans influenced the regional culture.
Probably one of the most important traditions in the Podlasie region, if not in all Poland, is hospitality. No matter where we went, we were welcomed with open arms, in an unpretentious way and mostly with food and vodka.
Even though I didn't understand the language (except a few basics), I immediately felt at ease.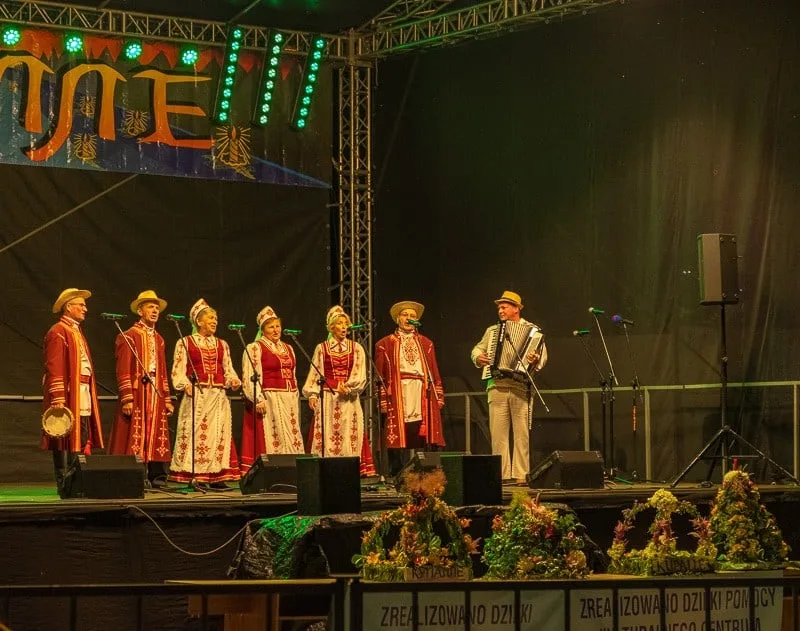 So, where can you experience local culture and traditions in Bialowieza, Poland?
Along with the wedding cake preparation workshop in Dobrowoda (which I highly recommend), you might want to consider doing flower crowns at Kamionka Agnieszka Romaniuk. Indeed, flower crowns making has a long tradition in Poland. You can get your flower crowns for a cultural, folklore event or just for the fun. The preparation is not as easy, but you will definitely be helped.
At Kamionka Agnieszka Romaniuk you'll also get introduced to traditional pottery. Feel free to reach out to Agnieszka!
It's during folklore events that you will witness the importance of local traditions the most. Many have Slavic roots but got incorporated in the Catholic or Orthodox calendar. One of the most important folklore events is undoubtedly the "Kupala" which predates Christianity.
During the Kupala in Bialowieza (although it is celebrated in many other municipalities as well), the girls put their flower crowns on the river and hope to read the flow pattern of the flowers in order to gain foresight when it comes to their love life. Then, men will jump into the water and try to capture the flower crowns, hoping to capture the interest of the women. They say that the one that picks your flower crown, will become your future husband.
I assisted Kupala in Bialowieza and it truly was a magical night. I went with my flower crown, put it on the river but then, ran away because I had no intention at all to get married. 🙂
I also recommend checking out the calendar of events and festivals in Podlasie and I invite to have a look at the colorful post about Podlasie Festivals by LoveTravelling Family.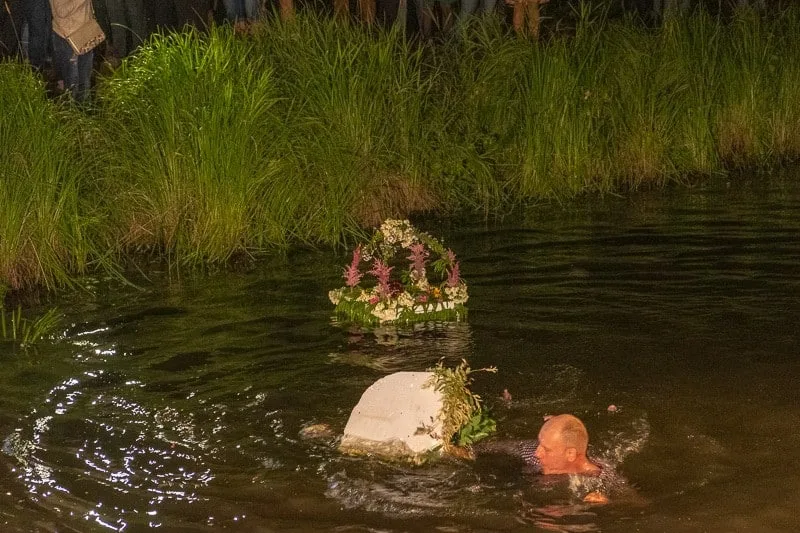 9. Have fun at the hand ride train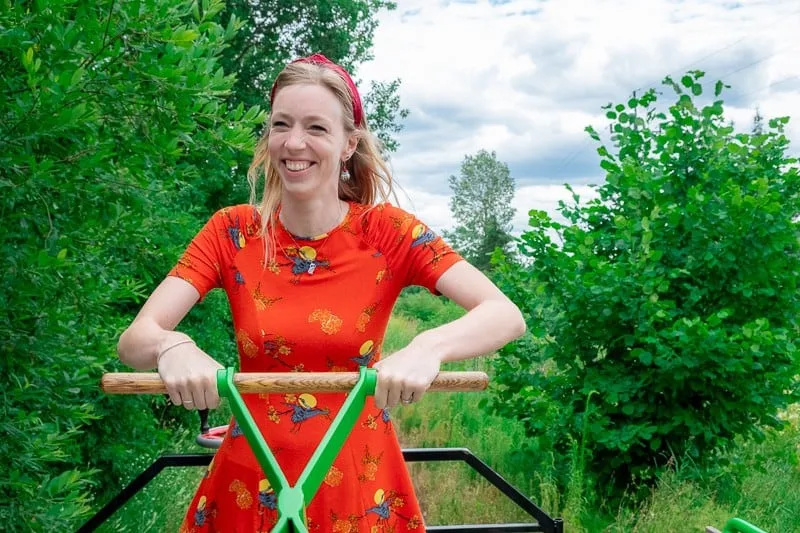 If you are looking for a more active and physical activity in Bioalowieza or an activity for families or groups, I highly recommend the hand ride train!
The hand ride train was created only a few years ago in order to prevent the destruction of the scenic train lines in Bialowieza.
By using them for a tourist attraction, they would get a new purpose and travelers could enjoy the beauty of the railway.
Indeed, one of the details I liked the most in the Bialowieza landscape, was the abandoned rails going into the forest. I would have loved to turn back time and enjoy a train ride through this secluded part of Poland.
There are different trolleys. Some can take up to 12 people. You can choose the length of your ride according to your fitness level or on the number of people that are motivated to pump.
As said, the hand ride train is a physical activity, but it brings loads of fun as well. The rides depart close to the Tsar train station "Carska".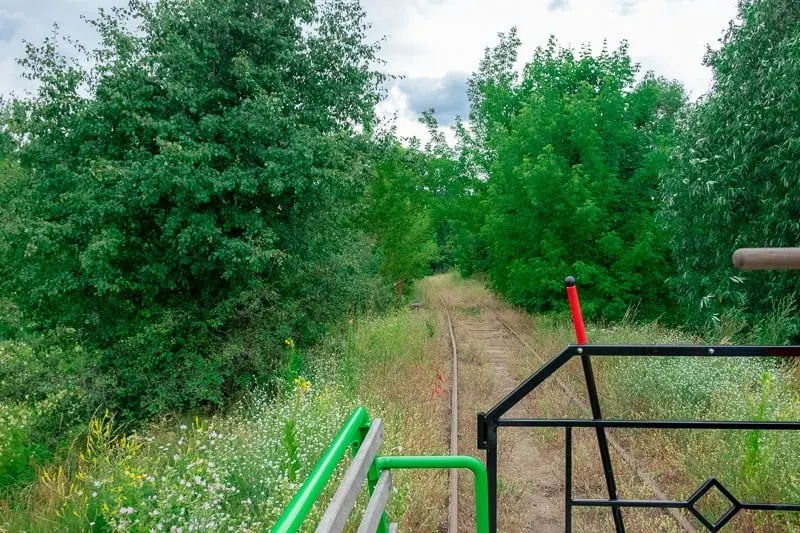 10. Eat & sleep in a Tsar train station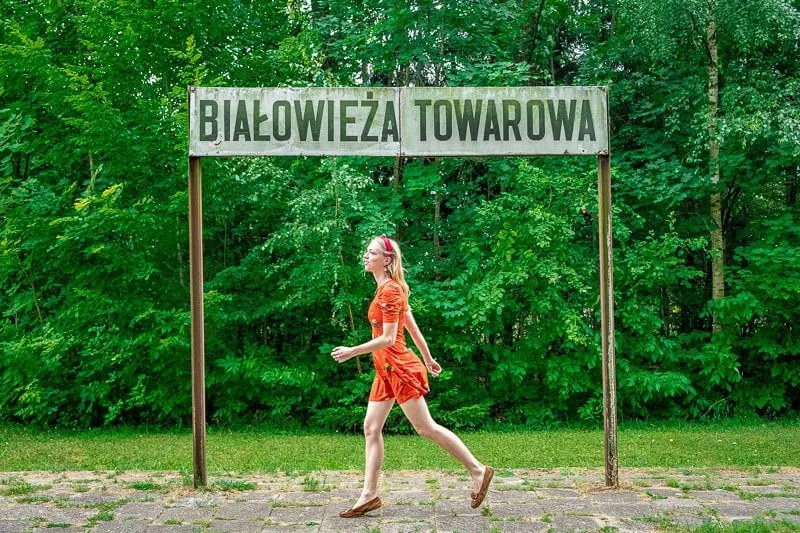 The old train station "Carska" (that was built only for the Russian tsar) is a trip worth to Bialowieza by itself.
Secluded, cut off from the Bialowieza village by the forest, the Tsar train station is nowadays a fine restaurant and guest house, and staying here is one of the most unique things to do in Bialowieza Forest. You can even sleep in old trains!
Don't expect anything rustic. This is like traveling back in time but in the most luxurious way possible.
Book here your stay in the old Tsar train station
The railway station "Bialowieza Towarowa" was built in 1903 for Tsar Nicolas II. The original furniture was maintained.
In a unique setting, Restauracja Carska serves a gourmet version of Polish-Russian cuisine with local ingredients. Wild game and berries are very present on the menu.
We went for the venison tartar and dumplings (pierogi) and it was a delight! They also serve Polish wine and it was a dinner like in heaven. The decoration of the meals and particularly dessert was so delicate!
Of course, we had to finish our dinner with the local vodka: Zubrowka. It's vodka with bison grass!
If you don't want to leave this fairytale setting, you can opt to spend the night in one of the luxury apartments or even in one of the train wagons.
The rooms in the train will catch your breath and it is definitely a unique accommodation in Bialowieza.
Book here your stay in the old Tsar train station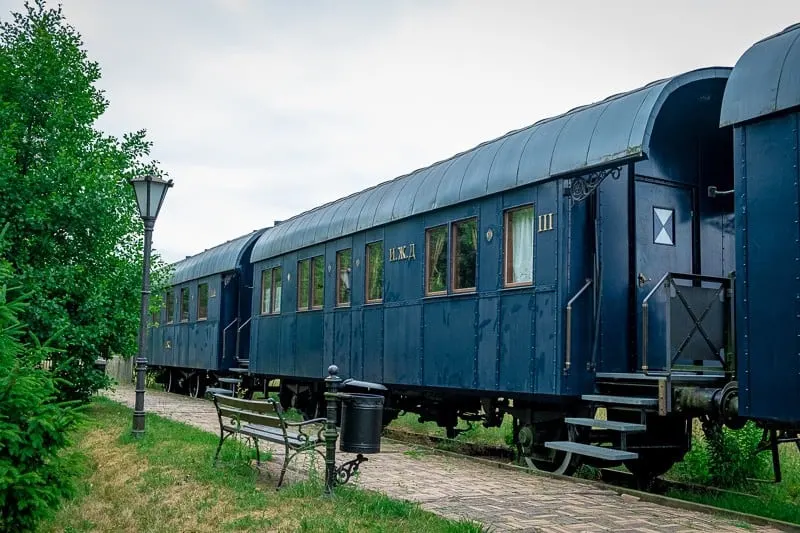 12. Visit Soce, the Land of Open Shutters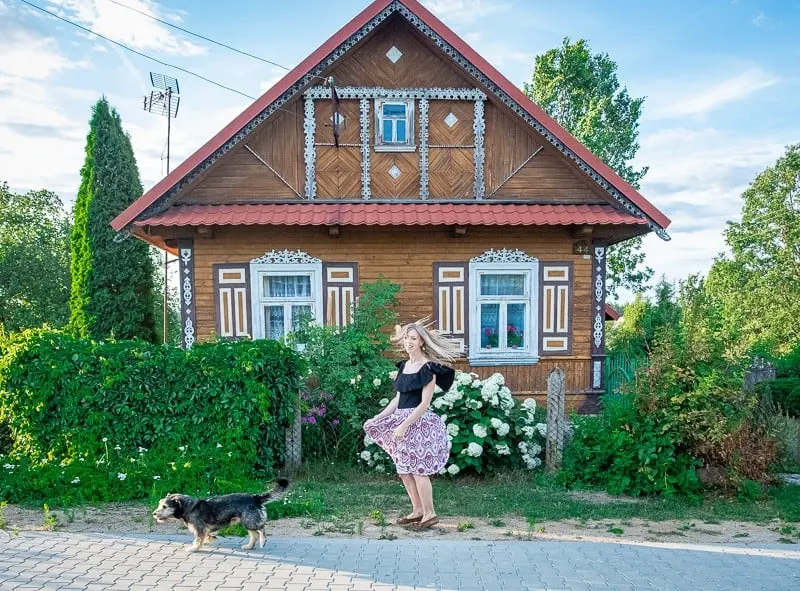 There is a place, close to the Bialowieza village, where you think that time stands still. It's called the Land of Open Shutters.
The Land of Open Shutters mostly consists of 3 villages close to the Nawet river: Trześcianka, Soce and Puchły. Today, I take you to Soce, which is about 1 h drive away from Bialowieza. The village used to have more than 700 inhabitants but today, only 70 remain.
The region got its name from the colorful shutters that characterize each house. Most houses are made of wood from the surrounding forests. Each house's shutters are different and are completed by wooden, carved ornamentation.
The communities of the villages are a unique cultural mix, consisting of Ukrainian, Russian and Polish heritage.
Due to its unique location on the border, Soce was particularly hit by the two World Wars. The living conditions were and still are rough. With temperatures reaching -35°C in winter and +30°C in summer, the people of Soce are resilient.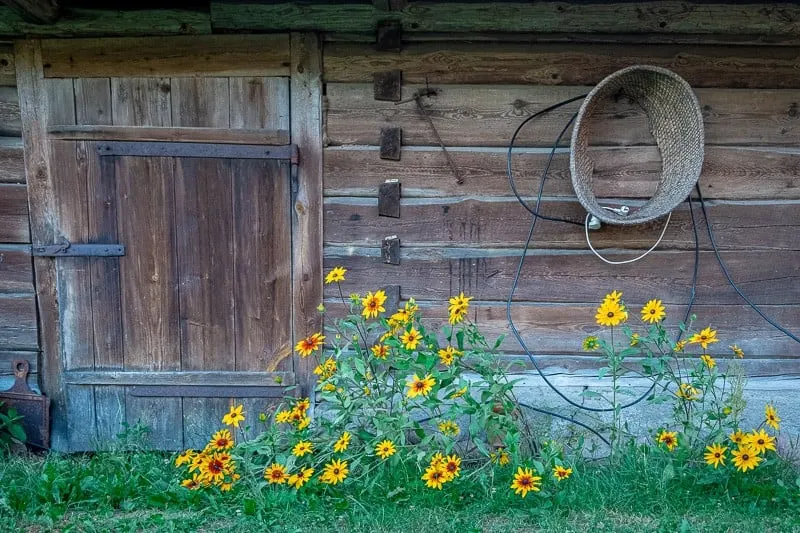 Soce has a municipal museum that showcases life back in time and meeting the local community who opened up their houses to us was really like a trip back in time. It's the perfect place to enjoy the slow life.
For those who want to stay longer in the beautiful village of Soce and its relaxing atmosphere, I highly recommend the guest house Siedlisko Soce. The guest house opened up only recently and is an oasis of peace.
Surrounded by woods and boasting a swimming pool aka a lake, it has all you need for a relaxing stay.
The owners moved from Sydney to Soce and put special emphasis on home-made food and cherishing the slow life. They offer mechanical, yoga and natural cosmetics workshops.
If you are looking for the traditional Polish lifestyle and want to get a glimpse on how was life back in time, I highly recommend visiting one of the 3 villages of the Land of Open Shutters.
There is only Soce and Trześcianka have paved road access, thus it can also be a great idea to reach them by forest hiking.
Book here your stay in "slow life" Siedlisko Soce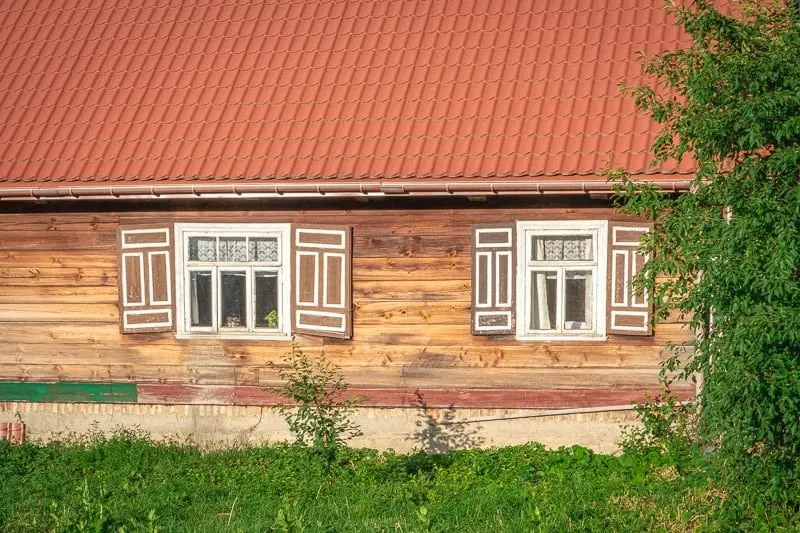 13. Visit the Grabarka pilgrim site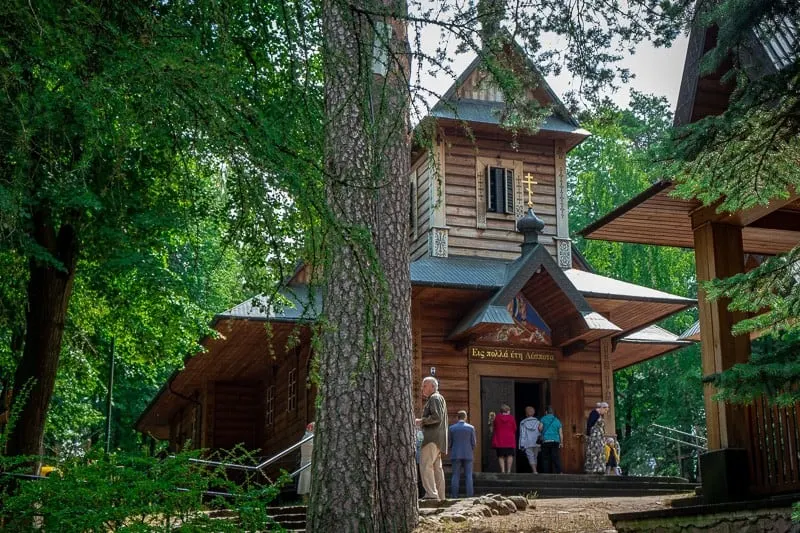 The region of Podlasie, Eastern Poland, is famous for its wooden churches. Surprisingly, many of them are painted in blue! I loved to spot the churches around the Bialowieza Forest that were sometimes standing there all alone.
The region of Podlasie is characterized by a unique mix of Orthodox and Catholic communities living together.
Thus when you drive through the picturesque landscapes, you'll eventually spot an Orthodox church and then, not far away, a Catholic church.
Did you know that over 600.000 Orthodox Christians live in the area?
If you are visiting the area on a Sunday, I highly recommend attending a mass ceremony of any of the religious communities. The local community is very religious and please cover your legs and arms before going to church.
One of the most important religious sites and a great example of a wooden church is the Holy Mountain of Grabarka. The Polish Orthodox pilgrimage site is at 1 h drive from the Bialowieza village.
The wooden church of Grabarka is surrounded by the worth-seeing "Forest of crosses".
Every year in August, pilgrims come to Grabarka with a wooden cross that symbolizes somebody that should be healed. After the priest blessed the crosses, they are put into the ground next to the other, thousands of crosses.
The hill is an oasis of peace with a certain mysterious atmosphere. I really enjoyed the quietness and I was amazed by the beautiful paintings of the Orthodox church.
There is a spring at the entrance gate which is supposed to cure you of all illnesses.
Read more here about the legends and history of Holy Hill of Grabarka.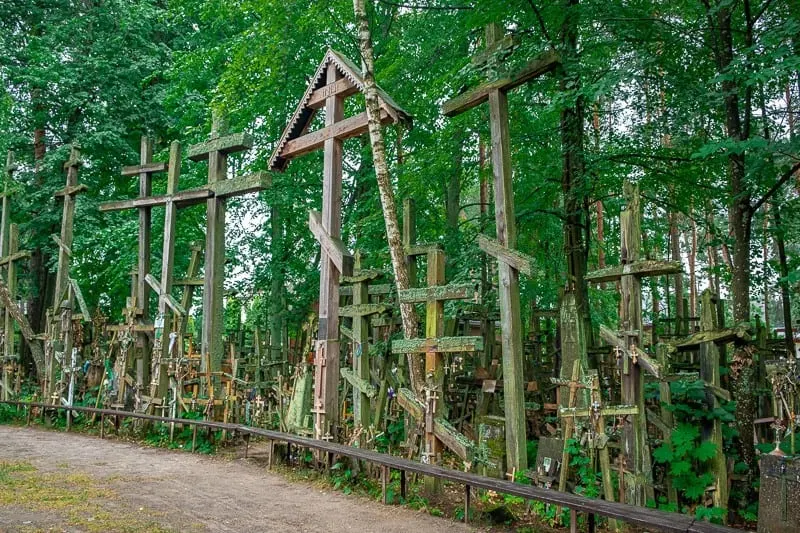 14. Buy local souvenirs from Podlasie region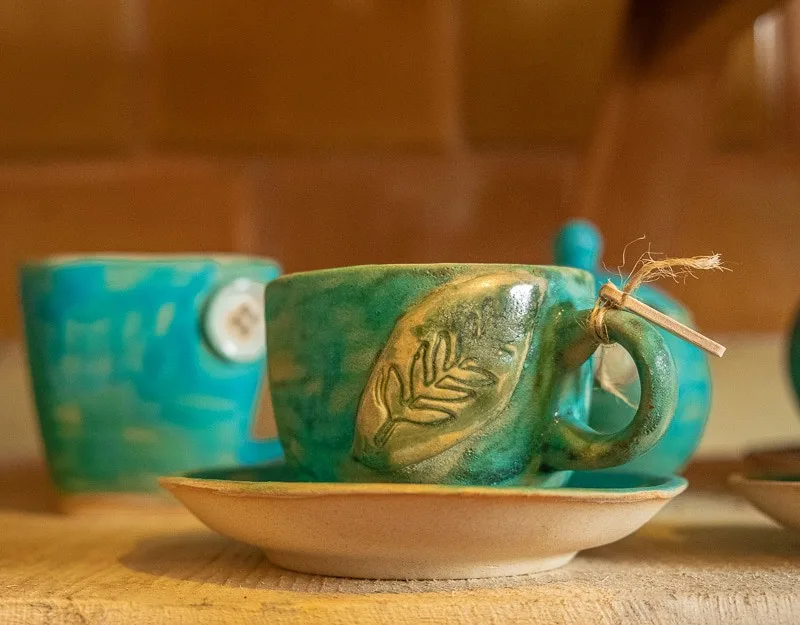 Who else is a big fan of bringing souvenirs to your beloved ones? I can never leave a place and buy at least one or two souvenirs for my grandmother who enjoyed traveling as much as I do.
Now that she is too old to travel, I love to bring her souvenirs.
So, what souvenirs can you get from the Podlasie region and more particularly from Bialowieza? Here are some suggestions:
Bison grass vodka (zubrowka)
Wood carved figurines
Local beer
Bison grass
Regional tea
Wedding cake (Sękacz)
Pottery
Honey
Anything with a bison on it
You can purchase souvenirs in Bialowieza at the market that is held on the main square. I purchased all my souvenirs at the gas station of Bialowieza (you can pay by card). They had a large variety.
If you want to support local producers, I recommend the following places:
Bialowieza National Park Tourist Information Center
Park Pałacowy 11
17-230 Białowieża
tel. +48 85 681 29 01
e-mail: infobpn@bpn.com.pl
Tourist Information Center of the Białowieża Forest Region
ul. 3 Maja 45
17-200 Hajnówka
tel. +48 85 682 43 81
PTTK Białowieża Tourist Information Center
ul. Kolejowa 17
17-230 Białowieża
pttk@pttk.bialowieza.pl
tel. +48856812295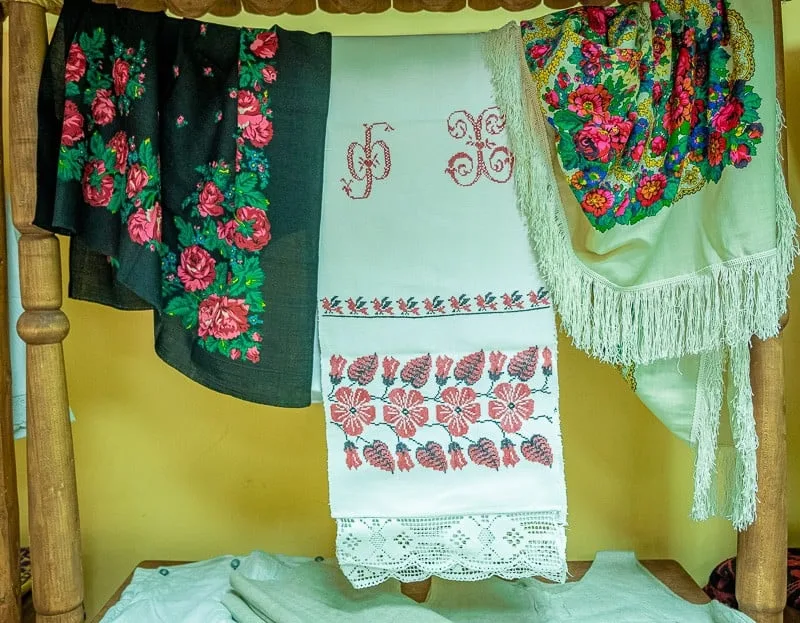 15. Learn about Bialowieza Forest Animals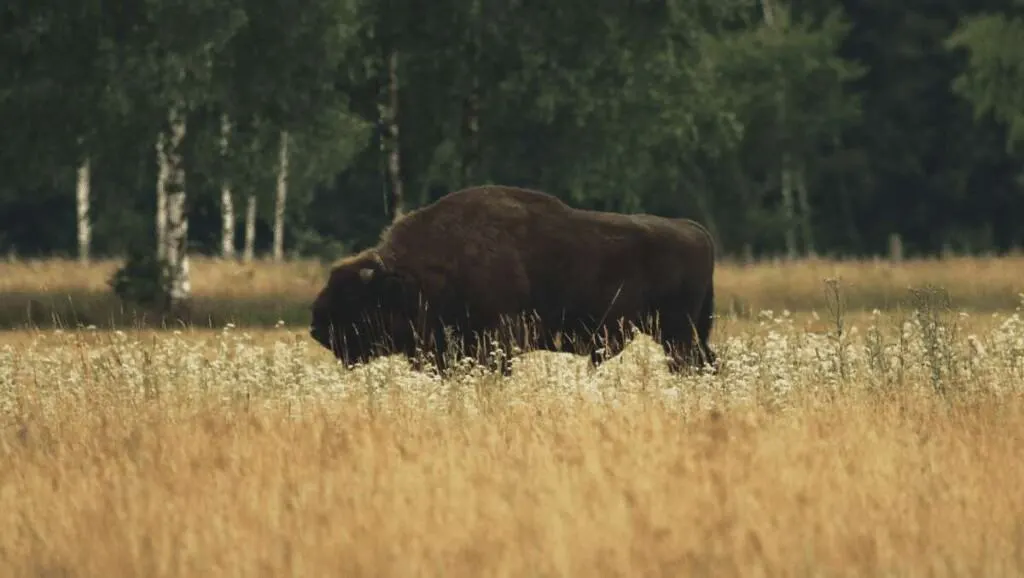 By far one of the most interesting things to do in Bialowieza Forest, Poland is to learn about the different Bialowieza Forest animals.
Currently, over 12,000 species have been identified within the forest of Białowieża.
The largest family of animal species are invertebrates (specifically insets), however many reptiles, amphibians, birds, mammals and live here, as well.
The most famous of the Bialowieza Forest animals is the European bison.
They are sometimes referred to as Bialowieza bison, and are the national animal of Poland. The European bison is symbolically linked to the Białowieza forest because this remains one of the few places in the world where they can be found.
But there are at least 58 species of mammals within the Bialowieża Forest, including deer, wolves, hares, squirrels, wild boar, foxes, badgers and more.
Birdwatchers could spend months trying to spot the more than 250 species inside the forests of Poland.
The Białowieza Forest is actually one of the best places in the world for bird watching as it houses many rare species, including thrush nightingales, rare woodpeckers and great snipe.
For any entomologists, this Polish forest is a gold mine. There are over 9,000 species of insects – and probably many more that have yet to be identified.
---
Bialowieza Forest Map
This Bialowieza Forest map highlights all the must see places and where my favorite things to do in Bialowieza Forest are!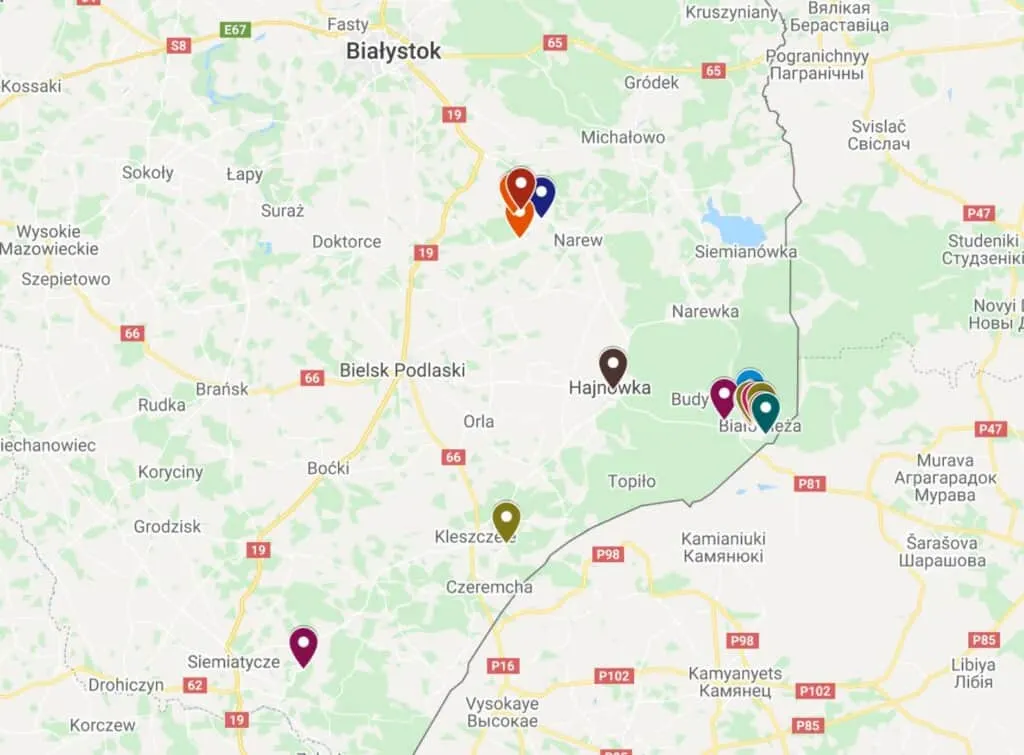 ---
Before You Go: Top Tips for your Trip
In order to get more information on tourism in Podlasie and Poland in general, I recommend the site of Poland.Travel for its surroundings.
Some of the pictures in this article have been taken by the talented Kostas Deko
---
Short FAQ
Why is Bialowieza Forest unique?
Bialowieża Forest is one of the few remaining parts of the primeval forest that once covered the European plans. There are over 12,000 identified Bialowieza Forest animals, including several endangered species such as the European bison. It is now listed as a UNESCO World Heritage Site.
How to get to Bialowieza Forest from Warsaw?
The fastest way to get to the Polish forest from Warsaw is by car, which takes about 3 hours. There is a direct bus available, but it can take around 5 hours. The train is faster, but you will need to change at Bialystock. Bialowieza Forest tours from Warsaw are also available.
What are some Bialowieza Forest facts?
The name "Bialowieza" means "White tower." The forest is named after the polish village Bialowieza in the middle of the forest.
The Bialowieza Forest is the largest and oldest forest in Europe and it…
Houses some of the oldest trees in the world;
Once covered the European Plan (over half of Europe), but today remains in only two countries (Belarus and Poland;
Is home to over 12,000 species of animals.
---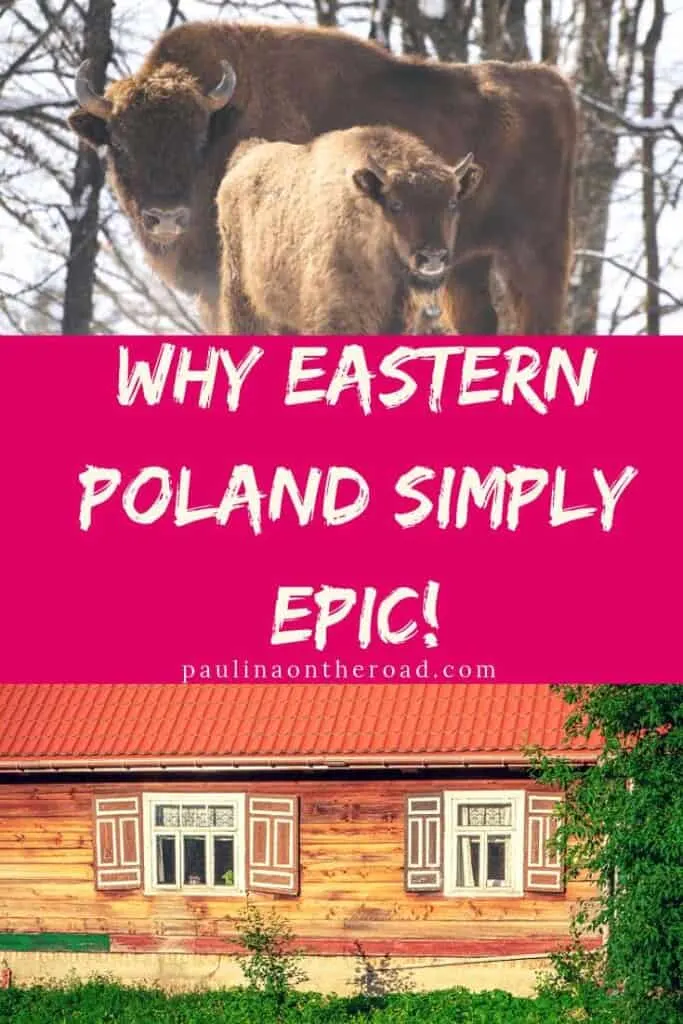 Hola! I am Paulina, a fervent travelette who crossed the Atlantic Ocean by Boat HitchHiking. On my blog, you'll find all the tips to make the most of your holiday. Get ready to enjoy outdoor and sustainable travel like hiking, cycling or sailing. Let's hit the road together!