Best Polish Food to Try in Podlasie Region, Poland + Recipes
After taking you to the Bialowieza forest and trying to convince you why Podlasie should be on your bucket list, this post will set your mouth to water. I am talking about Polish food and more particularly about the tasty food in the Podlasie region, North Easter Poland. So, here goes my list with the best Polish food to try in the Podlasie region, one of the most pristine regions to visit in Poland.
What makes the food of Podlasie so different from the rest of Poland? Well, it's the unique cultural mix and its location in a border zone that has seen many cultures coming and going. All of them have left their traces which can be observed in the languages, temples but mostly, on the restaurants' menu cards.
Indeed, the melting pot of Polish, Lithuanian, Russian, Belarussian, Ukrainian, Jewish and Tartan cultures is reflected in the Podlasie cuisine. But even more distant cultures influenced the Podlasie cuisine such as the German, the Czech, the Austrian,…
This pristine and somehow wild region has many tempting and scrumptious traditional cuisines up its sleeves. Some of them are nowadays considered as the most famous Polish dishes such as pierogi or tasty, cold soups.
Podlasie has numerous sweet and savory items to offer that I will share with you in this list of Polish foods.
In case you'll travel to Podlasie, don't forget to read about the food workshops near Bialowieza and other things to do near the Bialowieza forest.
Enjoy your meal, ehm… the post!
Disclaimer: I have been a guest of Podlaskie Travel and Polish Tourist Board in exchange for an honest review. All my opinions, as always, are my own. This post contains affiliate links. In case you purchase one of the items, I'll receive a small commission. The price remains the same for you.
1. Sekacz: Polish Tree Cake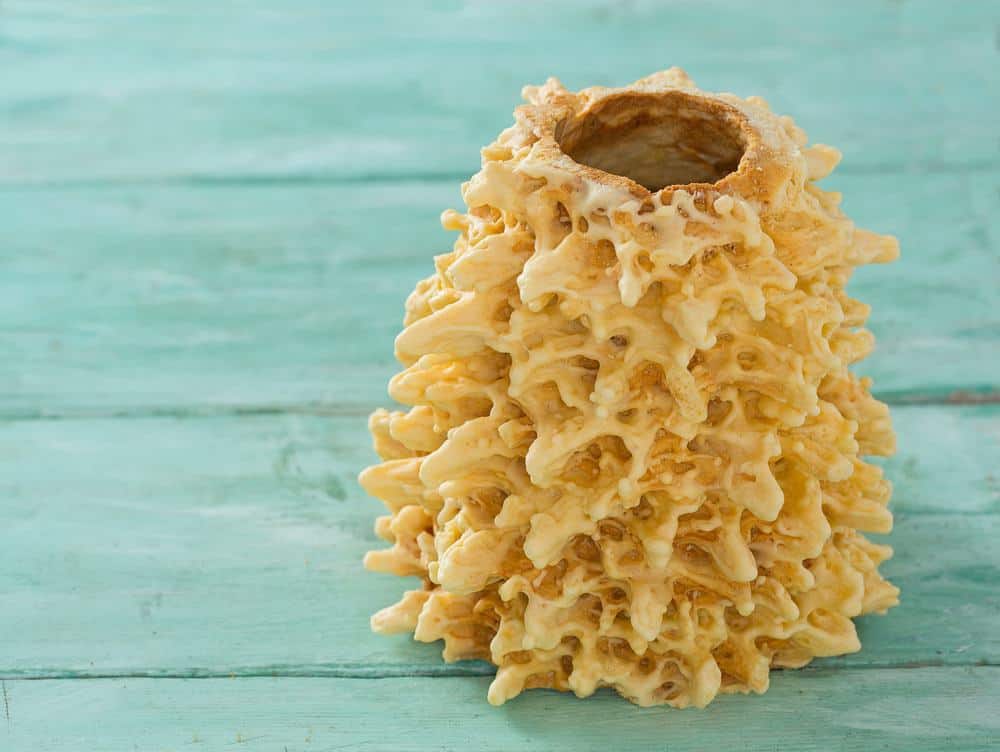 The tree cake (Sekacz) is probably one of the most emblematic dishes of the Podlasie region. Usually only eaten at weddings, you can nowadays find it on many occasions.
It's easy to guess where the Polish tree cake got its name from it looks like a tree, spruce with little branches. Its tall size is impressive and looks like a tree with big knots. When you cut it, you will discover amazing layers of dough.
However, the process of making a tree cake is particularly tedious. Most people don't prepare this Polish dessert regularly at home, given the energy and time it demands. Actually, it takes hours to prepare the cake… over the open fire!
Do it at home:
Buy here the best Polish food and cookbooks
2. Babka: Polish Potato Pie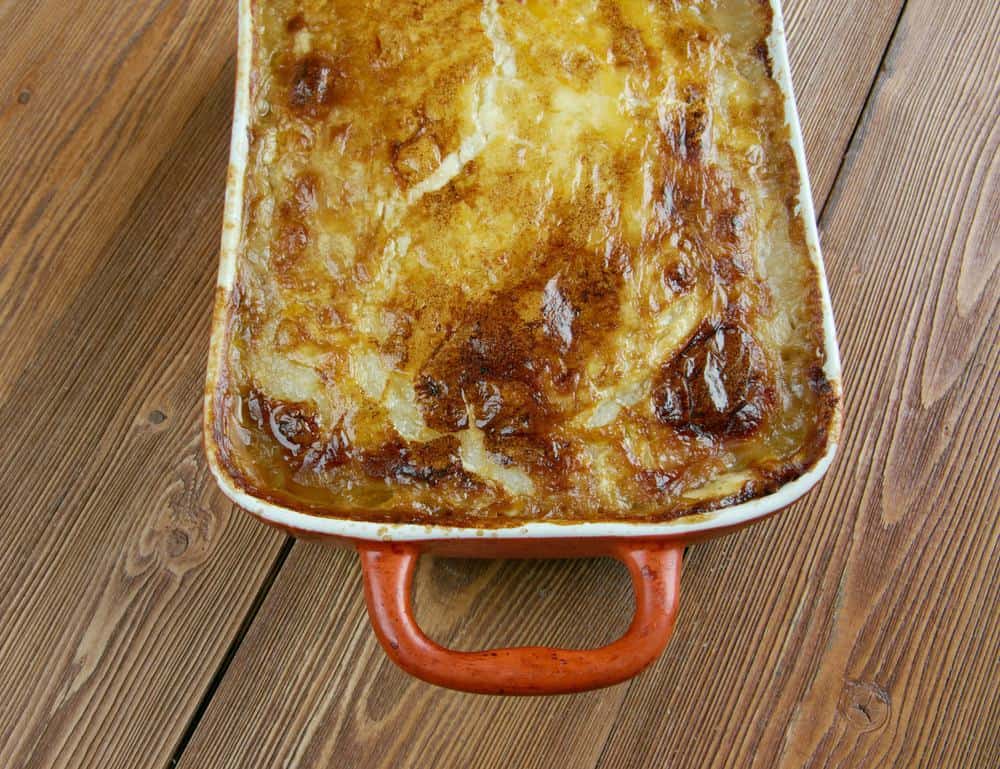 You won't stop eating this one until it's all gone! Who would have thought that your "simple, always there in the kitchen potatoes" can create culinary wonders?
Our hosts at Siedlisko Soce introduced me to this 'potato marvel' and a list about Podlasie cuisine wouldn't be complete without babka, the famous Polish potato pie. It can be compared to a dense potato puree with Polish sausages inside and gratinated with bacon and cheese.
This hearty meal can come as a side dish or even as a main course. Luckily, it's quite easy to prepare Polish potato pie at home! Here goes the recipe for Polish babka.
Do it at home:
Fun fact: Babka is often considered as the official regional dish of Podlasie, Poland.
Buy here the best Polish food and cookbooks
3. Cheese from Podlasie region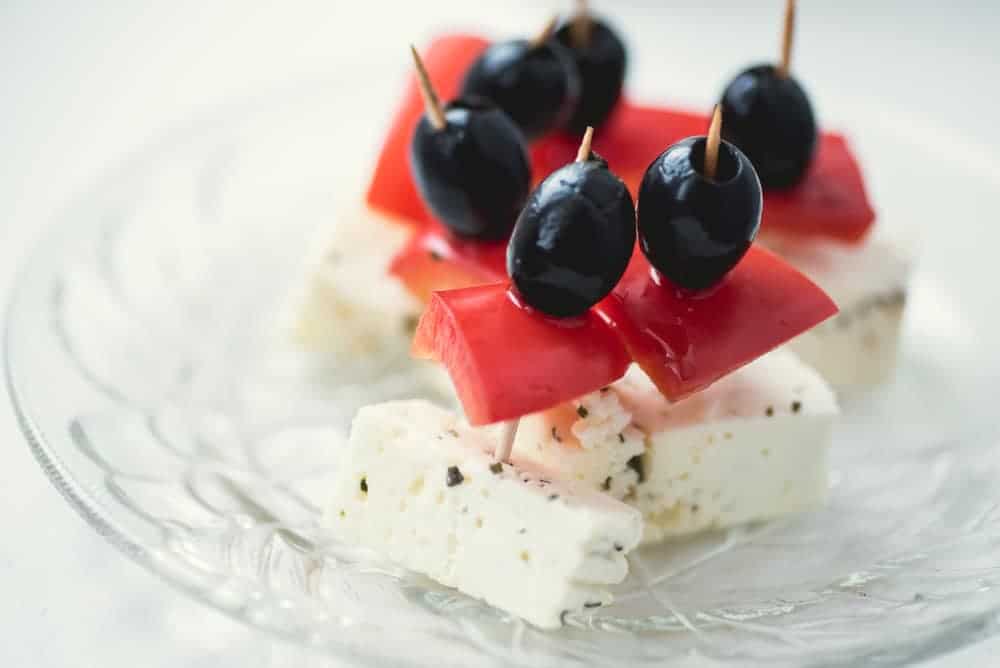 As you travel through Poland, you will come across many traditional cheese varieties. Such as Oscypek, which is a specialty smoked cheese made from salted sheep milk and is exclusive to the Tatra mountains of Poland.
However, also cheese from the Podlasie region in Poland is very famous. Thanks to its large plains, there is plenty of space for happy goats, cows, and sheep.
Koryciński, also known as Swojski (homemade), is probably the most famous cheese from Eastern Poland. Originally from Korycin, this cheese is the hallmark of the Podlasie region. On top, Koryciński is considered the oldest yellow cheese in Poland.
It's made from raw cow milk mixed with salt and rennet and is a hard yellow cheese. When you have a look at the cheese balls, it's a piece of art! You can get fresh Korycinski, aged from 2 to 4 days, aged Korycinski, aged from 5 to 14 days and mature Korycinski cheese, aged from 14 days to a few months.
It's a ripening cheese and sometimes, they add tasty black cumin seeds. It has a characteristic shape and grooved texture. It can be made natural or with herbs and spices. The Koryciński from the Podlasie region is one of the most popular Polish dishes in the region.
Buy here the best Polish food and cookbooks
4. Kartacze : Potato Dumplings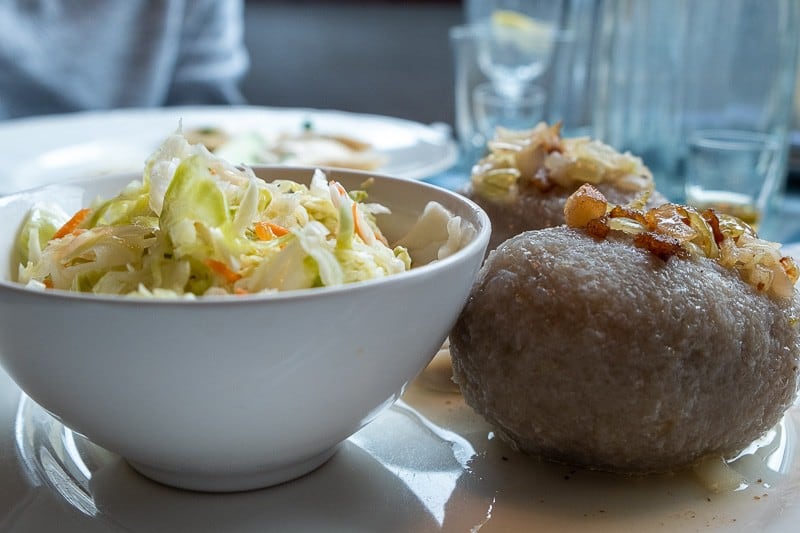 Many meals in the Podlasie region typically have high-calorie yet delicious potato specialties. The stars of Polish and Podlasie cuisine are without any doubt dumplings, or in Polish, pierogi. They come in all kinds of shapes and flavors. There are sweet and salty varieties!
You can add pierogi to your soup, have it as a side dish or as a main dish. This traditional Polish dish can be eaten at any time.
As you travel from region to region, you will find many varieties of dumplings. Also when you visit the Podlasie region. The most typical dumplings from Podlasie and its capital Bialystok are Kartacze. Originally from Lithuania, they are made from raw potato dough and filled with tasty, spiced minced meat.
This tasty side dish or even main course can be easily prepared at home. It just requires a bit of time!
Do it at home:
5. Pierogi: Polish dumplings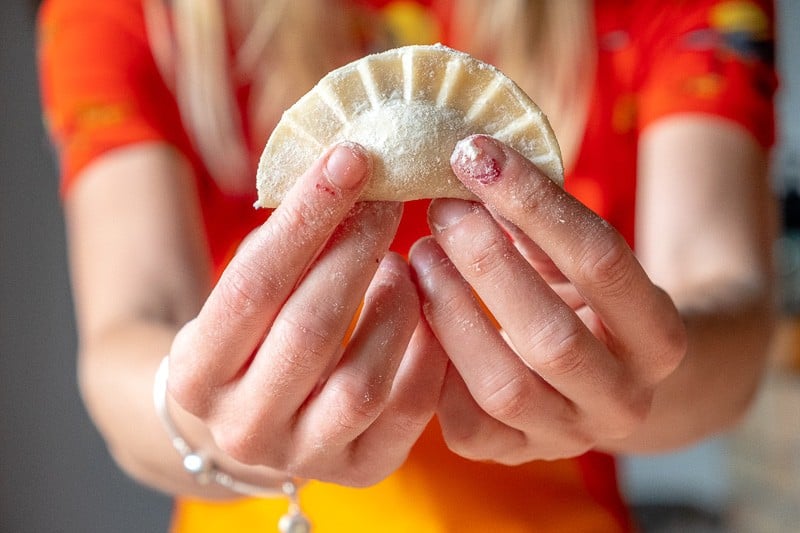 Pierogi (Polish dumplings) were definitely my favorite food to eat when traveling to Podlasie. This recipe is a hit among the locals and travelers equally. It is one of the reasons why Eastern Poland is a must-visit.
Some even consider pierogi as the most popular Polish food. These little dumplings can be either sweet or savory and come in a variety of fillings. Only your imagination can limit them! They are delicious and you won't be able to keep your hands off of them. There are almost infinite variations of pierogi.
Do it at home:
For a traditional pierogi recipe, the dough is made by mixing wheat flour with boiling water. Set it aside for 5 minutes and add cold water to the dough crumble and mix, cover it with a cotton cloth and let it sit for 15 minutes.
Then add half a teaspoon of vegetable oil and knead the dough. Roll out the dough and cut circles.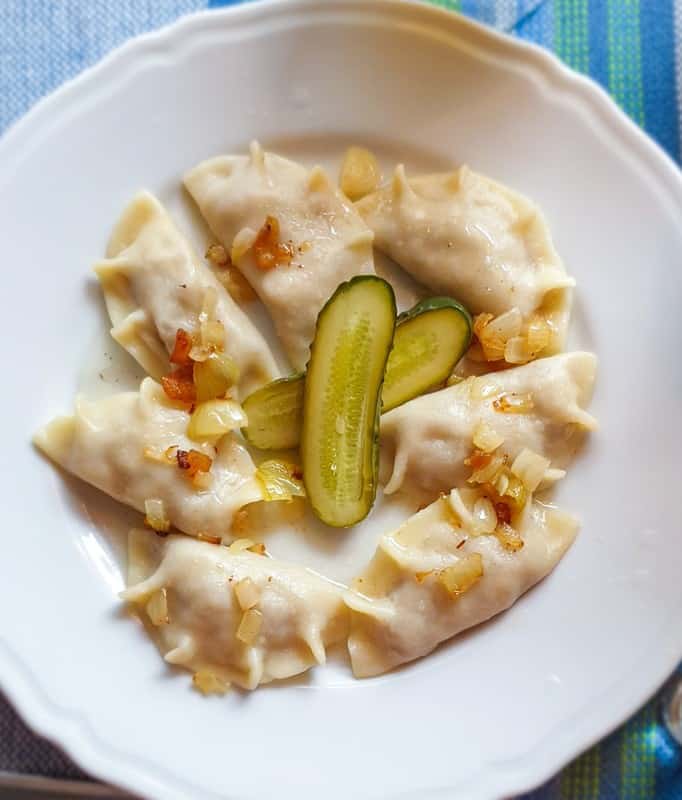 The filling really is your playground!
For a sweet pierogi stuffing, you can use a thick marmalade. Or, why not, cut fresh strawberries and blueberries. Then, add sugar to a bowl with strawberries and mix gently. Don't add sugar to blueberries. Now, lay the blueberries, sugar, and the strawberries on the dough circles, fold the pierogi and press the ends together.
Now, put them in boiling water with a pinch of salt and oil. Take out the pierogi and serve them with cream, yogurt or fruits. It's different and just the right mix between salty and sweet! These are tiny packets of joy and great comfort food and are considered as Polish national food.
Polish pierogi can be eaten as a Polish main dish or as a side dish.
Are you traveling to Podlasie and want to know more about pierogi? Then, I recommend the dumpling workshop in "Polana Zubra". It's great fun and you'll learn a lot!
Buy here your pierogi maker and memorabilia
6. Anthill Cake
This has become one of my favorite desserts! Sweets from Podlasie have become more and more popular all over Poland. It's perfect with morning coffee and evening tea.
What makes the anthill cake so special? First, its name! Indeed, the cake looks like an anthill. This sweet treat has Lithuanian origins but you can find it all over the Bialowieza forest.
Do it at home:
Do you want to make an anthill cake at home? It's delicate work but definitely feasible. The dough is fried into crisp strips and arranged in several layers to make it look like a cone. Mix flour, eggs, and water for the dough. Knead the dough till it's non-sticky, roll it out and make it paper-thin.
Cut it into rectangles of different sizes and fry it until golden. For the topping, mix water, honey, poppy seeds, almonds, raisins, and white sugar and cook it for 30 minutes.
Start building your anthill, pour all the topping and after it cools down, you have your 'anthill cake'. What makes it special? The fried dough remains crisp even after you add the icing.
This local recipe is popular during all celebrations and the recipe is handed down from generation to generation. It's a cake with a twist and only the simplest of ingredients from your kitchen can be used to make it. Pamper yourself and your family with this Polish delicacy and it will become an instant hit.
When looking for polish dessert recipes or traditional Polish desserts, the anthill cake is thus definitely a must.
Buy here the best Polish food and cookbooks
7. Warm Polish Soups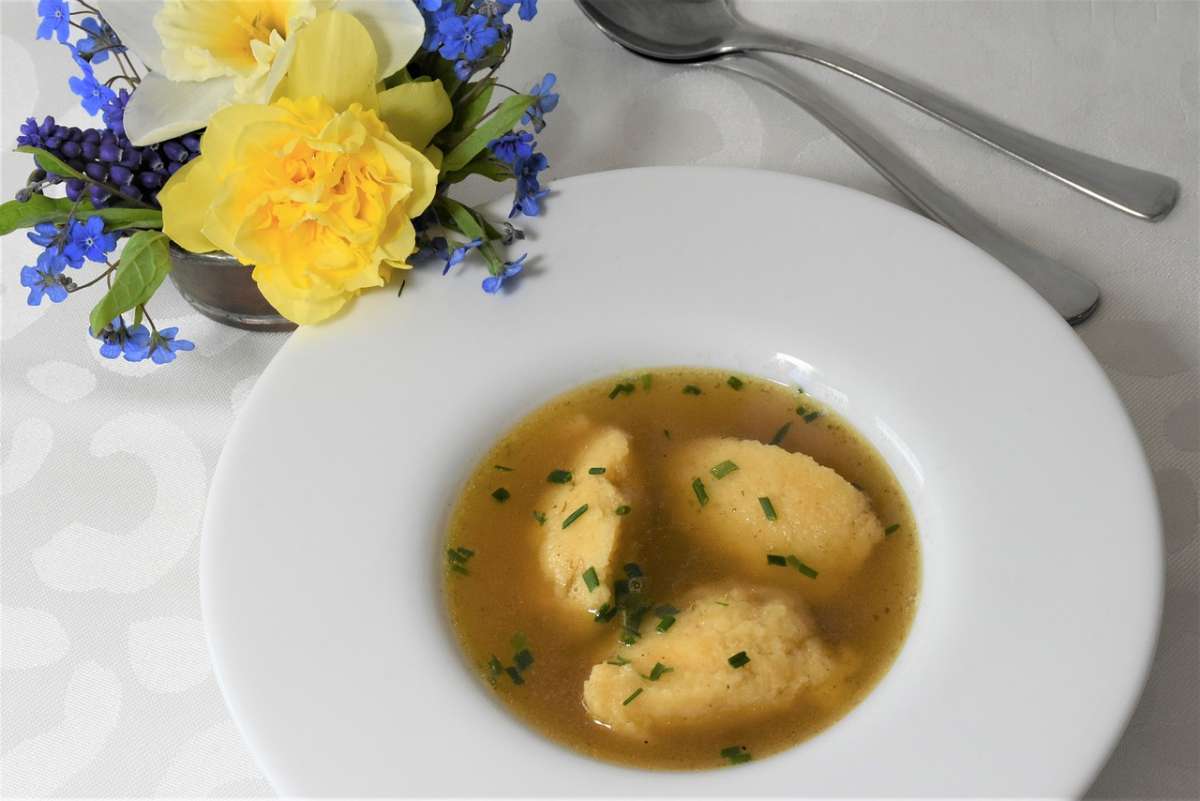 An essential part of any Polish meal is the soup. When you think about having a delicious bowl of yummy soup, Poland has a wide variety of them, from traditional to modern flavor.
Your visit to Poland, particularly Podlasie, will never be complete if you do not test some of their popular soups. The best part of these soups is that all are freshly made with the finest Polish meats and locally harvested vegetables. Literally, anything can end up in a soup!
Rosol is a Polish chicken noodle soup prepared with thin vegetable noodles added to a hot mix of pre-boiled carrots, parsley, onions, and chicken thigh meat. Herbs, spices, and salt are added to this popular, traditional Polish soup.
Flaki, made of strips of beef stomach seasoned with marjoram and bay leaves, with added vegetables, is yet another popular soup. Żurek is an intense Polish soup made from rye and ham. Barszcz czerwony is another popular soup which includes mini pierogi and their bread on the side.
Polish soups are definitely some of the best Polish food out there. You shouldn't miss them when traveling to Podlasie, Eastern Poland.
8. Cold Polish soups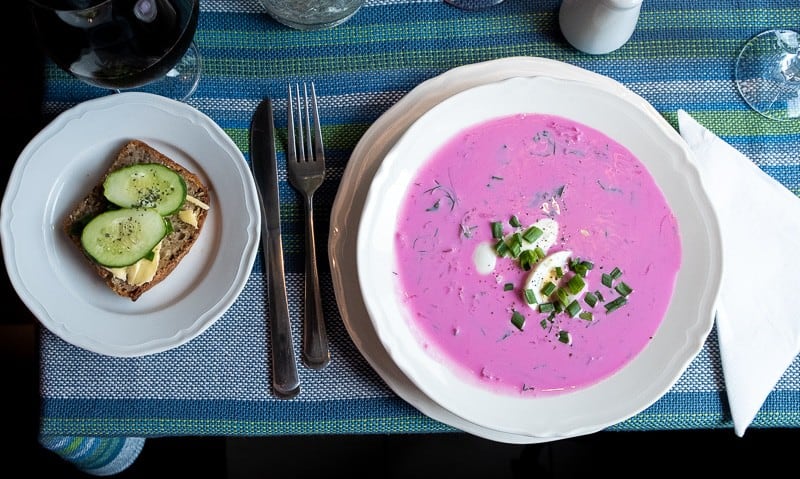 I was told that for a Polish home, never a meal is served without soup!
A hot bowl of soup in chilly weather can always make you happy, but how often do you crave a refreshing soup in the summer? Don't worry; the Polish found a way to have soups, even in summer. One of the most typical foods from Podlasie is actually a cold, pink soup!
I am talking about the surprisingly refreshing test of Chlodnik, the cold beet soup. Beet soup, also known as borscht is a popular traditional soup in Poland, Russia, and Ukraine. Chlodnik is the chilled version.
Do it at home:
Buy here the best Polish food and cookbooks
9. Polish Drinks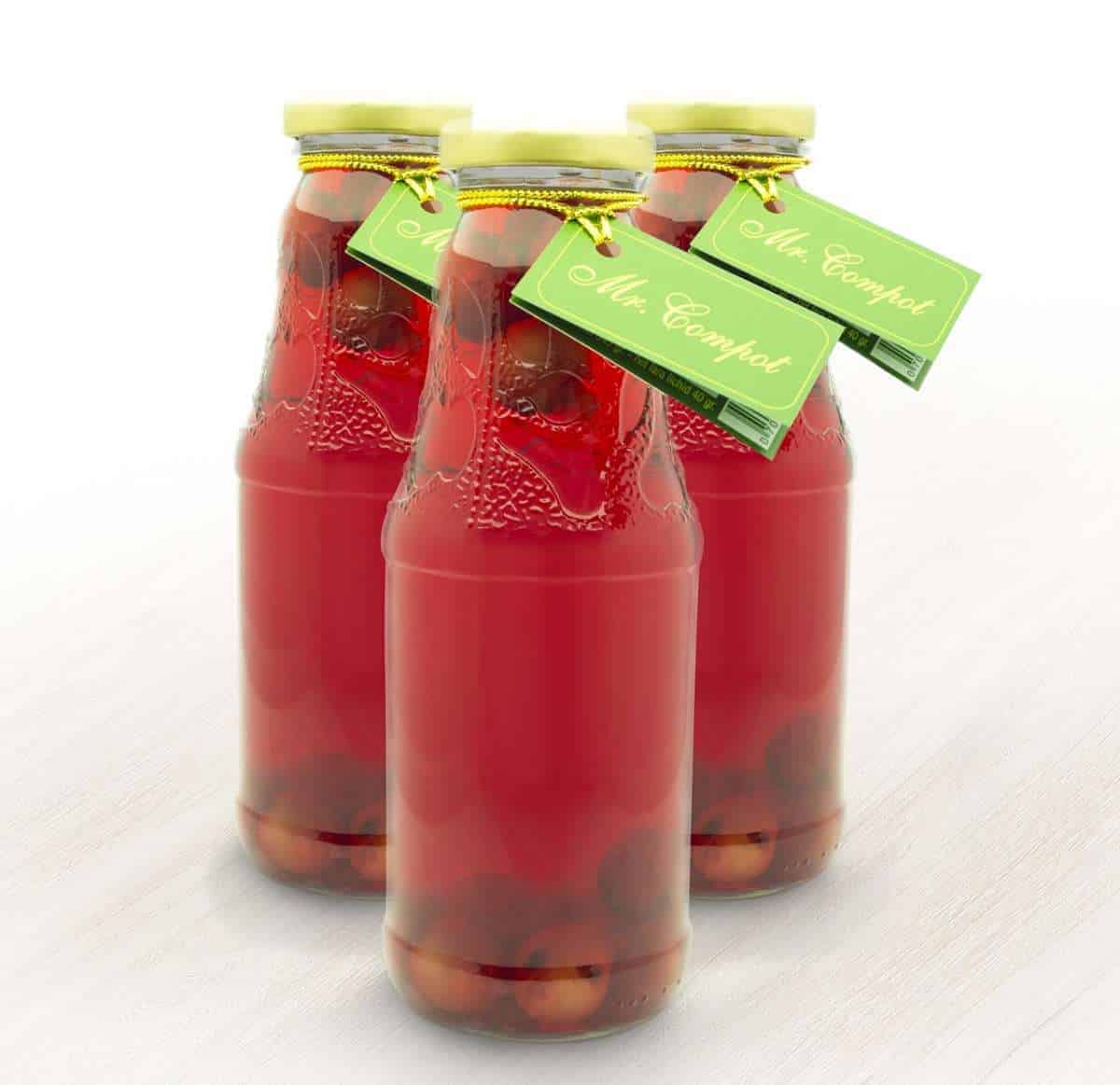 When it comes to popular liquid beverages, Poland has a lot to offer! And Podlasie, thanks to its vast agricultural land even more!
From exquisite soft drinks to mind-blowing alcoholic beverages, Polish drinks are varied and flavourful. In bars, you will find a wide range of quality beer, which Poland is famous for.
Beer has been brewed in Poland from the very beginnings of the country. Coming in many types, beer is the popular choice among tourists and natives alike. The most popular in bars are lagers, but go ahead and have a sip of various types of beer.
You will get a plethora of choices to discover new brands. In recent years, many traditional breweries opened, putting quality over quantity. However, this has changed a lot. You will, of course, also find a wide diversity of cocktails in good bars. The popularity of wine only grew in the past decade in Poland, but you'll be amazed by the quality.
Nalewka is a very unique Polish alcoholic beverage, a tincture-like drink. It contains 40-45 % alcohol and is made through the maceration of vodka or spirit with herbs, fruits, roots, spices, sugar or honey. To achieve the best taste Nalewka needs to age.
If you do not drink alcohol, don't worry! There are plenty of other, non-alcoholic Polish drinks to choose from! Polish people do not really prefer cocktails. They generally opt for pure alcohol or wine.
One of the most typical (and healthy) Polish soft drinks is kompot. It is a sweet beverage served both hot or cold and made by cooking fruit in water, with added sugar. The fruits used are most often apples, apricots, peaches, rhubarb and various types of berries or cherries.
It is regarded as the real taste of Polish home. A seasonal, unique type prepared for Christmas from dried fruit is kompot z suszu.
10. Polish Vodka with Bison Grass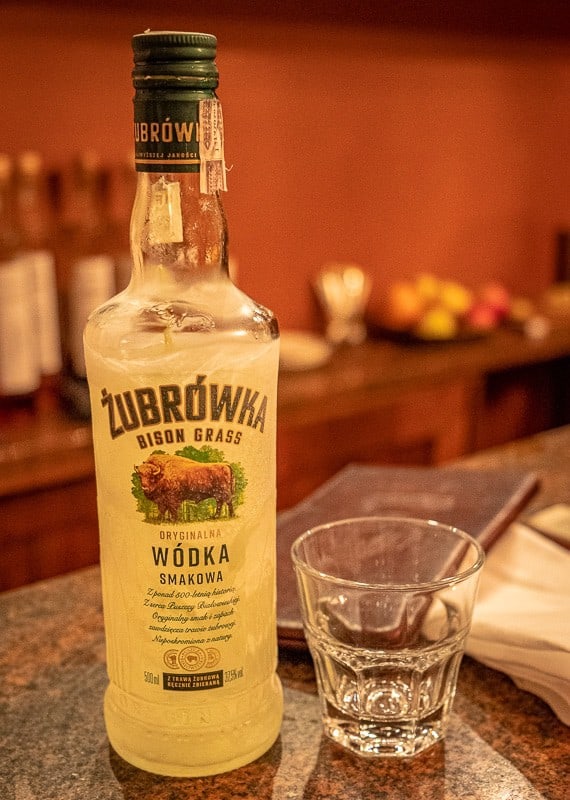 Most of the people may vote vodka as not the most interesting booze and flavored vodkas tend to do even worse. But even if you are not a huge friend of vodka, there is a local produce from Podlasie, Eastern Poland that you must try!
I am talking about Zubrowka, a very old Polish Bison grass vodka! Originating from the 16th century, the vodka comes with a unique, really nutty and almondy vanilla aroma, paired with a little spicy flavor.
Quite distinct to most vodkas that you usually don't smell anything at all!
You can recognize the Zubrowka vodka by the distinctive blade of bison grass in every bottle. It gives the vodka its particular taste.
Northeastern Poland is a land of lush green pastures, picturesque villages and stomping ground of the continents heaviest land animal; the European bison.
These beasts have given their name to the food they eat. Bison grass, a plant prized for centuries for its taste and its supposed aphrodisiac qualities.
But to almost everyone on earth, it's indistinguishable from ordinary grass. Just a few local families know how to spot it. A closely guarded secret handed down through generations.
As the name says, this slightly colored, bison grass extract is added to flavor the bison-grass vodka. The Polish city of Bialystok produces 76,000 pints of Zubrowka a day.
It mixes particularly well with apple juice which is sort of this signature serve that they recommend. Unlike most vodka, which is generally flavorless, the bison-grass vodka has a grassy, woodsy flavor with a powerful whiff of vanilla and almond.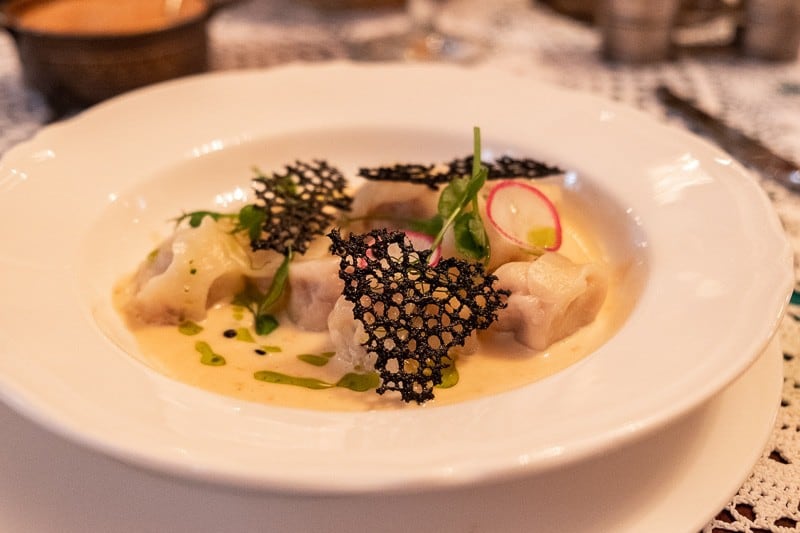 Its wild complexity makes it a fascinating combo for all sorts of ingredients. Some even use it as a topping for ice-creams!
Extra: Where to Eat Typical Polish Food in Podlasie
I hope you enjoyed my selection of the most typical food from Podlasie and that this article encourages you to explore this fascinating region on your own! Have you been? Or are you planning to go? I would love to hear your thoughts in the comment form.
---
Before You Go: Top Tips for your Trip
You'll snap tons of photos and I love to take my GoPro in order to shoot even in extreme situations.
Make sure to wear comfortable walking shoes and hiking sandals when traveling to warm countries.
Sunscreen is key! I always take with me my eco-friendly sunscreen by Thinksport.
I always carry a light rain jacket, just in case.
Travel insurance is essential! If you haven't already obtained travel insurance for your trip, travel protected against all odds with SafetyWing
To make the most of your trip, I recommend Lonely Planet Poland (get -10% off with code "PAULINA10")
In order to get more information on tourism in Podlasie and Poland in general, I recommend the site of Poland.Travel for its surroundings. Some of the pictures in this article have been taken by the talented Kostas Deko
---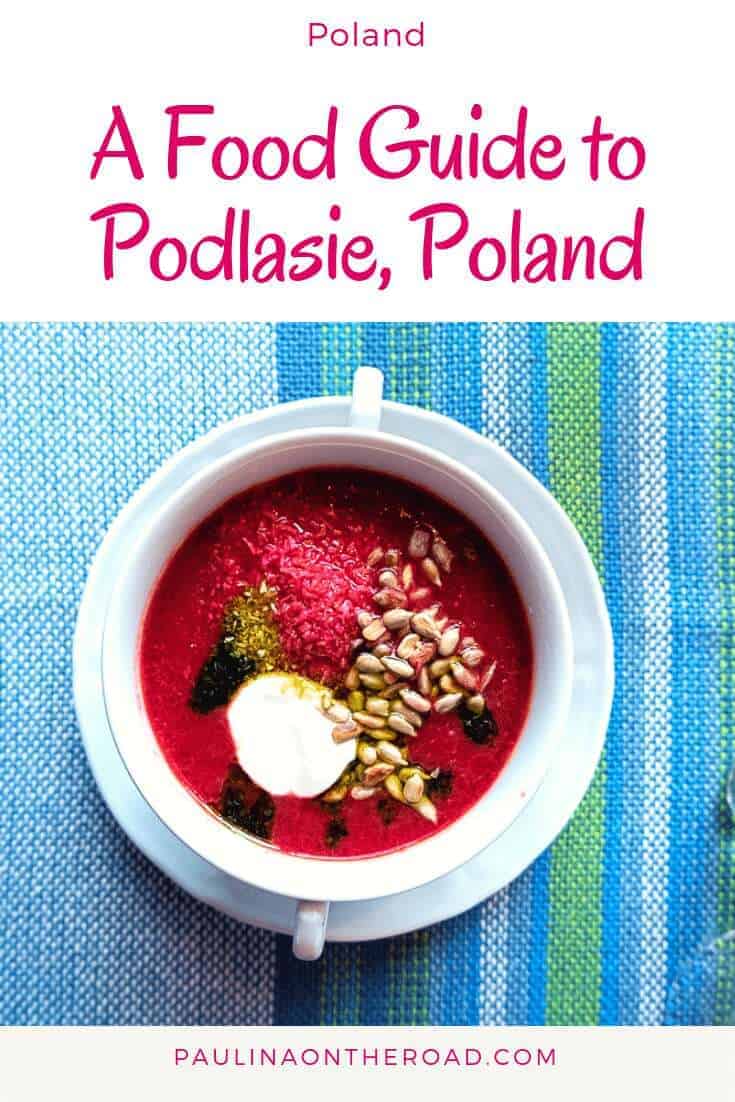 Like it? Pin it!
---