A guide to the best attractions near Durbuy and things to see near Durbuy, the smallest town in the world
Durbuy (Belgium) may be the smallest town in the world, but despite its limited size, you can easily spend a long weekend in this part of the Ardennes region without seeing all its attractions.
Indeed the supposedly smallest town in the world doesn't only have plenty of things to do but boasts several very surprising sights in its near surroundings.
After 10 Things To Do in Durbuy During Christmas Time, I want to share with you some of the most surprising day trips from Durbuy. Of course, all of them can also be visited whether you're based in Brussels or Luxembourg.
Would you expect to see one of the most important European Hindu temples, a Tim Burton inspired restaurant or an 11 hectares corn labyrinth at a stone's throw from Durbuy, supposedly the smallest city in the world?
Well, let me take me on a rather unusual excursion along some of the most intriguing and surprising attractions of the Ardennes region.
General Info
Geographic situation: Durbuy, Walloon city, and municipality located in the Belgian province of Luxembourg. South Belgium. About a one and a half hours south from Brussels by car.
Size: Smallest town in the world? The historic center only counts 50 inhabitants. If you include the inhabitants living outside the old town, Durbuy reaches 350 inhabitants.
Language: French
Currency: EUR
How to get there: Very remote location. The easiest way is by car. The closest train station to Durbuy is in Barvaux. (train line connection Liege to Marloie). Get train tickets here.
You can either walk 6 km following the Ourthe river to Durbuy, catch a shuttle to Durbuy or the bus line Bus TEC no 10/2 between Remouchamps and Barvaux stopping in Durbuy.
Closest international airports: Brussels – Zaventem, Brussels-Charleroi, Luxembourg-Findel. Get the best flight deals here.
1. Durbuy Old Town

View on the Castle of Durbuy from the Topiary Gardens
First things first! Even though you might look for interesting things to do around Durbuy or in the Ardennes region, you shouldn't start your journey without having visited the smallest town in the world.
During medieval times, Durbuy could be perfectly considered as a town, but today the historic center only counts 50 inhabitants. If you include the inhabitants living outside the old town, Durbuy reaches 400 inhabitants. In 1977, Durbuy amalgamated with 40 surrounding villages. As of January 2017, the total population was a little more than 11,000.
Travelers from all over the world visit Durbuy all year round and wander in its narrow, cobblestone paved streets lost in time.
I really appreciated the opportunity to shop local goods such as the famous Durbuy dandelion jam and of course artisanally brewed beer and Belgian chocolate. Who could visit a Belgian town resisting to chocolate and beer?
One of the most prominent artisanal food shops belongs to Philippe, who sells the famous Durbuy jam, waffles, pâtés, the regionally crafted "Durbuy Z" beer, in one of the quaintest streets, rue Alphonse Eloy.
Durbuy is homely inside out: you shouldn't miss its cozy bars serving hot Belgian chocolate drinks, home-made pastries, and pancakes.
For me personally, a lot of Durbuy's attractiveness comes with its remoteness. You need to drive along winding roads, through mesmerizing woods in Wallonia's Luxembourg Province until you can finally spot the first medieval houses.
When you first spot the impressive castle all of a sudden, you feel like having traveled in time to reach fairy tale Durbuy. As we visited in winter, I can only dream about the bright colored autumn foliage or the lush green colors in summer. No wonder that the town is often considered as one of the best cities to visit in Belgium.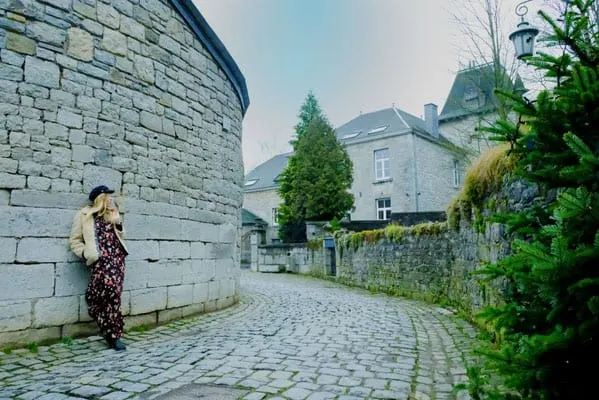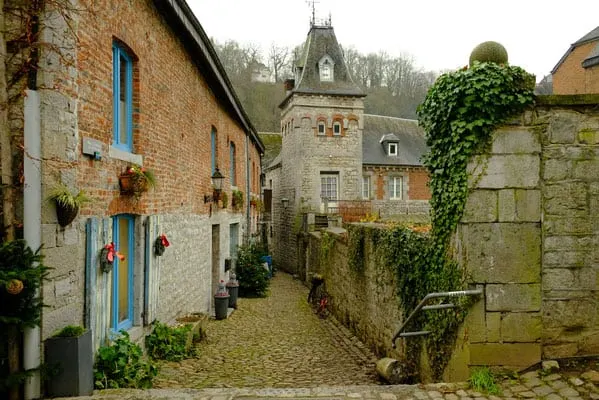 2. Radhadesh Retreat Centre

Inside Radhdesh Retreat Centre
For me personally, Radhadesh was the most remarkable discovery on my trip to Durbuy. I couldn't believe that a 19th-century castle, lost in the woods of Ardennes, is one of the most important Hindu centers in Northern Europe.
Indeed the castle Château de Petit Somme is home to the largest community of Hare Krishna, a Gaudiya Vaishnava Hindu organization in Belgium.
The contrast between the exterior, cold, grey house front and the warm, enchanting, scented atmosphere couldn't be extremer. It's a contrast of extreme remoteness and austerity against a bright, serene and sheltered interior.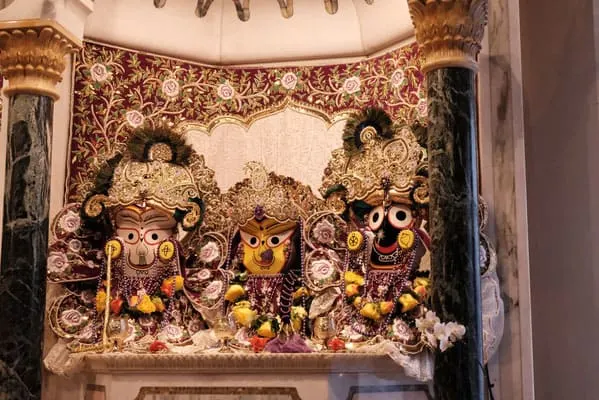 The castle itself has a tumult history as it was part of the defensive strategy of the north of Luxemburg and only in 1888 the present castle was rebuilt in the neo-gothic style. During WWI, the castle was used as a hospital to take care of the wounded and to provide shelter for the villagers during the battles. During WWII, during the Rundstedt battle, American soldiers occupied the castle.
Later on, a group of philanthropists worked to establish the Château as a holiday center and rest camp for students and scholars. Finally, in 1979, it was bought by International Society for Krishna Consciousness who initiated renovation work.
Whereas the earliest records of the castle date back to the 11th century, the international spiritual community of Radhadesh was founded in 1979. The community and facilities are spread over 47 hectares and include pasturing grounds and scenic woodland.
There are around 100 people who live in the community. Radhadesh is a non-profit making organization administered by a democratic general council and is the main center for the International Society for Krishna Consciousness in the Benelux. That's why the maintenance of Radhadesh mainly depends on donations, tourism, and its activity as a retreat center.
The castle can be visited all year round and you'll get an intriguing insight into Indian and Hindu culture. I also enjoyed visiting the Museum of Sacred Art where you can learn more about Indian art traditions and visit modern photo exhibitions.
Radhadesh castle seems to be totally self-sufficient as it also has a vegetarian restaurant and cafeteria, a guest house, a little shop with accessories, decoration items, and much more from India. You shouldn't miss their hiking trail with spiritual messages through Radhadesh's wood estate and its traditional bakery.
Moreover, Radhadesh is a place where many retreats, courses, and cultural festivals are held. Before visiting, I recommend having a look at their extensive event and festival calendar.
I really hope to be back soon for one of their vibrant festivals like Holi Festival of Colors or Divali.
Where?
Château de Petite Somme
Petite Somme 5
6940 Septon-Durbuy, Belgium
Tel.: +32 86 32 29 26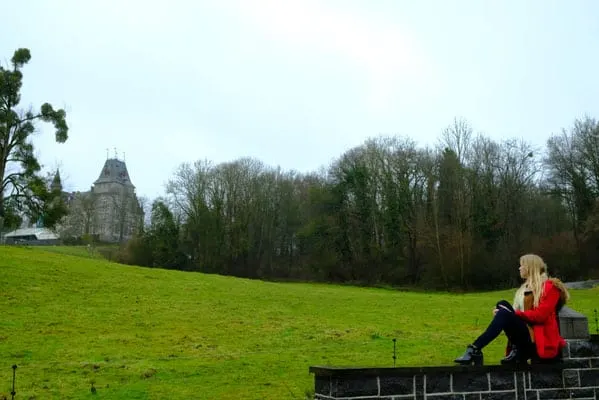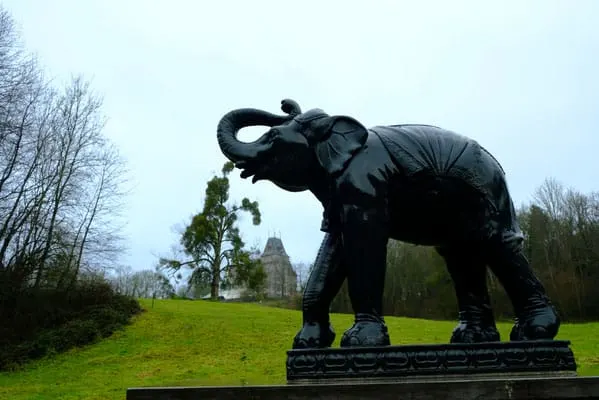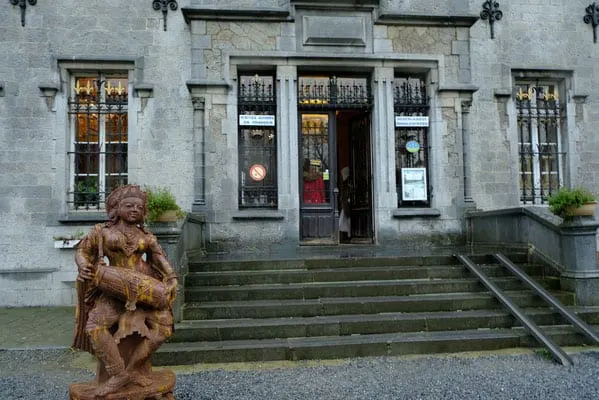 3. Megaliths: Menhirs and Dolmens of Weris
The area around Durbuy definitely has several elements that make it the
perfect setting for mystic fairy tales.
One of the most striking features is the menhirs and dolmens at Wéris village. The menhirs, standing stones, are supposed to be over 5.000 years old, going back to the Neolithic period. The absolutely curious thing is, that they are perfectly aligned in a region of 8km.
Some are even in parallel! Still, nowadays the scientists are confronted with this insoluble enigma. How could people put them in perfect alignment 5.000 years ago with only sparse resources at their disposal?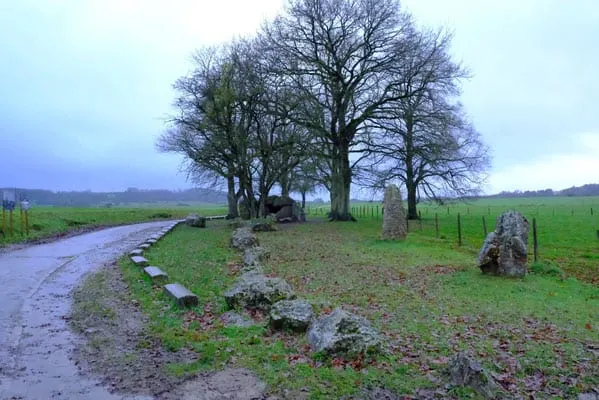 Close to the menhirs, you'll find 2 dolmens which functioned as chamber tombs. These remains generally date to around 3000 BC.
Scientifics detected that the monuments of the megalithic complex are aligned on an axis of almost 8 Kms long. At the southernmost point of which there are 3 standing stones and at the northernmost extent is one standing stone. All these monuments are built from slabs of the rock called puddingstone placed on a bed of limestone.
The 2 main sites are categorized as Weris 1 and Weris 2:
Wéris I (Dolmen de Wéris) is situated beside the road just northwest of the village of Wéris. It is the largest of the two dolmens and has a single massive roof slab.
Wéris II (Dolmen d'Oppagne) is to the southwest of Wéris and has a roof composed of three massive horizontal slabs. Excavations of the grave-chamber found the bones from several people, together with flint tools and a few sherds of coarse pottery.
The purpose of the menhirs is still unknown: did they function as an agricultural calendar? Was the stone-age population more advanced than we thought so far? Is the alignment a pure coincidence?
All these questions just enhance the mystic aspect of the megalithic field of Wéris. For me, it was the perfect place to absorb the very specific atmosphere of the Ardennes region and it's impressive cultural and historical heritage.
Where?
Maison des Mégalithes
Place Arsène Soreil, 7
B-6940 Wéris, Durbuy
Tel.: +32 86 2102 19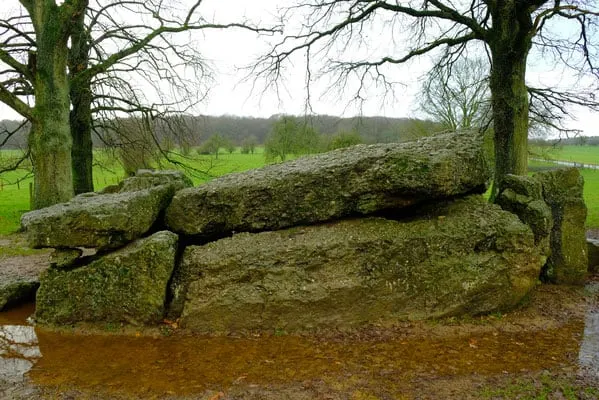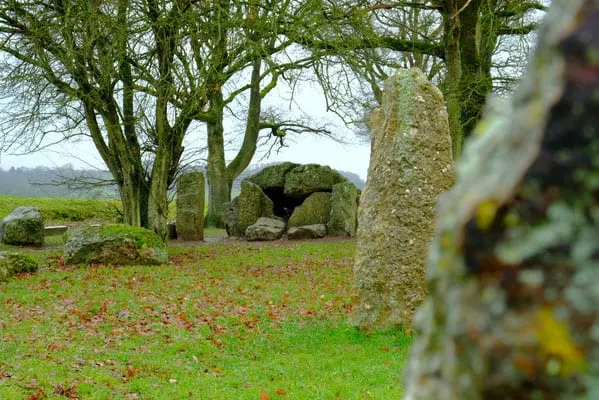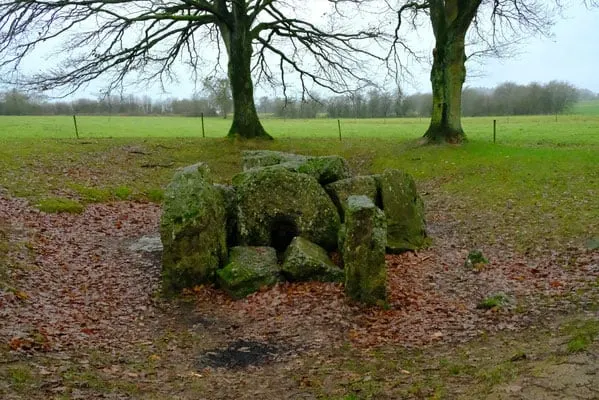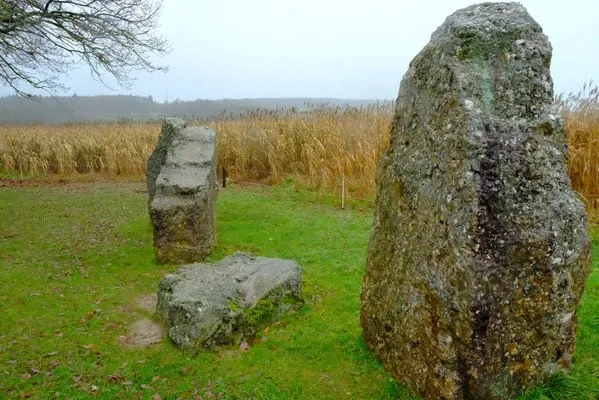 4. La Maison de Hary Cot aka Tim Burton House
One of the most surprising sights on our road trip through the Ardennes region surrounding Durbuy was probably
La Maison de Hary Cot
. Or as I call it:
The Tim Burton House.
It's located at the entrance of one of the quaintest Ardennes villages, "Wéris", at only a stone's throw from the menhirs. The architecture and the rural, remote natural setting are absolutely mystic.
That may be the main reason why visitors stop in front of the Tim Burton House in order to soak up the mystic, absolutely enchanting atmosphere. Especially during the winter months, when the ravens are crowing, you'll think you're in a movie set. Probably Tim Burton's? Or of a Grimms fairy tale?
First of all, La Maison de Hary Cot is not a haunted house that was built as a background setting of a ghost film, but it's actually one of the finest restaurants in the region. Built by the architect Dominique Noel, the young couple Gael Colinet and Fanny Perreaux are running the restaurant specialized in bistronomy cuisine.
Gael defines his bistronomy cuisine as "cuisine with a mastered technique, a curated presentation, which works with a more simple service composed of 3 courses".
Bistronomy is a neologism created by the fusion of Bistrot and gastronomy which aims to make gourmet cuisine more accessible and affordable to everyone. Thus Gael loves to surprise his guests and proposes astonishing flavor associations.
Whereas I didn't have the chance to enjoy his creations, I had an exclusive tour of the Maison. It remembered me a labyrinth built into a house with countless steps, intriguing decorative details incarnating enchantment but also certain robustness.
Thanks to the earthy tones, the wooden materials, a fireplace you'll still feel like in a protected, very homely fortress.
I guess you could spend a considerable amount of time only wandering around in La Maison de Hary Cot without even discovering all of the intriguing details. But in any case, you shouldn't miss enjoying Gael´s bistronomy in such a fairy tale setting. The restaurant's capacity is up to 40 people, thus make sure to book in advance.
Where?
La Maison de Hary Cot
Rue des Dolmen 32
6941 Wéris, Durbuy
Tel.: +32 470 894 629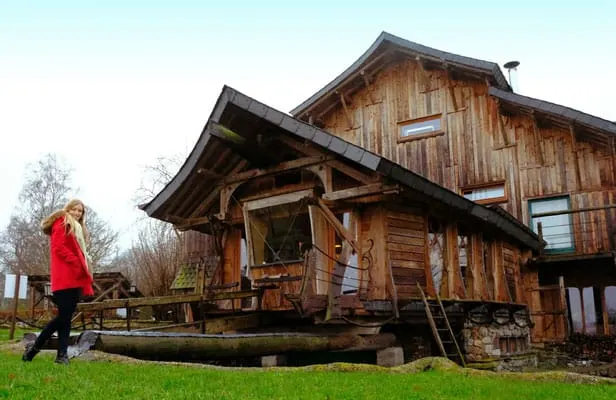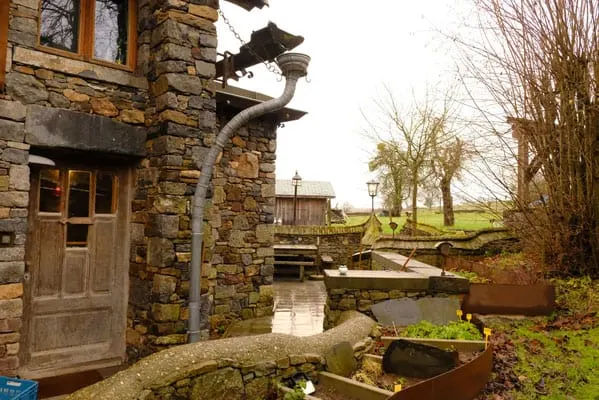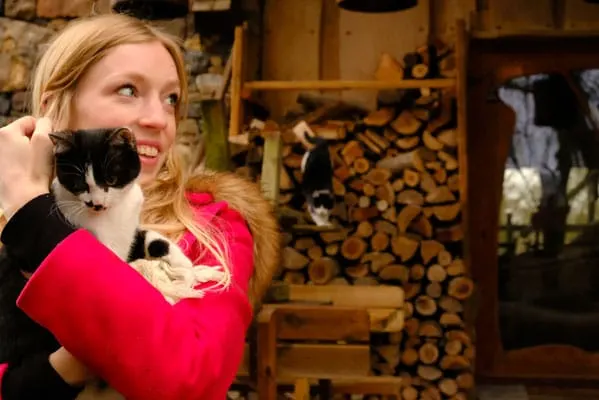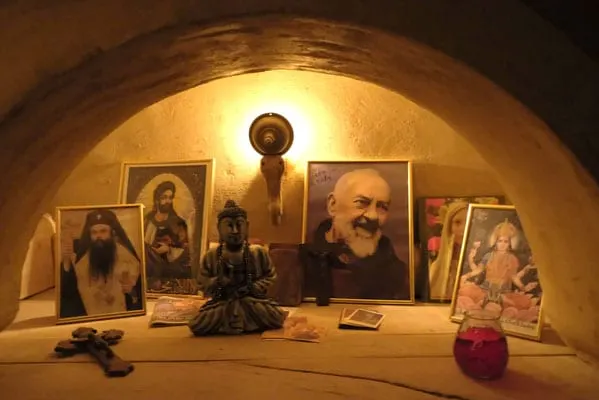 5. Corn Labyrinth in Barvaux
For those who can't get enough of the mystic, intriguing atmosphere of Durbuy's surroundings, you definitely should visit the Labyrinth of Barvaux. It's huge and one of the first sustainable theme parks in the region that is fully dedicated to nature.
On a surface of 11 hectares, it consists of 600.000 maize grains and 6 km of alleys. Each summer a different animation program is organized where you'll be involved in a fabulous story.
You'll never know what turn the story will take. Can you trust the characters that you'll meet during your quest through the labyrinth?
It's a playground for young and old, but you can also just have a walkthrough and learn about the biodiversity of the Ardennes region.
Where?
Rue Basse Commène,
6940 Barvaux-sur-Ourthe
Tel.: +32 86 21 90 42
6. Wellness at Azur en Ardenne
After so much adventure and mysterious sensations, there should be a time to unwind. As the Ardennes region surrounding Durbuy boasts an almost
untouched forestal landscape
, it's the most natural thing to stay in a
wellness resort
surrounded only by woods.
Azur en Ardenne **** is one of these wellness oases where you have the feeling to be totally disconnected from the world and just focus on getting pampered.
Offering panoramic views all over the surroundings of Durbuy, the wellness including jacuzzi, sauna, hydro-jet massages, and a zen indoor swimming pool with its soft background music are made to unwind from the daily stress.
I particularly enjoyed the fine-dining restaurant where you'll continue your pampering journey. They serve some of the finest Belgian and regional cuisine, thus including wild game, artisanally brewed beers, or seafood from the Belgian coast.
Azur en Ardenne **** offers a broad range of more active leisure options as well. But during the winter months, I love to immerse in warmer temperatures and watch the winterly landscapes from a jacuzzi.
During the spring and summer months you can enjoy the petanque court, American pool billiard, table tennis etc. A secured, closed bicycle and motorcycle parking, free of charge, is also available.
Azur en Ardenne **** is only a 1h30 drive from Brussels and 45min from Liège.
Where?
Rue de la Jastrée 31
6940 Barvaux, Belgium
Tel.: +32 86 21 94 00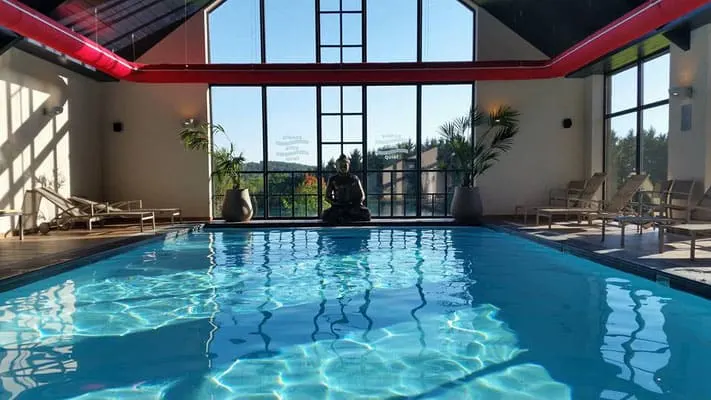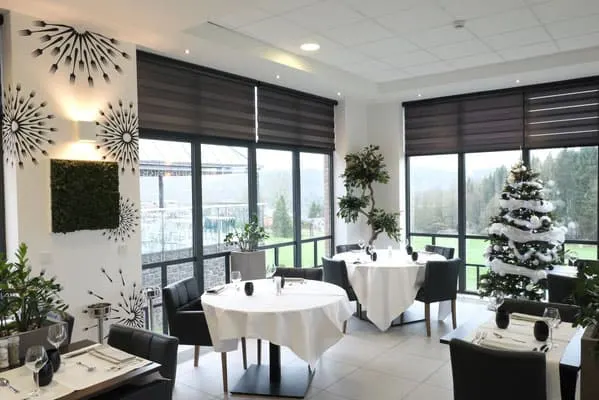 7. Jam Factory: Confiturerie Saint-Amour
Durbuy is world-famous for its jams.
I've been told that especially the Japanese visitors rave about the dandelion jam, the local specialty. Apparently the must-do for Japanese visitors is to stock up with jams when visiting the smallest town in the world.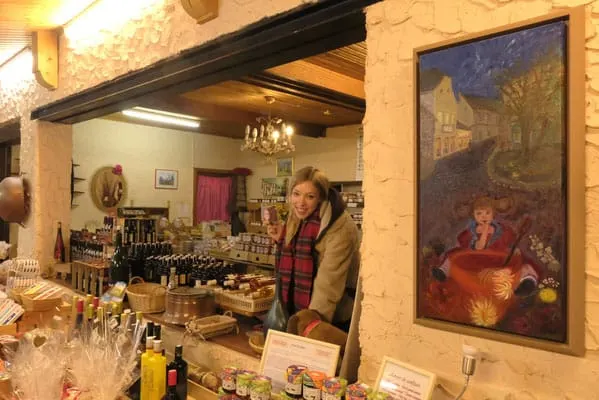 In case you want to get a glimpse behind the scenes, I recommend visiting the quaint jam factory of Confiturerie Saint-Amour which is only 5km (?) from Durbuy). Monsieur Philippe Bartholomé runs the family business for 30 years and he starts preparing jams as early as 6 am.
He prepares his jams in large, rustic copper bowls following the ancestral recipes and methods. The workshop is open to the public and they take great care to use seasonal and local products that can be found in the groves, woods, and gardens of the Ardennes region.
In their little shop you can buy all kinds of locally artisanal jams, but also a wide range of personal care products: honey, condiments, specialty beers, aperitifs, liqueurs, sweets, bread of spices, herbal extracts and herbal teas, body care products.
They also make massage oils and marigold balm.
Needless to say that I stocked up in beauty products, spices, elderberry syrup, and, of course, dandelion jam.
Where?
Confiturerie Saint-Amour
Rue de Saint-Amour 13, 6940 Durbuy, Belgium
Tel.: +32 86 21 12 76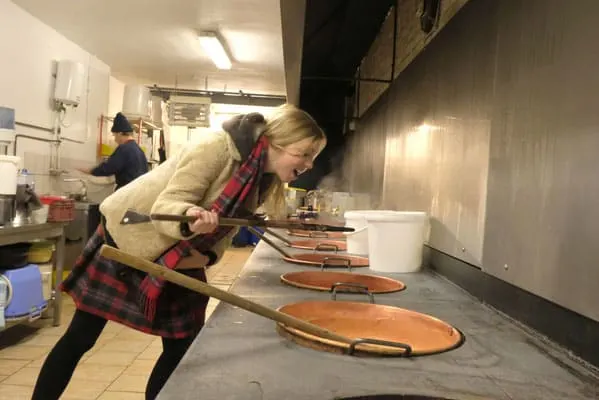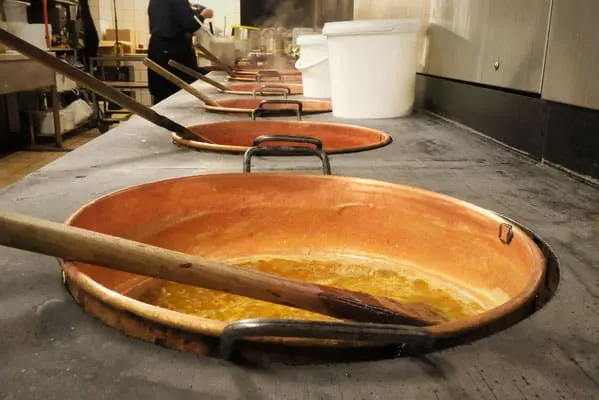 ---
As you see there's plenty of things to do in the smallest town in the world. If you'd ask me for my favorite, I'd definitely go for the cozy bars and Durbuy's warm-hearted people.
They have this ability to make you feel instantly at home and I had a few good laughs with them. The Belgian sense of humor paired with their candor is just unbeatable.
Have you visited Durbuy? Did you know any of the mentioned sites? Of course, this list isn't complete, please let me know if you know about other hidden gems in the surroundings of Durbuy. I'd love to discover them!
---
Durbuy and the surrounding area are a great destination for eco-aware and sustainable travelers. The Ardennes region boasts hundreds of hiking trails and in most restaurants in Durbuy, you can find local and seasonal products. Indeed the area is home to some of the best hiking trails in Belgium.
---
Where to stay in Durbuy, Belgium
Near Durbuy
Azur en Ardenne ****: An oasis of peace in the heart of the Ardennes region surrounded by lush woods. Unwind and relax while enjoying the wellness, its indoor swimming pool, and the fine-dining restaurant with special panoramic views. A place to come to rest body and soul!
In Durbuy
The Guest House: A historic guest house in the old city center. It looks so inconspicuous from the outside, but once you step in, it will catch your breath and you'll not want to leave this homely place. I just mention the chimney in winter and a huge bathtub in a medieval, but fully renovated and re-decorated setting. Thumbs up to the interior designer who managed the gap between a medieval, avant-garde, absolutely stylish accommodation.
Hotel La Caleche ***: Located in the city center, it boasts 13 modern rooms. I particularly liked their winter chalet where you can enjoy the finest Belgian cuisine next to a fireplace in a very cozy, romantic setting.
Budget
Hotel La Librairie **
Hotel Des Comtes Durbuy ****
Mid-Range
Hotel La Caleche ***
Hotel Eau de Roche ****
Durbuy is the perfect day trip from Bouillon, Brussels, Liege or Luxembourg.
I spent 2 nights in the smallest city in the world which was enough to discover the city itself and a few of its surprising sights in the surroundings within the Ardennes region.
Hotel beds are limited in the historic center of Durbuy, thus I recommend to make your booking as early as possible.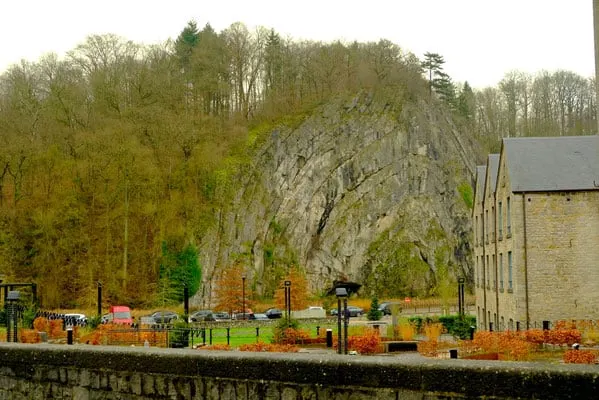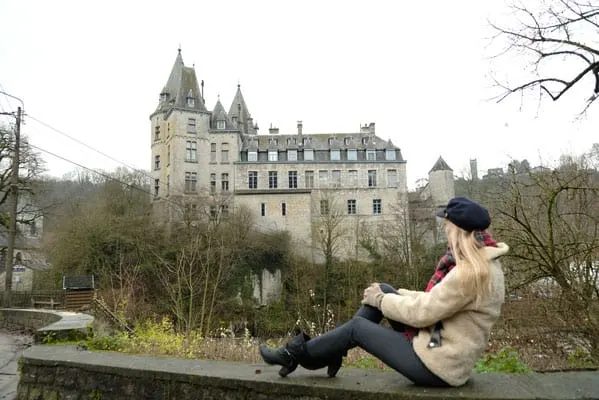 ---
Check my Video of Durbuy & Surprising Day Trips
---
Map of Durbuy, Belgium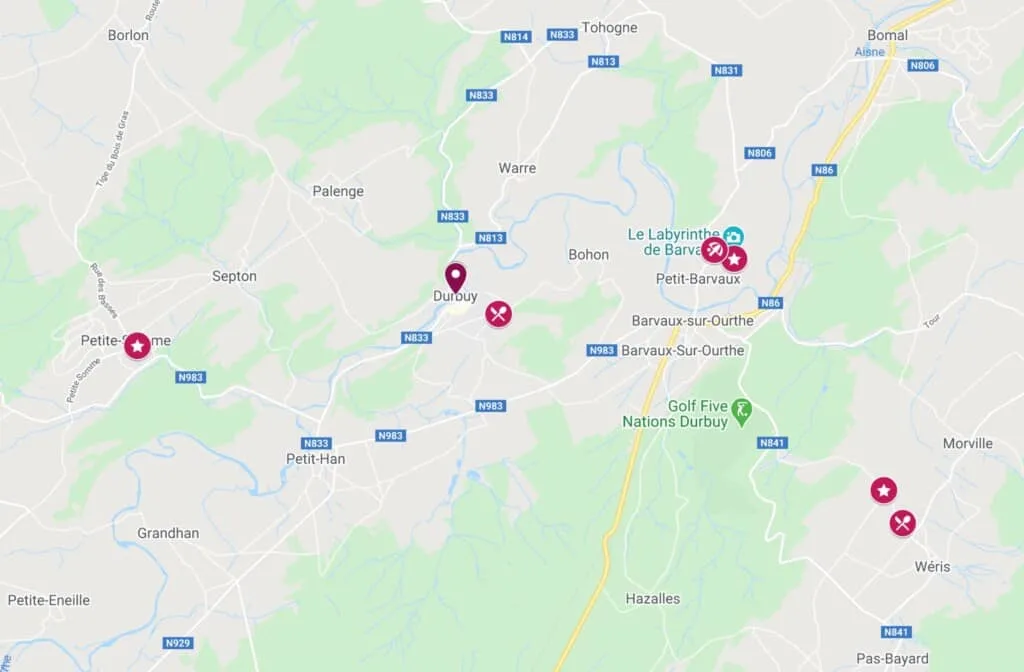 ---
---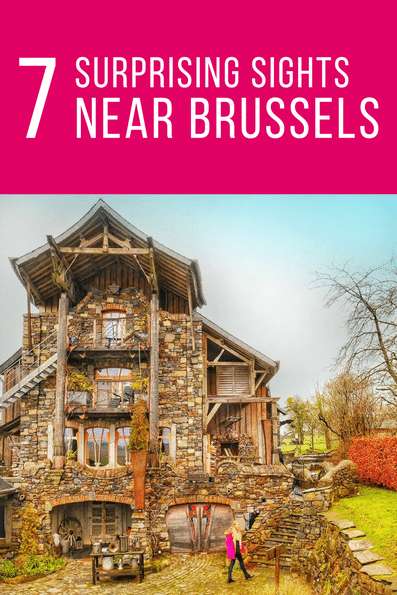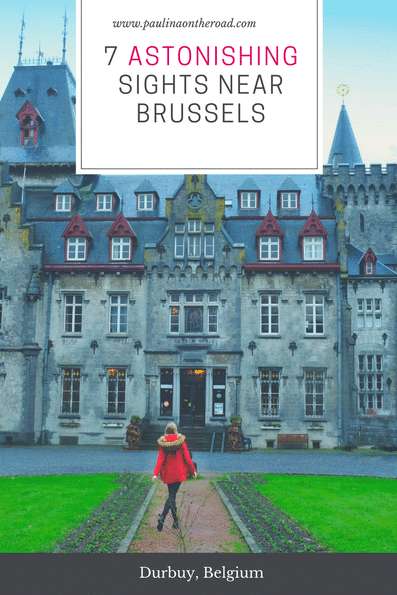 ---
Disclaimer: I have been a guest of the Tourism Board of Durbuy. All my opinions, as always, are my own. This posts contains affiliate links. In case you purchase one of the items, I'll receive a small commission. The price remains the same for you.
Hola! I am Paulina, a fervent travelette who crossed the Atlantic Ocean by Boat HitchHiking. On my blog, you'll find all the tips to make the most of your holiday. Get ready to enjoy outdoor and sustainable travel like hiking, cycling or sailing. Let's hit the road together!