Guide to the best way to visit Mount Teide and the top Mount Teide trips from around the island
Visiting Mount Teide is one of the favorite excursions to do when traveling to the island of Tenerife, and it's definitely one of the top things to do in Tenerife.
Being the highest mountain in Spain, climbing Mount Teide is for many a question of pride and "collecting climbed peaks".
However, there are several ways to visit, and depending on your preferences and adventure thirst, you can choose between several Mount Teide trips to explore this natural attraction.
No matter how you visit, seeing this spectacular Mountain in Tenerife will be a highlight of your visit to the island.
Indeed, this is one of the best hikes in Tenerife and no matter what type of traveler you are, there seems to be an adequate way to explore Tenerife's most popular attraction.
Whether you just want to enjoy the volcano's glory from far away, or you want the full program with spending a night close to the peak, there is a Mount Teide trip for every level and type of traveler.
There are many amazing outdoor activities in Tenerife – ranging from spectacular hikes to foodie experiences, climbing Mount Teide and experiencing its lunar land is unique in its kind.
But Mount Teide trips are without any doubt one of the top things to do in the Canary Islands.
"Paulina on the Road" is supported by you, dear reader. As you buy through my links, I earn a small commission. As an Amazon Affiliate, I earn from qualifying purchases. Thank you for your support
Useful Travel Information About Tenerife
⚘ Avoid tourist traps and get the "Tenerife Like a Local" itinerary for less than 10€. – Get it here

✈ Book cheap flights to Tenerife with Skyscanner

✔ Book tours in Tenerife with GetYourGuide

➳ Find the best hotels in Tenerife with Trivago

➳ Enjoy gorgeous holiday rentals in Tenerife with VRBO

❖ Rent a car with the best discounts at DiscoverCars

☘ Get the best discounted outdoor gear (outlet) at REI.com

✎ Never leave without travel insurance. I get mine at HeyMondo. It is easy to set up, cheap, and reliable.

$ Withdraw money without hidden fees and avoid exchange rates with Wise (you'll get a free card on top!)
The Best Mount Teide Tours
Some of my friends used to say that they felt they were in a "Star Wars" movie when driving through Teide National Park.
And who doesn't want to experience that feeling at least once in a lifetime?
Mount Teide is one of the best things to do in South Tenerife, but you can easily visit Teide Mountain, Tenerife whether you're based in the north or south of the island.
After living in Tenerife for half a year and working in the Spanish and Canarian tourism sector, I gathered this information on the best Mount Teide trips, depending on your travel profile.
Let me know if you enjoyed the climb!
Where to Stay in Tenerife
Tenerife is a small island, so you can easily access Mount Teide from anywhere on the island.
However, I recommend staying in South Tenerife to get the most time out of your Mount Teide climb.
One of the best places to stay in South Tenerife is Costa Adeje, and there are many great hotels in Costa Adeje.
Getting to Mount Teide from Costa Adeje is incredibly easy and climbing Mount Teide is one of the top things to do in Costa Adeje.
If Costa Adeje is not for you, read my full guide on where to stay in Tenerife to find the town that works best for your travel style.
What to wear on Mount Teide
It's always a question of balance when working out what to wear up Mount Teide. Do you dress for the heat of hiking, or prepare for the colder air at the top?
Fortunately, there are some items that will be helpful however you choose to make your Mount Teide climb. These can be things like:
You can also read my full guides on sustainable travel gear to make sure you're protecting this beautiful landscape.
Quick Mount Teide Facts
The Mount Teide Shadow
Mount Teide has the tallest shadow in the world projected on the sea at sunset.
That's why many visit Teide Natural Park at sunset. However, you get the best views when waking up before sunrise and climbing up the peak.
The views on the neighboring island La Gomera are simply breathtaking.
You should definitely take a day trip from Tenerife to La Gomera if you have the time as there are many incredible things to do on the island.
Temperatures on Mount Teide
Make sure to bring warm clothes when you visit Mount Teide. In January, the average temperature is 4°C and in August, 18°C. Nights are even colder, so bring a jacket, even in summer.
The Legend of Mount Teide
The guanches (Tenerife natives) used to say that a powerful creature is living inside the volcano and that it has the power over sun and fire.
If you want to learn more local expressions, read my full guide on how to speak Canarian Spanish.
Mount Teide Excursion for Lazy Travelers and Gourmets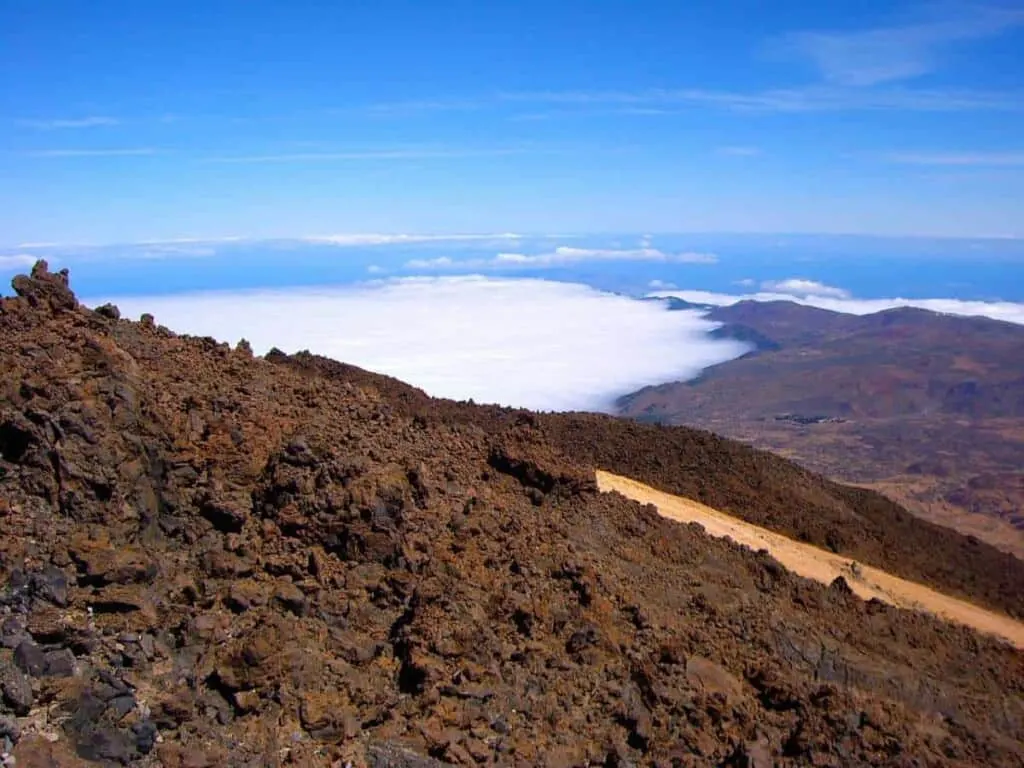 I admit that sometimes, I am not in the mood for adventure.
But the good thing about visiting Mount Teide is that you don't need to be a proficient climber to enjoy the beauty of this natural attraction.
If you only have limited time at your disposal and can't, or don't want to do too much physical effort you can cut the short trip with a car.
I recommend driving by car through the Teide Natural Park to the viewpoint Roques de García.
You can also book a taxi to Mount Teide. I found renting a car in Tenerife particularly cheap and I recommend checking Discover Cars for the best deals.
It is the most visited viewpoint as you get a spectacular view of the volcano and the distinctive rock formation Roque Cinchado.
This view was even printed on the Spanish peseta currency. It's thus a must to take a picture here.
There is parking space for a few cars, but which can be occupied by buses too.
If you have a bit more time at your disposal and don't want to leave Teide Natural Park right away.
I recommend lunch or dinner with a view of the emblematic Parador Las Cañadas. Their cuisine serves refined traditional Canarian food.
You can even spend the night in Parador de Las Cañadas del Teide *** and have the Natural Park all for yourself in the early and late hours of the day.
It is considered one of the best Paradores in Spain.
Book here your stay in Parador de Las Cañadas del Teide ***
Mount Teide Trips for Soft Adventurers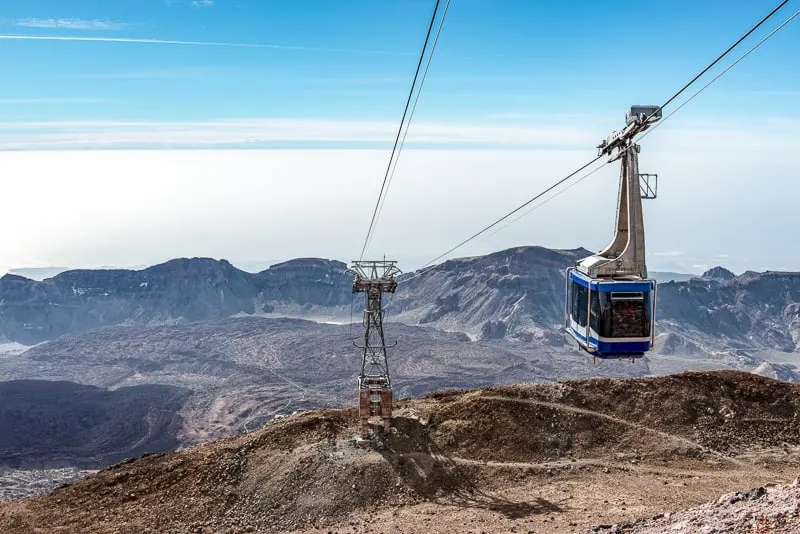 If you want to get the feeling to have climbed up Mount Teide without going up to the peak, I recommend taking a ride with the spectacular Mount Teide cable car.
It's one of the most popular attractions in Tenerife, thus I highly recommend booking your tickets in advance.
It is definitely one of the best ways how to go to Teide, Tenerife, and you can also do a Mount Teide tour with cable car.
I have several friends who couldn't visit because they didn't purchase their tickets in advance.
I also recommend going as early as possible (the cable car opens at 9 am).
Book here your fast-track cable car tickets to Teide volcano
The lower cable car station is located at 2.356 m above sea level and already provides jaw-dropping views on the surrounding peaks.
There are parking spots to leave your car (open from 8 am – 6 pm).
The lower station also comes with a souvenir shop and a cafeteria where you can plan your route.
Be ready for the temperature change at the upper station! The ride takes you in 8 minutes up to 3.555 m.
The upper station offers spectacular views and is home to the highest public phone in Spain.
A Mount Teide tour with the cable car is definitely a great option for soft adventurers.
From here, you can decide whether you want to continue your adventure and hike one of the 3 trails:
Please note that you'll need a permit to access the Mount Teide peak and crater which is not included in your cable car ticket. You need to apply for a free permit here.
If you want to go hassle-free, I recommend booking your guided hike up to Mount Teide peak from the cable car station (including the special Mount Teide permit).
Book here your hiking tour to Teide
You can also opt to spend the night at the Refugio de Altavista del Teide (very basic, but does the thing), get up early, and enjoy the sunrise at the Mount Teide peak.
You'll be rewarded with a unique experience during which the enormous shadow falls into the ocean.
They say that it's the most beautiful sunrise and sunset in Spain.
Book here your bunk bed in the Refugio de Altavista del Teide
How to Visit Mount Teide for Hikers and Adventurers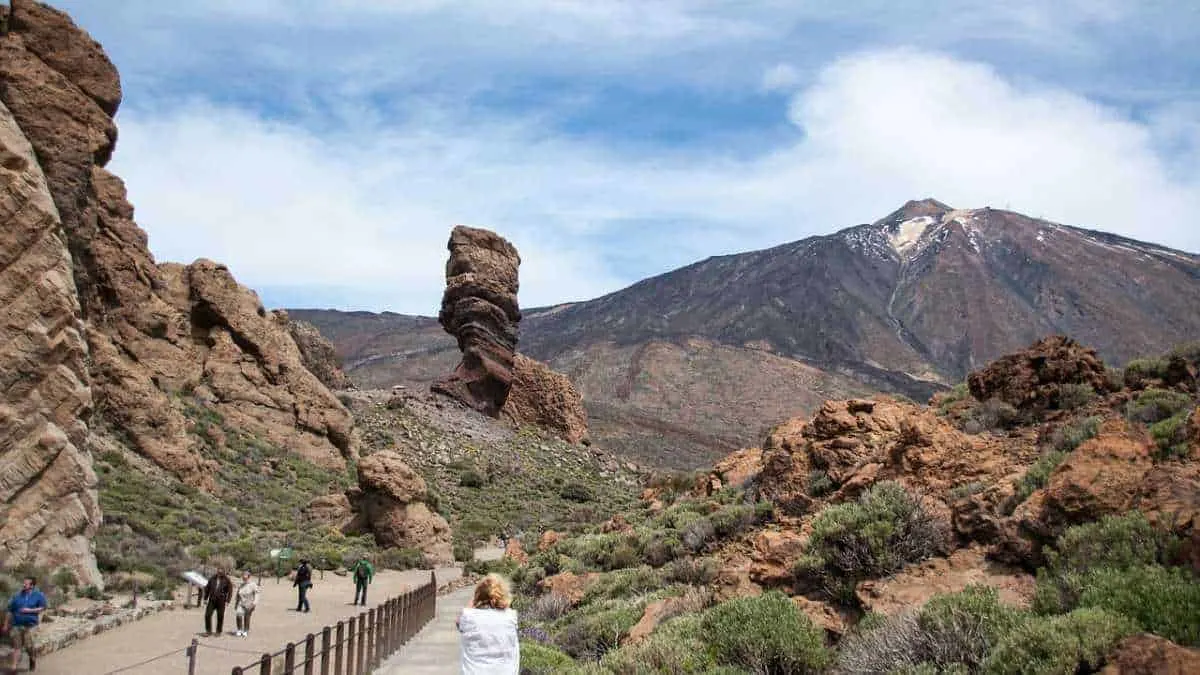 If you are a proficient hiker, an adventurous spirit, or simply enjoy traveling slow, I highly recommend climbing Mount Teide without using the cable car!
Even if it's the most demanding way to explore Mount Teide, it will provide you with the impression of nature's magnitude.
There are several routes to climb Mount Teide, but the most popular one is probably the one starting at Montaña Blanca.
The highly difficult route takes you from 1.367 m to 3.718 m and takes you to the Refugio de Altavista del Teide.
Here, you can spend the night, get up early and experience Spain's best sunrise at Pico de Teide (the peak).
Please, always make sure to check the weather forecast and Mount Teide weather when preparing for your hike.
The trail will take you along places of geological interest and lava canals to get to the Mount Teide crater.
Wear suitable clothing and footwear and take food and cold drinks. I recommend taking warm layers to ward off the early morning cold.
You should consider that this is a risky outdoor activity, and I recommend getting travel insurance upfront with Safety Wing in case something goes wrong.
It is considered one of the best cheap travel insurance to Spain.
Calculate 6 h to hike up from Montaña Blanca to the Refugio de Altavista del Teide. You may want to descend by cable car.
Don't forget to book your bunk bed in the Refugio de Altavista del Teide in advance.
Book here your stay at the Refugio de Altavista del Teide
Please, note that you'll need a permit for Mount Teide to access the peak.
If you love to hike, don't forget to hike your way through the Masca Valley hiking trail, which is one of the top things to do in North Tenerife.
Mount Teide Tenerife Trips for Couples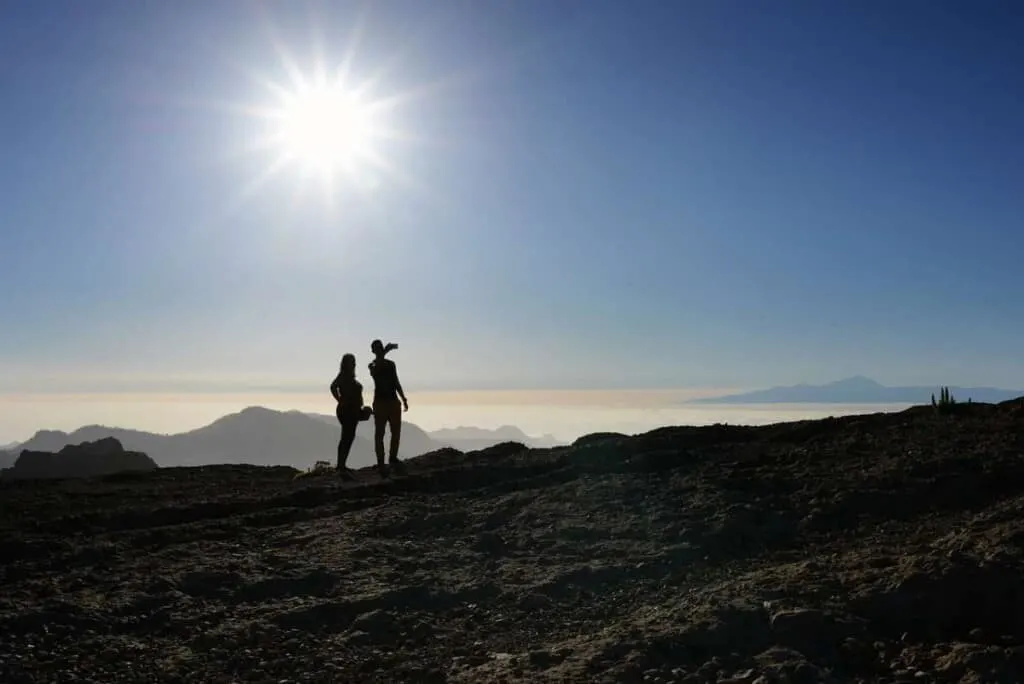 Did you know that visiting Mount Teide can be the ultimate romantic thing to do in Tenerife?
Yes, you heard right! Due to the unique stargazing conditions, you and your beloved one will want to spend hours watching the sky of Tenerife.
Indeed, Tenerife boasts very low light pollution (especially near Mount Teide!) and thus the star-sprinkled sky creates the perfect setting for a romantic excursion by night.
There are several ways to create this special experience.
Some include dinner and champagne, while others offer a romantic cable car ride at sunset. Mount Teide by night is definitely a very romantic activity.
Here is the selection of my favorite romantic Teide excursions:
Mount Teide by Night Excursions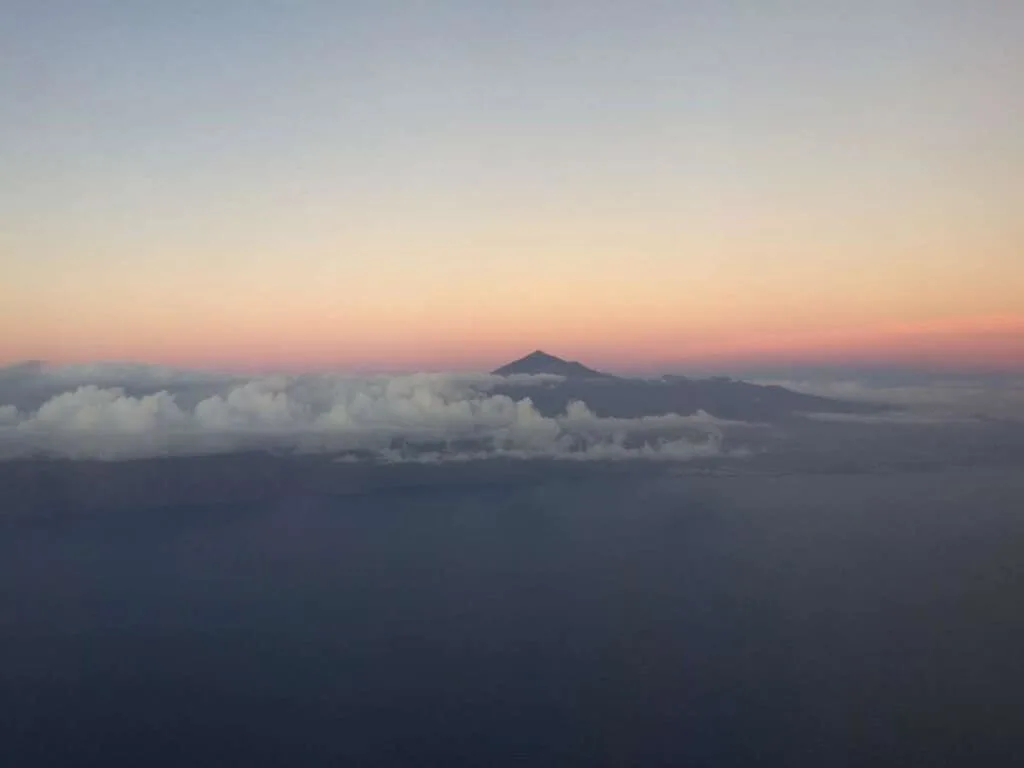 Visit Teide National Park during the daytime and visiting Teide Natural Park at night are 2 completely different worlds.
One of my favorite ways to spend my time after work was driving with my work colleagues to Teide Natural Park and laying down on a blanket to observe the stars. Unforgettable memories!
Depending on your interest in astronomy, you can visit the National Observatory and learn more about the stellar constellations in Tenerife's sky.
The island boasts some of the best stargazing conditions in the world due to its low light pollution and geographic location.
Did you know that the Teide Observatory is the world's largest solar observatory?
These excursions include a visit to Teide Observatory:
If you just want to enjoy the experience, I recommend booking a Mount Teide by-night excursion so that you can visit without any hassle or stress.
Make sure to take (several) warm layers to your Mount Teide trips. The surroundings of Mount Teide get very cold at nightfall, even during the summer months!
Visiting Mount Teide by car
When they arrive on Tenerife, many visitors wonder how to get to Mount Teide. Fortunately, you can drive to Mount Teide from either airport on the island.
The main road to Mount Teide is the TF-21, which runs all the way from La Orotava in the north down to Granadillo de Abona in the south.
This will also take you to the Mount Teide cable car for a quicker ascent to the summit.
Trips to Mount Teide by car are short. No point of interest on Tenerife is more than 40 miles from Mount Teide!
Rent a car on Tenerife for a day trip to Mount Teide
Mount Teide trips from las Americas
There are so many activities to add to your El Teide hike.
From a delicious dinner to stargazing under a clear night sky, visiting national parks, or just exploring other parts of the island, you'll be spoilt for choice.
Sometimes the best way to visit Mount Teide is to dive right into all Tenerife has to offer as well! Choose from such trips from las Americas as:
Mount Teide trips from Puerto de la Cruz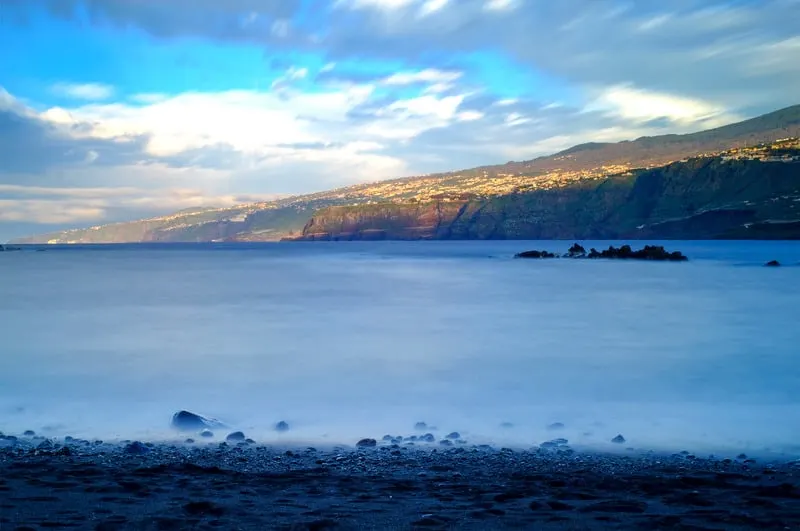 One of the best things about this Tenerife mountain is that it is centrally located on the island.
That means that it is as easily accessible from the north coast as it is from the south coast.
Anyone staying in or near Puerto de la Cruz still has access to some high-quality tours to Mount Teide, such as:
Did you visit Mount Teide? Let me know how it went in the comment form!
---
Short FAQ About the Best Mount Teide Trips
Can you climb Mount Teide?
Yes, you can. Proficient climbers have a choice of several routes, with the most popular being the Montaña Bianca trail. However, it is also the most demanding way to climb Teide as it is entirely on foot.
For those who wish to have an easier time hiking Mount Teide, I recommend taking the cable car to the top.
Either way, be prepared for the increase in elevation and the cooler temperatures at the summit – you will be 3,715m above sea level!
What is the best time to visit Mount Teide?
This will depend on your preference, but in my opinion, the best time for a Mount Teide hike is when the weather is favorable and there are fewer people. This is normally in the May to September period.
Climbing Mount Teide in January will mean lower temperatures and more rainfall, so this would normally be attempted by experienced climbers.
April and October have the sunniest days of the year, as well as higher temperatures.
Can you drive to Mount Teide?
Once you get to the island, you can drive to Mount Teide. Tenerife has a road network that will lead you to Mount Teide from almost anywhere on the island.
Driving from the South Airport takes just over an hour, and driving from the North Airport takes slightly longer.
Those with Mount Teide cable car tickets can park at the cable car station. Parking is available for over 200 vehicles at the lower station and is open from 8am to 6pm.
---
Before You Go: Top Tips for your Trip
---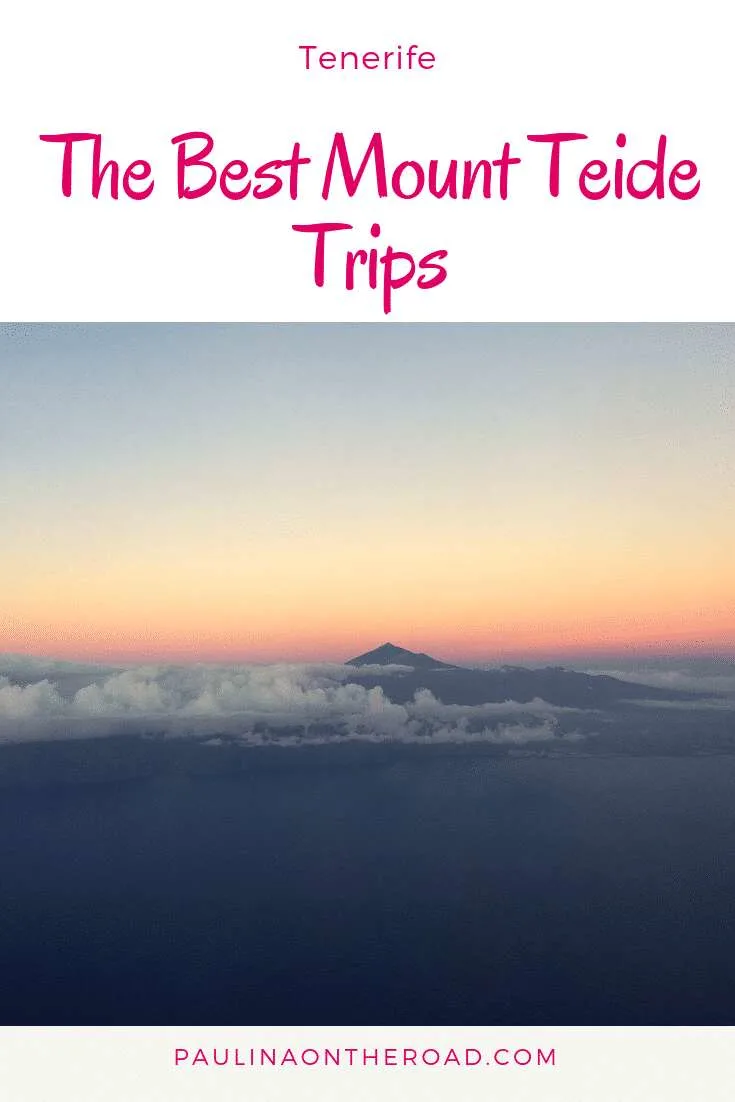 ---
Hola! I am Paulina, a fervent travelette who crossed the Atlantic Ocean by Boat HitchHiking. On my blog, you'll find all the tips to make the most of your holiday. Get ready to enjoy outdoor and sustainable travel like hiking, cycling or sailing. Let's hit the road together!