Valencia: how to discover the seven seas by bicycle…
You don't need to be Captain Nemo in order to explore the seven seas with your vehicle!
The best way to discover gorgeous Valencia is definitely by bike!
I loved the bike rental company DoYouBike for their flexibility and their large selection of bikes. Bicycle paths will not only bring you very fast to every destination in the city, but it's also a great way to explore the river Turia area which has been converted in a huge park. The bike path of river Turia will bring you straightly to the home of the 7 seas: the Oceanografic!
Visit the Oceanografic
Europe's biggest aquarium was one of my favourite spots of the city. It hosts representatives of the world's main aquatic environments. Discover the experience of complete submersion into an undiscovered world! Walk along sharks, remain speechless in front of the Beluga whale and let yourself be entertained by the jolly dance of the seahorses! The aquarium will provide you lots of information about the world's main marine ecosystems and how to preserve them for future generations. I could have spent the whole day in there!
Drink Horchata
After the visit, the best refreshment is the traditional local drink of Valencia: Horchata! It's a beverage made of tiger nuts which is very nutritive and low in calories. You'll get the best one at Llinares.
Eat Paella
Valencia is also home-town of the Paella, which has been traditionally made of the rice coming from the Albufera lagoon next to Valencia. The most historical and traditional place to enjoy a great paella (the best place for Paella is disputed by many), is La Pepica. You'll have dinner under hundreds of black-and-white photos of famous and not so famous people who already had their paella here.
Valencia is often said to be "the new Barcelona". Although it is missing its prestigious artists, Valencia has the same irresistible combination of vibrant city life, beach and delicious food.
Paulina's tip: you absolutely want to try horchata but you are miles away from Valencia? Prepare your own horchata at home with the home-made products of Món Orxata.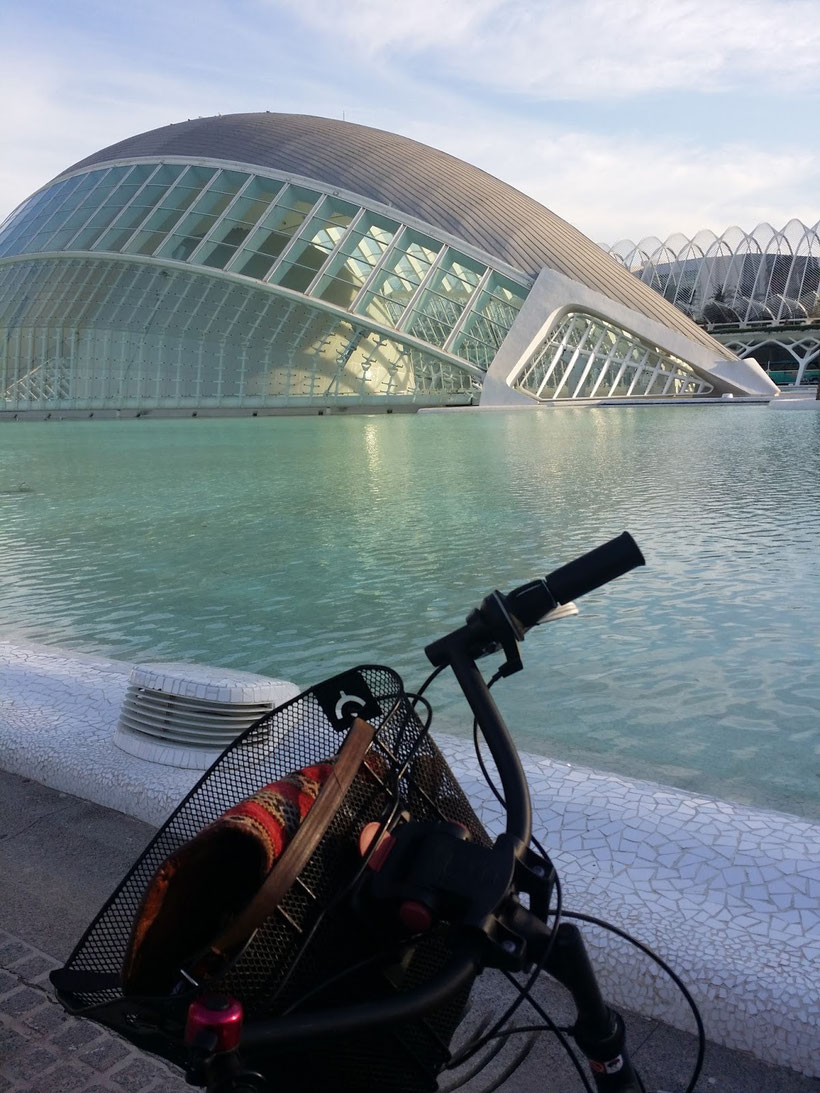 By bike through the City of Arts and Sciences – Através la ciudad de las artes y ciencias en bici
No hace falta ser el Capitán Nemo para explorar los siete mares con un vehículo! La mejor manera para descubrir Valencia es definitivamente en bici! A mi me encantó la tienda de alquiler de bicis DoYouBike por su flexibilidad de horarios y su amplia gama de bicicletas.
Una vasta red de carriles para bici os permite llegar a cualquier sitio en un tiempo record. La bici también es el mejor medio para descubrir el antiguo cauce del río Turia que ha sido convertido en un amplio parque. El carril bici del parque Turia os llevará directamente a la casa de los siete mares: el Oceanografic!
Visita el Oceanografic
El acuario más grande de Europa es uno de mis sitios preferidos de la ciudad de Valencia. Tiene representantes de los principales ambientes acuáticos. Vas a tener la sensación de sumergir en un mundo aún desconocido. Camina debajo de tiburones, quédate sin palabras ante la ballena beluga y disfruta del baile alegre de los caballitos de mar. El acuario da mucha información sobre los principales ecosistemas marinos del planeta y como preservarlos para las futuras generaciones. Se podría pasar el día entero en el Oceanografic!
Drink Horchata
Después de tantas impresiones, nada te refresca mejor que la bebida tradicional de Valencia: la horchata! Esta bebida con origen milenaria hecha a base de chufas no solo es muy nutritiva sino también suele ser muy baja en calorías. Según mi opinión conseguís la mejor horchata en la Heladería Llinares. (Y eso después de haber probado 5 horchatas en 5 sitios diferentes en 3 dias!)
Eat Paella
Valencia también es ciudad de origen de la paella, plato que al origen se preparaba con el arroz de la lagunas de la Albufera. Para disfrutar de una buena paella, os recomiendo La Pepica, un sitio con mucha historia y tradición. Váis a tener vuestra cena debajo de muchas fotos en blanco y negro de gente famosa o menos famosa que disfrutaba de su paella en el mismo lugar.
El soplo de Paulina: quieres probar la horchata pero te encuentras muy lejos de Valencia? Con los productos de Món Orxata puedes prepararte tu propia horchata en casa.