Guide to moving to Tenerife, including the cost of living in Tenerife and the best places to live in Tenerife
After living and working as an expat in Tenerife during high season, I am frequently asked about my personal highlights.
What are the insider tips? What are my top reasons for a move to Tenerife? Do I recommend moving to Tenerife?
And most importantly: is Tenerife a good place to live?
With the growing number of tourists traveling to Tenerife, increasingly in the winter months, I thought it might be a good idea to list some of my favorite things to do in Tenerife.
As an ulterior foodie, I included my favorite restaurants in each listed area – after all, your stomach wants to travel culinary as well!
Tenerife boasts not only a sunny climate but after all, the cost of living is not very high compared to the European mainland.
Taxes are lower than on the Spanish peninsula and also flights between the Spanish mainland and Tenerife are very affordable… as long as you're registered on the island.
If you are planning to work on Tenerife, you can find jobs in the tourism sector which are mostly located in Tenerife south.
However, Tenerife is becoming increasingly popular among Digital Nomads, who tend to settle down in the more affordable areas like Santa Cruz de Tenerife or Puerto de la Cruz.
Thinking of becoming a Digital Nomad? Explore some of the best Digital Nomad Jobs.
"Paulina on the Road" is supported by you, dear reader. As you buy through my links, I earn a small commission. As an Amazon Affiliate, I earn from qualifying purchases. Thank you for your support
Top resources to travel Tenerife
⚘ Avoid tourist traps and get the "Tenerife Like a Local" itinerary for less than 10€. – Get it here

✈ Book cheap flights to Tenerife with Skyscanner

✔ Book tours in Tenerife with GetYourGuide

➳ Find the best hotels in Tenerife with Trivago

➳ Enjoy gorgeous holiday rentals in Tenerife with VRBO

❖ Rent a car with the best discounts at DiscoverCars

☘ Get the best discounted outdoor gear (outlet) at REI.com

✎ Never leave without travel insurance. I get mine at HeyMondo. It is easy to set up, cheap, and reliable.

$ Withdraw money without hidden fees and avoid exchange rates with Wise (you'll get a free card on top!)
Overview: Living in Tenerife Pros and Cons
| Pros | Cons |
| --- | --- |
| Enjoy beach weather (& the beach) year round | Fresh fruits are aplenty, but access to more specialty items can be non-existent or become quite expensive |
| Once you become a resident, you are entitled to a 75% discount on all ferries and airfare between the other Canary Islands and mainland Spain | Island life is slow and can get repetitive and boring if you are used to a more fast-paced city life, this can also lead to island fever if you're not used to living on an island |
| What feels like an endless supply of delicious fresh tropical fruits and fish | Extremely touristy year-round, and difficult to make local friends |
| One of the cheapest places to live in the EU | |
1. Hiking in Masca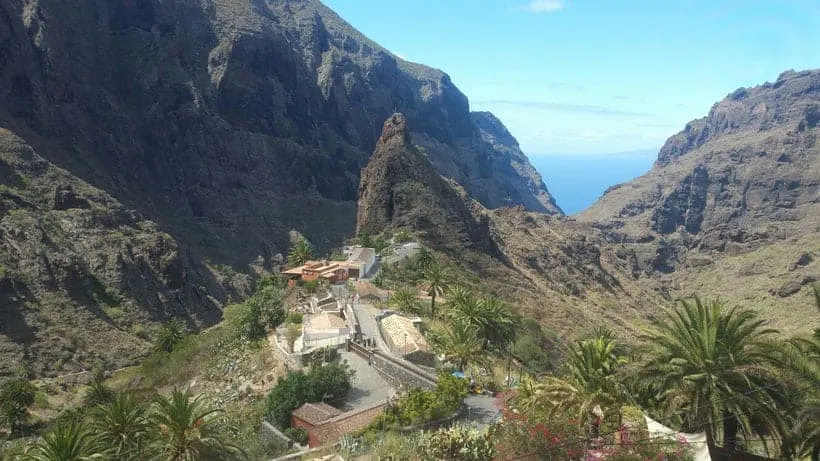 Contrary to popular opinion, Tenerife is a great hiking destination!
Those who think that the island's temperatures only allow you to lay on the beach are definitely wrong.
The northern part of the island is green and has moderate temperatures perfect for hiking.
The best hikes in Tenerife can be found in Anaga region or around Teide volcano.
But with the Barranco del Infierno trail, even southern Adeje has something to offer for hikers.
From Adeje there are also plenty of options for Mount Teide trips if you want more of a challenge.
However, my personal favorite is the Masca Valley hiking trail.
I know it's pointed out by every tourist guide, but that does no harm to the beauty of the hike.
It's relatively easy to walk and the cliffs of Los Gigantes are just breathtaking!
The hike is an attraction all year round, the canyon has water lagoons even during summer months.
Masca can easily be combined with a fun Jeep-Safari tour including Mount Teide.
Unfortunately, many restaurants in Masca are tourist traps, and they expect you to pay a lot for your pre-hike lunch.
I recommend "Alte Schule- El Guanche" instead. It's an (almost) vegetarian restaurant using only local and seasonal products.
All the recipes have a very long tradition and are inspired by German and Guanche cuisine(!), and the
In addition to delicious food, the terrace offers tranquility and the best views over Masca village.
2. Los Gigantes
The area of Los Gigantes is the best alternative for those who want Tenerife beaches and first-class tourist facilities but without the aspect of mass tourism as it can be found in Adeje or Los Cristianos.
It's also the best area to stay in case you're looking for more active holidays such as the famous Masca Gorge Trail.
The natural setting of Los Gigantes is truely unique: the cliffs are just gigantic and La Gomera island seems to be at a stone's throw.
And, of course, you'll find some of the best beaches in Tenerife here.
Many villages like Alcalá or Puerto Santiago have conserved their authentic charm.
Playa Chica, Playa Arena or Playa de los Guíos are only a few of the area's top beaches.
Los Gigantes area would also be my first choice for a romantic dinner if you want something to do for couples.
The sunsets over La Gomera will provide an unforgettable setting and set the mood perfectly.
I recommend Los Corales (traditional, easy but good cuisine), Fisherman's Inn (best fish and views on the harbour and La Gomera) and La Pérgola (top address of the area and very refined cuisine).
3. The People: Los Canarios!
Honestly, the people really should be my number 1 on this list of reasons to move to Tenerife!
I rarely met more warm-hearted, pleasant, generous, and stress-free people than the Canarios from Tenerife.
With a big smile, they will tell you not to worry and to have a little fiesta instead.
If you want to see more of Tenerife than just beach and sun, I'd reach out to locals, always keeping in mind the typical Canarian expressions.
A great opportunity to get in touch with the locals are the romerías or fiestas del pueblo (each village has its own fiesta during the year).
The dates and calendars can easily be found at any tourist office.
There is always a local party going on in Tenerife, and you can use the guide to Tenerife's fiesta calendar to find the best events for you.
Invite a Canario for a Clipper or a Garimba and you'll understand why the Canarian people are the most valuable gem of the island.
4. Anaga – Tenerife's Green North
Anaga, the region in the north of Tenerife, is still undiscovered by mass tourism.
The region is lush green, even in summer, and has some of the most beautiful beaches I've seen in Tenerife (Benijo, Punta Santiago, Punta Hidalgo).
One of the best things to do in North Tenerife is go hiking – and Anaga is the perfect spot to do so.
Anaga is perfect for nature lovers and its numerous hiking trails are waiting for you to be discovered – and the views will leave you speechless!
Anaga is not only a hidden gem when it comes to natural impressiveness, but also when it comes to restaurant options.
The most epic trails in Anaga, Rural Park include Las Teresitas Beach, Benijo Beach, Taganana village, and colorful La Laguna town.
My favorite is Casa Africa restaurant in Punta Santiago which has a very long tradition and here you'll savor the freshest seafood together with the locals.
For those who are more into meat, I recommend a "Guachinche" like Casa Pedro which serves cabrito (goat) or conejo (rabbit in a spicy sauce) prepared after ancient recipes.
5. El Teide
Of course you cannot leave Tenerife without having visited its most eye-catching attraction: the Teide volcano.
After all, if you want to know what is Tenerife known for, it is Mount Teide!
How you want to discover it, is up to you, but there are multiple ways to make a Mount Teide summit.
You can get up there by cable car, by hiking, and by sleeping in the Altavista Refuge.
I recommend a romantic sunset with a memorable stargazing experience.
Whatever option you choose, it's the best to book it in advance as Teide is one of Spain's most popular attractions.
I love to visit Teide just before sunset and share a bottle of cava with my friends.
Seeing how the sun goes down behind Gomera island and the stars getting so bright that you'll think you're able to grab them, is just pure magic.
The best place to eat near Teide is the Parador with gorgeous views of the volcano.
6. The Food
Those who frequently travel to Spain, know that food plays a major role – and Tenerife is no exception!
But it has much more to offer than the typical Tapas from the Spanish peninsula.
In fact, Tenerife is a paradise for foodies and wine lovers!
The island has several delicious traditional dishes that can only be found here.
The most popular one is probably Papas con mojo – potatoes in a salty crust served with a green and a red spicy dip.
Fun fact: originally the papas were boiled in seawater!
Tenerife's gastronomy loves strong flavors and uses as many local products as possible: many different kinds of seafood, fishes, fishes, fruits, and meat (i.e. rabbit or goat).
Additionally, the islands seems to be a tropical garden.
Depending on the season, the fruterías (fruit shops) have avocados, mangos, manga (an autochtone fruit from Tenerife), apples, oranges and of course tons of bananas.
It's safe to say that one of the best reasons to move to Tenerife is that it is a paradise for healthy food lovers!
The land's fruit are also the main ingredient of the island's best liquors: Banana liquor, Ronmiel (honey rhum), rhum, fig liquor, dragon tree fruit liquor… Make sure to try them all!
Tenerife also has a lot to offer to wine lovers: the wines from the north of the island can definitely keep up with the best ones from Spain.
I also recommend you try the banana wine "Platé" which I really enjoyed!
You cannot leave Tenerife without having tried the Barraquito (coffee, Licor 43, milk and condensed milk) or a dish with Gofio, a flour that already Tenerife's aborigines used to prepare their meals.
On many menu cards, you'll notice a Southamerican influence: many Canarian emigrants brought the best dishes from the "new" continent: Arepas, Tequenos, and more.
You'll need to start trying Tenerife's food from the very first day of your stay, otherwise, you'll never get to try ALL the flavors Tenerife has to offer.
7. La Orotava
If I had to choose only one city to visit in Tenerife, then it would be definitely La Orotava as it is the most colorful of all the towns.
It's like a concentration of the typical architecture style and urbanization of Tenerife.
The island's most typical architectural element are the balconies, which you'll see plenty of in La Orotava, among other unique features.
La Orotava is also perfect in case you want to have an adventurous bike tour.
The perfect example (and a great souvenir shop as well) is Casa de Balcones.
La Orotava is full of manor houses and parks offering unique views over the Atlantic Ocean and Teide volcano.
The colorful housefronts and a couple of Concepción churches are great motives for hobby photographers.
Considering restaurant options, I recommend La Duquesa in an idyllic setting next to the famous Concepción church.
A bit outside La Orotava, on the way to Puerto de la Cruz, Tito's Bodeguita offers very refined but traditional Canarian dishes elaborated with the freshest products.
Alone the building is worth a visit, it's set in an old Canarian finca.
Other villages you might want to include in your Tenerife excursion are Garachico and Icod de los Vinos.
8. Weather in Tenerife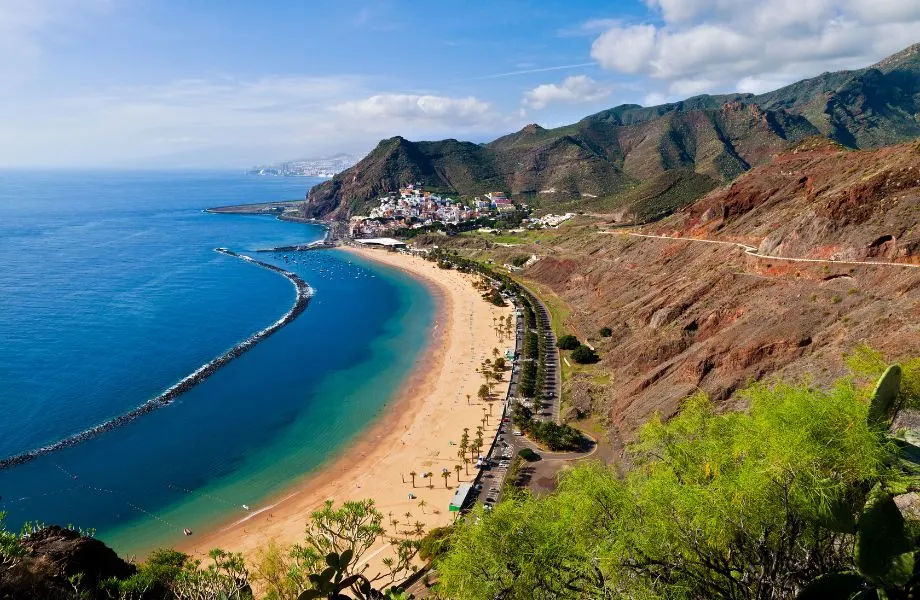 One of the biggest benefits of moving to Tenerife is the amazing climate year-round.
Generally speaking, the weather in Tenerife ranges from cool to hot.
For the most part, it never gets unbearably hot, even in the height of summer when the average high is 28C° (84F°).
Likewise, winters in Tenerife are not particularly cold, with average lows in the winter months at 15C° (59F°).
As you can imagine, Christmas in Tenerife is quite mild and ideal for those who hate the cold.
But for the best weather in Tenerife October and April are usually considered the best months to visit as they are still warm enough for beach weather and not too chilly.
While these are the averages, keep in mind that there are microclimates throughout the island, so do your research about specific areas before you visit.
Additionally, if you plan on hiking, especially on the higher peaks, be prepared for a colder climate.
Mount Teide, for example, gets its share of snow and wind, making it pretty inhospitable in the winter months.
Aside from the high peaks, the hottest place in Tenerife is the Southern half of the island, which is why it's so popular with tourists.
The weather in Tenerife South is usually a little warmer on average than the weather in Tenerife North
9. Cost of living in Tenerife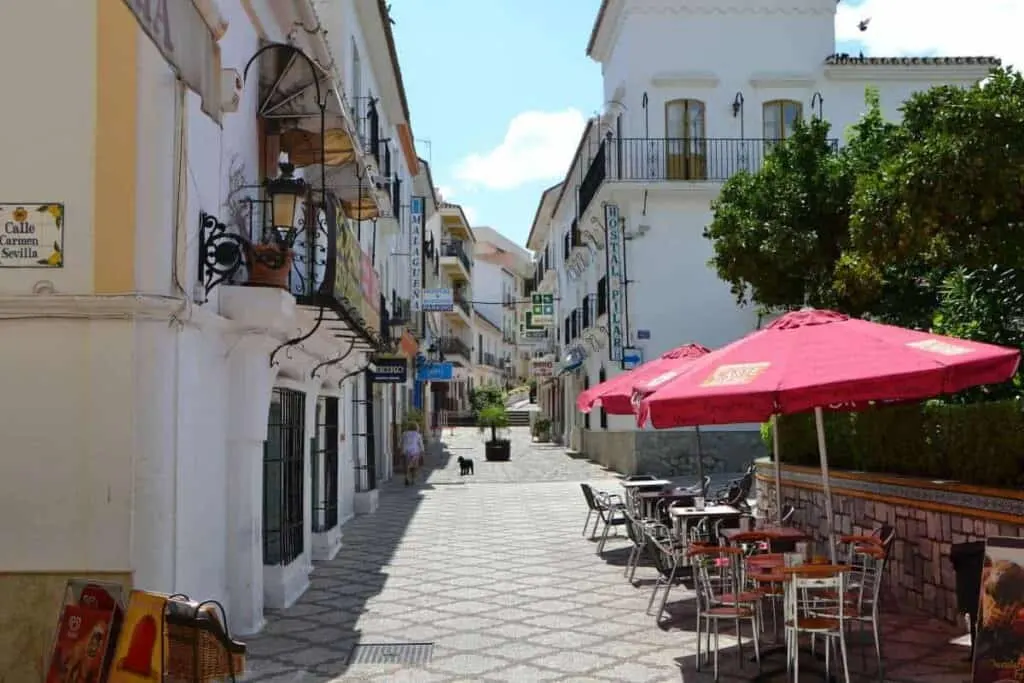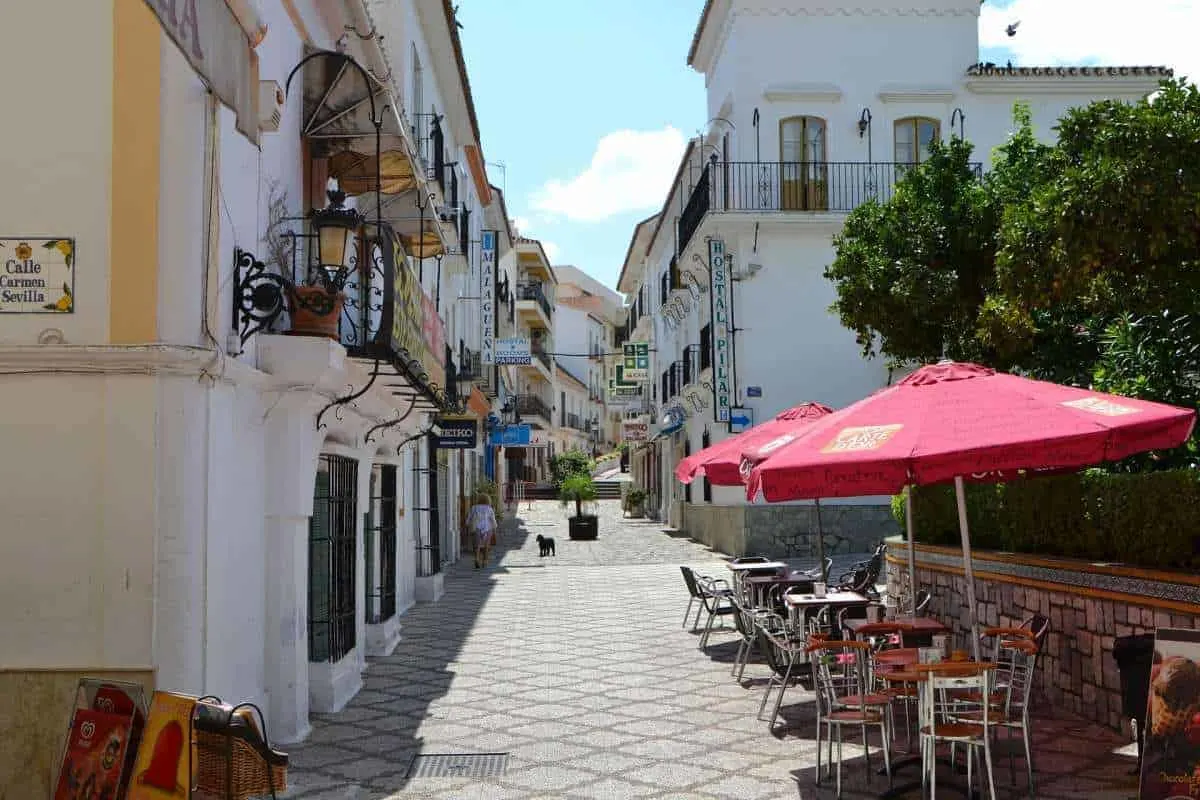 The cost of living in Tenerife is relatively cheap compared to most of Northern and Western Europe – and even parts of Central and Eastern Europe.
Most digital nomads and ex-pats can live comfortably on €1200-1500 a month for a single person, or around €1000 per person for a couple.
A family of four can typically be comfortable on €2500-3000 depending on their consumption habits and age of children.
Of course, if you live a more extravagant lifestyle and do things like eating out every day, this will increase your expenses.
When considering the cost of living in Tenerife Playa de las Americas, Los Cristianos, and Costa Adeje are some of the more popular cities but can be costly due to their popularity with tourists.
While these cities are the most expensive, generally the cost of living in Tenerife South is more expensive than Tenerife North.
Best areas of Tenerife to Live
If you want to move to Tenerife, you'll probably want to know the best places to live!
Deciding where to live in Tenerife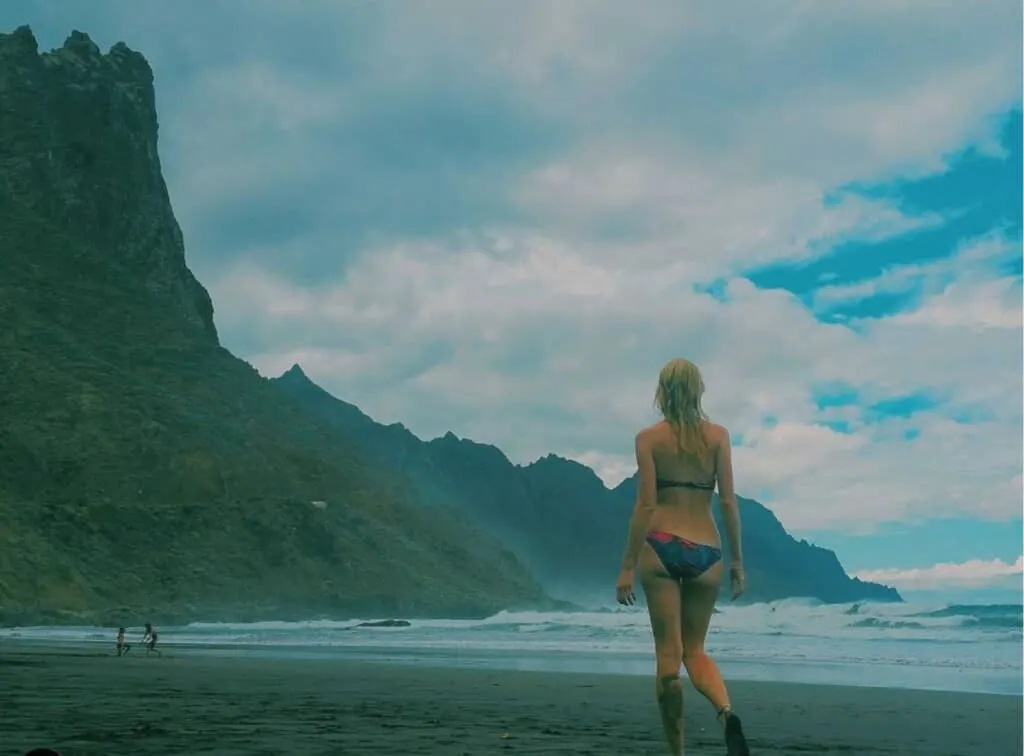 Tenerife is divided between North and South Tenerife, and where you decide to live will depend a lot on your personal preference.
But it will also have a huge effect on the experience you have living in Tenerife.
Most tourists stay in South Tenerife, and as a result, many digital nomads and expats in Tenerife wind up here, as well.
South Tenerife is definitely the best place to live in Tenerife if you love fun nightlife, and NEED to be on the beach year-round.
But this area can get pretty touristy and overcrowded, and many feel it loses its charm quickly if you take the plunge and move to Tenerife full-time.
By contrast, North Tenerife has more culture, more nature sites and must-do walks in Tenerife.
North Tenerife is the best area to live in Tenerife if you want an authentic Canarian experience.
If you want to go beyond just meeting other expats in Tenerife and hope to learn the language and make local friends, North Tenerife is the best option.
Best places to live in Tenerife South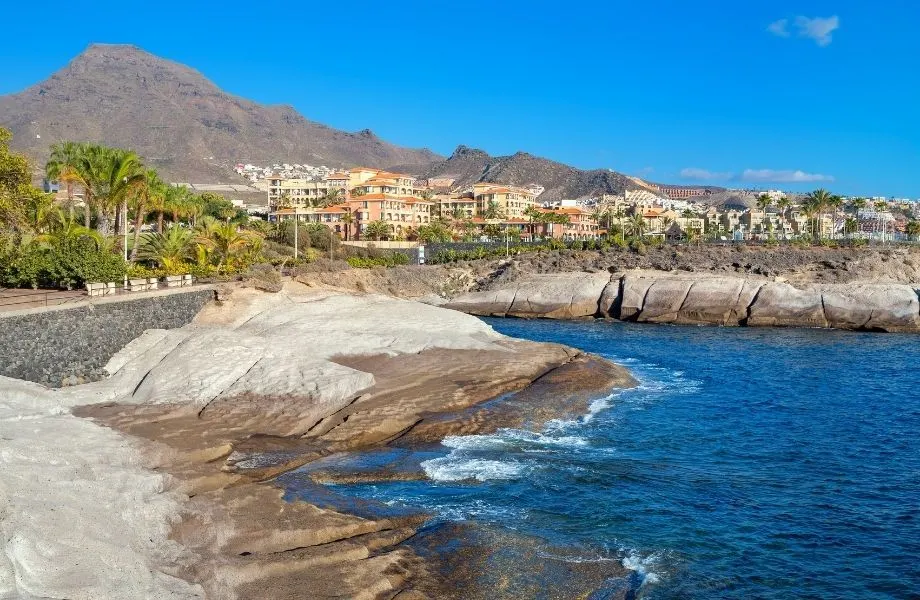 For beach lovers, Tenerife South feels like a no-brainer.
If you have your heart set on Tenerife South, Costa Adeje is a pretty good option, and you'll find a fair share of fun things to do in Adeje.
Los Cristianos and Las Americas are also both popular options, but tend to be even more touristy, and in my experience more expensive.
Costa Adeje is popular with both tourists and expats and has a good mix of beaches, nightlife, expat-friendly events, and English-speaking spaces.
There are lots of things to do in Costa Adeje year-round, so you'll make friends easily here.
You can also find a fair share of luxury apartments if you can afford to go all-out on your living space.
While you get your bearings, there are also lots of great hotels in Costa Adeje for a range of budgets.
Alternatively, nearby La Caleta is the poshest part of Tenerife, if you like the vibe of Costa Adeje, but want somewhere more low-key to actually live.
Two other towns are Los Gigantes and El Medano, which are great options, but a little less popular if you love the south, but want to avoid the crowds.
Best places to live in Tenerife North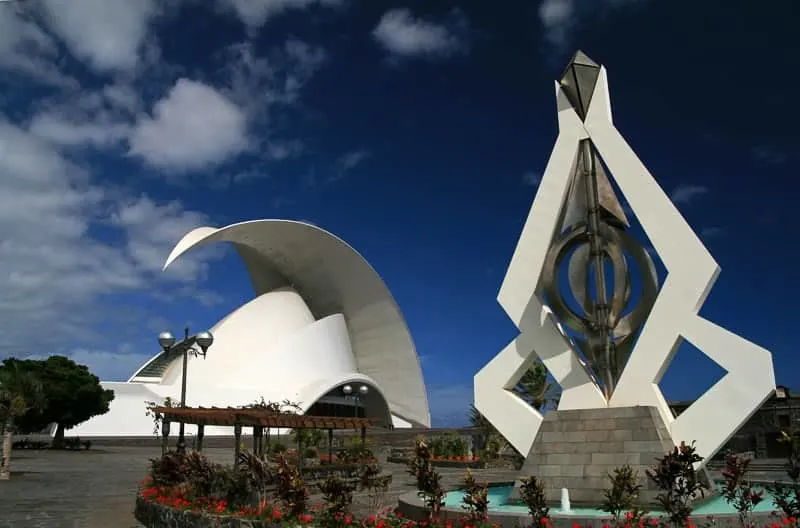 The two biggest cities in Tenerife North are, unsurprisingly, the most popular cities for moving to Tenerife North.
These are Santa Cruz and Puerto de la Cruz.
As the largest city on Tenerife, Santa Cruz has a lot more to offer in terms of culture than many other Tenerife towns and cities.
But it also provides relatively easy access to the beach and to hiking – especially in Anaga Rural Park.
Santa Cruz has some of the best coliving options in Tenerife, which is a great way to meet other digital nomads.
However, Puerto de la Cruz is also popular with northern-based expats and digital nomads in Tenerife as it has its own beaches.
Do you have personal highlights in Tenerife? I would love to read about them in the comments 🙂
---
For more information about tourism on Tenerife, I recommend the following webpage: Tourism of Tenerife
For activities in Tenerife, you'll get the best deals and selections with GetYourGuide for Tenerife.
---
Short FAQ About Reasons to Move to Tenerife
How long can you stay in Tenerife?
This will vary based on where you're coming from and your passport. Most people who travel visa-free get 90 days in 180 days within the whole Schengen (of which Tenerife is a part of). If you don't have visa-free travel to the Schengen countries, it will depend on your visa options, which you'll need to check with your local embassy about. Members of the EU can technically stay indefinitely, but if they plan to stay longer than 3 months, they will need to register with the local authorities to confirm their residency status.
Is Tenerife safe?
Yes, Tenerife is incredibly safe. In fact, crime in Tenerife is almost non-existent and it is considered one of the safest places in Europe. However, like everywhere, exercise caution, especially at night and when alone, or in popular tourist areas.
Can you drink the tap water in Tenerife?
Yes. The water in all of the Canary Islands is safe to drink and meets strict standards. However, not everyone likes the taste as the mineral content is quite high.
---
Before You Go: Top Tips for your Trip
---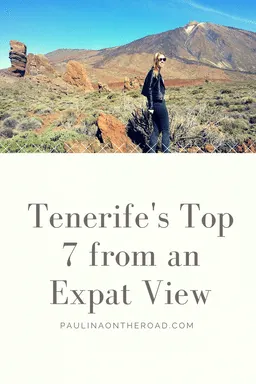 ---
Hola! I am Paulina, a fervent travelette who crossed the Atlantic Ocean by Boat HitchHiking. On my blog, you'll find all the tips to make the most of your holiday. Get ready to enjoy outdoor and sustainable travel like hiking, cycling or sailing. Let's hit the road together!