Guide to the best beach hotels in Tenerife with easy beachfront access and stunning seaside views
2.7 million tourists visit Tenerife each year from the Spanish mainland and from around the world and most of these people want to be as close to the beach as possible.
This huge number of visitors means countless hotels in Tenerife on the beach to choose from.
But if you can only go on one big holiday this year, you want the hotel you visit to be perfect.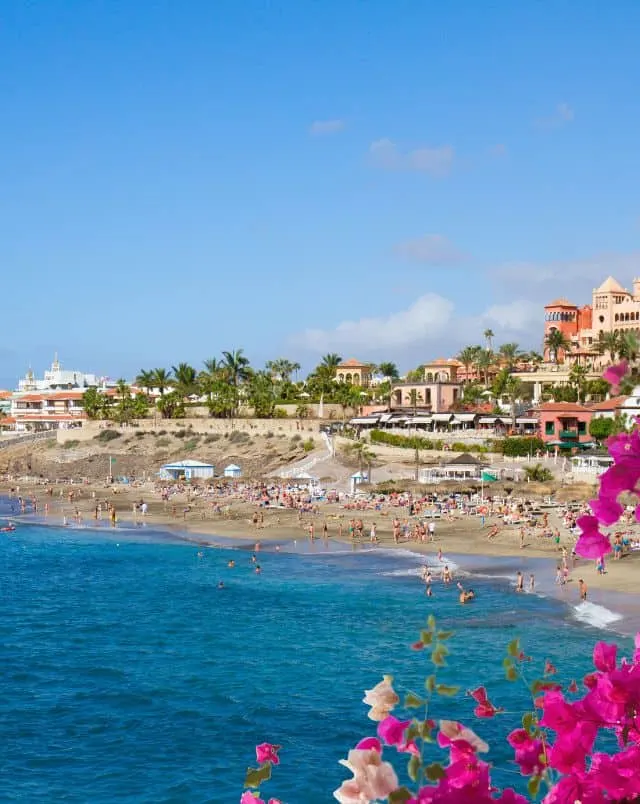 This list of the best Tenerife beach hotels will help you to find out where to stay in Tenerife.
I have gathered together a range of hotels for all budgets across Tenerife's coastline.
"Paulina on the Road" is supported by you, dear reader. As you buy through my links, I earn a small commission. As an Amazon Affiliate, I earn from qualifying purchases. Thank you for your support
Useful Travel Information About Tenerife
⚘ Avoid tourist traps and get the "Tenerife Like a Local" itinerary for less than 10€. – Get it here

✈ Book cheap flights to Tenerife with Skyscanner

✔ Book tours in Tenerife with GetYourGuide

➳ Find the best hotels in Tenerife with Trivago

➳ Enjoy gorgeous holiday rentals in Tenerife with VRBO

❖ Rent a car with the best discounts at DiscoverCars

☘ Get the best discounted outdoor gear (outlet) at REI.com

✎ Never leave without travel insurance. I get mine at HeyMondo. It is easy to set up, cheap, and reliable.

$ Withdraw money without hidden fees and avoid exchange rates with Wise (you'll get a free card on top!)
Overview: Top 5 Beachfront Hotels in Tenerife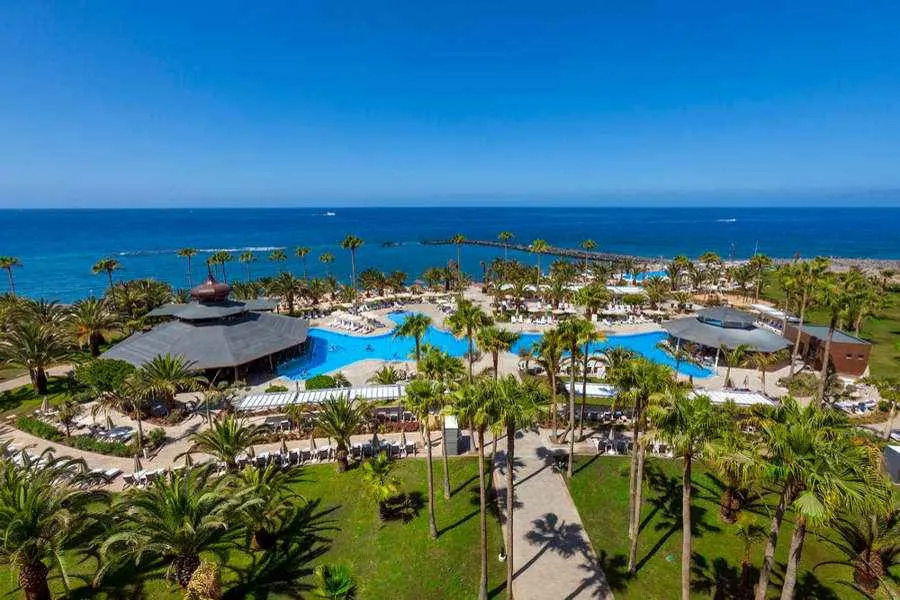 Where: Adeje, Tenerife
Highlights:
High-end service
5-star luxury
Air-conditioned rooms
German, English, Spanish, and French-speaking reception staff
Hotel Riu Palace Tenerife is one of the top beachfront hotels in Costa Adeje and is the perfect place to stay if you want a luxury hotel with beach access.
It is located right next to Enramada Beach and Playa de Fanabe, making going to the beach just a short walk away.
Additionally, every room has a balcony, and you can choose specifically to have a sea view.
If you want to experience some of the island's history, Hotel Riu Palace is ideal as it's close to the historic El Duque Castle.
This beach hotel in Tenerife is just 13 miles from Tenerife South Airport, meaning it could not be more convenient to get to.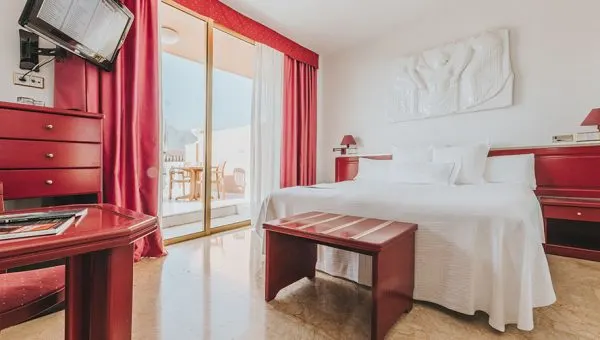 Where: Playa de las Americas, Tenerife
Highlights:
Fun ancient theme
All guests can access the spa
Just 0.6 miles from the Las Americas golf course
Rooms with a sea view
Hotel Cleopatra Palace is one of the most popular beachfront hotels Playa de las Americas offers for people who love sports and luxury.
If you like golf it's perfect as it's within walking distance of the iconic Las Americas golf course.
After a good 18 holes, you can relax in the sports bar and meet fellow travelers.
This is also one of the more unique hotels in Tenerife on the beach because of its ancient theme; the communal areas are full of stylish Greek and Roman statues.
All the marble floors and bathrooms at Hotel Cleopatra Palace will make you feel like an emperor.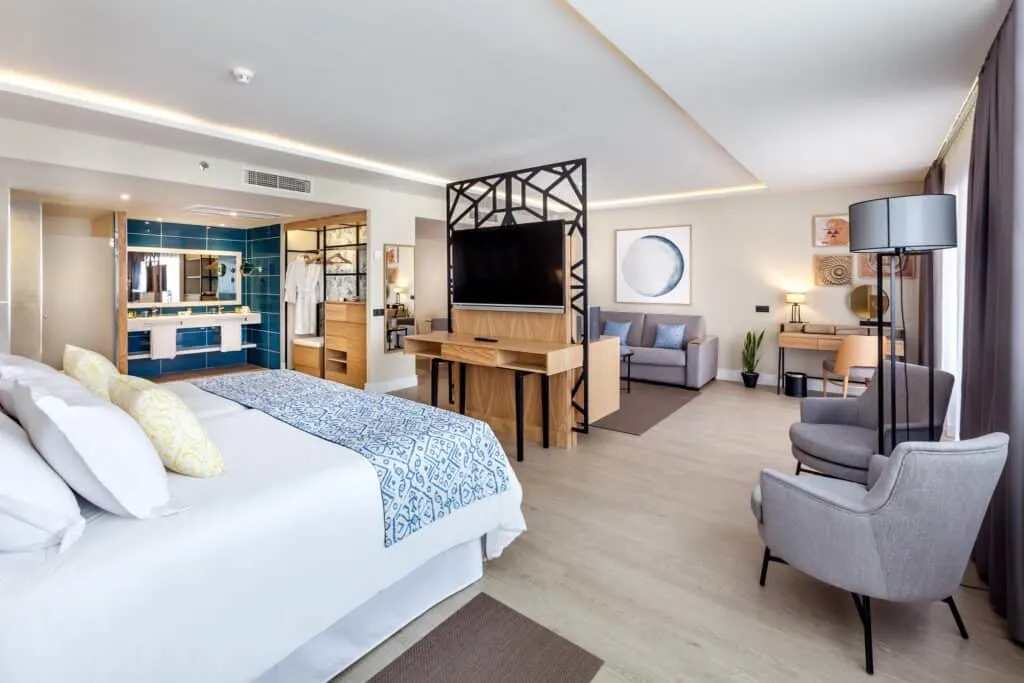 Where: Ajede, Tenerife
Highlights:
Ocean views over La Gomera island
Two outdoor swimming pools and spa facilities
Gold-level rooms are available with access to even more facilities
A range of restaurants and bars are available
There are plenty of spa hotels in Tenerife to choose from, but not all of them have the beautiful beachfront location enjoyed by Gran Tacande.
This hotel lies on Duque Beach, one of the best beaches in South Tenerife, eand has a wealth of wellness options available.
Visitors can enjoy a spa offering hydrotherapy, massage, and beauty treatments, plus there's also a free gym and hairdresser.
And this means that you will come home from this Tenerife beach hotel looking and feeling fantastic.
Everyone who visits Gran Tacande will enjoy luxury from one of the best beach hotels in Tenerife, but if you want an unforgettable experience, make sure to choose a Gold Level room.
These rooms have access to all the best facilities, as well as access to the San Sebastian Exclusive Plaza, an infinity pool, and a whirlpool.
This is one of the best places to come back to for a relaxing evening after a day spent hiking Tenerife.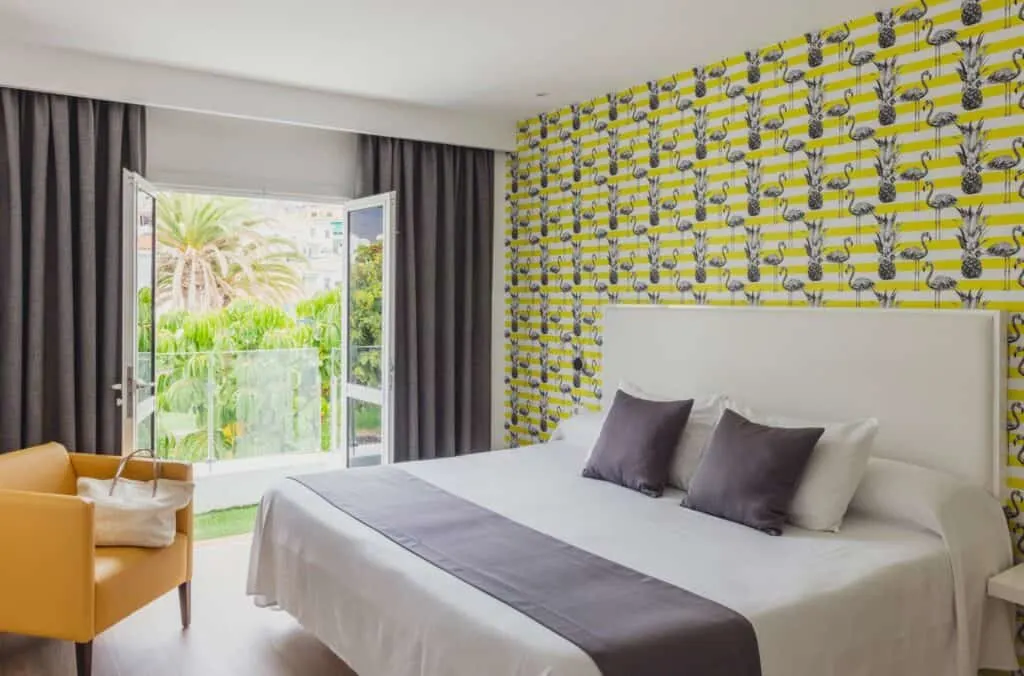 Where: Adeje, Tenerife
Highlights:
Family rooms and a children's pool
Airport shuttle makes traveling easy
Relaxing garden area
Friendly staff who are knowledgeable about Adeje
Flamingo Beach Mate is one of the best beachfront hotels Costa Adeje has to offer if you are traveling to Tenerife with your family.
In fact, this is a great place to stay if you're looking for things to do in Tenerife with kids due to all the amenities offered.
There are family rooms as well as a children's pool to ensure your kids are always entertained.
This Adeje beach hotel also makes organizing your trip easy – all guests can use their airport shuttle.
But Flamingo Beach Mate isn't just great for families, it's also a fun beach hotel option for couples or solo travelers who want to enjoy the ultimate beach holiday.
There is also plenty to do on-site, including a fitness center, two swimming pools, and a bar.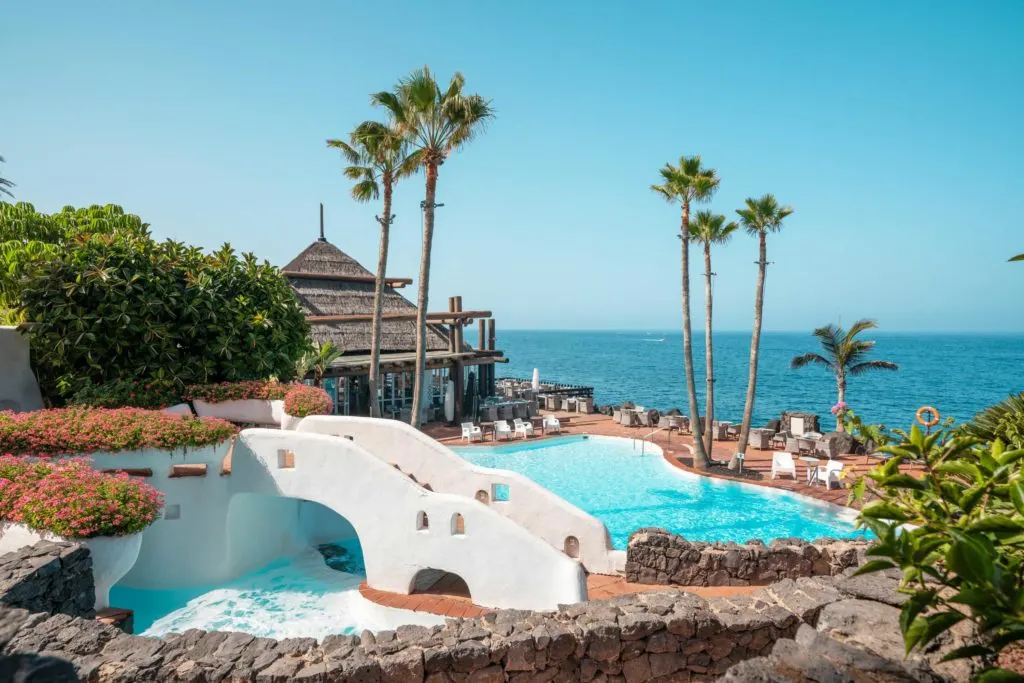 Where: Adeje, Tenerife
Highlights:
Pet-friendly option
Large relaxation garden and great spa facilities
Located in the heart of Adeje
Rooms with views over the Atlantic Ocean
One of the most popular hotels in Tenerife on the beach is Dreams Jardin Tropical Resort & Spa – and for good reason.
This luxury Tenerife hotel offers amazing relaxation facilities, including a 12,000 m2 garden and a spa and wellness center.
Every room here features either a balcony or terrace, many of which have stunning ocean views that are perfect for enjoying the sunset.
Plus, for those traveling with their furry friends, Dreams Jardin is one of the most pet-friendly beach hotels in Tenerife!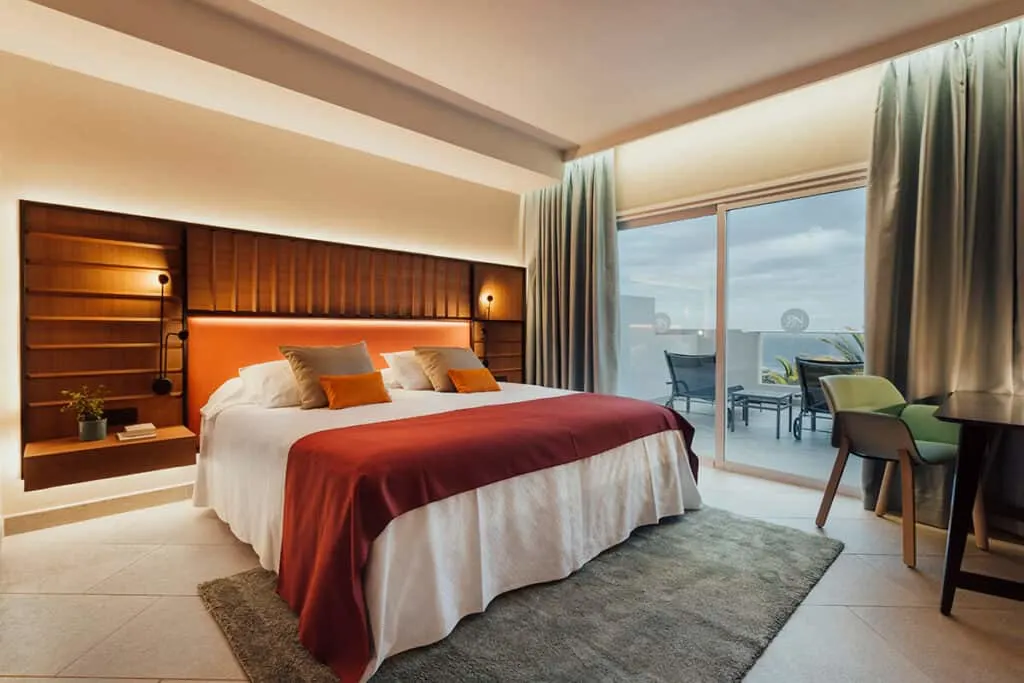 Where: Adeje, Tenerife
Highlights:
A 5-star hotel overlooking Playa Paraiso Beach
Fantastic pool facilities
Spa and beauty treatments are available
Access to RoniAventura, a water adventure park
Another one of the great beachfront hotels Tenerife South has to offer is Adrián Hoteles Roca Nivaria.
This hotel is particularly impressive because of its infinity pool with views over the Atlantic Ocean.
Can you think of a more spectacular place to watch the sunset? Because this is easily one of the best hotels in Tenerife on the beach for enjoying sunset views.
For relaxation, guests of Adrián Hoteles Roca Nivaria can make use of the hot tub, mud bath, and beauty treatments available in the spa.
Or, if you're into a more active lifestyle, you can use the tennis and archery facilities.
Or, if you crave some excitement, go to RoniAventura, the hotel's water and adventure park, which is one of the best things to do in South Tenerife!
At RoniAventura you can ride four different slides and climb walls and suspension bridges over the water.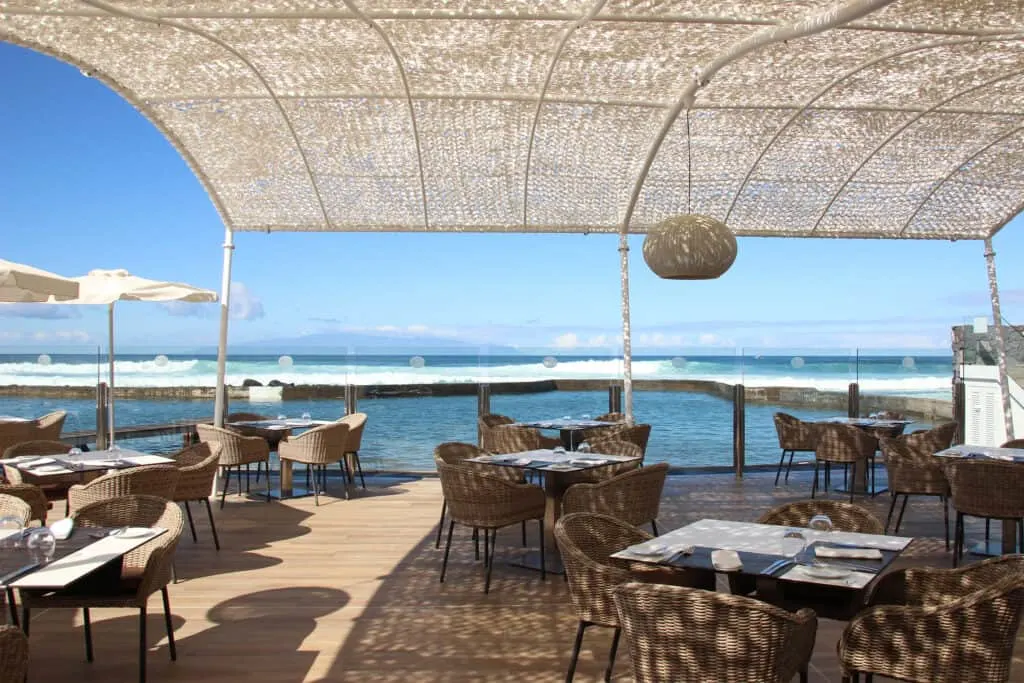 Where: Playa de las Americas, Tenerife
Highlights:
Located in one of the most prestigious beach resorts Tenerife has
Characterful luxury
Six restaurants are available, each offering different cuisine
There are several beachfront hotels in Tenerife and the Playa de las Americas resort, but one of the best is the Europe Villa Cortes GL.
This stunning hotel is based on a standard Mexican mansion design with its huge marble floors and a wealth of color.
Indeed, this beachfront hotel has all the luxury that you would expect from a mansion, including gourmet dining, comfy Balinese beds, and custom-made Mexican furniture.
Europe Villa Cortes GL is one of the more extravagant family hotels in Tenerife, and one you won't soon forget!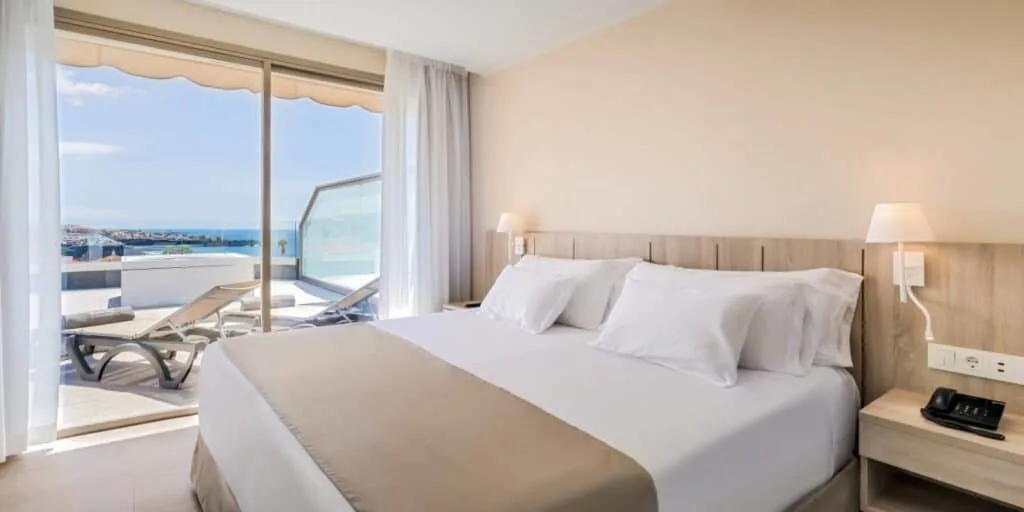 Where: Puerto de Santiago
Highlights:
Adults-only
Relaxing facilities, including a swimming pool, spa, and garden
Brilliant entertainment every evening
Two hundred yards from the beach
Of all the best beach hotels Tenerife has to offer, Barceló Santiago provides the most unique experiences.
Sitting in an incredible location on top of coastal cliffs, you'll get great views over the ocean and the Los Gigantes Cliffs.
In fact, Barceló Santiago offers three outdoor swimming pools with views overlooking the sea.
Additionally, the hotel has a spa with a sauna, Turkish bath, and hot tub, as well as a variety of on-site dining options.
And as one of the top adults-only beach hotels in Tenerife, you can enjoy a quiet and relaxing stay away from the stress of families with potentially noisy children.

Where: Callao Salvaje, Tenerife
Highlights:
Two heated seawater pools
Scandinavian playground
Relaxing solarium
Tennis and table tennis available for a surcharge
Another of my favorite beach hotels in Tenerife is the welcoming Atlantic Holiday Hotel.
Make sure to bring your children here because of the fun pools and playgrounds that are available to them.
While they're off having a great time, you can relax in the solarium, enjoy local cuisine at the Sea Soul restaurant, or look out over the city and the ocean views.
As you would expect from all hotels in Tenerife on the beach, you can access the sea very easily, with the Callao Salvaje Beach just 100 yards away.
The Atlantic Holiday Hotel is also just a short bus ride from Los Cristianos, in case you wanted a night out on the town.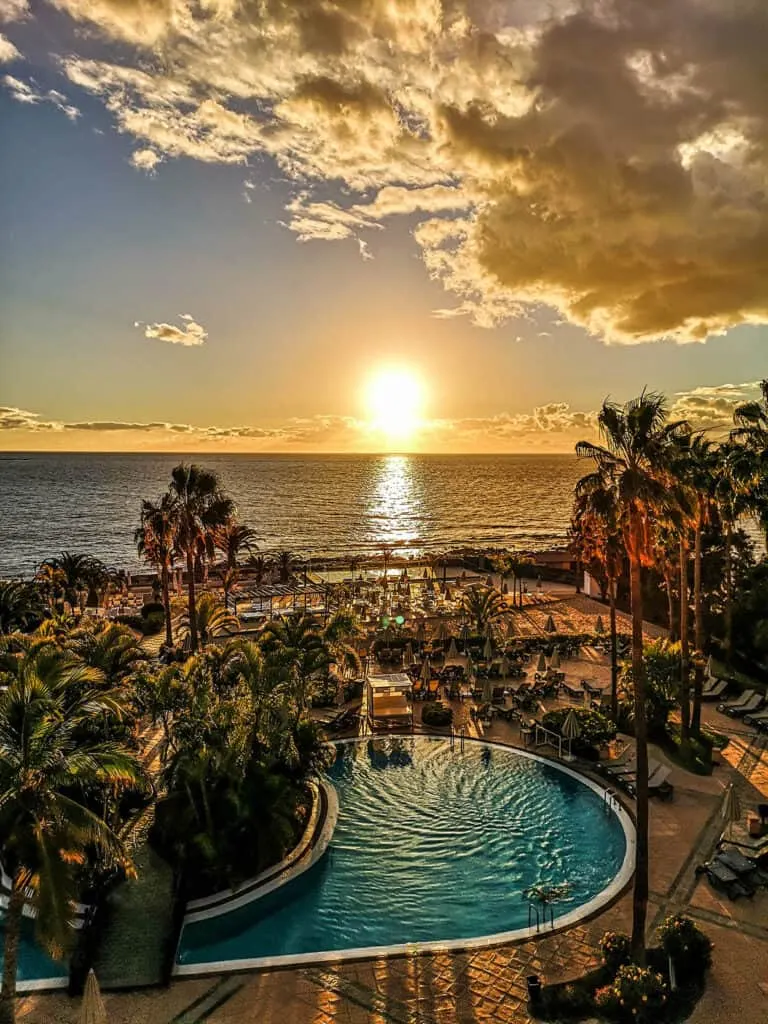 Where: Adeje, Tenerife
Highlights:
Free shuttle to the Playa de las Americas resort
Golf packages available
Eight swimming pools
H10 Costa Adeje Palace is yet another of the beach hotels in Tenerife located in the charming town of Adeje.
This hotel is also great for kids because of the number of pools for them to enjoy.
Fortunately, there are also plenty of things to do in Costa Adeje for the whole family, couples, or for solo travelers to enjoy.
Don't forget to take a short shuttle ride to reach Playa de las Americas for some fun in the sun.
Here, you'll be able to experience some of the most incredible beaches in Tenerife.
After a long day relaxing and swimming, make sure to eat at the El Jable restaurant, enjoy the bar, and experience luxury treatments at the Despacio Spa Centre.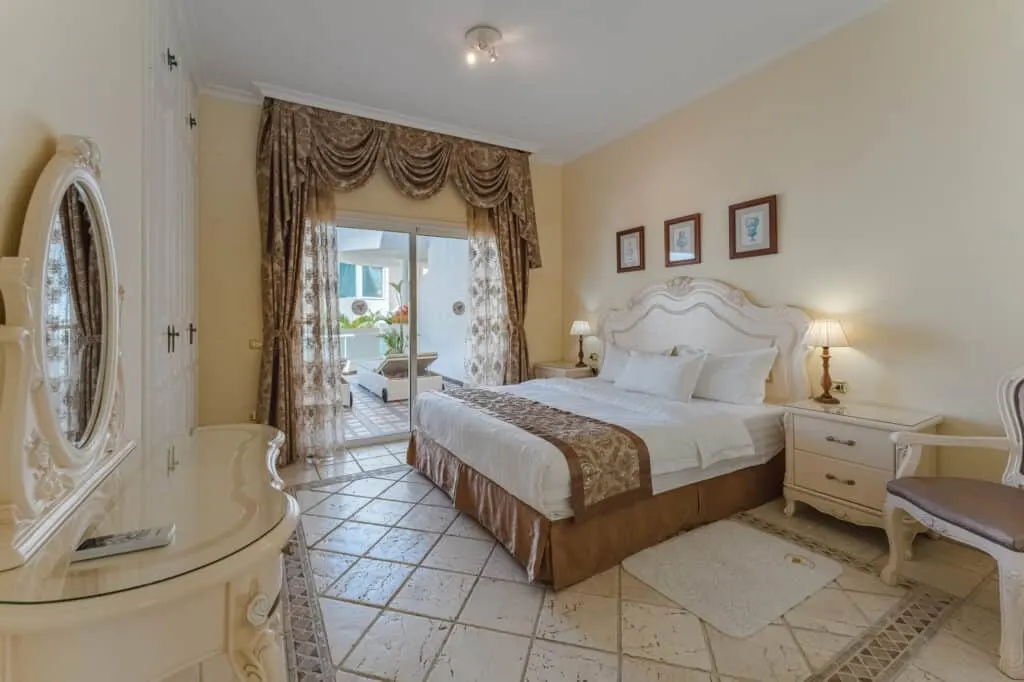 Where: Adeje, Tenerife
Highlights:
Bicycle and car hire available from the reception
On-site spa
BBQ facilities available with some rooms
The next of my favorite hotels in Tenerife on the beach is Flamingo Suites Boutique Hotel.
Located once again in Adeje, Flamingo Suites is one of the best beach resorts in Tenerife with easy access to all the local luxuries and offerings.
You'll be able to shop, grab a drink in one of the local bars, and have your pick of some great restaurants serving local food.
On-site, guests can enjoy beauty treatments, a sauna, and a hot tub at the spa.
Car hire options are available at the reception, making it a great place to stay for Mount Teide trips and other outdoor activities in Tenerife.
Bicycle hire is also available at to hotel, which is perfect for visiting the nearby seafront promenade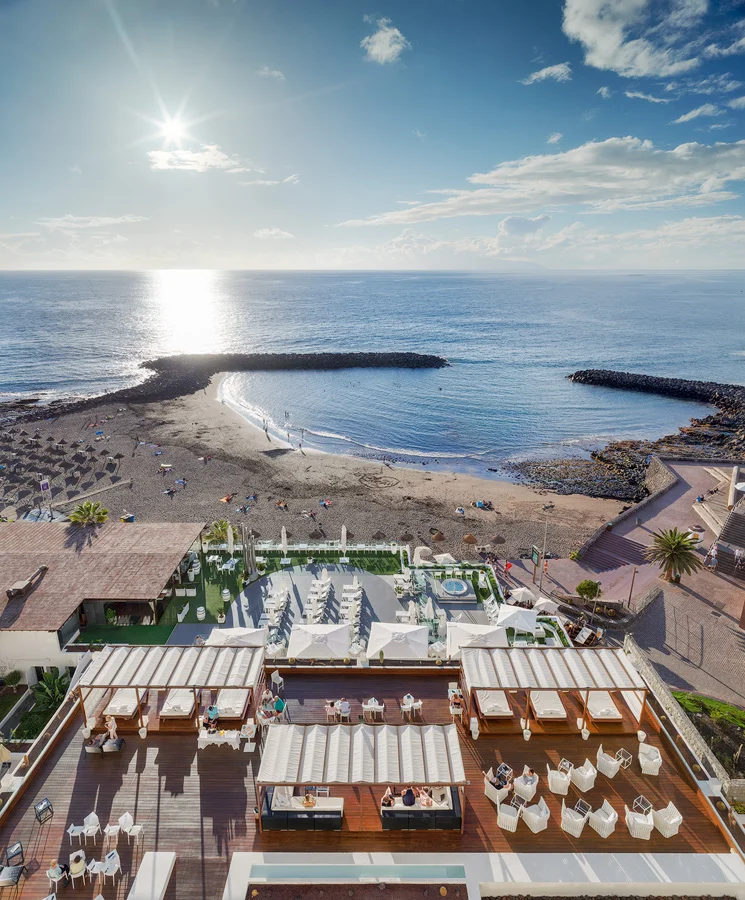 Where: Adeje, Tenerife
Highlights:
Adults only
Three pools available
Relaxing terrace area with ambient music and sea views
On-site fitness center
There are so many options when choosing the best family-friendly hotels in Tenerife on the beach.
But sometimes you just want to get away from kids and spend some time relaxing on your own or just as a couple, and that's where H10 Gran Tinerfe comes in.
There are a few reasons why this accommodation is one of the best beach hotels in Tenerife for adults only.
First, you'll be able to relax on the terrace and take in the sunset over a cocktail, then you can take a dip in one of the pools.
Afterward, you can take advantage of the free access to the Playa de las Américas Casino and try your luck well into the night.
But most importantly, as an adults-only hotel, the H10 Gran Tinerfe is committed to ensuring your stay is stress-free, relaxing, and peaceful.
Amazing Beachfront Apartments in Tenerife
Where: El Médano, Tenerife
Highlights:
Just 200 yards from El Medano beach
All rooms come with a balcony and free wifi
Popular fishing spots nearby
Only 2.5 miles from Tenerife South Airport
Apartamentos Los Laureles is one of the hotels in Tenerife on the beach in the southeastern town of El Médano.
This is unique amongst Tenerife beach resorts as it offers something for people who love fishing, with plenty of local spots and places where you can hire equipment.
The rooms are also very well equipped; each comes with a kitchenette and a coffee machine so you can stay independent.
It's also just 2.5 miles from Tenerife Sur airport, making it amongst the most convenient beachfront hotels Tenerife South has available.
Where: Playa de las Americas
Highlights:
Apartments include high-quality kitchen facilities
Walking distance to famous beaches
Outdoor swimming pool available
Another of the top Tenerife beach apartments you'll want to stay at is Tenerife South Apartments.
I love that accommodation options like these offer a more independent way of holidaying than even the best beachfront hotels in Tenerife.
However, they still provide a good level of comfort, with a pool to relax in, and they're extremely well-equipped.
Tenerife South Apartments is a great choice if you're looking to get some sun because they're within easy walking distance of three beaches.
Where: El Médano, Tenerife
Highlights:
A private holiday home
Nearby bicycle rental service
900 yards from Playa de la Jaquita
Airport shuttle service for a small extra fee
For another great place to stay in Tenerife right on the beach, head to Chalet Ocean in El Médano.
Unlike other hotels in Tenerife on the beach, this destination is a private holiday home with two bedrooms, giving you total independence on your holiday.
This does mean you won't have any of the extra features that come with staying in a regular hotel.
But that's the point; you'll be able to make your own itinerary for all the amazing things to do in Tenerife.
Inhabiting your own private space, either with friends or with family, can be a great way to spend your Tenerife vacation.
---
Short FAQs About Hotels in Tenerife on the Beach
Which side of Tenerife is the best?
For many, the South side is where people find their favorite hotels in Tenerife on the beach.
Which part of Tenerife has the best beaches?
While the South part of Tenerife has excellent beaches, the North side also has some of the most beautiful and unspoiled beaches on the island as well.
What is the best month to go to Tenerife?
In order to get the best weather to enjoy the hotels in Tenerife on the beach, make sure to visit the island between the months of June and September.
---
Before You Go: Top Tips for your Trip
---
---
Hola! I am Paulina, a fervent travelette who crossed the Atlantic Ocean by Boat HitchHiking. On my blog, you'll find all the tips to make the most of your holiday. Get ready to enjoy outdoor and sustainable travel like hiking, cycling or sailing. Let's hit the road together!