Traveling to Bruges, but have a short trip planned? Want to make the most of limited time? Don't worry, here I have compiled 20 fun and unique things you can do in Bruges in 1 day, with all the must-see attractions of the city.
As you probably know, I am a huge fan of slow travel. Therefore I recommend extending your stay in Bruges and enjoying these unusual things to do in Bruges with all the time in the world.
This list will help you avoid the annoying crowds, and make the most of your time while enjoying your trip to the max.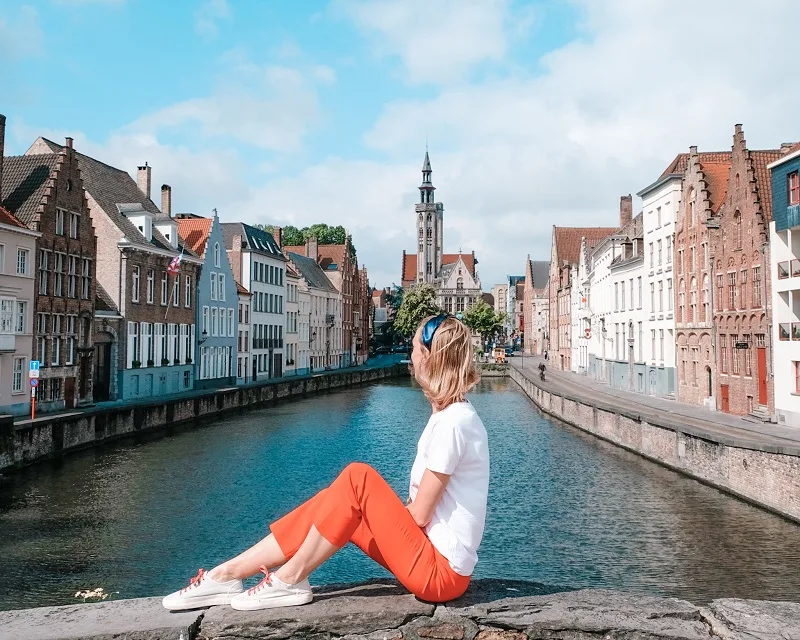 Have a unique experience by trying one of these attractions most tourists miss out on.
Bruges is one of the most beautiful cities in Belgium that offers delicious food, interesting attractions, rich history, and amazing wine bars!
"Paulina on the Road" is supported by you, dear reader. As you buy through my links, I earn a small commission. As an Amazon Affiliate, I earn from qualifying purchases. Thank you for your support
1. Rent a bike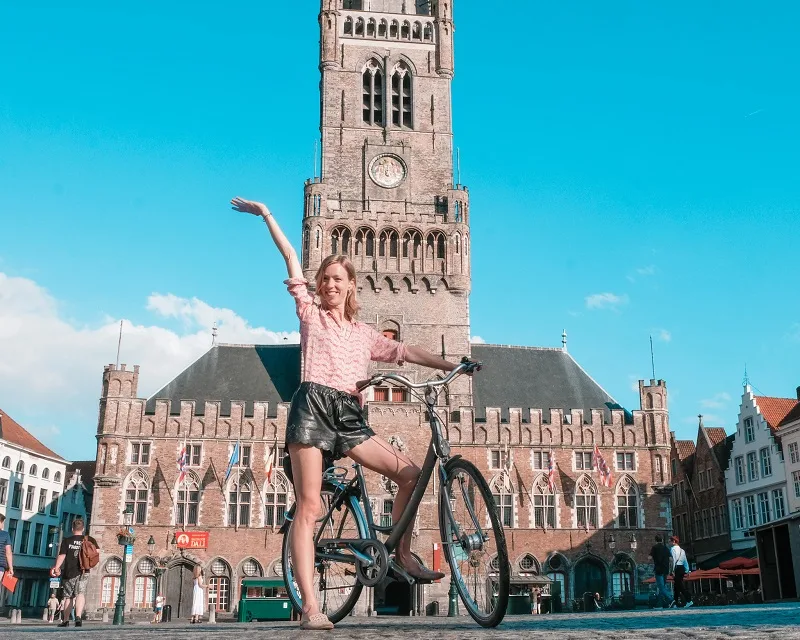 Enjoy the cool weather and the local sights of Bruges as you ride around the city.
See the canals that give the city its famed nickname of Venice of Belgium, explore the sandy beaches, colorful marketplaces, beautiful windmills, and medieval architecture.
Discover the best photography spots in Bruges for Instagram, or commute to one of the other activities on the bike to maximize your experience.
Visit Hotel Koffieboontje ** for great rates and discounts for bike rentals. If you want to explore Bruges in 1 day, a bike may be one of your best options!
2. Eat organic food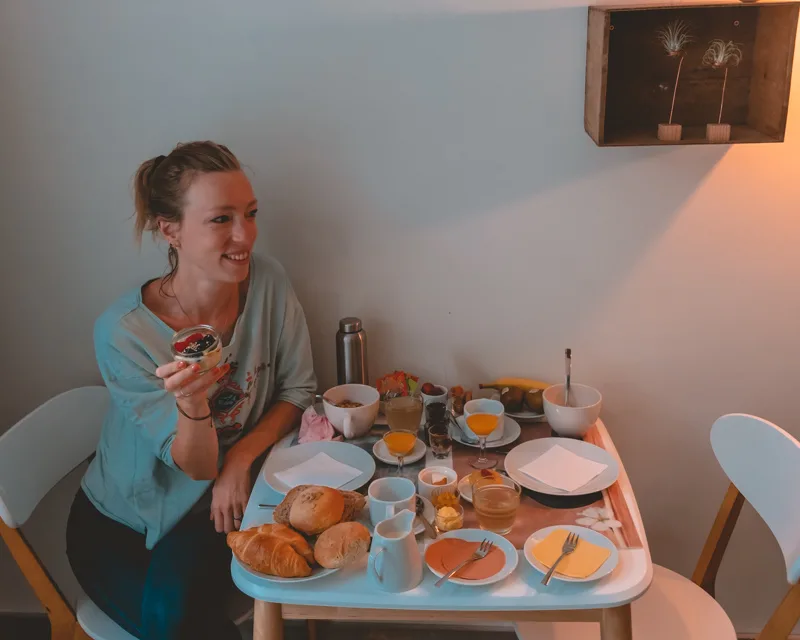 For a unique, non-touristy experience, try organic food and get healthier options in local cuisine. I suggest restaurants like Nomad for a fancy and beautiful restaurant, and Cuvee Bar a Vin for natural wine and delicious seasonal dishes.
There are many other spots that provide delicious, organic food made with fresh ingredients! Make sure you explore them and savor every bite because it's not going to be long before you start missing Belgian food.
Have a look here at the best restaurants in Bruges.
3. Visit alternative coffee shops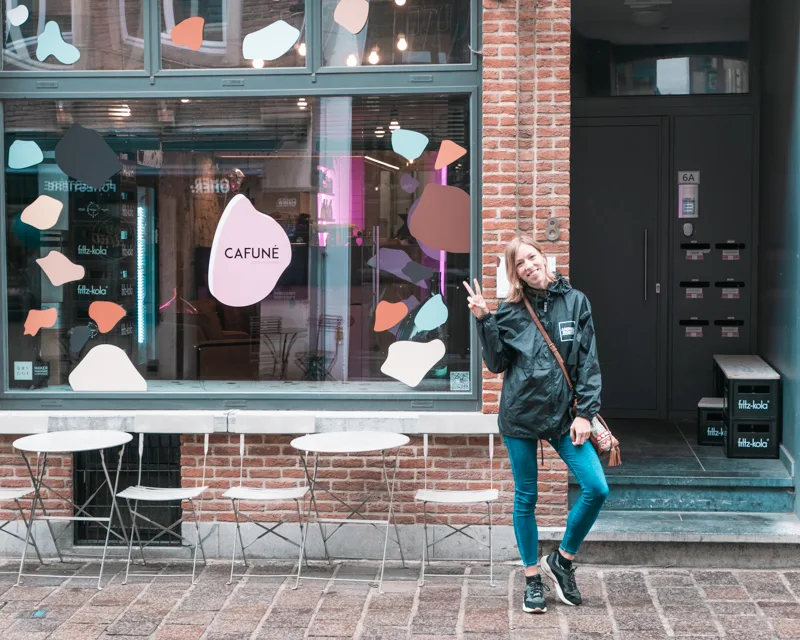 To really immerse yourself in the local culture, grab a coffee at one of the small local coffee shops.
Mingle with the locals, see their lifestyle, and exchange unique stories to make your experience even richer.
Here are some of the best coffee shops in Bruges:
Cafune Espresso Bar & Roastery: a wonderful coffee shop with its own specialty roastery. For affordable but delicious snacks, the finest specialty coffee and tea, and vegan options available, this one is a must-visit.
Basiel Urban Greenhouse: a 5-star rated coffee shop with a wonderful atmosphere, beautiful interior and friendly service, Basiel is the best place to relax.
Kaffee Kamiel: with fresh and homemade breakfast foods, and a pop up shop to browse through, your time and money will be well spent in this trendy coffee shop.
If you want to make the most of Bruges in 1 day, make sure to check these coffee shops out.
All of these are hidden gems of Bruges that not many tourists get to enjoy. Have a wonderful new experience while drinking the finest coffees in Bruges.
4. Go for sustainable shopping in Bruges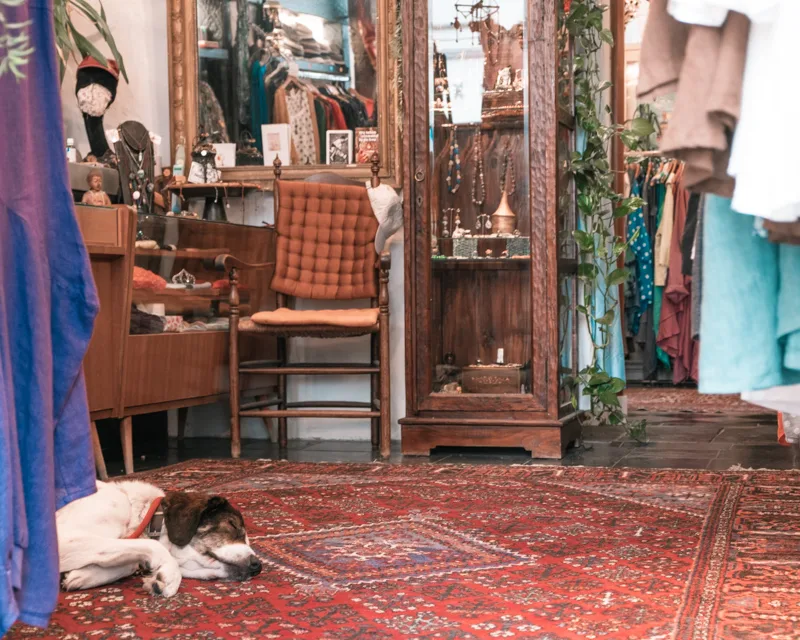 Help the environment while stocking your closet with the best clothes in Belgian stores.
Instead of going for big brands, get off the beaten path, avoid the tourist crowds, and discover smaller gems such as Seventy One Brugge, for cute and retro women's clothing that is sustainable and environmentally friendly.
Duka Moodstore is a wonderful store with art, handmade clothes and accessories, gifts, and home interior, all made and sold while keeping the environment in mind. It provides timeless, sustainable fashion that takes care of the people who provide it.
Fresh Brugge: for smart streetwear for both men and women, head over to Fresh. From clothes to sneakers to accessories, Fresh has rated 5 stars and is a wonderful place to shop sustainably.
Here you can find all eco shops in Bruges with the COSH! map.
So, what are you waiting for? If you're wondering what to do in Bruges, head over to these beautiful shops and enjoy buying the local items!
5. Sample traditional craftsmanship in Bruges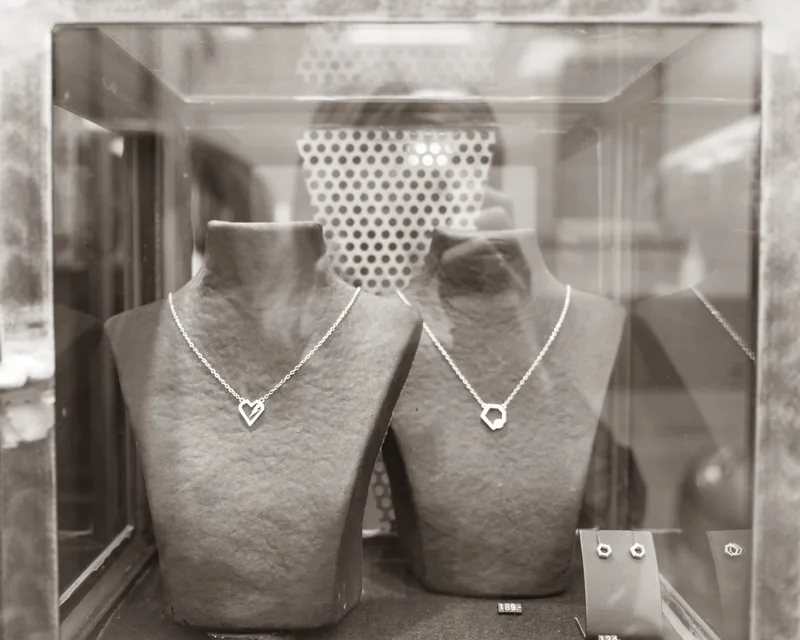 Dive into the rich history of this medieval city and explore its industry and handicrafts. Pay a visit to the Lace Center to buy one of the most luxurious lace in the world, and learn about handmade lace-making in the history of Bruges.
Or, go to ShoeRecrafting for the finest leather goods and to learn about traditional leather repairing methods from an artisan.
Visit one of the many chocolatiers in Bruges and get some of the finest Belgian chocolate right from its source. You can also find different types and flavors, or go on a chocolate tour for a deeper experience.
The initiative Handmade in Brugge provides the best overview of artisan shops in Bruges. It's a must if you want to enjoy Bruges in 1 day like a local.
6. Visit offbeat neighborhoods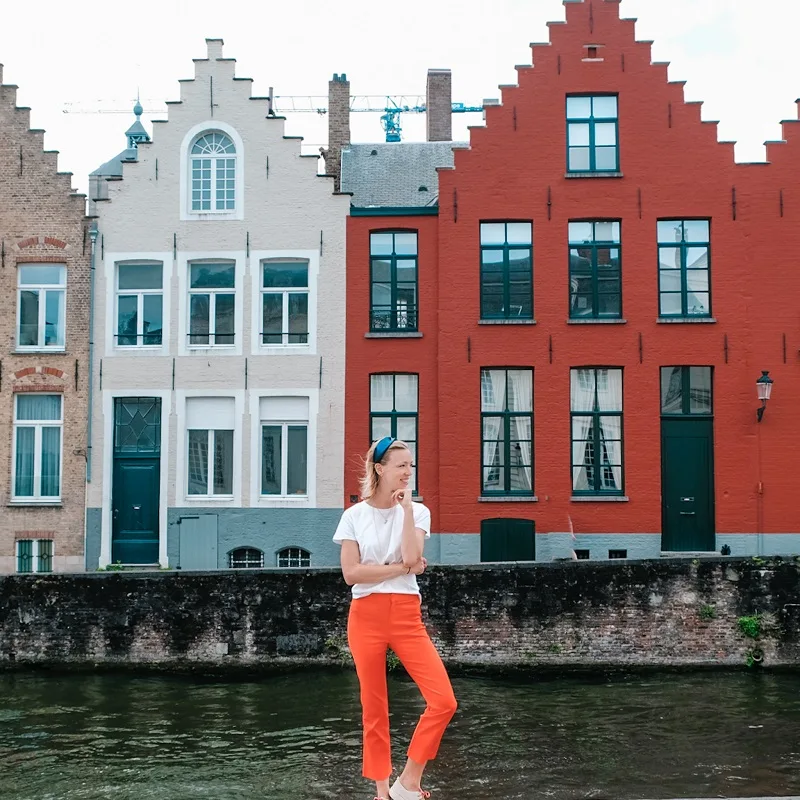 Bruges is a city with a rich history and great architecture. Explore the buildings and neighborhoods on bike or by foot, see the sights, and mingle with the locals.
With no throngs of tourists, enjoy a unique view of the city and its people.
Take special photographs different from anyone else's! A few neighborhoods to check out include:
Langestraat: Go shopping and explore the streets to work up an appetite, because this street has many high rated restaurants for you to try out.
Ezelstraat: this square connects Burg Square and Fish Market, and has Gothic architecture to marvel at, including City Hall and the Civil Registry.
Sint-Jakobsstraat: while other streets feature arches, the buildings here have a unique staircase design facade that can be found only in Belgium. A great photography opportunity, with the unique design and colorful buildings.
7. Have a drink at quirky bars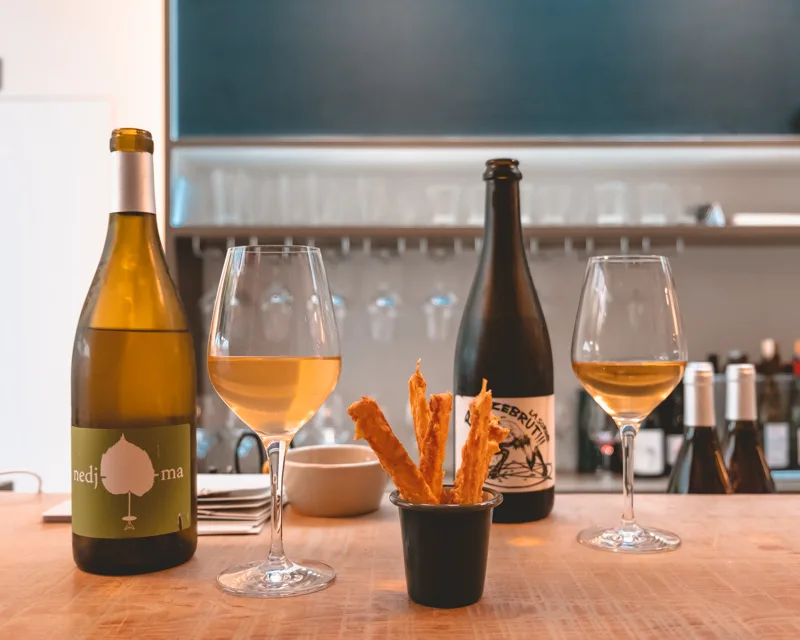 Instead of falling into overpriced tourist traps, hang out with the locals and check out smaller, quirky bars.
Enjoy a different ambiance and meet the local people while you explore Bruges in 1 day.
Explore Bruges at night while enjoying your drinks!
8. Explore Silent Bruges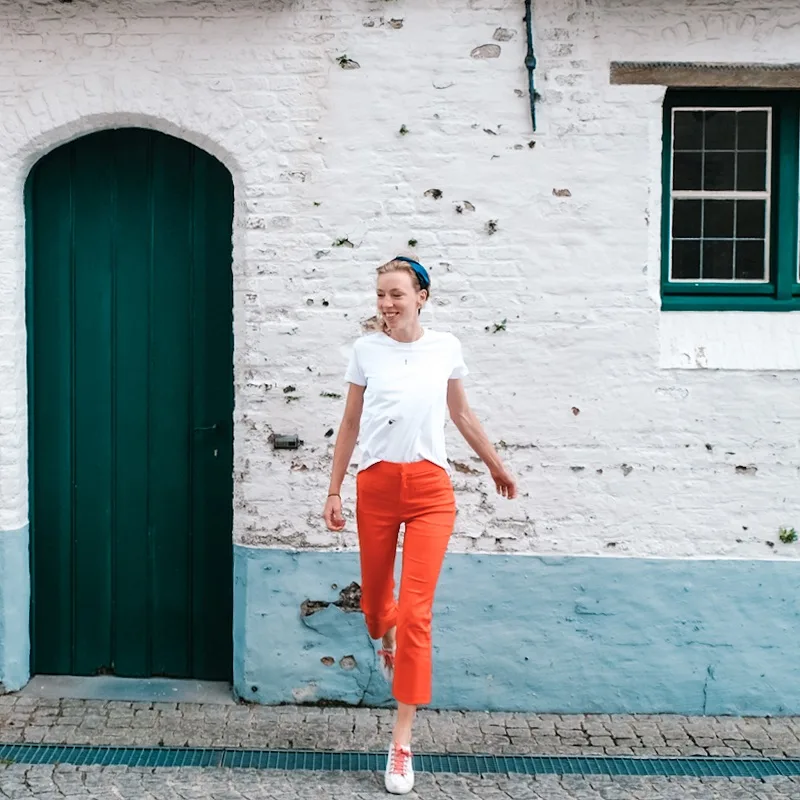 Although Bruges might seem like a big tourist destination, it has quiet and peaceful sides too.
Explore hidden gems in the silent side of the city, such as Saint Anne Church, a 17th Century building with a baroque interior, featuring the largest single painting in the whole city.
The Saint Giles Church was built in the 13th Century and is a Gothic building where many famous artists were buried. It sports the only clock tower in the city center.
The Gezellehuis is a literary and biographical museum of the life of poet Guido Gezelle. Walk through the museum, or relax in shaded gardens that pay homage to his inspiration from nature.
Hemelrijk: Characterized with its unpaved country road, you'll find an oasis of peace! It's an area without houses, but bordered by a massive brick wall which will provide a unique setting for a relaxing walk.
The twin of Hemelrijk, Olibaan also features an unpaved country road for a cool walking route, with the blue skies above and a Church visible in the distance. Get away from the busy city and explore this unique corner of Bruges that is Hemelrijk and Olibaan.
How Campers: full of greenery, this is a peaceful getaway. Relax in the orchard, or visit the sheep paddock.
The Jerusalem Chapel: inspired by the church of the Holy sepulcher in Jerusalem, this church features blue domes, high arched ceilings and beautiful stained glass windows with religious images.
There are so many places to visit that exploring Bruges in 1 day may not be the best idea. Extend your trip to get the best out of it!
It was one of my favorite things to do in Bruges in 1 day.
9. The Must: Climb Bruges Bell Tower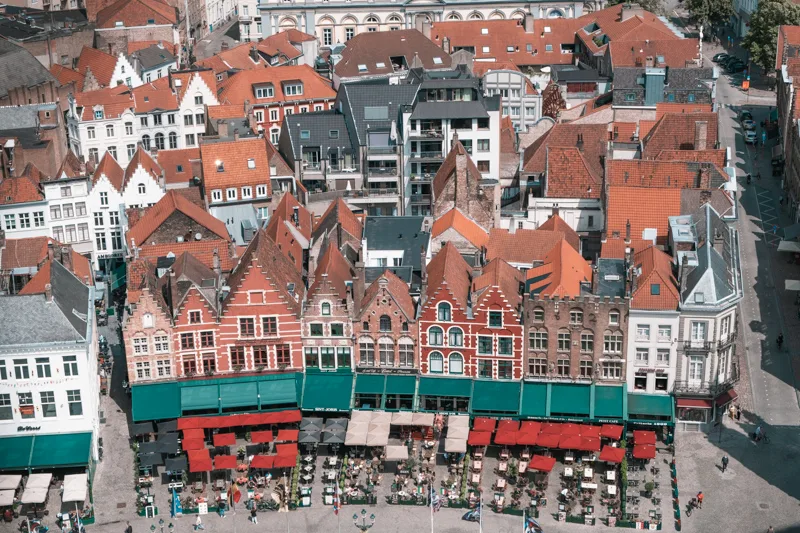 This is a must-do for a unique adventure.
Known as the Belfry of Bruges, this was used as an observation post in ancient times. Climb the 366 steps to the top to get a unique birds-eye view of the city, its beautiful canals, and streets from the top of this 13th century Tower.
See the historical rooms and their uses along the way, as well as the carillon and the 47 majestic bells. If you want to explore Bruges in 1 day, this must be on your to-do list! – Get tickets here
Though the climb might seem daunting, the experience and the colorful view from the top make it worth it. From here you can view the countryside of Bruges which is one of the best places for hiking in Belgium.
Book your tickets in advance at Get Your Guide
10. Bruges Boat Ride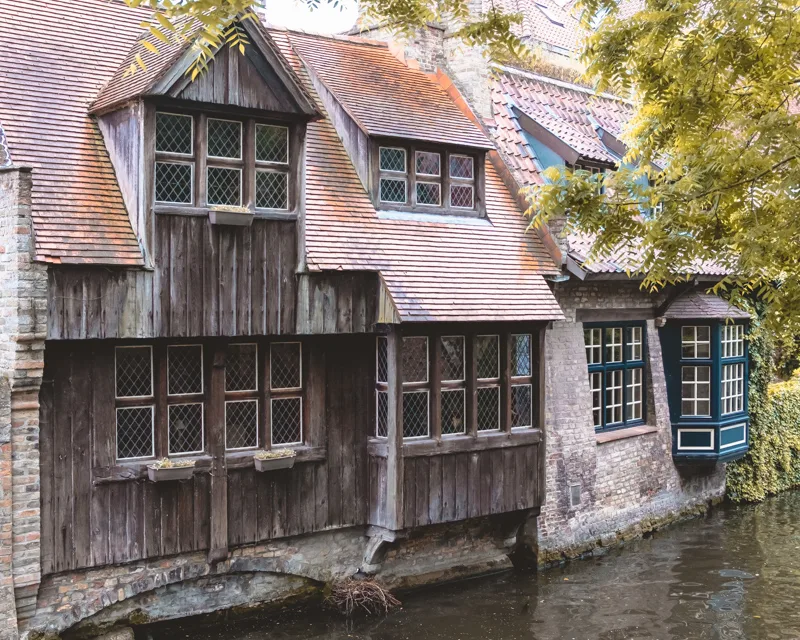 In the city known for its many canals, and affectionately called The Venice Of Belgium, you have to explore the water!
Take a Bruges boat ride cruise and see the sights of the city as you row past them. It's a great way to see the city from afar if you're there to explore Bruges in 1 day. – Check tours here
Discover secret gardens, romantic bridges, and building facades reflected in the water. Perfect for a visit with a loved one, or for cool photo opportunities.
There are many canal tours in Bruges that you can book for this purpose.
Check prices for boat rides here
11. Explore Bruges Beer Bars
Bruges is home to some of the best breweries in the world. To unwind after a long day, enjoy some beer at one of the local bars. I recommend Cafe Rose Red, a hidden gem in the Bruges nightlife scene.
It has a wide selection of beers, but it specializes in Trappist beer, Lambic, and Gueuze. Enjoy the cozy atmosphere and comfortable seating. Perfect for a group of friends, or to go alone and mingle with the locals.
Another great option is De Halve Maan Brewery, a family-run business with guided tours and a museum showing old brewing techniques. Book a tour, or buy some of their specialty beer.
12. Do a waffle workshop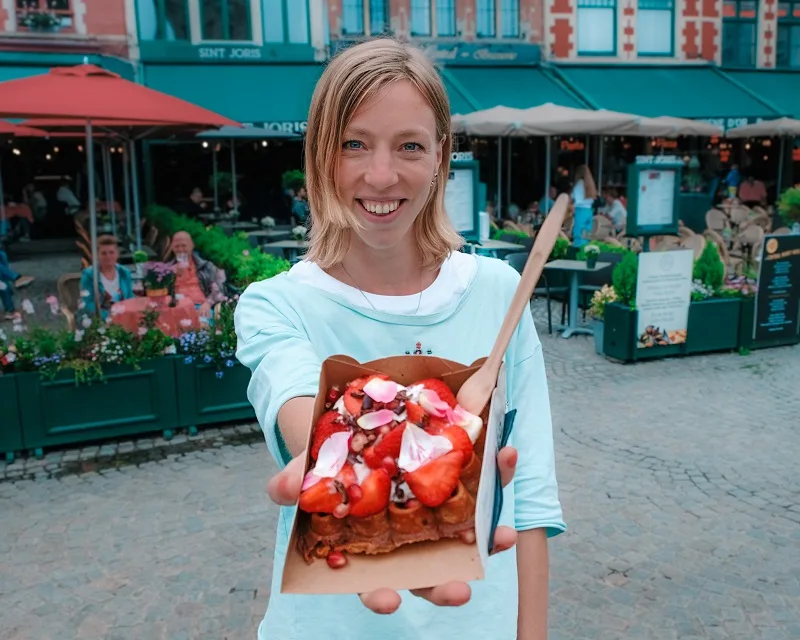 Learn how to make classic Belgian waffles, and eat as many as you can while enjoying the craft! Add your own twist and toppings to the delicious breakfast food, in a workshop lasting 90 minutes. Remember to book tickets beforehand.
If you want a gluten-free or dairy-free workshop, you need to inform them beforehand because they have separate workshops for those!
If you've spent even one day in Bruges, you'll know how important waffles are in the local diet! You'll find them at various street food stalls in every corner of the city.
Check food tours in Bruges here
13. Do a chocolate workshop in Bruges
Belgian chocolate is famous worldwide, and arguably the most delicious. Learn how to make your own in a chocolate workshop, available in English language. It's one of the best things to do in Brugge. – Get tickets here
Be creative and make delicious treats in this must-do workshop. You'll get to make two types of chocolate as part of the workshop: Pralines and Mendiants. Moreover, you also get a box of delicious Belgian chocolates to take home (my favorite part!)
The chocolate used is gluten and dairy-free so you don't need to worry about that either. Just remember to book tickets beforehand!
Book a chocolate workshop in Bruges
14. Enjoy the silence in the Beguinage of Bruges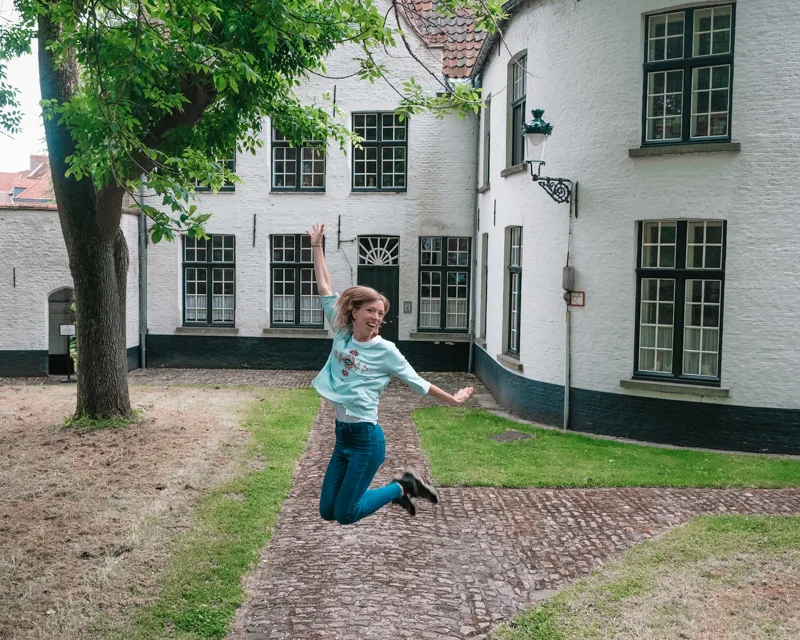 The Beguines were a group of nuns and spinsters who lived in a system similar to a convent but with more freedom.
Now home to Benedictine nuns, the Beguinage is one of the most silent and peaceful historical places of Bruges. It is home to a treasured gilded Madonna statue from the 13th Century.
There is also a museum showing the living quarters of the beguines who used to occupy it till the 20th century. You can buy Catholic-related gifts from a gift shop. The Beguinage is located near the Lake of Love.
15. Walk over the Lover's Bridge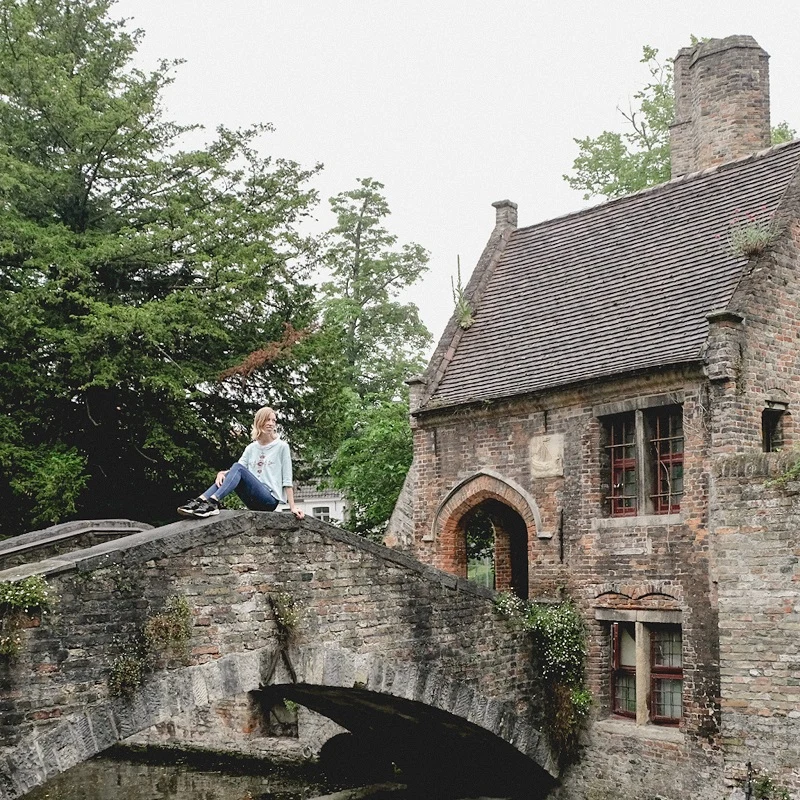 Named after a folk story of a girl named Minna who died for love, the Lake of Love and the Lovers' Bridge spanning it are romantic spots to visit with a loved one.
Urban legend says if you walk over the bridge and kiss your beloved, it will become eternal love.
Get there from the Beguinage and enjoy the picturesque views and the tranquil environment of Minnewater Park. You can also take pictures of the swans, the emblem of the city.
If you're single, don't worry, you can still visit the Bridge and enjoy the views! It's one of the best Instagram places in Bruges.
16. Must see: The Basilica of the Holy Blood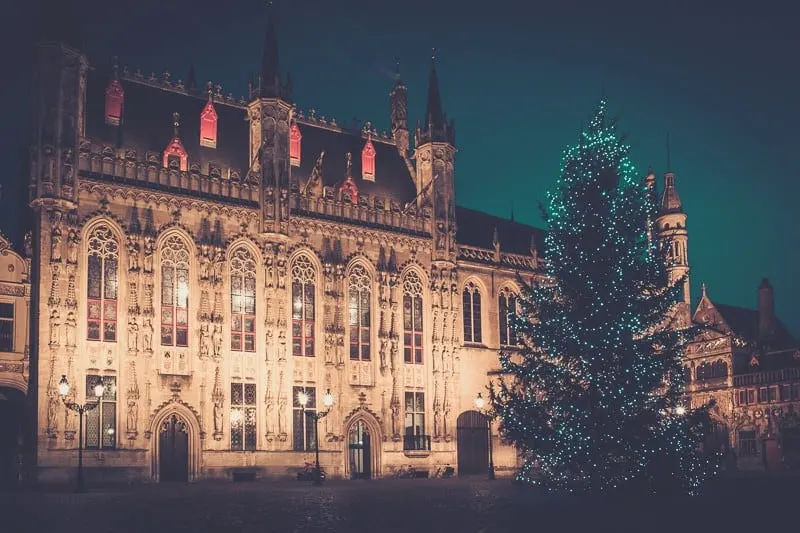 This church is famous worldwide and is one of the best things to see in Bruges! It has a vial with a cloth stained with the blood of Jesus Christ.
From those deeply religious to those simply curious, this church is a must-visit for everyone.
The breathtaking 12th-century building features a Romanesque Lower Chapel and a Gothic Upper Chapel.
On Ascension Day in the spring, the Procession Of the Holy Blood is carried out, where the bishops carry the esteemed relic through the city.
Check walking tours in Bruges here
17. Eat Belgian fries with Mayo and Andalus Sauce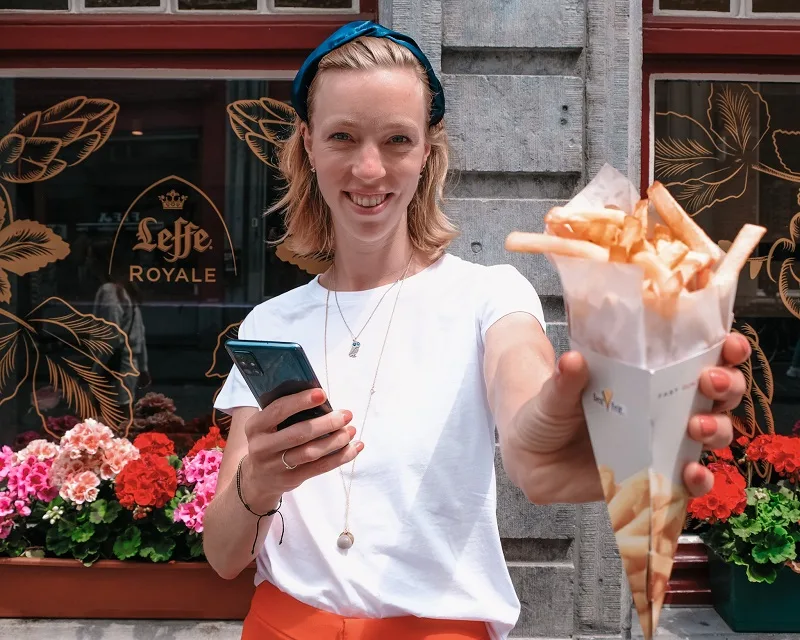 It is a little-known fact that fries were actually invented in Belgium! Try the authentic flavors by getting the Fries from a local restaurant and enjoying them with Mayo and Andalouse sauce for the best taste.
This should be on your to-do list if you want to explore Bruges in 1 day. – Check food tours here
After all, you can't explore a place without trying its authentic local food inventions! Moreover, their fries are actually finger-licking' good.
18. Visit the windmills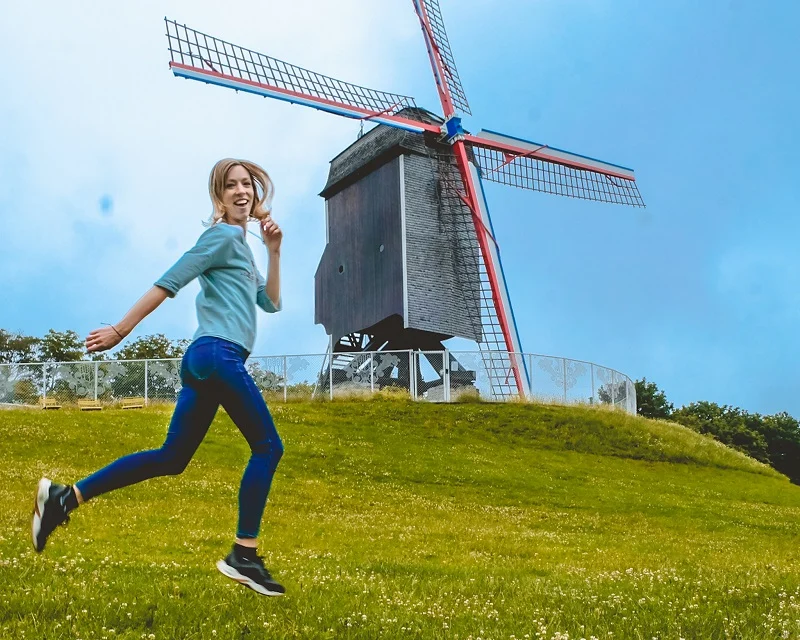 The Dutch are famous for their windmills! Take a stroll along with the picturesque windmills of Bruges that provide a perfect photography opportunity. Located along the water, they have a unique shape different from other windmills which is what makes them so interesting.
There used to be about 25 windmills in Bruges, but just a few remain to this day.
The Sint-Janshuismolen mill is particularly attractive and has a small museum inside it too! It's also the only mill that's still in the original spot that it was built in.
The other mills have been relocated to different spots.
Check walking tours in Bruges here
19. Stroll along the colourful Markt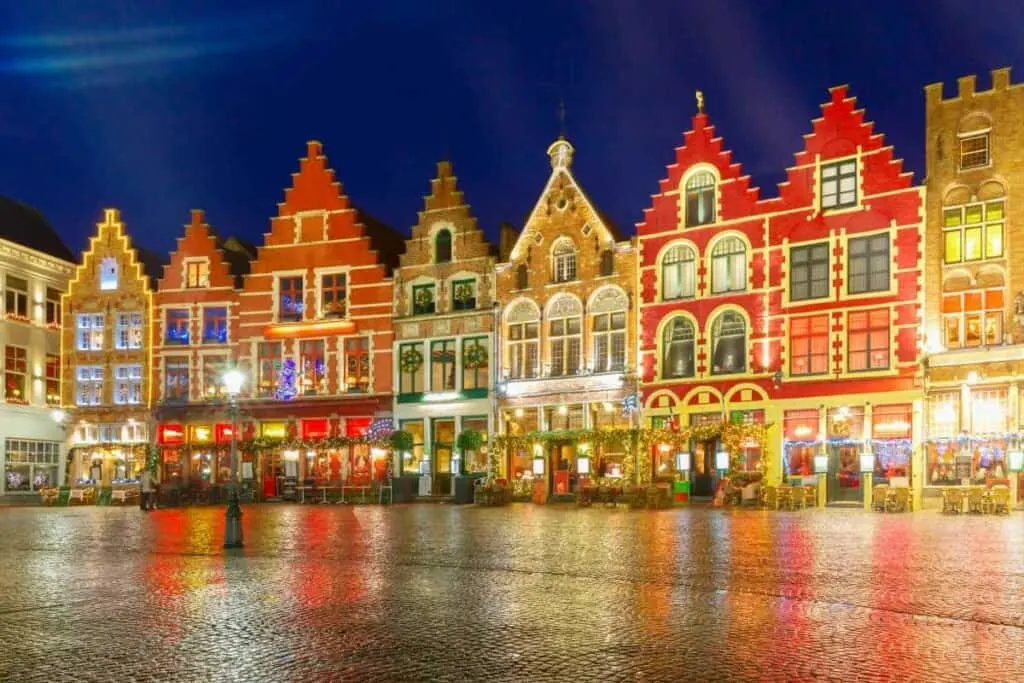 The markt i.e Market Square of Bruges is in the heart of the city, buzzing with life. It features the Bell Tower and has many restaurants and traditional markets. The center of the square features statues of 14th Century industrial leaders Breydel and de Coninck.
You can ride a horse-drawn carriage through the square, as you see all the buildings full of history. This is also one of the best Christmas markets in Belgium.
Bruges is the perfect destination for one of the best day trips from Brussels in wintertime.
20. Learn the history of Sint Janshospitaal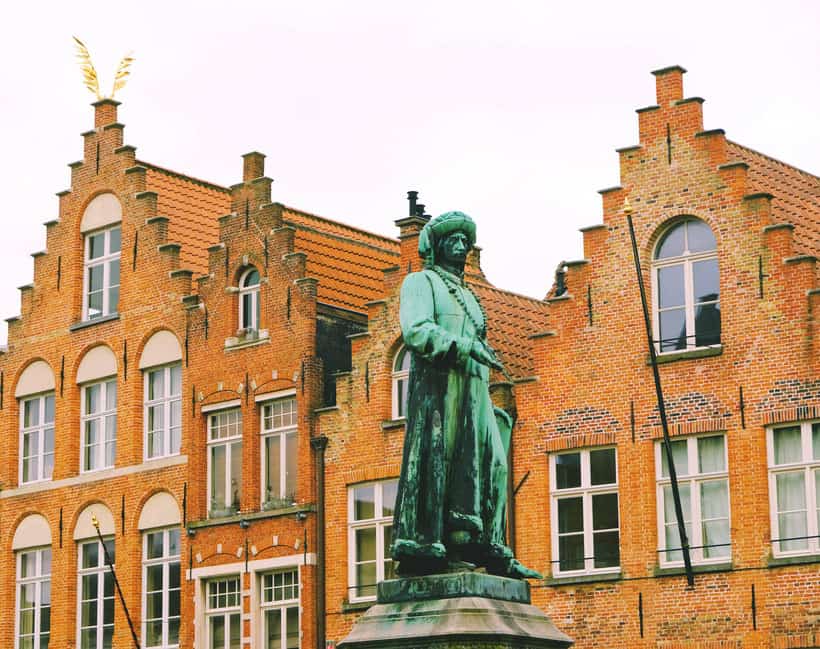 Saint John's Hospital is one of the oldest hospitals in Belgium, built in the 12th Century, you can walk through it and see the medieval wards, medical instruments, church and chapel, and artworks, and learn about how medicine worked in ancient times.
A great tour for anyone interested in the medical field.
It's turned into a museum now with interesting medical displays. There's also an audio tour here so make sure you bring your earphones! If you are wondering what to do in Bruges in 1 day and want to avoid the crowds, then this is a must!
---
How to get to Bruges
By car: Get a car rental and enjoy driving on the Belgian roads, with the unique views of the canals, cobbled streets, and beautiful buildings of the medieval city. – Check prices here
Bruges by train: Catch a train to Bruges for faster travel and make sure to book your tickets in advance to avoid any hassle! – Get tickets here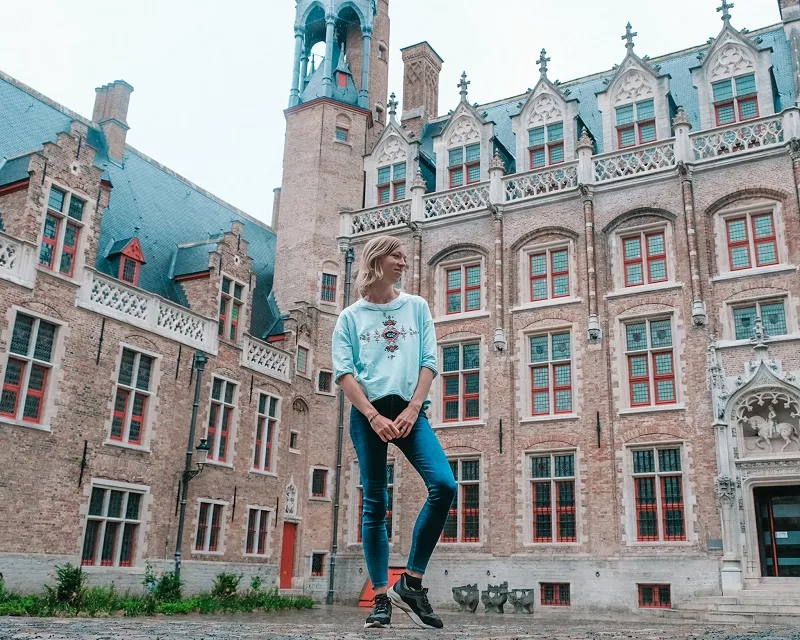 Where to stay in Bruges
One day in Bruges is never enough! If you want to extend your stay, have a look at these hotels in Bruges:
Luxury
Relais & Châteaux Hotel Heritage *****
Hotel Dukes' Palace Brugge *****
Ten Hove Brugge *****
Hotel Van Cleef ****
Something special
B&B AM/PM (all vegan, with a GREAT breakfast!)
B&B De Corenbloem Luxury Guesthouse – Adults Only
B&B Canal Deluxe
The Pand Hotel – Small Luxury Hotels of the World ****
Mid-Range
Hotel De Castillion – Small elegant family hotel ****
Relais Bourgondisch Cruyce, A Luxe Worldwide Hotel ****
Castelsuites
Boutique Hotel Sablon ****
Budget
Hotel Bla Bla **
Hotel Van Eyck **
Hotel Gulden Vlies **
Hotel Cordoeanier **
---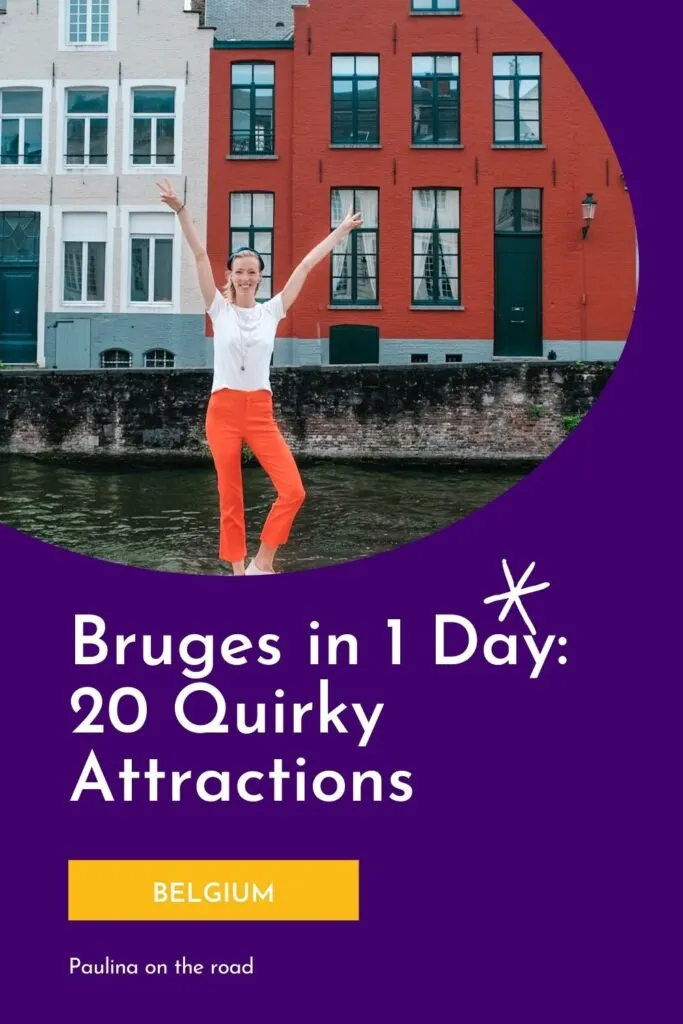 ---
Hola! I am Paulina, a fervent travelette who crossed the Atlantic Ocean by Boat HitchHiking. On my blog, you'll find all the tips to make the most of your holiday. Get ready to enjoy outdoor and sustainable travel like hiking, cycling or sailing. Let's hit the road together!