Guide to the best brands offering vegan sandals for women and men for any occasion
Veganism is getting incredibly popular in the world of fashion and footwear. People are making conscious choices when it comes to everyday essentials like sandals.
Opting for vegan sandals is one of the best ways to show your love for the environment and animals. If you are passionate about sustainable travel, vegan sandals are a must-have.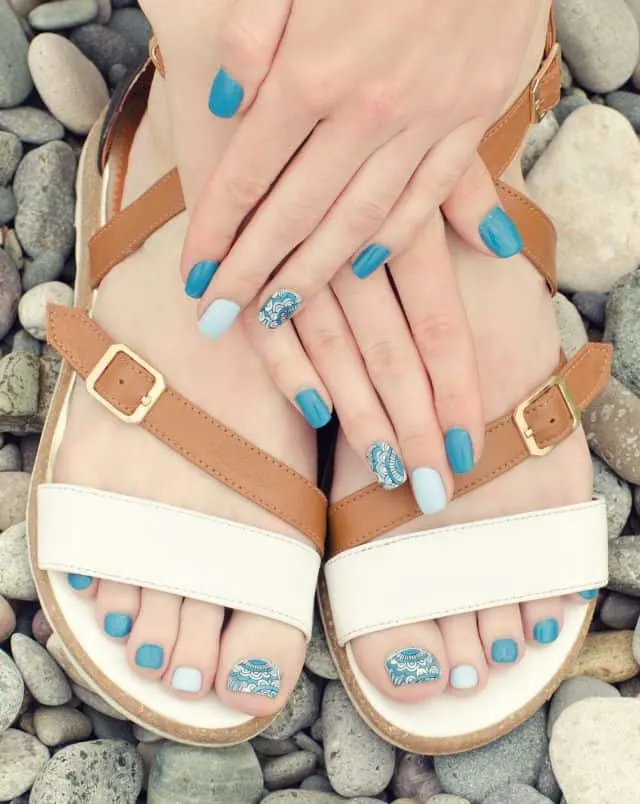 Many footwear brands now have exclusive vegan collections. Some brands even offer their iconic designs in vegan styles.
These cruelty-free pieces are fashionable and made without any animal products. Many innovative materials and alternatives are used like hemp, faux leather, recycled PET, and more.
Today, let's talk about the best brands for vegan sandals.
This blog is supported by you, dear reader. If you purchase through a link, I earn a small commission. As an Amazon Affiliate, I earn from qualifying purchases.
Overview: The Top 5 Vegan Sandal Brands
Matt + Nat offers an amazing collection of some of my favorite stylish and comfortable vegan sandals.
The women's vegan sandals from Matt + Nat are phenomenal with designs ranging from flats, and high heels, to buckle and cross sandals.
These are all available in beautiful colors and will go well with all your casual dresses and jeans.
Additionally, the brand offers slip-on vegan sandals for men that are easy and comfy to wear.
The high-quality and timeless products are crafted with sustainable materials like PU. Here you can also find sandals made from 100% recycled windshield glass resin.
The sandals from Matt + Nat are made to last and can be cleaned effortlessly as you can gently rub it with a damp cloth and soap to make it shine as new.
Birkenstock is one of the oldest purpose brands in the world and crafts premium-quality footwear that dates back to 1774.
This brand takes sustainability seriously and its iconic styles are now available in vegan styles.
Plus, the vegan Birkenstock sandals don't compromise on comfort, support, and style, and fans of traditional Birkenstocks will love these just as much.
These elegant pieces are made with synthetic and natural products like microfiber, jute, cork, and EVA.
There are many styles to choose from like slides, sandals with crossover straps, and platform heels, as well as a unisex slip-on clog that can be worn all year.
These sandals support health and promote well-being with their brilliantly designed footbed, which features deep heel cups and a toe grip that protects and supports the feet.
Highlights
Plants a tree for every order
Cruelty-free Sandals made in factories with fair working conditions
NOAH lets you get your summer sorted with its outstanding vegan and high-heeled sandals.
All NOAH products are made in Italy and are a true reflection of excellent craftsmanship and elegance.
This brand demonstrates its love for animals by excluding leather from every step of production.
All of the sustainable sandals from NOAH are made with recycled materials like microsuede and micronappa.
You can pair these airy and lightweight vegan with your summer dresses, skirts, and jumpsuits.
From wedges and block heels to thong sandals, NOAH has something for your every mood.
You can wear them for your beach walks, casual outings, date nights to even glamorous events.
NOAH also makes PETA-approved vegan shoes for women and men. These ultra-fashionable and comfortable footwears are perfect to be worn throughout the year.
Highlights
Uses 3D-Knit technology to reduce waste
Sustainable packaging process using 100%recycled cardboard
Founded in 2020, VIVAIA has made a name for itself in the sustainable footwear world within a short period.
Ddored by customers for its timeless and versatile designs, VIVAIA presents incredibly stylish and sustainable sandals made from recycled plastic bottles.
You can choose from a range of pointed-toe mules, sling-back sandals, and square-toe slide heels, all of which are available in attractive colors to make any outfit POP.
This is one of the best brands for zero waste fashion that you can rely on for your everyday footwear staples.
The breathable and anti-slip rubber soles of all VIVAIA sandals are designed with eco-friendly, soft, and deodorizing insoles to keep your feet feeling fresh and ensure all-day comfort.
The sandals are hand-washable which increases their durability and makes them look new and last for years.
Noize is 100% PETA-approved and is counted among the best vegan clothing brands as the brand strongly believes in the philosophy of creating the cool without the cruel.
The brand's commitment to a better tomorrow is evident from its use of ethical and cruelty-free materials: Econyl, organic cotton and vegan fur are some materials used for its high-quality products.
The footwear collection from Noize has everything from boots, sneakers, slippers, to, of course, vegan sandals.
Noize offers vegan slip-ons that are made from rubber sponges and are lightweight, as well as being incredibly comfortable.
These cushioned sandals are equally suitable for men and women, and you can find them in many attractive colors.
As a 100% cruelty-free brand, Noize also offers some of my favorite vegan winter boots made with faux leather.
You should also not miss checking out the range of vegan winter coats and sweaters!
Highlights
Uses responsibly certified and sustainable materials
Premium and water-friendly vegan sandals
Sanuk stays true to its purpose of making people smile with its fun footwear collection – including many vegan options!
It's one of the best sustainable shoe brands that uses natural materials like hemp and jute.
Within the vegan-friendly collection, Sanuk offers a range of vegan flip-flops, sandals, boots, and shoes.
Sanuk has some of the most comfortable vegan sandals, which are made with real yoga mat footbeds.
These are excellent for casual trips, as well as for the days when you want to pamper your feet.
The vegan sandals from Sanuk are available in stunning styles like barely-there straps, glitter straps, and more.
You'll even find vegan platform sandals made with synthetic leather and bloom foam which redefine sustainability. They are comfy, ultra-fashionable, and can be paired with any outfit.
Sanuk also offers vegan men's sandals that are high on style and perfect for any occasion.
LOVECO is a vegan-friendly European brand that sells its own products, and those of other brands that are equally committed to sustainable practices.
And this is a great brand to rely on if you are searching for non-leather sandals, especially those based in Europe, or looking for European styles.
On their website, LOVECO features sandals made from eco materials like organic cotton, hemp, rubber, and cork from a range of brands.
You'll also find incredible sandals made from recycled tire materials and plastic waste.
LOVECO offers a range of vegan sandals women will love to wear on summer days that look great with casual outfits and are available in many vibrant colors.
You can also get block heels to match your formal outfits, and which are made with microfibre and feature anti-allergenic properties.
This brand also meets its sustainability goals by opting for plastic-free shipping and renewable energy.
Sustainability has always been the core value of the luxury fashion brand, Stella McCartney, named after founder, an established fashion designer who has been a lifelong vegetarian.
The brand presents an outstanding range of vegan clothes, shoes, and various accessories.
For those who love fashion, the vegan sandals from Stella McCartney are a must-have in summer.
From flat slides, and heel slides, to platform sandals, the brand offers plenty of timeless choices – such as the studded mules, which will make you a trend-setter at every party.
The vegan sandals are responsibly made with materials like forest-friendly viscose-blend and recycled polyester.
Stella McCartney also uses biobased Alter Mat which is an excellent vegan alternative to leather.
The air slide sandals with puffy soles are a brilliant initiative towards promoting circular fashion as these ultra-comfortable sandals are made from industrial waste from the same factory.
Additionally, Stella McCartney frequently collaborated with renowned celebrities Taylor Swift and brands like Adidas to expand the styles available.
First created in 1984 on the shores of a river to prevent sandals from floating downstream, TEVA now makes sandals that give you the freedom to roam and explore outdoors.
Since it was founded, TEVA has established a distinguished name for itself in the world of modern sports sandals.
TEVA's sandals are widely popular for their signature straps, which are now available in many attractive patterns.
And, in fact, these iconic straps are made from verified recycled plastic.
Whether you are looking for children's, women's, or men's vegan sandals, this brand has a lot to offer, including a wide range of vegan-friendly options.
TEVA has a trend-setting collection of vegan styles that offers arch support and an adjustable fit that are great for hikes and all-day adventures.
Additionally, TEVA offers water-friendly vegan sandals that are lightweight and excellent for travelers.
Dr. Martens has been creating durable and comfortable footwear for over six decades. The brand is popular for its iconic lace-up boots that have proved to stand the test of time.
But Dr. Martens also offers a range of sandals – including some vegan-friendly styles.
Those hoping to buy from the Dr. Martens vegan sandals collection can choose from strappy and gladiator sandals.
These are some of the most trendy vegan black sandals that you will ever find.
The sturdy Goodyear welt lets these sandals stand ahead of their competitors in terms of durability.
These vegan sandals are made from synthetic leather Oxford and feature adjustable straps and still feature the standard Dr. Martens platform.
Despite their chunkiness, I find them to be incredibly lightweight, and wearing these sandals I can comfortably wall all day.
These sandals look excellent with all my summer outfits including shorts, skirts, and dresses.
Plus, you can wear these Dr. Martens sandals for years as it's very easy to clean them with a damp cloth.
All the footwear by the lifestyle brand Matisse is an example of high-quality craftsmanship.
Its fashion-forward designs are for modern women who do not want to compromise on utility and comfort.
Based in Los Angeles, this brand was started in 2001 and makes its products in a family-owned and operated factory where workers are treated and compensated fairly.
Matisse is one of the best brands to get fashionable vegan leather sandals in pretty styles.
From vegan wedge sandals, platform sandals, and flats, to beach slides, this brand has got you covered for all your needs.
You can also find an impeccable collection of vegan sandals made with woven jute, vinyl, and faux cork.
Although not all of the sandals are vegan, those that are are clearly labeled so you can shop stress-free.
The sustainable boots available from Matisse are also a class apart in terms of style and design and these gorgeous pieces are all that you need to elevate any look.
Started in 2010, Jambu features outdoor-inspired footwear that blends fashion and function and has a remarkable collection of water-ready and vegan designs.
The high-quality sandals celebrate individuality and add style to any wardrobe.
For the planet-friendly footwear collection, Jambu uses materials like corn vegan leather, bamboo fabric, and natural rubber.
You will find great choices here if you are looking for vegan women's sandals for outdoor activities. The superior grip and the foam insoles make these sandals very comfortable.
Breathability, flexibility, and secure fit are some of the other fabulous features of these vegan sandals.
Jambu has amazing vegan summer shoes made with recycled PU leather that are available in bright beautiful colors so that you can have fun outdoors in style.
Highlights
Durable and repairable sandals for adventures
Lets you create custom sandals by uploading your strap designs
Chaco has more than 33 years of expertise in designing versatile and durable sandals and its performance-ready footwear is an excellent companion on your outdoor adventures.
The brand offers a stunning collection of vegan sandals for women and men, including a vegan-friendly version of the iconic Z/cloud collection featuring adjustable straps.
The contoured arch support and cloud cushioning ensure that you stay comfortable all day, and the upgraded rubber outsoles make it perfect for hiking, rafting, and camping.
These are also the best vegan sandals for your beach days as they're water-friendly, and I find they don't slip like some brands when they get wet.
Chaco also runs the ReChaco program to repair worn-down sandals from the Z collection.
This eliminates the need for buying new sandals by replacing the straps and soles of your old Chaco.
This is an amazing sustainability initiative that helps in keeping garbage out of the landfill.
While not all of Chaco's sandals are vegan, many are and are clearly marked so you can shop with confidence!
Highlights
Vegan sandals that enable a more natural walking motion
Allows 30-day trial and free return if not 100% satisfied
Supports the work of the Cancer Institute and donates to breast cancer research
Created by a team of veterans from reputed performance brands, OOFOS presents sandals that help you feel recharged and rejuvenated.
All the skillfully designed vegan sandals from OOFOS reduce stress on knees, joints, and ankles.
These sandals will quickly take you to a world of unmatched comfort after an intense workout session.
Because the sandals offer amazing support to your feet, they are perfect to relax in after a long and tiring day, or for a day of walking.
The secret behind the superior comfort of the vegan walking sandals is the innovative OOfoam™ technology which absorbs more impact than traditional foams to make walking and recovery easier.
There are a variety of styles to choose from including sandals with adjustable upper straps which ensure optimal all-around fit for men and women.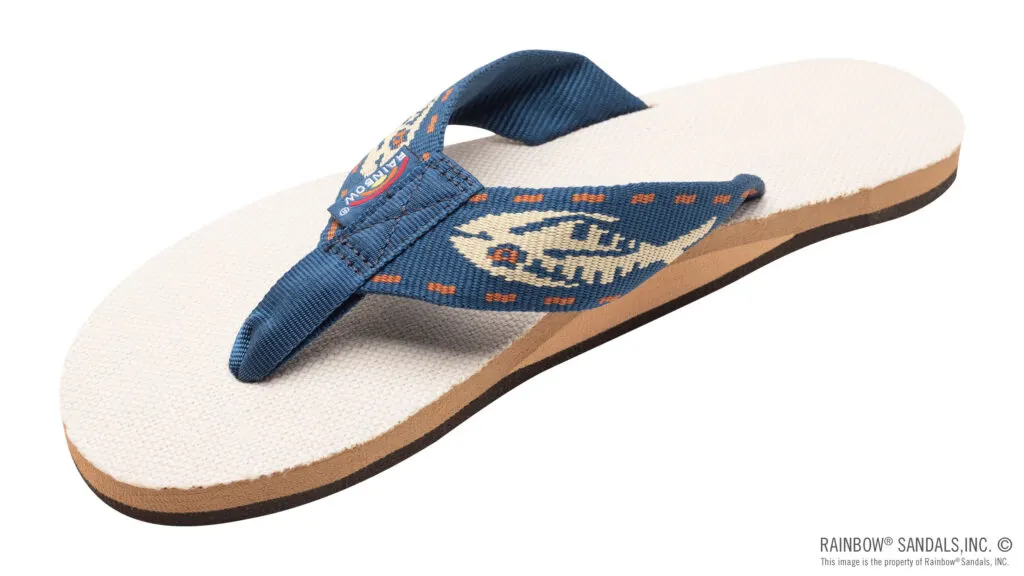 Highlights
Uses Box X Parachute stitch to secure the sandals
Donates repaired sandals to those in need
Gives back to the community by helping various charities
Rainbow Sandals was started in 1974 and has been winning the hearts of its customers with its comfortable sandals.
These high-quality sandals are designed to make your feet feel and look good.
The layered construction of the Rainbow sandals is the reason behind their remarkable durability. The brand has also created an environmentally-friendly glue that keeps the sandals strong.
The sandals from Rainbow Sandals feature signature non-slip rubber bottoms to make your summer outings fun and safe.
Plus, the classic sandals are even made with rubber and recycled materials come with a lifetime rainbow guarantee.
Rainbow Sandals also has a collection of natural hemp sandals for men and women, and are one of my favorite brands for hemp shoes.
These laid-back sandals feature a single-layer midsole with arch support.
All the timeless and simple designs of Rainbow Sandals make it a winner to pair with any casual outfit.
---
What to look out for when buying Vegan Sandals
Check the materials
The first thing to look for while buying vegan sandals is to check the materials used in their production.
For a sandal to be completely vegan, all its components including the sole, upper, thread, and even glue should be cruelty-free.
Look for durability
Vegan sandals must also be durable to ensure that it creates a positive impact on the planet. Opt for high-quality sandals that are easy to clean and can be worn for years.
Look at the vision of the brand
While buying vegan sandals, it's always a good idea to learn more about the brand. Look at whether the brand's initiatives are in sync with its sustainability goals.
You can also see if it has got any vegan certification to be 100% sure before your purchase.
---
Short FAQs about Vegan Sandals
What is a vegan sandal?
A vegan sandal is a sandal that is made entirely of cruelty-free, animal-free products. These are usually all-natural, sustainable products, but might also be recycled and/or synthetic fabrics.
Is TEVA vegan?
TEVA is not a 100% vegan brand, however, they do offer many vegan-friendly styles, all of which are clearly labeled as such.
Does Birkenstock make vegan sandals?
Yes, they do! There is now a whole range of vegan Birkenstock sandals which features all the standard designs, but made with 1005 cruelty-free materials.
---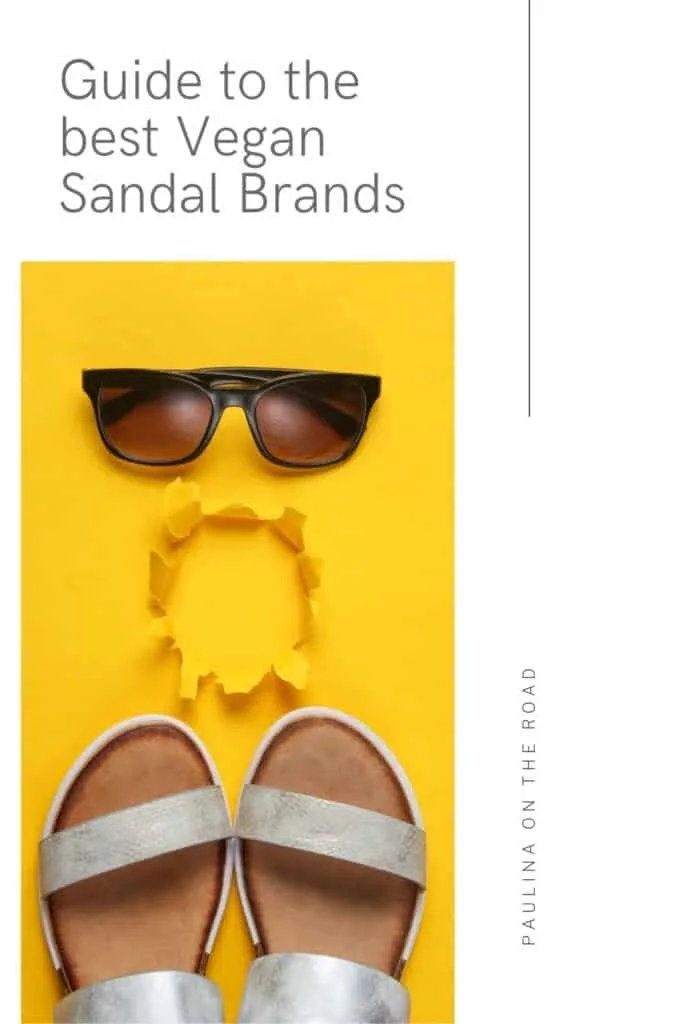 ---
Hola! I am Paulina, a fervent travelette who crossed the Atlantic Ocean by Boat HitchHiking. On my blog, you'll find all the tips to make the most of your holiday. Get ready to enjoy outdoor and sustainable travel like hiking, cycling or sailing. Let's hit the road together!