Guide to the best brands for ethical and eco-friendly jeans, including other sustainable denim products
Everybody in America has tried on jeans at some point, and over 1.2 billion pairs of jeans are sold yearly.
Just think of the impact of that consumption – the materials, labor, and emissions – and how much impact sustainable jeans could have.
In this post, we imagine another world where everybody purchases sustainable jeans.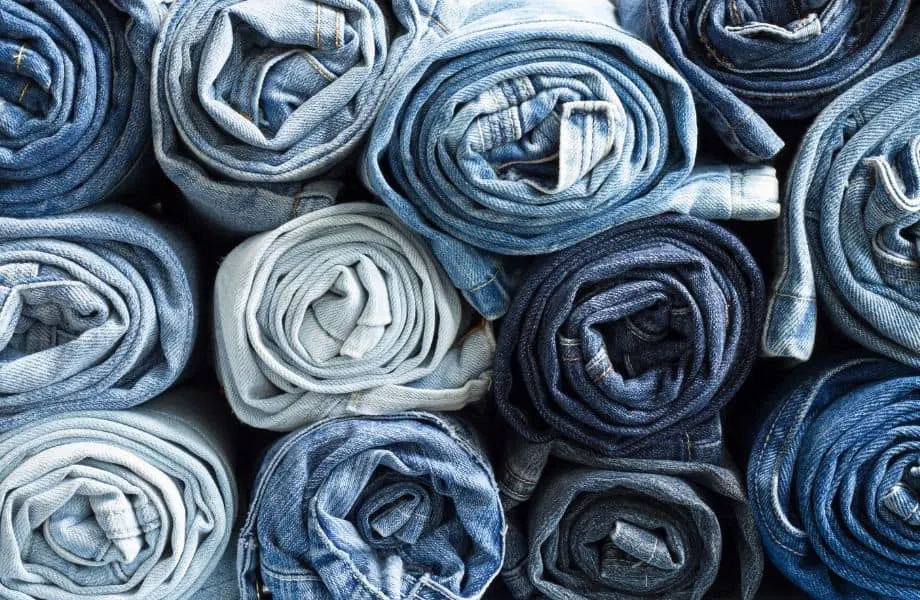 We take examples from the best recycled clothing brands and affordable eco-friendly clothing brands to collate a list of the best sustainable jeans.
Find out everything you need to know to start your sustainable fashion journey below.
This blog is supported by you, dear reader. If you purchase through a link, I earn a small commission. As an Amazon Affiliate, I earn from qualifying purchases.
Overview: The Top 5 Sustainable Jean Brands
Our first eco-friendly jeans brand champions people and the planet.
Nobody Denim is based in Melbourne, Australia, and they conduct all of their manufacturing in their home city rather than shipping it out to wherever labor is cheap.
There are two benefits to this:
Firstly, a shortened supply chain means that Nobody Denim can effectively ensure that nobody is being exploited in the manufacturing process.
Secondly, this ethical jeans company can tie its manufacturing close to emerging fashion trends.
If you want to keep up with a trend ethically, Nobody Denim is the place to go.
Warp + Weft offers the best of both worlds by being family-owned and creating affordable eco jeans that can be shipped worldwide.
Plus, Warp + Weft offers everything we can expect from all sustainable denim brands: fair working conditions and ethical practices.
However, their main mission is to reduce water usage in the jeans manufacturing process.
They use just 10 gallons of water per pair of jeans, which is tiny compared with the industry standard of 1,500 gallons.
The other thing that Warp + Weft does to ensure they sell durable jeans that do not cause environmental problems is in their bleaching process.
They use cutting-edge dry ozone technology, meaning no chemicals from the process seep into waterways.
You'll love these affordable sustainable jeans and they're sure to become a staple in your wardrobe!
If you are looking for a zero-waste fashion brand, RE/DONE is the perfect option.
Rather than creating new clothes, an inherently wasteful process, RE/DONE reimagine vintage items from our favorite brands.
They are all about upcycling, transferring these vintage items into apparel compatible with the latest fashions.
Primarily, they work with Levi's and Hanes to create these truly unique items.
RE/DONE is also amongst the flawless sustainable jeans brands in various ways.
Most uniquely, they have partnered with Shelter Suit, a non-profit that shares RE/DONE's vision.
Shelter Suit leverage upcycling to make shelters, clothing, and sleeping bags for homeless people. Shelter Suit donates 5% of all sales to this initiative.
People Tree is amongst the best vegan clothing brands that are all about challenging the use of heavy machinery in our clothing industries.
Such machinery pollutes to a horrific extent and can cause physical harm to the people operating them.
Therefore, all of People Tree's slow-fashion jeans are made by hand using traditional techniques.
This includes hand weaving, knitting, and embroidery.
Plus, People Tree has partners all over the world that help create their sustainable products.
They work closely with these artisans to ensure that all practices are sustainable and to help their partners achieve economic independence and the right to a livelihood.
Fair Trade is used at all levels of their supply chain to ensure that the system is fair for everybody working there.
Reformation is a sustainable jeans women's brand that focuses on using denim to make the feminine powerful.
They are a premium manufacturer and retailer of organic clothing made in the USA – in fact, they make some of my favorite organic cotton dresses!
Every item you buy from Reformation is made in Los Angeles.
This Los Angeles base has been important since their founding in 2009 when they sold vintage clothing out of a small storefront.
So it made sense that they would continue in LA when they decided to make their own clothing.
Protecting workers by keeping factories within US jurisdictions is vital to their mission.
Keeping factories close means that they are able to give workers a voice in everything that the company does.
Furthermore, Reformation reduces the air miles involved in getting the clothing to your door, greatly cutting emissions.
Reformation also happens to be one of my top sustainable shoe brands, and makes lots of other cute and sustainable clothes.
A leading ethical men's jeans retailer is Taylor Stitch, a sustainable retailer of men's clothing.
They sell jeans in various styles and colors, and denim jackets and shirts.
Taylor Stitch is unique because they sell the most durable jeans, designed to withstand rugged activities such as fishing, chopping wood, and preparing to surf.
Jeans from this store will "wear in, not out," according to Taylor Stitch, protecting the environment as you will need to replace your jeans less often.
Taylor Stitch also sells all kinds of apparel beyond denim.
They are one of the best hemp clothing brands and are a great place to go for men's ethical fashion.
Stella McCartney is a brand that shows us how just because clothing is sustainable and even resold and upcycled doesn't mean it can't be premium fashion.
They are one of the ethical jeans brands that can use unique prints and designs to rework vintage jeans for the next generation of fashion.
In particular, they use floral prints to help women express their passion for being in harmony with nature.
Stella McCartney is applying their philosophy in partnership with Levi's.
You might think Levi's isn't a brand known for perfect sustainable practices.
However, utilizing Levi's Secondhand has proved an exciting pathway for Stella McCartney to become more circular.
Started in 2015, ASKET is a brand that prioritises transparency and the planet over profits.
All of the jeans from ASKET are crafted in Italy and made with ethically sourced denim.
The brand sources three types of denim from three places: raw denim from heritage mills in Japan, washed denim from Italy, and black denim form Turkey.
All of the denim is made using 100% certified organic cotton and organic dyes with 100% traceability.
ASKET also ensures their sustainable jeans are made using processes that reduce water waste.
Every product on their site provides an impact breakdown, as well as a traceability report.
Outknown easily matches the other sustainable jeans brands included on this list.
However, they aim to go even further with their 2030 Sustainability Roadmap.
This roadmap shows how they are acknowledging how no brand is currently perfect and the measures they are taking to get closer to being truly circular.
Outerknown also has an extensive "Shop Used" section on their website.
This allows you to access products from their previous ranges at a reduced cost and without more manufacturing having to take place.
unspun is another environmentally friendly jeans brand that achieves ethical practices and a fantastic consumer experience.
Their sustainability goals are complex and comprehensive.
unspun has built its sustainable denim jeans brand on traceability and net-zero emissions.
Furthermore, all of their jeans are made from recycled or plant-based materials.
On the consumer side, unspun have pushed to make their jeans as accessible as possible.
They have eliminated confusion about which size to go for by inventing an application that can do a 3D scan of your body.
This scan will customize the best-fitting jeans you have ever worn.
The clothing brand Armed Angels joined the fight with other sustainable jean brands with their Detox Denim range.
They intend for our apparel to be more like relationships, committing to the same pair of jeans for many years.
Armed Angels help us form such relationships with our jeans by developing durable jeans with the planet in mind.
All unnecessary chemicals are removed from the production process, which means that you will not come into contact with any harmful chemicals.
Moreover, when you eventually have to move on to the next pair of jeans, no harmful chemicals will come out of them into the ecosystem.
Nudie Jeans are leading a new type of ethically made jeans by looking beyond simply using recycled materials.
Taking fibers from old clothing and using them to construct new clothing is undoubtedly better than using virgin fibers.
However, Nudie Jeans limit its environmental impact even more by using the fabric of worn jeans to create new products.
Nudie Jeans also use this revolutionary form of recycling to help customers to make their jeans last even longer.
The brand operates a repair service, patching any holes that emerge with fabric from worn jeans.
BAM is one of the world's most exciting bamboo clothing brands, especially if you are looking for sustainable jeans.
They use bamboo fibers to construct comfortable, durable, and 100% recyclable jeans.
Bamboo allows them to use 90% less water than conventional jeans.
Other aspects of the jeans have been built with sustainability in mind. For example, the buttons are easy to screw off.
If you need to replace a button, you can easily put another one on rather than having to get the sewing kit out.
And BAM offers so much more than just awesome slow fashion jeans!
Whatever your wardrobe requires, including vegan winter coats and sustainable activewear, you can find what you need on their website.
Our penultimate sustainable jeans brand is Boyish, a leading affordable eco-friendly clothing brand.
They choose natural dyes and materials that have a reduced impact on you, the environment, and the people who make the jeans.
Everything Boyish does is independently verified by Oeko-Tek's Standard 100.
This goes far further than the requirements of the law, to ensure all harmful substances are excluded from the manufacturing process.
Afends are a unique sustainable jeans brand because they build their jeans from organic hemp.
Using this plant to make clothing is great for the environment and for your skin.
Despite using this unconventional material, Afends still create quality jeans.
Their styles are effortlessly flattering, coming in all manner of cuts, including high-waisted, flared, baggy, and low-rise with a good selection of colors.
---
What to look out for when Buying Sustainable Jeans
Materials
The first factor to consider when buying sustainable jeans (men's or women's) is the material used.
Synthetic denim often requires more harmful chemicals and a more polluting construction process. Furthermore, synthetic options often have plastic, which is incredibly difficult to recycle.
Instead, try to look for jeans built entirely with natural fibers such as cotton, hemp, or bamboo.
Such materials require fewer chemicals, are more comfortable, and are often more durable.
Water Usage
A primary environmental problem with jeans is the amount of water used in the process, which can get into hundreds or thousands of gallons.
Such high water usage can lead to shortages in the locality of the factory.
After this huge amount of water is used, it will often have chemicals in it associated with the manufacturing process.
If your jeans manufacturer is not careful, this harmful water will pollute the ecosystem.
Therefore, you should look for a jeans manufacturer that limits their water usage.
When they do use water, you should make sure that they treat it appropriately before putting it back into water systems.
---
Short FAQ about Sustainable Jeans
---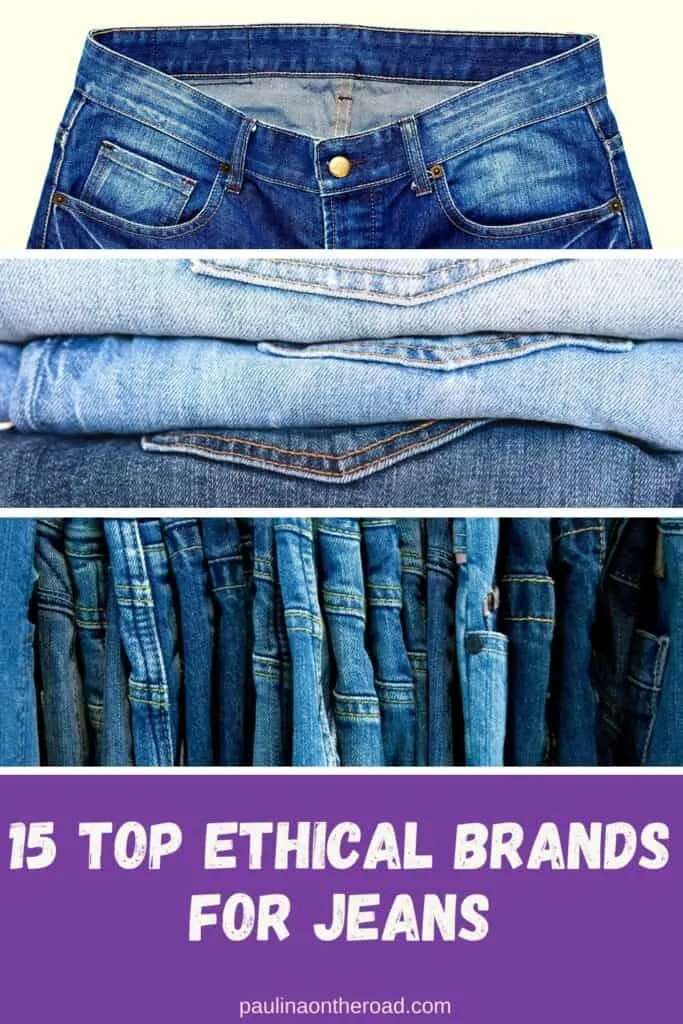 ---