After overcoming my initial seasickness, boating became quickly one of my favorite ways to travel.
Probably it's the ideal combination of traveling slow and adventurous feeling that got me hooked.
Now that I am back in Luxembourg, I want to stay connected with the sailing world as much as possible. On a daily basis, even in the smallest details. Not only do most of my travels go to the coast like Malaga, but I include sailing in my lifestyle in Luxembourg as well.
That's how I discovered Salty Bag who handcraft totes, bags, and purses from decommissioned sails.
Is there a more stylish way to manifest your connection and love to the sea and its blowing winds?
---
---
Salty Bag masterfully manages the art of combining stylishness with the values of sustainability, upcycling, local handicraft and zero-waste.
On top, by purchasing a Salty Bag, you'll own a unique piece: no sails are the same, each sail has a different story.
If sailing has taught me something, it's that our resources are finite and we have to preserve the beauty of our planet. And the oceans are key to the survival of our planet. Salty Bag perfectly incorporates these values in its production process as they prevent waste and giving resources a new life. In the most stylish way.
On top, Salty Bags are great in case you are looking for an accessory that fits your budget. Indeed, it's a great affordable sustainable fashion brand.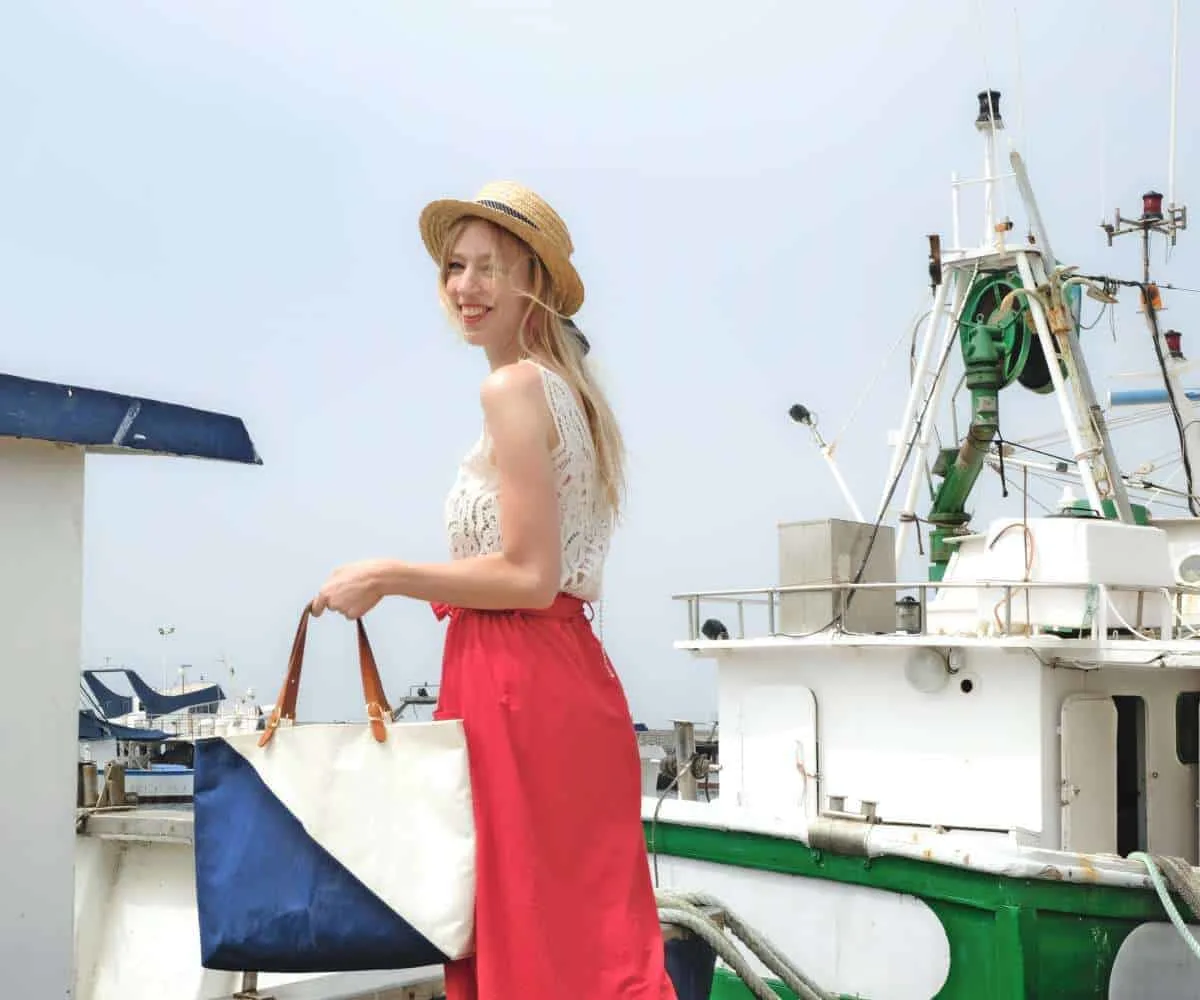 As I aim to be a conscious shopper, without wanting to lose points on the stylish aspect, I was naturally drawn towards Salty Bag. It's not only its connection with the sailing world that makes Salty Bag's project so innovating, but also the claim to make a sustainable, upcycled, handcrafted and unique fashion item.
Indeed the former sails are washed in the most eco-friendly way, cut and traced by hand. Instead of throwing away the sails that cannot be used any longer, Salty Bag decided to follow the principle of zero-waste and upcycling. Because even after having crossed the oceans of our planet, sails maintain their very resistant nature.
Thus, why not turn them into a cherished, fashionable accessory?


Each Salty Bag is a unique piece. Not only are they manually handcrafted in Corfu, Greece, but every sail differs by its sailing trajectory, colors, texture…
That means that your purse might come with small stains, scrapings or marks, which in my opinion only add even more character and personality to your bag. There will be never two Salty Bags that are alike.
Also the finishing details of each bag are of the highest quality including natural rope drawstring closures and vegetable tanned leather from Tuscany. Elegant and refined details are key to every Salty Bag.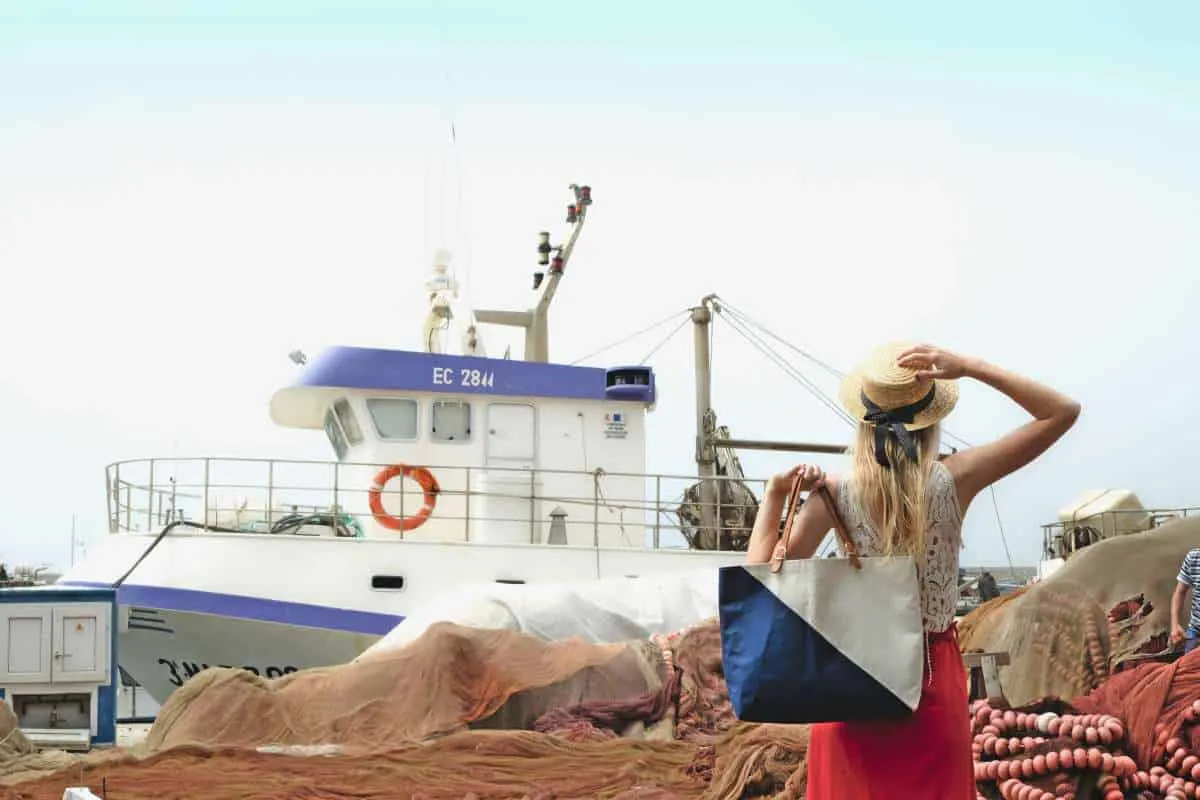 My favorite part of a Salty Bag are the
labels
that come with each bag. It allows you to track the
story of "your"
sail that's now a bag. It definitely enhances the feeling of
wearing a unique, custom made item
with a background. The mainsails of my "
Kinira
" bag mostly sailed in the Aegean Sea and my beloved "
Pori
" bag traveled more than
2.000 nautical miles
and is 31 years old (!!).
On top, the name of every Salty Bag is based on a geographic place in Greece that inspired the designers. In that context, my gorgeous "Kinira" shopper was inspired by the east side of Thasos island boasting gorgeous white sands and azure water. A total off the beaten track destination! My "Pori" bucket bag was inspired by a tied island in Koufonisia. At Salty Bag, it's all about creating a product with a story and added value.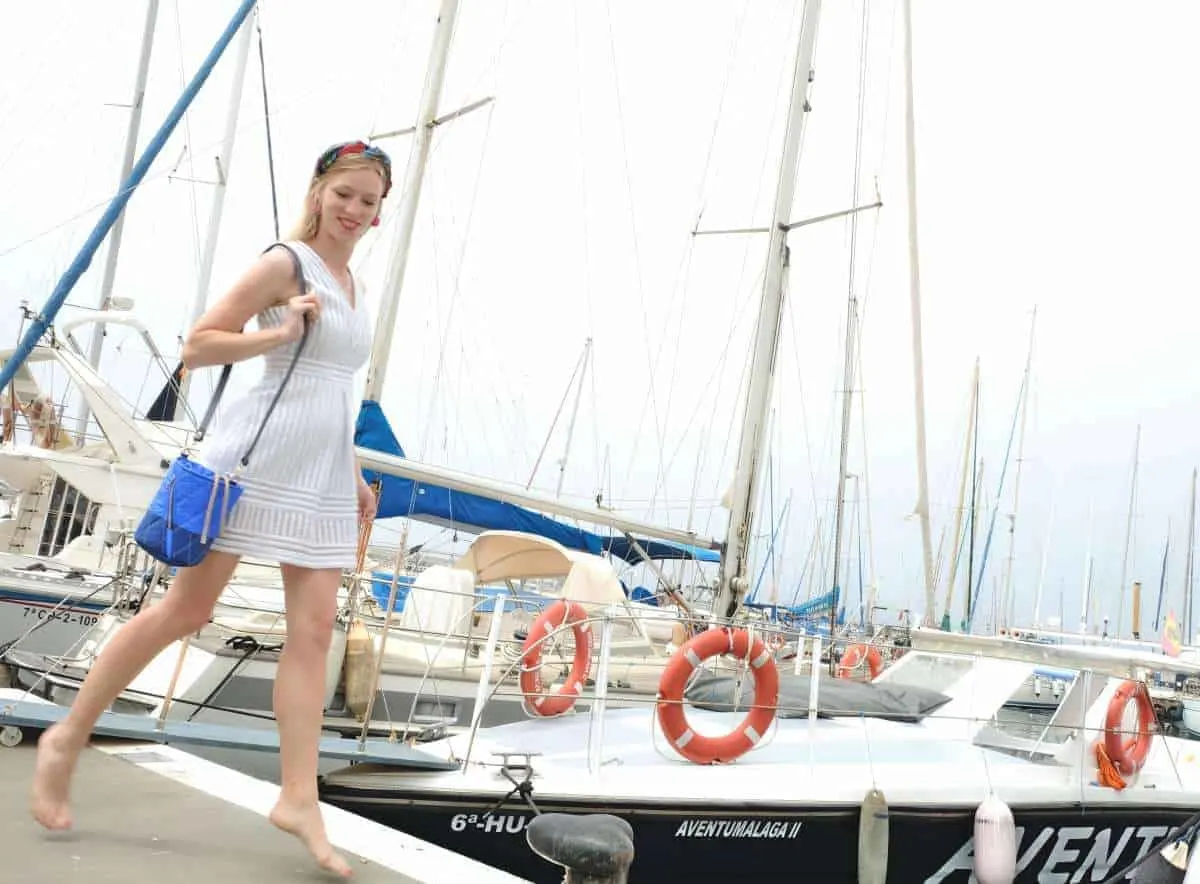 Salty Bag does not only make purses, bags, and totes, but also gorgeous sous-plats, quilted backpacks, clutches, envelopes, duffels etc.
For me, the best part of a Salty Bag is the sensation to wear it and feel like the next sailing adventure is just around the corner. Even in a country with no coast like Luxembourg.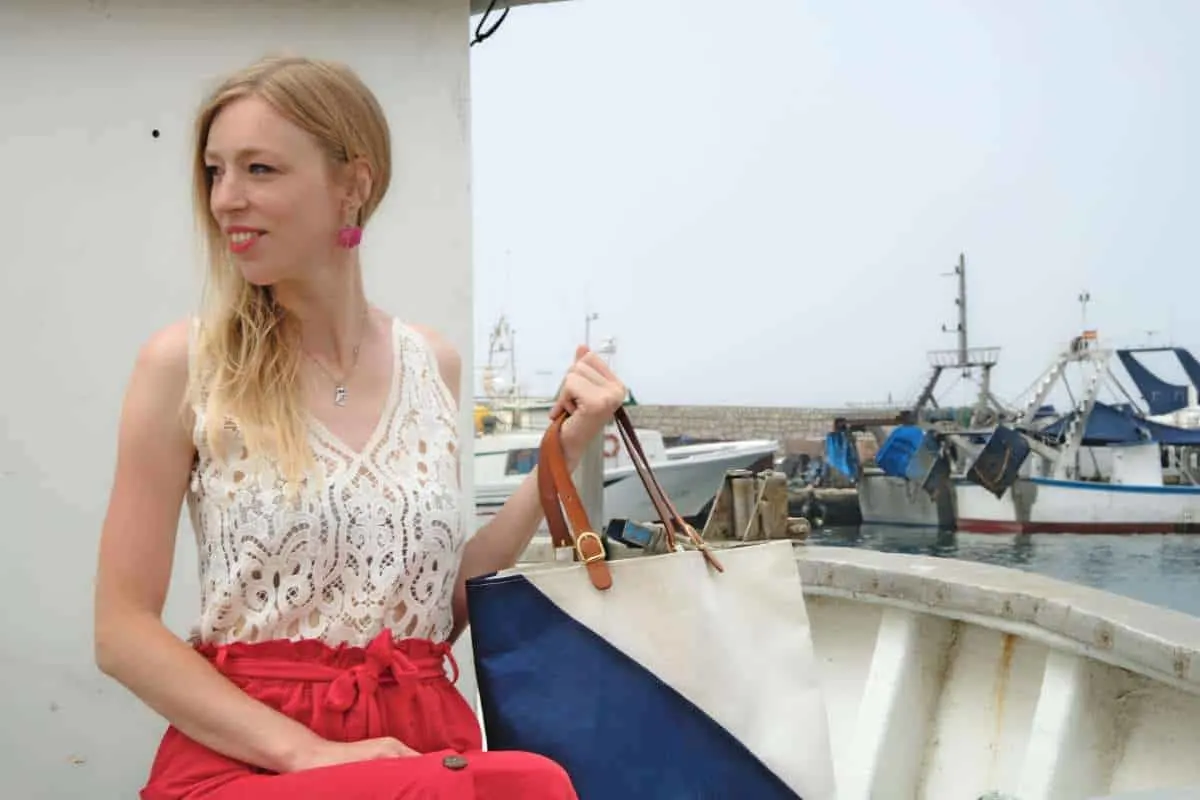 I couldn't help but fall in love with the unique texture of each bag. As sails differ from each other, my "Pori" and "Kinira" bag feel totally different as they are made with different kind of sails. "Pori" is made of a light, upcycled Spinnaker sail, whereas "Kinira" is made of sailcloth from the mainsail.
---
As every upcycled sail of each Salty Bag survived the roughness of the sea, the unpredictability of the winds, the salty sea sprays, your bag will be a resistant and tough, but still elegant companion wherever you take him.
When wearing a Salty Bag, the sailor and adventurer in me awakes again: it's all about daydreaming about the sailing adventures that my Salty Bags already went through and that are still awaiting me.
Disclaimer: This post is sponsored by Salty Bag. All opinions are as always my own.
---
Hola! I am Paulina, a fervent travelette who crossed the Atlantic Ocean by Boat HitchHiking. On my blog, you'll find all the tips to make the most of your holiday. Get ready to enjoy outdoor and sustainable travel like hiking, cycling or sailing. Let's hit the road together!