I have been looking for a great dish to hide vegetables and still enjoy an incredible flavor! Soup is one of the best ways to prepare a healthy dish for your family or friends without them even noticing.
This Wisconsin cauliflower soup is a soft, fresh meal with a short cooking time. There are many recipes for cauliflower soup on the internet, but this one is the best that I tasted until now.
I am all in for spicing things up and bringing your own touch in the kitchen, so keep reading to find out how to make this creamy cauliflower soup with little-to-no effort and to learn some tips and tricks that you will find useful in the future.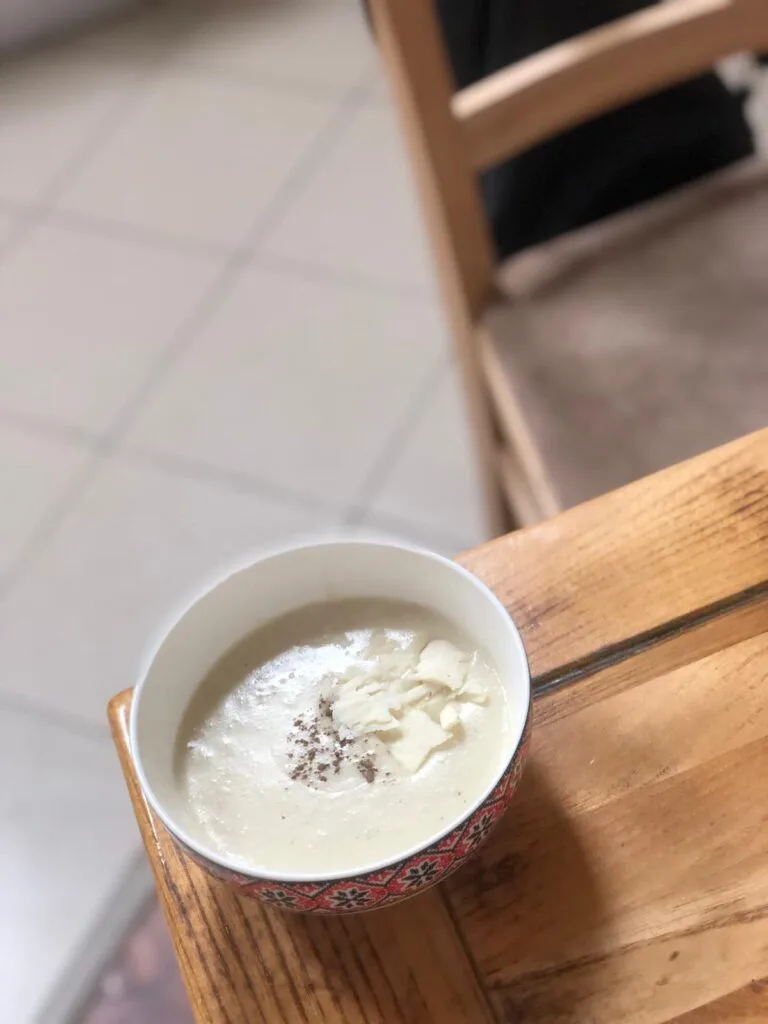 This recipe for Wisconsin cauliflower soup is extremely versatile, so you can change things up depending on your preferences and serve it on different occasions. This healthy cauliflower soup is a great dish for a festive evening with guests, family gatherings, supper or lunch, or even on a special day.
No matter the time of the year, you can delight your senses with this creamy cauliflower soup!
Looking to find places to vacation in Wisconsin or Wisconsin fall getaways? I say fall getaways because it's one of the best seasons to visit Wisconsin.
You will enjoy some of the most beautiful and magical sights in nature. Among some of the things to do in Milwaukee in October or generally, things to do in Wisconsin in October are to visit the Havenwoods State Forest, the Grant Park or the Holy Hill. Don't forget to add to your list an original Wisconsin cauliflower soup.
"Paulina on the Road" is supported by you, dear reader. As you buy through my links, I earn a small commission. As an Amazon Affiliate, I earn from qualifying purchases. Thank you for your support
Background of the dish
Cauliflower is related to broccoli and cabbage, they are all part of a big family called Brassica oleracea. The name of the plant has Latin origins and was firstly documented in the 1st century AD by a Roman author. It arrived in North America in the 17th century and became more popular when the idea that cauliflower is an exquisite dish in Europe spread through America.
All in all, at the same time when cauliflower arrived in North America, the first European set foot on native tribes' land and established an economy based on fur trading.
It might have been that Europeans brought cauliflower with them as it was already popular in Europe and was a vegetable popular among sailors.
Wisconsin is known to be at the top of the list when it comes to dairy and cheese production. It has a rich cultural and historical background and was the land that many native tribes called home.
So if you are looking for cool things to do in winter in Wisconsin, or more specifically things to do in winter in Milwaukee make sure to try out some authentic traditional food!
Here is a fun fact! There are many well-known movies set in Wisconsin that everybody probably heard of, such as Bridesmaids, Cheaper by the Dozen 2 and Major league.
Things You'll Need for Wisconsin Cauliflower Soup
This loaded cauliflower soup takes advantage of the cheese culture of Wisconsin, so you will surely need to add some. Apart from that, another special ingredient in the mustard. Don't skip it, you will love the twist of flavor it brings to the soup.
I love a good vegetable soup that isn't dull and flavorless, so you will find below all of the ingredients and my recommendations for this Wisconsin cauliflower soup:
Ingredients
One cauliflower or one bag of pre-chopped frozen cauliflower (about 400 grams)
1 big onion
½ cups of cheese, cheddar works best, but I also like to use any kind of smoked cheese (225 grams)
1 tablespoon of Dijon mustard or any kind of mustard (16 grams)
2 tablespoons of flour (18 grams)
2 cups of water or one cup of water and one cup of chicken broth (475 grams)
½ cup of half and half or cooking cream (120 grams)
Garlic (optional)
Oil or butter
Salt
Pepper
How to make Wisconsin Cauliflower Soup – Step by Step Guide
Prepare a stir-fry pan or a regular-sized pot. I usually use a pot because I find it easier to transfer the ingredients later in the blender from it than from the pan.
Dice the onion. I like to do a small chop in fine pieces to avoid finding big chunks of onion floating around in the cream-textured Wisconsin cauliflower soup.
Pour a small quantity of oil (butter) into the pan or pot and add the diced onion. Don't bathe the onion in grease as oil won't mix with the watery ingredients and will be the reason why your veggie soup has a thin coat of grease on top.
This step is optional, but if you want you can add minced garlic too. I don't do it as I am not a big fan of garlic flavor, but it gives the soup a plus of flavor.
Let the onion simmer on low heat until it is transparent while whisking from time to time to avoid browning. I recommend covering the pan or pot with a lid while the onion is cooking; firstly because the smell of cooked onion is not the best, and secondly because you don't want to lose any heat while slow-cooking the onion. This should take about 10 minutes, depending on your stove.
Add 2 tablespoons of flour along with a small quantity of water. Stir the water, flour, and onion to avoid any clumps or balls of flour. Add the rest of the water and chicken broth. If you don't have chicken broth, water works just fine. The flour will give the soup consistency and thicken it. You will notice that the mixture will become thicker and thicker while boiling.
Add the chopped cauliflower into the pan or pot and let it sit for about 15 minutes at medium heat until it is tender. I recommend you cover the pan or pot to keep the water from evaporating. If you feel like it's necessary, you can add more water.
After the cauliflower is cooked, pour the mixture into a blender, add the cooking cream, mustard, grated cheese, salt, and pepper to your taste. For a spicy cauliflower soup, add more pepper. Blend them until you have a uniform, homogenous mixture. Depending on your preferences, you can partially blend the cauliflower for more texture in your soup, or you can fully blend it for a creamy, soft Wisconsin cauliflower soup.
Pour the soup back into the pan or pot and put it back on the stove. Bring it to a boil and make sure that the cheese is melted. Give it a final taste for salt and pepper and you are ready to go!
Enjoy!
Substitution of ingredients
Wisconsin cauliflower soup is an easy-to-make, all-around-the-year soup. This soup doesn't have lots of ingredients, but it is for sure a huge hit when it comes to cream soups. From my point of view, it gets the gold medal if done right!
Most of the ingredients are gluten-free. The big enemy of gluten-free meals is flour. For a gluten-free soup, you can use gluten-free flour, or simply skip adding it.
Experiment with different types of cheese. What worked best for me was cheddar and any other smoked cheese. I like using smoked cheese because it gives the Wisconsin cauliflower soup a taste of savor.
To lower the amount of fat, switch up to low-fat ingredients and substitutes.
Not a big fan of mustard? I feel you. At first, I was a bit scared to add mustard to my soup, but you won't feel like eating raw mustard. Its sour hint enhances the other flavors, bringing the Wisconsin cauliflower soup to life.
Tips for great Wisconsin Cauliflower Soup
For a creamy Wisconsin cauliflower soup make sure that all of your ingredients have a fine texture, including the onion. Take your time and dice the onion properly.
Make sure that the cauliflower is cooked. Trying to blend raw cauliflower will leave you with lots of chunks and bits floating around.
Add more water if the mixture has a sauce-like texture.
Make sure that you add the flour in the beginning as it must be cooked. Do a thorough mix to break the flour and mix it with the water and chicken broth. Eating raw flour is not recommended and might give you bloating and stomach aches.
Tips on Serving Wisconsin Cauliflower Soup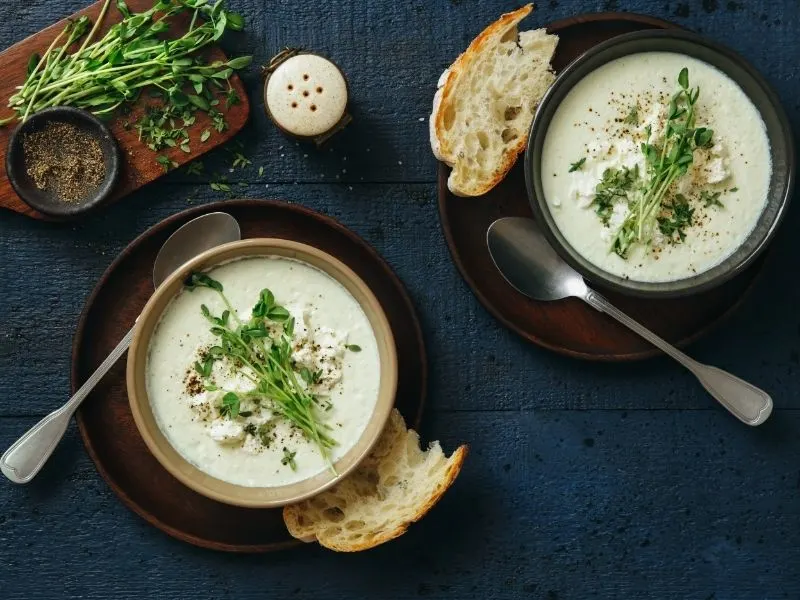 The Wisconsin cauliflower soup can be served on any occasion. In fact, it doesn't have to be an occasion to make this delicious meal. You can find this meal in many restaurants at the best ski resorts in Wisconsin.
You can serve the soup warm or cold. It tastes amazing both ways!
Here are some great tips on serving the Wisconsin cauliflower soup:
Eat it with croutons. They can be store-bought or home-made. I bake croutons every once in a while and it's a piece of cake.
Add pepper and grated cheese on top of a warm bowl of cauliflower soup, or some bacon. If you still crave for meat-flavor in this vegetable soup, try a bacon cauliflower soup.
Usually, ham and cauliflower soup don't come together in everyone's mind, but it really makes the dish savory. Sprinkle some bits of bacon in your bowl to make the best of your meal with a cauliflower bacon soup.
Grate some sharp cheddar cheese on top!
How to store Wisconsin Cauliflower Soup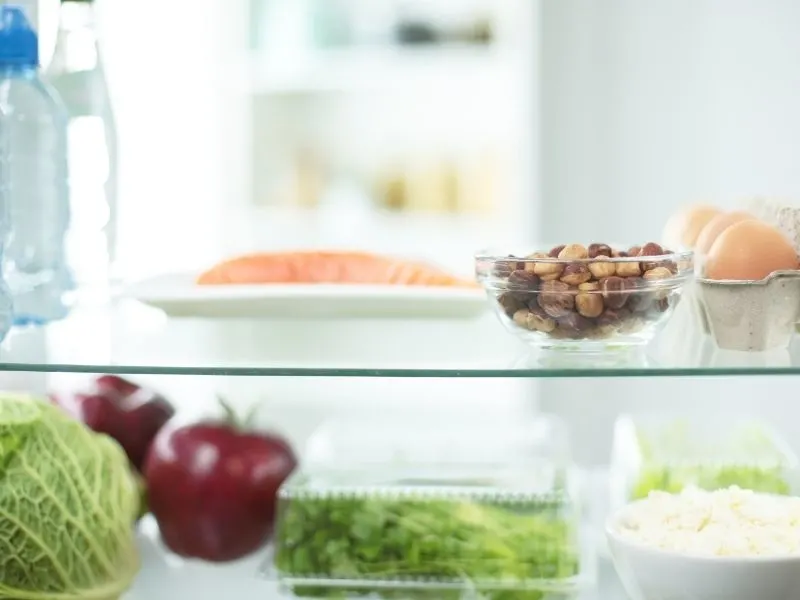 Wisconsin cauliflower soup can be stored for up to 5 days in the fridge. You can always reheat it in the microwave or on the stove. It doesn't require any special treatment and it's easy to store.
To enjoy the soup for a longer time, you can freeze it in a casserole and heat it whenever you feel like it.
Recipe Card: Wisconsin Cauliflower Soup
---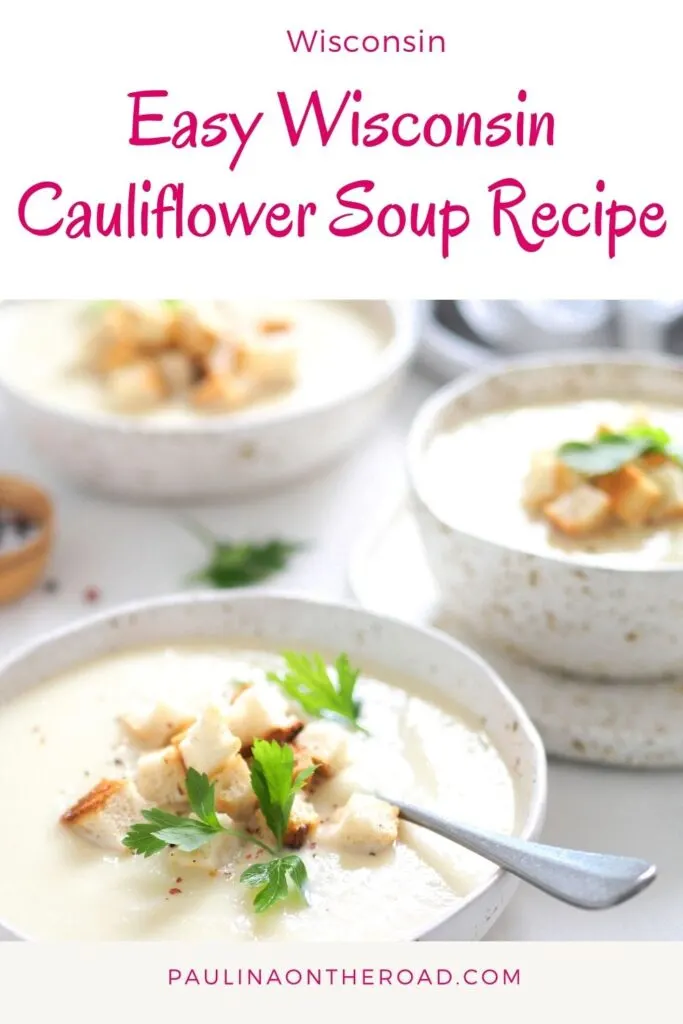 ---
Hola! I am Paulina, a fervent travelette who crossed the Atlantic Ocean by Boat HitchHiking. On my blog, you'll find all the tips to make the most of your holiday. Get ready to enjoy outdoor and sustainable travel like hiking, cycling or sailing. Let's hit the road together!