A selection of best movies filmed in Spain, including comedy, romantic, drama and history movies
Spain is undeniably the most celebrated travel destination in the world! Every globetrotter swears to visit at least a few of the Southern Spain regions if they cannot afford a Spain round trip.
The country is an intoxicating amalgamation of bewildering landscape, enviable cities, sunny coastline, green mountains, and loads of cultural heritage.
It is a gem in the European continent. Today, I decided to bring Spain to your home with the best movies set in Spain. What's your favorite?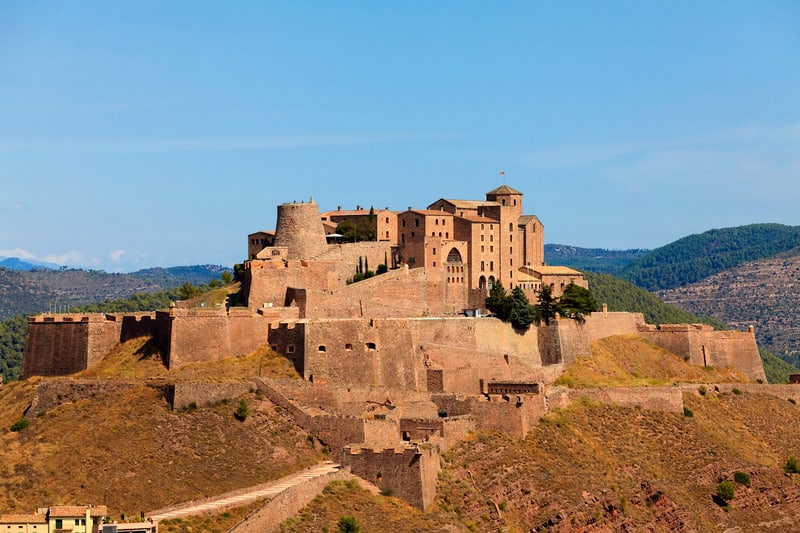 Thanks to affiliate links, I pay my bills. If you make a purchase through them, I may receive a small commission at no cost to you. As an Amazon Associate I earn from qualifying purchases. All opinions are always mine. Merci!
Why Watch Movies Set in Spain?
No wonder why people around the world come to Spain to create their best-traveling memories! If you are unable to visit Spain right now, watching movies set in Spain is the best way to learn about this country.
Some of the best movies from Spain take you on a journey to its different cities and regions. I bet that you will not be able take your eyes off those remarkable locations. They are fabulous travel inspirations as well, since they take you to some amazing off-the-beaten-path attractions in Spain.
Many of the suggested movies below can be found on Netflix!
Comedies Set in Spain
1. L'Auberge Espagnole (The Spanish Apartment)
If you are ready to explore the streets of Barcelona through a bunch of Erasmus students coming from across Europe, L'Auberge Espagnole (The Spanish Apartment) is one of the best movies filmed in Spain to watch.
This strait-laced movie takes you on a roller-coaster ride of the whole of the city and the iconic scene shot at the top of Gaudi's Parc Güell will stay etched in your heart forever!
Since then, the monument has been seen as one of the most iconic buildings in Barcelona.
Info: Barcelona | 2002 | Starring: Romain Duris, Judith Godreche and Kelly Reilly
2. The Trip to Spain
The third and hilarious installment of Winterbottom's cinematic adaptation of the famous TV series, The Trip to Spain takes the viewers on a mind-blogging culinary journey in Spain.
Steve Coogan and Rob Brydon are ready to rock, both your journey and passion with their impeccable sense of humor. It can be counted as one of the best Spanish cultural movies.
Info: Santander, Malaga | 2017 | Starring: Rob Brydon, Steve Coogan
3. Women on the Verge of a Nervous Breakdown
Of course, breakups are always heart-wrenching but Women On The Verge Of A Nervous Breakdown shows the other side of the story.
In this movie, Pepa's quest to discover the reason why her lover Ivan left her abruptly makes her encounter various intriguing characters. This romantic comedy set in Spain is everyone's favourite.
And you can visit some of the movie locations in Madrid. Even if you only have 24 hours in Madrid since they are located near the city center!
In this movie you'll also listen to some of the most popular Spanish quotes about life.
Info: Madrid | 1988 | Starring: Carmen Maura, Antonio Banderas
4. Ocho Apellidos Vascos (Spanish Affair)
This movie set in Spain is the story of an unusual affair between Rafa and Amaia. The former is an Andalusian gentleman whose charm is too hard for a woman to resist.
But when Amaia rejects his advances, it turns Rafa's life upside down. In order to win her love, Rafa takes a hilarious path to success. This comedy of errors has struck a chord with Spanish viewers and it's going to do the same with you too.
On top, it's an excellent way to learn about the culture clash between Northern and Southern Spain.
Info: Leitza, Zumaia and Getaria | 2014 | Starring: Clara Lago, Dani Rovira
5. The Dictator
If you have a great taste for sarcasm, watch The Dictator! This dark comedy tells the cruel story of General Aladeen, the tyrannical leader of Wadiya, instilled with strong punchlines and laughter.
Aladeen's trip to New York turns awry when he is kidnapped by a hitman. This movie is an excellent pick for viewers who want to dig into the darkness of modern civilization without missing a laugh.
Some of the best scenes were filmed in Seville.
Related: Unique Things to do in Seville
Info: Plaza de Espana in Seville and Island of Fuerteventura, Spain | 2012 | Starring: Sacha Baron Cohen, Ben Kingsley
Romantic Movies Filmed in Spain
6. Vicky Cristina Barcelona
There is nothing better than love in this world and Vicky Cristina Barcelona is a movie that gives the best of it in a little twisted fashion.
When Vicky and Cristina visit a friend in Barcelona to have a great summer vacation in Spain, things get way sensual and fiery with the entry of a seductive painter, Juan Antonio, and his ex-wife, Maria. A masterpiece by Woody Allen!
Info: Barcelona | 2008 | Starring: Rebecca Hall, Scarlett Johansson
7. Nuestros Amantes (Our Lovers)
Nuestros Amantes (Our Lovers) is a wonderful Spanish romantic comedy about Carlos and Irene. They meet randomly in a bookstore bar and fall for each other instantly.
This is the typical tale of "boy meets girl" and "grinning romance at first glance" but only with the exception that you can't predict exactly where the story is going. The best part of this movie is those captivating dialogues.
Info: Aragon | 2016 | Starring: Eduardo Noriega, Michelle Jenner
Read: 30 Romantic Spanish Phrases
8. Doctor Zhivago
Everything is fair in love and war. Things get even better when they set a heart-wrenching love story against the backdrop of the up-roaring Russian Revolution from the 20th Century.
Doctor Zhivago is the story of Yury Zhivago who fell in love with the beautiful Lara but eventually was forced to marry his cousin, Tonya.
Yury is torn between his two lady loves when he meets Lara years later and the flame of love gets reignited. This is a true classic!
Info: Madrid and Soria | 1965 | Starring: Omar Sharif, Julie Christie, Geraldine Chaplin
9. Belle Epoque (The Age of Beauty)
Another romantic comedy set in Spain describes the journey of Fernando. His experience tells the story of a paradise which is too perfect to last.
This movie is made wisely to allow the viewers to make the discovery of life which is the "real" one through art, freedom, friendship, love, and sex.
It is one of the movies that shows Spanish beautiful landscapes and some of the most beautiful places in Spain.
Info: Spain | 1992 | Starring: Jorge Sanz, Miriam Diaz-Aroca, Penelope Cruz
10. Palmeras en la Nieve (Palm Trees in the Snow)
If you think that colonial Africa is too dark to bloom and nurture love stories, this movie will prove otherwise! It is a very deep but equally gloomy story of love.
Apart from the actual movie plot, several historical references narrate the lives of people in Africa from the 20th century's second half. It is one of the good movies set in a desert.
Info: Canary Islands of Spain, Colombia and Huesca | 2015 | Starring: Mario Casas, Adriana Ugarte
Drama Movies Set in Spain
11. Volver
A mother's love is unparalleled in this world and it remains the same even when she is dead.
Volver by Pedro Almodovar revolves around Raimunda and those ridiculous situations when her mother decides to make a return from the graveyard to fix the problems that she failed to resolve during her lifetime.
Watch this drama and let your heart race through unusual suspense.
The movie displays also some of the most typical things Spain is famous for: flamenco, passion and tapas.
Info: Castilla-La Mancha and Madrid, Spain | 2006 | Starring: Penelope Cruz, Cameron Maura
12. Sex and Lucia
Devastated by the death of her boyfriend, Lorenzo, Lucia decides to head for a remote Spanish island, Formentera, to find solace.
After arrival, she meets Carlos, a scuba diver, and his ex-girlfriend, Elena. Sex and Lucia connects various lives with a dead author and it blurs the line between reality and imagination.
Info: Formentera | 2001 | Starring: Tristan Ulloa, Paz Vega
13. Everybody Knows
When suspense meets the drama, it creates something like Everybody Knows. This drama starts with Laura and her two children heading to attend her sister's wedding.
But soon the joyful event is struck by the kidnapping of Laura's older daughter. The movie is all about the unspoken grudges and unforgiven memories from the past.
Info: Madrid, Spain | 2018 | Starring: Penelope Cruz, Javier Bardem
14. The Way
The Way is a perfect blend of drama and subtle comedy. The plot revolves around an American father who flies all the way to France to claim the body of his son who lost his life on the way to El Camino de Santiago.
He then tries to understand his own emotions along with his dead son's while setting out for the same pilgrimage.
Info: Spain, France | 2010 | Starring: Martin Sheen, Emilio Estevez
Related: 7 Reasons Why You Should Hike the Santiago Trail
15. Abre los Ojos (Open Your Eyes)
If you want to challenge your insight with a complex storyline infused with innovative ideas and solutions, watch Abre Los Ojos (Open Your Eyes).
It is the story of a handsome man who finds his love but has an accident. With a rebuild of his face, he lands himself in jail, and the mystery starts to unveil.
Info: Madrid | 1997 | Starring: Penelope Cruz, Eduardo Noriega
16. Biutiful
Biutiful narrates the story of a career criminal who has very little time left from his lifetime to settle his son's future and the culpability of his profession.
The film also depicts the gloomy side of Barcelona while describing a gripping linear storyline.
Info: Barcelona | 2010 | Starring: Javier Bardem
17. The Others
When you are an ardent fan of horror films and Spain, it is a sin to miss The Others!
When a woman with her two minor children moves to the English coast during WWII, she seeks guidance from her dead husband to protect her photosensitive children.
But soon she senses the strong presence of ghosts and supernatural things that turn her life upside down. Intriguing!
Info: Northern Spain and Madrid | 2001 | Starring: Nicole Kidman
18. Perfume: The Story of a Murderer
Perfume: The Story of a Murderer depicts the life of an extremely peculiar but at the same time intriguing character named Jean-Baptiste Grenouille.
He was born with an extraordinary olfactory sense that encourages him to craft the world's fine perfume and not to mind to kill people in order to capture their scent.
You rarely encounter such thrilling drama and when you do, don't miss the chance!
Info: Girona | 2006 | Starring: Ben Whishaw
History Movies Set in Spain
19. Capitan Alatriste
When it is about filming those epic historical movies, directors often find a safe harbor in weaving the plot in Spain. Capitan Alatriste shows the steep fall of this country from its supreme position in Europe.
Set during the 16th Century, it is the tale of a soldier-turned-mercenary, Captain Alatriste, a legendary figure from imperial wars.
Info: Several parts of Spain | 2006 | Starring: Viggo Mortensen
20. Las 13 Rosas (13 Roses)
Although revolving around a great plot, Las 13 Rosas (13 Roses) is probably one of the most gruesome Spanish Civil War movies in history! It is a movie about Spain and its history.
It is not that easy to watch so much cruelty and torture against 13 young ladies but lastly, the tragic end will leave you tearful.
Info: Madrid | 2007 | Starring: Pilar Lopez de Ayala, Veronica Sanchez
21. Goya's Ghosts
Goya's Ghosts is a sweeping tale from the historical past of Spain, and the whole story is perceived through the eyes of the revolutionary Spanish painter Fransisco Goya.
The political turmoil and the essence of Goya's art are captured beautifully in this movie. It is one of the best movies in Spain.
Info: Soria, Spain | 2007 | Starring: Natalie Portman, Javier Bardem
22. Mad Love
Mad Love is nothing short but a modern version of the eternal love story of "Romeo and Juliet".
Matt falls for the beautiful Casey who is a little eccentric. He helps her to escape from a mental institute only to find her signs of instability on the run.
Info: Fictional town in Spain | 1995 | Starring: Chris O-Donnell, Drew Barrymore
23. Empire of the Sun
Nothing can go awry when Steven Spielberg chose to direct Christian Bale, and Empire of the Sun is the finest example of that.
This movie depicts the unique bond shared by a little boy, named Jamie, and an American sailor, named Basie when they were made captive together by Japanese soldiers.
Info: Madrid | 1987 | Starring: Christian Bale
24. Pan's Labyrinth
Set in 1944, a young girl from Spain meets a fairy who inspires her to prove her loyalty by completing three tasks. This leads her to embark on a dark but beautiful modern-day fairy tale journey.
Pan's Labyrinth is one of the most creative and emotional movies I have ever seen in general! It will not leave you indifferent and you can watch it over and over again.
Info: Guadarrama mountain range in Central Spain | 2006 | Starring: Ivana Baquero, Segei Lopez
25. Kingdom of Heaven
Kingdom of Heaven is an exuberant war epic that blends Hollywood's commercial and political so perfectly.
This somewhat gloomy historical movie features characters that radiate strong religious, civilian and military opinions during 12th Century Crusades.
It is not just one of the movies from Spain but features plenty of other aspects as well.
Info: Morocco and Spain | 2005 | Starring: Marin Hancock
Action Movies Set in Spain
26. Indiana Jones and the Last Crusade
Indiana Jones has always entertained viewers with his breathtaking journeys. It is one of the best movie sets in Europe.
In this movie, the valiant explorer sets on a rescue mission to free his father from Nazis and unknowingly gets involved in a fascinating struggle to recover the Holy Grail.
Info: Monsul Beach, Almeria | 1989 | Starring: Sean Connery, Harrison Ford
27. Knight and Day
Knight & Day is an action-packed movie that tells the tale of an unusual couple consisting of an agent and a girl-next-door when they meet accidentally at the airport.
The storyline is hilarious and perfectly backed by captivating action scenes. Some of the most action-filled scenes take place in gorgeous Seville.
Info: Seville | 2010 | Starring: Tom Cruise, Cameron Diaz
28. Star Wars: Episode II – Attack of the Clones
This star-packed movie narrates the events after the Phantom Menace, and showcases amazing computer-generated special effects, making it a hit at the box-office.
Young or adult, everyone loves Jedi! It is one of the best movies set in Europe.
Info: Seville | 2002 | Starring: Ewan McGregor, Natalie Portman
29. Clash of the Titans
This action movie revolves around the heroic acts of Perseus, the son of Zeus, and how he saves humanity against a deadly plot of old enemies.
Clash of the Titans is loaded with fast-moving action scenes and edgy computer graphics.
Info: Teide, Tenerife | 2010 | Starring: Sam Worthington
30. Fast & Furious 6
Just like its other predecessors, Fast & Furious 6 won't disappoint you when you are willing to take a round of the world in just two hours.
In the movie, Dom and his buddies collaborate with Agent Hobbs to hunt down a team of notorious mercenary drivers.
Info: Madrid, Barcelona | 2013 | Starring: Van Diesel, Paul Walker
31. The Bourne Ultimatum
The Bourne Ultimatum is an excellent choice when you are dying for some impressive action scenes paired with an equally captivating plot.
Former CIA assassin Jason Bourne struggles ruthlessly to keep a forgotten past while on a mission to track down a CIA official.
Info: Barcelona | 2007 | Starring: Matt Damon
Western Movies Set in Spain
32. A Fistful of Dollars
Are you a fan of those classic Western movies? If yes, here is A Fistful of Dollar for you!
Depicting the power struggle between three brothers, this movie is one of the best acting pieces from Clint Eastwood.
Info: Almeria | 1964 | Starring: Clint Eastwood
33. Once Upon a Time in the West
In this classic western, the story revolves around a piece of land around Flagstone.
The film is primarily known for being one of the best movies set in Spain with excellent background music.
Info: Tabernas Desert | Year: 1968 | Starring: Henry Fonda, Claudia Cardinale
34. The Good, the Bad and the Ugly
The Good, the Bad and the Ugly is another thrilling western where Clint Eastwood entertained viewers with his impeccable charm and signature acting styles.
The plot reveals the uncomfortable partnership between Blondie and Tuco amidst the Civil War.
Info: Tabernas Desert | Year: 1966 | Starring: Clint Eastwood
35. 800 Bullets
This western comedy is the tale of a former movie stuntman from Spain who goes through the same struggle that his other colleagues are going through with minuscule audiences.
The movie comes with some amazing comic scenes to lift the mood along with the scenes shot on some of the best beaches in Cabo de Gata, Almeria.
It's one of the best movies set in Spain for Western film lovers.
If you want another taste of Spain, have a look at my favorite funny Spanish phrases.
Info: Almeria | Year: 2002 | Starring: Sancho Gracia, Carmen Maura
---
Short FAQ about Best Movies Set in Spain
You can't get enough of movies set in Spain? Have a look at my web story about the best movies set in Spain.
---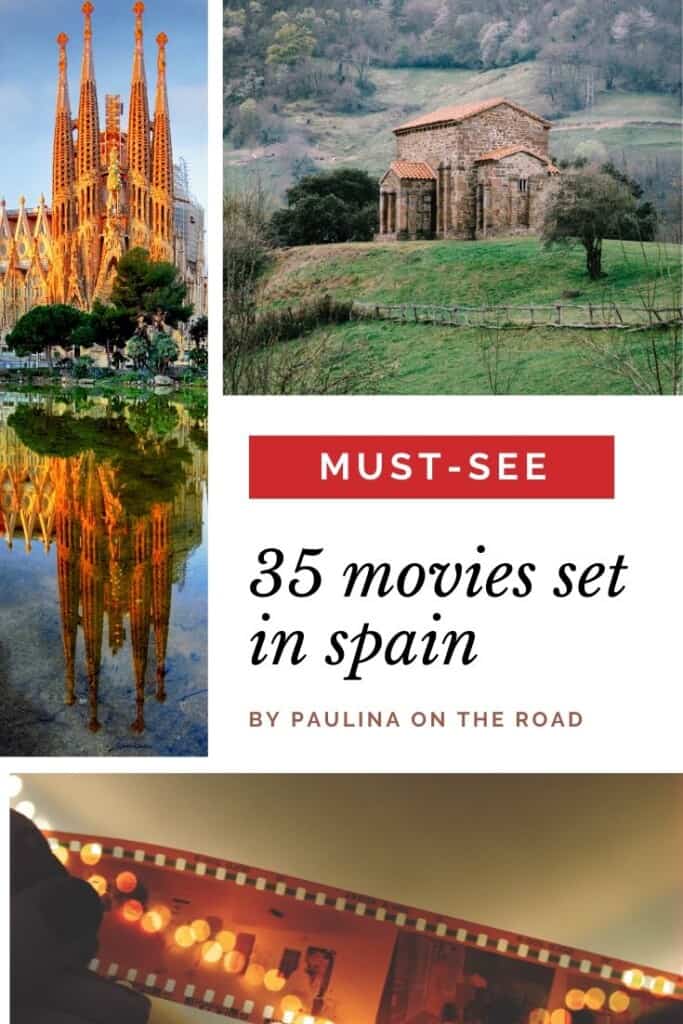 ---