16 Cool Things to do in Praia, Cape Verde
A Guide to Praia with the cool things to do and the best beaches in Praia, Cape Verde
Cape Verde's capital and the largest city of the whole archipelago, Praia is also the nation's main tourist hub. Yet, this lively place has managed to maintain its origins intact.
Touristy but not "that" touristy, it's an excellent choice for those who want to experience the authentic Cape Verdean culture without giving up modern comfort and amenities.
"Praia" means "beach" in Portuguese, a name inspired by the city's coastal nature. Here, you'll find amazing beaches of Cape Verde, a buzzing nightlife, as well as the slow paces characteristic of West Africa's colonial towns.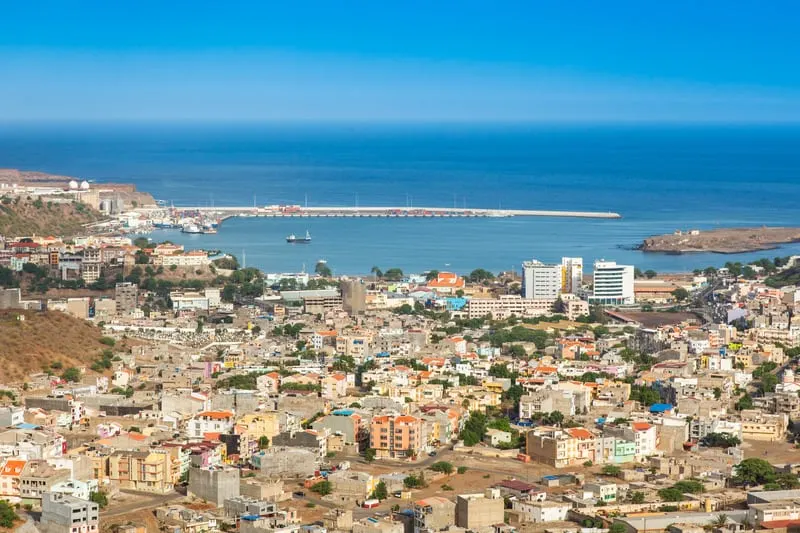 With dozens of landmarks as well as many hidden gems, Praia is an amazing destination! Don't take my word for granted but check out by yourself the fantastic things to do in Praia, Cape Verde, and why this place should be at the top of your travel bucket list!
"Paulina on the Road" is supported by you, dear reader. As you buy through my links, I earn a small commission. As an Amazon Affiliate, I earn from qualifying purchases. Thank you for your support
Useful Information about Cape Verde
⚘ Don't leave without a travel guide. Be prepared and get the Ultimate Cape Verde Travel Guide Book

✈ Book cheap flights to Cape Verde with Skyscanner

✔ Book the best tours in Cape Verde with Viator

➳ Find the best hotel deals in Cape Verde with Trivago

❖ Get the best car rental deals with DiscoverCars

☘ Get the best discounted outdoor gear (outlet) at REI.com

✎ Never leave without travel insurance. I get mine at HeyMondo. It's easy to set up, cheap, and reliable.

✔ Skip the queue at the airport and get your Cape Verde visa in advance with iVisa

$ Withdraw money without hidden fees and avoid rubbish exchange rates with Wise (You'll get a card for free!)
How to get to Praia
By flight: to international Praia airport, Cape Verde or with domestic flights from any Cape Verde island
Check here the flights to Praia, Cape Verde
By boat: from any Cape Verde island
Check here the ferry schedules
Do you need a Visa for Cape Verde? Read here the full guide.
Best Hotels in Praia, Cape Verde
Budget
Pensao Esplanada Music Mito Alves
Morabeza Kriol Hostel
Mid Range
Hotel Cesaria ***
Syd's Guesthouse (outstanding, home-made breakfast!)
Sol Hotel ***
Pousada Praia Maria ***
Family-Friendly
Pestana Tropico ****
OASIS Praiamar ****
Luxury
Pestana Tropico **** (amazing staff, pet-friendly and great location)
Hotel Peróla ****
Hotel Vip Praia ****
OASIS Praiamar ****
Related: The Best Hotels in Cape Verde
1. Shop at Sucupira Market
Located in the heart of the city, the Sucupira market is undoubtedly Praia's most famous landmark. A visit here means immersing yourself completely into the colorful West African culture while discovering the authentic Cape Verdean lifestyle.
This semi-covered market sells a wide range of goods, from fresh produce like fruits and vegetables, to traditional clothes, bags, artisan objects, and local musical instruments.
Not only is this a great place for Cape Verde souvenir shopping, but it's also the best place for trying some delicious Cape Verdean street food.
Opening times: Mon-Sun, 08.00-18.00
2. Explore the Plateau District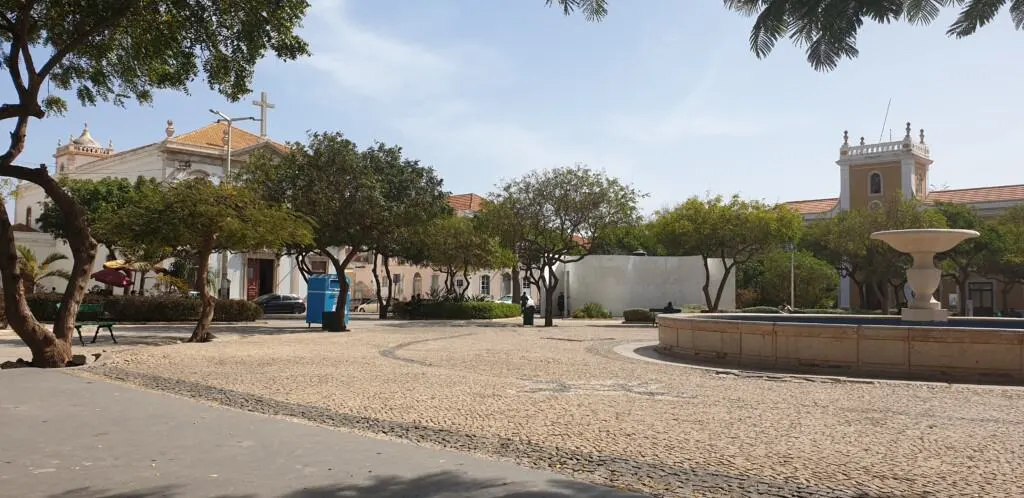 Perhaps the most captivating part of the city, the Plateau district is the best place to visit for an afternoon stroll. Its suggestive name is given by the wide plateau on which it is located, overlooking the ocean and the port of Praia.
This is the historical center of the city, and here you can admire the Presidential Palace, the city hall and cathedral, or visit the Ethnographic Museum to learn about the Cape Verdean culture and traditions.
It's also the only pedestrian street in Praia. It's perfect for a stroll and enjoy a tasty ice-cream at Nhamii. Their peanut and natural passionate fruit ice creams are a delight!!
Book here your Praia walking tour
3. Hang out at Quebra Canela Beach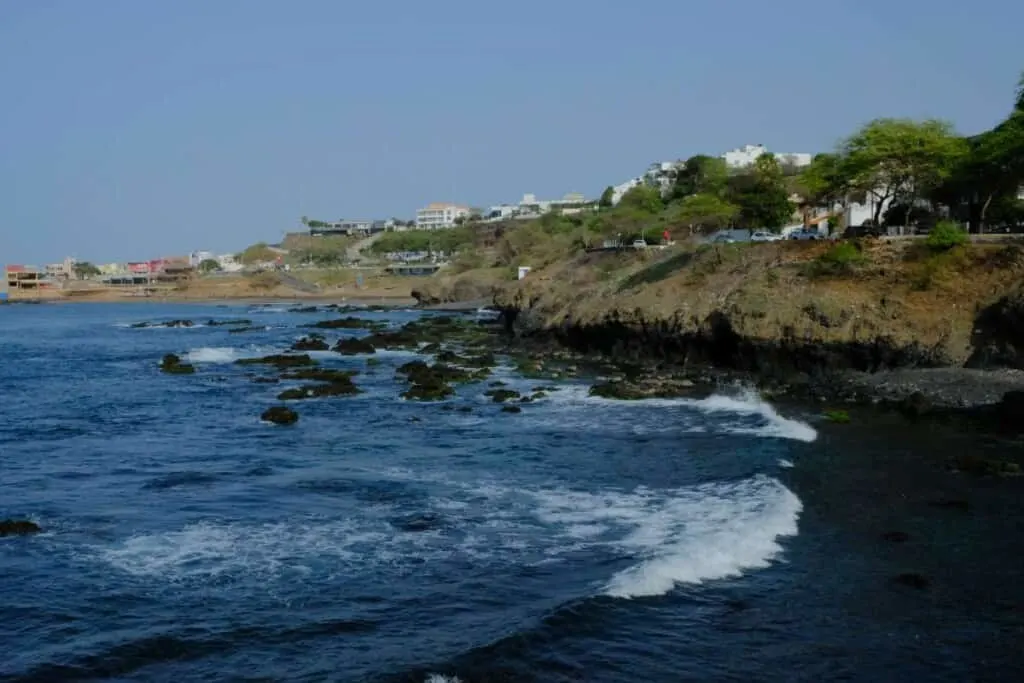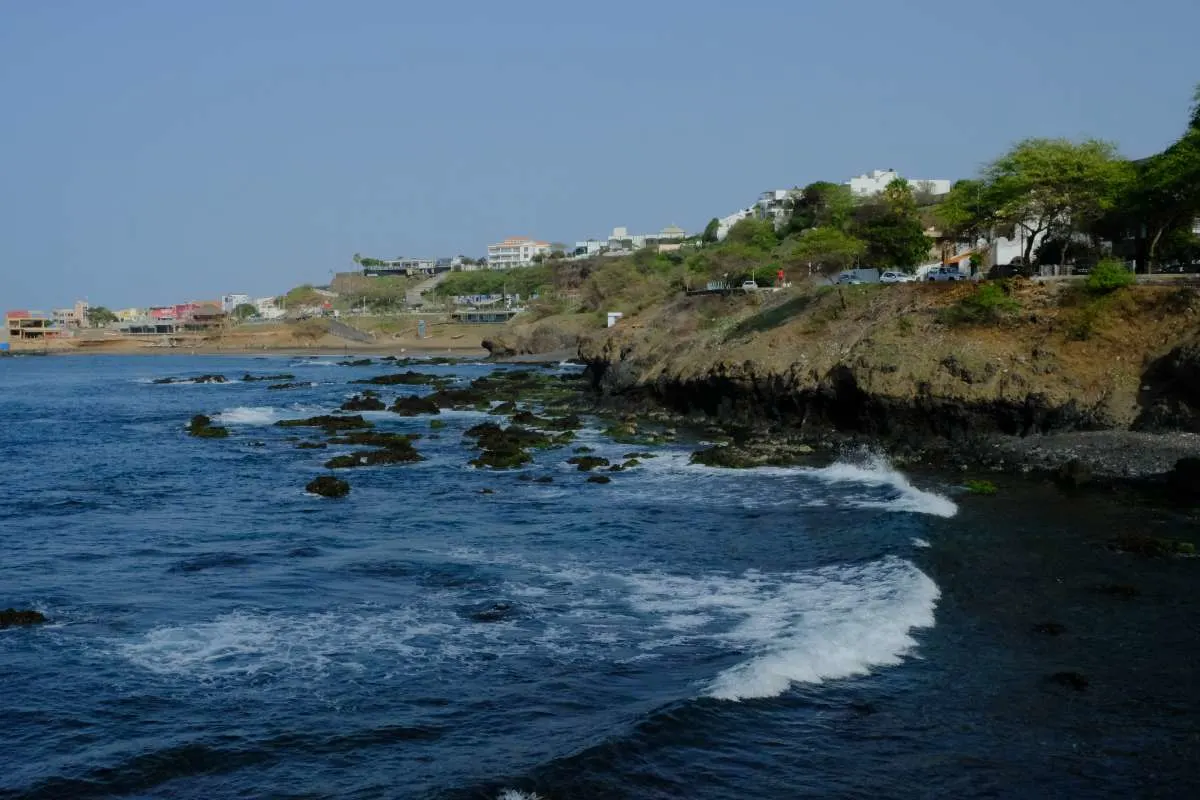 Located southwest of the city center, Quebra Canela beach is the epicenter of summer fun in Praia, Cape Verde. And it's the prettiest part of Praia's old town!
This expanse of golden sand, sheltered by cliffs and bathed by the crystalline waters of the ocean, is a privileged space for a variety of water sports, from swimming and snorkeling to windsurfing and kayaking.
Sunbathing is another popular activity to do, while a few stylish beach bars offer a wide variety of snacks and drinks.
Praia boasts warm temperatures almost all year round. This makes it perfect for your Cape Verde winter holidays.
4. Have lunch in Alexandre Albuquerque Square
If you like history, the Praça Alexandre Albuquerque Square is an unmissable landmark in Praia.
Located in the southwestern side of the Plateau, it's lined with beautiful colonial houses, while the public park in the center of the square is a true oasis for relaxation.
After admiring the buildings and strolling through the park, the best thing to do here is to enjoy the bustling rhythms of the capital city of Cape Verde while having a tasty lunch in one of the many nearby bars. For me, it is one of the best things to do in Cape Verde.
If you want to explore more hidden gems in Praia, Santiago, make sure to check the Ultimate Cape Verde Travel Guide Book.
5. Have a Caipirinha at Prainha Beach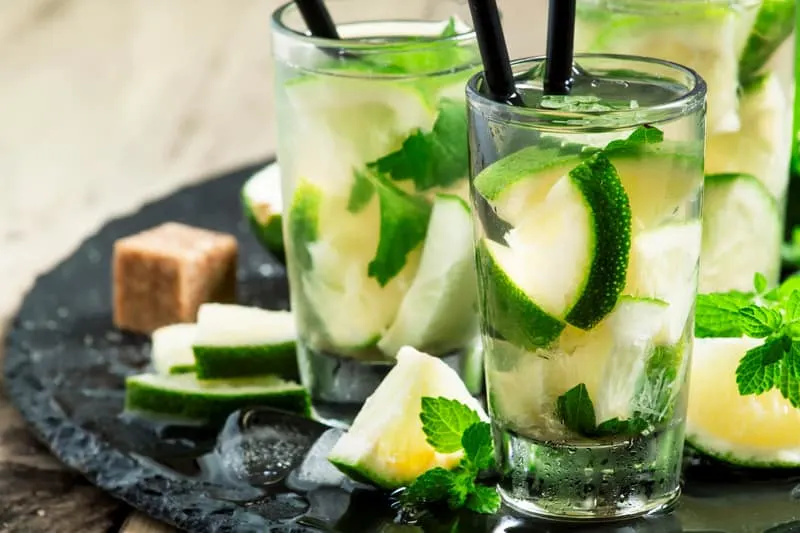 Situated on the coast, south of the city center, Prainha beach attracts locals and tourists alike. Surrounded by some of the best hotels in Praia, Cape Verde, Prainha beach is popular among beach lovers, snorkelers, as well as families with kids.
Besides usual beach activities, this place is also known for the amazing beach parties thrown by the nearby restaurants and bars. Thus, this is the perfect place for tasting caipirinha in Cape Verde and enjoy a gorgeous sunset.
What makes this cocktail special is the fact that in Cape Verde, it's made with grogue instead of cachaça. Moreover, you can also try many alternative recipes with mango, papaya, or other tropical fruits instead of the traditional lime.
Have a look here at the most traditional food to eat in Cape Verde.
6. Go Shopping for Artisan Souvenirs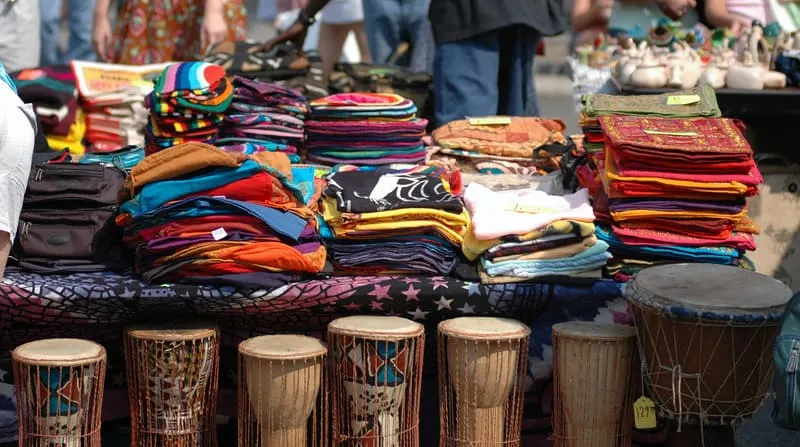 Souvenir shopping is by far one of the best things to do in Praia, especially if this is your first time visiting West Africa. And by far, the best souvenirs to shop are the local artisan ones!
Cape Verde is known for its pottery, but traditional clothes, bags, and jewelry are other popular options.
The best place for artisan souvenir shopping in Praia is the Sucupira Market. Alternatively, the Praia Shopping is a modern shopping mall where you can find both conventional and traditional shops.
The main street of Praia on the Plateau also boasts several souvenir shops selling products made in Cape Verde.
Book here your Praia Walking Tour
7. Learn about History in Museum Amilcar Cabral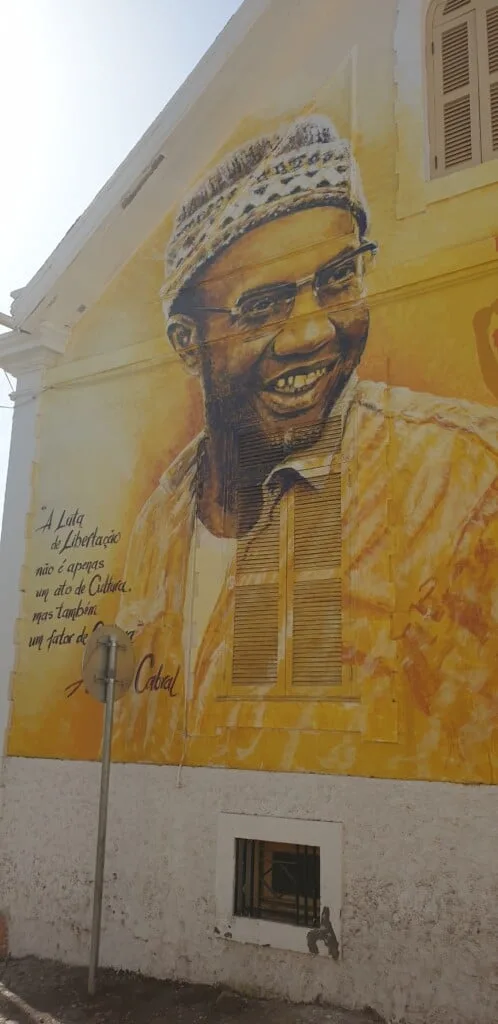 Santiago, Cape Verde, has the richest history of the archipelago. The first Europeans coming to colonize Cape Verde arrived here first, not to mention the horrific slave trade that took place on the island.
It is essential to learn more about the history of this place if you want to fully understand the Cape Verdean culture, and the best place to do so is the small but impressive Amilcar Cabral Museum.
Dedicated to preserving the memory of the revolutionary Amilcar Cabral, the museum hosts a collection of photographs and other memorabilia about Cabral's fight for freedom from colonialism.
Opening times: Hours may vary! I recommended to book your visit in advance.
8. Enjoy Cape Verdean music
Cape Verde is renowned for many things, and music is definitely one of them! Traditional sounds vary from morna and coladeira to batuko and funaná, and the best thing is that many places across the town organize traditional live music nights.
Of all, the Kebra Cabana and the Quintal da Música – 5al da Música are the most renowned. The former is located next to Quebra beach, a place where you can enjoy live music nights each Friday, as well as exquisite snacks or full meals.
The latter is a great place to hit if you want to listen to some of the best funaná Cape Verdean music.
Other Cape Verdean music styles you cannot miss are morna, coladeira, and batucadeira.
9. Indulge in Local Food and Drinks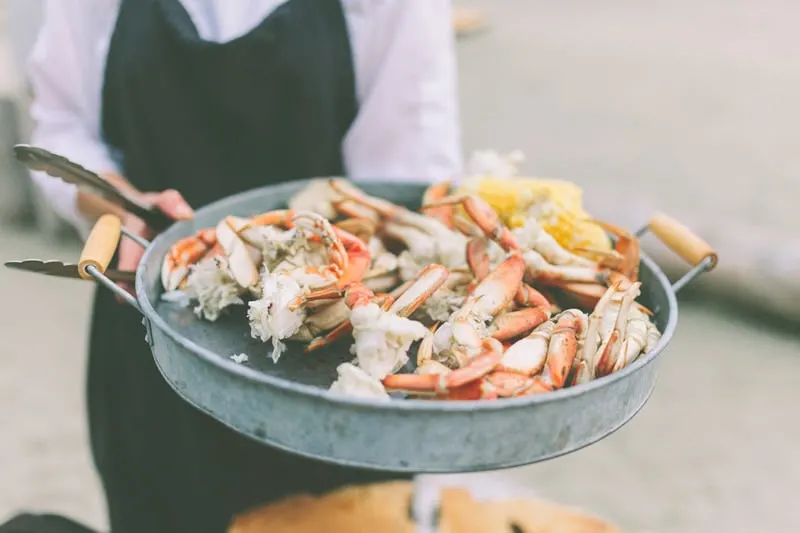 From all towns across the islands of the archipelago, Praia is perhaps your best bet when it comes to tasting delicious Cape Verde foods.
The local dishes vary from light seafood platters and salads to hearty meals, including the exquisite cachupa (a slow-cooked stew of corn, beans, cassava, sweet potato, fish or meat).
In the city center, the 90 (Noventa) Bistro is a popular stop for tourists and locals alike. The restaurant serves both local and international dishes. The atmosphere here is super-friendly and relaxing.
The Churrasqueira Dragoeiro is a restaurant, popular for its charcoal-grilled tuna and chicken, as well as its succulent pork skewers.
Seafood lovers can indulge in some local specialties at the Cafe Sofia – Copacabana Bar & Lounge Praia, a restaurant popular for its grilled shrimps and marinated octopus.
If you're looking for further insights on where to eat in Praia, make sure to check the Ultimate Cape Verde Travel Guide Book.
Related: Useful Phrases in Cape Verdean Creole
10. Do a Graffiti Tour
With graffiti slowly transforming into an accepted form of urban art, more and more local tour operators in Praia now propose exciting "graffiti tours".
Not only such a tour will give you the opportunity to have unique insights into Praia's history, but your guide will also show you some of the city's hidden gems and sights!
Book here your graffiti tour in Praia
11. Do a City Tour with a Local Guide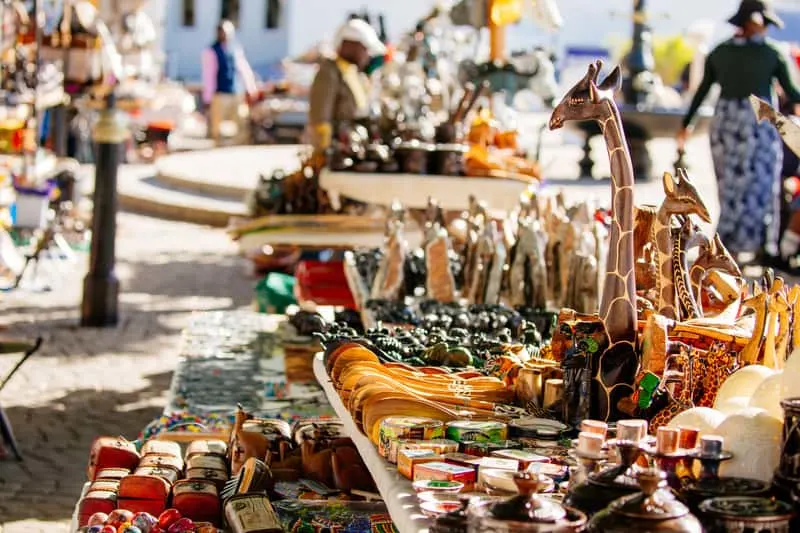 Undeniably, the best way to discover a new place is with the help of a local guide, especially if you only have limited time.
Indeed, hiring a Cape Verde guide is your best bet if you don't want to miss any of the important landmarks of the city during a short stay.
Most Praia city tours start with a stroll along the Alexandre Albuquerque square to admire the Presidential Palace, the city hall and the colonial houses and then continue with shopping at the Sucupira Market.
Along the way, your guide will also share with you some unique insights and historical facts about Praia, Cape Verde that will surprise you!
12. Do a Day Trip to Cidade Velha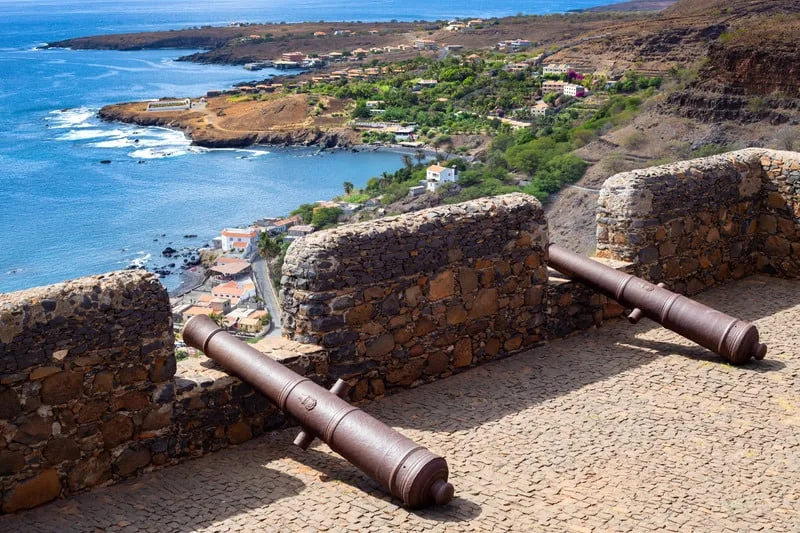 One thing to know about Santiago, Cape Verde, is that the island is so compact that you can easily reach a lot of interesting places from Praia. One of them is Cidade Velha, one of the most important Cape Verde towns.
Former capital of the archipelago and a UNESCO World Heritage site, Cidade Velha is the place where the first Portuguese colony was established, and that was an important center for the slave trade for decades.
It's one of the best day trips from Praia, Cape Verde but please make sure that you get your Cape Verde travel insurance upfront!
Easily accessible by car or taxi, a day trip here is a must when visiting Praia, Santiago, Cape Verde.
Book here day trip to Cidade Velha
13. Do a Day Trip to Assomada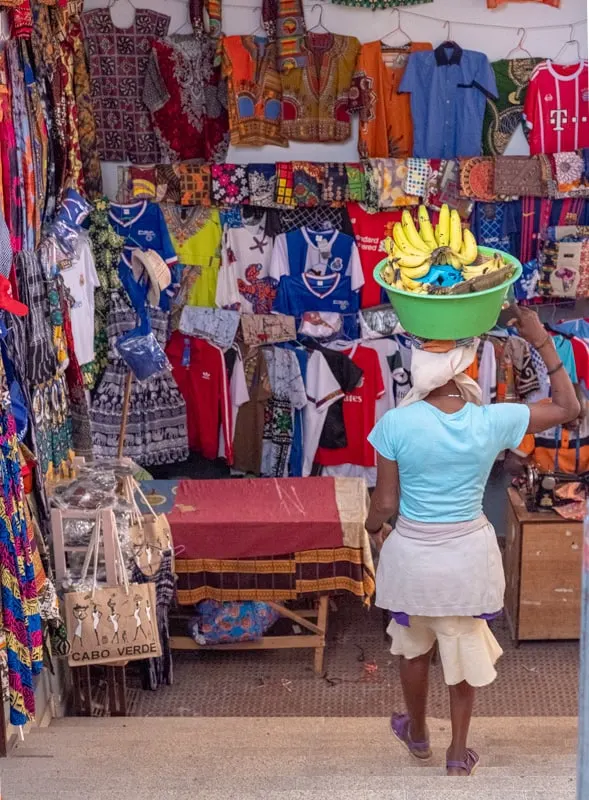 Assomada is another of the Cape Verde cities that should be on your bucket list! It's also an important stop if you're into traditional markets.
Here, you can visit the largest African market on the island and immerse yourself completely into the local culture and traditions.
Book here your day trip to Assomada from Praia
14. Visit Praia do Sao Francisco
A visit to Praia do Sao Francisco is a must if you love remote beaches.
It is a very nice sandy beach, abt 15/20 mins driving from Praia. It comes with a second smaller beach when passing the rocks. Much parking space is available and it is a great place to snorkel (if the visibility allows).
15. Do an Island Tour of Santiago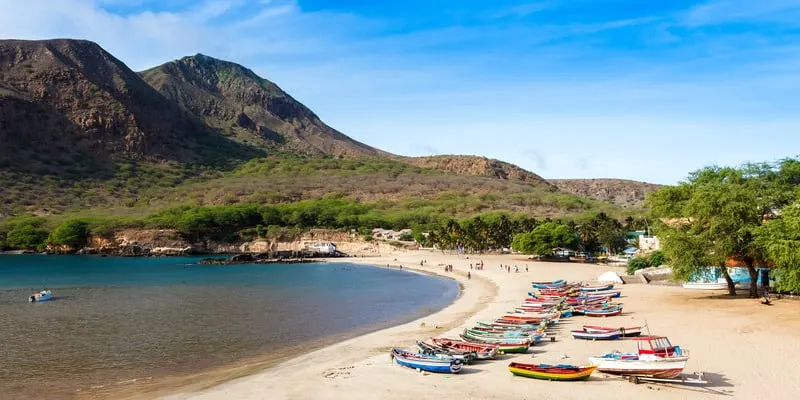 Tourism in Santiago is not yet a victim of mass tourism. There are numerous island tours that you can join if you only have a limited time.
On Santiago, most guided tours start and end in Praia, and typically include excursions to Assomada, Cidade Velha, Serra Malagueta, and Tarrafal beach.
Apart from discovering all these amazing places in only one day, most tours also include authentic Cape Verdean experiences, such as visiting a pottery or having lunch with a local family.
Undeniably, one of the best ways to discover this beautiful island!
Check here the prices for your Santiago tour
16. Do a Day Trip to Maio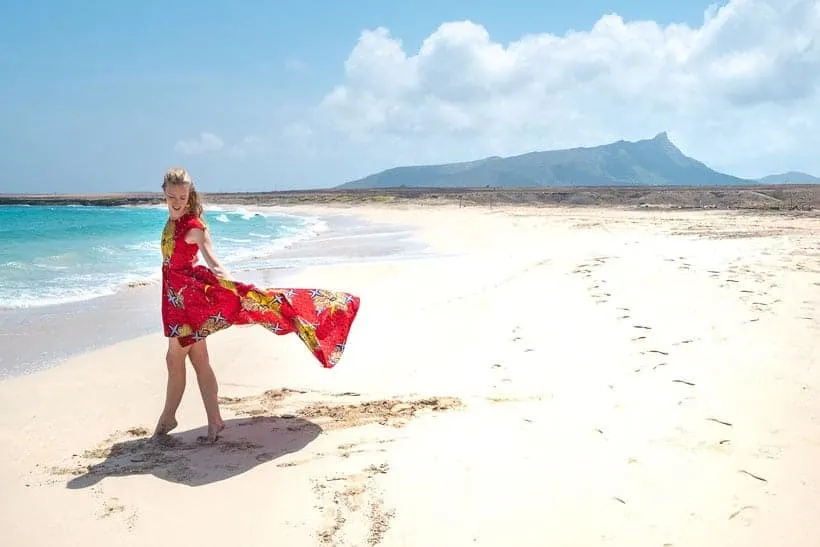 The easternmost island in the archipelago, Maio is also Cape Verde's best-kept secret! This hidden paradise was initially colonized for the exploitation of its salt, and it now impresses with quaint rhythms of life.
A day trip from Praia to Maio will allow you to discover another face of Cape Verde's history, culture and traditions, not to mention the possibility to enjoy pristine beaches and breathtaking scenery, as well as discover Cape Verde's largest forest, mainly composed of acacia trees.
Book here your day trip to Maio
---
Praia, Cape Verde Map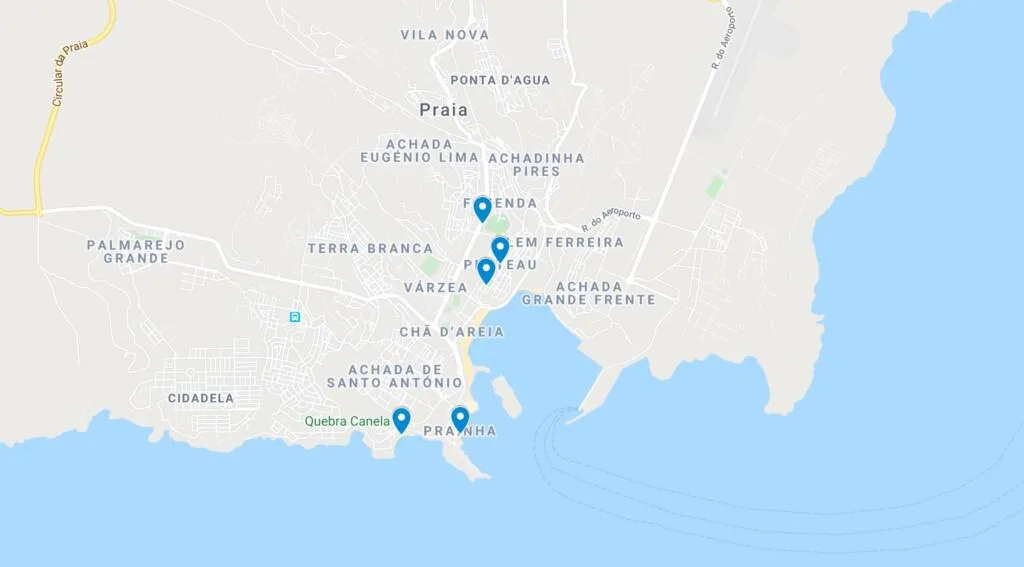 ---
Short FAQ about Praia, Cape Verde
What is the capital of Cape Verde?
The capital of Cape Verde is Praia.
What are the things to do at night in Praia, Cape Verde?
The things to do in Praia, Cape Verde at night are enjoying a buzzing nightlife, and the best thing is that many places across the town organize traditional live music nights, as well as exquisite snacks or full meals.
What is there to do in Praia, Cape Verde?
The main things to do in Praia, Cape Verde are hanging out at Quebra Canela Beach, have a caipirinha at Prainha beach, and enjoy live music nights, as well as exquisite snacks or full meals.
---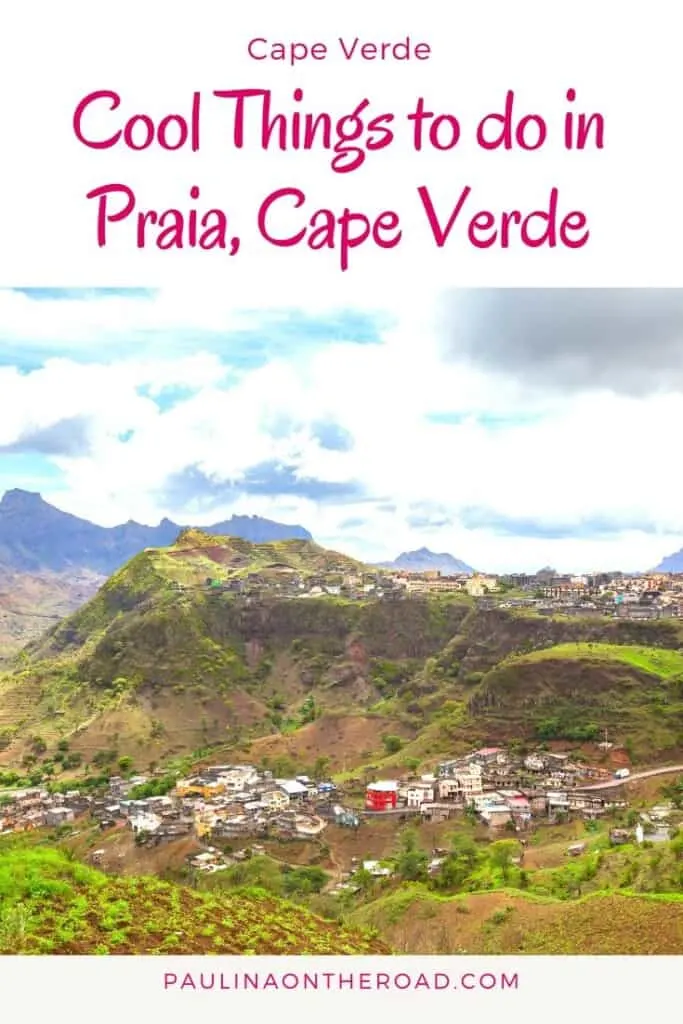 ---
Hola! I am Paulina, a fervent travelette who crossed the Atlantic Ocean by Boat HitchHiking. On my blog, you'll find all the tips to make the most of your holiday. Get ready to enjoy outdoor and sustainable travel like hiking, cycling or sailing. Let's hit the road together!