4 Authentic Indian Dishes to Try as You Travel
Post written by Amy Evans
India is a country that has so much to offer those who travel to its shores. An area of great beauty, intense spirituality and gastronomic delights galore, it is a place that truly touches and transforms those who pay it a visit.
Yet, while there are many amazing sights to see, a great deal of its appeal lays in the mundane and everyday aspects of experiencing this unique place for the first time. For every temple you enter, you must spend equal amounts of time bustling markets and meeting places, getting a taste of what it's really like to live somewhere so far removed from where you're used to.
A part of this includes experiencing its excellent culinary treats for yourself. So, if you're lucky enough to be visiting, here are four authentic Indian dishes you ought to try.
---

Like it? Pin it!
---
1. Aloo Gobi
Made from potato, cauliflower, and a selection of Indian spices, alu gobi is a delicious dry dish that will definitely leave you reaching for more. The addition of turmeric gives it a vibrant yellowish hue and it's fresh, flavoursome and fantastically tasty.
Other ingredients include ginger, garlic, onion, coriander, tomato, peas and cumin, making this culinary concoction anything but boring – it's no wonder it's popular among locals and travellers alike. There are options available on Deliveroo if you're looking to give it a pre-trip taste test!
2. Rogan josh
Rogan josh is a very well-known curry, but it never tastes quite as good elsewhere as it does in India. A staple of Kashmiri cuisine, it was originally brought to the region by the Mughals and remains one of the main dishes featured in the traditional multi-course meal known as 'wazwan'.
A beautiful blend of braised lamb chunks and browned onions or shallots, it also includes yoghurt, garlic, ginger and an array of aromatic spices. Its characteristic red colour comes from the liberal addition of Kashmiri chillies, de-seeded to reduce their heat and make the dish more palatable – especially for the Western tongue, usually less accustomed to Indian spice levels!
3. Malai kofta
One of the great things about authentic Indian dishes is that so many of them are suitable for vegetarians. Malai kofta is no exception. This tasty, meat-free meal is cooked in a creamy gravy made out of tomatoes and cashew nuts and it very much succeeds in its intention to melt in your mouth. Perfectly delicious and undeniably delectable, it does a great job of soaking up even the plainest rice.
4. Vindaloo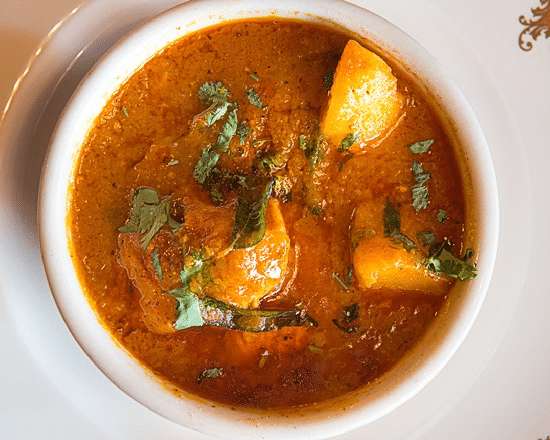 Known the whole world over for its exceptional spiciness, vindaloo is hugely popular in Goa, from where it originates. Lamb, chicken and beef all provide this dish with an excellent accompaniment. Don't let its status as a curry house menu staple fool you: it's arguably one of the more flavoursome dishes you'll find in India, where fire is pretty much par for the course.
Its sauce is indeed made by blending chillies, cumin, coriander and a host of other authentic spices, sure. But if you can handle the heat, it really does taste heavenly when eaten as it should be: in the very heart of India.
Which of these delicious dishes will you decide to try first?
---