Vila Franca and Tea-Time on Europe's only Tea Plantations (Azores)
Vila Franca Do Campo is a perfect day excursion when you just arrived in São Miguel and are looking for a short discovery trip on this beautiful island. After a 30 minutes bus ride from Ponta Delgada, you reach this charming little city with many hiking routes and even with a local pastry: the Queijada.
[Versión española abajo]
Today only 2 families own the original recipe and they are known all over the archipelago. You can buy the delicious pastry directly at the factory (rua Penedo 20; Morgado Family). You can smell them already from far away!
From the Queijada factory you can see the chapel Nuestra Senhora de la Paz. It's the perfect destination for a short hike. It will take you about 2 hours departing from Vila Franco do Campo.
Vila Franco do Campo is a must on any 4-day trip to the Azores
Visit Vila Franca, Sao Miguel
The trail is quite steep but you will be surrounded by exotic fruits and sugar cane. I never saw so many banana trees! Even though the trek gets harde by the end, you will be rewarded by fascinating views. They get better with every meter you climb.
When you finally reach the monumental staircase of the Nuestra Senhora de la Paz chapel, you'll have one of the best views of the island, its unique natural landscapes and the Ilheu of Vila Franca, a protected nature reserve.
Visit Tea Plantation, Sao Miguel
There is no better way to recover from this short but intensive hike, than by a good cup of Azorian tea. You just need to get a bus to Maia and walk to the tea factory Gorreana near Ribeira Grande. (As already mentioned in Top Things To Do in São Miguel, I recommend hitchhiking instead of public transportation).
There are only two tea plantations in Europe and both of them can be found on São Miguel, Azores. Surrounded by lush emerald green tea plantations with jaw-dropping views on the Atlantic ocean, the family owned Gorreana tea plantation is definitely a must-do when visiting the island of São Miguel. The tea grows miles away from pollution and without any use of pesticides, fungicides or herbicides.
All the plants are handpicked and produced with great care.
Make sure to visit the museum and the boutique of the tea plantation. It does not only give you a lot of valuable information on the production process, but it is also the perfect place to enjoy a cup of freshly picked tea.
You'll enjoy gorgeous views over the Atlantic ocean from its adorable tea room. For one second the exotic setting will let you think that you're in Asia…
Vila Franco do Campo es una excursión perfecta si acabas de llegar a la isla de São Miguel y si estás buscando un primer destino para descubrir esta maravillosa isla. Tras 30 minutos de bus desde Ponta Delgada, llegáis a esta encantadora pequeña ciudad con muchas rutas de senderismo e incluso con su propio pastelito local: la Queijada.
Hoy en día solo 2 familias tienen la receta original y podéis comprar los pastelitos directamente en la fábrica (rua Penedo 20; Morgado Family).
Ver Vila Franca, Sao Miguel
Desde la fábrica de las Queijadas se ve la capilla de Nuestra Senhora de la Paz. Un destino perfecto para una primera pequeña ruta! Desde la ciudad se tarda 2 horas en llegar en un camino muy empinado pero rodeado de caña de azúcar y plataneros.
Con cada metro superado, las vistas se hacen mejores! Al llegar por fin a la escalera monumental de la capilla, tenéis una vista espectacular sobre el paisaje de la isla y el Ilheu de Vila Franca, una reserva natural protegida.
Visitarla Plantación de Té
Nada mejor para recuperar de esta ruta que con una buena taza de té azoreano! Solo tenéis que coger un bus a Maia y caminar hasta la fábrica de té Gorreana.
En vez de coger el bus, os recomiendo el autostop ya que el transporte público todavía es muy pobre en São Miguel. Es una de la 6 Cosas que hacer en São Miguel.
En Europa solo existen 2 plantaciones de té y ambas se encuentran en São Miguel! Rodeado de campos de té de color verde exuberante, la fábrica de té Gorreana tiene su propio museo y por supuesto su propio salón de té donde podéis probar varios tipos de té. Todos los tipos de té están recogidos a mano y no se usan ni pesticidas ni herbicidas en todo el proceso de producción.
Cuidado con el té azoriano: es más fuerte que cualquier bebida energética que he tomado hasta ahora!
Las vistas desde el salón de té al Océano Atlántico y las plantaciones de té os harán pensar por un segundo que os encontráis en Asia…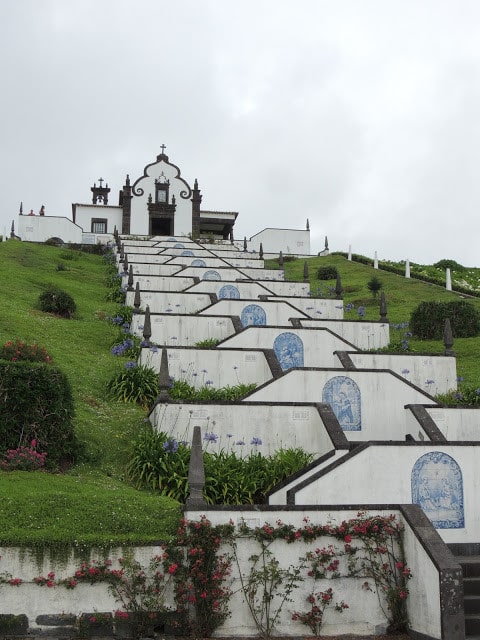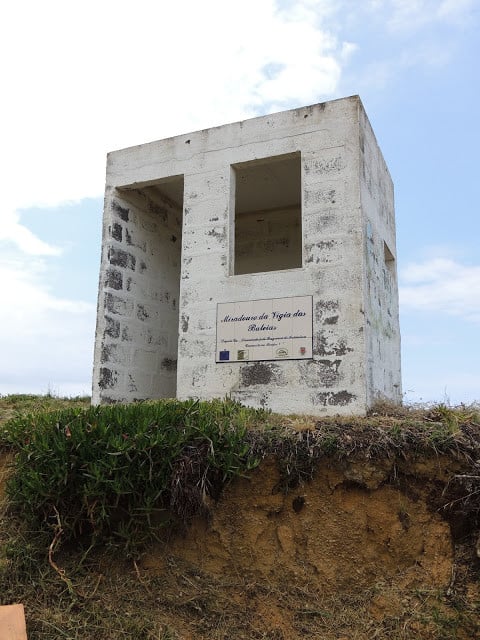 ---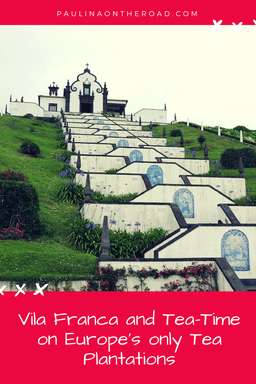 ---