The beautiful island of Sao Miguel, Azores has plenty of things to do. And after spending some time here, you might be up for less touristy and even unusual things to do.
Well, you might be surprised how many things are still left to be explored on this little island. Today I bring you some of the most fun day trips from Ponta Delgada, Sao Miguel.
After writing about the most important things to do in Sao Miguel, Azores, it is about time to take you to the hidden gems of the island. All of the suggested items can be done in a day tour or day trip from Ponta Delgada. Since the island is not very big you can also easily combine them.
If you are wondering how to get to the here-mentioned places, I recommend renting a car with Discover Car Hire or simply book your guided Azores tour with Viator. Their rates are great and traveling with a guide always will provide you more insight into the places you are visiting.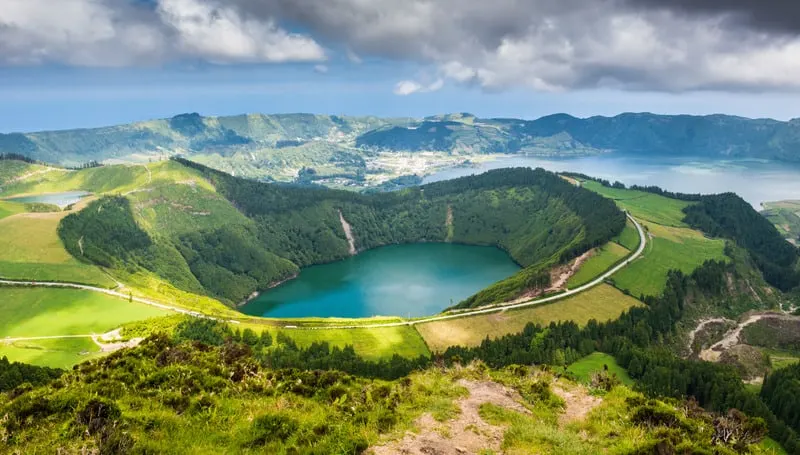 Useful Travel Information About Azores, Portugal
✈ Book cheap flights to the Azores with Skyscanner.com or Kayak.com

✔ Book tours in the Azores with Viator.com

➳ Find the best Hotel deals in the Azores with Agoda.com

❖ Rent a car with the best discounts at DiscoverCarHire.com

☘ The best discounted outdoor clothes (outlet) at REI.com

✎ Never leave without a travel insurance. I got mine at HeyMondo.com. It is cheap and easy to set up.

⚘ Get a travel guide in order to prepare your trip. I recommend the Lonely Planet Azores (get a 10 % discount with the code "PAULINA10")
1. Furnas, Azores: Where Nature Breathes!
Furnas offers the quintessence of São Miguel, Azores:
thermal waters
, crater lakes,
volcanoes
, hearty food… The small city, part of a dormant volcano massif, offers many exciting activities for a day excursion from Ponta Delgada!
If you are looking for a more relaxing holiday, maybe a wellness stay, you should definitely consider staying at one of the hotels in Furnas. They provide several treatments and you'll be far away from the hustle of the capital. – Check rates for tours to Furnas
2. Hiking in Furnas, Azores
Nothing better than to start your day in Furnas with an easy hike around the lake Lagoa das Furnas! The Neogothic chapel Ermida da Nossa Senhora das Vitorias, the fumaroles and hot mud pools in the northern part of the lake are attractive curiosities during the hike.
The lagune near Furnas is definitely one of the top things to do when looking for day trips from Ponta Delgada, Sao Miguel.
On weekends, you can see how the locals cook their stews inside the mud pools.
A hearty Cozido das Furnas cooked in fumaroles can also be enjoyed in many restaurants in town and is the best meal to recover from the hike. – Check rates for tours to Furnas
3. Take a Bath in Furnas Hot Springs
The thermal hot springs are the perfect afternoon plan in Furnas! There are 2 in town: Poça da Dona Beija (cute and tiny for 3.5€) and Terra Nostra Garden. The entrance fee of 6€ includes the visit of the Botanical Garden (according to a local "the most beautiful park in Europe"!) and the use of the thermal outdoor pool during the entire day! I choose the Terra Nostra Garden for my pampering day!
The views from the swimming pool on the green mountains with light fog on top, will leave you speechless. It could have been one of the best days in my life if a class of noisy children wouldn't have had the same plan as me!!
But even noisy children couldn't prevent the tremendous relaxing effect of the hot water! The water with an average temperature of 39ºC has therapeutic effects and the muds are indicated for cutaneous invigoration. All in all, after your visit you will feel all relaxed and totally in peace with the world. – Check rates for tours to Furnas
4. Visit Lagoa das Furnas
The Lagoas das Furnas is one of Sao Miguel's most important crater lakes. It is located a short walk from the village of Furnas. I particularly enjoyed its tranquility. The setting is absolutely peaceful.
However, the main attraction of Furnas Lake are the stews that are being cooked in the boiling water of the hot springs. This tradition has a long history and I was amazed to see how the locals use nature's energy to cook. You cannot eat them there but in any restaurant in Furnas. It's definitely a must when looking for day trips from Ponta Delgada, Sao Miguel.
Insider's Tip:
Paulina's tip: Take a hitchhike to the Pico do Ferro viewpoint which offers you the best panorama view on Furnas, the crater lake and the volcano massif. Do you want to make your stay in Furnas, Azores memorable? Why not enjoy Furnas Hot Springs at Night with Dinner?






5. Visit Vila Franca
Vila Franca Do Campo is a perfect day excursion when you just arrived in São Miguel and are looking for a short discovery trip on this beautiful island. After a 30 minutes bus ride from Ponta Delgada, you reach this charming little city with many hiking routes and even with a local pastry: the Queijada.
Today only 2 families own the original recipe and they are known all over the archipelago. You can buy the delicious pastry directly at the factory (rua Penedo 20; Morgado Family). You can smell them already from far away!
From the Queijada factory you can see the chapel Nuestra Senhora de la Paz. It's the perfect destination for a short hike. It will take you about 2 hours departing from Vila Franco do Campo.
If you are in the capital of Sao Miguel, Azores, and you're looking for activities, Vila Franca is one of the best things to do in Ponta Delgada and surroundings.
Hydrangeas are everywhere in São Miguel!
Fall in love with hydrangeas
Our Lady of Peace Chapel
6. Hike up to Nuestra Senhora de la Paz, Vila Franca
The trail is quite steep but you will be surrounded by exotic fruits and sugar cane. I never saw so many banana trees! Even though the trek gets hard by the end, you will be rewarded by fascinating views. They get better with every meter you climb.
When you finally reach the monumental staircase of the Nuestra Senhora de la Paz chapel, you'll have one of the best views of the island, its unique natural landscapes and the Ilheu of Vila Franca, a protected nature reserve.
It is one of the less known Day Trips from Ponta Delgada, Sao Miguel.
7. Visit Tea Plantation, Sao Miguel
There is no better way to recover from this short but intensive hike, than by a good cup of Azorian tea. You just need to get a bus to Maia and walk to the tea factory Gorreana near Ribeira Grande. However, public transport is very scarce, and I recommend renting a car with Discover Car Hire since they have the best rates.
There are only two tea plantations in Europe and both of them can be found on São Miguel, Azores. Surrounded by lush emerald-green tea plantations with jaw-dropping views on the Atlantic ocean, the family-owned Gorreana tea plantation is definitely a must-do when visiting the island of São Miguel. The tea grows miles away from pollution and without any use of pesticides, fungicides or herbicides. – Buy Gorreana Tea online
All the plants are handpicked and produced with great care.
Make sure to visit the museum and the boutique of the tea plantation. It does not only give you a lot of valuable information on the production process, but it is also the perfect place to enjoy a cup of freshly picked tea.
You'll enjoy gorgeous views over the Atlantic ocean from its adorable tea room. For one second the exotic setting will let you think that you're in Asia… – Buy Gorreana Tea online

Whale Watchout near Gorreana Tea Plantation

In Gorreana tea museum
More hydrangeas!
Tea-time on the Azores!
8. Visit Sete Cidades Village
Sete Cidades is a paradise for hikers: great panorama views, abundant nature and a little scary factor!
The lake is composed by two different lagoons: the Blue Lagoon and the Green Lagoon, all set in the crater of a dormant volcano. The legend behind can be read here.
Many hiking routes are waiting for you: circumvent the crater laker, hike to Santiago Lagoa or a hike to the panorama viewpoint Vista do Rei. – Check rates here for guided Sete Cidades tour
9. Hiking Around Sete Cidades Lake
My aim of the day was Vista do Rei: a viewpoint situated on top of the crater with gorgeous views on the lagoons, the Sete Cidades village and even the Atlantic Ocean! But that plan was easier said than done!
Upon arrival in Sete Cidades, I was unable to spot any trail signs. Wherewith the only direction I had for Vista do Rei was: UP! Up on top of the mountain! After crossing the village, I must have missed the trail entrance and so I did most of it on an asphalted street accompanied by the typical moody Azorian weather conditions. – Check rates here for guided Sete Cidades tour
But the views were worth it all! You just have to keep telling yourself that on any forest track, you'd never have THESE views!! No wonder that it is considered as one of the best hiking trails in the Azores.
10. Visit the abandoned hotel of Sete Cidades

After 4 hours of hiking and almost getting killed by passing cars, I finally reached Vista do Rei! But instead of the expected speechlessness, a big grey concrete building captured my attention: an abandoned former 5* hotel! The Monte Palace hotel was built in the eighties and had to close because of its remote location.
Today the hotel ruins invite courageous tourists for a scary discovery tour. Just muster all your courage! HERE you can fin more pictures and descriptions of Monte Palace Hotel.
And still today the public transportation to Ponta Delgada is catastrophic, I decided to get back by my favourite Azorian hobby: hitchhiking! After a short time, a nice Swedish couple took me back to the capital of São Miguel. – Check rates here for guided Sete Cidades tour
What else can you do on São Miguel, Azores? Here the 6 Must Dos in Sao Miguel, Azores!


---
Find The Best Hotels in Sao Miguel, Azores
---
***
For more information on tourism in São Miguel, I recommend the following webpage: Tourism in São Miguel, Azores
For Activities on Sao Miguel, Azores, I recommend GetYourGuide.com
***
---
Like it? Pin it!
Like it? Pin it!
---
Hola! I am Paulina, a fervent travelette who crossed the Atlantic Ocean by Boat HitchHiking. On my blog, you'll find all the tips to make the most of your holiday. Get ready to enjoy outdoor and sustainable travel like hiking, cycling or sailing. Let's hit the road together!