The Azores might be Portugal's best-kept secret. Until recently only a few flights connected the archipelago to the European mainland. Now, with low-cost airlines opening their routes to Ponta Delgada, this hidden gem might become very quickly one of Europe's most popular hiking destinations.
São Miguel is perfect for outdoor enthusiasts who'll enjoy themselves while horseback riding, hiking, biking or diving.
Let me show you my favorite spots from São Miguel ranging from thermal pools to exotic tea plantations. Make sure to visit the lush green islands before the masses of tourists will invade them.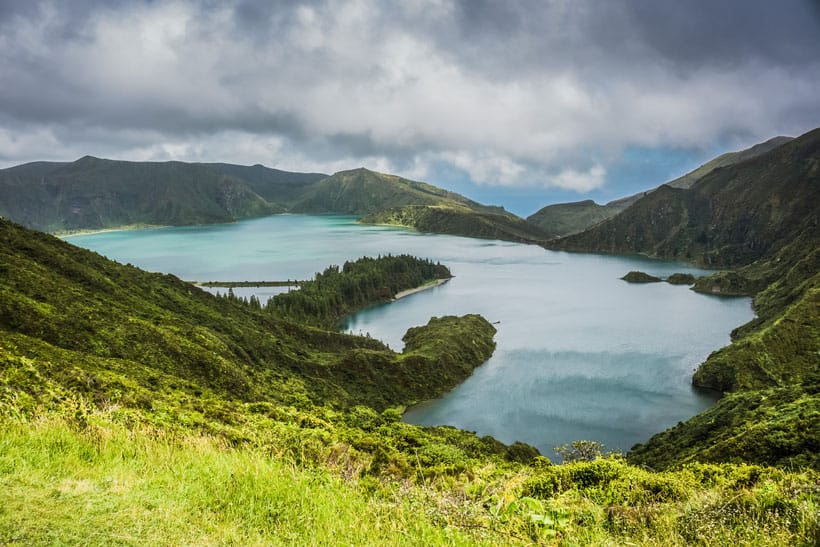 1. Lagoa do Fogo
"Lagoa do Fogo" (Lagoon of Fire) is for me the most beautiful sight on the island of São Miguel. This crater lake has a unique peaceful ambiance which will remind you to have awe and respect at nature's beauty.
The lake is also a perfect hiking destination. You can hike from the view point located on the street down to the lake and enjoy the dreamy atmosphere. The lush green vegetation is the perfect invitation for exploring the exuberant natural sights of São Miguel.
Perfect time for visiting are the early hours of the morning when the lake is still covered by light fog. Make sure to check out the weather since it can be covered by big clouds on some days. It is a remote place which you cannot accede by public transportation. You can get there either with a rental car or by hitchhiking (see point 4).
2. Hot Springs in Furnas
Terra Nostra Garden
In Furnas you will see the earth breathe!
Furnas is a village set in a mystical valley. From far you can see the steam of the fumaroles and Geysers which give the town a mystical touch. it is one of the best day trips from Ponta Delgada.
Besides the volcanoes, Furnas is famous for its hot springs. There are 2 in town: Poça da Dona Beija and Terra Nostra Garden. The first one is very tiny and set in midst of nature.
The second one, Terra Nostra Garden, a little bit more expensive, has a large pool in front of a mansion set in a botanical garden.
The temperature of the thermal water is between 35 and 40 degrees Celsius and provides a very intense sensation of rest and relaxation.
The water is charged with minerals and helps to treat health problems, such as rheumatism and obesity.
Another curiosity of Furnas is the corncobs cooked in hot water steam and the stew (Cozido das Furnas) cooked with volcanic heat inside a burrow. Plenty of stuff to do in Furnas!
3. Hiking in Sete Cidades
An absolute must do in São Miguel is hiking around the lake Sete Cidades (Seven Cities)! A hiking tour at Sete Cidades can be easily combined with a visit to the pineapple farm close by.
The lake is composed of two different lagoons: the Blue Lagoon and the Green Lagoon, all set in the crater of a dormant volcano.
The legend tells that the lagoons are born from the tears of an unfortunate love couple. The love between a princess and a poor shepherd wasn't approved by the king.
Both lovers started to cry and the green-eyed princess created with her tears the Green Lagoon and the shepherd with his blue eyes originated the Blue Lagoon.
The hike around the twin lake will provide you with incredible views of the valley, the lake, and the sea. You will remain speechless in more than one opportunity!
For me, the best view was at the ruins of a former 5-star hotel next to the viewpoint "Vista do Rei". You will remain breathless in front of exuberant nature!
You get there by bus (only one per day!) or hitchhiking but it is a great day trip from Ponta Delgada.
4. Hitch Hiking in Sao Miguel!
If you wanted to try hitchhiking since forever, São Miguel is the perfect place to get started!
Due to the fact that São Miguel is still very virgin when it comes to tourist infrastructure, only a few buses connect the capital Ponta Delgada with the sights spread all over the island. If you are no friend of car or scooter rentals, you are almost forced to try hitchhiking in order to get to see everything.
After the first worries being flown away, hitchhiking soon became my favorite hobby on São Miguel! On my hitchhikes I accompanied a churchman from town to town to raise funds for the upcoming procession or shared a cabriolet with a group of military musicians who invited me afterwards to their concert! By meeting other people, you can only win!
Worries are almost unjustified, since the Azorians are very easy-going and quiet people who are proud to show you the beauty of their island.
For those of you who are grown up in a small country or an island, you will understand why the Azorian approach foreigners differently! In sum, the risks you might take to see places that only the locals know, are practically non-existent.
5. Dolphin & Whale Watching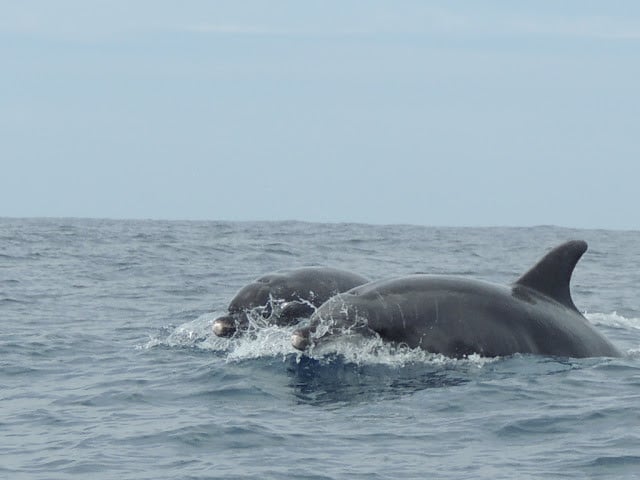 Whale watching is truly a fascinating experience that you will remember forever! Nevertheless there are a few things that you should bear in mind when booking a tour:
Make sure that you are in whale season! From May to June you can see the biggest whale species i.e. Fin whales, Sei whales or even Blue whales. Throughout the year you can see dolphins, sperm or pilot whales.
Choose carefully the type of boat! One of the operators in Ponte Delgada is offering tours with a former ferry boat… I guarantee that with that boat you will see not one single whale!
I booked my tour here and they gave me the option to choose between two kinds of boats: a catamaran or a speedboat. Obviously I went for the speedboat! Thanks to its reduced size and its speed, we could get really close to the whales!
Make sure that you have a specialist with you on board! Serious provider start the tour with an info session and boats should be accompanied by a multilingual biologist which answers you every possible question. And trust me, after seeing the first whale, you will assail them with questions!
Although the experience is quite expensive, you will remember forever the sensation when you saw your first whale!
For those who want to top the whale-watching experience, I recommend swimming with wild dolphins. This time I couldn't do it since I was travelling on a budget. But I'll definitely be back to São Miguel to swim with wild dolphins in the Atlantic ocean.
It's definitely one of the best things to do in Ponta Delgada, Sao Miguel.
6. Relax and Drink Tea on a Plantation!
São Miguel has the only 2 tea plantations (pesticide free!) in Europe for industrial purposes. "Gorreana" and "Porto Famoso" are both equipped with super interesting museums about Azorian tea culture and production. After the visit, nothing better than to relax with a cup of tea and regional pastry.
I visited Gorreana tea plantation and was amazed by the beauty of the tea fields next to the ocean. There is no entrance fee for the museum and tea is at "all you can drink" rate. Be aware, this tea hits harder than any Energy-Drink!
This is definitely a great option when looking for day trips from Ponta Delgada, Sao Miguel.
7. Pineapple Plantation
Thanks to a very engaged reader I can flesh out this post on things to do in São Miguel, Azores.
Indeed São Miguel has the only pineapple plantation in Europe. Something you shouldn't miss when you visit Portugal's best-kept secret. Although São Miguel doesn't have a tropical climate, the Azorians managed to make this plant grow on their lovely island.
The pineapple was originally imported from Africa and they used greenhouses to make this delicious fruit grow on São Miguel soil. Greenhouses create artificially a very high level of humidity and high temperatures which make the pineapples grow happily on this little paradise amidst the Atlantic Ocean.
The Azorian pineapple is said to be very juicy and to have a slightly different taste from the pineapples grown in a tropical climate. I guess I have to go back to the Azores only for the pineapples…
The pineapple greenhouses can be visited with this tour.
Pineapple Plantation
Rua Drº Augusto Arruda – Fajã Baixo – 351-296 384 438.
Close to São Miguel capital, Ponta Delgada.
Free entry
---
Practical Info
How to get to Sao Miguel, Azores
By Flight
The airport of Sao Miguel is located in Ponta Delgada, the capital of the island. There are good flight connections from Lisbon and from the United States. Only recently Ryanair is connecting Sao Miguel with continental European airports.
Get the best flight deal! Before I book a flight, I always compare fares with Skyscanner.
Rent a Car in Sao Miguel, Azores
Get the best car rental deal in Sao Miguel, Azores, by comparing prices from major car rental companies: Compare Car Rental Deals.
Where to stay on Sao Miguel, Azores
---
Discover a range of best things to do in Sao Miguel, Azores including walking tours, whale watching and an exotic tea plantation. Explore where to eat and where to stay in Sao Miguel.
Discover a range of best things to do in Sao Miguel, Azores including walking tours, whale watching and an exotic tea plantation. Explore where to eat and where to stay in Sao Miguel.
---
For more information on tourism in São Miguel, I recommend the following webpage: Tourism in São Miguel, Azores.
Considering tours and excursions on São Miguel, Azores, I recommend booking your tickets with GetYourGuide. They have loads of activities to choose.
---
---
Hola! I am Paulina, a fervent travelette who crossed the Atlantic Ocean by Boat HitchHiking. On my blog, you'll find all the tips to make the most of your holiday. Get ready to enjoy outdoor and sustainable travel like hiking, cycling or sailing. Let's hit the road together!