Are you ready to experience a journey unlike any other? Join me, Paulina on the Road, on an adventure to travel Rhine River!
Meandering through castles, pristine forests, and quaint villages, this captivating river allows us to explore ancient history and immerse ourselves in unique cultures.
On our voyage down the spectacular Rhine River, we will be able to take in breathtaking views of the surrounding scenery, indulge in some delicious cuisine, and meet friendly locals who may provide us with insider knowledge about all this stunning region has to offer.
I'm excited for you to come on board and discover all that makes the picturesque Rhine River so special; let's start planning your perfect getaway today!
From castles overlooking mist-covered hills, vineyards filled with ripe grapes just waiting to be plucked and a plethora of stories from centuries past, traveling along the banks of this ancient waterway is sure to be an unforgettable adventure!
Top resources to travel Rhine River
✈ Book cheap flights with Skyscanner

✔ Book Rhine River tours with Viator

➳ Find the best hotel deals in Rhine cities with Trivago

❖ Rent a car with the best discounts at DiscoverCars

✎ Never leave without travel insurance. I got mine at HeyMondo. It is cheap and easy to set up.

⚘ Get a travel guide in order to prepare your trip. I recommend the Lonely Planet.
Where to go on Rhine Valley trips?
The Rhine Valley is an enchanting region in Germany that visitors simply cannot miss out on.
Famed for its breathtaking landscapes, rich history, and captivating culture, this is undoubtedly one of Europe's most treasured gems.
One of the best ways to explore this picturesque area is by taking a Rhine valley trip.
From stunning castles and charming little villages to wine tasting on terraced vineyards and cruising down the Rhine River, there is something for everyone.
The area has a lot to offer and a trip to the Rhine valley is one of the most enjoyable things you can do in Germany.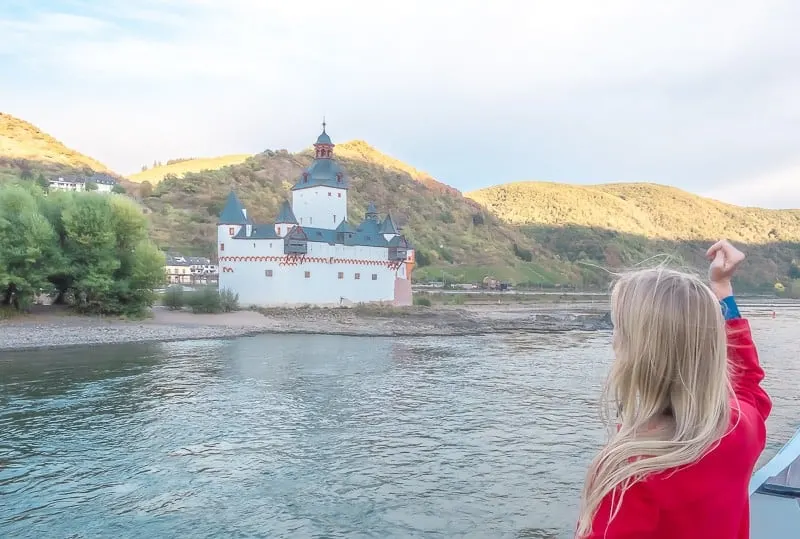 What really sets the Rhine apart is its role in shaping European history.
It was once a major trade route, and has witnessed countless battles and power struggles over the centuries.
From the castles of the Middle Ages to the modern-day cities that line its banks, the Rhine is a living museum of European culture.
Rhine cities
If you're planning to travel the Rhine River, then you should definitely add some of the best Rhine cities in the Rhine River Valley to your itinerary.
This picturesque valley of castles, vineyards, and historic towns is an enchanting destination that will make you fall in love with Germany.
No matter which Rhine city you choose to visit, you'll be blown away by the beauty and history of the region, and you'll surely leave with unforgettable memories.
Rhine River cruises
Rhine River cruises are truly a traveler's dream come true.
With picturesque views of charming European towns, magnificent castles, and lush vineyards, this trip offers an unforgettable adventure if you travel Rhine river.
Whether you're a history enthusiast fascinated with ancient cities or a nature lover seeking tranquility, the Rhine River has something for everyone.
A cruise allows you to enjoy the scenery from a unique perspective, savor delicious cuisine, and meet fellow travelers from all over the world.
What are famous cities on the Rhine?
The Rhine River is undoubtedly one of the most captivating rivers in Europe, boasting an array of famous cities along its banks.
One such city is none other than Amsterdam, where the canals and colorful houses around them will take your breath away.
Cologne, Germany is another gem on the Rhine, known for its magnificent cathedral that stands tall and proud over the city.
Further down the river lies Strasbourg, France, with its picturesque half-timbered houses and charming canals.
Finally, no trip along the Rhine would be complete without visiting Basel, Switzerland – a city with both stunning architecture and rich cultural heritage.
Whether you're traveling along the Rhine for the first time or the tenth, these cities are sure to leave an indelible impression on your travels.
What are the best places to stay along the Rhine River in Germany?
If you're planning to travel along the Rhine River in Germany, there are plenty of incredible places to stay that offer breathtaking views and charming accommodations.
From historic towns to bustling cities, there's something for everyone along this iconic river.
One of my personal favorites is the town of Bacharach, which boasts both a beautiful castle and a peaceful, laid-back vibe.
Another option is the city of St. Goar, which is home to the famous Lorelei rock and some of the best wine in the region.
No matter where you stay, you're sure to be captivated by the stunning scenery and warm hospitality of the Rhine Valley.