What comes to your mind when you think of glamping?
An enhanced version of camping? Yes!
A more comfortable way of enjoying and experiencing the beauty of nature and great outdoors? Yes, yes, yes!
But would you also associate it with utterly surprising accommodation locations?
This wasn't my case until I stayed for a glamping experience in a historic cave near Granada with Glamping Hub. From tree houses to house boats, there is no location that is too creative to be featured on the glamping site per excellence.
After discovering that they even offer accommodation in the historic caves near Granada, I just couldn't resist to plunge in a very special glamping experience.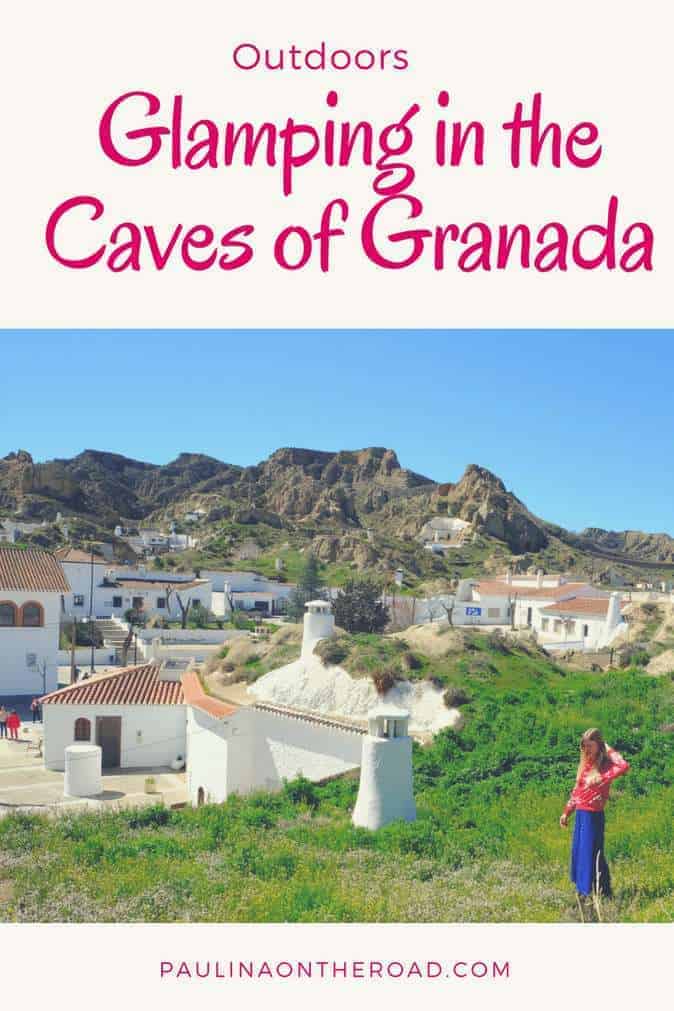 The Historic Cave Suites in Andalucia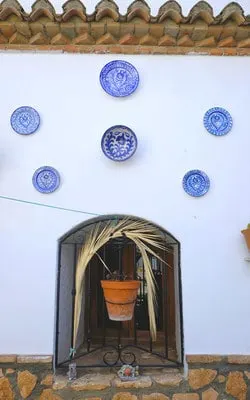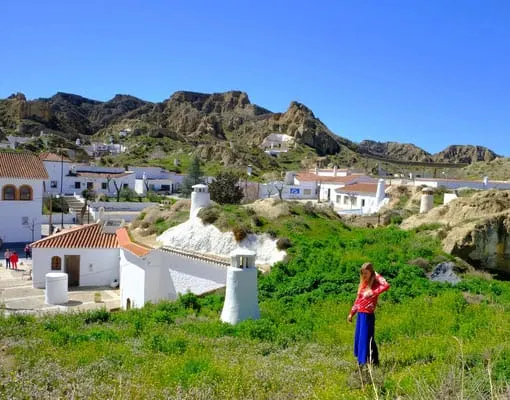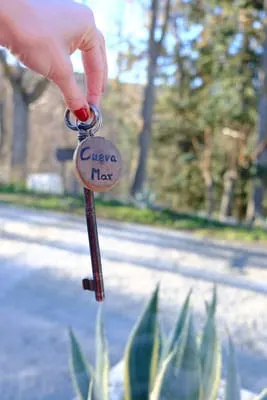 The cave suites near Granada and Guadix have an impressive and long history. Some of the oldest caves are believed to have been built during the early period of the Moorish rule, and date back around 1.000 years, although most were built during the 15th and 16th centuries. Until a few decades ago, cave homes in Guadix and Granada were seen as houses for the poor, considered inferior to the town's more modern houses.
Today, they are becoming increasingly popular, and many local residents are transforming their dwellings into restaurants, holiday rentals, museums, and hotels. Don't be surprised if you are invited in to have a look around!
Most of today's cave-dwellings are well-appointed, like any other Spanish home, and some are even quite luxurious, with marble floors, fitted kitchens, faxes and internet connections.
Still, nowadays, about 25.000 people call a cave their home in the region of Guadix and Granada. For most of them, living in a cave is a lifestyle, as it requires much more care than a "normal" house.
The main advantage of living in a cave is the cool temperatures during very hot Andalusian summers and relatively warm temperatures in winter. Temperatures are thus constant throughout the year.
On top, there are considerable advantages of living in a cave-home. Not only is it very affordable as you save money on heating in winter and air conditioning in summer, but living in a cave also has benefits for your health. Indeed living in a natural environment is supposed to have positive effects on your skin and respiratory system.
You can spot thousands of caves along the main road connecting Granada to Almeria. In case you want to learn more about living in a cave and the history behind this original concept, I strongly recommend to visit the Barrio de las Cuevas in Guadix. It hosts a documentation center and a very high concentration of cave-houses which reminded me of a hobbit-town.
More and more people are visiting Guadix in order to enjoy the unique experience of sleeping in a cave first-hand.
On top, Guadix and Granada boast a vibrant tapas culture: most drinks come with a free, delicious tapas.
Review of Glamping Cave Hotel, Spain
The Glamping Concept
The term "glamping" (a fusion of "camping" and "glamour") refers to a new way of experiential traveling. Basically, you get to enjoy the great natural outdoors without all the inconvenient little things of camping like pitching a tent, getting soaked in case of rain or waking up being surrounded by ants.
It's a glamorous version of camping which rapidly caught fire, especially among outdoor lovers.
Nowadays, glamping accommodations can be tree houses, yurts, boats, safari tents or caves like the historic cave suites near Granada and Guadix, Spain. The big advantage of glamping is definitely its incomparable access to nature all year round.
On top, each accommodation location has its very own individual character, story, and background which sets it apart from common hotels.
How to Get There?
The region around Granada, Southern Spain is famous for its historic caves and thousands of them are located between Granada and Guadix.
My cave was called the cave suites and is one of the 7 historic caves of the La Tala Caves close to Guadix, Andalusia.
It's about 1h driving from Granada and 15 min from the town of Guadix, a real hidden, not very known gem. The access from the highway to the cave was unpaved and I recommend to make sure that your car is resilient as the road is quite bumpy. It takes you about 2 hours to get from the cave suites to the Mediterranean coast of Costa del Sol.
Malaga-Costa del Sol Airport is located only 192 km away and takes you a 2 hours drive. Almeria airport is only a 1h drive. Find here the best deal for your flight to Malaga-Costa del Sol Airport and Almeria.
In case you travel by car, you follow the A-92 until exit 295 for A-92N toward Baza/Murcia, continue onto N-342/A-92N, take the exit next to Meson Granadult.
Compare here all the prices for major European car hire companies.
The Property
The cave suites is part of the La Tala Caves which consists of 7 caves around the main manor house. As the cave complex lays lower than its surroundings and is surrounded by high rocks, temperatures are particularly cool.
The history of the La Tala Caves goes back to 1700.
Facilities and Service
The cave suites within the La Tala caves is comparable to a holiday home (not to be confounded with a stay at a hotel!). It consists of a living room with a charming chimney, a kitchenette, bathroom and the main dormitory which is set the furthest within the cave in order to assure cooler temperatures during the hot Andalusian summers.
The best part is definitely the jacuzzi in the dormitory! However, before taking a bath, make sure that there´s enough hot water in the tank, otherwise, you´ll end up as I did: with a half-full, rather cold bathtub.
In case you visit during the winter months, be ready to make a fire in order to heat up your cave. In that sense, my cave experience couldn't be more "back to the roots".
The cave suites is the ideal place for a well-deserved rest and total disconnection. You hardly have any phone connection within the complex or inside your cave and Wi-Fi is only functioning near the reception.
Instead, you´ll have plenty of quality time to read one of the historic books or magazines next to the fireplace.
I had a blast while reading my magazine from the 1960s about Nikita Khrushchev and totally absorbed by a book about the colonization of South America written during the era of Franco's dictatorship. These read definitely made my stay even more special!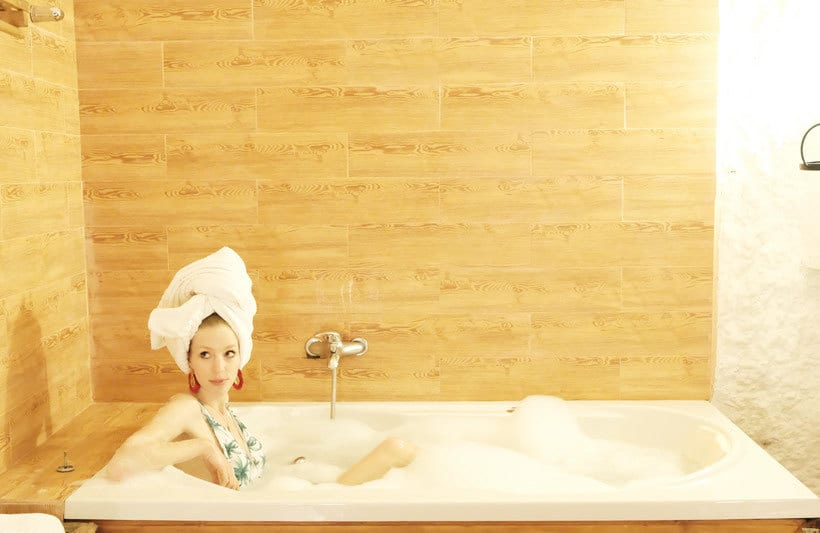 Food
As already mentioned, the cave suites is rather comparable to a holiday home than to a hotel or a B&B. Being self-catered, you have to take care of your own food provisions.
Luckily, an Iberian ham factory was only a 3 min drive away and its on-site restaurant served the best Spanish breakfast ever! Imagine fresh orange juice, a hearty coffee and a warm toast with Virgin olive oil and the best Iberian ham for only 4 €!
Meson Granadul rapidly became one of my favorite places as all its dishes were simply delicious and traditional Andalusian cuisine. On top, it is the perfect place to buy the best Andalusian souvenir you might get: an Iberian ham!
In case you want to explore the local tapas culture, I recommend to head to Guadix or Granada. Both towns enjoy an excellent reputation when it comes to tapas. Not only do tapas come for free with your drink, but most of them only use local, traditional and fresh ingredients.
I recommend the following places to have tapas in Guadix:
Taberna El Buho
La Bodeguilla
Restaurante Boabdil
And these places for tapas in Granada:
Taberna La Tana
La Botilleria
Babel World Fusion (my favorite!)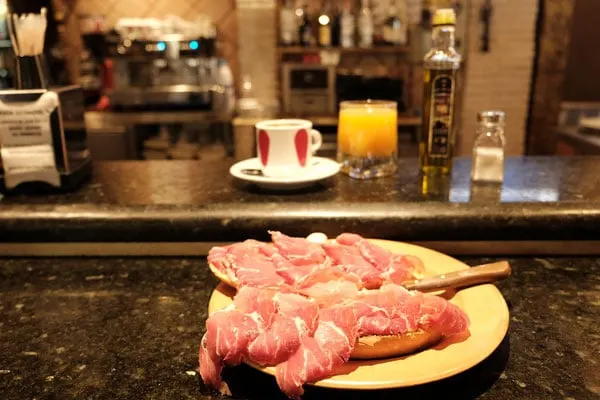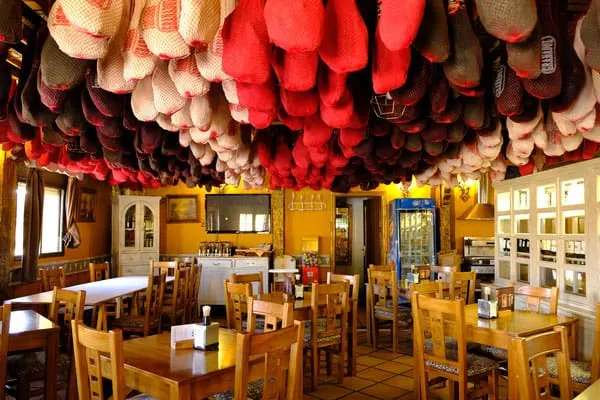 Eco-Friendly Aspects
The cave suites near Granada are set in a very remote setting which is surrounded only by nature which invites for long hikes.
It's all about total disconnection from stress and consumerism. Indeed, during my entire stay, I hardly heard any noise except for the singing of the birds in the early mornings. If you're lucky, wild mountain goats will greet you in the morning.
The main eco-friendly aspect of the cave is definitely the heating. As there is no central heating, you'll need to take care of the fire. This was a totally new experience for me which made me appreciate even more the luxury of being used to an automatic heating system. It definitely makes you realize that heating energy is not given, but that you need to make an effort in order to enjoy a warm, cozy place.
During the hot summer months, the cave usually doesn't need any heating or air conditioning at all as the rocks naturally cool down the temperatures inside.
The cave suites are sustainable by nature: temperatures are stable throughout the year which helps to save energy and prevent excess carbon dioxide.
They also provide natural protection against storms and earthquakes. On top, cave houses offer fire protection, since their main material is concrete, plants can be grown on their roofs since clearing land is used to cover them.
The Cost
The cave suites can be yours for 107 € per night and you can book it right here at GlampingHub.com.
Other costs that need to be considered are renting a car to get to the cave as the site cannot be reached with public transport. You'll also need a car for your food supplies as there are no supermarkets close by.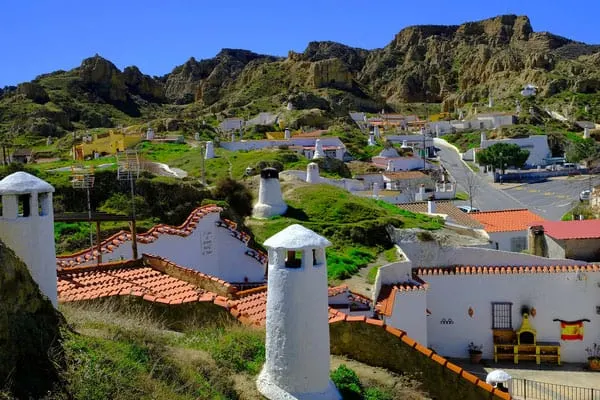 Outdoor Activities: Guadix & Calahorra Castle
One of my favorite things about staying in a historic cave near Granada was the almost countless options of outdoor activities that you can do in its surroundings.
The area of Guadix is often overseen by tourists who prefer to stay in the tourist hubs of Malaga and Granada. However, the region of Guadix holds some utterly surprising landscapes and historic sites.
Guadix Cave Houses
The town of Guadix is well worth a visit, despite being relatively unknown outside Spain. Not only does Guadix boast an impressive cathedral, but also a Moorish fortress which is dominating from the top of the town. The quaint, narrow streets invite you to stroll around and absorb a very authentic Andalusian daily grind.
The main attraction of Guadix is the Barrio de las Cuevas (cave neighborhood). The area consists of 2000 caves, some dating back to the 16th century. Guadix boasts the largest number of cave homes in all of Europe. During the Moorish time, Guadix was an important trade town, as it was midway between the city of Granada, the stronghold of the Alhambra Palace, and the sea.
When the Catholic monarchs regained control of Andalucia and took Granada in 1492, many of the Moors were displaced and fled. As they had nowhere to live, many of the Moriscos (Moors who had been forced to become Christian) decided to build their homes underground, primarily to escape the heat.
Several viewpoints (Mirador de la Magdalena and El Mirador Cerro de la Bala) invite to enjoy a fabulous view over, what I would call, a hobbit town.
Spring was a particularly good time to visit, as the grass on top of the caves was lush green and the snowcapped mountains of the Sierra Nevada were a gorgeous backdrop.
In case you want to explore an inhabited cave from the insight, I recommend to visit the Cueva-Museo "La Inmaculada" in Purullena. The cave house in Guadix is private property and the tour of the museum even leads you through the dormitory of the owner's kids. The cave consists of 3 floors, one of them being entirely dedicated to the history of cave-homes and life in Andalusia 60 years ago.
A landscape that is unique in its kind can be found between Guadix and Purullena: the badlands. Before traveling to Guadix, I had no idea that such a landscape could be found within Spain. It reminded me a lot of the famous Colorado badlands and, indeed, the badlands of Guadix and Purullena consists of the same rock material.
The best way to enjoy the spectacular views over the canyons is by hiking from Purullena to the viewpoints of Fin del Mundo also known as "Purullana Mirador". Once you arrive to the absolutely breathtaking viewpoints, you'll easily understand why they are also known as "End of the World" among locals.
La Calahorra Castle
The scenic castle of La Calahorra is yet another sight that you can't miss! In spring, the snow capped mountains of Sierra Nevada form a gorgeous backdrop and the blooming almond trees were just the perfect framing and often featured in photographs. The castle is set in a sleepy little town and has served as a film location for movies and series like "The Wind and the lion", "Operation Tiger", "Stardust", etc.
In case you want to actively enjoy the great mountainous landscapes that surround Guadix and Granada, I absolutely recommend a hike in the mountains of Alpujarra and Sierra Nevada.
Best Features
Outdoor activities and a large choice of excursions in a short distance from the cave.
The fact of exploring the lifestyle of a historic cave-home, a very traditional and authentic experience for this part of Andalusia.
Jacuzzi in the dormitory
Absolute peace and quietness surrounding the cave.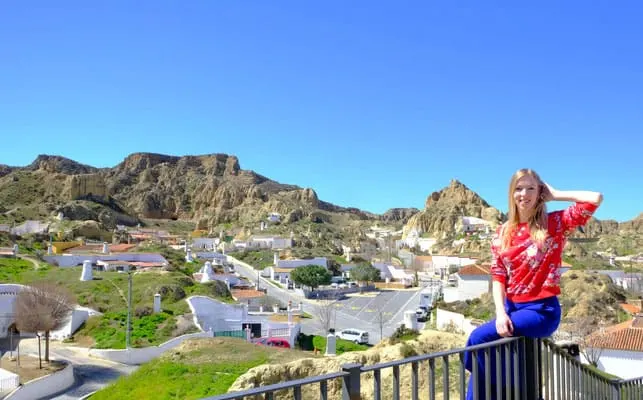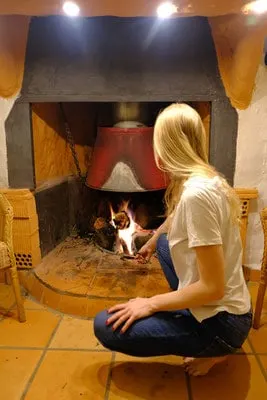 My Verdict
Staying in the cave suites near Granada and Guadix, in the heart of Andalusia, was an absolutely unique experience as the idea is so different from usual accommodation concepts. For me personally, this is also the main merit of booking your accommodation with GlampingHub. You'll discover absolutely surprising and unique accommodation concepts around the globe that will allow you to closely experience the great natural outdoors but with a glamorous touch.
The fact of glamping in a historic cave near Granada is not only a very unusual experience, but it also allows you to live first-hand the traditional lifestyle of Andalusian cave-homes.
However, I recommend to plan your stay in a cave for the late spring or summer months when the temperatures in the caves have risen up as winters near Granada can be very cold.
The remoteness and quietness of the cave suites were just perfect to unwind and to connect with nature. I will definitely miss the jolly sound of the birds when waking up.
Another huge plus was the large choice of outdoor activities and the delicious tapas in Guadix and Granada which altogether made my glamping experience in an Andalusian cave absolutely unforgettable.
---

For those who are in love with calm, scenic Andalusian villages, I recommend to visit Baza.
Located at only 30 min drive from the cave suites, Baza is mostly known for its Arab baths and impressive church. Even though the town is rather small, it will provide you an interesting insight into daily life in an Andalusian town.
And as always, tapas in Baza are always a good reason to discover this quaint, sleepy town.
---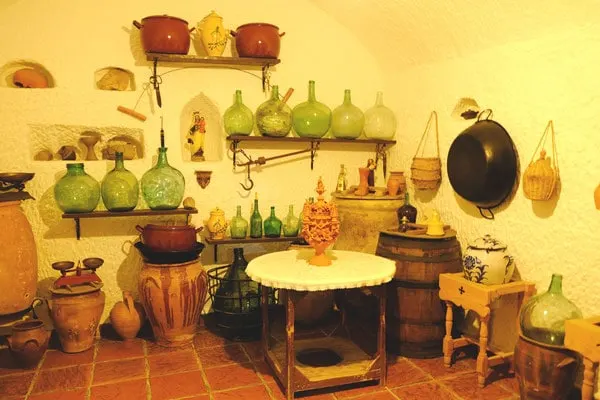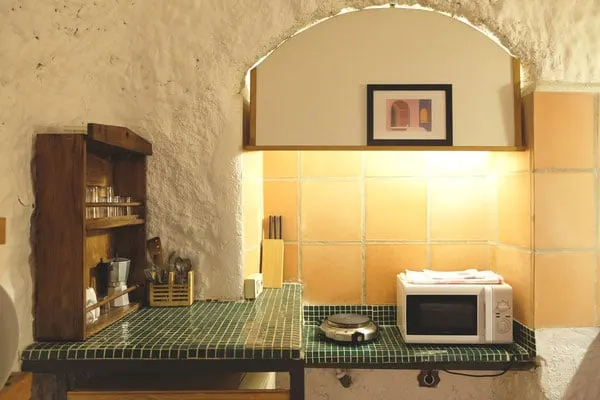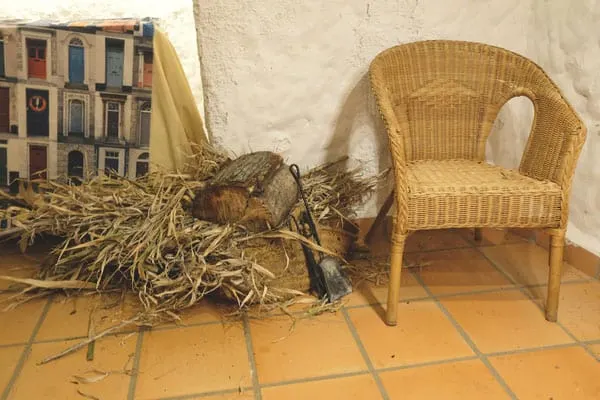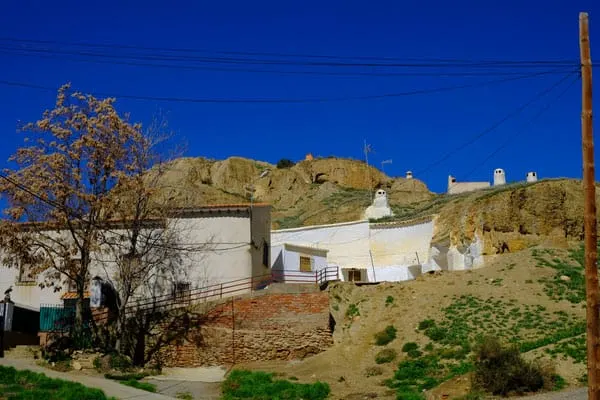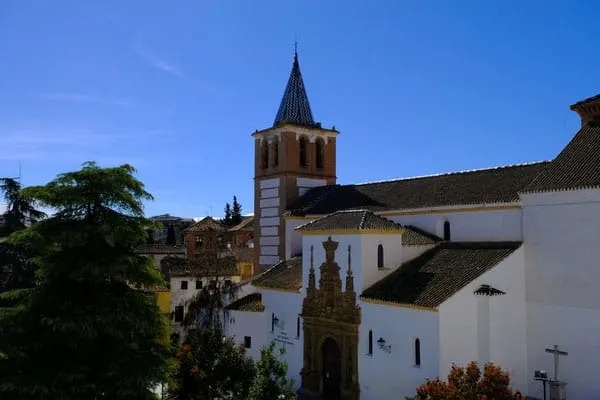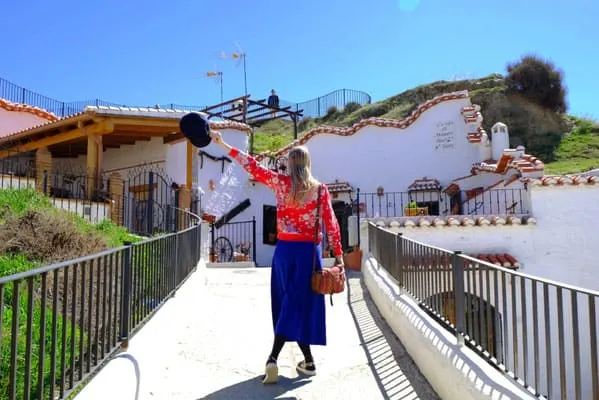 ---
Map: Caves Suites of Granada and Guadix
---
The cave suites near Granada and Guadix can be booked on GlampingHub.
*
In order to get more information on tourism in Guadix, Spain, I recommend the site of Spain.info.
---
Disclaimer: I have been a guest of GlampingHub. All my opinions, as always, are my own. This post contains affiliate links. In case you purchase one of the items, I'll receive a small commission at no extra cost for you.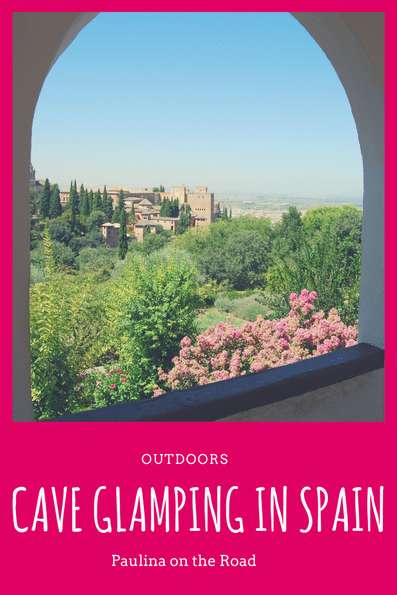 ---
Hola! I am Paulina, a fervent travelette who crossed the Atlantic Ocean by Boat HitchHiking. On my blog, you'll find all the tips to make the most of your holiday. Get ready to enjoy outdoor and sustainable travel like hiking, cycling or sailing. Let's hit the road together!